Almost all newspapers today covered the remarks made by Ayatollah Seyyed Ali Khamenei, the Leader of the Islamic Revolution, about this year's Hajj pilgrimage and his call on pilgrims to denounce the Israeli regime's crimes against Palestinians.
The controversial visit of Iraqi Shiite leader Muqtada al-Sadr to Saudi Arabia was also a top story today. Analysts are discussing Baghdad's close ties with Riyadh and its impacts on its relations with Tehran.
A trilateral meeting between President Hassan Rouhani, Parliament Speaker Ali Larijani, and Judiciary Chief Ayatollah Sadeq Amoli Larijani also received great coverage.
The above issues, as well as many more, are highlighted in the following headlines and top stories:
19 Dey:
1- Iran Leader: Security, Dignity of Hajj Pilgrims Should Be Ensured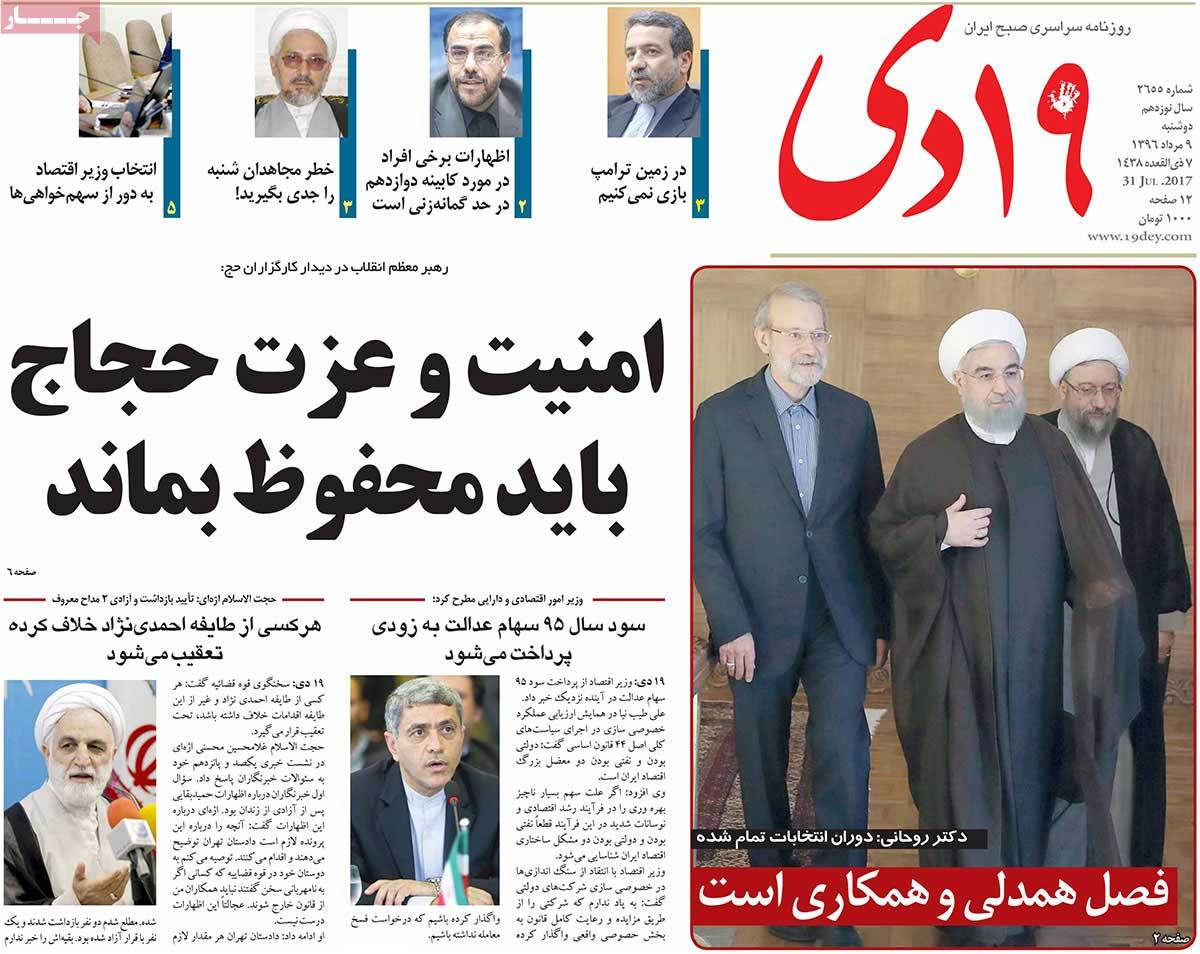 ---
Abrar:
1- Prosecutor Reveals Shocking Details of Ahmadinejad's Violation of Law
2- Iraq's Close Ties with Arab States Doesn't Mean Abandoning Iran: Politician
3- Tillerson: We Hope Iran, Russia, North Korea Understand Our Message
---
Aftab-e Yazd:
1- A Report on Dirty Job Vacancy Ads
Job vacancy ads are being published in certain social media, offering job opportunities to [female] secretaries who want to work at firms in Persian Gulf countries and Turkey. Sociologist says they are looking for something else



---
Arman-e Emrooz:
1- Najafi to Become Tehran's Mayor: A Report on Election Process
2- Rouhani to Be Inaugurated by Iran Leader on August 3
3- Barriers to Women's Presence in Rouhani's Next Cabinet
---
Ebtekar:
1- Rouhani: Elections Over. It's Time to Work
2- From Talking to Doing: Trump's Plans to Counter North Korea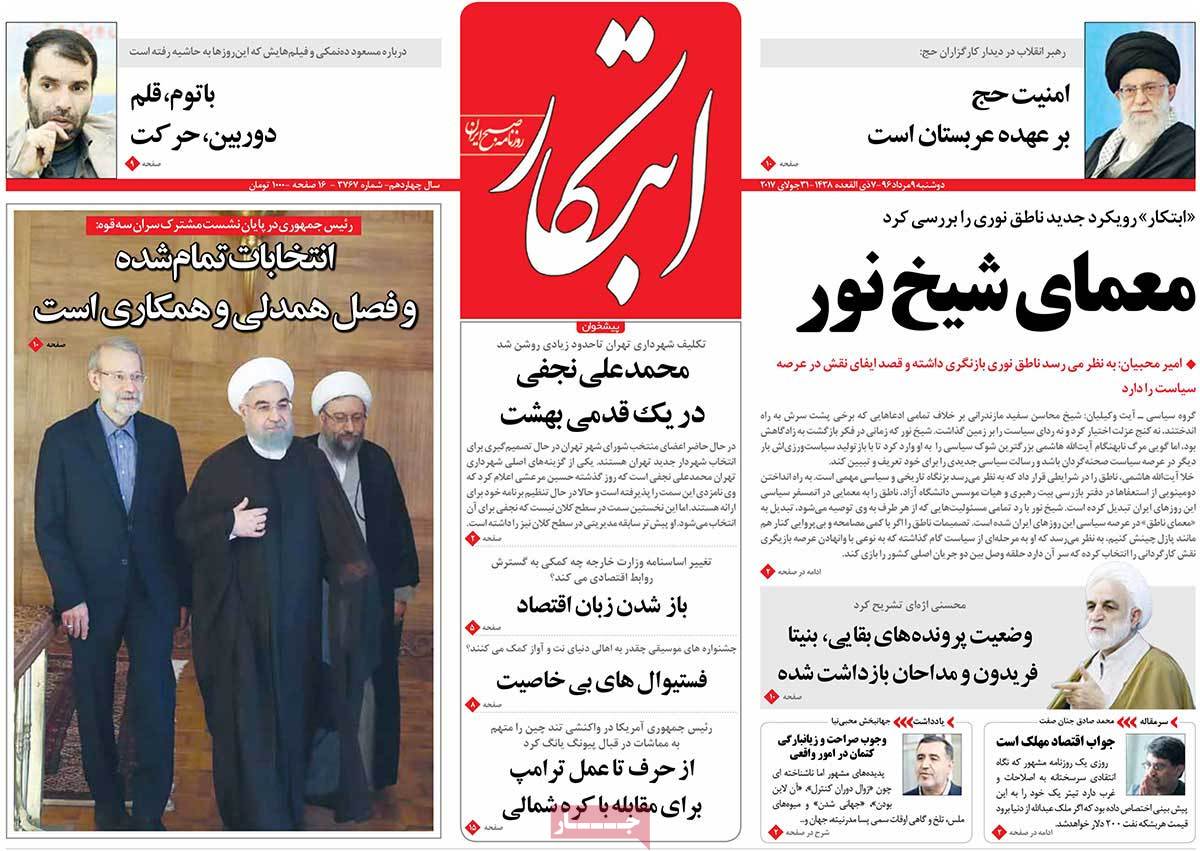 ---
Etemad:
1- Senior Reformist Warns: I'm Worried about Cabinet Line-up
Rouhani Shouldn't Ignore Women, Sunni Muslims
2- Muqtada al-Sadr in Jeddah: Sadr Movement Leader in Saudi Arabia after 11 Years
3- Deputy FM: Iran to Withdraw from JCPOA If Costs Exceed Benefits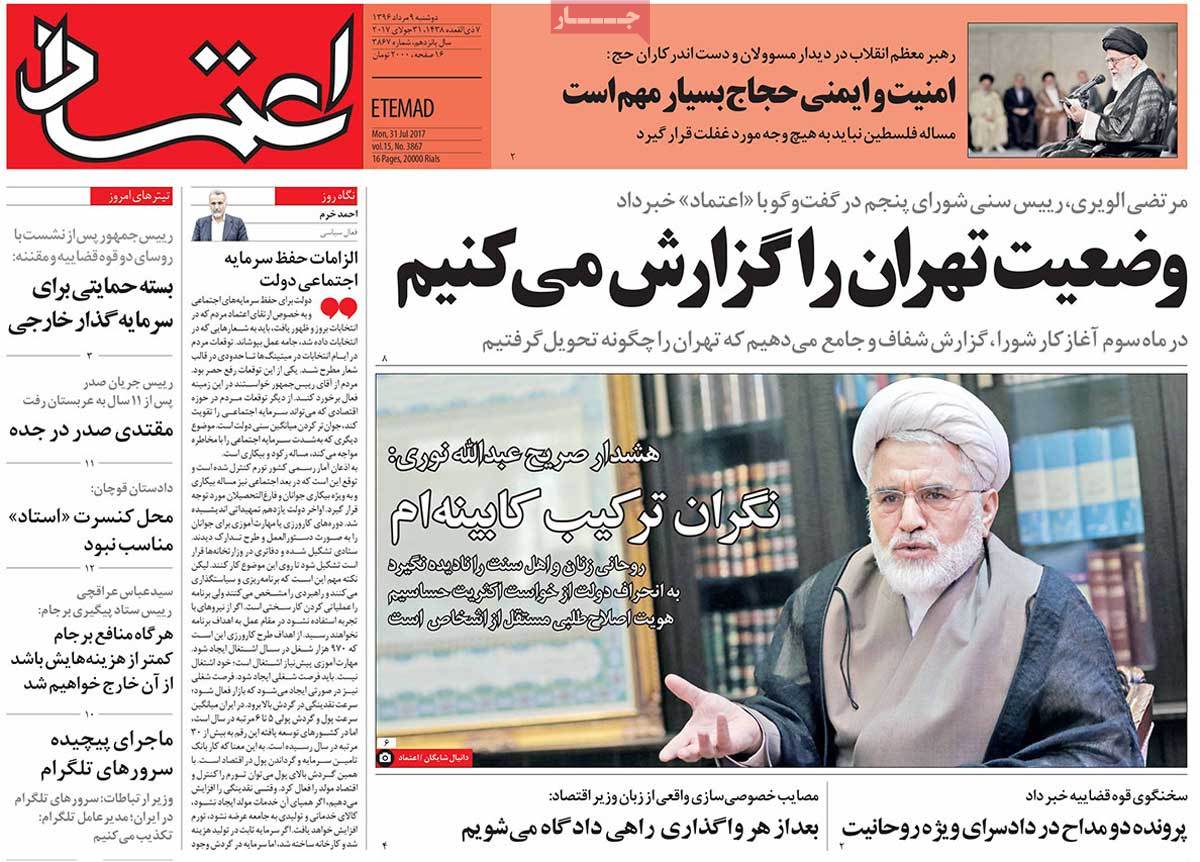 ---
Ettela'at:
1- Iran Leader: Palestine Major Issue of Muslim World, Shouldn't Be Ignored
2- Rouhani to Be Inaugurated on Thursday
---
Haft-e Sobh:
1- One of Those 50 Women: Mirzakhani's Name among Women Who Changed World around Us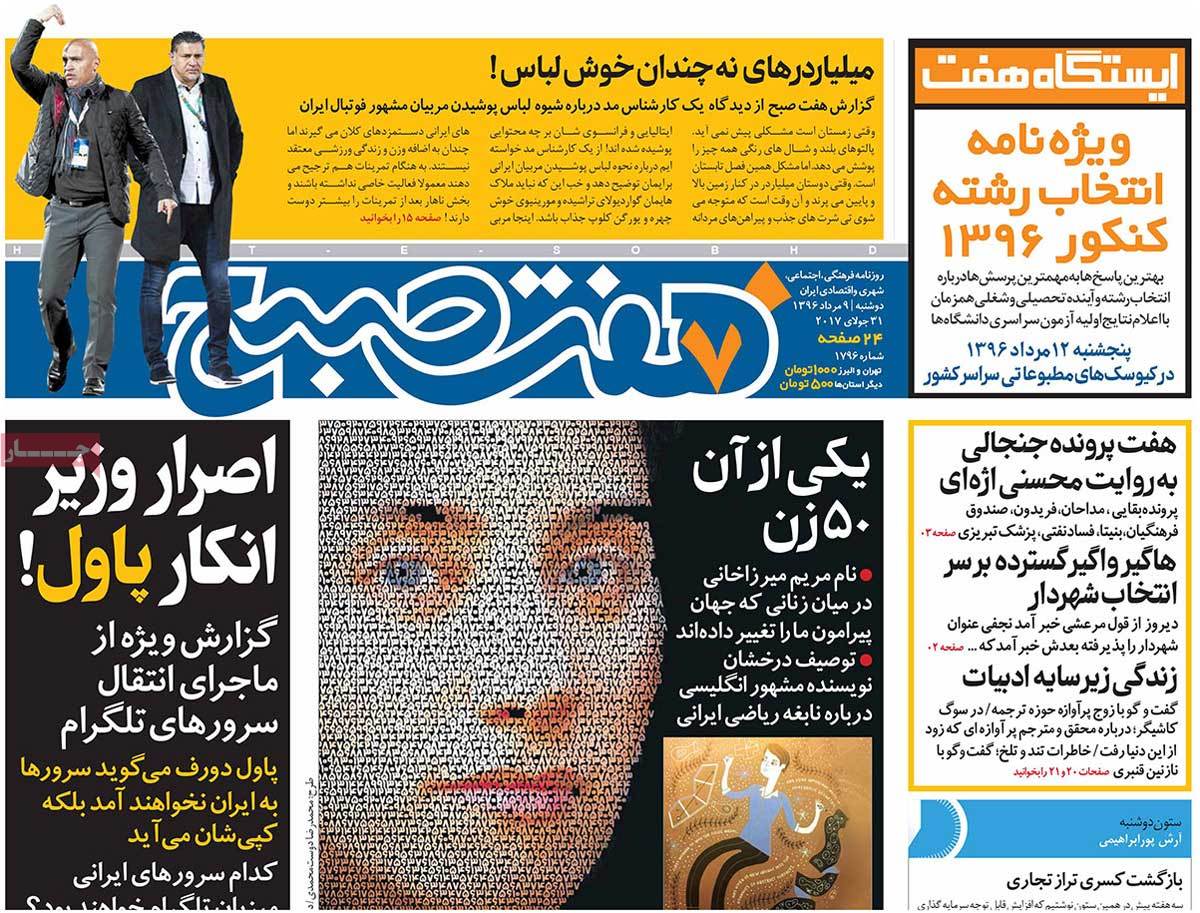 ---
Iran:
1- President Rouhani, Parliament Speaker, Judiciary Chief Hold Meeting
Rouhani: We Should All Join Hands to Meet People's Demands



---
Javan:
1- Iran Leader: Great Mosque of Mecca Best Place to Talk about Aqsa Mosque
2- Even Araqchi Talks about Iran's Withdrawal from JCPOA
3- South Korean People: We Want Nuclear Bomb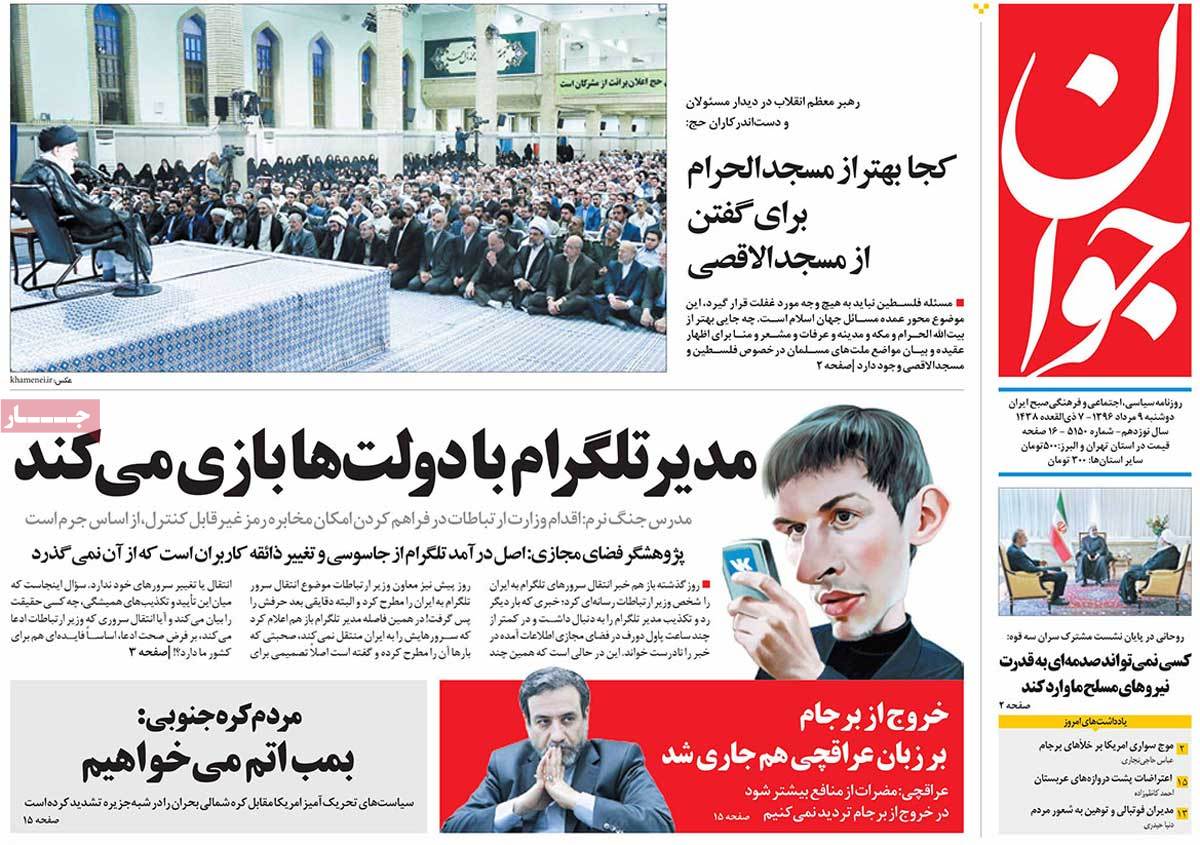 ---
Jomhouri Eslami:
1- Terrorist Attack on Shrine of Imams, Ayatollah Sistani Foiled
2- Agriculture Ministry: Iran to Become Self-Sufficient in Sugar Production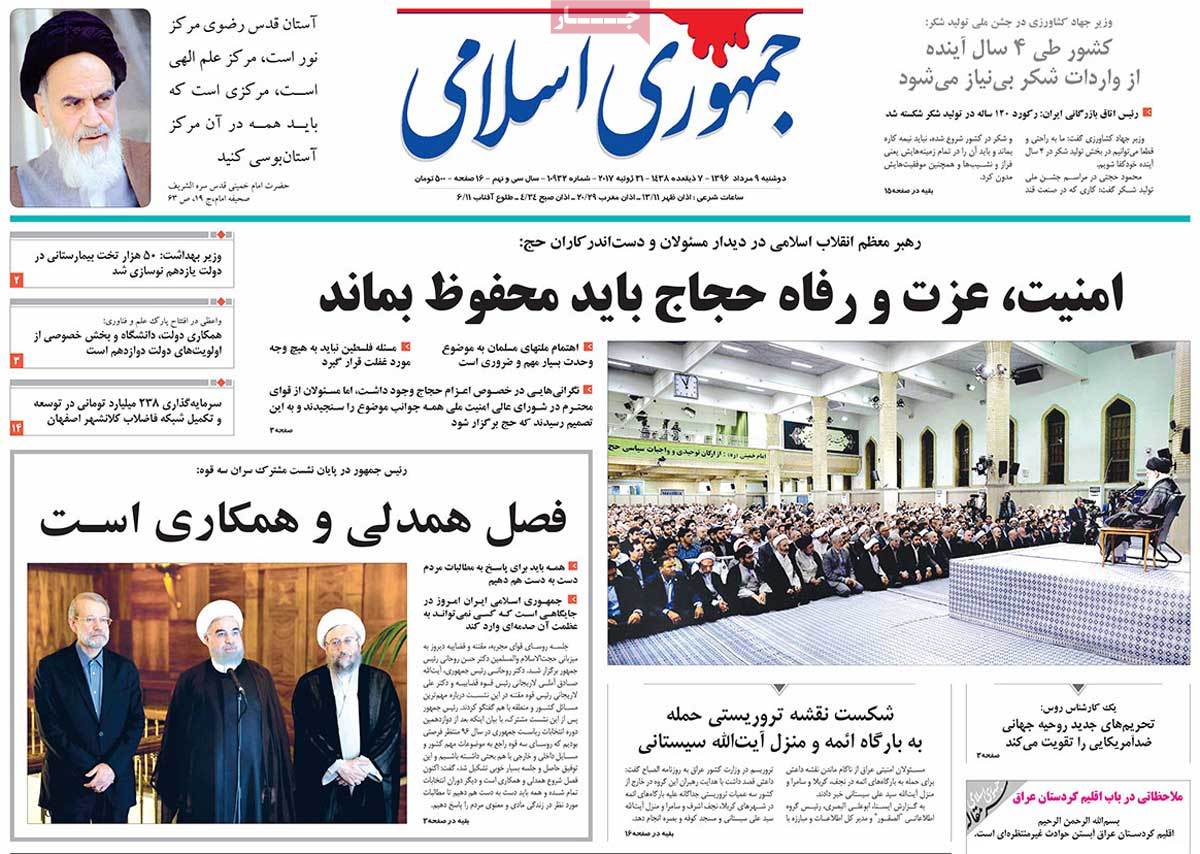 ---
Ka'enat:
1- Leader: Iran Not to Forget 2015 Hajj Incidents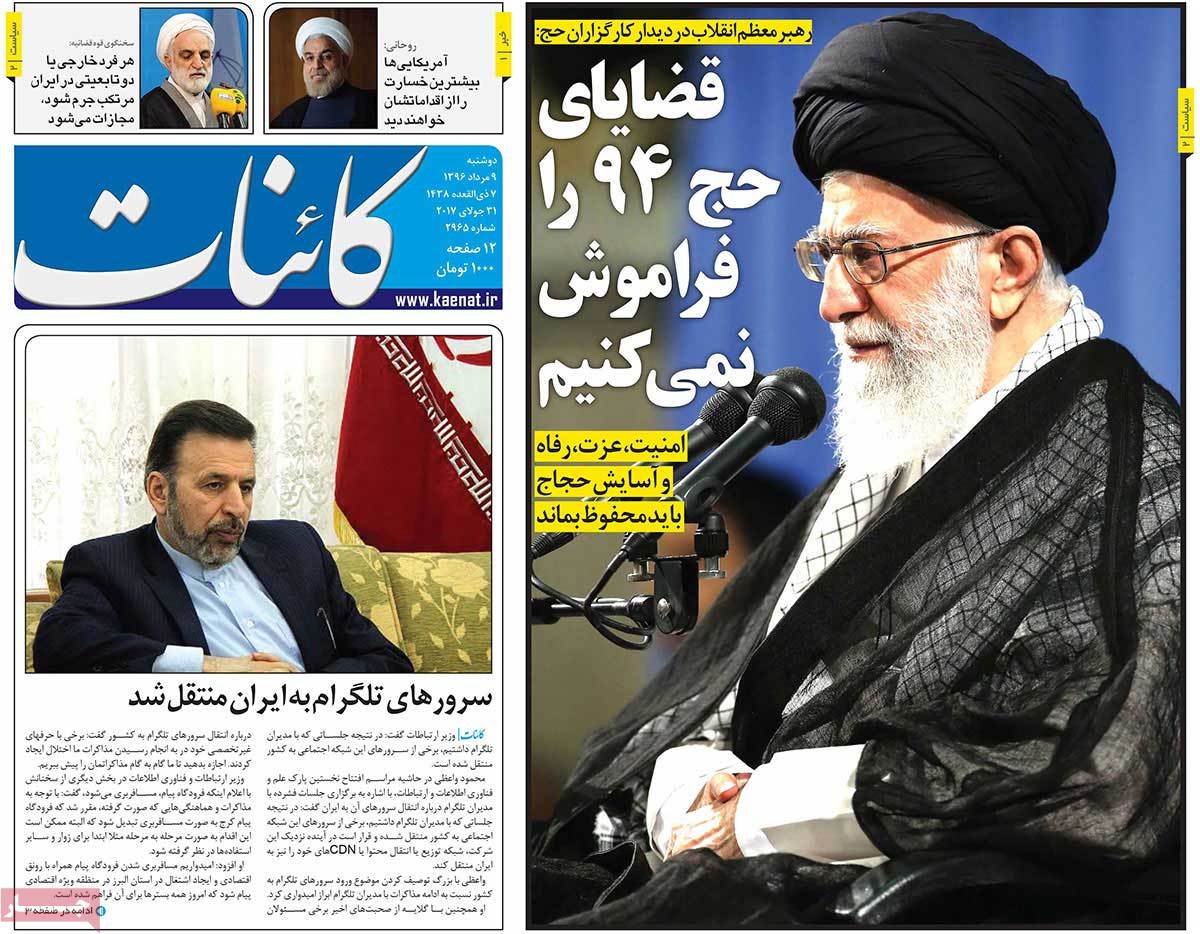 ---
Kayhan:
1- Russia: We'll Deport 750 American Diplomats in Retaliation for Recent Sanctions
2- World's Biggest Army Celebrates 90th Birthday
Chinese Army's Parade with Latest Weapons



---
Setareh Sobh:
1- US Worried about Consequences of Unilateral Withdrawal from JCPOA
2- Analyst: Trump Seeks to Create Military Crisis against Iran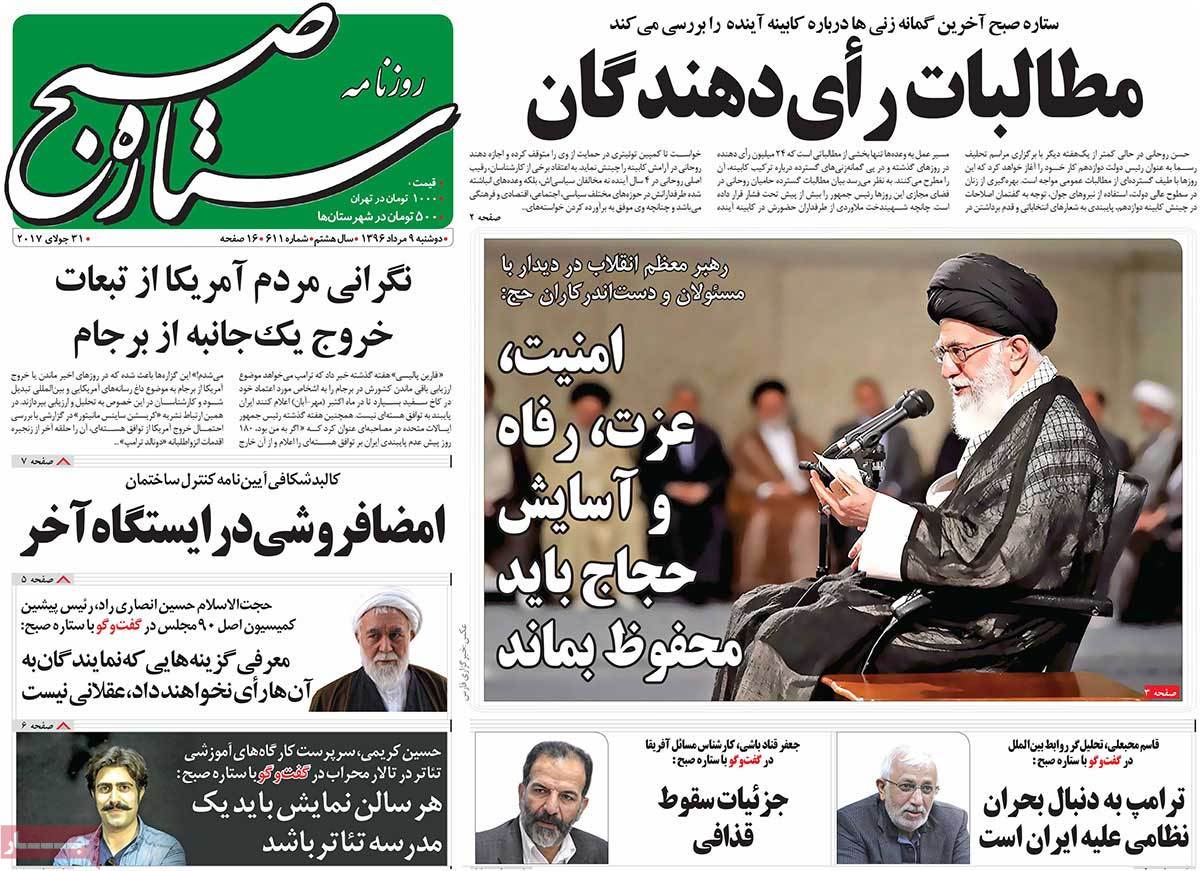 ---
Shahrvand:
1- Iranian Students Claim World Robotic Title
2- National Sugar Celebration: Iran Breaks 120-Year Record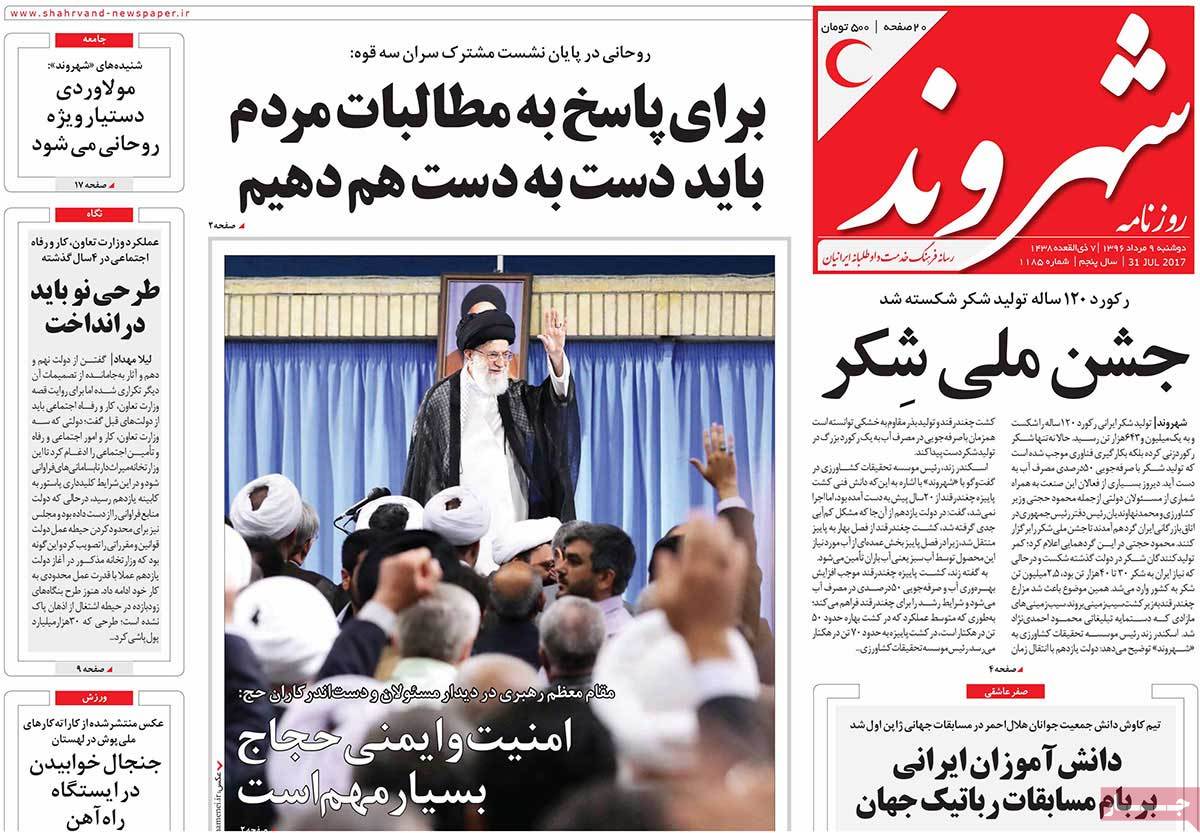 ---
Shargh:
1- Armenian President ahead of Visiting Iran: Armenia, Secure Gateway to Europe
---
Sobh-e Now:
1- Iran Leader: Hajj Means Spirituality, Unity, Distancing [Ourselves from Mushrikīn]
---
Vaghaye Ettefaghieh:
1- Zarif's Challenge for Next Gov't: Will He Still Accompany Rouhani?
2- Ominous Unity: Will Israel Be a Good Friend for Certain Arab States?
A Look at Neighbouring Countries' Secret Ties with Tel Aviv



---
Vatan-e Emrooz:
1- Real Cheating Was 'the Morning without Sanctions' [Editorial]