The top story in today's newspapers was the second anniversary of the day when Iran nuclear deal was signed between Tehran and world powers. Several papers, both pro-government ones and critics, reviewed the outcomes of the deal during the past two years.
Iranian Foreign Minister Mohammad Javad Zarif's comments about Washington's failure to comply with the nuclear deal were particularly highlighted on the JCPOA's second birthday.
Iranian President Hassan Rouhani's congratulatory message to his French counterpart Emmanuel Macron on the country's national day as well as the anti-Iran remarks made by US President Donald Trump in his visit to Paris were among other top stories.
The tragic case of Atena Aslani, the 7-year-old girl who was murdered after being raped in northwestern Iran, also remained a top story on Saturday.
Newspapers also continued covering the speculations about the line-up of Rouhani's next cabinet, for which the president is under heavy pressure from all political camps.
The above issues, as well as many more, are highlighted in the following headlines and top stories:
Abrar:
1- Rouhani Congratulates France on National Day, Hopes for Closer Ties
2- Trump Makes Anti-Iran Remarks in France
3- Iran, Saudi Arabia Consider Hajj Separate from Political Issues: Official
4- Water Pollution in Tehran Province Worrisome: Official
5- Number of Working Children in Iran on the Rise: Activist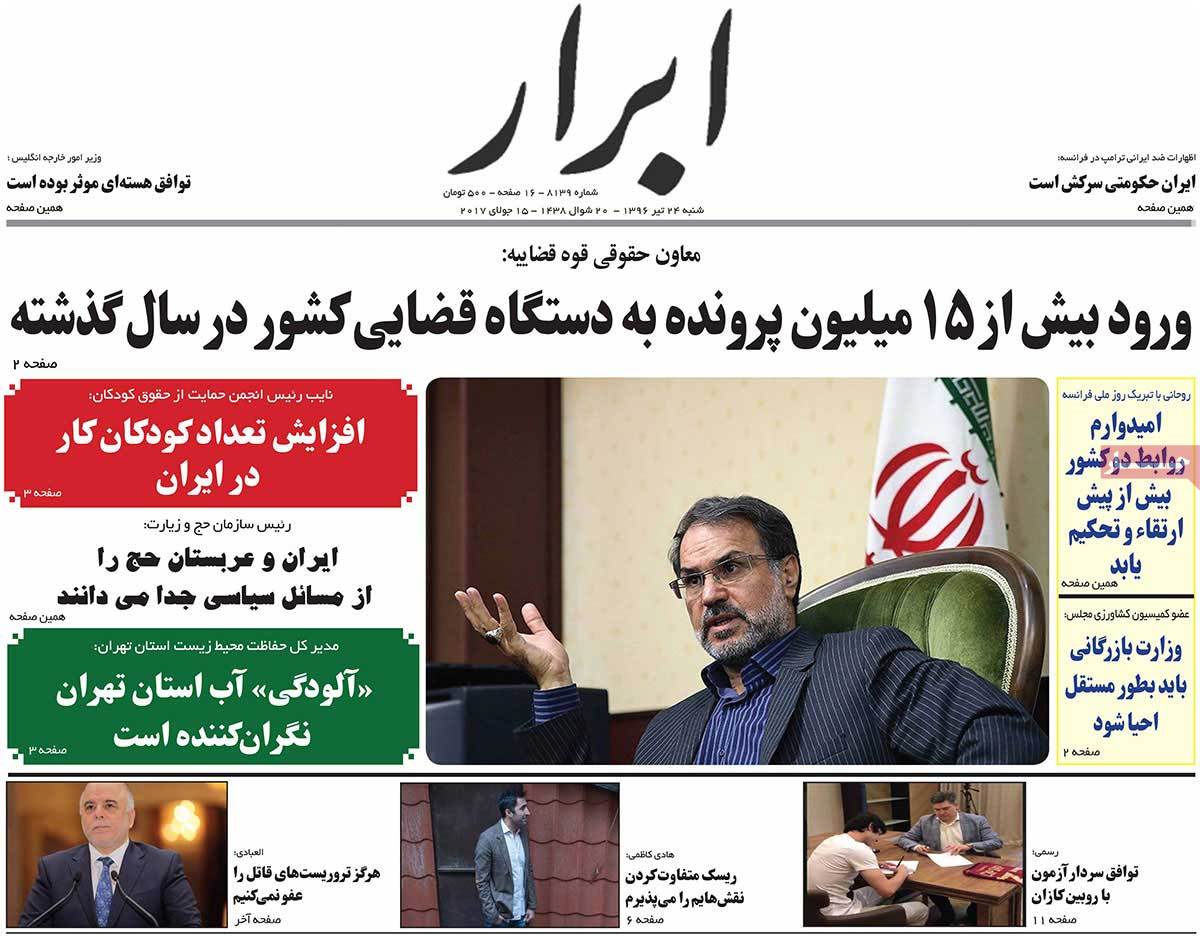 ---
Abrar-e Eqtesadi:
1- Iran Signs Secrecy Deal with Russia for Development of Kish Gas Field
2- Supervisory Board Starts Reviewing Gas Deal with Total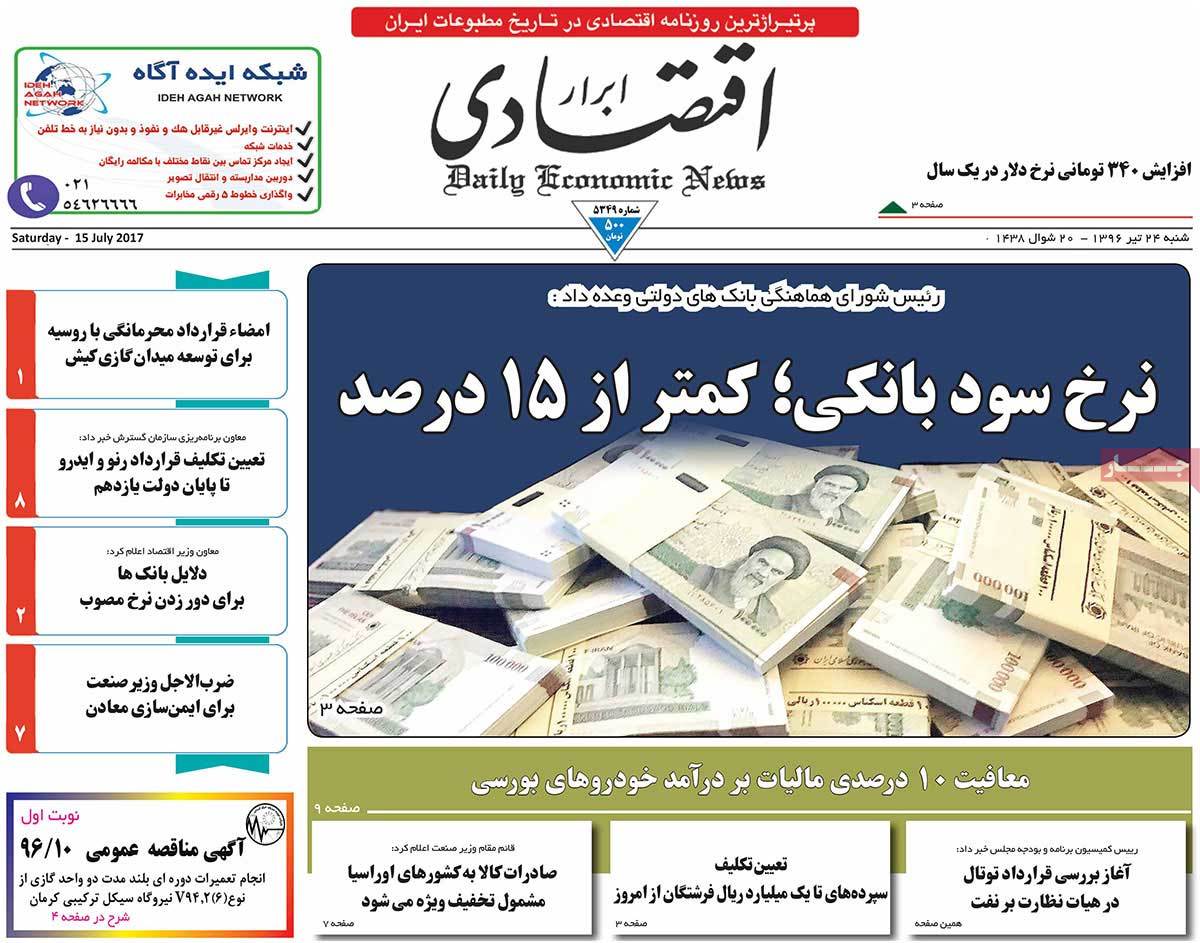 ---
Afkar:
1- Reformists Start Demanding Their Share from Rouhani's New Cabinet
---
Aftab-e Yazd:
1- Burning Up Assets: Certain Advocates of Reformism Attacking Aref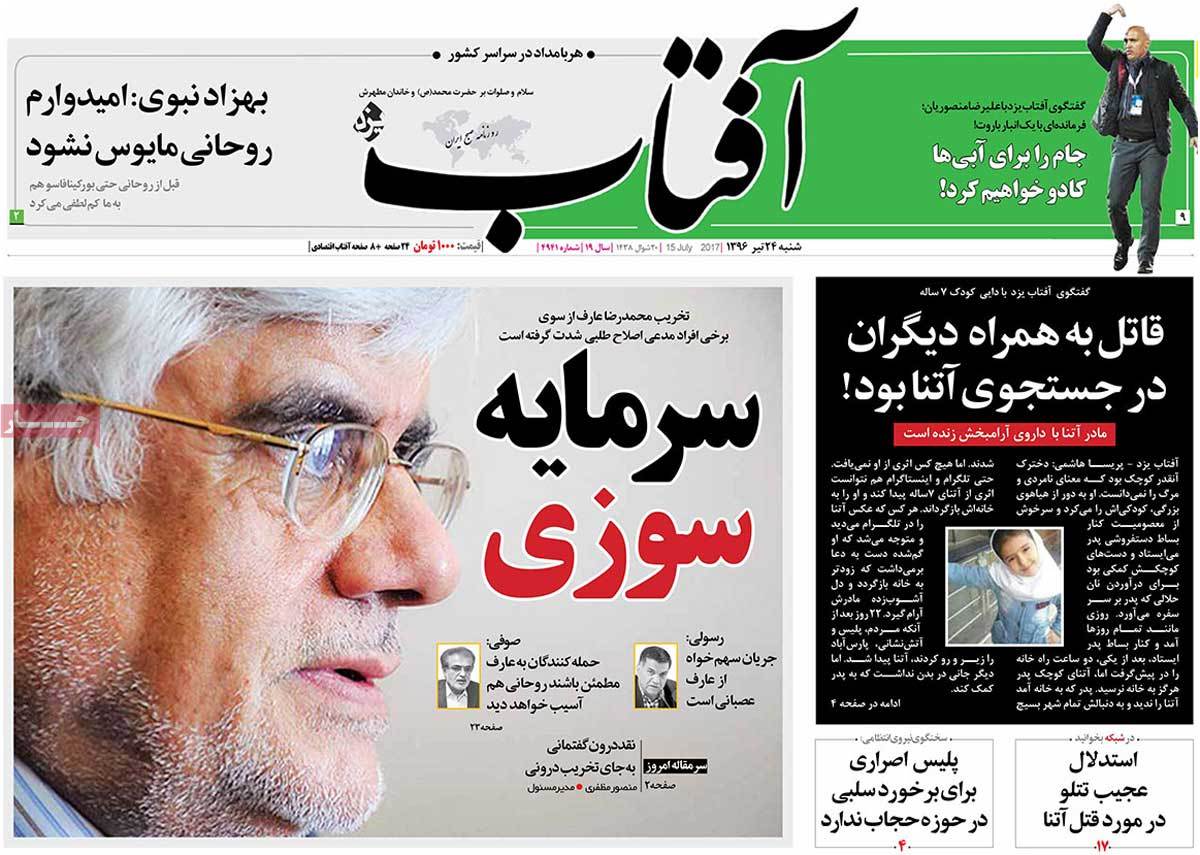 ---
Arman-e Emrooz:
1- Reformist MPs: Only 6 Ministers Had Acceptable Performance!
2- No Meeting Planned between Iranian, US Top Diplomats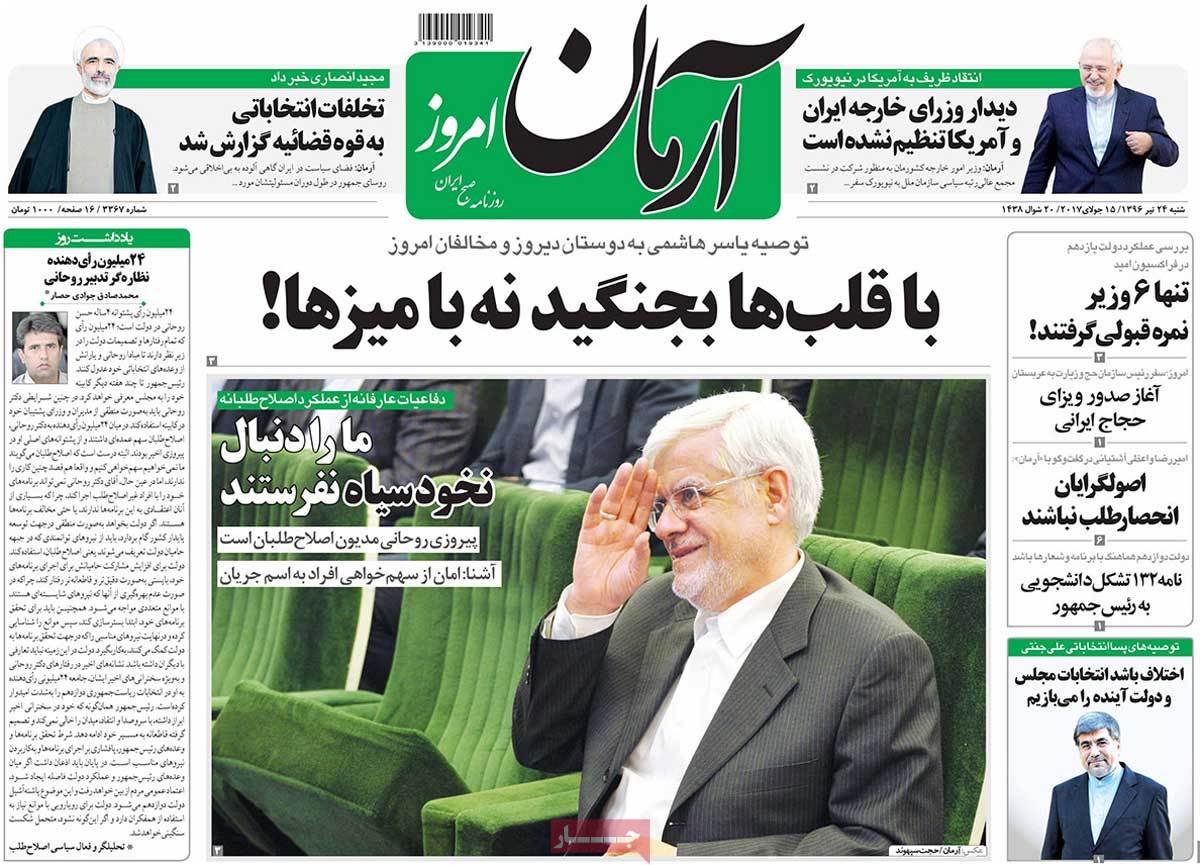 ---
Etemad:
1- Standing in Storm: A Review of JCPOA Achievements on Its 2nd Anniversary
2- Trump Stalemated by Nuclear Deal
3- Devastating Flood in Iranshahr; One Child Missing after Flood near Tehran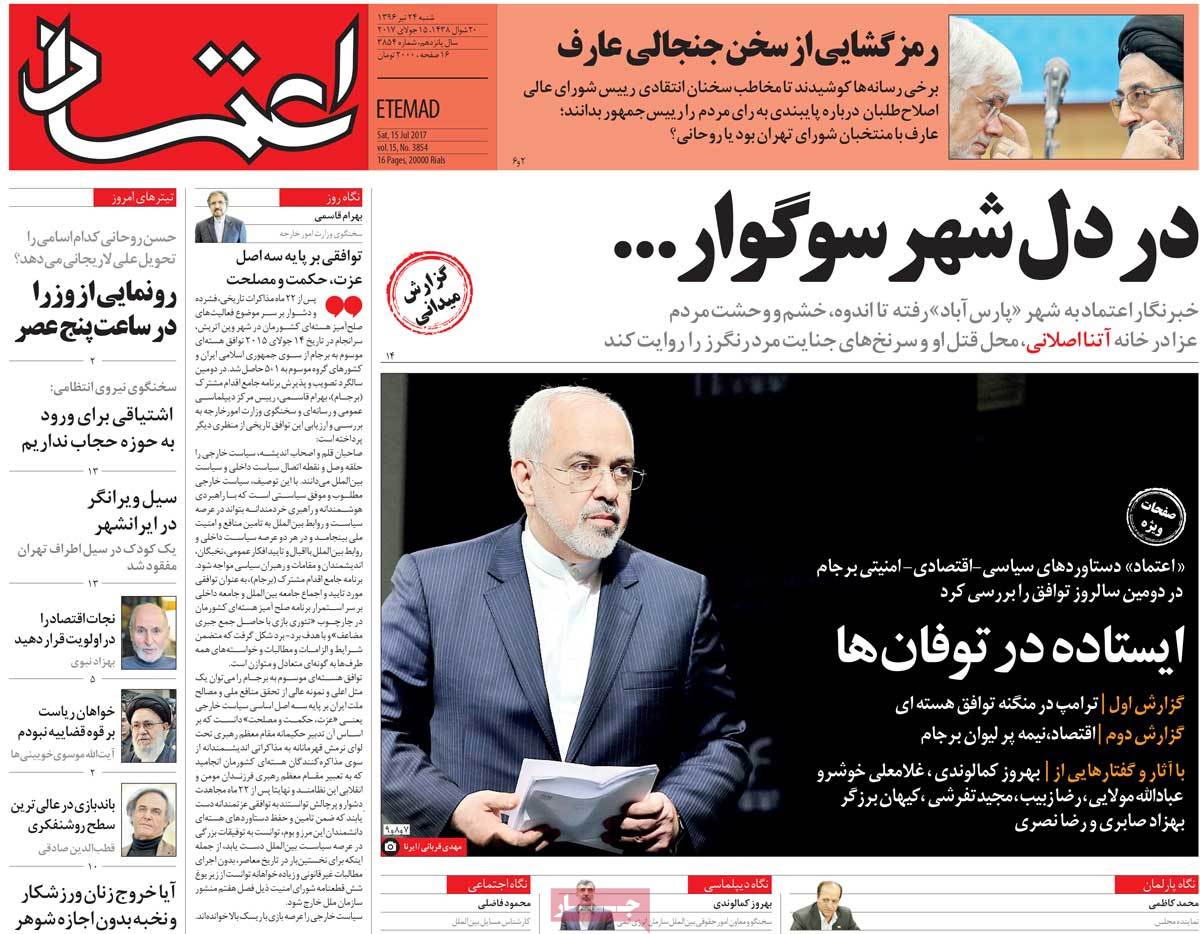 ---
Ettela'at:
1- Zarif: US Preventing Iran from Enjoying JCPOA Benefits
2- Al-Nujba Secretary-General: US Seeks to Indirectly Invade Iraq
3- Election Over, It's Time for Cooperation: VP
4- Two Zionist Soldiers Killed in Palestinians' Operation in Aqsa Mosque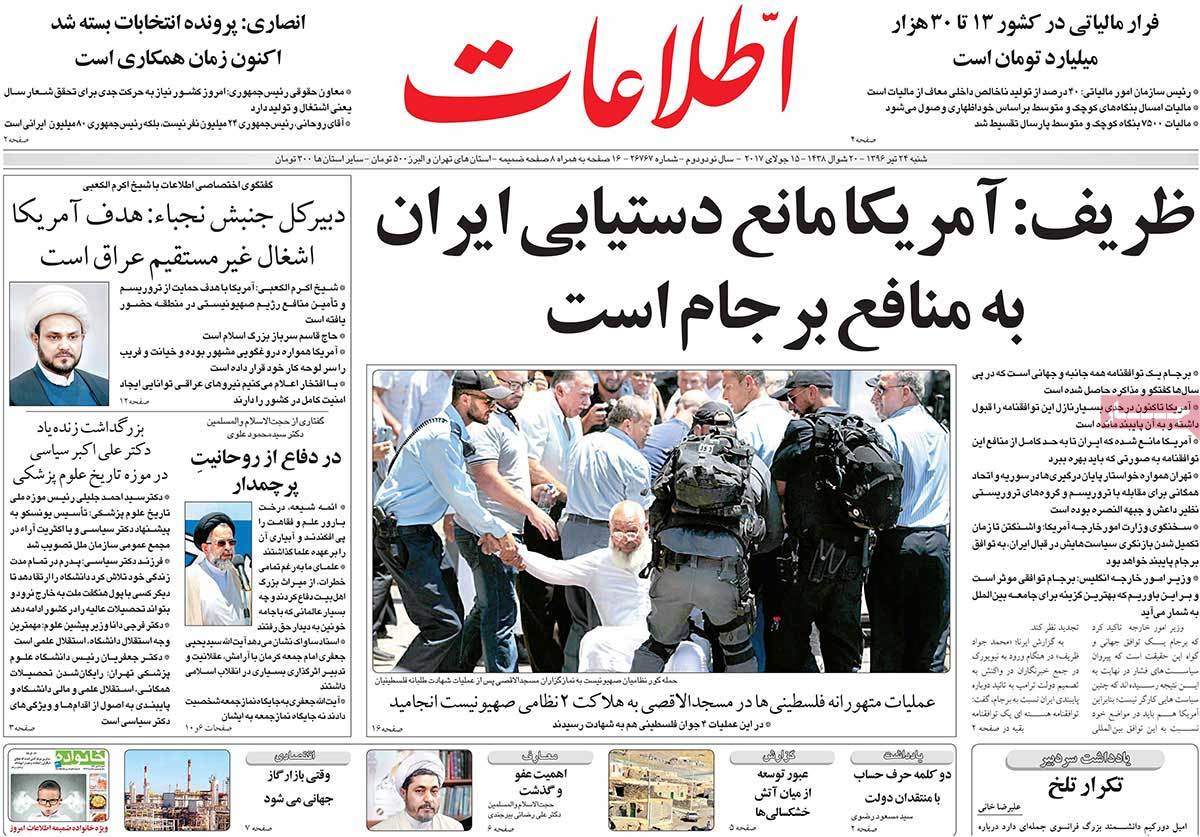 ---
Hamdeli:
1- Zarif: US Failed to Comply with JCPOA Spirit
2- Iran Shocked by Atena's Death; Widespread Reactions to Her Case
3- Macron in Meeting with Trump: Assad's Overthrow No Longer France's Priority
4- Health Minister: From Radicals' Attacks to Clerics' Call on Him to Stay
---
Hemayat:
1- Zarif Criticizes US Failure to Comply with JCPOA
2- JuniorGate! How Trump's Son Created New Crisis for White House
3- Commander: IRGC to Firmly Continue Fighting Deprivation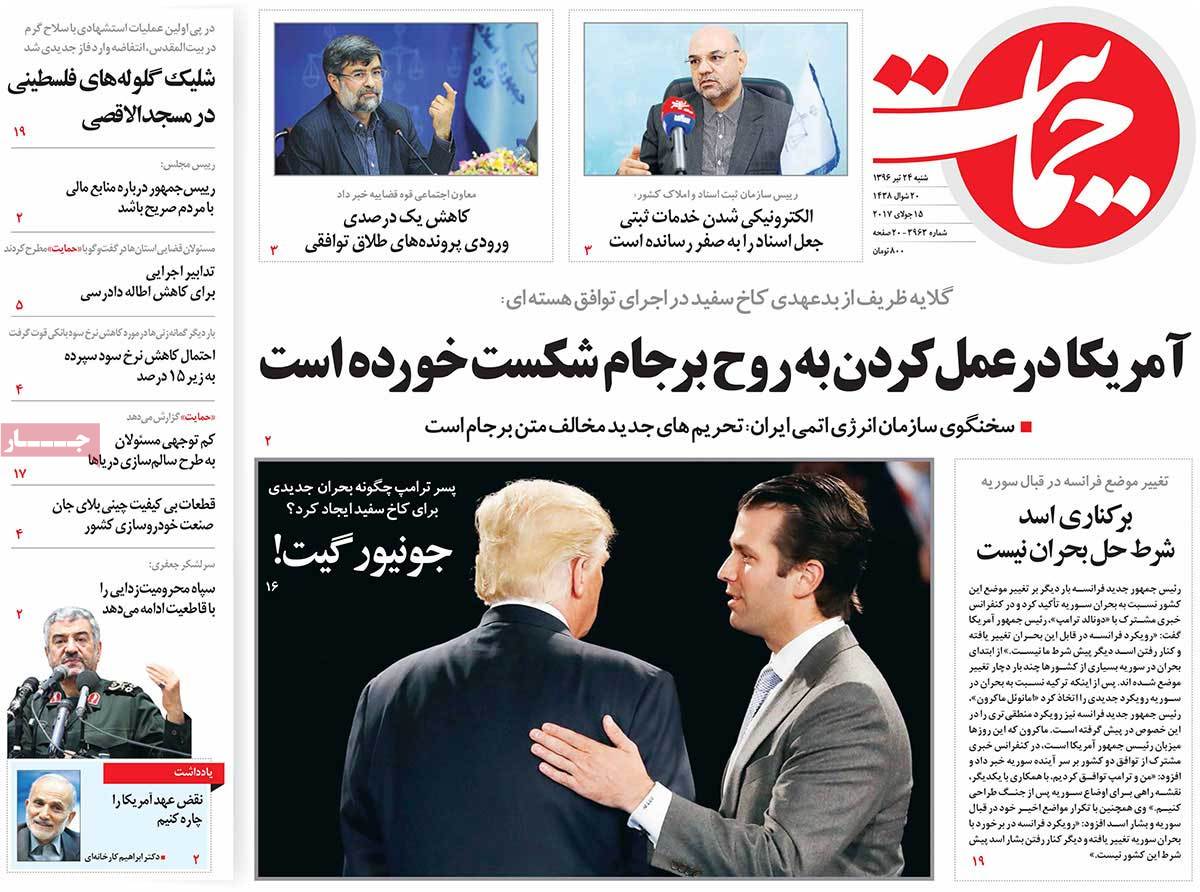 ---
Iran:
1- Iranian Economy's Jump in Post-JCPOA Era: A Two-Year Review
2- Trump Backing Off after Facing Pro-JCPOA Europe: Iran's Ambassador to London
---
Jahan-e San'at:
1- Trump's Paradox Continues
US President Attends French National Day Ceremony



---
Javan:
1- US Remained Committed to JCPOA in Lowest Level: Zarif
2- Washington: Syria Ceasefire Not Feasible without Iran
3- Trump Impeachment Plan in Congress
4- IRGC Commander: We Can't Ignore People, Revolution's Needs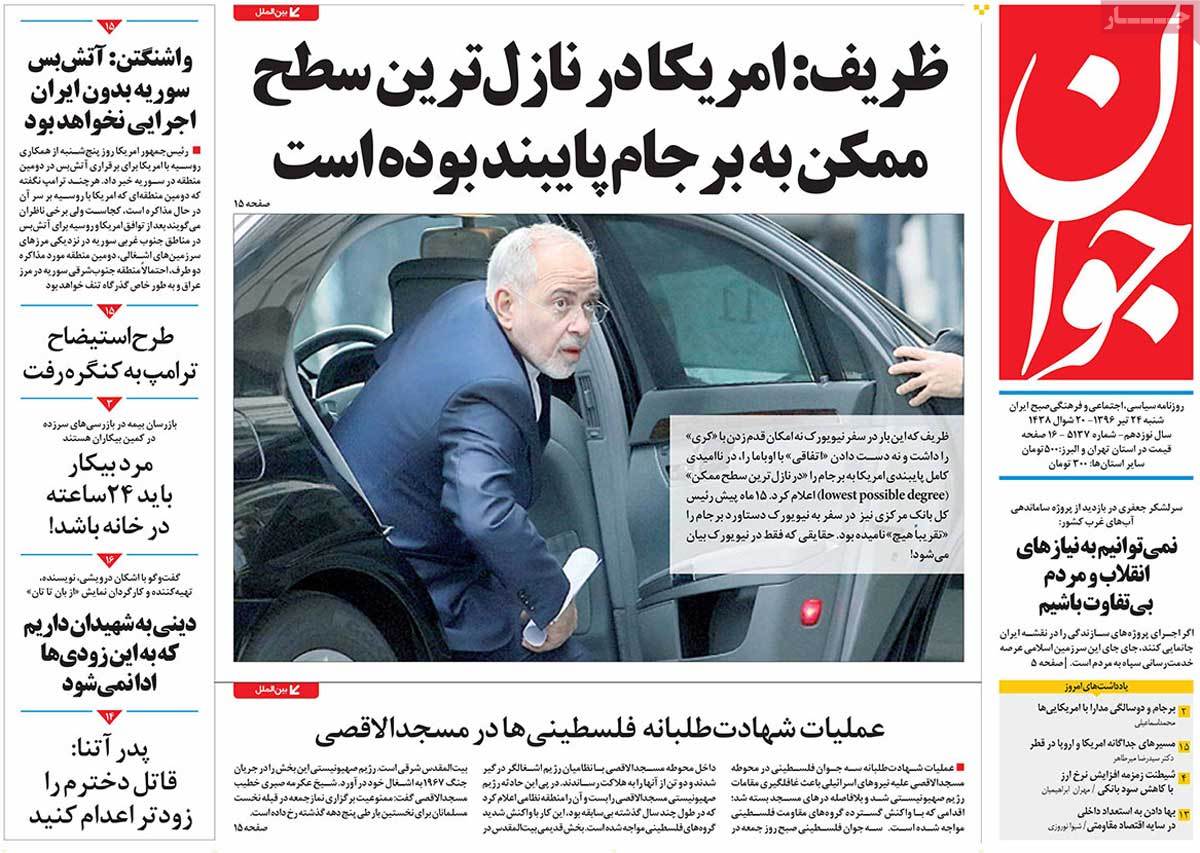 ---
Jomhouri Eslami:
1- People to 4 Ministers: Remain in Your Posts
2- EU, China, Russia Fully Back JCPOA Implementation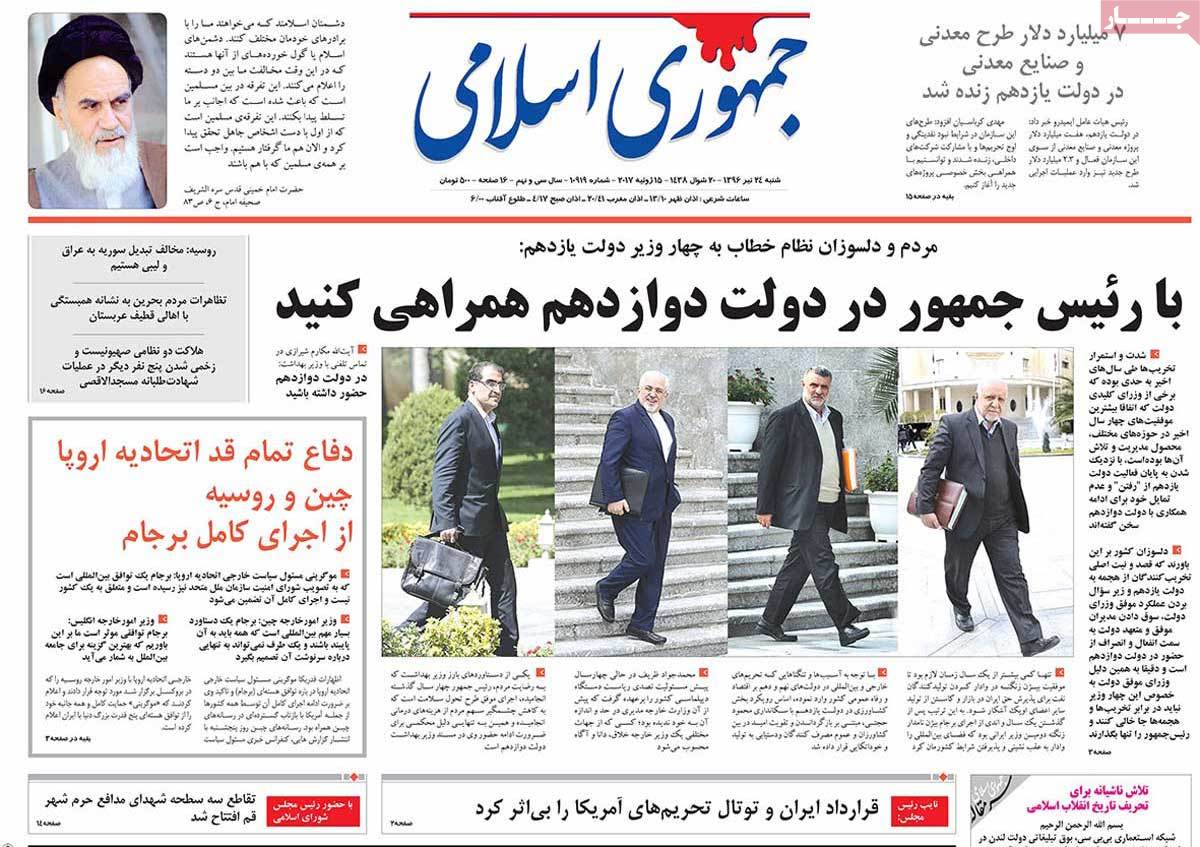 ---
Kayhan:
1- JCPOA Is Two Years Old
They Called It Greatest Victory, but It's 'Almost Nothing'!
2- Senior Zionist Official: JCPOA Was Gift to Israel!
3- After Defeat in Mosul: ISIS Orders European Members to Start Attacks
4- Reuters: Iran's Lucrative Market Saves Peugeot
---
Khorasan:
1- Bloody Friday in Aqsa Mosque
---
Rooyesh-e Mellat:
1- Zarif to US Officials: Revise Your Behaviour towards JCPOA
2- Russia FM: We Don't Support Assad, but We Don't Want Iraq Scenario Reoccur in Syria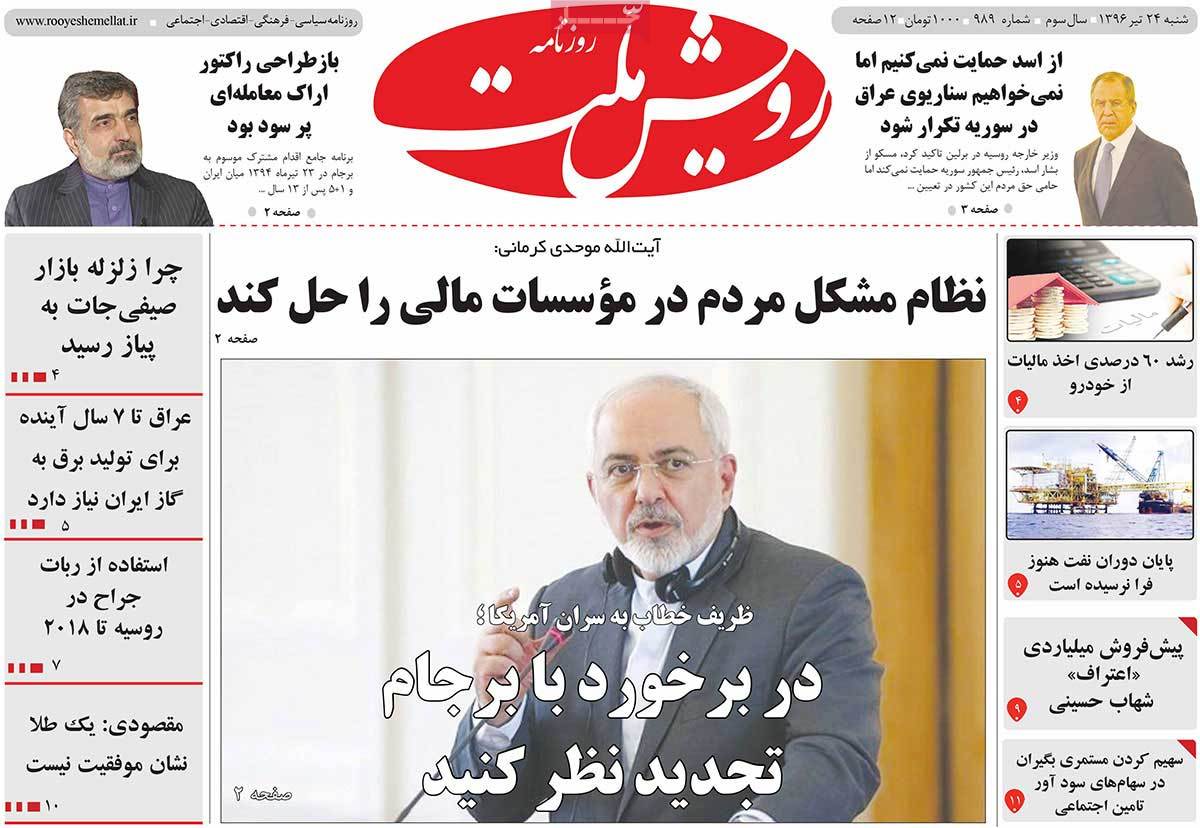 ---
Shahrvand:
1- National Call for Justice in Atena's Case
Socio-Psychological Aspects of Atena's Murder Case
2- Stormy Summer: Snow, Flood, Storm Hit Four Parts of Iran
3- Media Fuss over 'National Cabinet'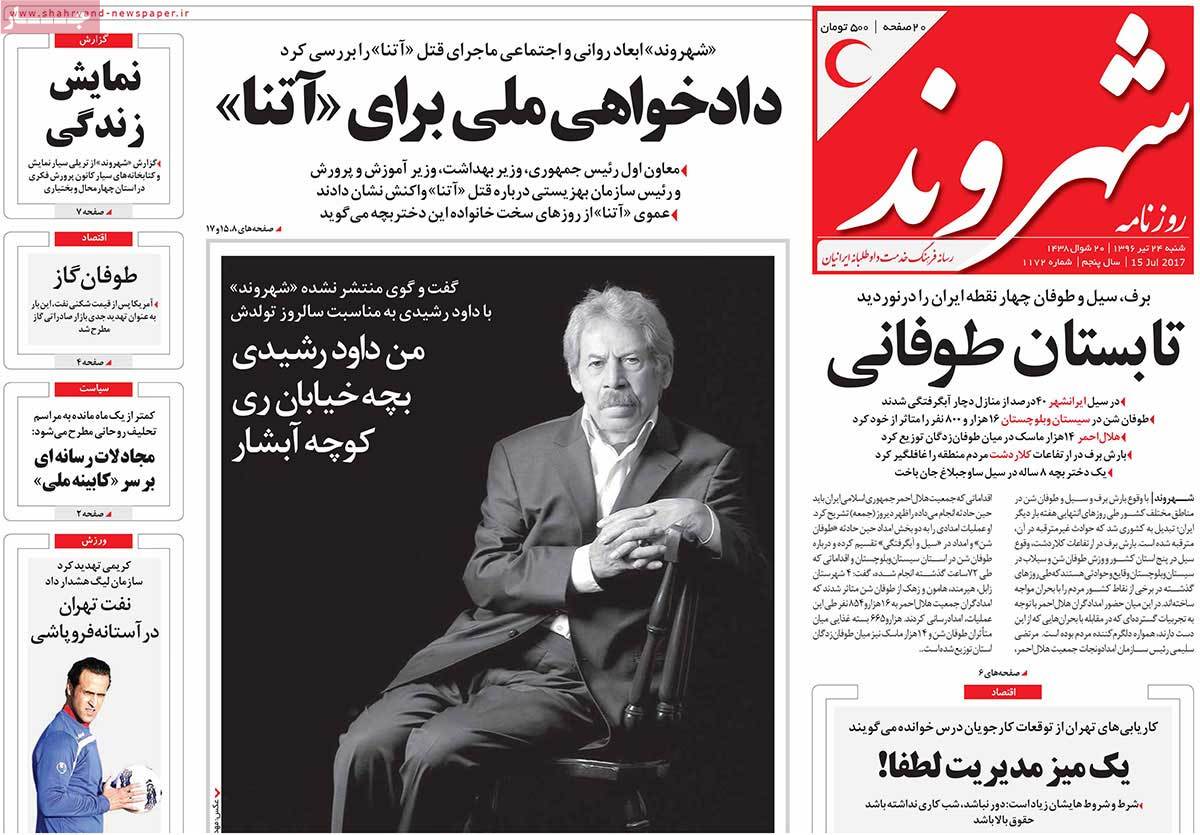 ---
Tejarat:
1- Zarif's Diplomacy in US
2- Impeachment Closer than Ever to Trump
3- Virus of Middlemen in Health Tourism
---
Vatan-e Emrooz:
1- Supreme National Security Council Makes Decision for Hajj This Year
2- Trump Says No to Cancer Treatment
Iranian Researcher Deported after 30 Hours of Arrest in Boston Airport