Several newspapers today covered a huge deal between Iran and South Korea, based on which the Korea Export–Import Bank (Kexim) will provide €8 billion worth of finance for Iran's projects.
Another top story was the visit of US President Donald Trump's special envoy Nikki Haley to Vienna in order to convince the International Atomic Energy Agency (IAEA) to put Iran under pressure. Iran's Foreign Minister Mohammad Javad Zarif's letter of warning to IAEA chief and EU foreign policy chief was also highlighted in this regard.
The Apple's move to remove Iranian apps from its App Store also remained a top story today.
The above issues, as well as many more, are highlighted in the following headlines and top stories:
Abrar:
1- Germany: Turkey Will Never Be EU Member under Erdogan
2- US Has Fulfilled Commitments on Redesigning Iran's Arak Reactor: Official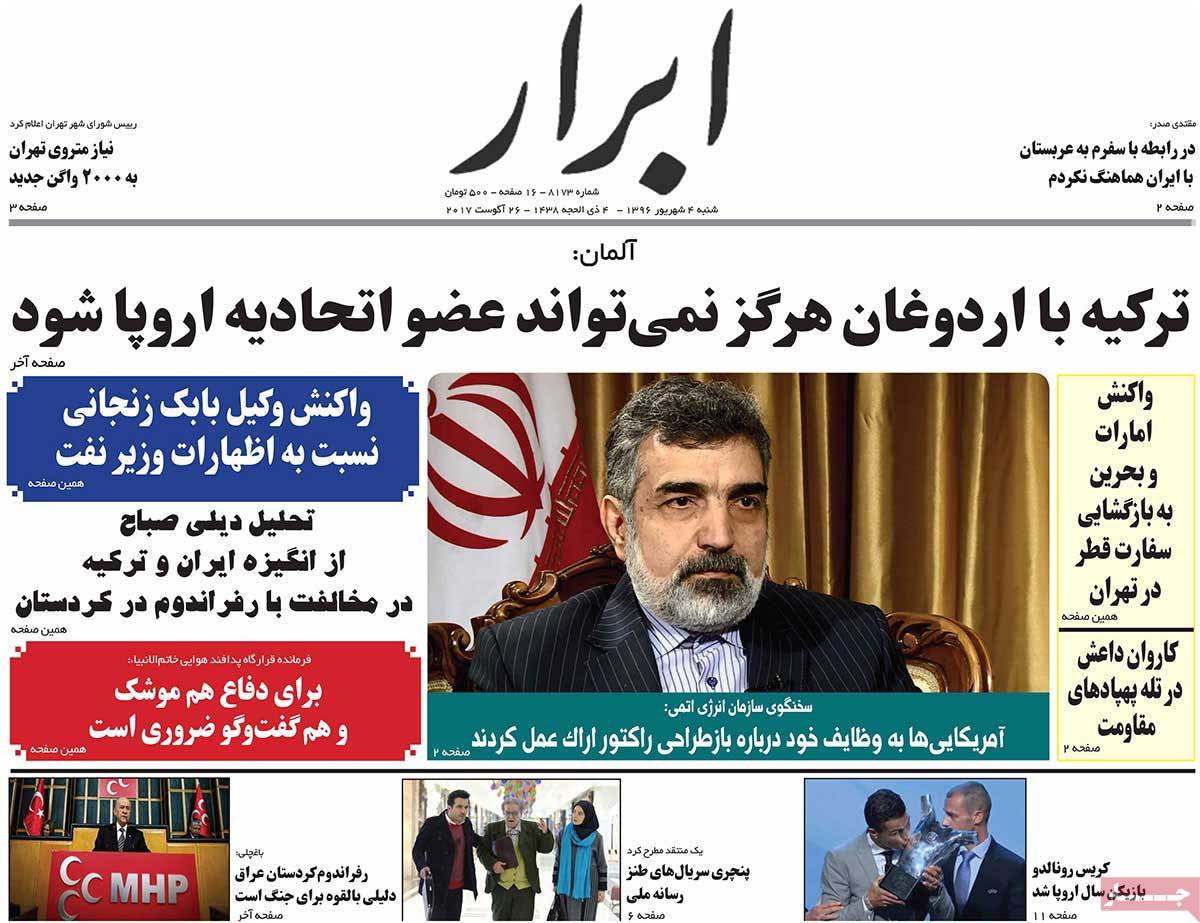 ---
Abrar-e Eqtesadi:
1- Iran Becomes China's Fifth Biggest Oil Supplier
2- Oil Minister: Babak Zanjani Owes Ministry of Petroleum over $1bn
---
Aftab-e Yazd:
1- 4 Ministers Make Interesting Populist Moves Immediately after Taking Office
Culture Minister Calls Popular Actress to Congratulate Her on Birthday
ICT Minister Publicizes People's Complaint against ISPs
Blood Money of Miners Killed in Yurt Mine Paid in Full by Labour Minister
Justice Minister Says Ready to Pursue End of Opposition
2- Muqtada Sadr: I Didn't Coordinate My Saudi Visit with Iran
3- Zanjani Asks for MPs' Mediation on Oil Debts to Ministry
---
Arman-e Emrooz:
1- MP Discloses Secrets about Parliament's No Vote of Confidence to Energy Minister
2- Children without Identity (of Homeless Mothers) Selling Drugs
3- Mashhad Finally Hosts Music Concert
4- Arak Heavy-water Facilities Renamed to Khondab: Official
---
Etemad:
1- Zarif's Protest against Haley's Meeting with Amano
IAEA Responsible for Protecting Information It Has
---
Ettela'at:
1- Zarif: We Need to Show Smart Reaction to US Violation of Commitments
2- South Korea Allocates €8bn to Iran
3- Hezbollah Secretary-General: Great Victory over Terrorism Imminent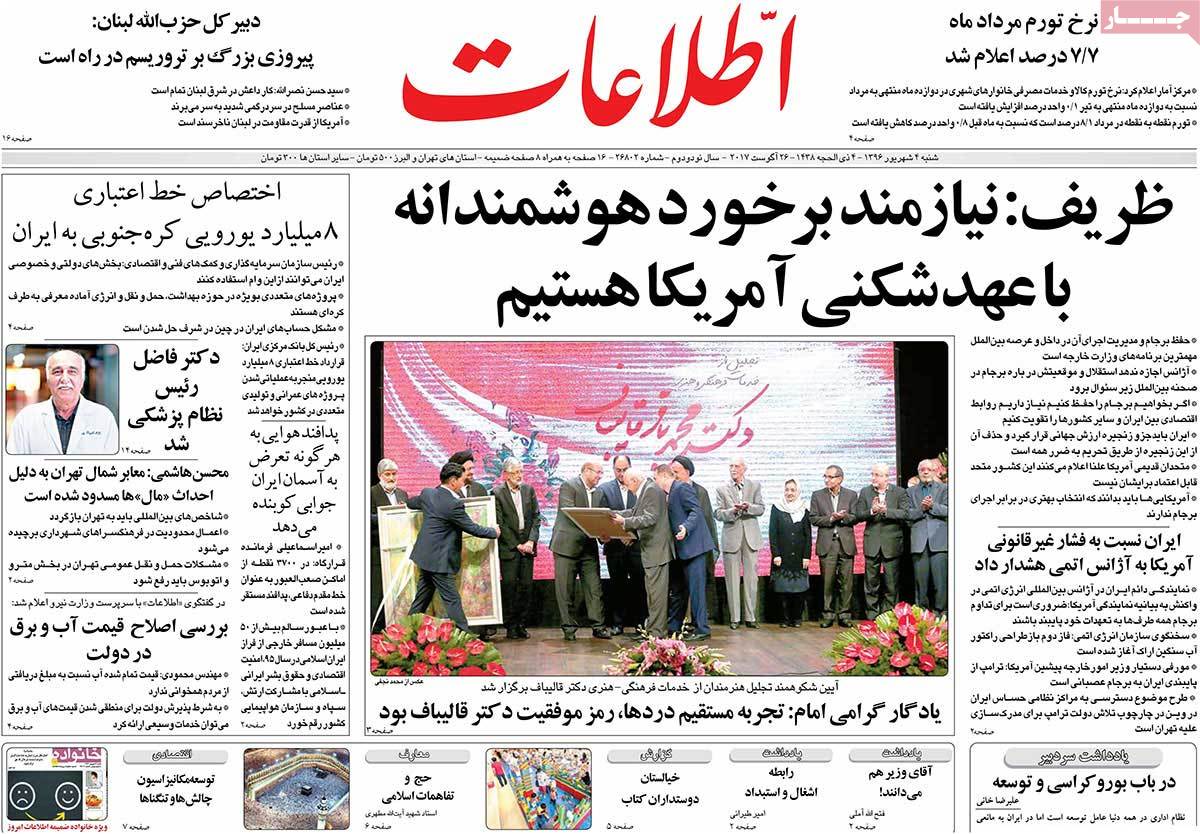 ---
Ghanoon:
1- Zarif Urges IAEA to Maintain Its Independence
2- Apple in Puzzle of Sanctions!
Removal of Iranian Apps from App Store Violation of Citizens' Rights
3- Redundant Women! Women Football Teams Dissolved One after another
---
Iran:
1- Biggest Foreign Loan after JCPOA: South Korea Signs €8bn Deal with Iran
2- 4 Female Heads of City Councils Talk of Increased Trust in Women's Abilities
3- Bloody Hostage-Raking in Friday Prayers of Kabul's Shiites
---
Javan:
1- IRGC's Drone Counter-Attack on Takfiri Terrorism
ISIS Suffers Heavy Defeats in IRGC's Joint Operation with Resistance Forces
2- Taliban Denounces 'Divisive' ISIS Attack on Kabul Shiite Mosque
3- Using Apple Phones, US Says 'No' to Mother of Negotiations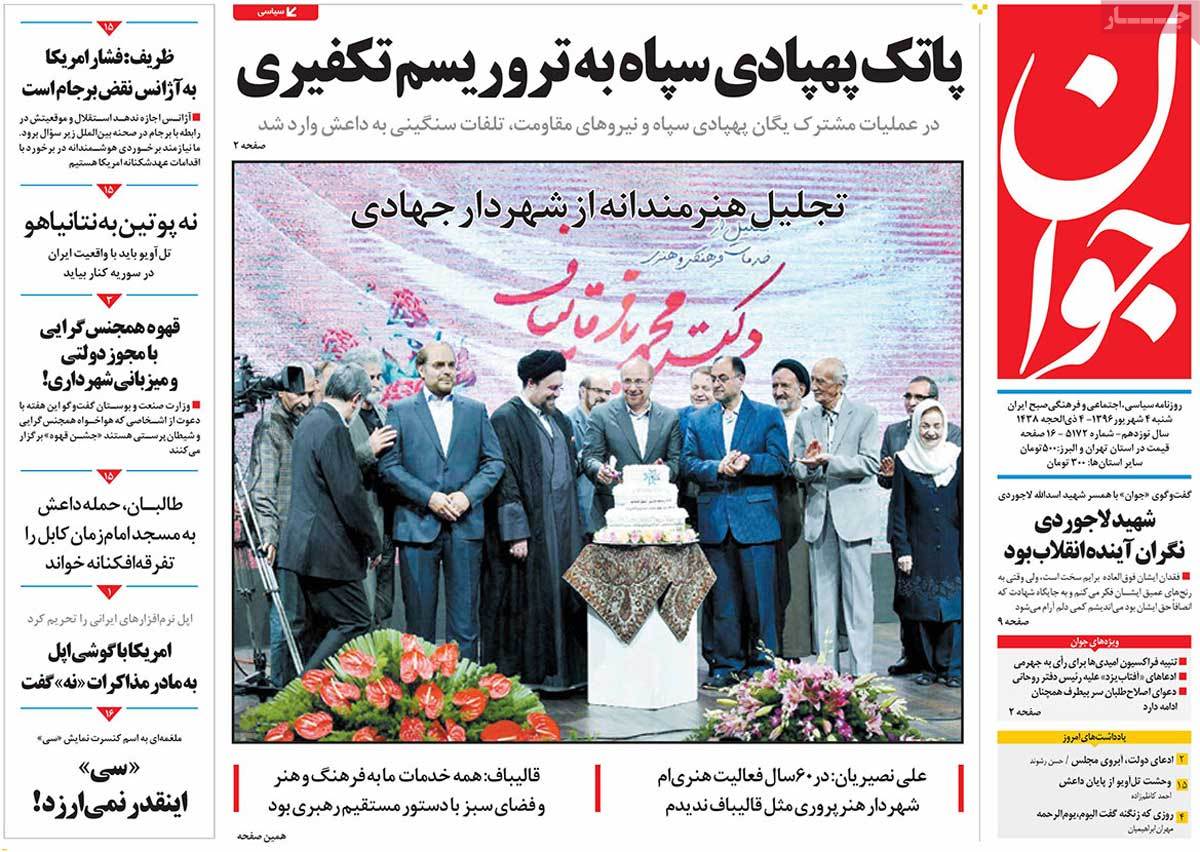 ---
Jomhouri Eslami:
1- Trump Special Envoy's Mission to Abuse Nuclear Deal Fails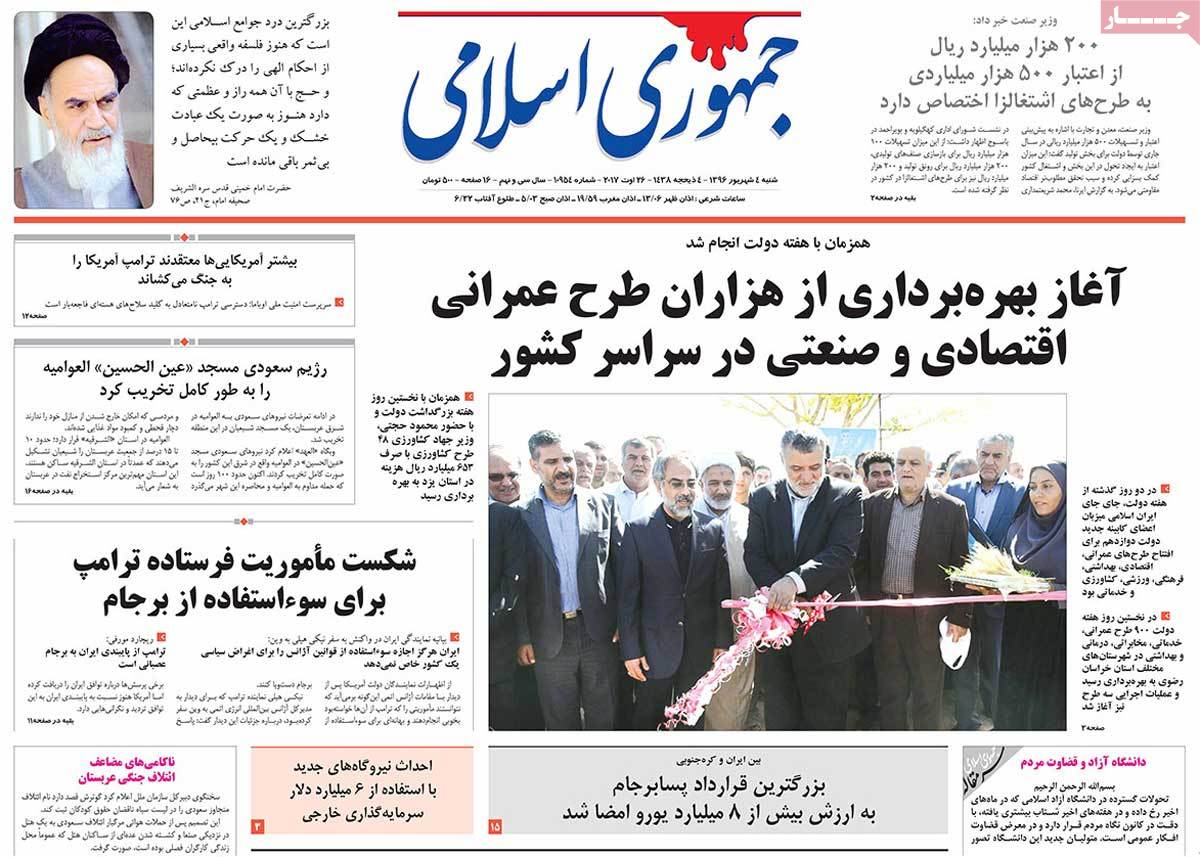 ---
Kayhan:
1- Iran Can Fully Meet Its Food Needs inside the Country: Official
2- Half of Iraq's Tal Afar Liberated: ISIS Fully Surrounded by Iraqi Forces
3- Yemeni People Accept Ansarullah's Call to Fight in War Fronts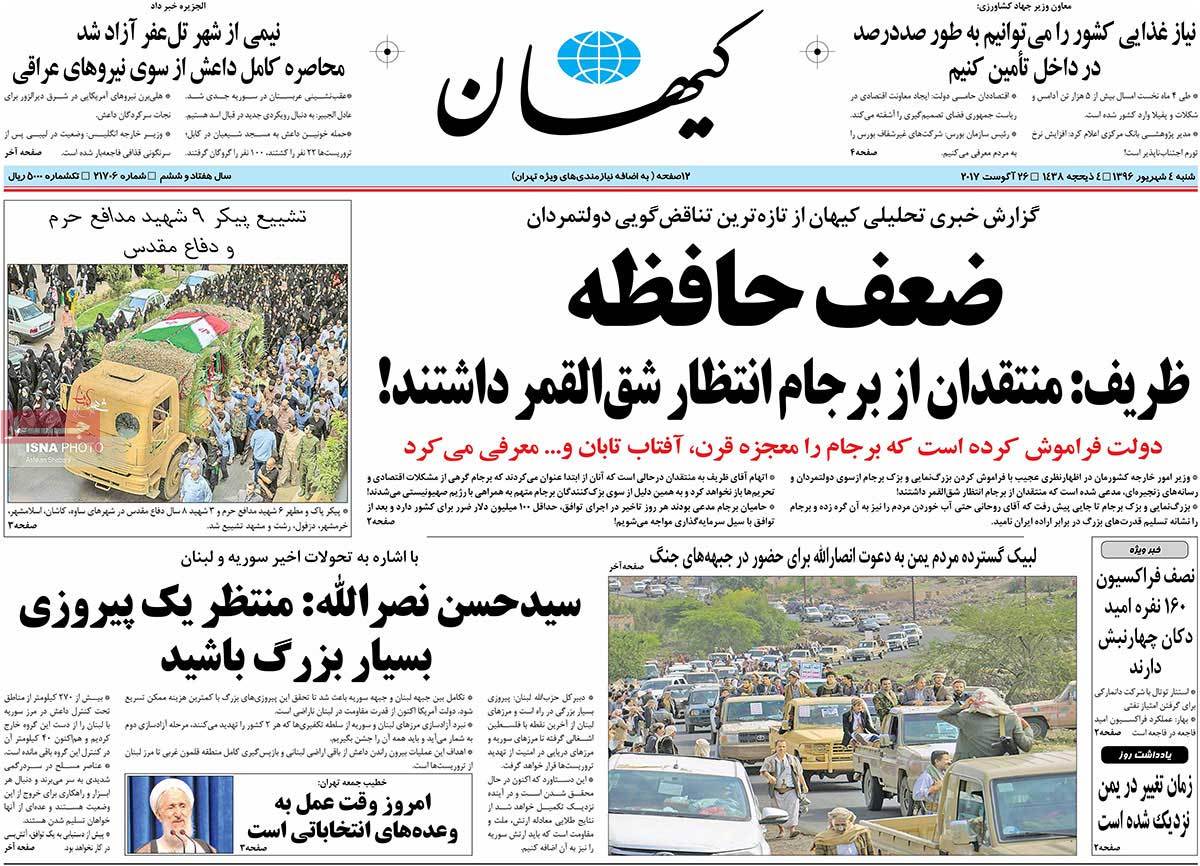 ---
Setareh Sobh:
1- Justice Minister: I'm Ready to Pursue Karroubi's Request from Judiciary
---
Shahrvand:
1- Seoul's Golden Loan to Tehran
2- A Report on Kids Who Make a Living by Selling Water in Cemeteries
---
Shargh:
1- Zarif: JCPOA Removes Plaster Cast from Iran's Foot
2- Qatar Turning to Iran