Newspapers today continued to review the qualifications of President Hassan Rouhani's proposed ministers, particularly the Minister of Communications and Information Technology Mohammad Javad Azari Jahromi, one of the youngest-ever ministers in Iran's history.
One of the most important reports today was the Etemad daily newspaper's interview with Deputy Oil Minister Amir-Hossein Zamaninia about the details of Iran's huge deal with French energy giant Total.
The controversy over Ehsan Hajsafi and Masoud Shojaei, two Iranian football players who appeared in their Greek side's match against an Israeli team, also remained a top story today. Iran's ministry of sports has threatened that they will not be allowed to play for the national team anymore, but this has sparked FIFA's concern, which called for Iran's explanation.
The above issues, as well as many more, are highlighted in the following headlines and top stories:
Abrar:
1- Defining 4th De-Escalation Zone in Syria after Iran-Russia Talks
2- Kuwait Rejects Reports on Filing Complaint with UN against Iran
3- Zarif: Billions of Dollars in Foreign Investment Attracted after JCPOA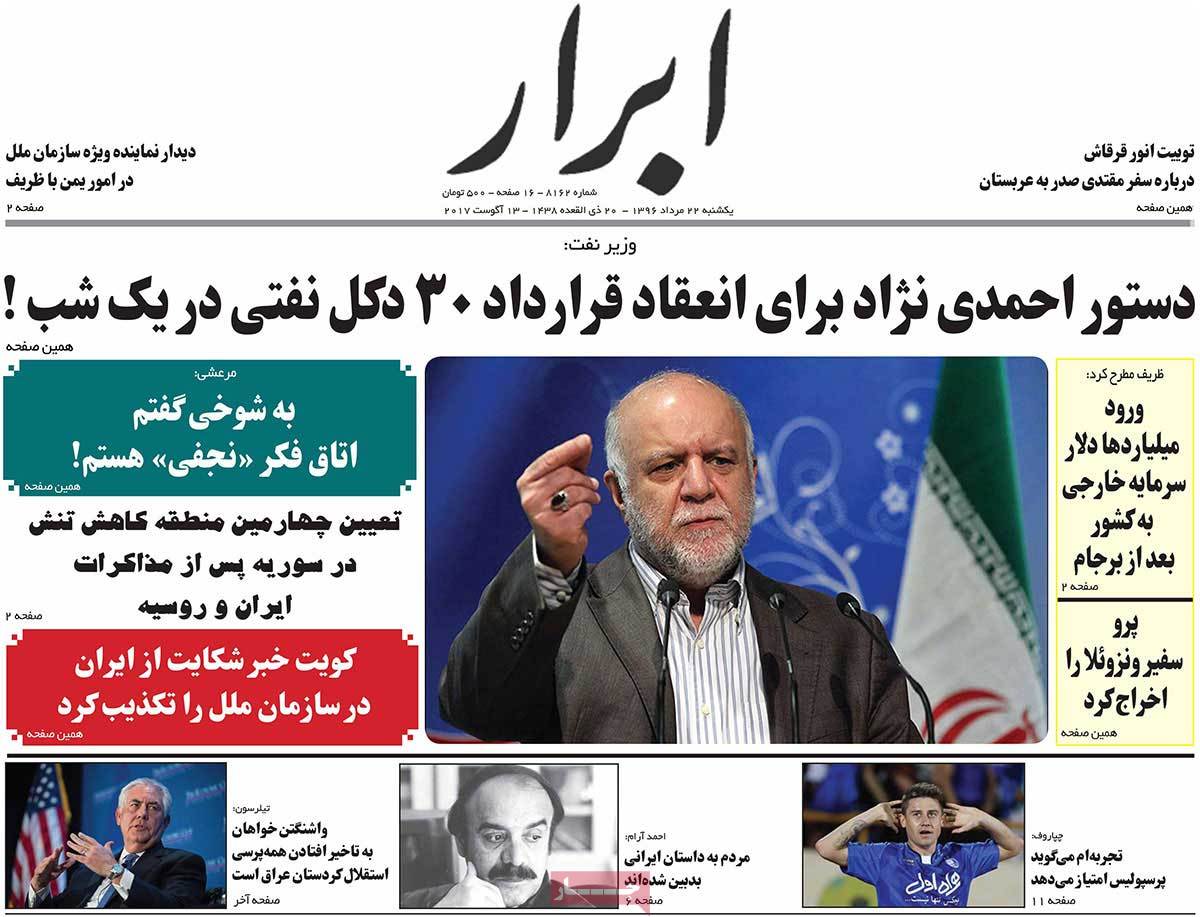 ---
Aftab-e Yazd:
1- Unfair Attacks against Zarif ahead of Parliament's Vote of Confidence
2- Asking Rouhani to Use Women in His Cabinet Not Demanding Shares from Him: Activist
3- Proposed ICT Minister: We Need Eavesdropping Due to Security Issues
4- I'm Hopeful about Effect of Dialogue: Proposed Culture Minister
5- Increased HIV Transmission through Sexual Activities in Iran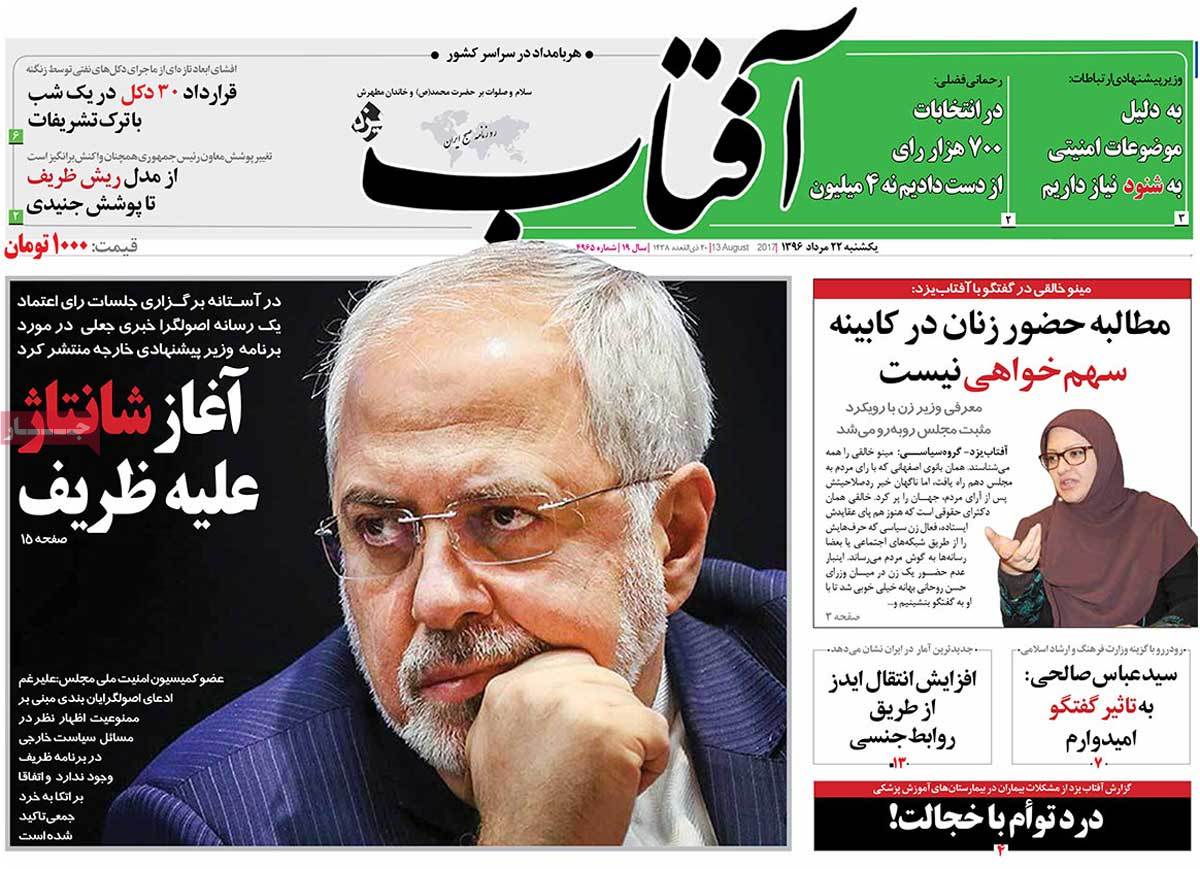 ---
Arman-e Emrooz:
1- Oil Minister Reveals Ahmadinejad's Role in a Controversial Oil Rig Contract
2- Tehran Holds First Rank in Infarctus Rate: 300 Iranians Die of Heart Attack Everyday
3- Women's Parliament to Be Established in Alamolhoda's Province!
Khorasan Razavi Governor Says Women's Parliament to Be Established in 28 Cities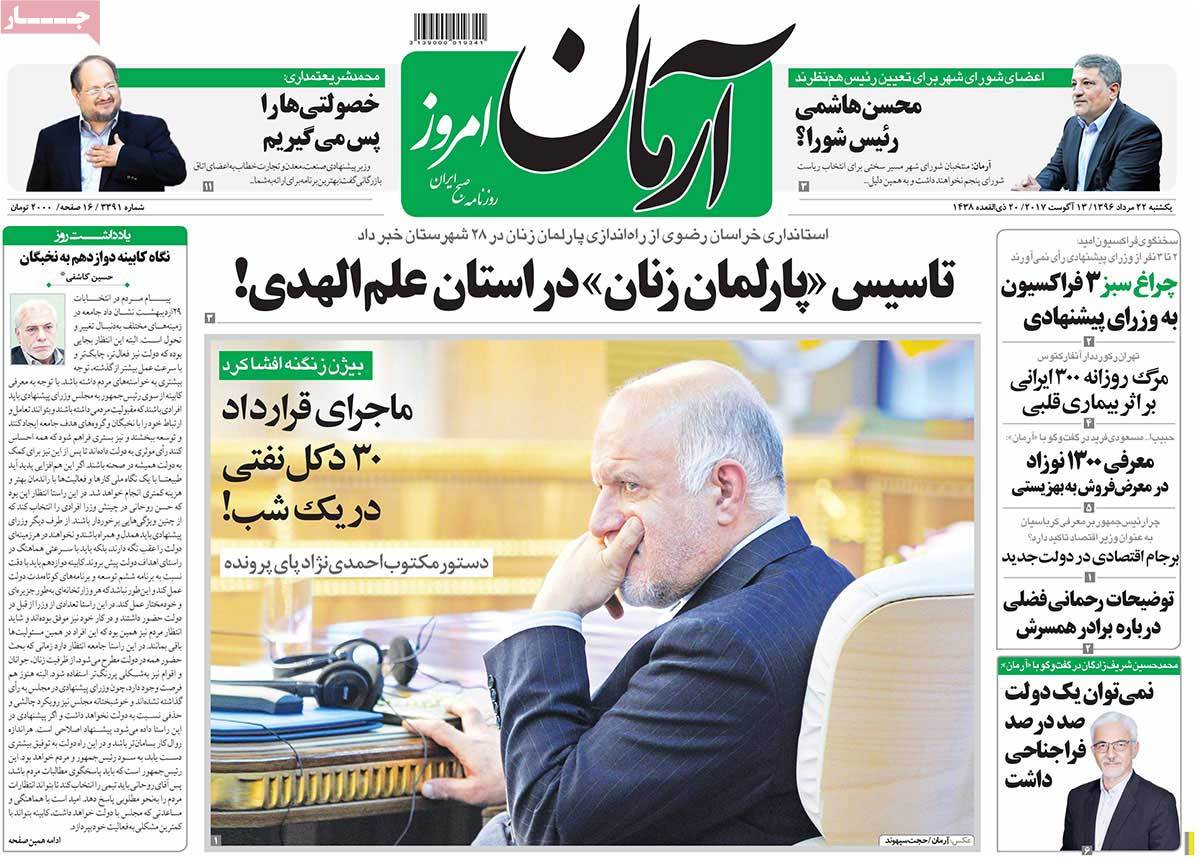 ---
Ebtekar:
1- Iran Foreign Ministry to Focus on Neighbours, Economic Diplomacy
2- I Was Offered to Become Minister of Education: Female VP
3- FIFA Calls for Iran's Explanation about Football Players Who Played against Israeli Team
---
Etemad:
1- Complications of Major Oil Deals, Contract with Total
Deputy Minister: Time We Spent on Total Deal Equal to Time Needed for Revolution
Iraq ahead of Us, Because Oil Giants Are Active There
2- Zarif: I'll Use Women, Sunnis in Foreign Ministry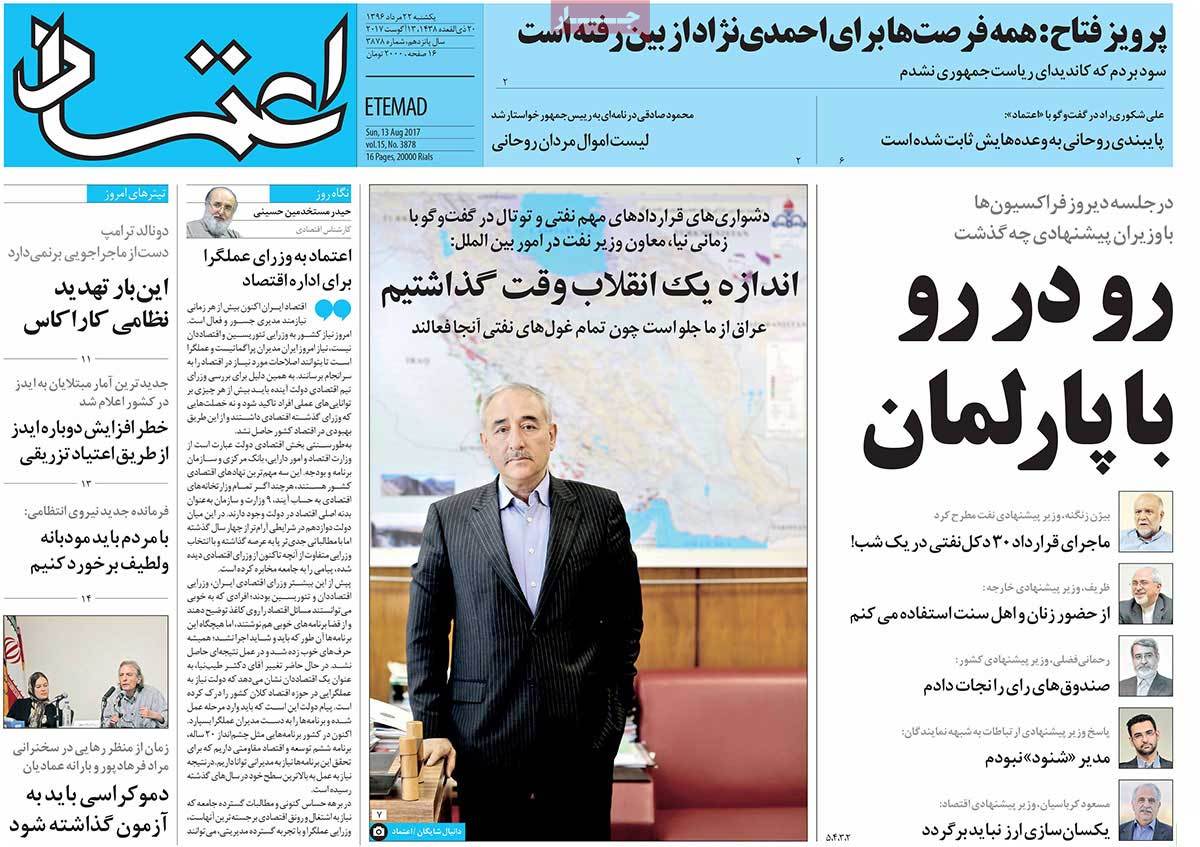 ---
Ettela'at:
1- White House Ex-Official: US Has No Evidence against Iran
2- Kazakh President Awards Iran's Nuclear Chief with Medal of Honour
3- Rouhani to Defend His Ministerial Nominees Tuesday
4- 10 Nobel Laureates Urge Saudi Regime to Stop Executing Shiites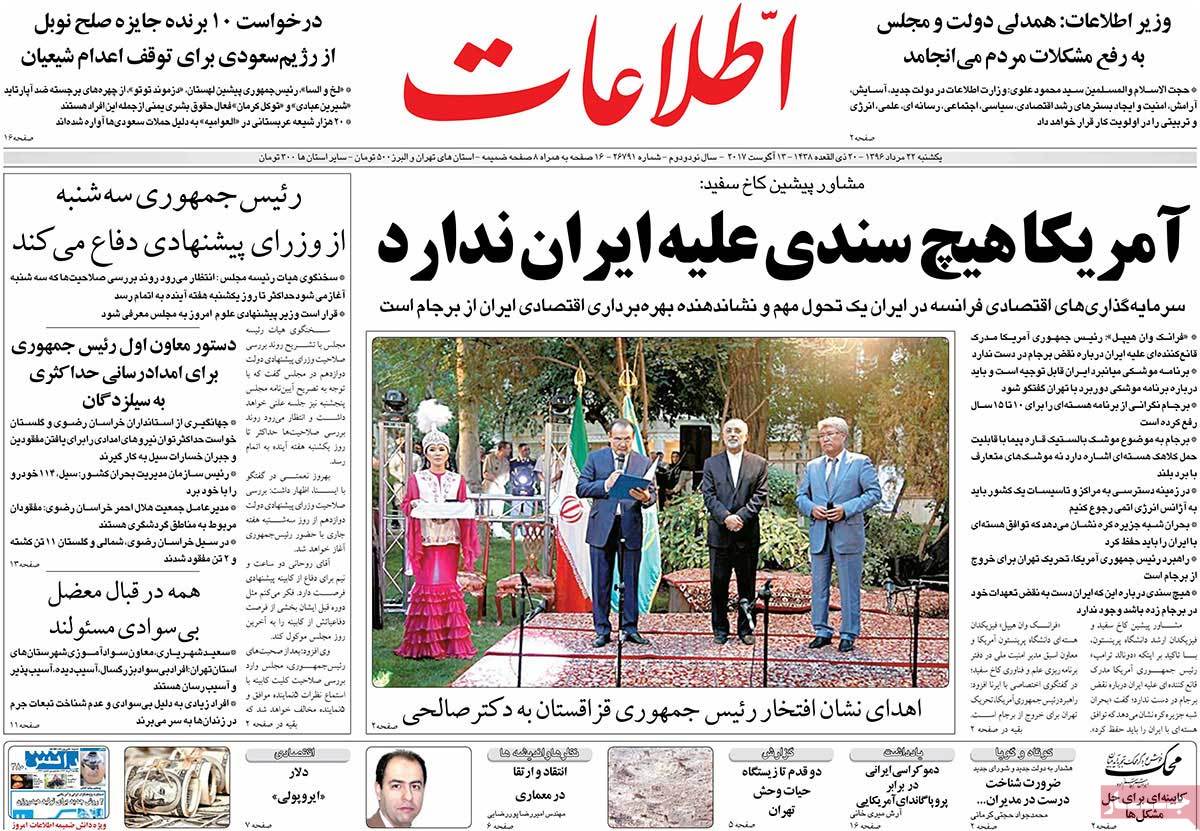 ---
Haft-e Sobh:
1- Unexpected from Ardabil: Thousands of Women Watch Iran Volleyball Match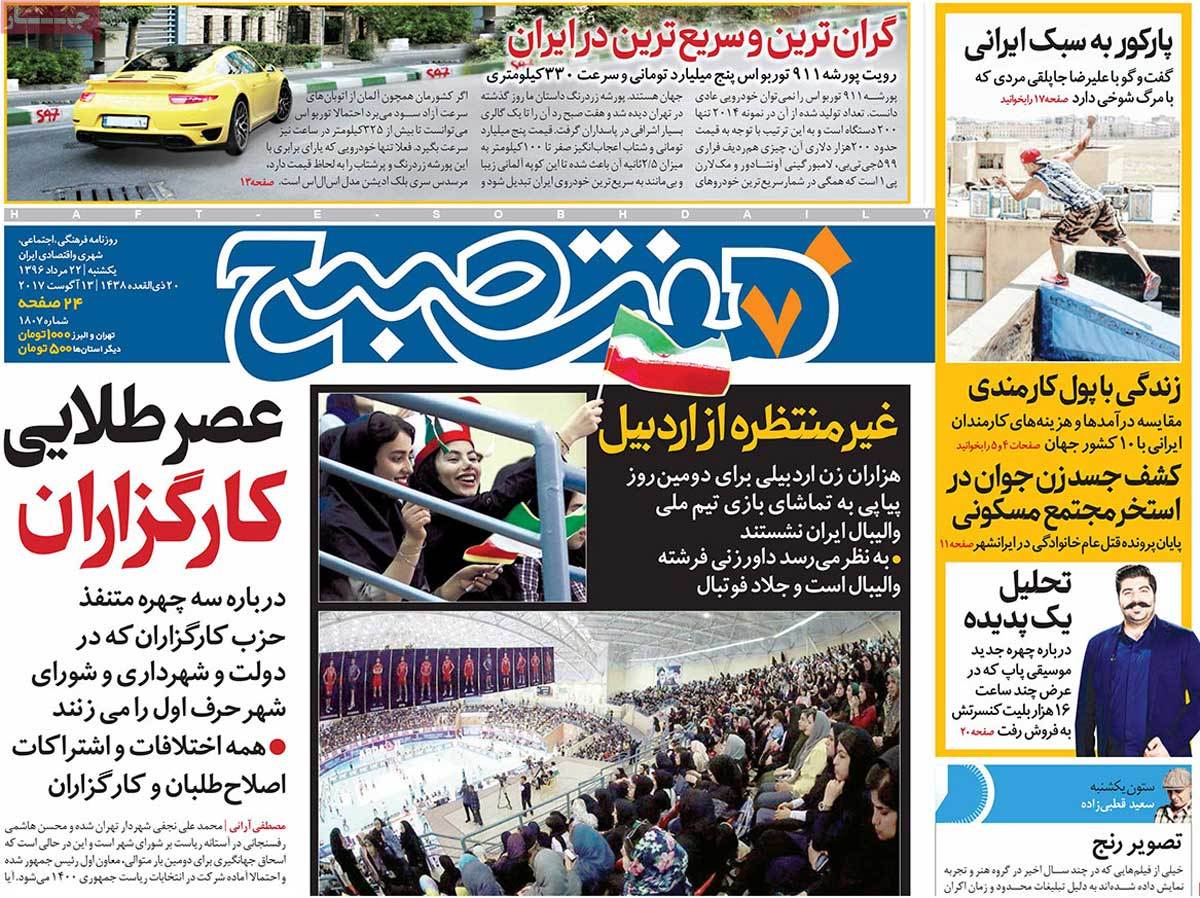 ---
Iran:
1- 13 Killed, 40 Missing in Summer Flooding in 5 Provinces
2- Proposed ICT Minister: I'm Opposed to Limitations for Security Reasons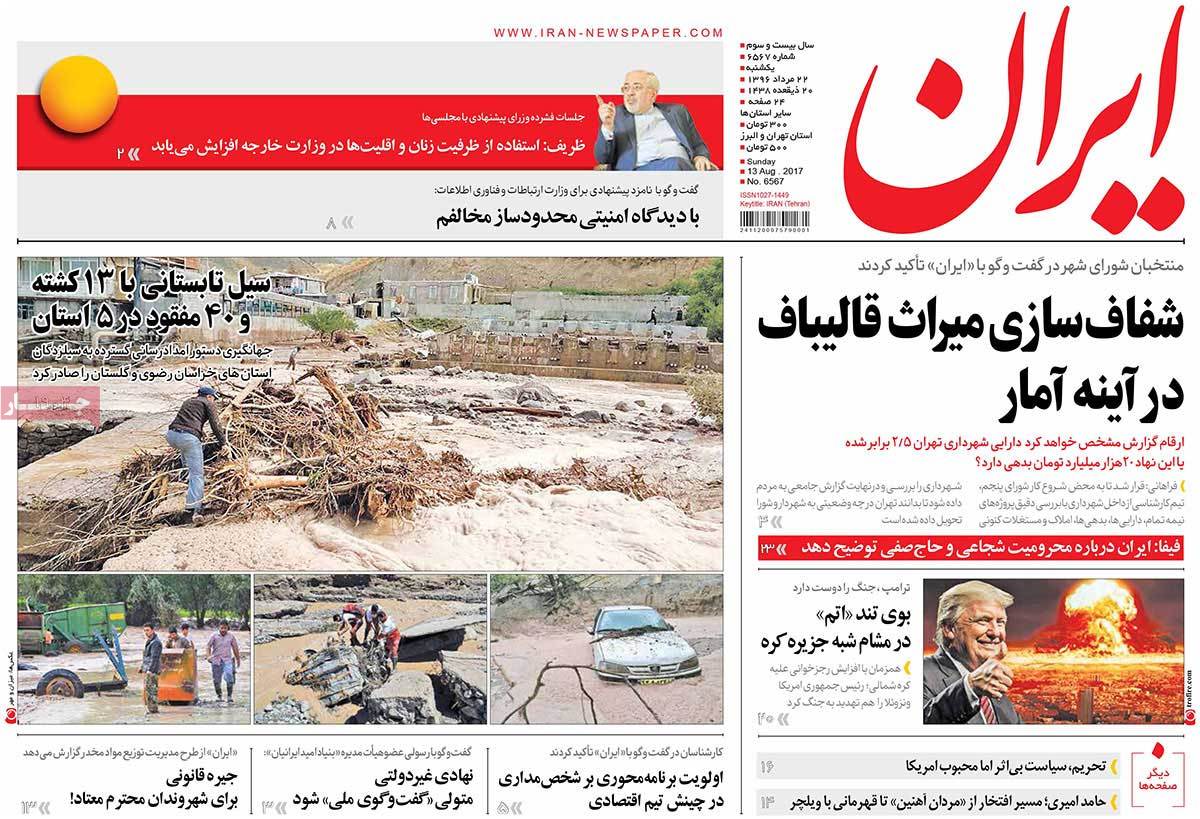 ---
Jame Jam:
1- Issue of Obsession with Luxury in Cyberspace: A Threat to Islamic-Iranian Lifestyle
---
Javan:
1- Chamber of Commerce Chief: People's Purchasing Power Even Less than 10 Years Ago
2- Rouhani's Gov't Increases People's Expenses, Doctors' Income
Despite Health Ministry's Claims, Medical Expenses Sharply Increased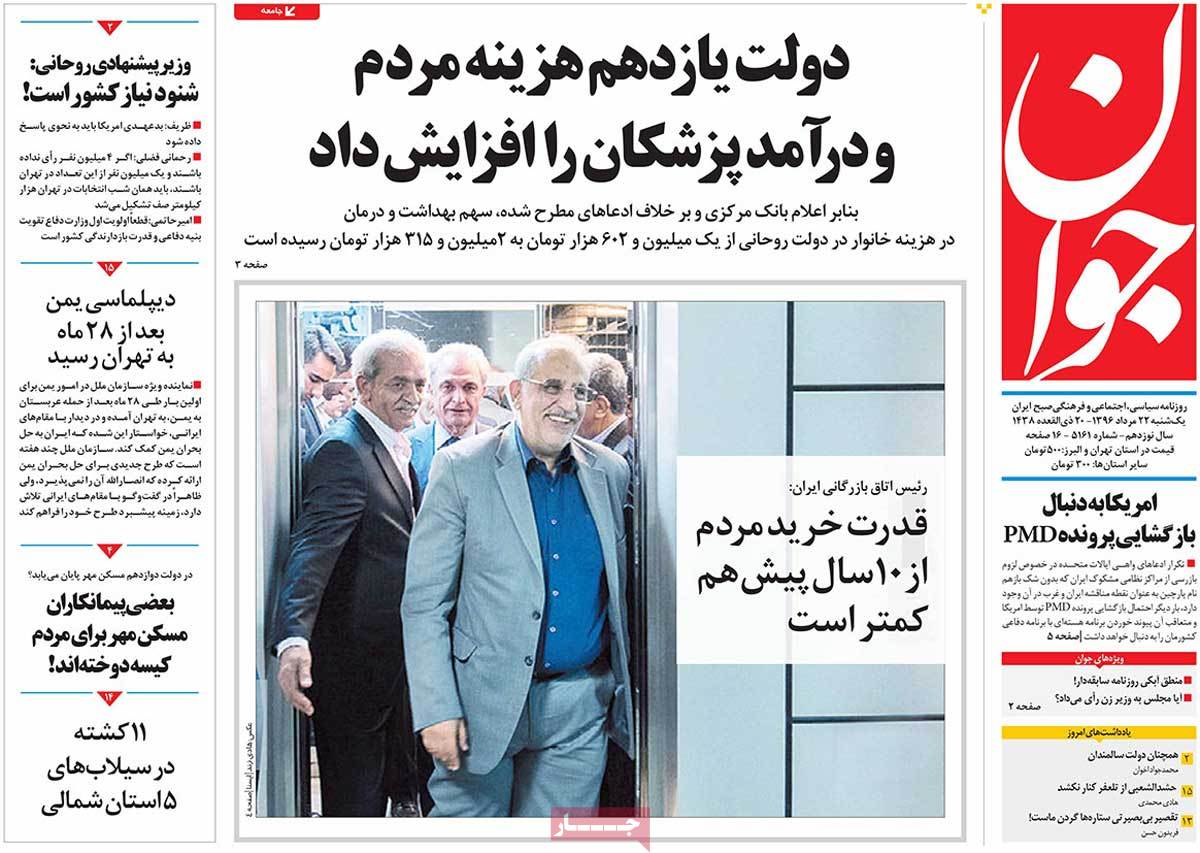 ---
Jomhouri Eslami:
1- Ongoing Efforts to Aid Flood-Hit People in 5 Provinces
2- Deputy Oil Minister: 6 Firms Added to Group of Iranian Exploration Companies
3- Afghan Officials: Depth of Mirza Olang Disaster beyond What Covered in Media
4- Syria Flag Raised in Jordan Border after Years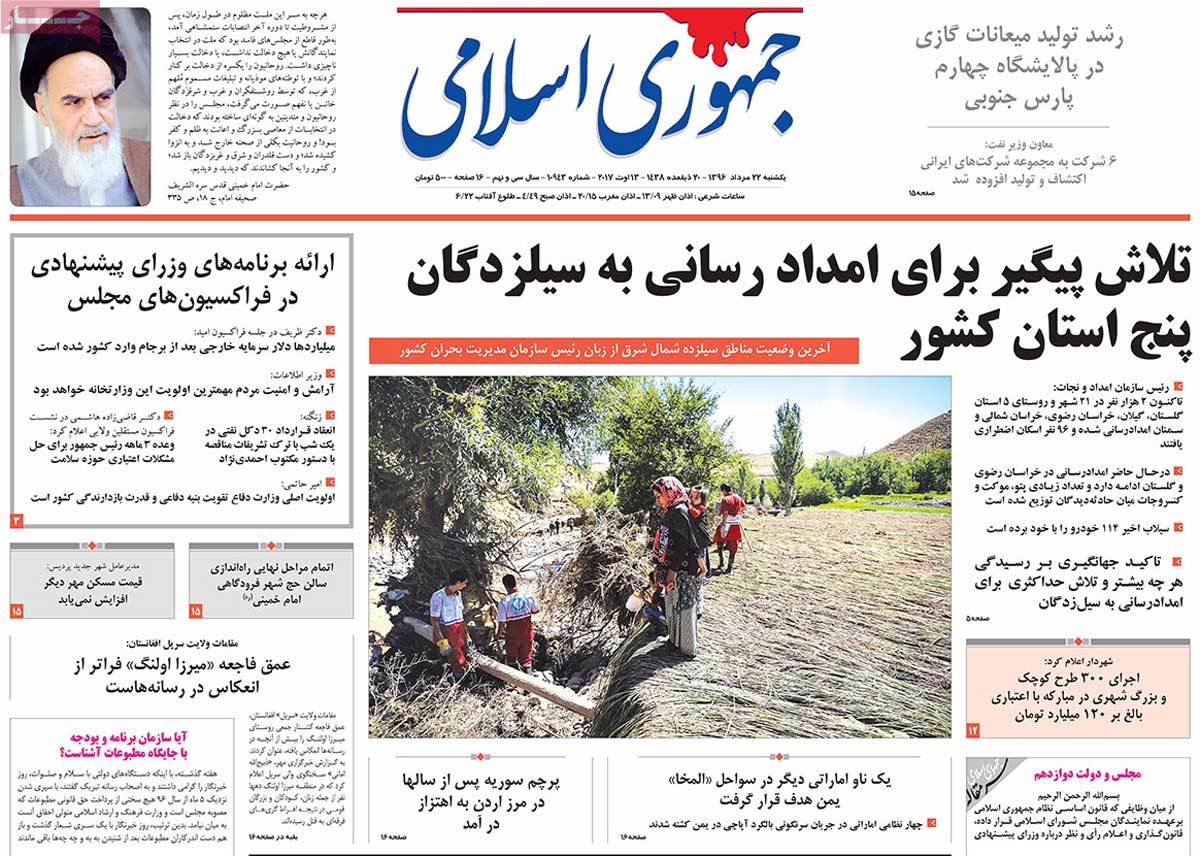 ---
Kayhan:
1- Reformists Picked Cabinet Members, but Don't Want to Be Accountable!
2- Popular Forces: US Fighter Jets Deployed in ISIS-Occupied Areas to Support Terrorists
3- Int'l Immigration Organisation: 400,000 Displaced Syrians Return Home after Aleppo Liberation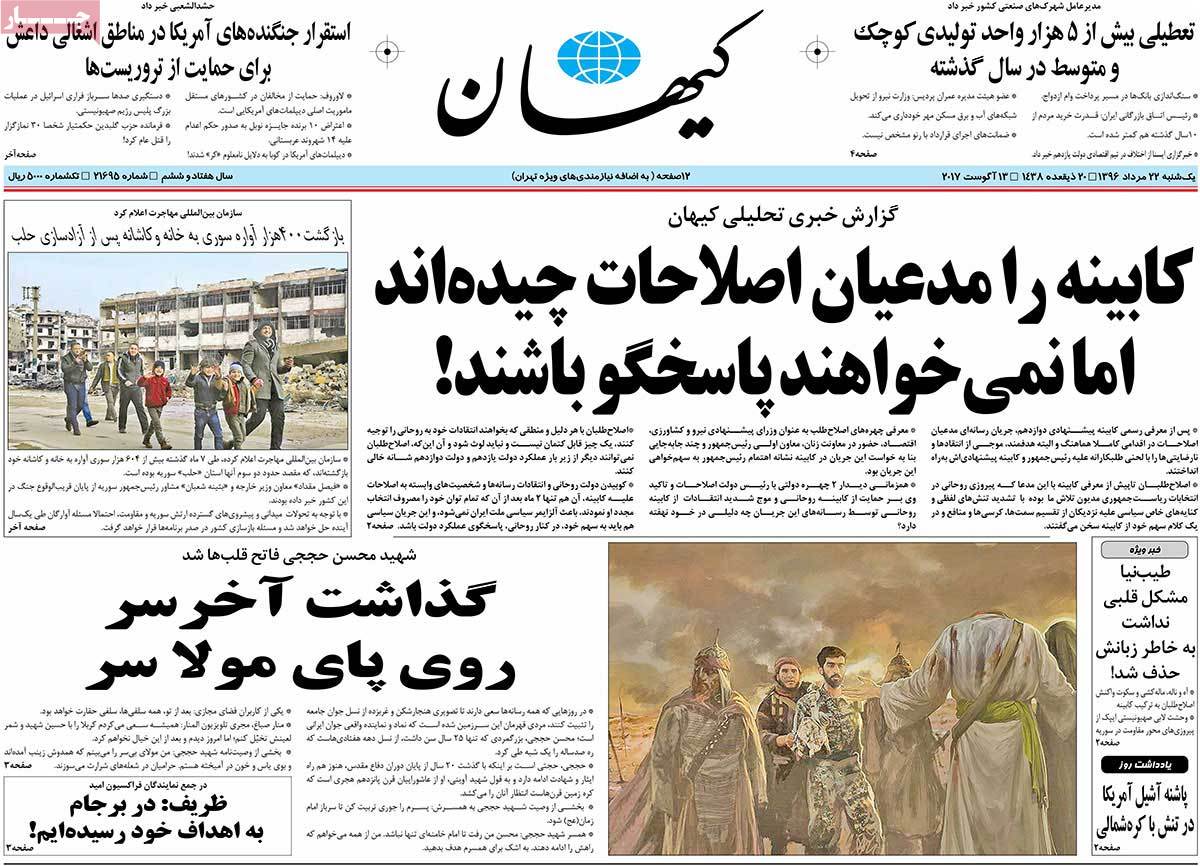 ---
Resalat:
1- Cleric Urges Parliament Not to Give Ministers Vote of Confidence Blindfolded
2- Mohsen Hojaji's Wife: I See Nothing but Beauty in His Martyrdom
3- Western Sources: Trump to Withdraw from Nuclear Deal
4- Lavrov: Trump Approach to JCPOA Regrettable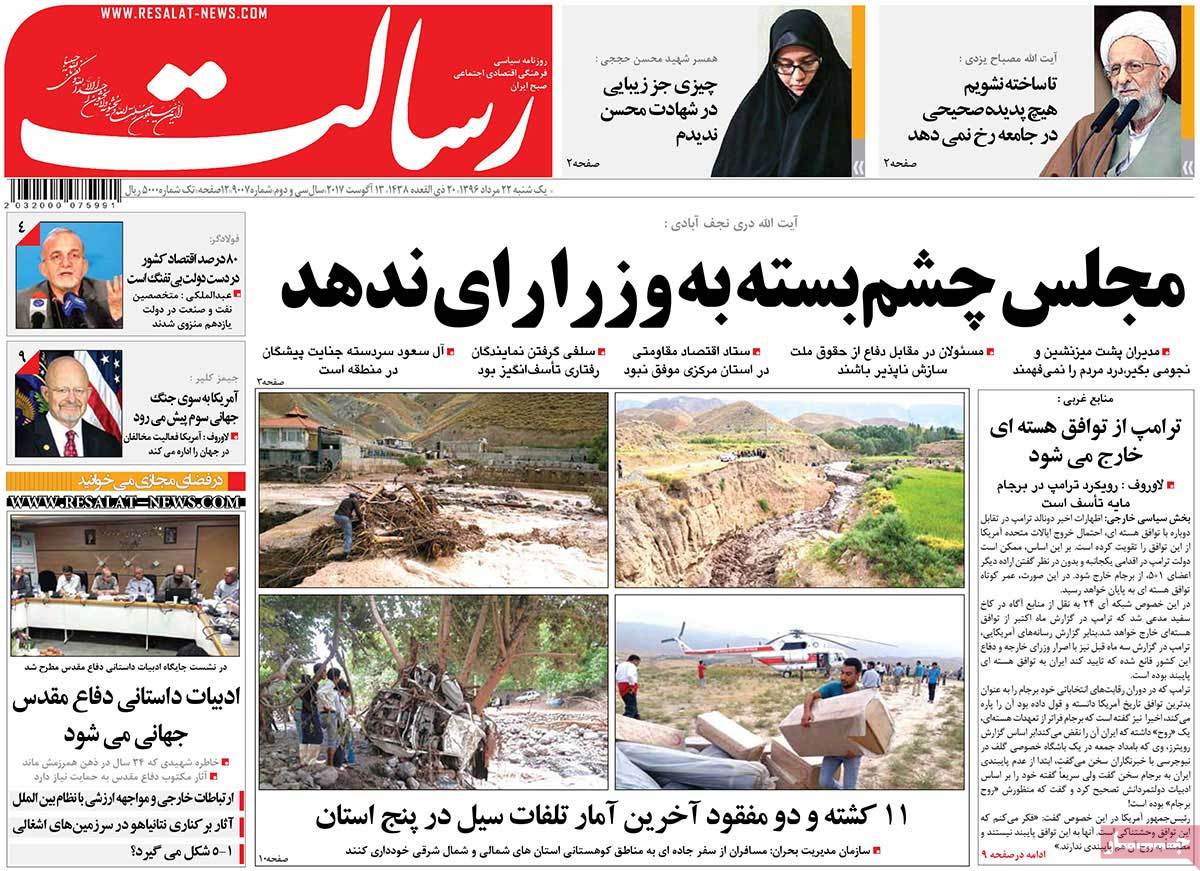 ---
Shahrvand:
1- Poor Elites: A Report on Lives of Top Students Living in Hard Conditions