Almost all newspapers today covered the ISIS terrorists' beheading of Iranian soldier Mohsen Hojaji, and the widespread reactions it sparked.
The Islamic Revolution Guards Corps (IRGC) Quds Force Commander Major General Qassemi Soleimani's vow to cleanse the earth of ISIS militants was particularly covered in today's newspapers.
The imminent danger of a war in the Korean Peninsula was also a top story today. Many papers highlighted the exchange of threats between US President Donald Trump and North Korean Supreme Leader Kim Jong-un.
Iran President Hassan Rouhani's ministerial nominees were also discussed in several newspapers on Saturday.
The above issues, as well as many more, are highlighted in the following headlines and top stories:
Abrar:
1- UN Concerned about Civilians in Raqqa
2- Rouhani to Appear in Parliament to Defend His Proposed Ministers
3- Trump Welcomes Deportation of US Diplomats from Russia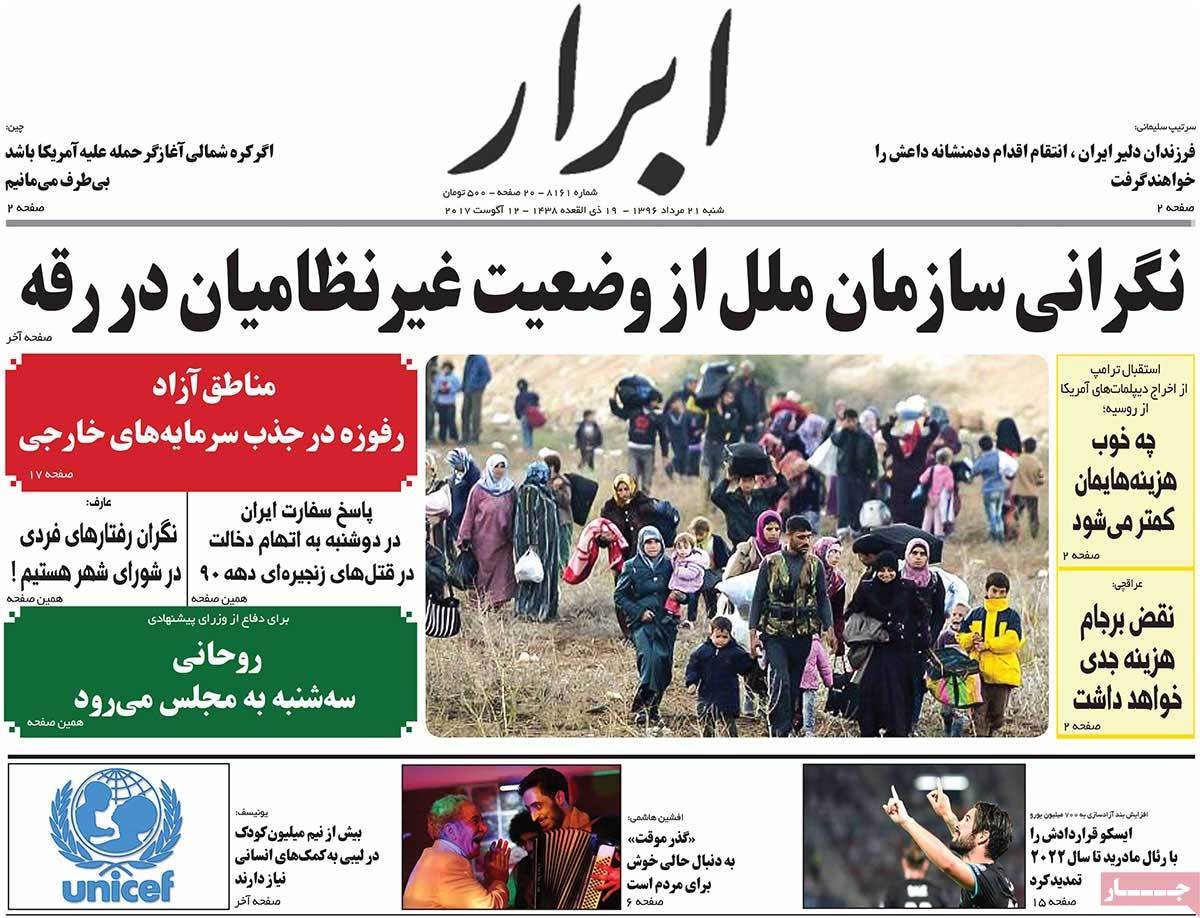 ---
Abrar-e Eqtesadi:
1- MP: Parliament Doubtful about Giving Vote of Confidence to Rouhani's Economic Team
---
Aftab-e Yazd:
1- Tehran's Smile: Najafi Elected as Top Candidate for Tehran Mayor
2- Trump Resolved to Withdraw from Nuclear Deal with Iran
3- Would Parliament Vote for Female Minister If Rouhani Nominate One?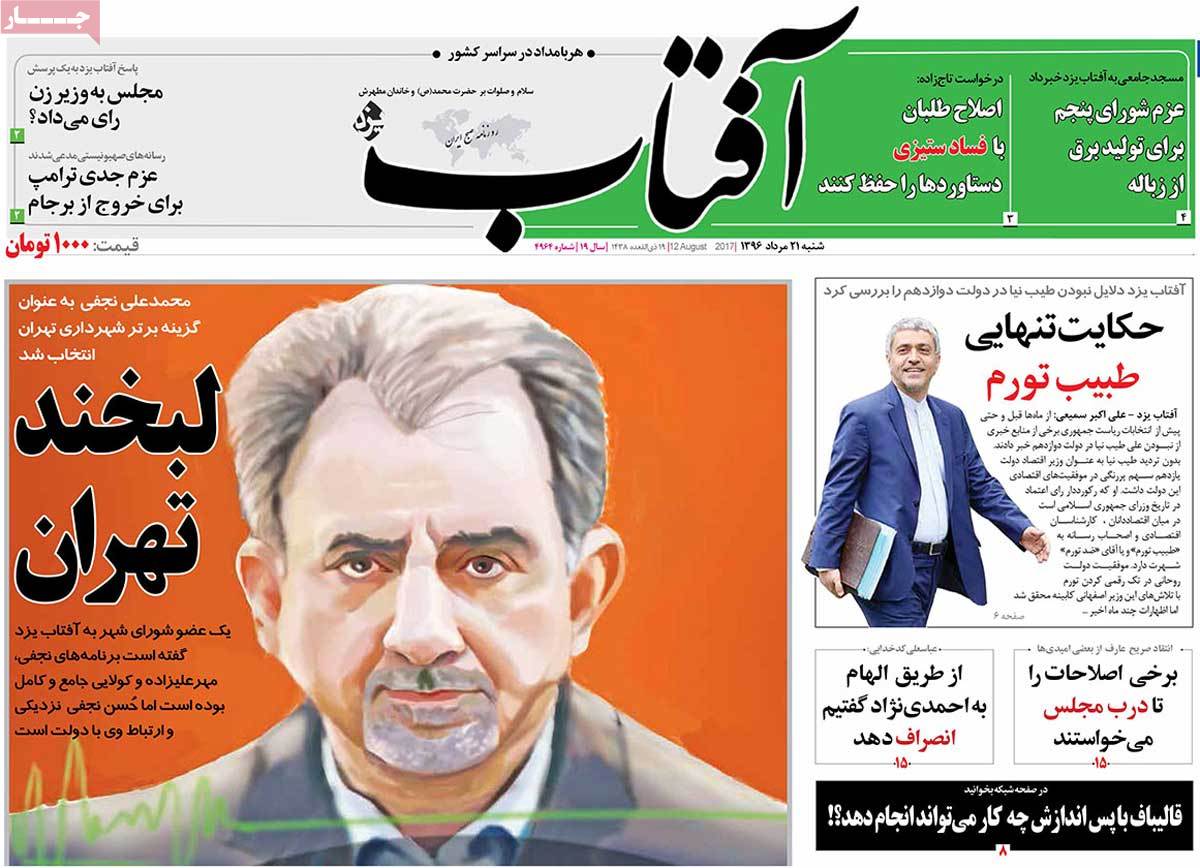 ---
Arman-e Emrooz:
1- 12 Killed in Summer Flooding
2- 48 American Officials Warn Trump about Nuclear Deal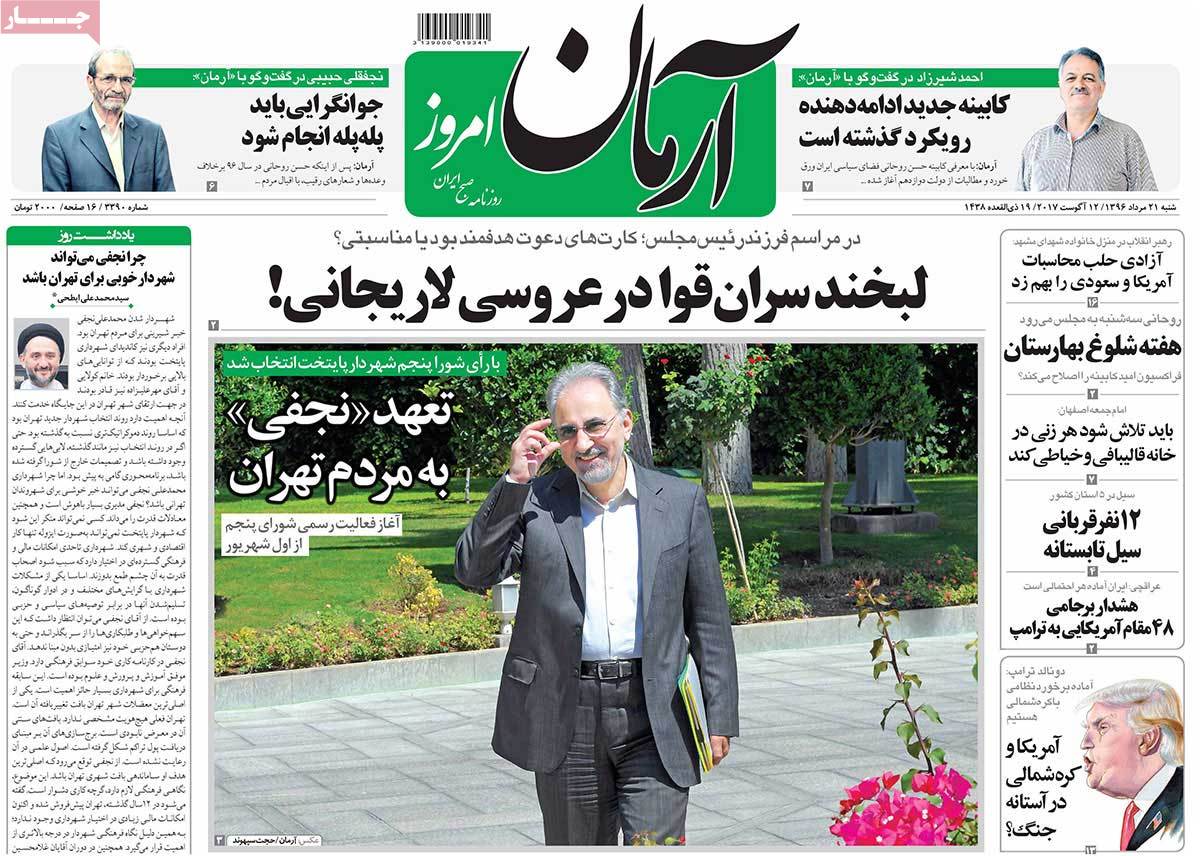 ---
Asr-e Iranian:
1- Far East on Verge of Military Crisis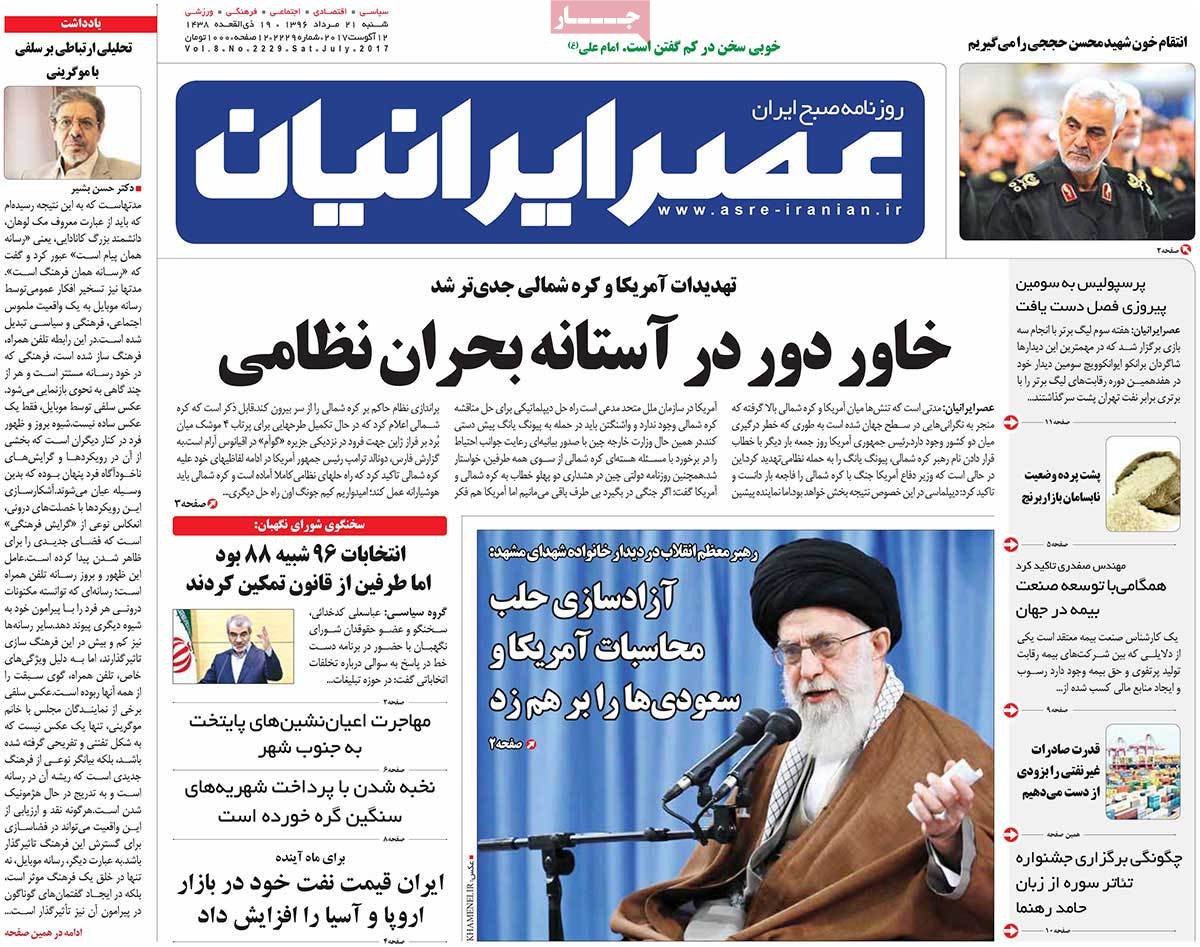 ---
Ebtekar:
1- Dos and Don'ts of Iran in Fall of JCPOA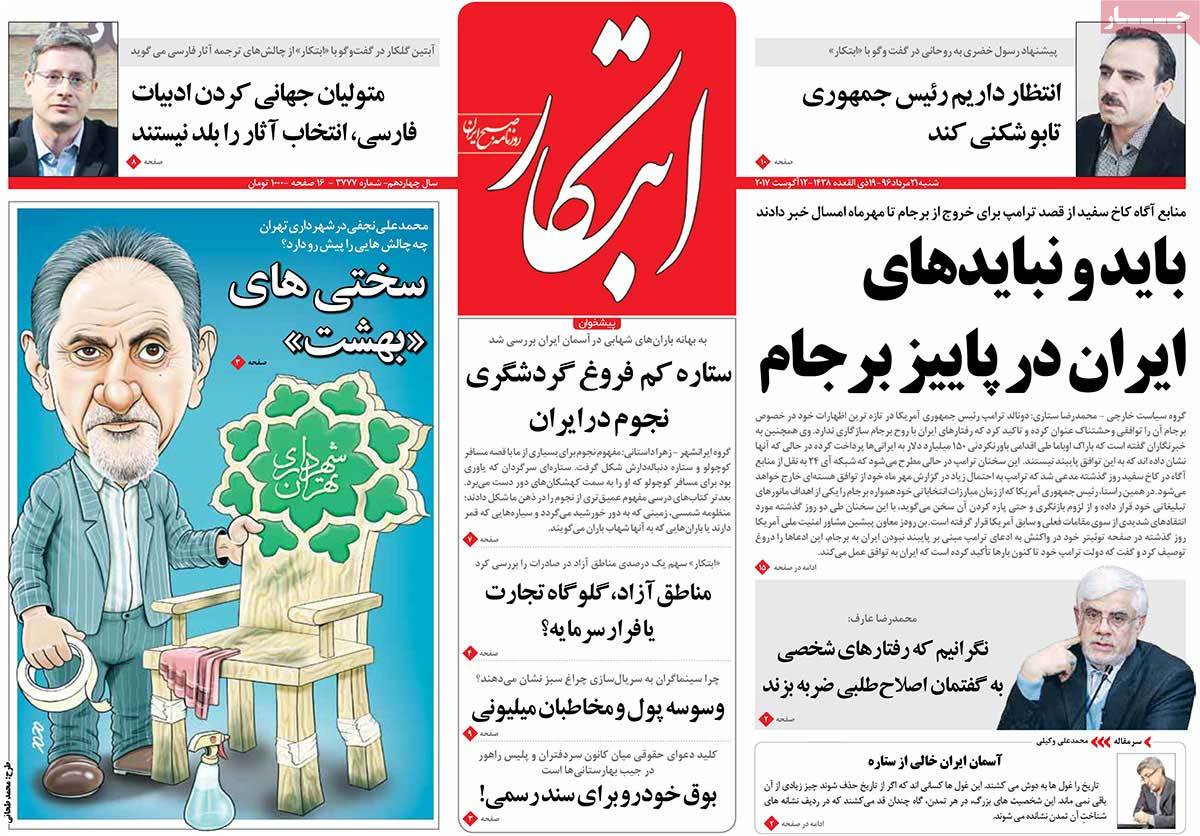 ---
Etemad:
1- Threat in Response to Threat
Trump Once Again Accuses Iran of Violating Spirit of Nuclear Deal
2- Zarif: Bad Faith on Top of US Violating Letter, Spirit of JCPOA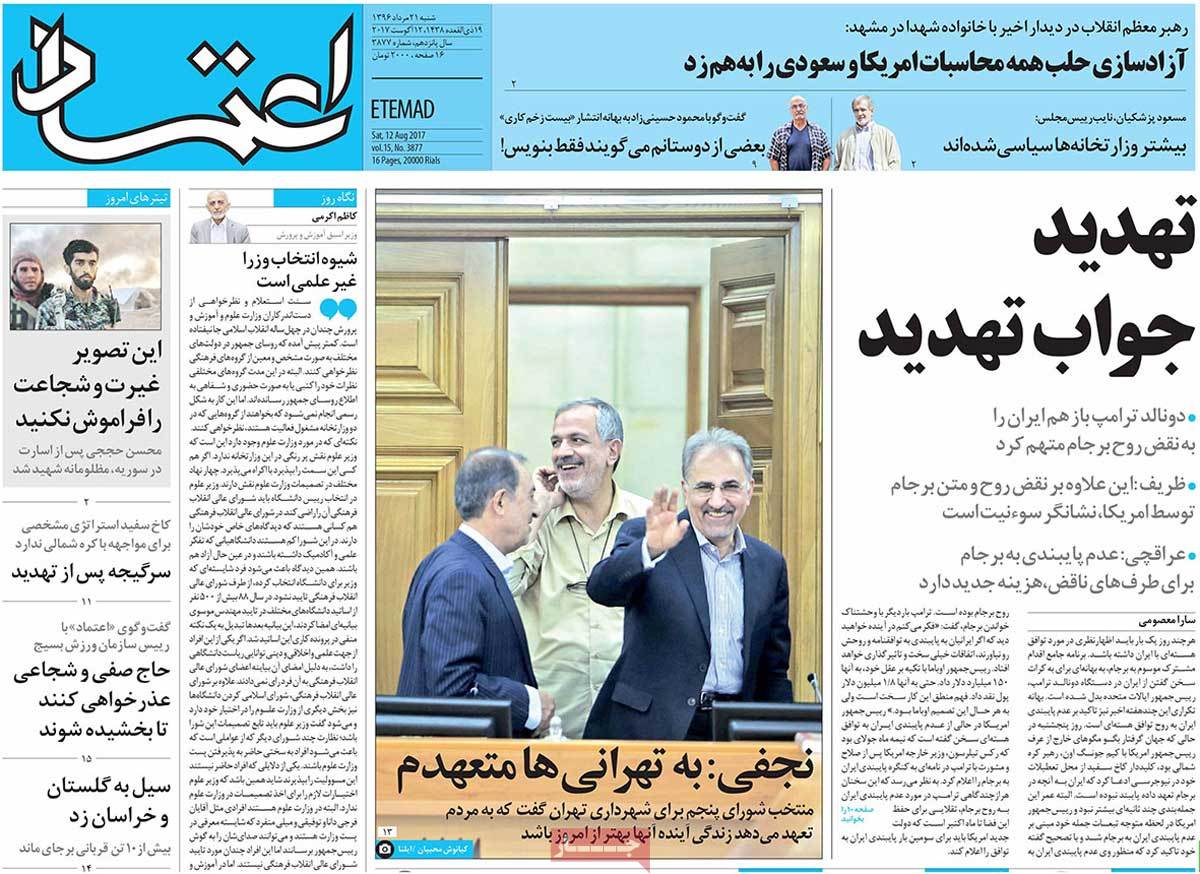 ---
Ettela'at:
1- Iran Leader: Young People Defending Holy Shrines Depict Brilliant Image of Islam
2- General Soleimani: Iran's Children to Take Revenge on ISIS for Beheading Iranian Soldier
3- Iran Parliament Working on 27-Article Plan to Counter US Measures
4- Mirzakhani's Father: Let's Take Maryam as Role Model Instead of Showing Her a Heroine
5- Iran Deputy FM: Violation of Nuclear Deal to Have Serious Consequences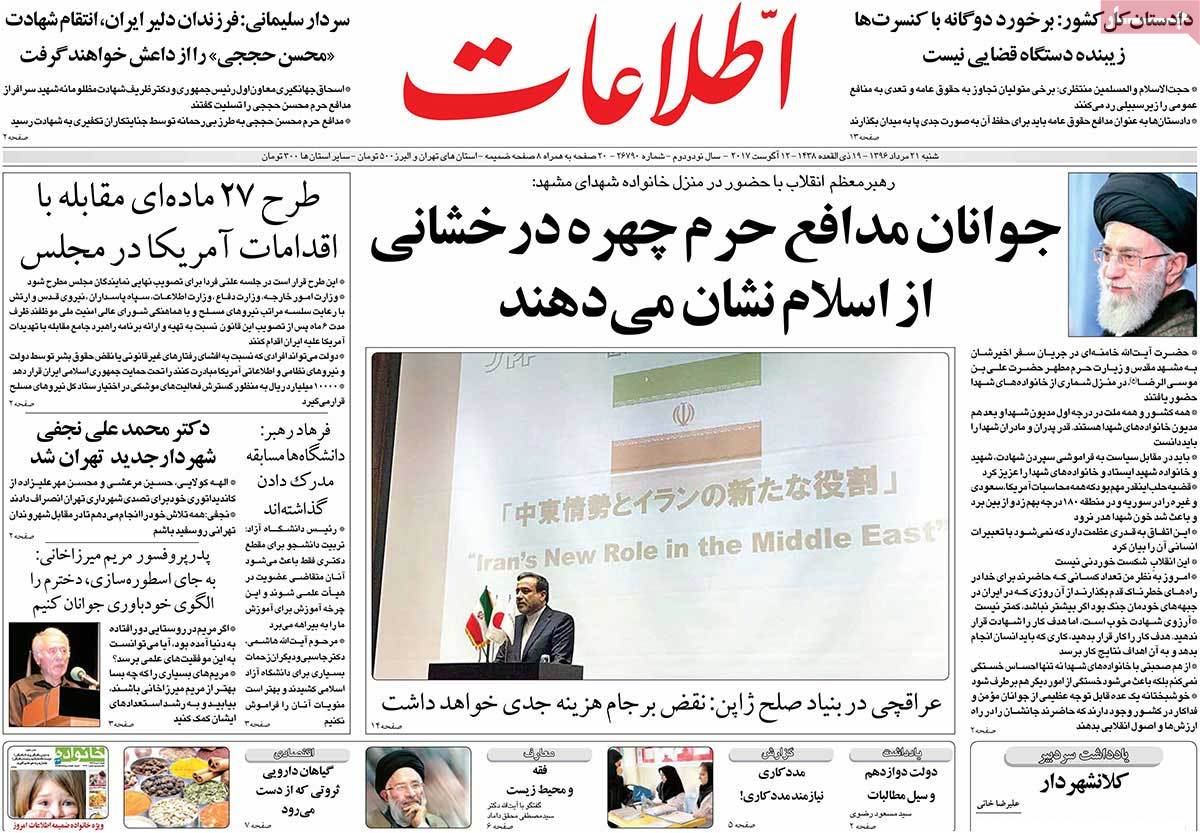 ---
Iran:
1- Plans of Rouhani's Proposed Ministers to Be Discussed by MPs
Parliament to Hold Intensive Meetings with Ministers
2- President Re-Appoints Salehi as Iran Nuclear Chief
---
Javan:
1- Rouhani's Aide: We May Bring Back Inflation!
2- Earth to Be Cleansed of ISIS, Gen. Soleimani Swears to Beheaded Iranian Fighter's Life
3- Israeli i24 News: Trump to Withdraw from Nuclear Deal in October
4- UN Report: Many of ISIS Elements Don't Even Know How to Say Prayers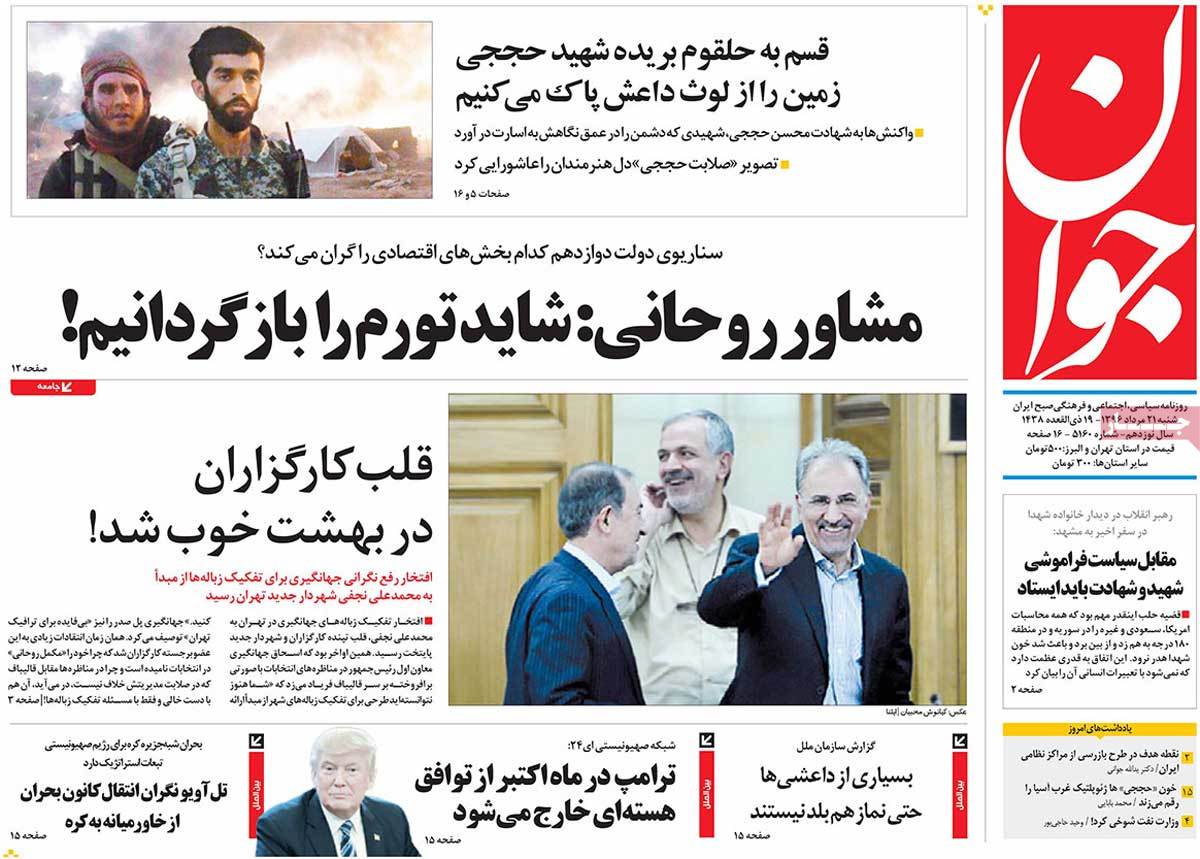 ---
Kayhan:
1- Iran Leader: Entire Iran, Nation Indebted to Martyrs, Their Families
2- Chinese Ruling Party: Beijing to Stand against US If They Attack N. Korea
3- Gen. Soleimani: We'll Avenge Mohsen Hojaji's Death by Eradicating Wahhabism, Terrorism
4- Kayhan Chief: New US Sanctions Illegitimate Child of 'Mother of Negotiations'
---
Mardom Salari:
1- Horn of War in Far East: Trump Makes Suicide Bomb Out of Kim Jong-un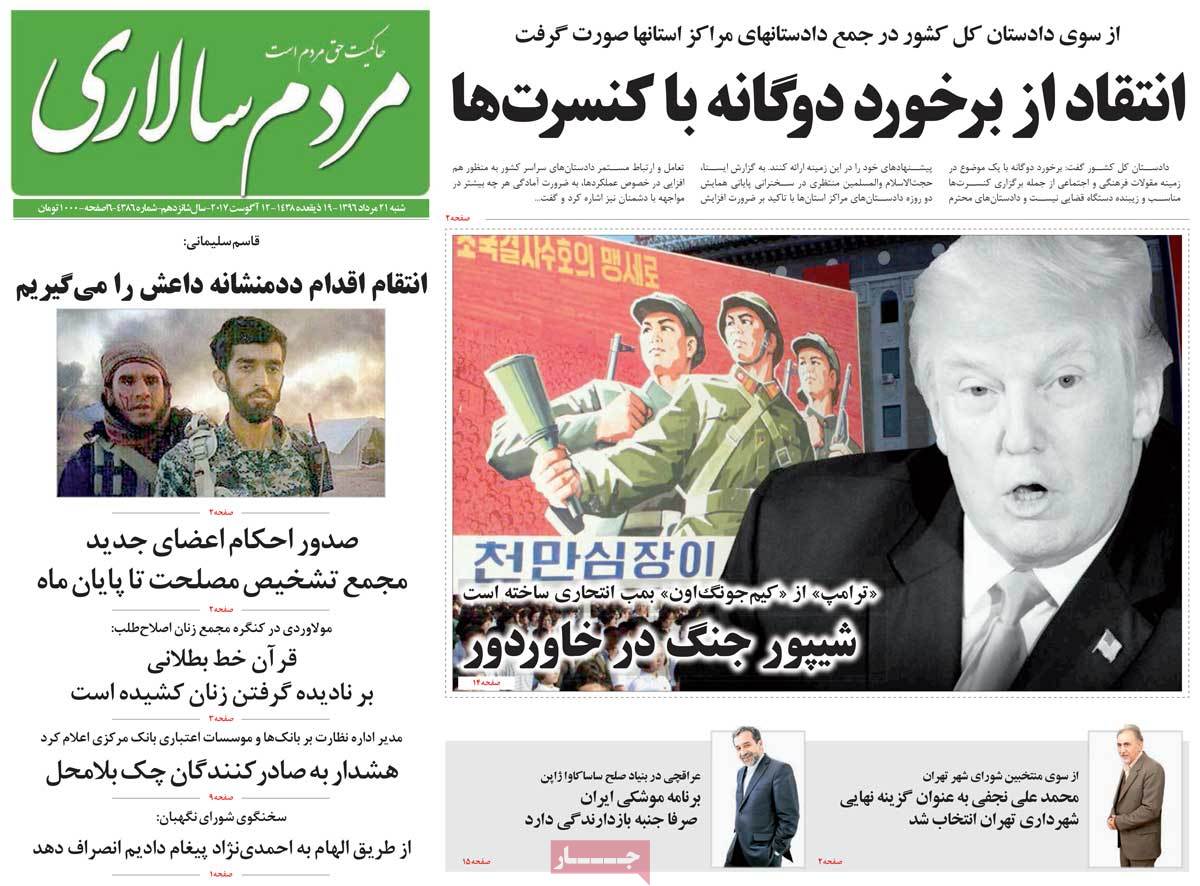 ---
Setareh Sobh:
1- Analyst: Korean Peninsula Field of Battle between Two Crazy Men
---
Shahrvand:
1- Aleppo Liberation Complicates Calculations of US, Saudis: Iran Leader
2- Post-Qalibaf Tehran: Najafi Becomes New Mayor
3- Soldier Left behind from Karbala
Widespread Reactions to Mohsen Hojaji's Martyrdom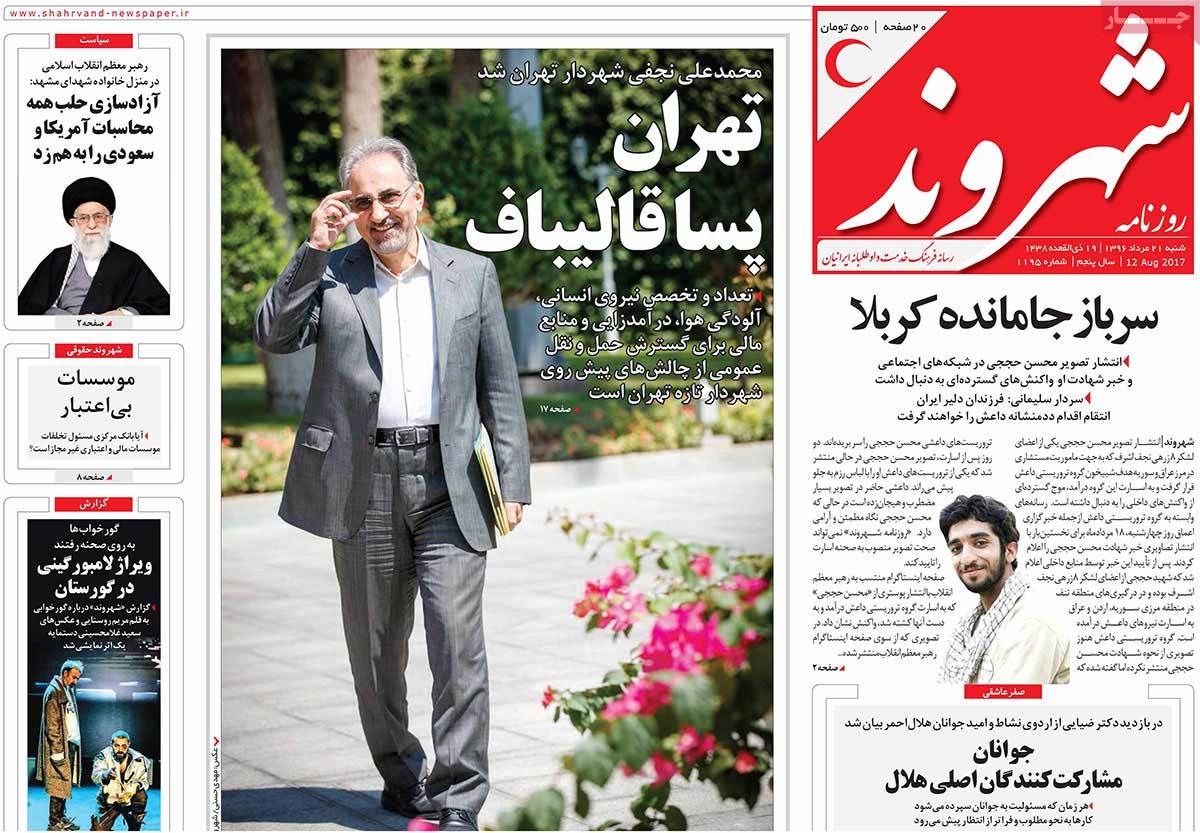 ---
Shorou:
1- Dollar Dominating Iran's Economy: MP
---
Siasat-e Rooz:
1- Sadr's Fall into Saudi Abyss: Saudis Trying to Make Changes to Iraq Structure
---
Vatan-e Emrooz:
1- Epic of Head: Honourable Martyrdom of Mohsen Hojaji Who Was Beheaded by ISIS