Many newspapers today analysed the list of President Hassan Rouhani's proposed ministers, and the female vice-presidents he has appointed.
They also covered the war of words between the United States and North Korea, who are threatening each other to a nuclear attack.
The massacre of dozens of Shiite villagers in northern Afghanistan and the world's silence towards the brutal crime also received great coverage.
The above issues, as well as many more, are highlighted in the following headlines and top stories:

Aftab-e Yazd:
1- Great Test for Tehran City Council
2- Controversial Return of Hostess
Reports on Azadeh Namdari's Arrest Dismissed
---
Arman-e Emrooz:
1- No Female Minister in Rouhani's Cabinet
Rouhani to Ministers: Appoint Female Deputies
2- Demanding Shares from President Most Democratic Political Activity: Analyst
3- Judiciary Spokesman: Total Deal Has No Problem
---
Bahar:
1- A Report on Women's Presence in Rouhani's New Cabinet
Even More Ceremonial than Before
2- 'Hope' under Scrutiny
A Review of Media Reports on 'Parliamentary Selfie' Controversy
---
Donya-ye Eqtesad:
1- Teaching Government How to Decrease Expenses
2- Nuclear War of Words in Korean Peninsula
---
Ebtekar:
1- Larijani: We Shouldn't Expect Rouhani's Proposed Cabinet to Create Revolution
2- Fresh Wound on Afghanistan's Body
3- Rouhani's Promises to Be Fulfilled through Proposed Ministers: First VP
---
Etemad:
1- War Crime in Afghanistan's Mirza Olang
Taliban Frees 235 Hostages after Massacring Civilians
2- Najafi: After Serving as Tehran Mayor, I'll Retire, Won't Run for President
3- Every Minister Should Have One Female Deputy: First VP
---
Ettela'at:
1- Spectre of War over Korean Peninsula
Pyongyang, Washington Threaten Each Other
2- Jahangiri: Next Cabinet to Perform Well in Facing Challenges
3- WikiLeaks Reveals Riyadh-Tel Aviv Secret Ties
---
Iran:
1- First VP: Women to Have Great Presence in Next Gov't
2- President Appoints Three Women in Cabinet
---
Jahan-e San'at:
1- Experts Analyse Economic Plan of Rouhani's Economic Ministers
Pinning Hopes on Miracle of These Three People
2- Will Korean Peninsula Crisis Go out of Control?
World Controlled by Crazy People
---
Javan:
1- US Threatens to Wage Nuclear War against North Korea
2- Mirza Olang Disaster Was Genocide of Shiites
3- Rouhani's New Term Comes with Foreign Eggs
4- Women in Rouhani's Cabinet Just Change Their Seats
---
Jomhouri Eslami:
1- 48 Former, Incumbent US Officials Warn of Consequences of Scrapping JCPOA
2- Korean Peninsula One Step Closer to War
3- Successful Test of Third Well in Phase 14 of South Pars Gas Field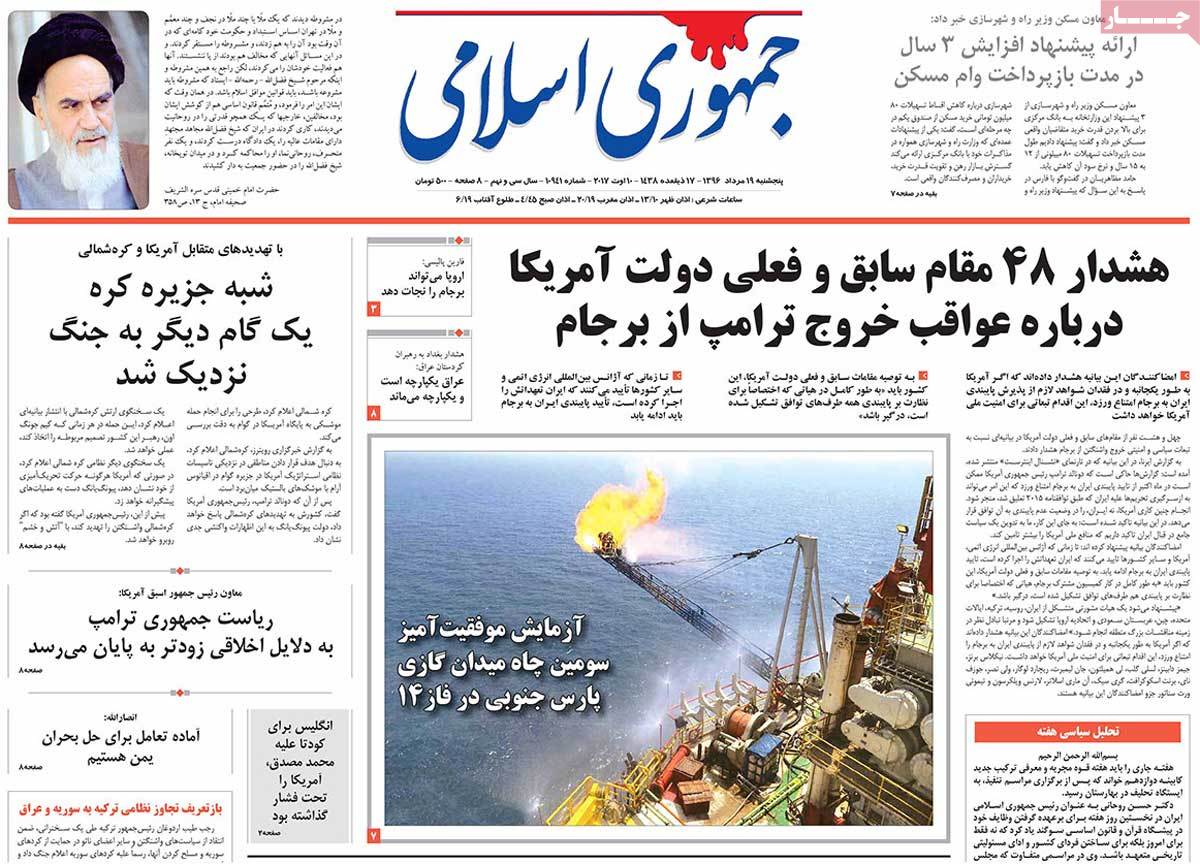 ---
Kayhan:
1- Brutal Massacre of Shiites in Afghanistan: No Candle, No Message
2- US Pressure for Removing Iran's Biggest Petchem Market
3- Saudi Arabia, Israel Have Been in Contact for 15 Years WikiLeaks
---
Kelid:
1- Three Women Appointed to Cabinet
2- Judiciary Spokesman: More Effective Punishment Should Replace Capital Punishment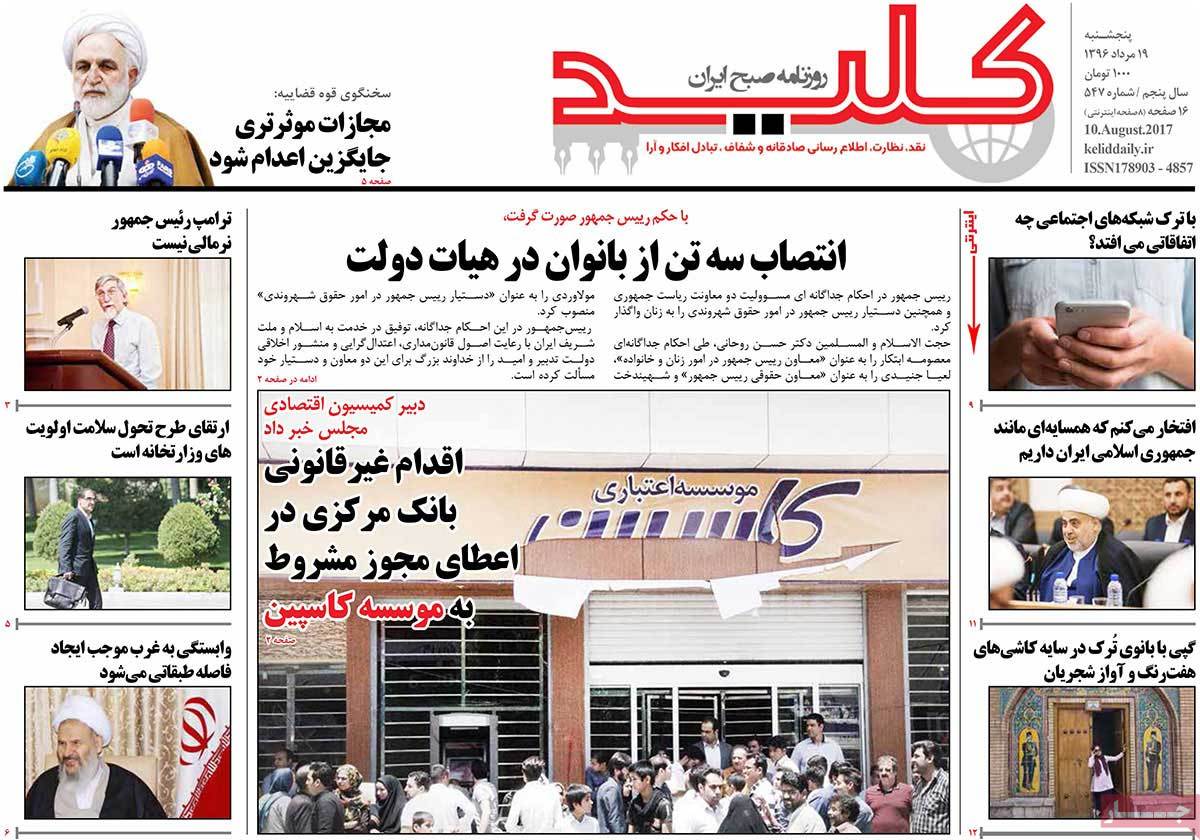 ---
Khorasan:
1- Consultation in Parliament, Defence in Government
2- Genocide of Shiites in Northern Afghanistan amid Global Silence
3- The Busy Dragon! Secrets behind High Efficiency, Work Culture in China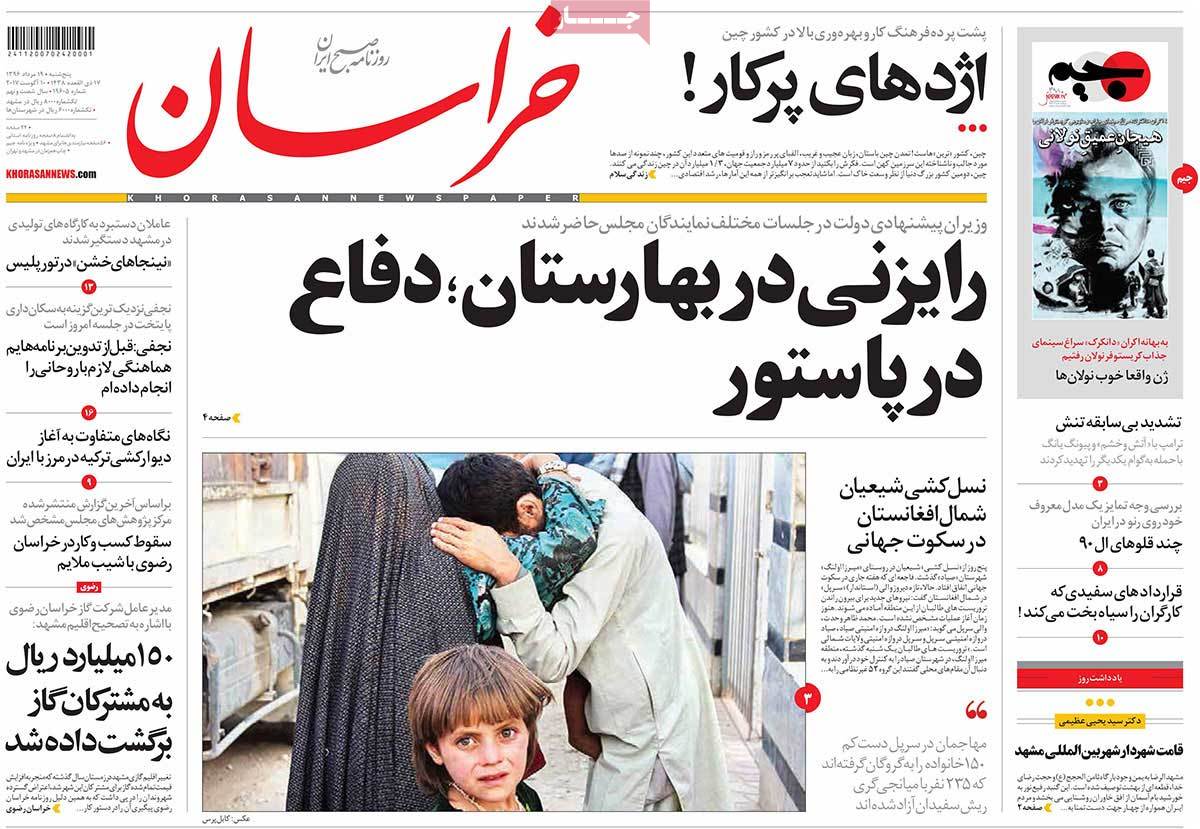 ---
Mardom Salari:
1- 48 Former American Officials Warn Trump of Consequences of Scrapping JCPOA
2- Hopes and Fears of Rouhani's New Cabinet
---
Shahrvand:
1- Journalists Are People's Messengers
2- Taliban, ISIS Joining Hands against People
---
Shargh:
1- Amir-Abdollahian Outlines General Soleimani's Role in Syria, Iraq
2- First VP: Proposed Science Minister Withdrew in Last Seconds
3- Saudi Arabia's Efforts to Approach Israel
---
Tejarat:
1- Expensive 'Production', Little 'Exports'
2- Najafi Best Option for Tehran Mayor