Many Iranian newspapers today covered the beginning of presidential debates between the six candidates as of Friday.
The remarks by reformist and conservative figures about the presidential candidates and the speculations around the May 19 election also received great coverage.
The death of 9 Iranian border guards in clashes with outlaws near the Pakistani border in southeastern Iran was also a top story today.
The above issues, as well as many more, are highlighted in the following headlines and top stories:
Abrar:
1- Switzerland Ready to Host Yemen Peace Talks
2- French FM: We're Assured Khan Shaykhun Chemical Attack Was Launched by Syria Gov't
3- $1bn for Yemenis amid Warnings about Starvation
4- Erdogan: Resolution of Syria Crisis Impossible with Assad
---
Afkar:
1- It's Possible that Rouhani Withdraws from Candidacy in Favour of Jahangiri
2- Mr Rouhani Didn't Realize Any of His Promises: Actor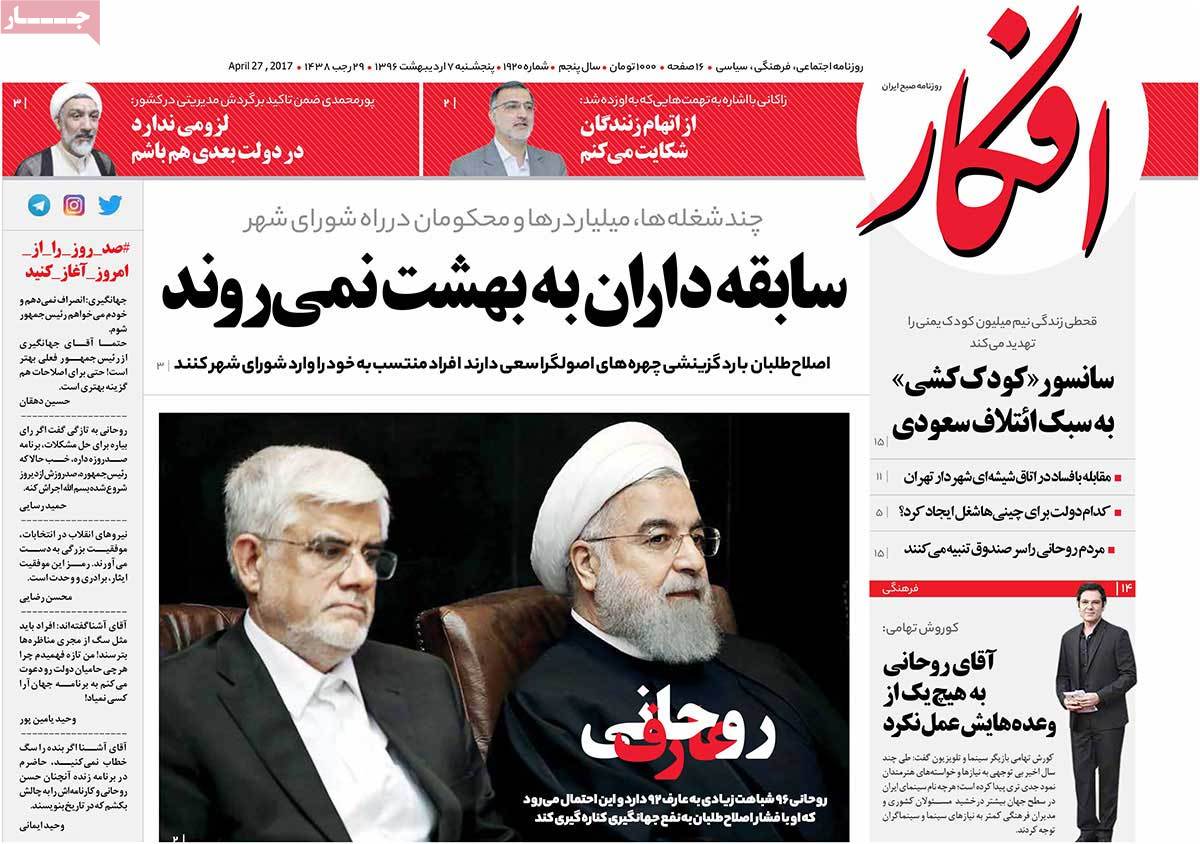 ---
Aftab-e Yazd:
1- In Rouhani's Term, Inflation Rate Decreased by 30%: Senior Conservative Bahonar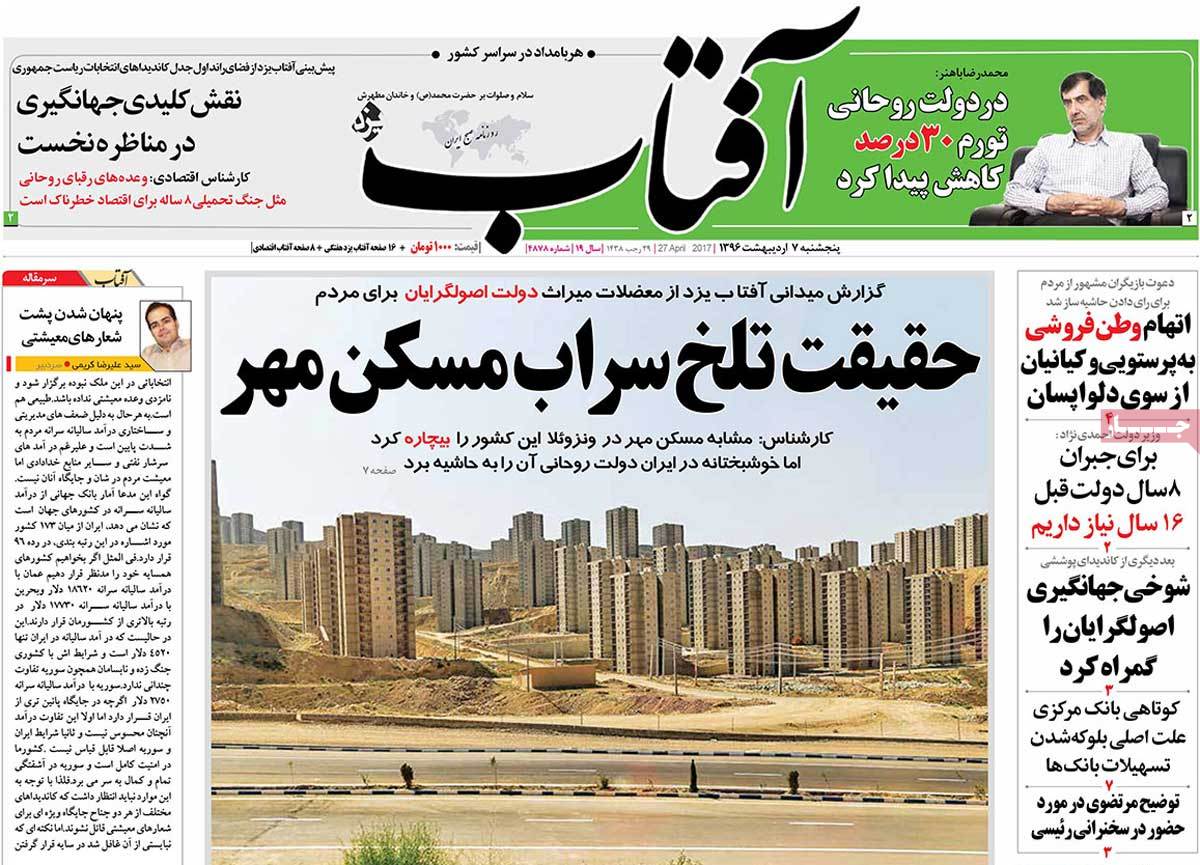 ---
Arman-e Emrooz:
1- Ayatollah Rafsanjani's Charter for Elections
2- Rouhani's Electoral Consultations with Senior Figures
3- Reformist Figure: Raisi Knows Rouhani Will Be Re-Elected
4- Next Administration Should Ease Int'l Tensions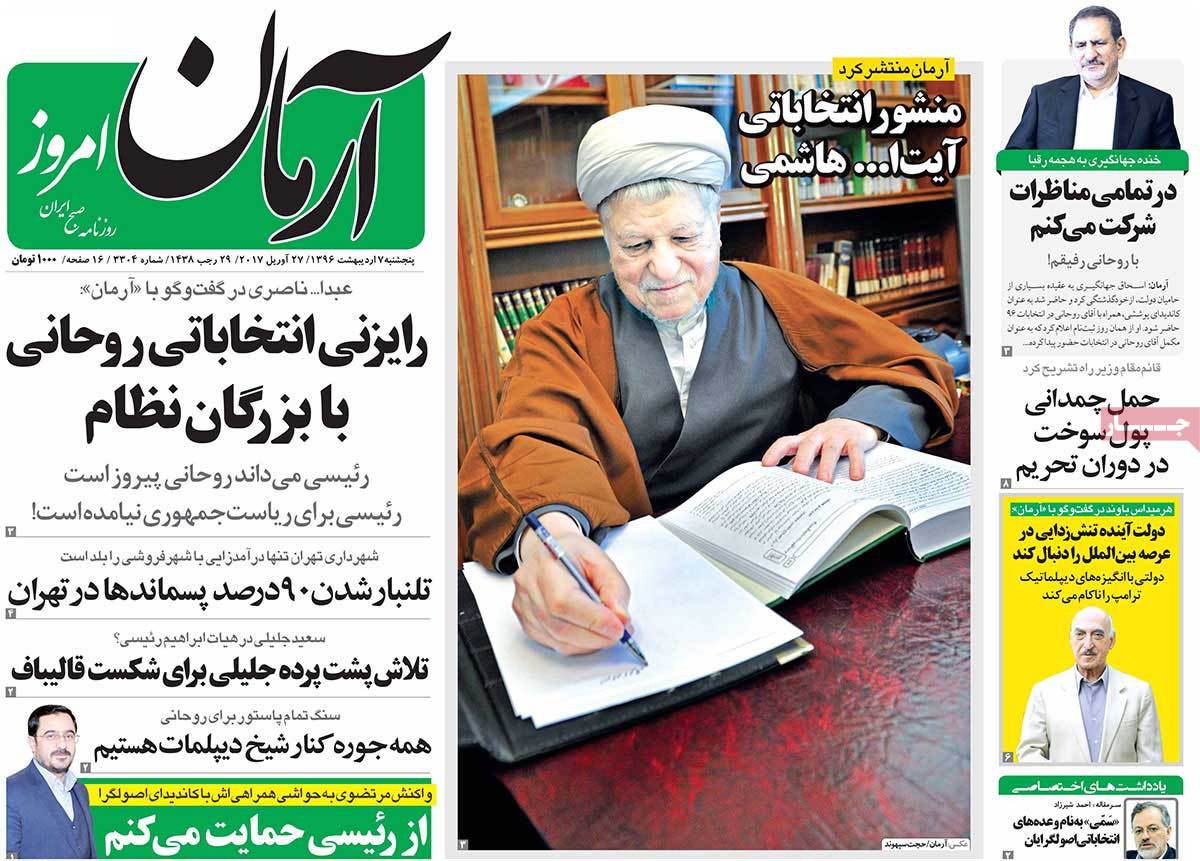 ---
Ebtekar:
1- Secret Rivalry: Raisi, Qalibaf Trying to Become Only Conservative Candidate
2- Environment Before, After Rouhani's 4-Year Term
3- What Are Environmental Expectations from Future Government?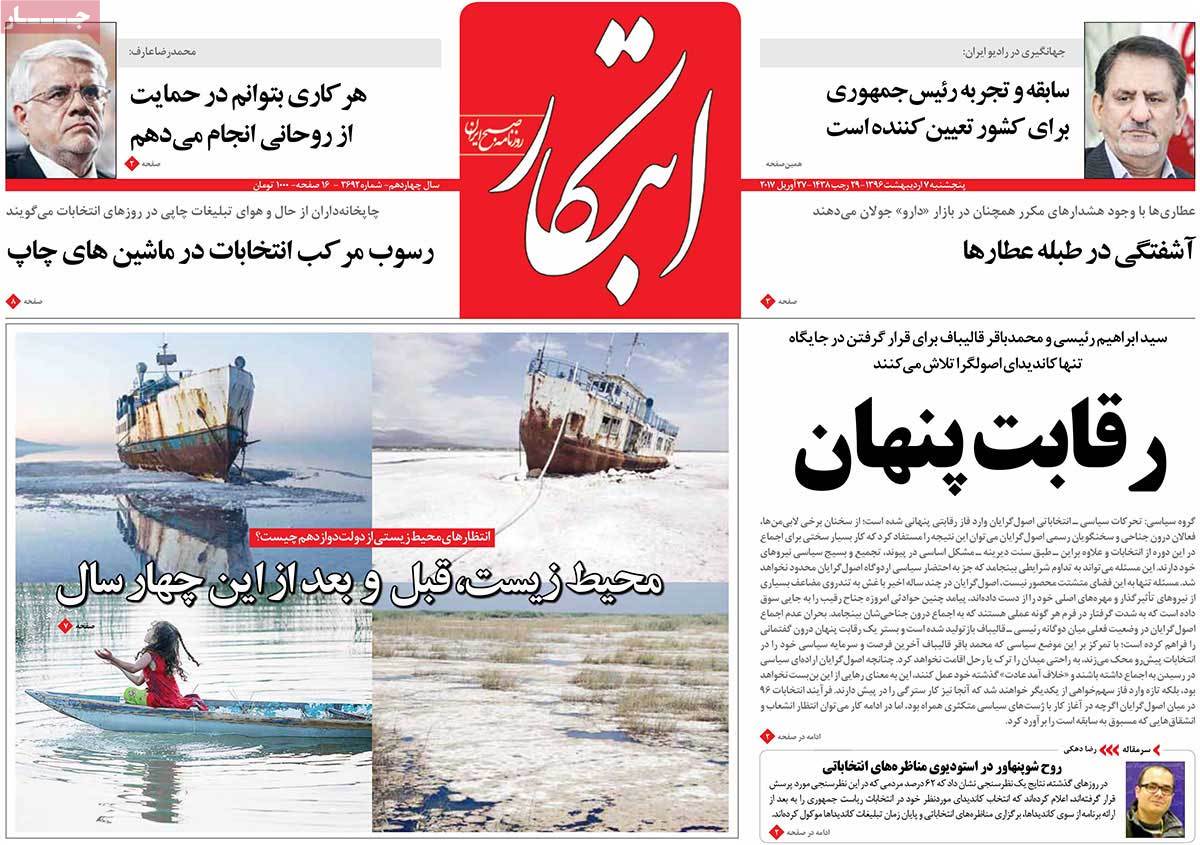 ---
Emtiaz:
1- Iran Becomes Self-Sufficient in Petrol Production, Can Export it to Other Countries
---
Etemad:
1- Promises vs Practices
2- Iran Elections Shouldn't Become Radical: Reformist Figure
Promise of Giving People More Cash Handouts is Insulting
70% of People Are neither Reformist nor Conservative
3- Ayatollah Makarem Shirazi Criticizes Candidates' Campaign Promises
Don't Lie for Taking the Office Only for a While
---
Ettela'at:
1- All Iranians to Have Electronic ID Cards
2- Iran to Stand against Any Threat from US: DM
3- Increased Pace of Iran's Non-Oil GDP Growth
4- P5+1 Underline Necessity of Ensuring Full JCPOA Implementation
5- South Korean People Protest against Transfer of US Missile Defence System to Korea
6- Iran's Presidential Elections to Be Held in 103 Countries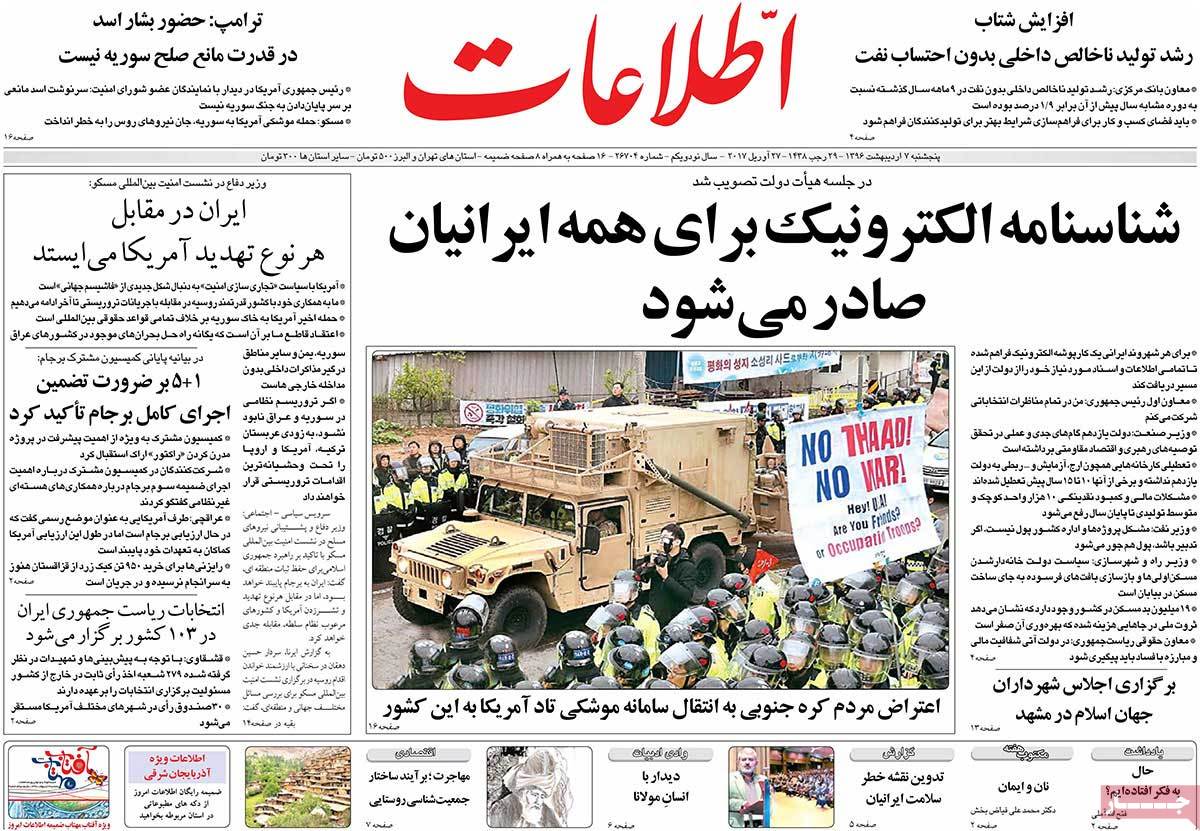 ---
Haft-e Sobh:
1- France Dreams of Having an Uncontroversial First Lady
All Controversial Women of Élysée: From Carla Bruni to Macron's Wife
2- Are They Really Worn-Out?
A Parliament Bill Would Scrap Most Beautiful, Expensive Vintage Cars
3- State TV Can Finally Increase Its Audiences Thanks to Presidential Debates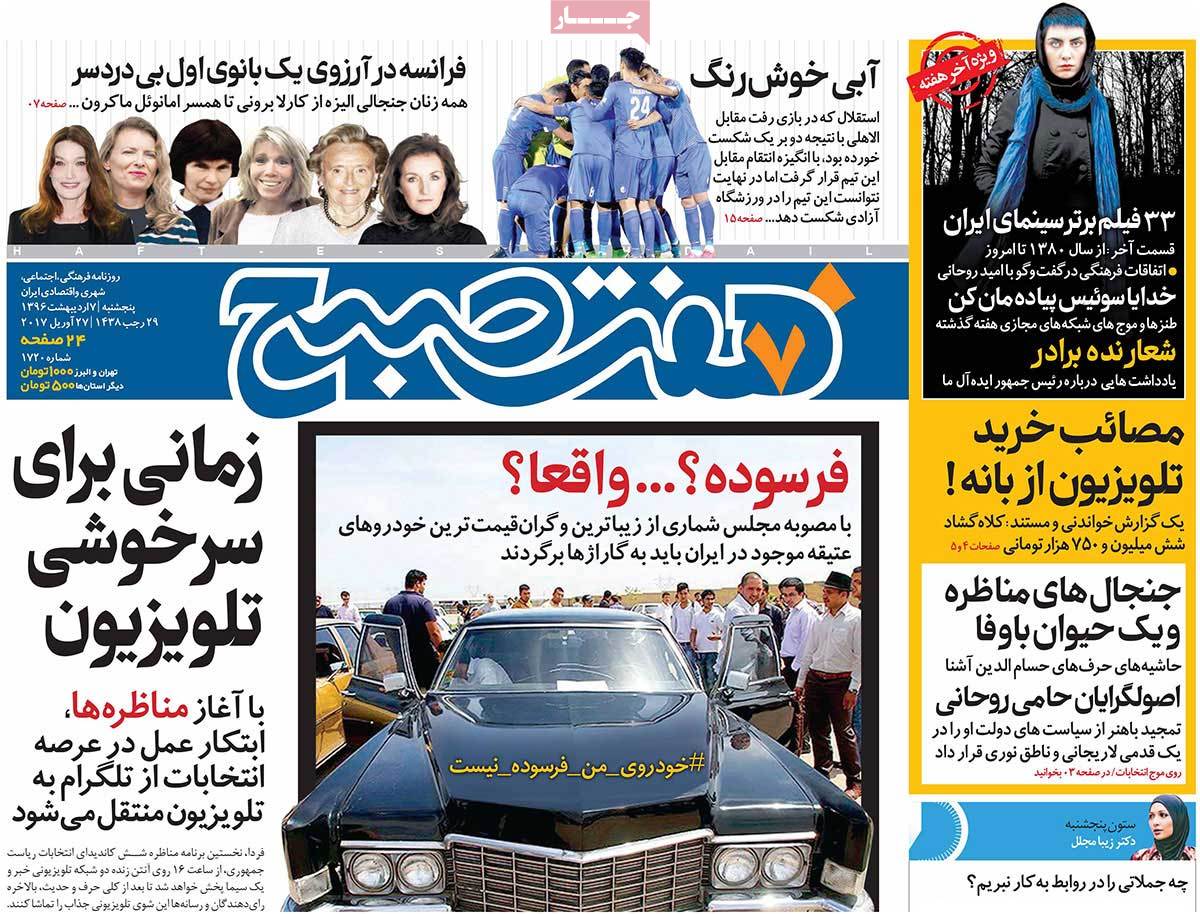 ---
Hemayat:
1- Washington's Non-Nuclear Excuses!
White House Links JCPOA Implementation of Regional Issues
Toner: We'll Pay Attention to Iran's Regional Role in JCPOA 90-Day Review
2- Russian, Chinese Military Forces on Standby
3- US, Japan Hold Joint Drill in Korea Peninsula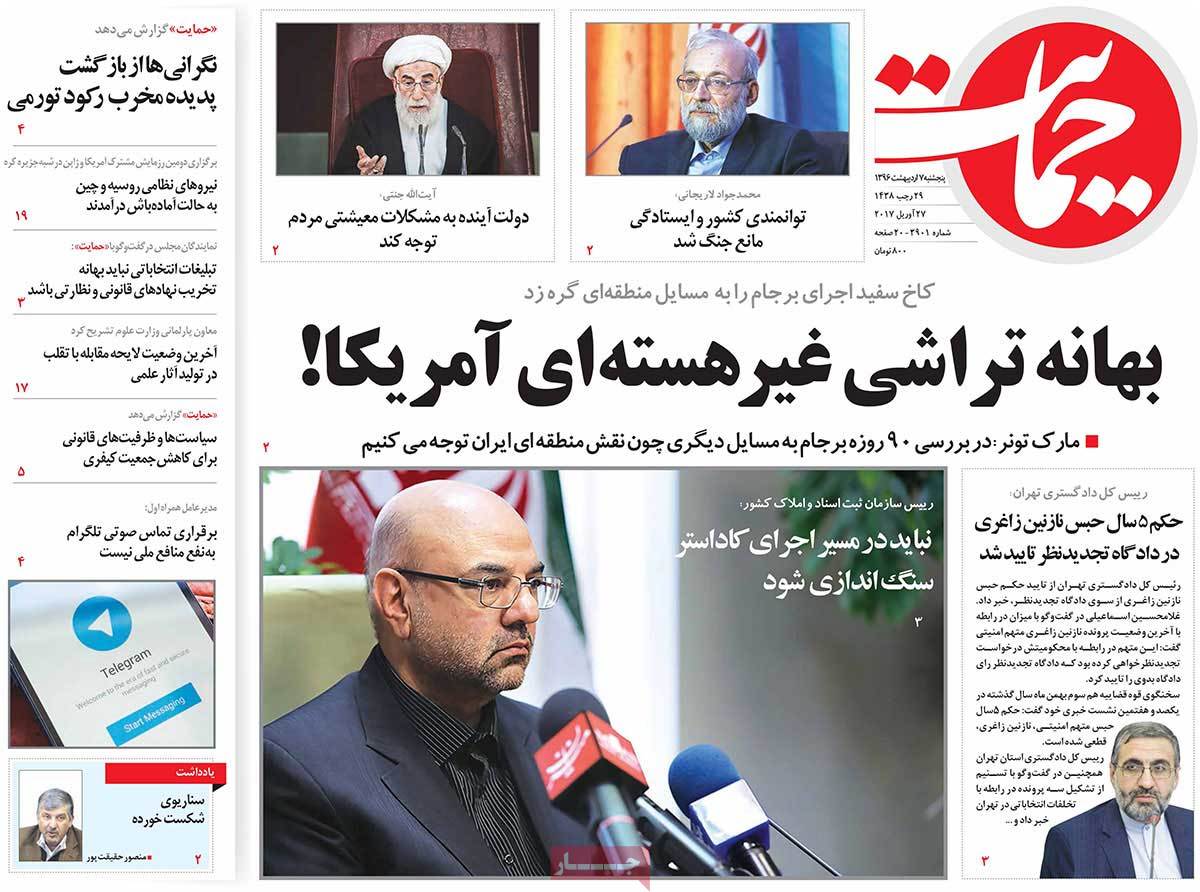 ---
Iran:
1- Artists, Politicians Raise Money for Release of 200 Female Prisoners
2- US Says It's Loyal to JCPOA Commitments: Iran's Deputy FM
3- IRIB Doesn't Hold Balanced Approach towards 6 Candidates: Election HQ
---
Jame Jam:
1- Test of Ethics in Iran Presidential Debates
2- 9 Iranian Border Guards Killed in Mirjaveh
---
Javan:
1- Jahangiri: I'm Here to Complement Mr Rouhani
2- You've Arrived 4 Years Late! [excerpts from a number of pro-government newspapers on the issue of false promises given during election campaigns]
Rouhani in 2013 Election: I'll Create 4 Million Jobs
3- Senior Conservative Bahonar: They Thought JCPOA Can Do a Miracle
4- Trump's Administration Divided over Nuclear Deal
---
Jomhouri Eslami:
1- Europe Resolved, United in Maintaining, Implementing Nuclear Deal
2- Rouhani: Resolving Economic Problems Most Important Priority in Next Gov't
3- Protest Rallies, Clashes in South Korea against Deployment of US Missile System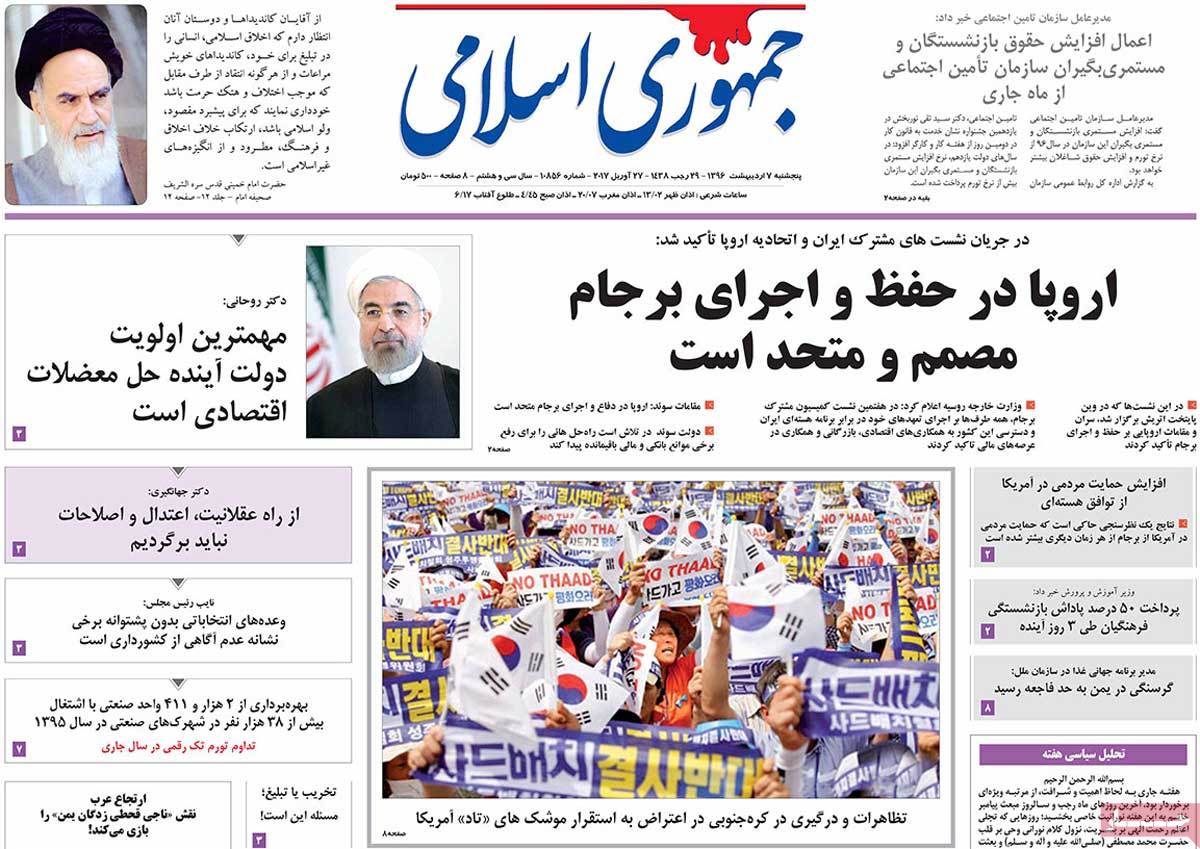 ---
Kayhan:
1- Latest Prudence by Rouhani's Administration: Manipulation of Past Statistics
2- FAO's Unprecedented Warning: 20m People to Die of Hunger in Next 7 Months
3- Iranian Negotiator's Questionable Justification despite US Insistence on JCPOA Violation
---
Khorasan:
1- Softer Tones of Candidates ahead of First Presidential Debate
---
Resalat:
1- Iran Elections Should Have Islamic Nature: Senior Cleric
2- Qalibaf: I Promise to Create Jobs and Pay Monthly Cash Handouts
3- Jahangiri: I'm Not Rouhani's Spokesman, I Want to Become President
4- My Priority is to Rely on Domestic Potentials in Resolving Economic Issues: Mirsalim
5- Social Media Lead to Family Problems, Divorce
6- Americans Have Shown New Version of Global Fascism: Iran DM
7- Raisi is a Competent Candidate, Qalibaf is a Capable Force: Javad Larijani
---
Seda-ye Eslahat:
1- I Want to Become a President: First VP Jahangiri
2- Reformist MP: People's Maximum Turnout Most Effective Weaon
3- Ayatollah Jannati Urges Presidential Candidates to Alleviate People's Pains