All Iranian newspapers today highlighted the warning issued by the Leader of Iran's Islamic Revolution Ayatollah Seyyed Ali Khamenei against those who disrupt the security of Iran's upcoming elections.
Another top story was the third and final presidential debate, which is going to be live aired on Friday afternoon. Speculations about the approaches presidential candidates will adopt, and the questions they should answer were particularly highlighted.
A list of candidates for Tehran city council election proposed by the Reformists' High Council of Policy-Making was also widely covered by newspapers today. Many reformists are critical of the list, questioning the competence of the ones included in the list.
The above issues, as well as many more, are highlighted in the following headlines and top stories:
Abrar:
1- Whoever Wants to Disrupt Security of Elections Will Be Slapped on Face: Iran Leader
2- Mirsalim: I'm Not Going to Beg for Votes
3- Iran's Request for Holding Elections in Canada Rejected
4- Parliament to Impeach Education Minister
5- IRGC Commander: Iranians Pleased to See Missile Cities Secure Industrial Towns
6- EU Definitely Supports Nuclear Deal: Mogherini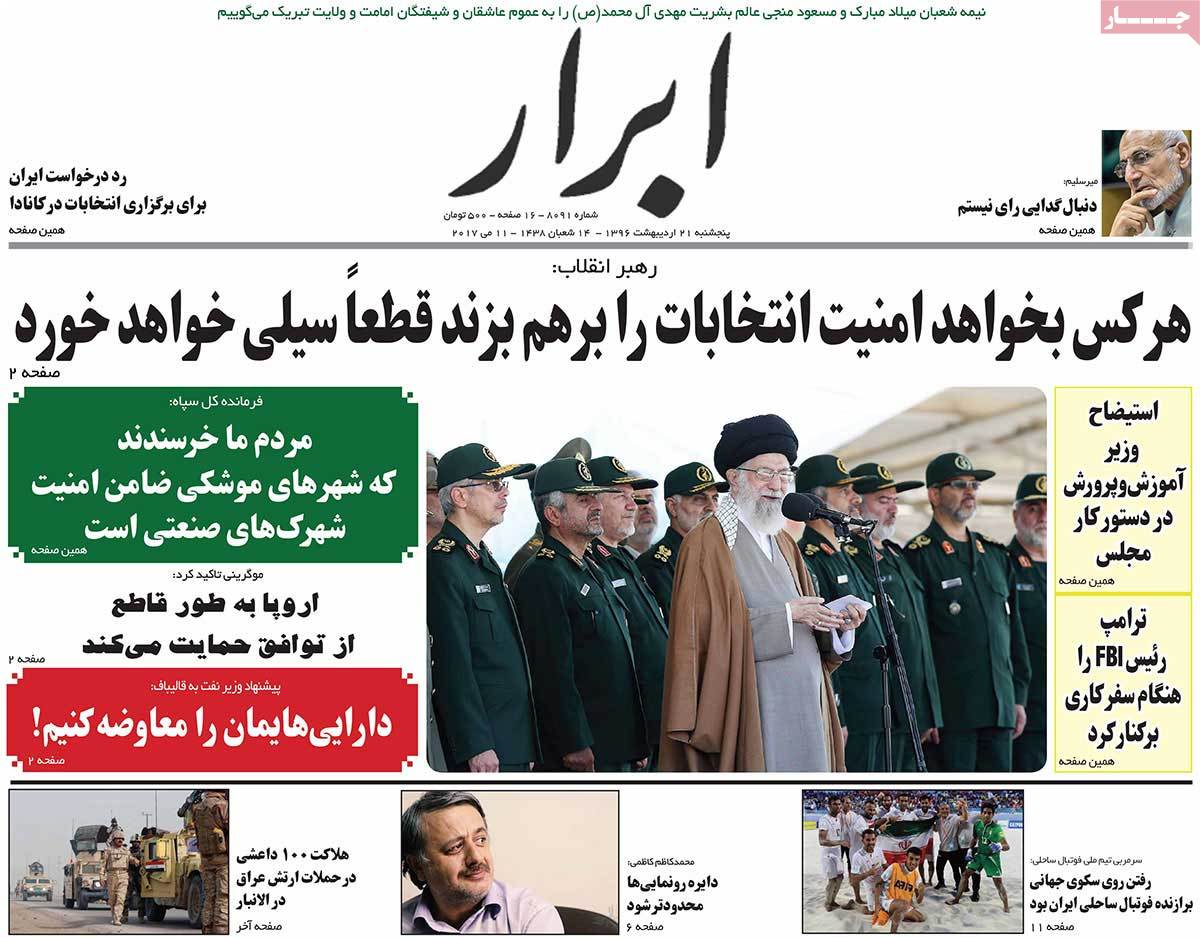 ---
Afkar:
1- Iran Leader Urges Candidates to Firmly Declare People's Living is Their Priority
2- Raisi: We'll Build Great Wall between People's Rights and Those Who Violate Them
3- Qalibaf: Transparency Needed to Counter the Four-Percenters
4- Godfathers of Reformism Ignored Young People [in their list of candidates for local elections]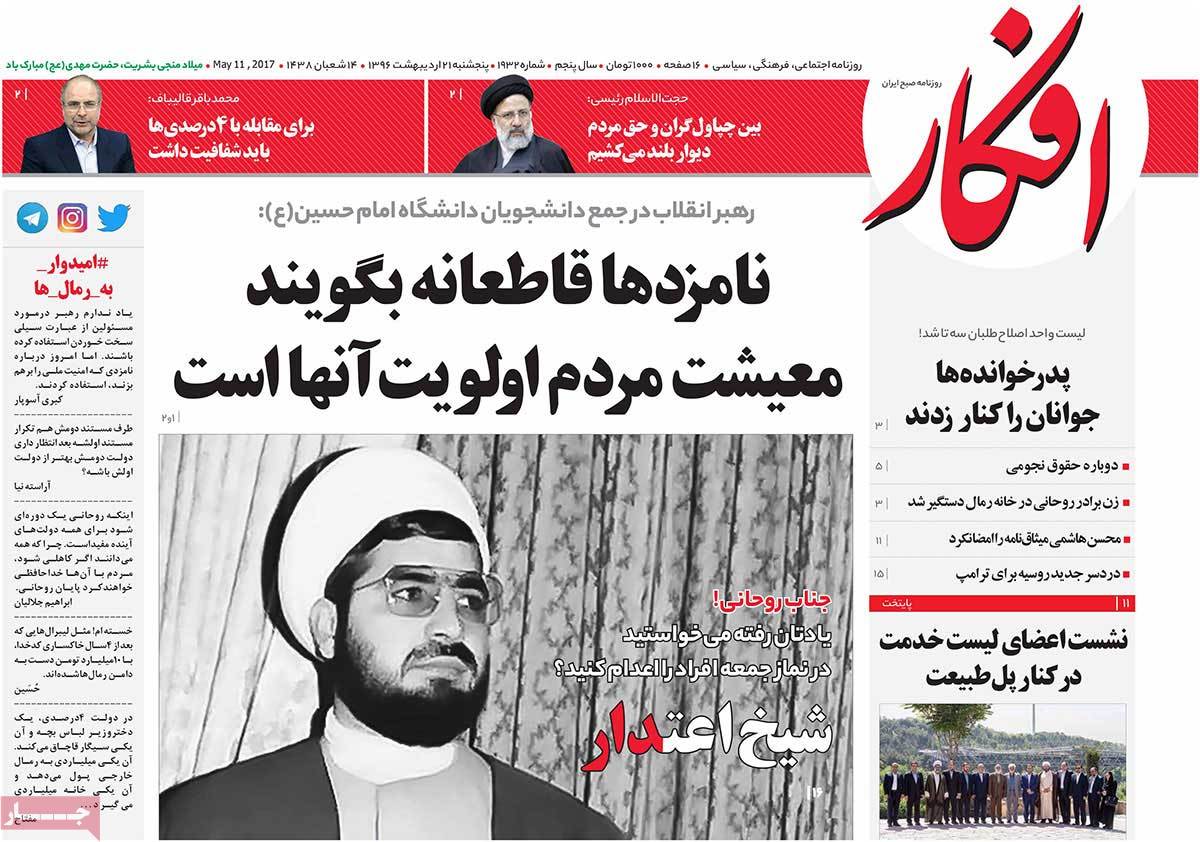 ---
Aftab-e Yazd:
1- Rivals Gradually Removed
What Strategy Will Rouhani, Jahangiri Adopt in 3rd Debate?
2- Join Rouhani's Ministers in Anti-Qalibaf Campaign
Ministers to Qalibaf: Let's Exchange Our Assets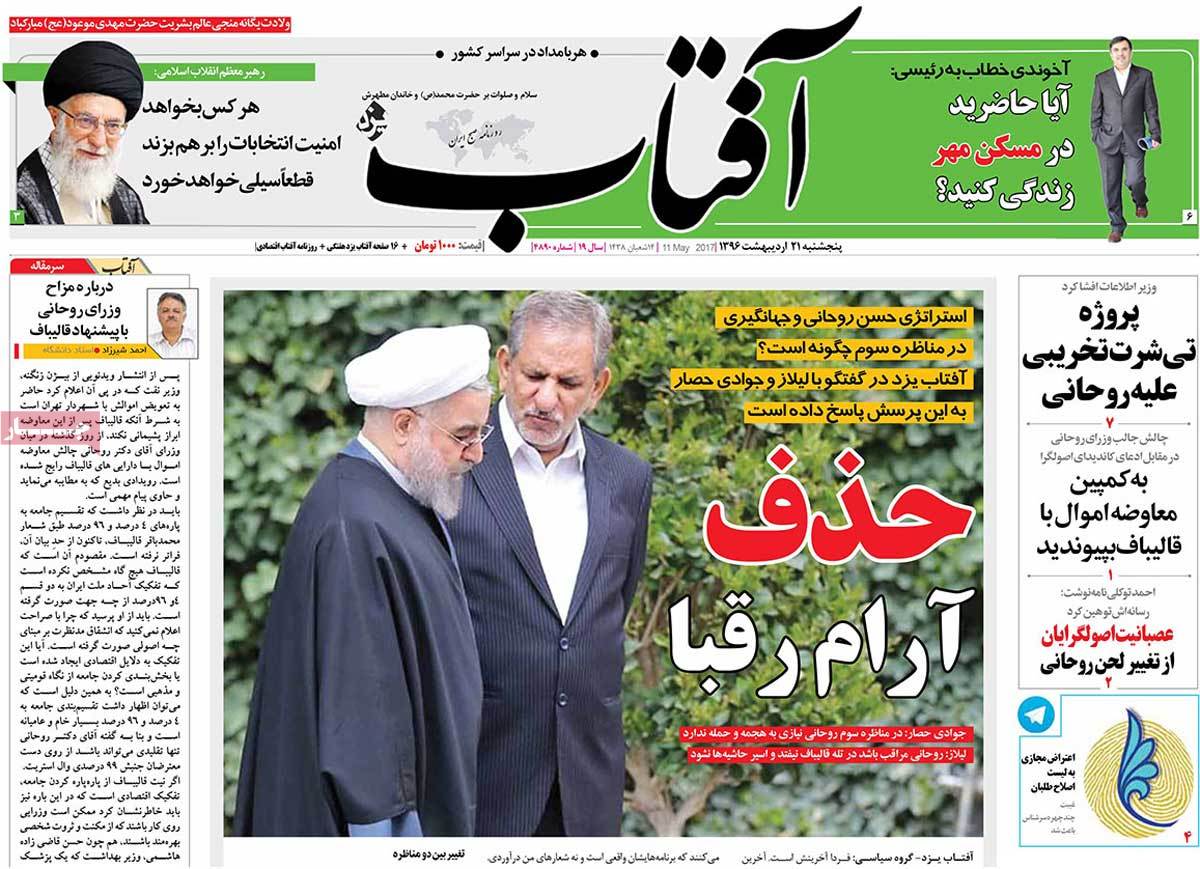 ---
Arman-e Emrooz:
1- Leader: Iran Election's Security Should Be Fully Maintained
2- Artists, Athletes Vow to Vote for Continuation of This Path
3- 170 MPs Support Rouhani
4- Jahangiri to Qalibaf: I'll Show Reaction If You Say Anything Wrong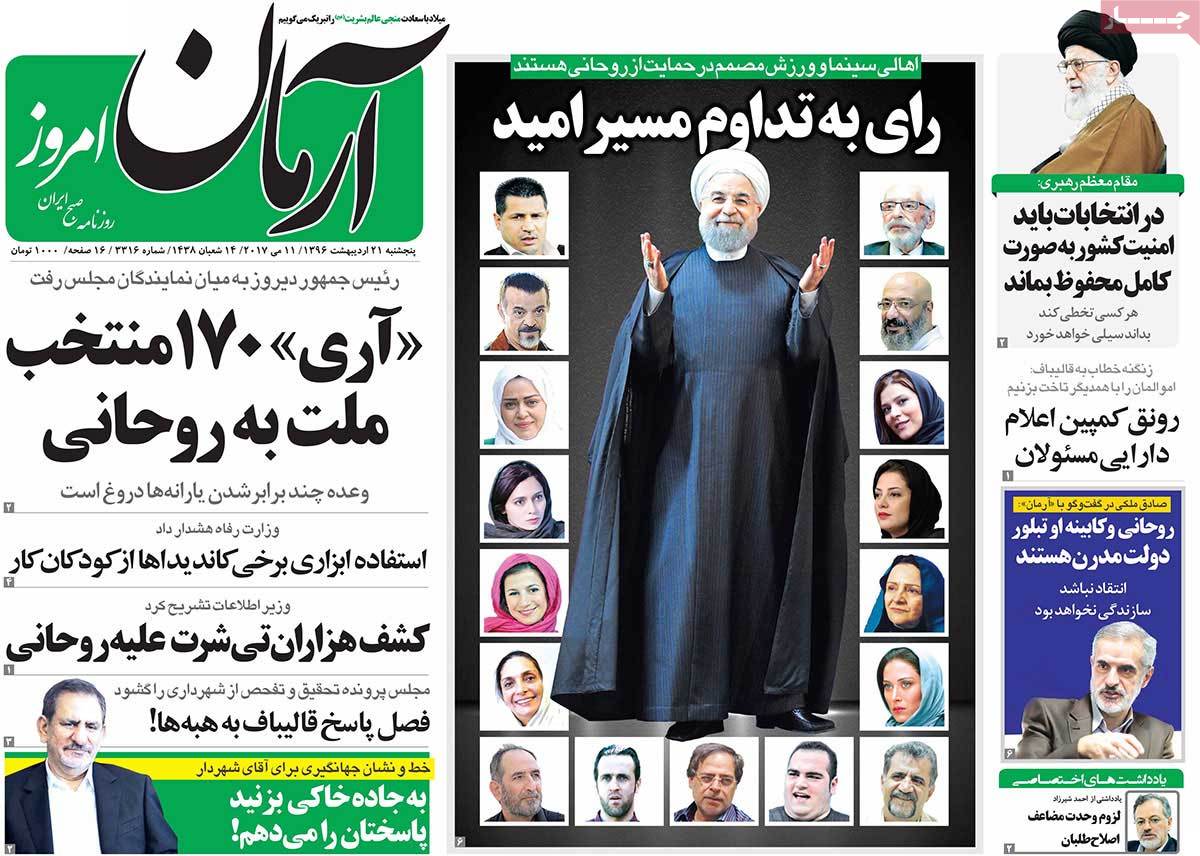 ---
Arman-e Melli:
1- Rouhani: Multiplying Cash Handouts Possible, but We'll Have 800% Inflation Rate, like Venezuela
---
Ebtekar:
1- Reformist Analyst: Calls for Boycotting Elections No More Effective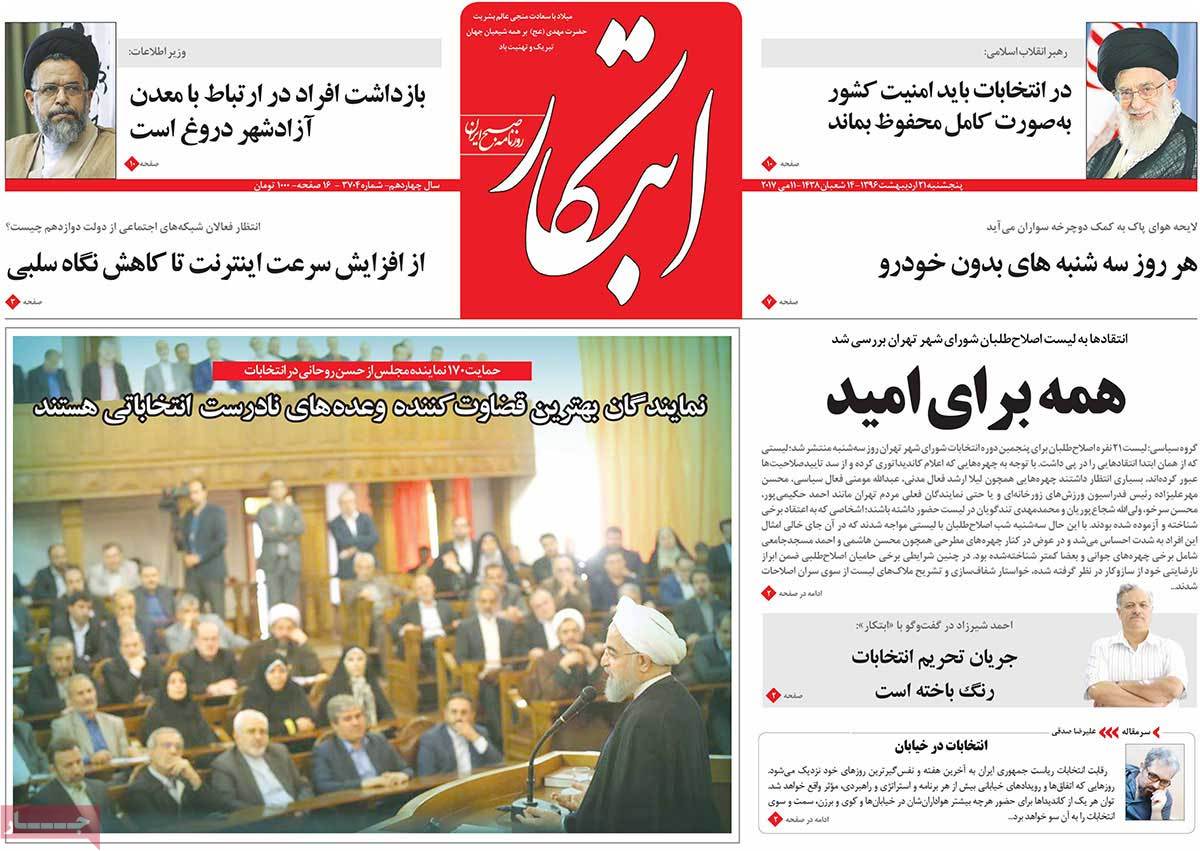 ---
Etemad:
1- We'll Vote for Rouhani: 50 Senior Economists
2- Reformist MP to Rouhani: Don't Let Rivals Derail You from Path of Moderation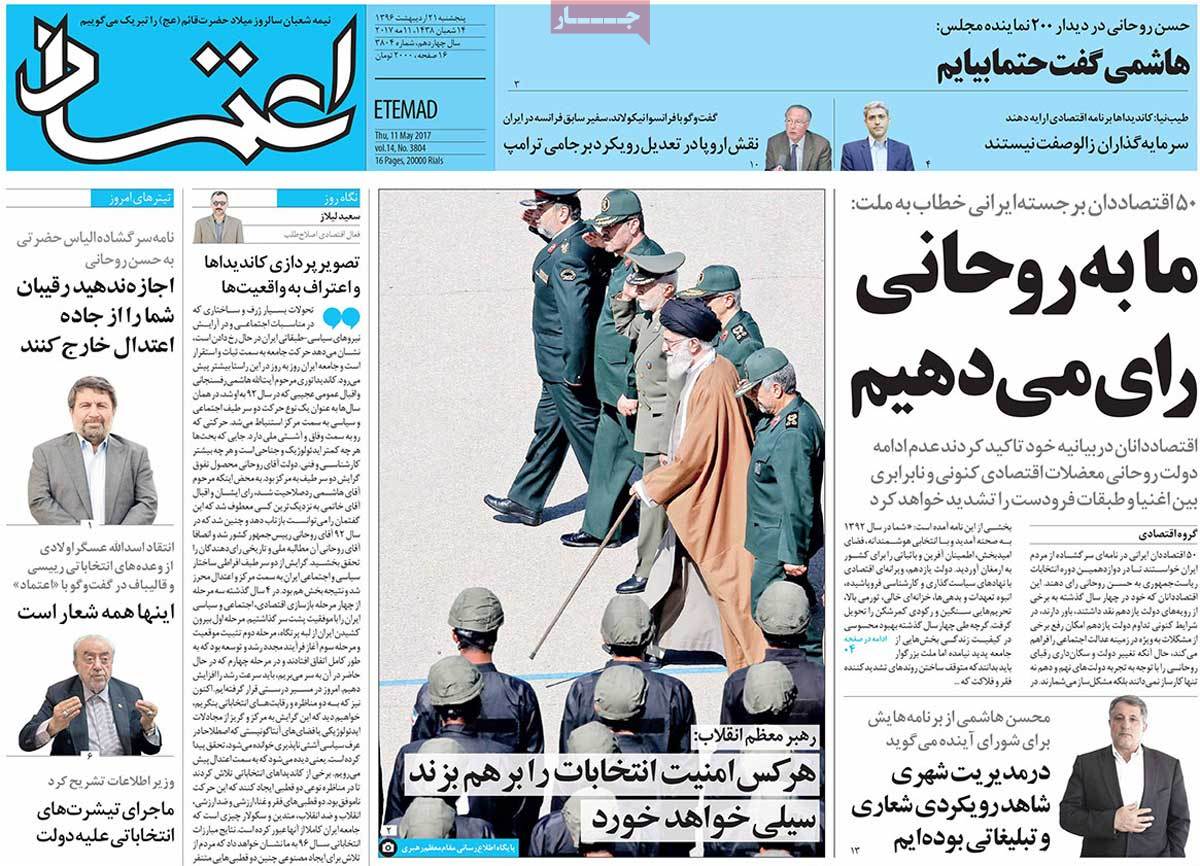 ---
Ettela'at:
1- Iran Leader Urges Candidates Not to Provoke Religious, Geographical, Ethnic
2- Trump Orders Equipment of Syrian Kurds with Heavy Weaponry
---
Haft-e Sobh:
1- Is Another Watergate Coming?
Trump Fires FBI Chief; Is It Linked with Trump-Russia Ties?
2- Third Presidential Debate: What Weapons Will Candidates Use?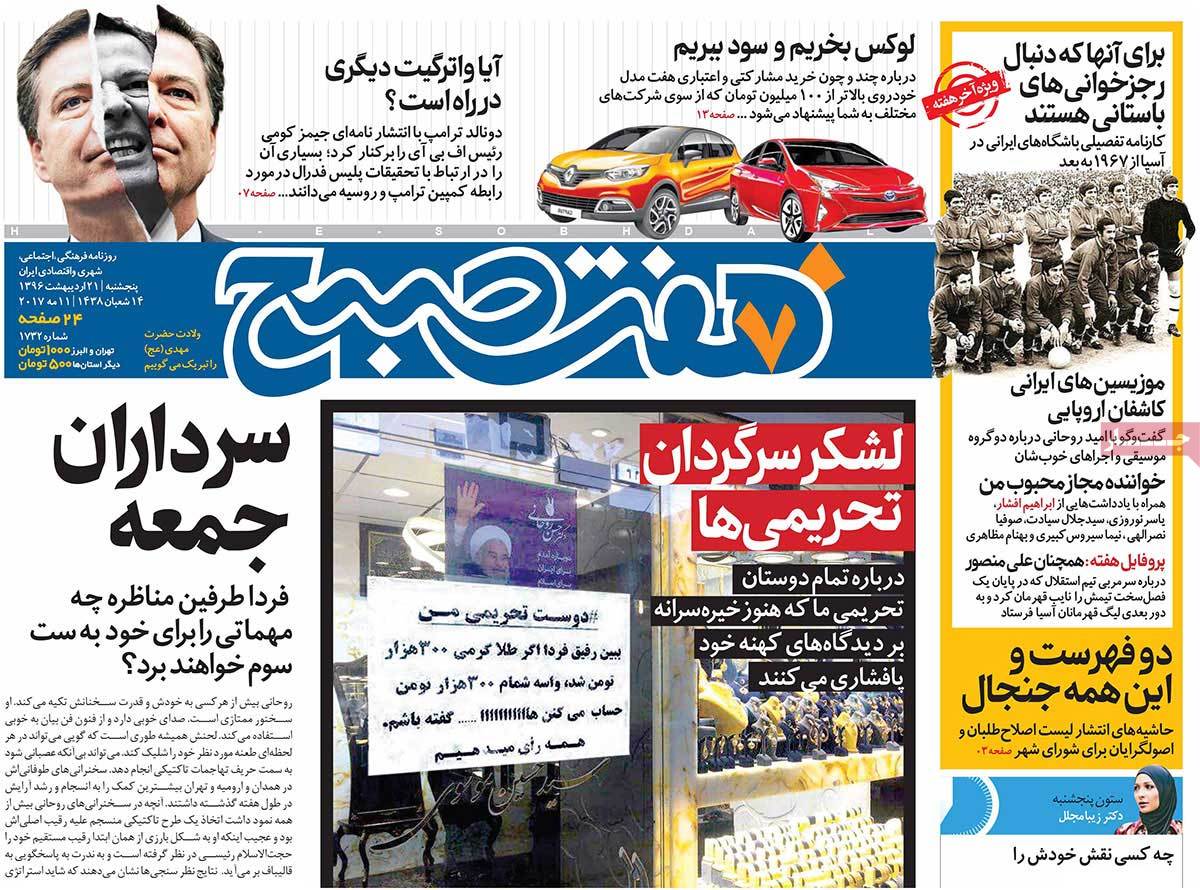 ---
Jame Jam:
1- Leader: Whoever Disrupts Security of Iran Elections Will Be Slapped on Face
2- Candidates to Discuss People's Living in Third Debate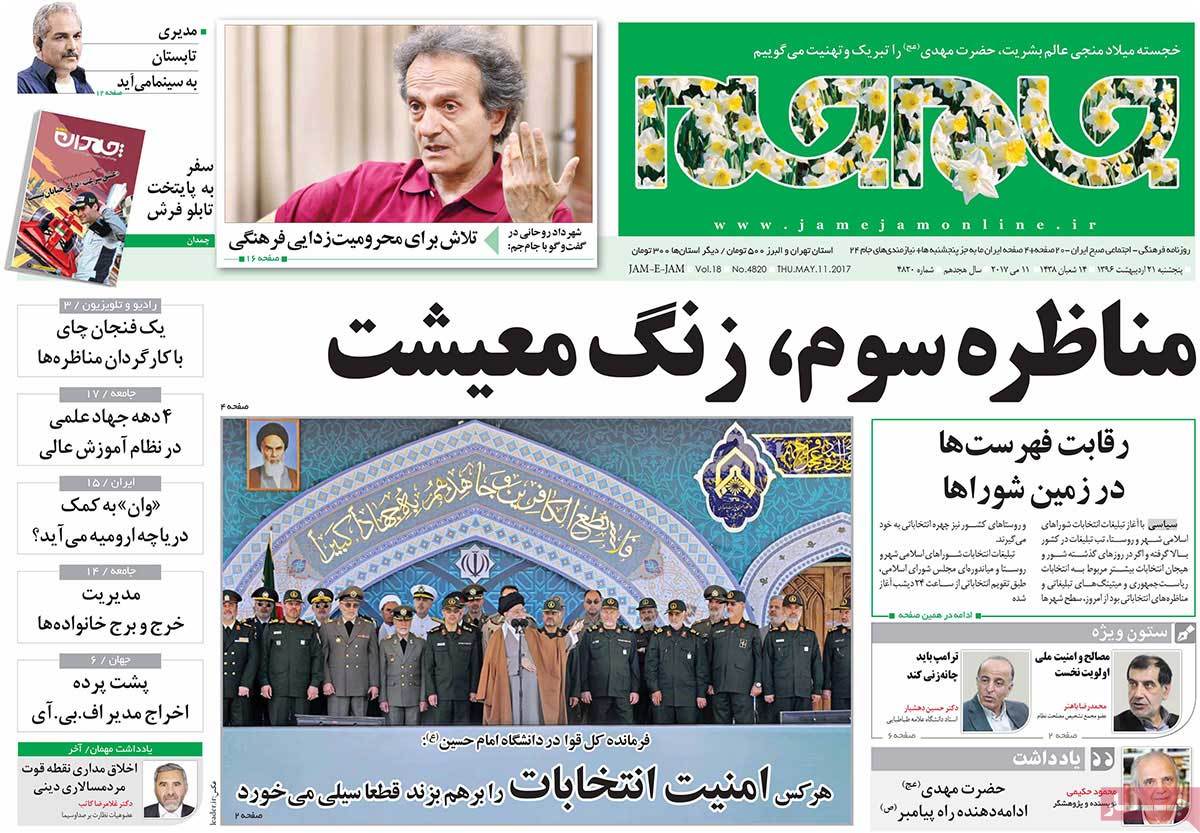 ---
Javan:
1- Conservative Candidate: Mr Rouhani! Where Are You Heading to?
2- Education Minister's Daughter Abuses Poor Villager to Import Goods
3- Less-Americophile President Takes Office in Seoul
4- Fourth Victim of Russia in Trump's Team: FBI Chief Fired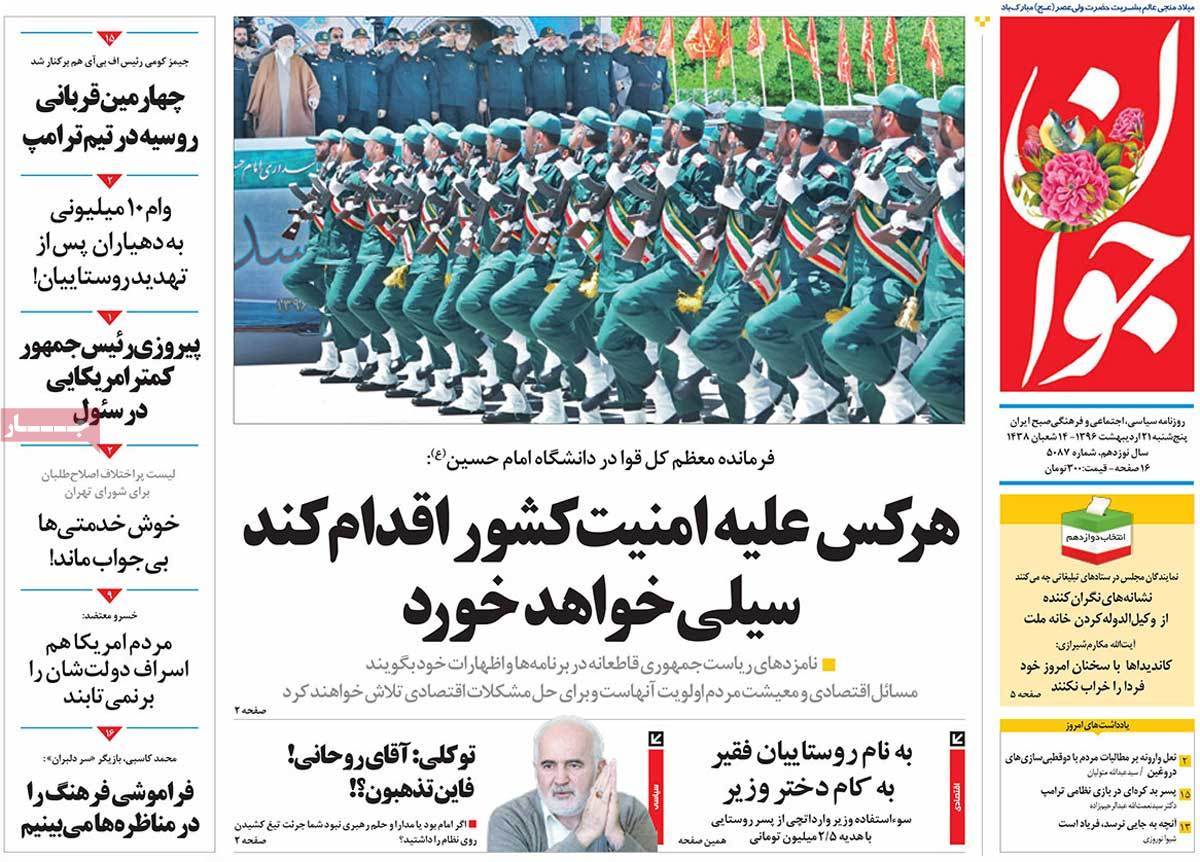 ---
Jomhouri Eslami:
1- Health Minister: Iran's Medicine Exports up by 2.5 Times, Imports down by $500m
2- Senior Cleric: Candidates Who Disgrace Rivals Are Not Good Choices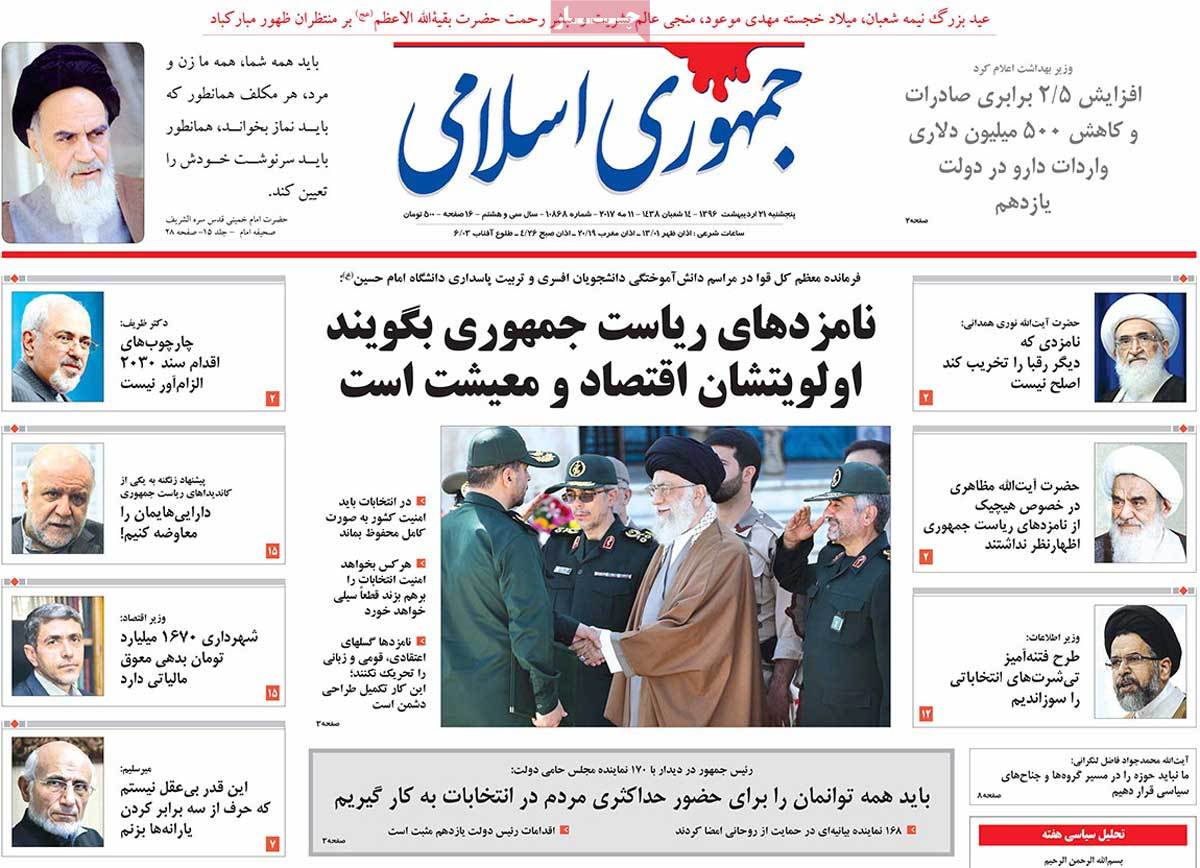 ---
Kayhan:
1- Whoever Wants to Disrupt Security of Elections Will Be Slapped on Face: Iran Leader
2- People's Questions from Rouhani Are:
Why Iran's Imports Have Grown So Much?
Why Are So Much Contraband Goods Being Imported?
Why Did You Impose Disastrous Unemployment on Nation?
Why Have You Doubled Budget of Presidential Office in 4 Years?
Why Did Highly-Paid Executives in Your Gov't Violate Workers' Rights?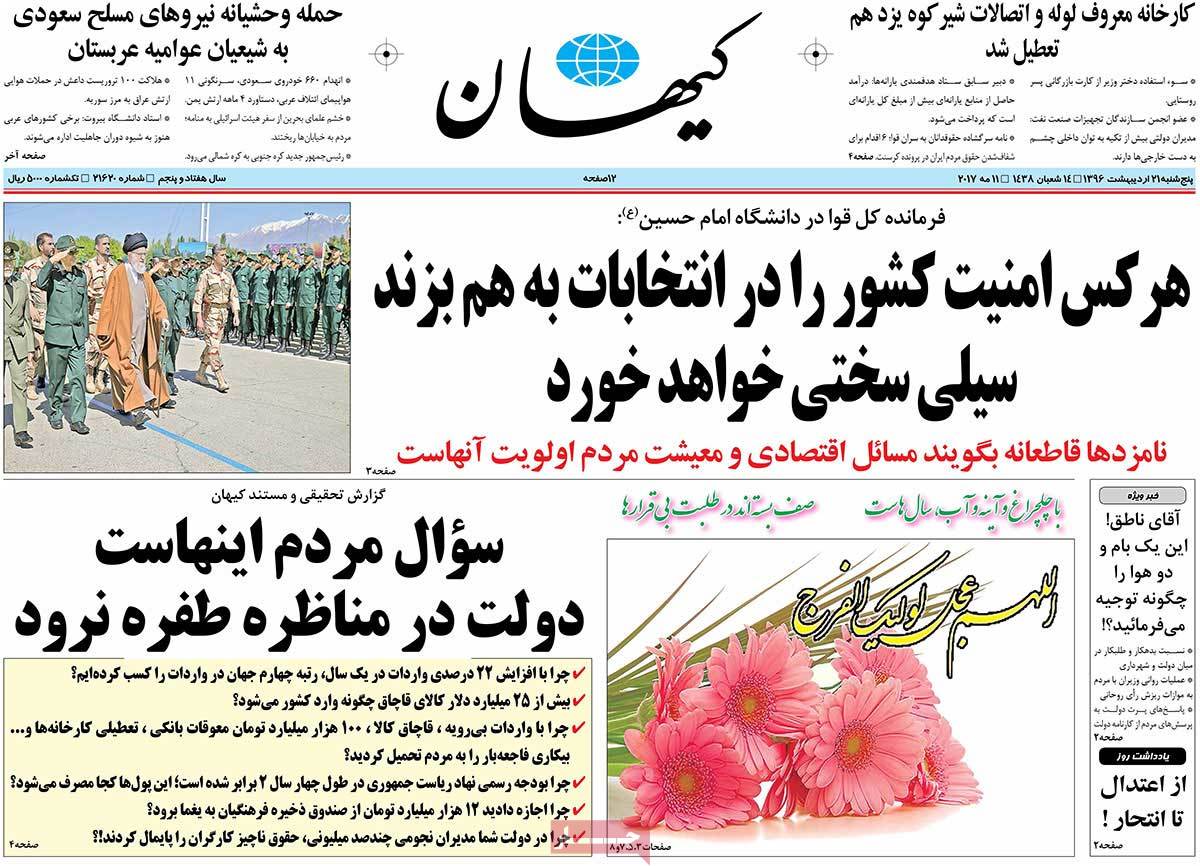 ---
Khorasan:
1- Iran Leader Gives Clear Warning
2- Raisi: I Won't Use My Relatives, Close Associates in Official Positions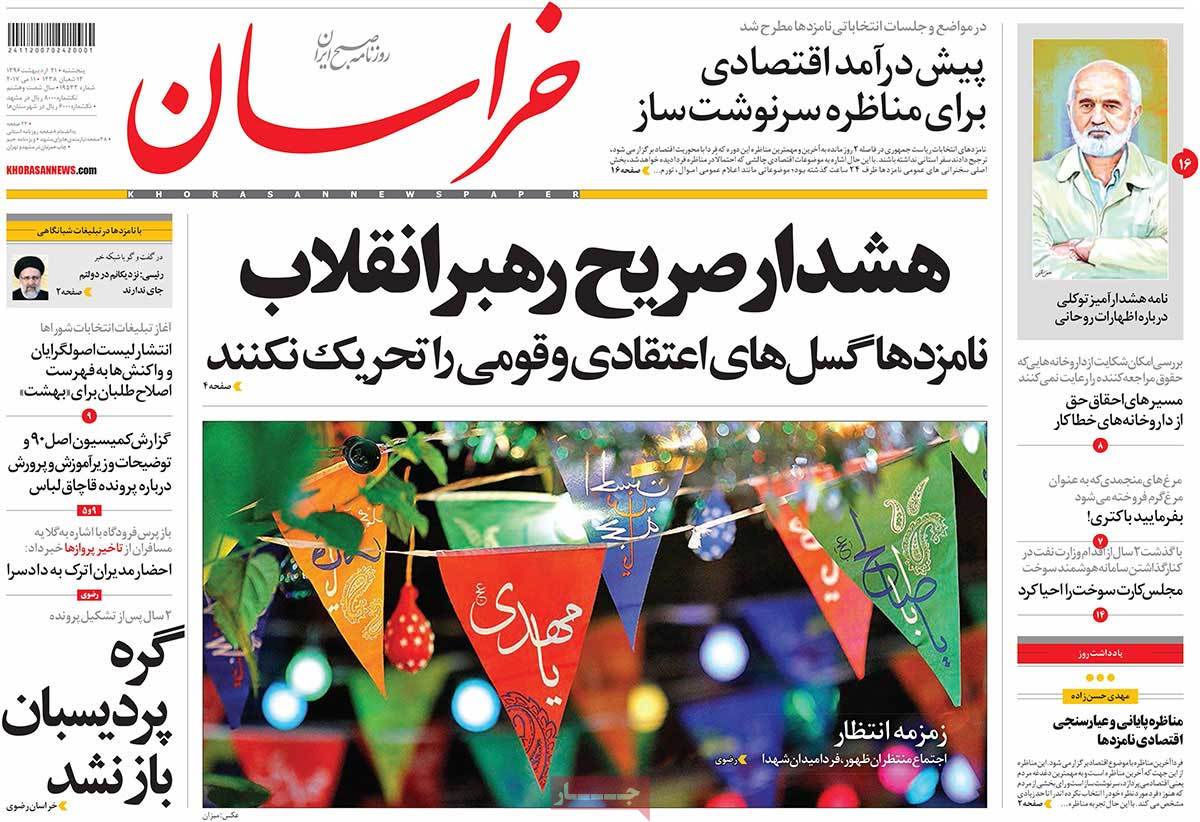 ---
Resalat:
1- Qalibaf: You Keep Saying We Don't Have, It's Not Possible, We Can't When It Comes to People
2- Raisi: Some Are Even Doing Business with Spectre of War
3- Mirsalim: No Good Fate for Those Doing against What Leader Says
4- Tehran Municipality Lifts Great Burden from Gov't Shoulders: Head of City Council
5- Senior Cleric Urges Seminary Not to Remain Silent on UNESCO 2030 Document
---
Rooyesh-e Mellat:
1- Qalibaf: We Should Try to Fight High Prices
2- Raisi: We'll End Corruption with People's Help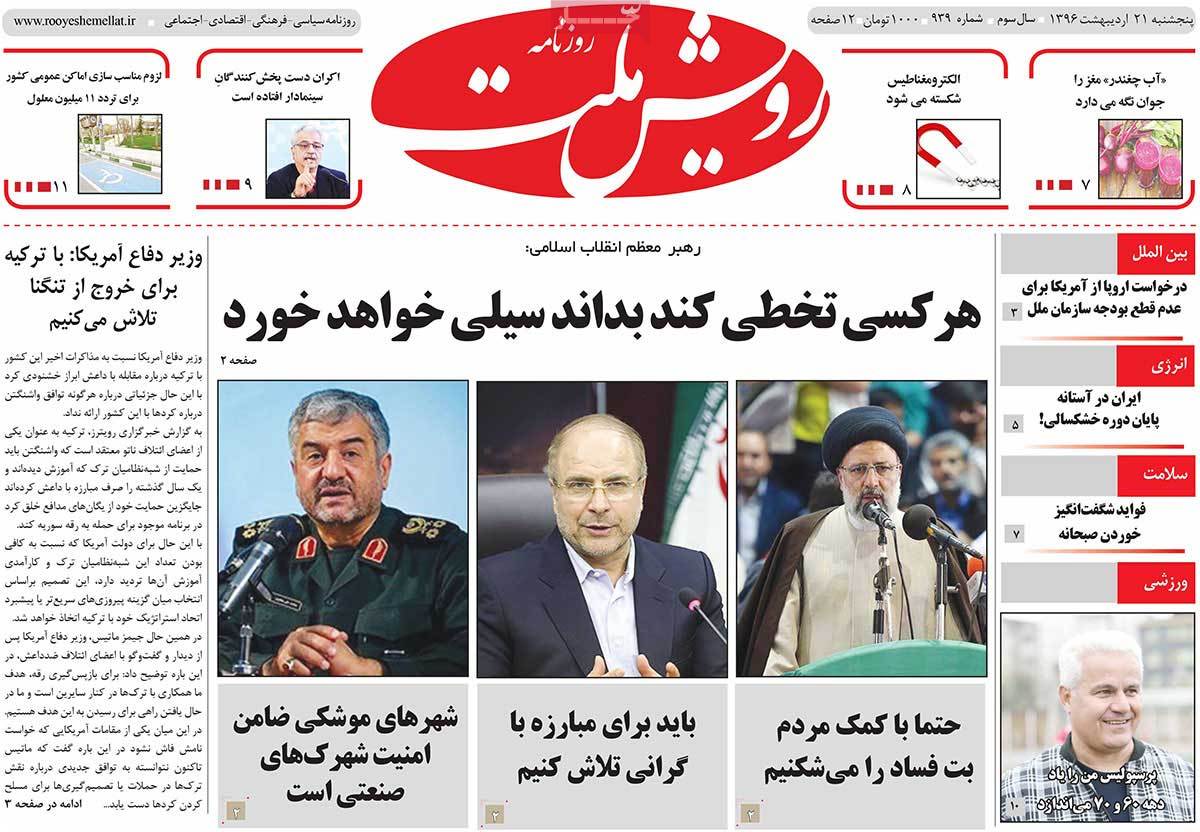 ---
Seda-ye Eslahat:
1- Iran Leader: Enemy's Short-Term Goal is to Disrupt Security, Create Sedition
---
Tamashagaran:
1- All Candidates to Raise Harshest Criticisms on Friday Evening