Almost all newspapers today covered the remarks made by the Leader of Iran's Islamic Revolution Ayatollah Seyyed Ali Khamenei in a ceremony to mark the 28th anniversary of the demise of Imam Khomeini, the founder of the Islamic Republic.
The top story, however, was the diplomatic row between Qatar and a number of Arab countries, including Saudi Arabia, Bahrain, the UAE, and Egypt.
Iran's reaction to the rift between regional countries, and the aftershocks of the important development were also widely covered.
The above issues, as well as many more, are highlighted in the following headlines and top stories:
19 Dey:
1- Electoral Offences Had No Effect on Election Results: Leader
2- Rouhani: No One in Iran Is Above the Law
3- Grandson: Imam Khomeini beyond Political Parties
4- Qatar Victim of Sword Dance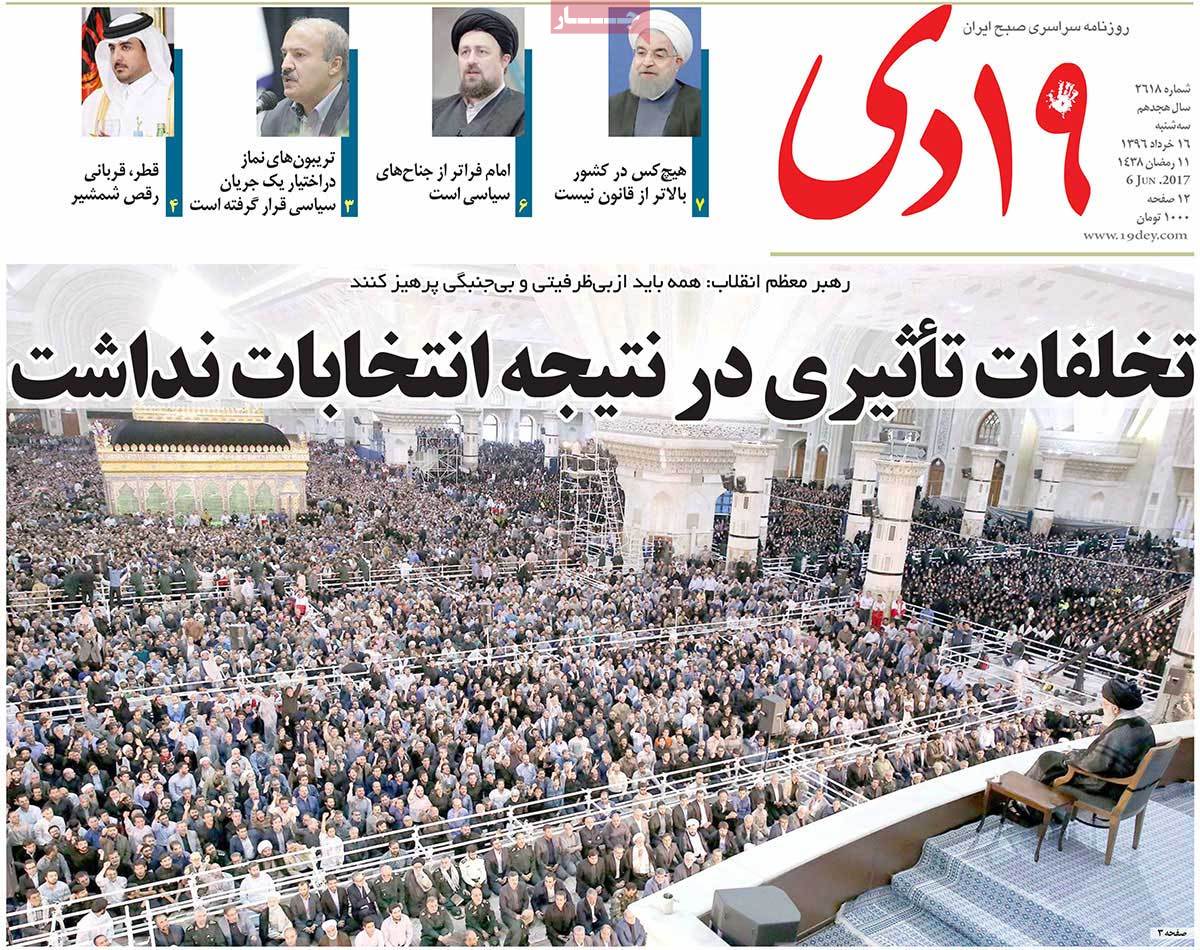 ---
Abrar:
1- Iran Leader: Young Iranians Were Attracted to Imam Khomeini
2- Qatar's Reaction to Severance of Ties by Saudi Arabia, Egypt, Bahrain, UAE
3- China to Support Iran's Full Membership in SCO
4- Controversial Information Disclosed after UAE Diplomat's Email Hacked
---
Afkar:
1- Diplomatic Earthquake in Peninsula: Qatar Flying towards Iran
2- Iran Elections Showed Maximum Democracy: Persepolis Coach Ivankovic
---
Aftab-e Yazd:
1- Revolutionary Attitude Means Officials Shouldn't Submit to Arrogance: Leader
2- Important Test for Tehran
Five Arab States Cut Ties with Qatar; Is It Opportunity for Iran?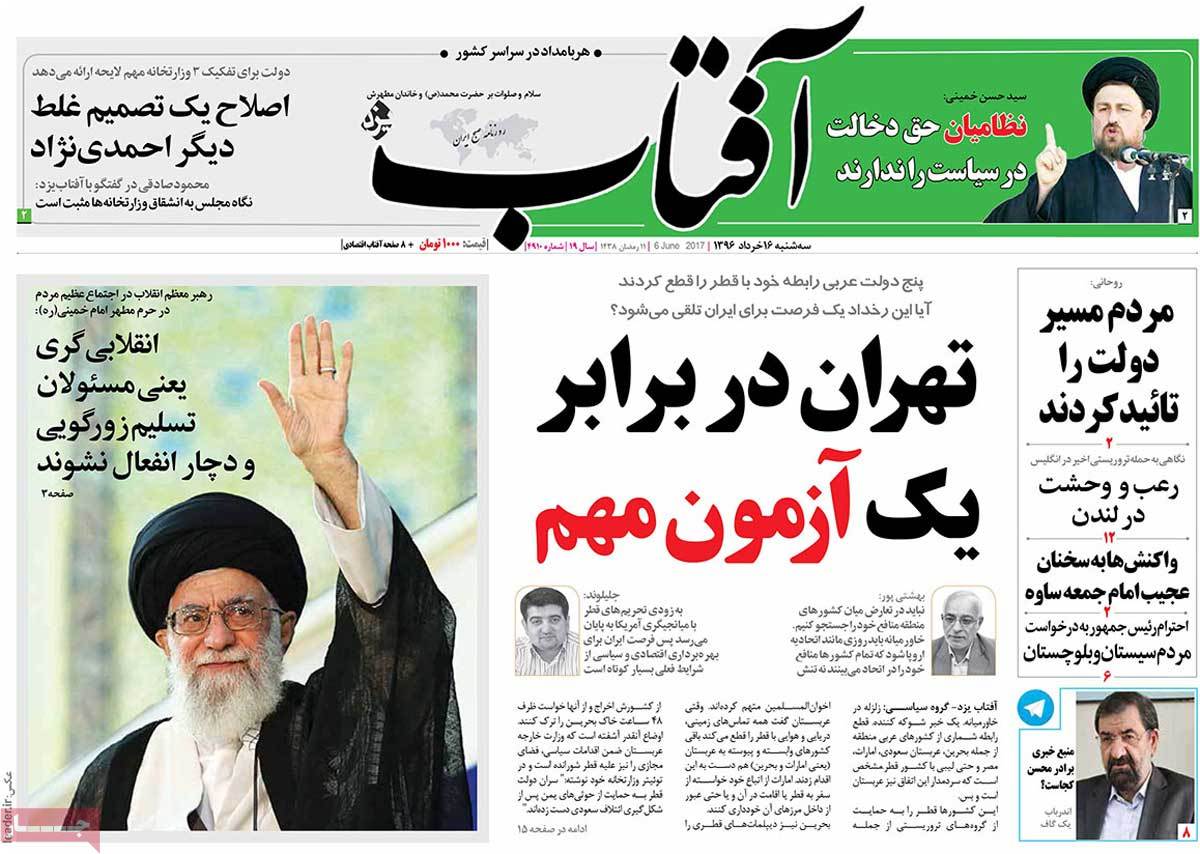 ---
Arman-e Emrooz:
1- Earthquake in Arab World: 4 Arab States Sever Ties with Qatar
2- Iran's Reaction: Increased Tension to Threaten Entire Region
3- Rulers' Legitimacy Achieved by People's Votes: Imam Khomeini's Grandson
---
Ebtekar:
1- Sword Dance in Persian Gulf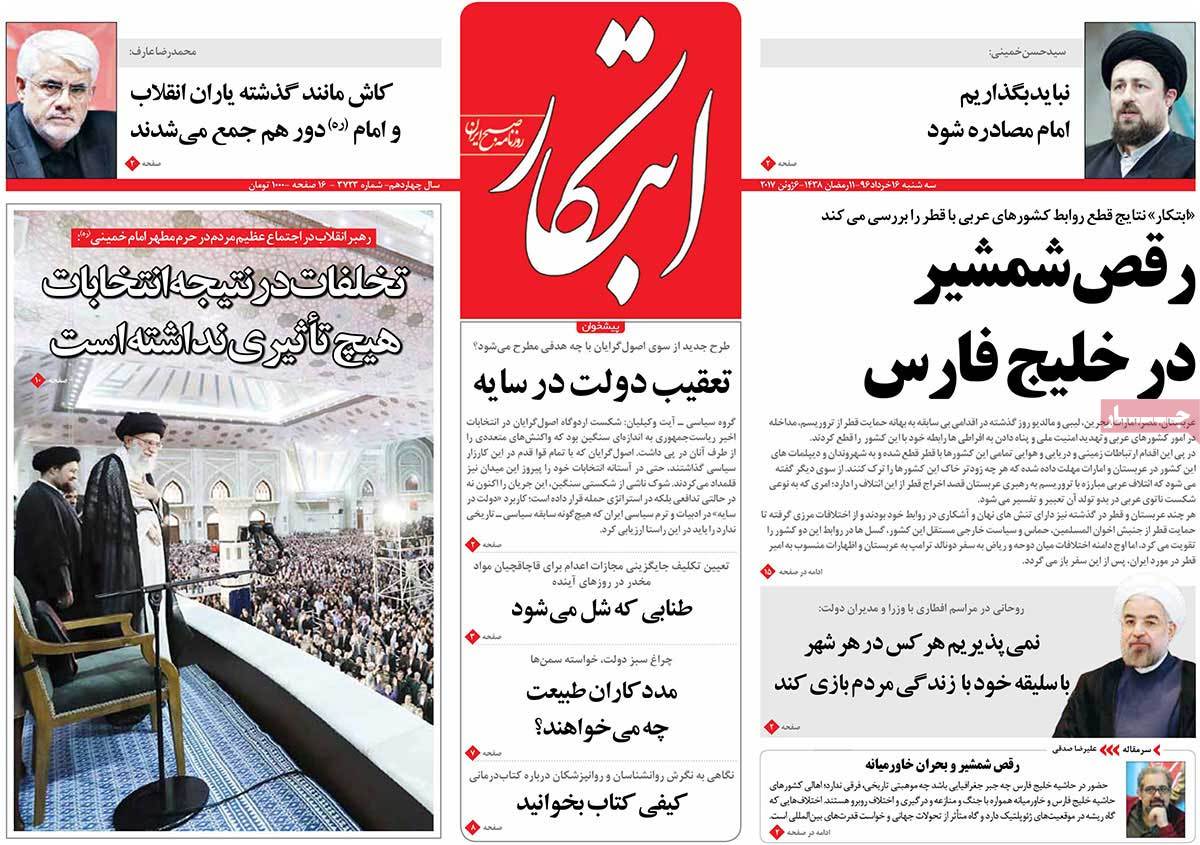 ---
Etemad:
1- Earthquake in Arab Coalition: Saudi Arabia to Be Isolated in Anti-Iran Coalition
2- Israel's Role in Recent Developments against Qatar
3- Iran's Reaction: Region Threatened by Escalation of Tension
4- Will Iran Fill the Gap Created by Qatar's Neighbours?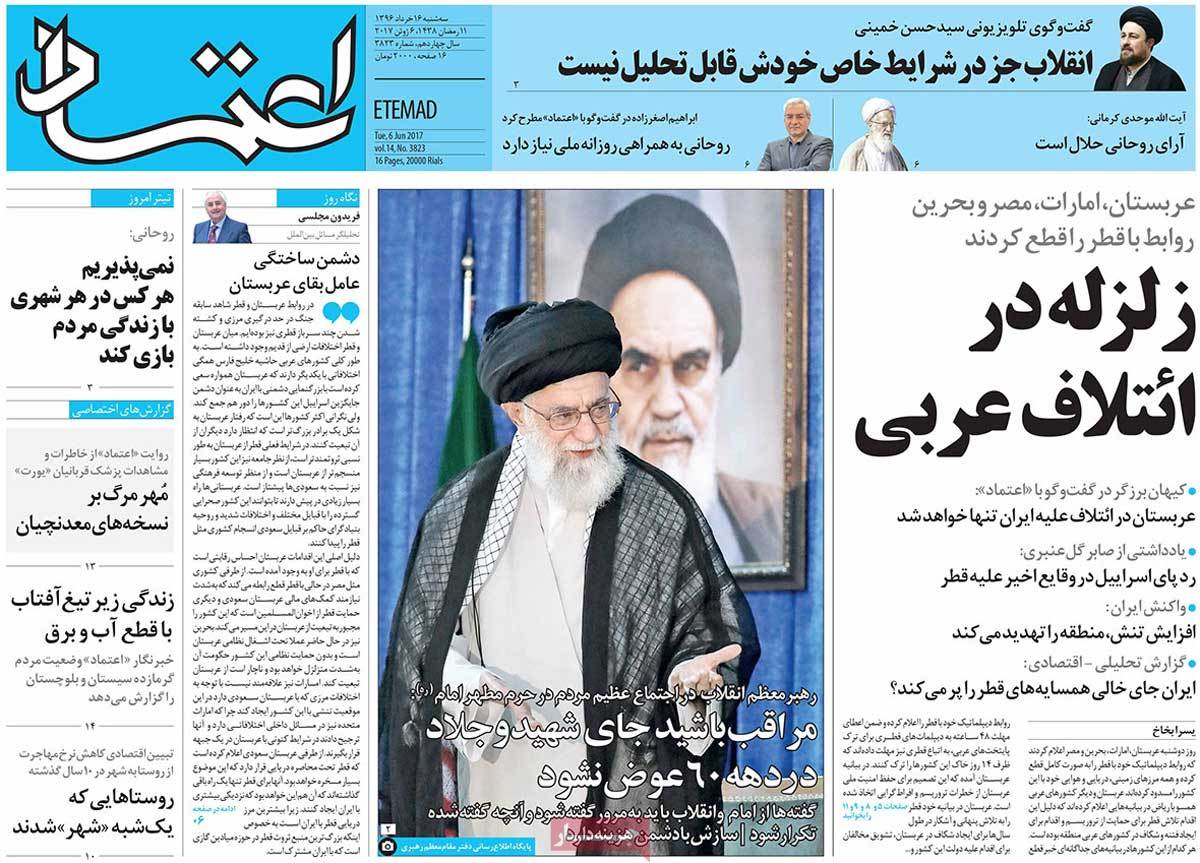 ---
Ettela'at:
1- Iranian Nation's Tomorrow Much Better than Today: Leader
2- Imam Khomeini's Grandson: Democracy, Rationality Path to People's Prosperity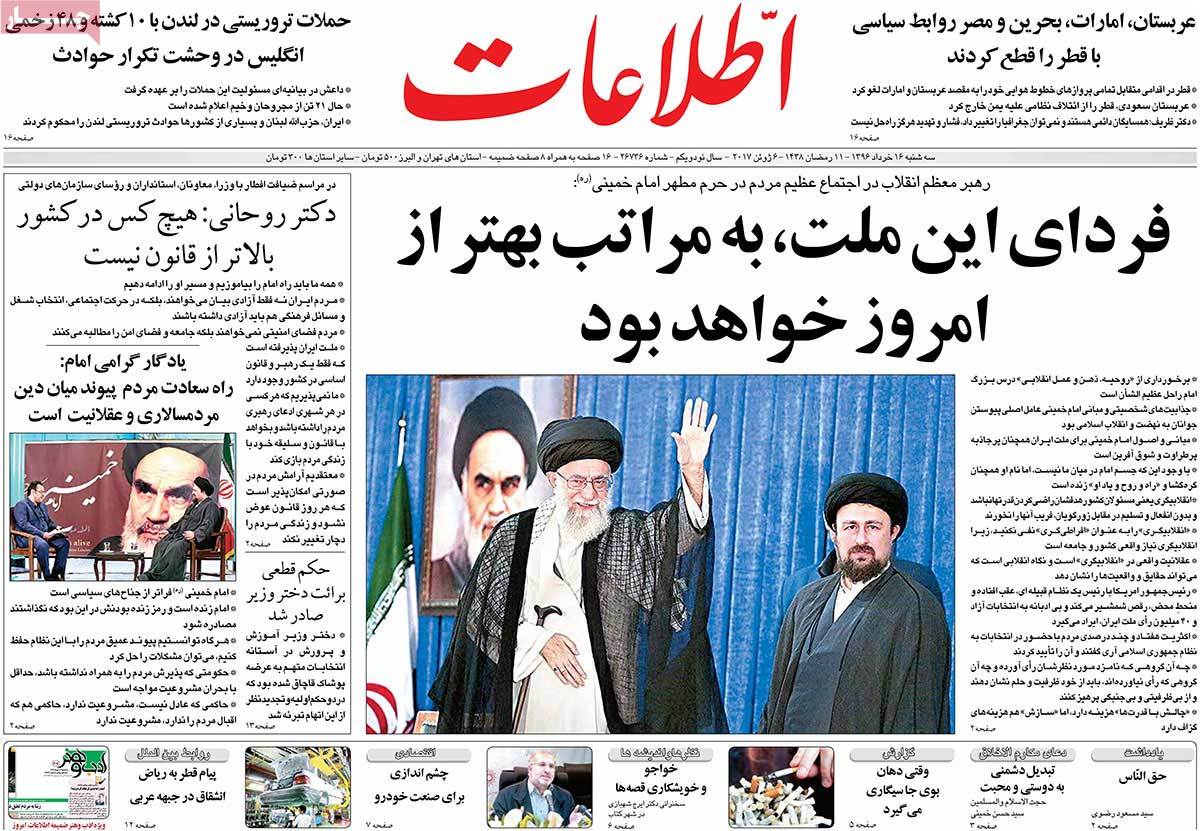 ---
Haft-e Sobh:
1- Situation Is Dangerous in Mideast!
What Should Iran Do in Qatar Crisis?
2- London Shocked by 3 Simultaneous Attacks
3- Corbyn, British Officials Call on May to Resign over Security Failure
---
Iran:
1- Arabic Shock: Saudi Arabia, UAE, Bahrain, Libya, Maldives Cut Ties with Qatar
2- Kuwait, Oman, Arab League Refuse to Accompany Riyadh
3- Zarif: Neighbours Are Permanent, Geography Can't Be Changed, Dialogue Necessary
4- World Leaders Firm in Fight against Terrorism in Reaction to London Attack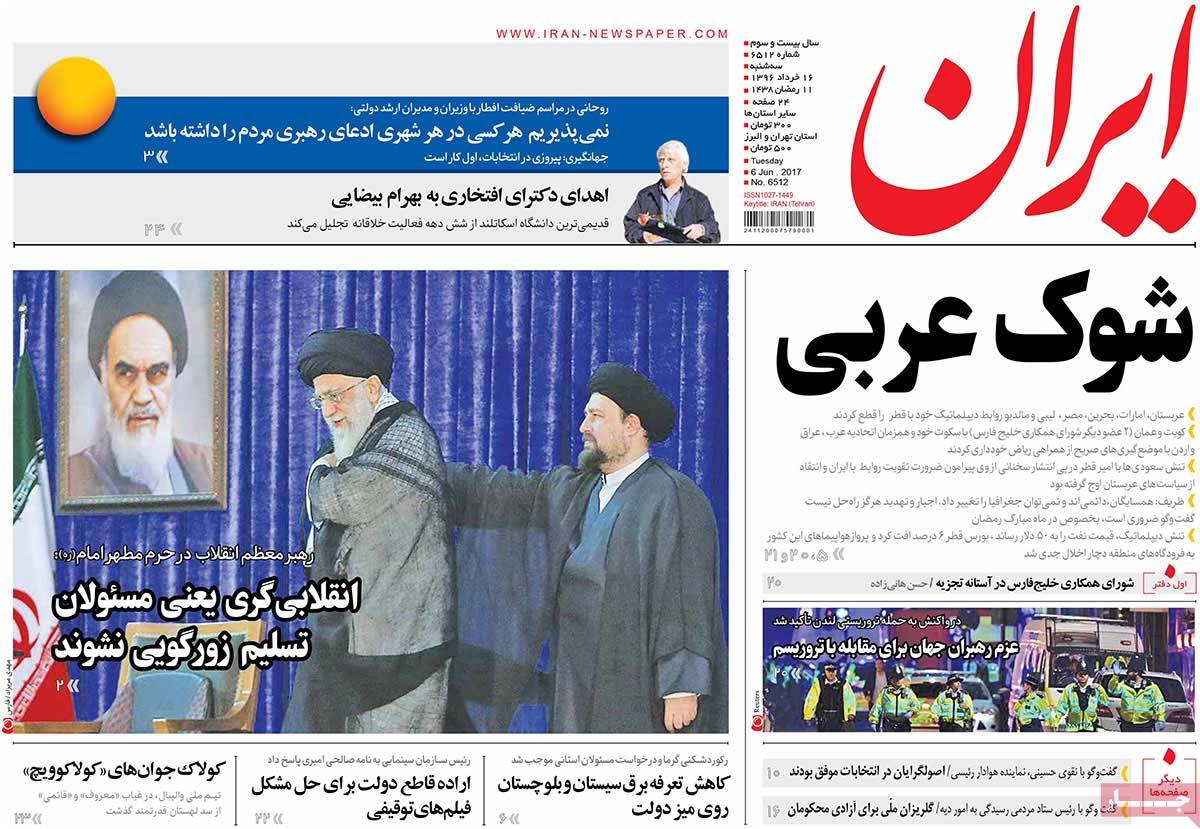 ---
Jame Jam:
1- Revolutionary Attitude Is What Iran Needs Now: Leader
2- Aftershocks of Qatar's 'No' to Tribal Chief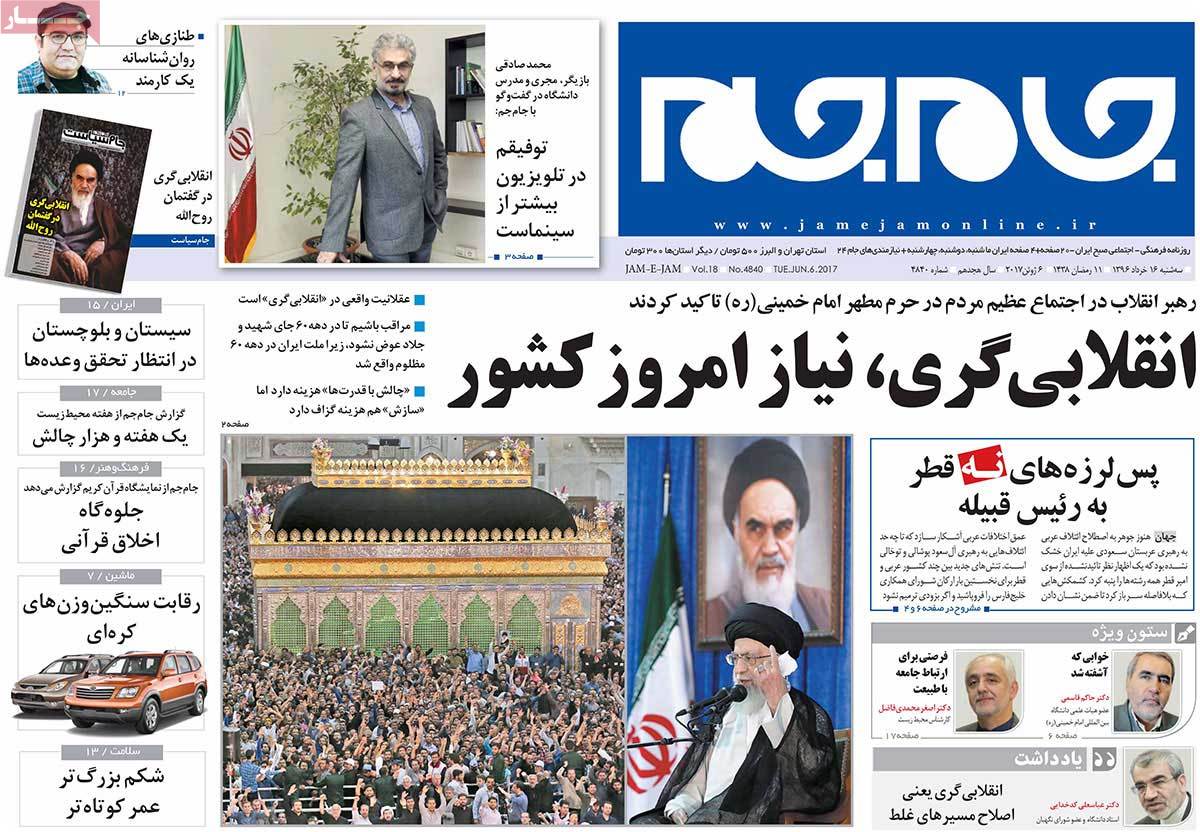 ---
Javan:
1- Iran Leader: Compromise with World Powers More Costly than Challenging Them
2- Terrorism Escalates from London to Kabul and Melbourne
3- Battle of 'Al's after Coalition
Sources Say Coup in Qatar Is Likely after Tension with Arabs
---
Jomhouri Eslami:
1- Iran Leader: Country Needs Imam Khomeini, Revolution's Principles
2- World Bank Predicts 4-Percent Growth for Iran
3- Saudi Arabia, UAE, Bahrain, Egypt Wage Political War against Qatar
---
Ka'enat:
1- Tribal Blockade of Qatar
2- Iran: Dialogue Only Way to Heal Rift between Regional States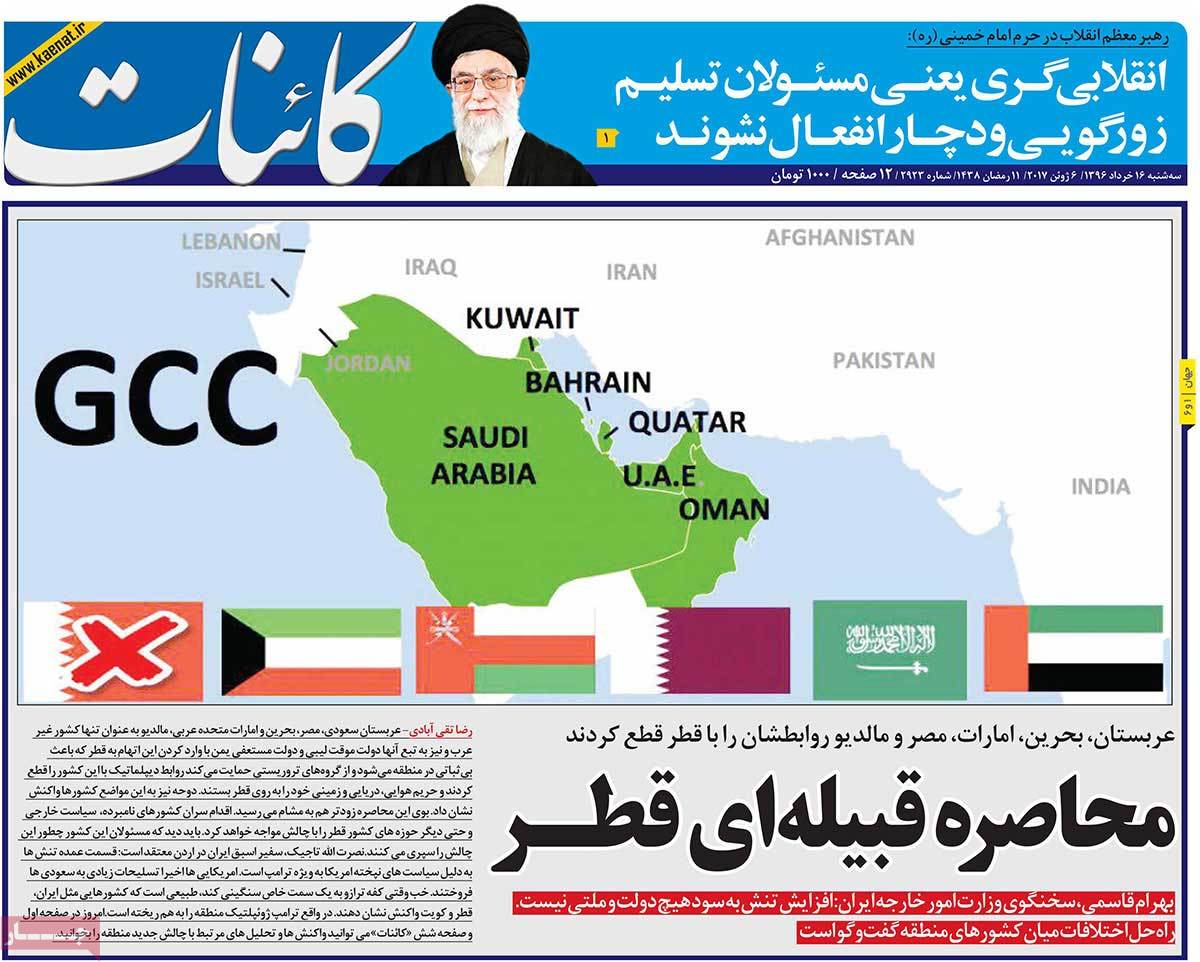 ---
Kayhan:
1- Iran Leader: Being Revolutionary Means Pleasing People, Not Arrogant Powers
2- London Police to Citizens: Run!
3- Arab NATO Collapses before Being Formed
4- Al Saud Surrounds Qatar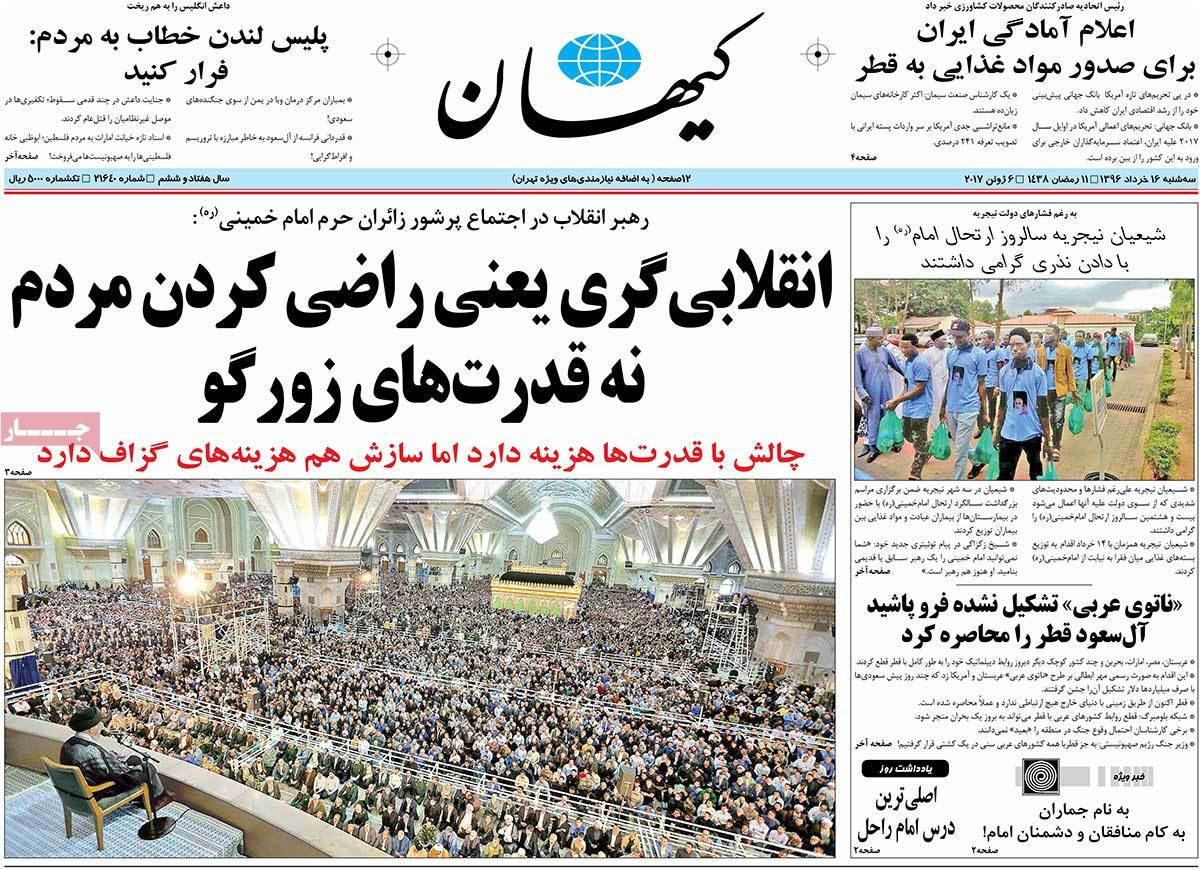 ---
Khorasan:
1- Rational Challenge Less Costly than Compromise: Iran Leader
2- Aftershocks of Severing Ties with Qatar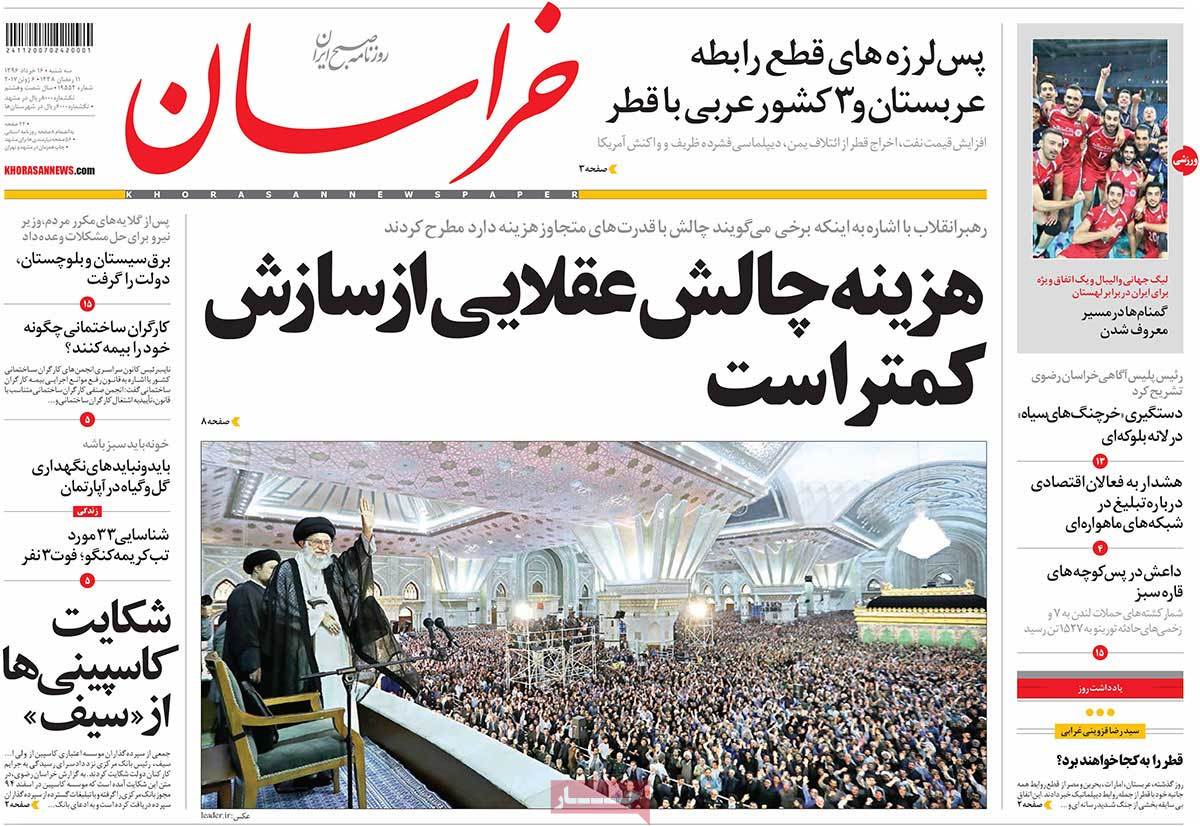 ---
Shahrvand:
1- Qatar in Corner of the Ring: Big Gap Formed in GCC
---
Shargh:
1- Battle of Sheikhs: Consequences of Qatar Blockade by Arab States
2- All Ways End up in Iran
---
Siasat-e Rooz:
1- Saudi Arabia Increasing Political, Military Moves against Doha
Apparently against Qatar, Actually against Palestine
2- Al Thani, another Victim for Al Saud