Tehran terrorist attacks were the top story in all newspapers today. The details of ISIS operations in Tehran, which has so far claimed the lives of 17 and wounded over 45, were widely covered today.
Newspapers also covered the remarks made by the Leader of Iran's Islamic Revolution Ayatollah Seyyed Ali Khamenei and President Hassan Rouhani's statement in reaction to the attacks.
The world's reactions to the attacks were also a top story today.
The above issues, as well as many more, are highlighted in the following headlines and top stories:
Abrar:
1- End of Terrorist Operation in Tehran with All Terrorists Dead
2- Mogherini's Aide: Today Is a Very Sad Day
3- Turkey Condemns Tehran Terrorist Attack
4- Terrorists Entered Parliament in Women's Clothes
---
Afkar:
1- Adventure of Yesterday: Tehran's Tense Midday Over after Killing Terrorists
2- President: Iranian Nation to Defeat Enemies with Increased Solidarity
3- IRGC Vows to Take Revenge for Tehran Attacks
4- Putin Condoles Rouhani on Tehran Attacks, Calls for Increased Cooperation against Terror
5- Mohammed Bin Salman Had Earlier Said Riyadh Will Take Battle into Iran's Territory
---
Amin:
1- Terrorists Wanted to Enter Main Hall of Parliament
2- We Won't Forgive Those Who Killed Our People [Editorial]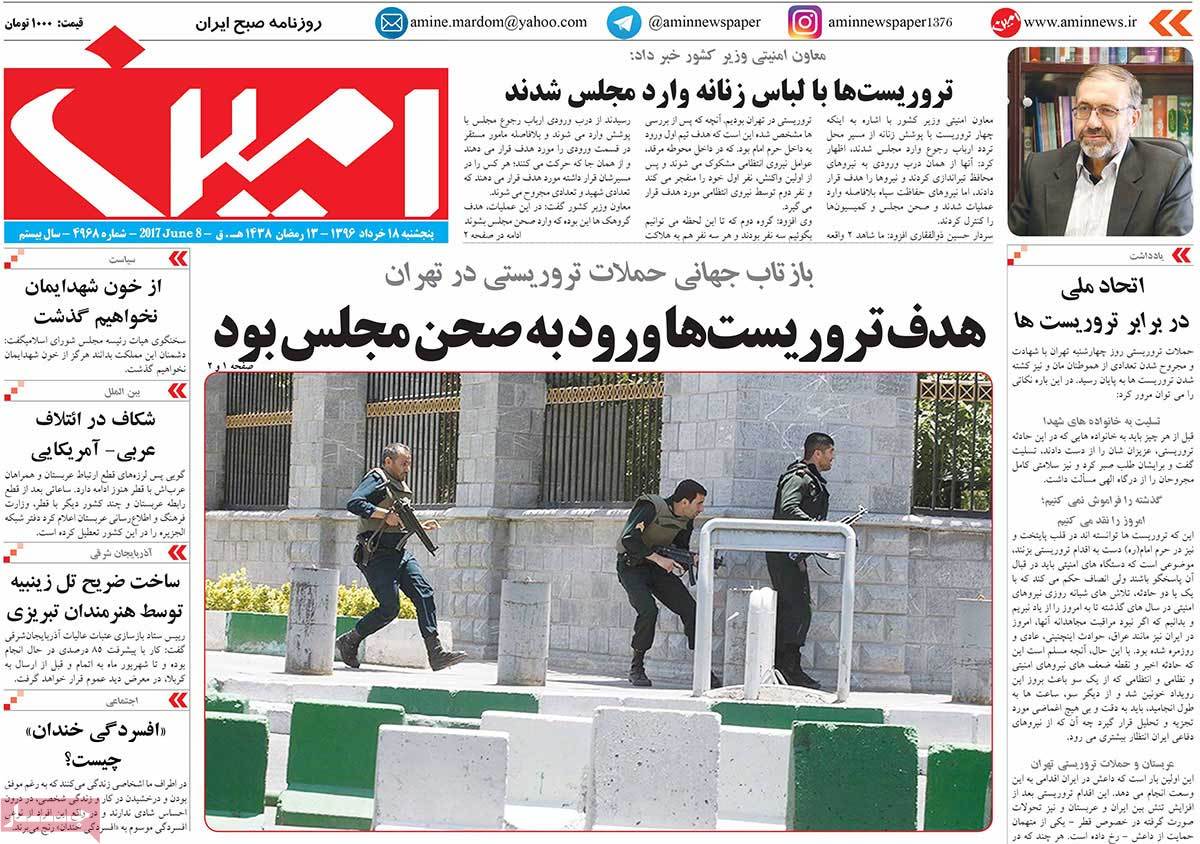 ---
Arman-e Emrooz:
1- ISIS Biting Off More than It Can Chew in Tehran
2- Law Enforcement, Security Forces Show Their Power to Terrorists
3- People's Calm, Unity among Forces Admirable
4- Bodies of Martyrs to Be Laid in Rest on Friday
5- Suspects Arrested after Tehran Attacks: Interior Ministry
---
Bahar:
1- Together for Iran's Sake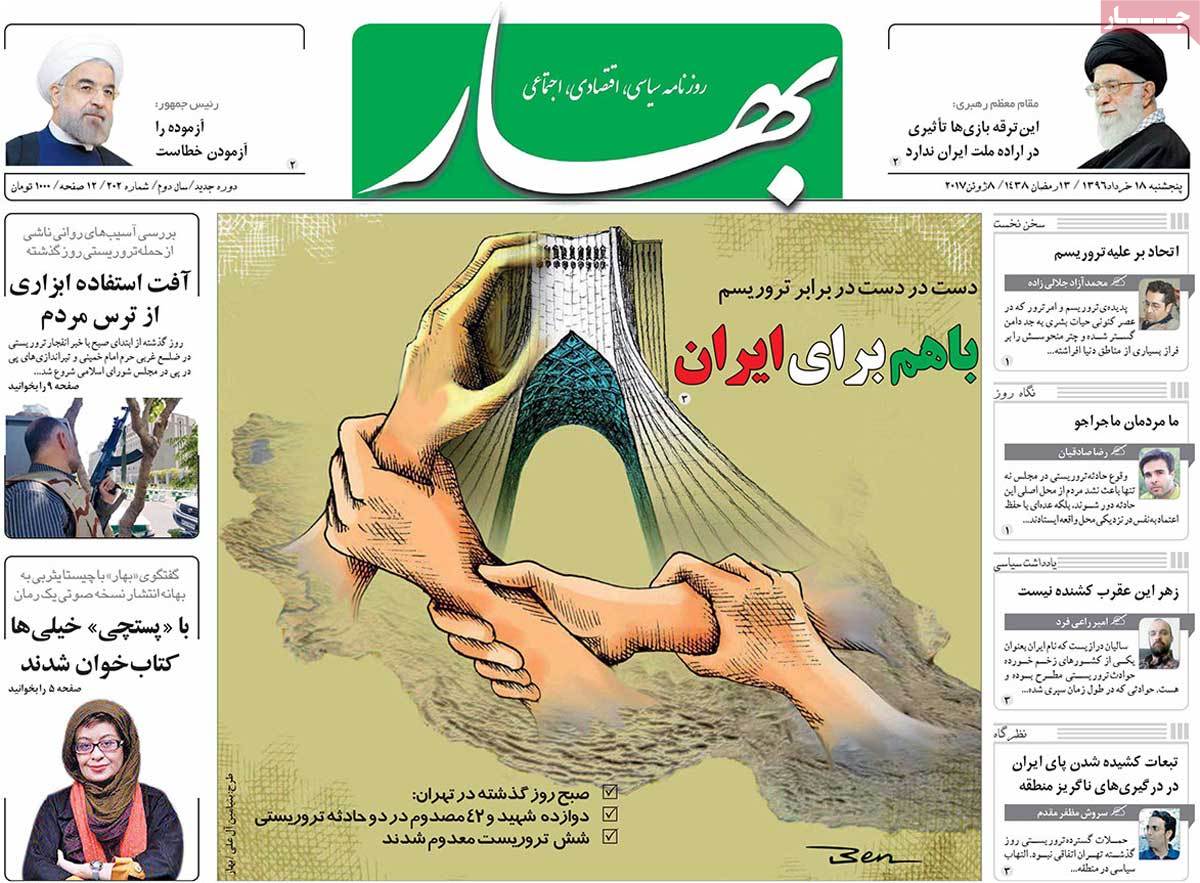 ---
Ebtekar:
1- Iran Leader: These 'Fireworks' Won't Influence Iranian Nation's Resolve
2- Midday Adventures in People's House [Parliament]
[Midday Adventures is the name of an acclaimed Iranian film which shows the crimes committed by MKO terrorists back in the 1980s, in one of which 72 MPs were killed in a blast in the Parliament]
3- President on Tehran Attacks: It's Wrong to Test What Has Already Been Tested
---
Emtiaz:
1- End of Terrorists Tragedy
2- Riyadh's Hidden Role in Tehran Incidents: What Jubeir Said before Tehran Attacks?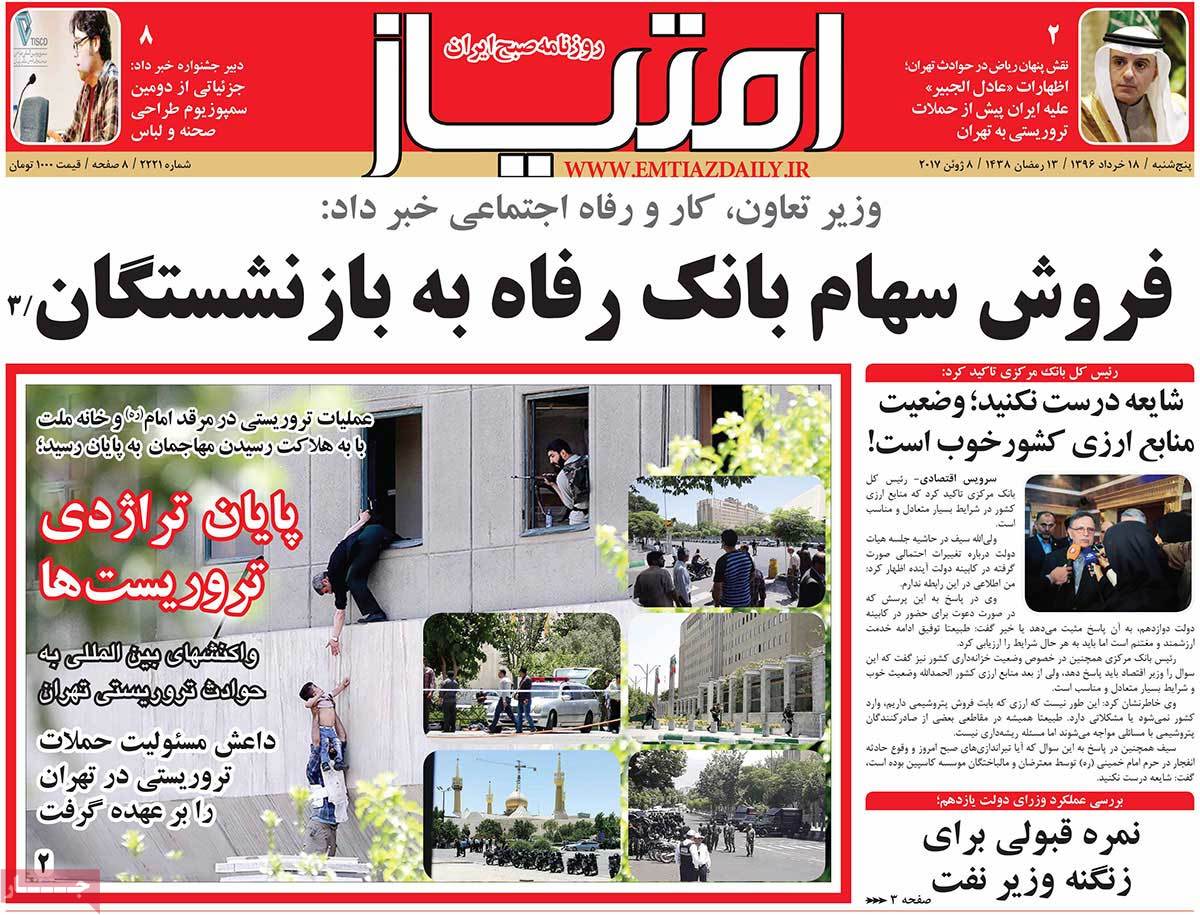 ---
Etemad:
1- We're All Together
Iranian People United against Terrorism after Twin ISIS Attacks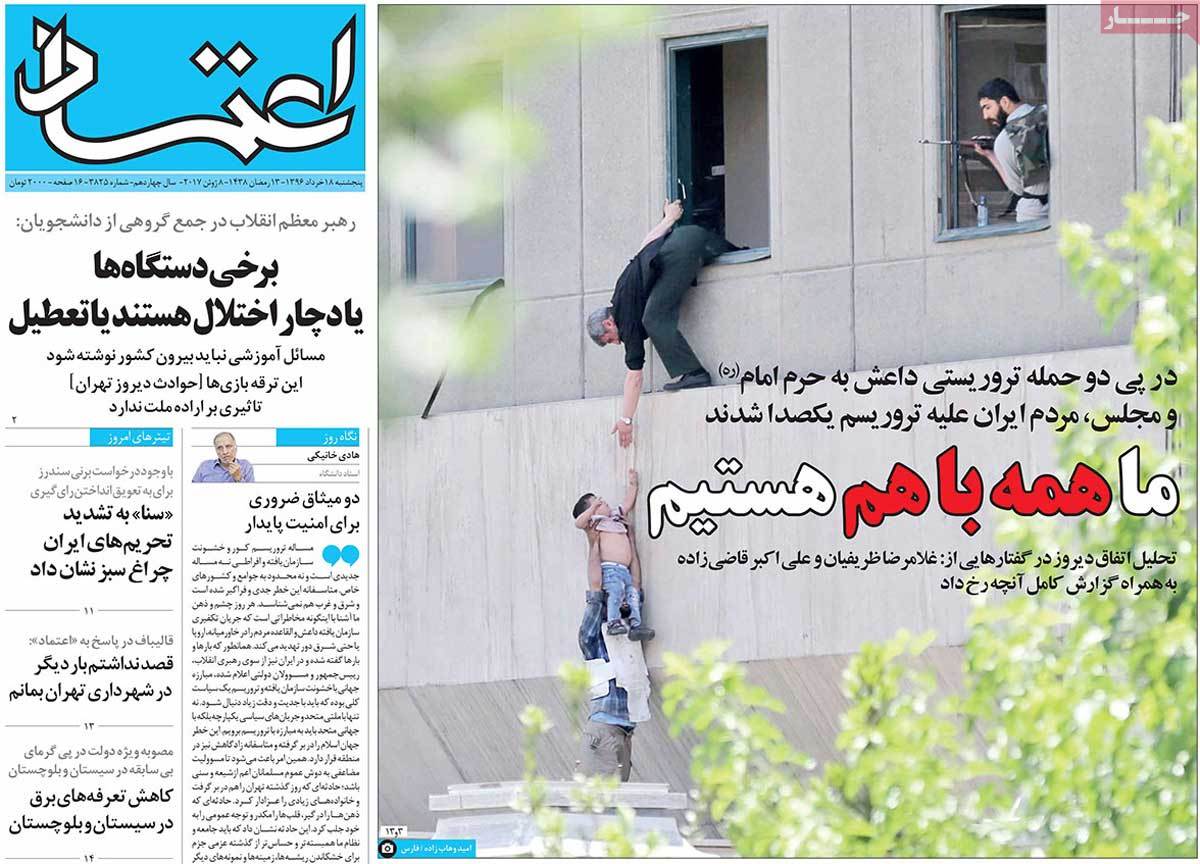 ---
Ettela'at:
1- Blind Operation of 2 Terrorist Teams in Tehran
2- Germany Warns Saudi Arabia against Trumpization of Mideast
3- Iran Ready to Export Fruits, Food to Qatar as of Next Week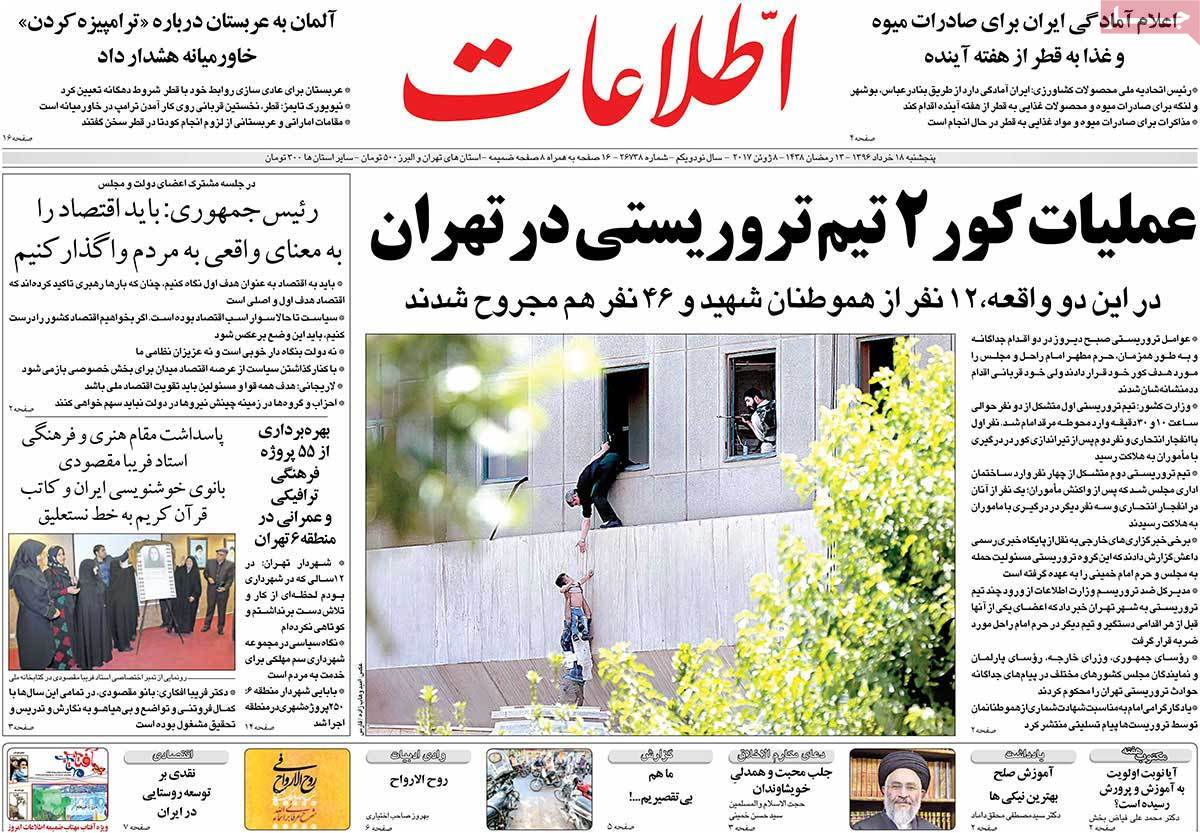 ---
Ghanoon:
1- If You're Stone, I'm Steel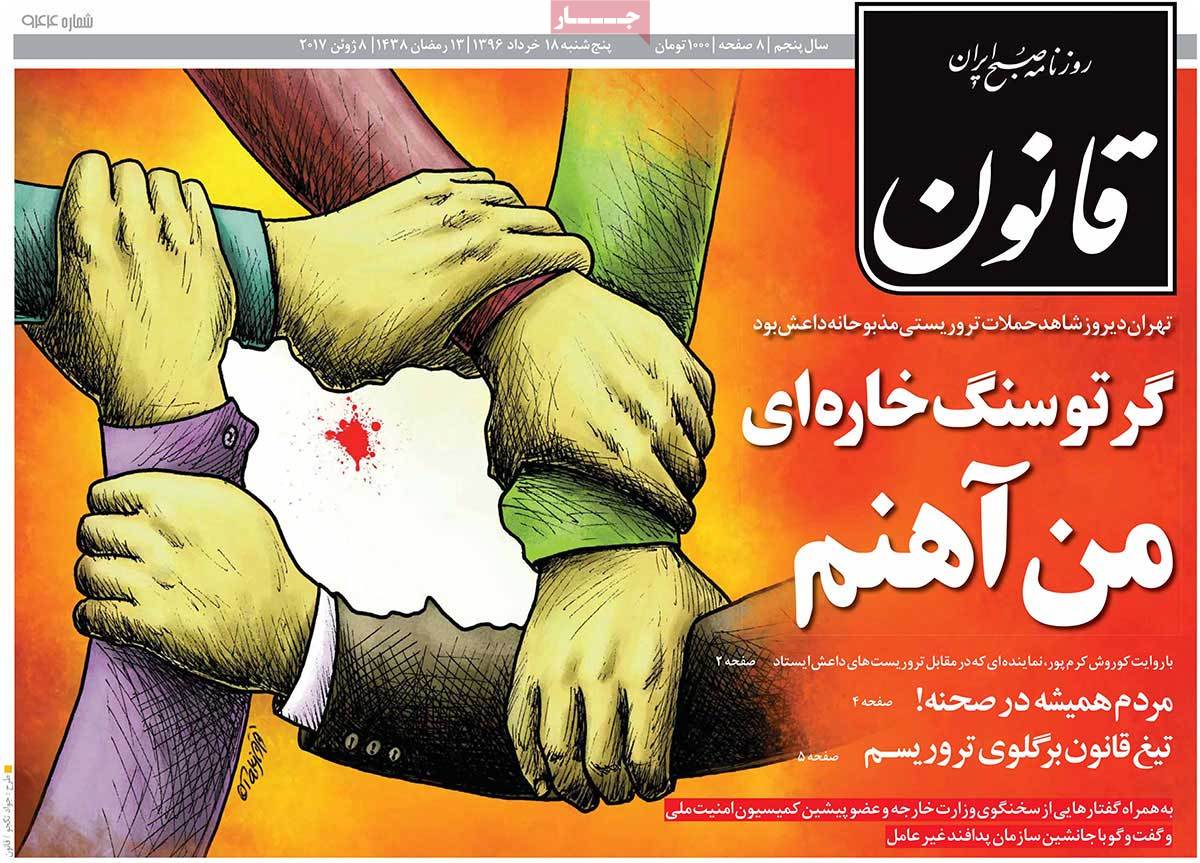 ---
Haft-e Sobh:
1- Hot Summer Day in Tehran with Two Terror Attacks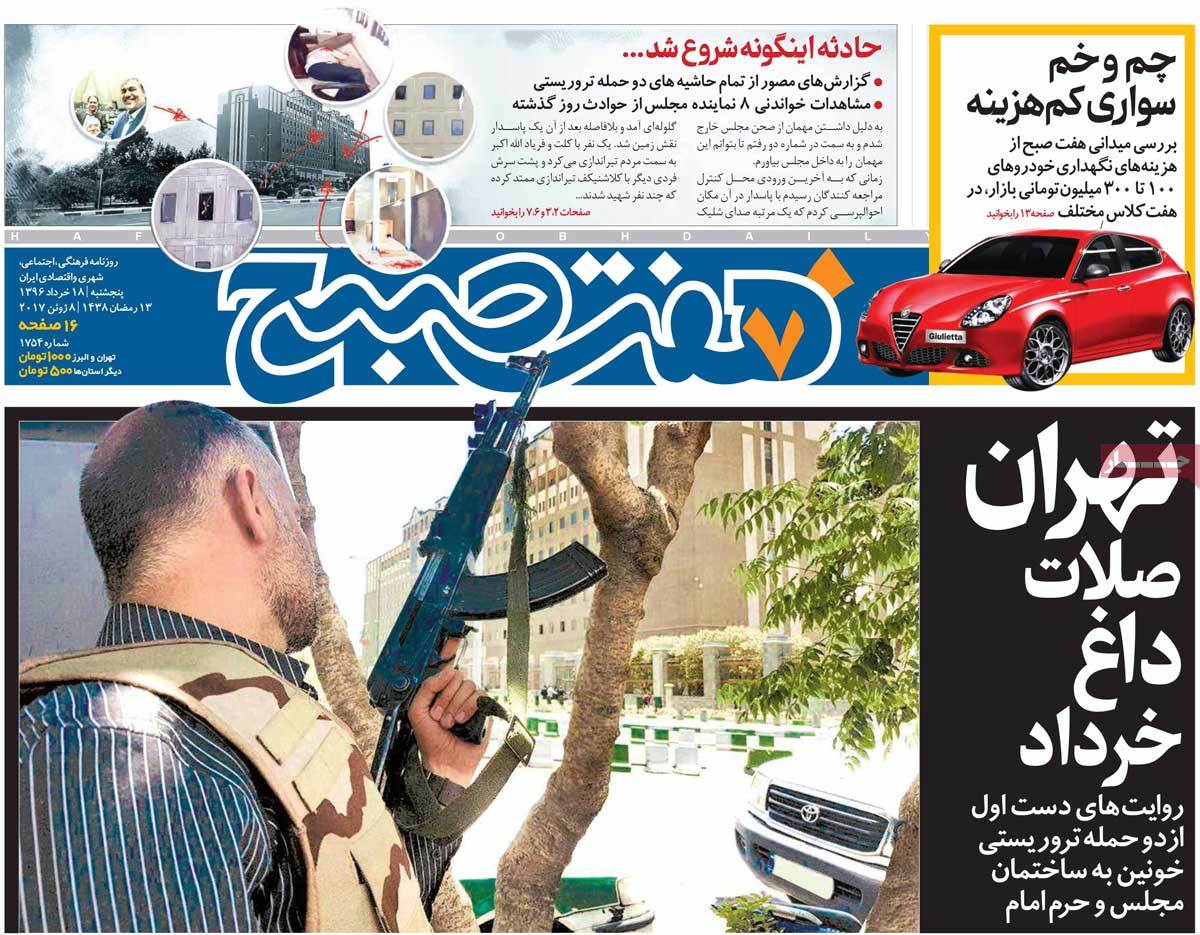 ---
Hemayat:
1- They're Too Small to Influence Iranian Nation's Resolve: Iran Leader
2- ISIS' Cowardly Operation in Tehran
---
Iran:
1- Day of Tension, Unity
Terrorist Attack on Parliament, Imam Khomeini Shrine Over
---
Jame Jam:
1- Blind Terrorism Fails in Tehran
2- Senior MP Discusses Role of Foreign Secret Service in Tehran Attacks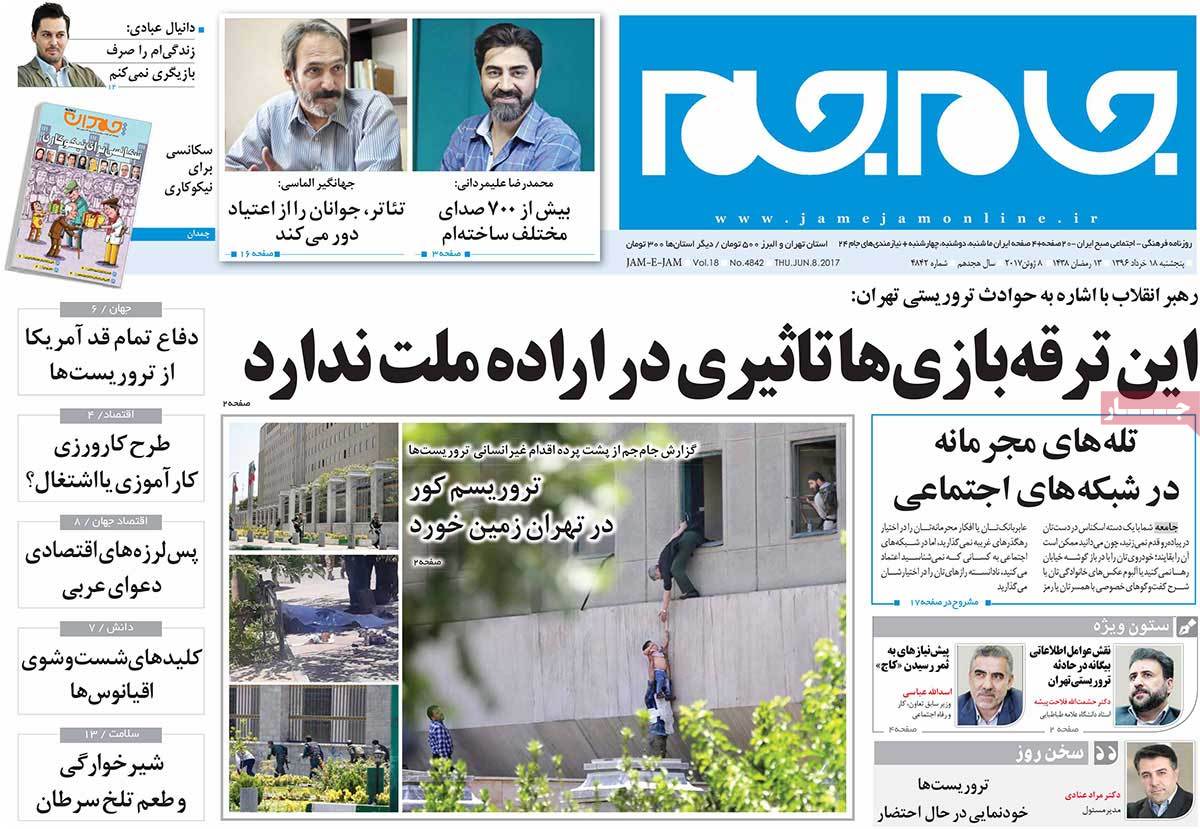 ---
Javan:
1- Iran Leader: They Will Be Eradicated
2- We'll Take Revenge: IRGC Says in Statement after Tehran Attacks
3- World Reacts to ISIS Terrorist Attack in Tehran
4- Jubeir: We Hope We Won't Have to Interfere Militarily in Qatar!
5- Diplomatic Line of Russia, Germany, Turkey in Support of Qatar
6- Iran-Russia-Iraq Operation Room Warns US after Second Airstrike on Syrian Base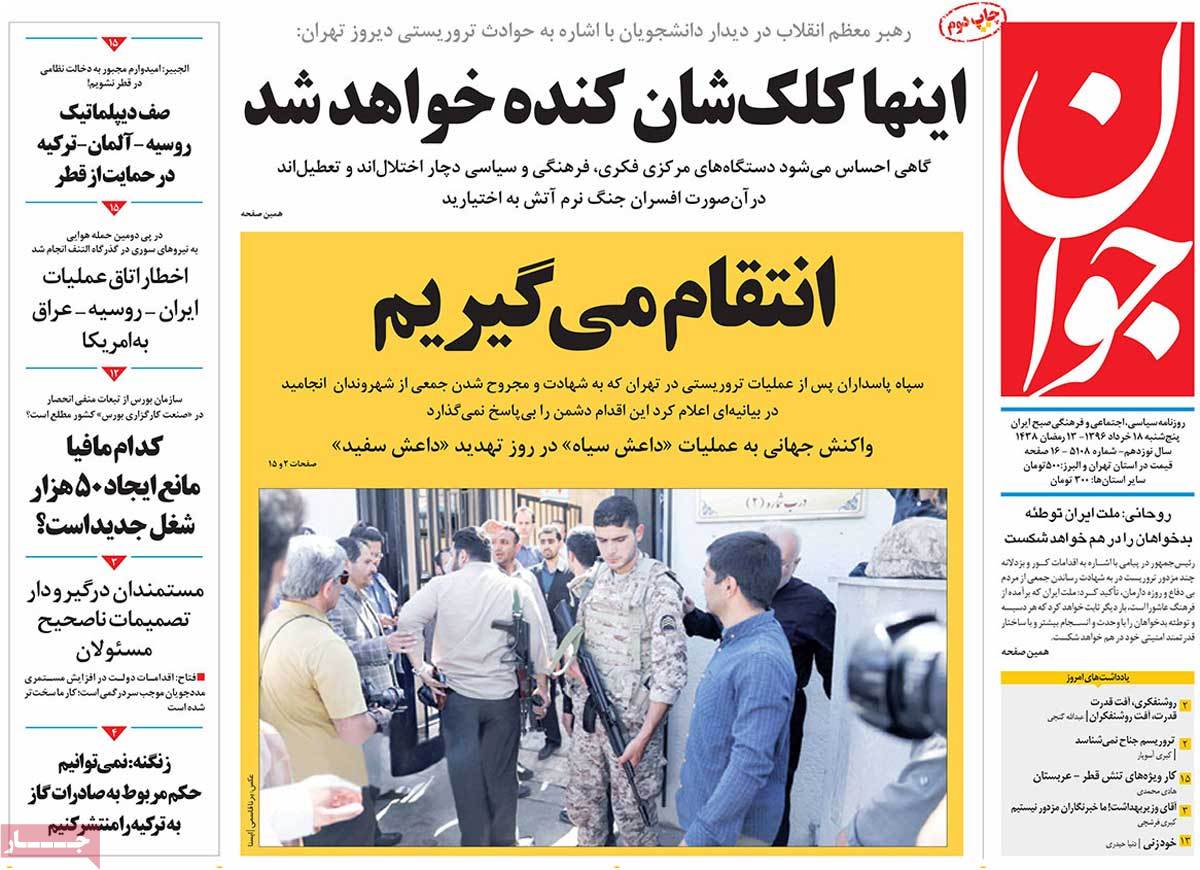 ---
Jomhouri Eslami:
1- Power of Anti-Terrorist Forces in Parliament Attack
2- Global Requests for Using Iran's Airspace after Crisis in Ties with Qatar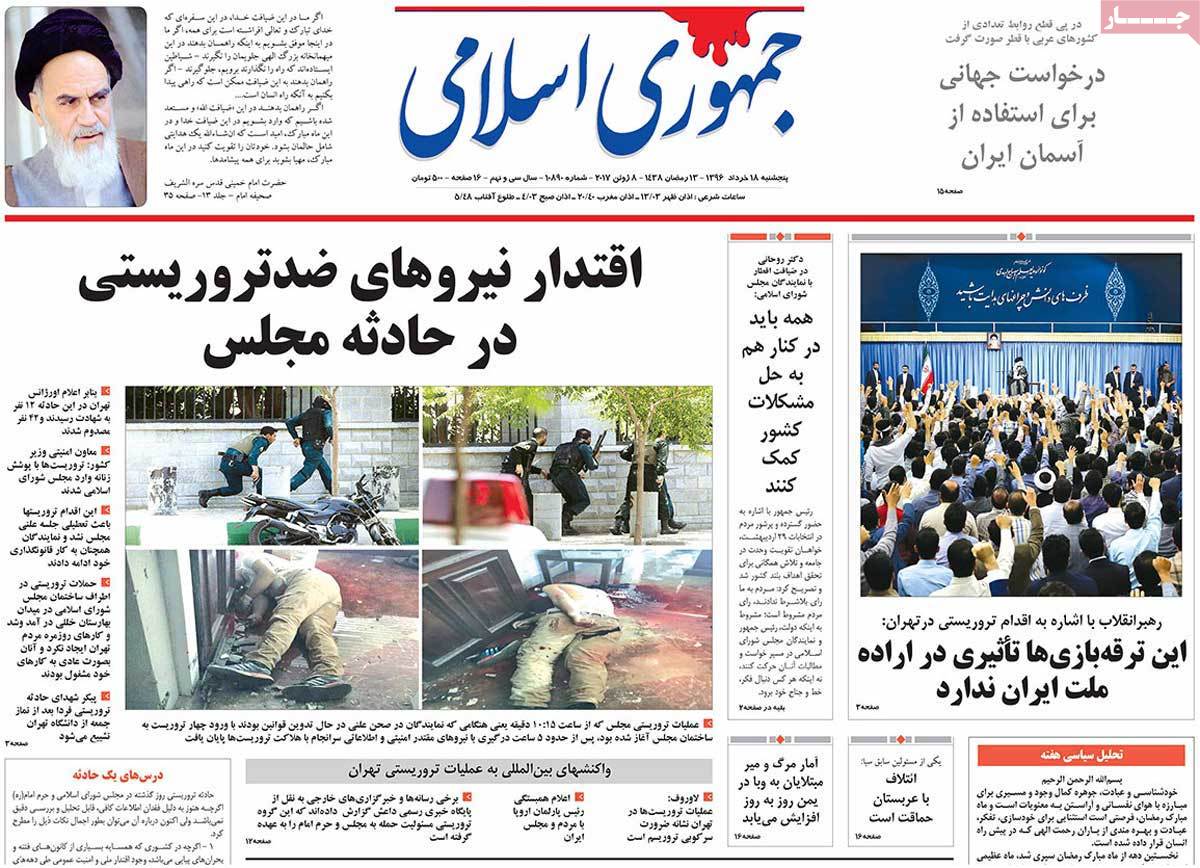 ---
Ka'enat:
1- We're Standing Together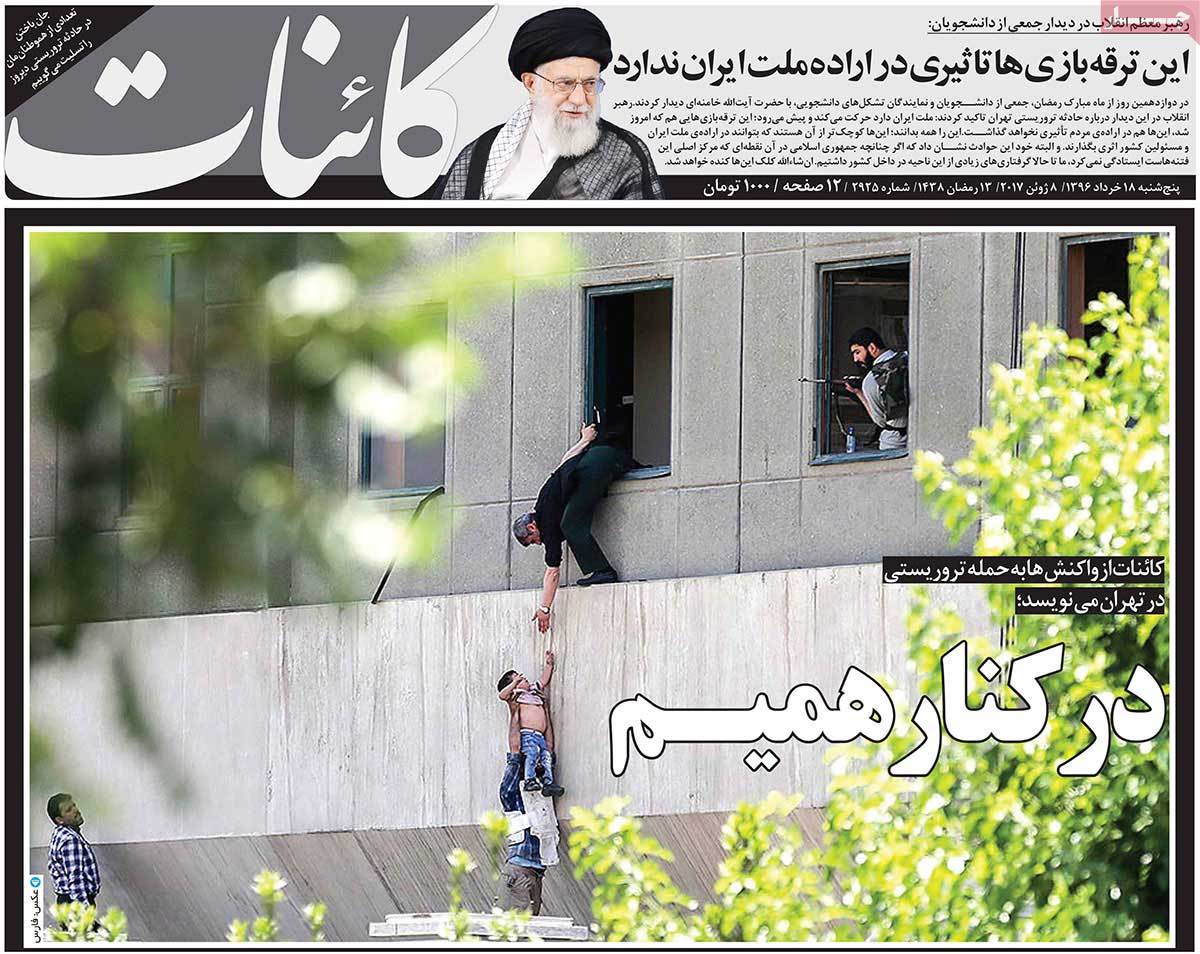 ---
Kayhan:
1- Iran Leader: These 'Fireworks' Won't Influence People's Will
2- Bat Had Come to Eagle's Nest
3- Qatar in Talks with Iran to Meet Its Food Needs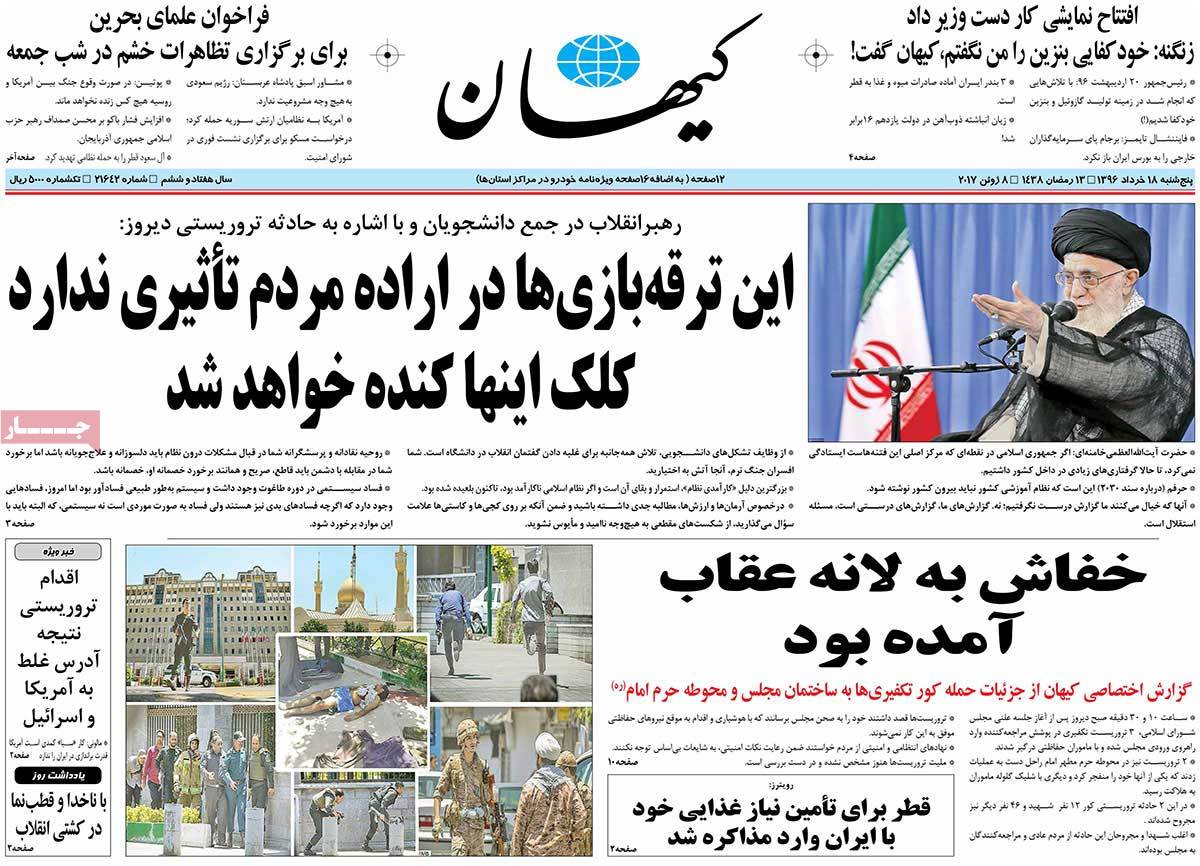 ---
Khorasan:
1- Iran against Terrorism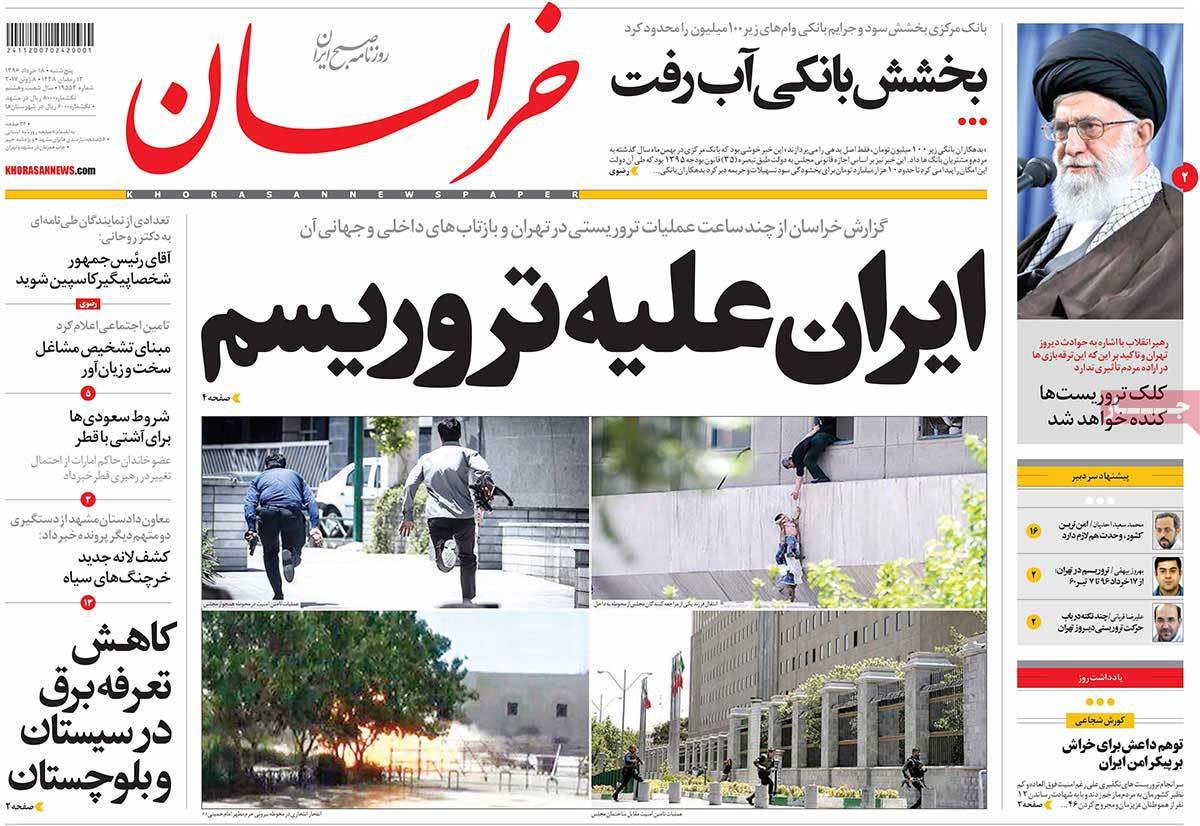 ---
Nasl-e Farda:
1- Tehran in Shock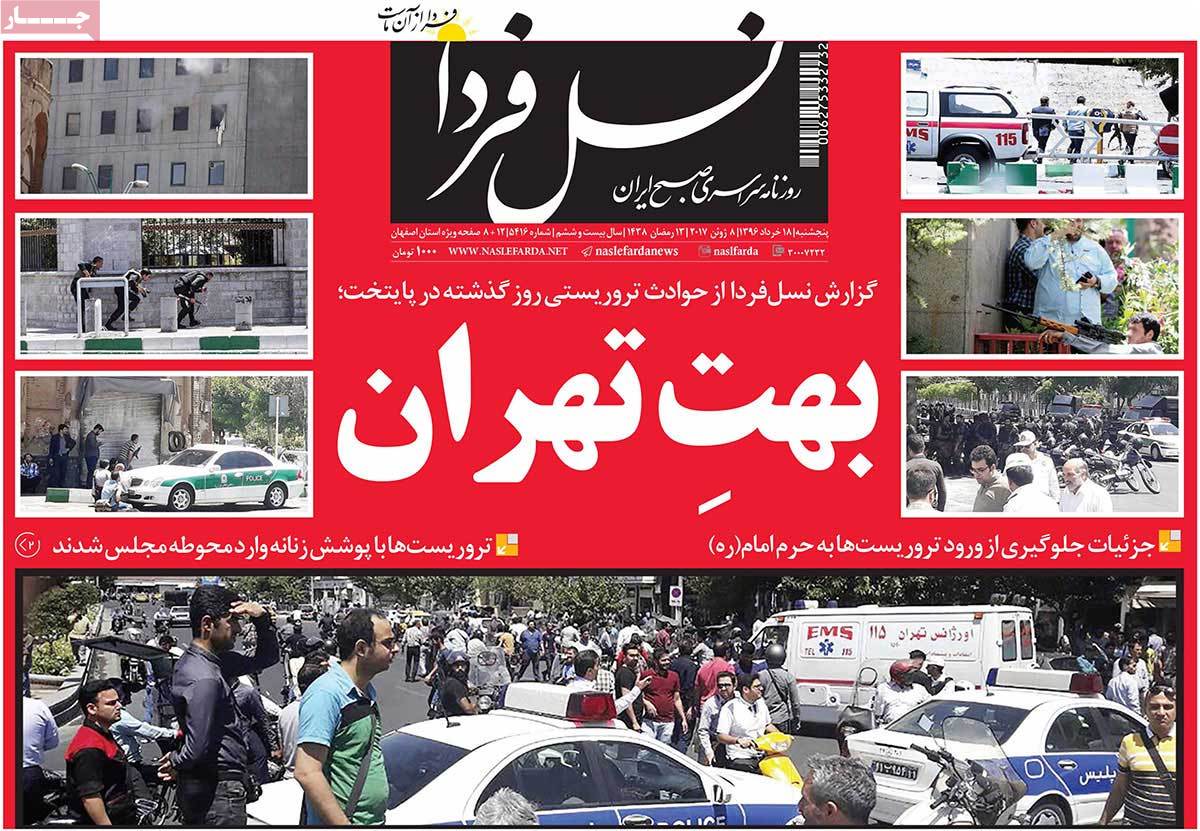 ---
Payam-e Zaman:
1- Terrorism Is a Universal Problem: Zarif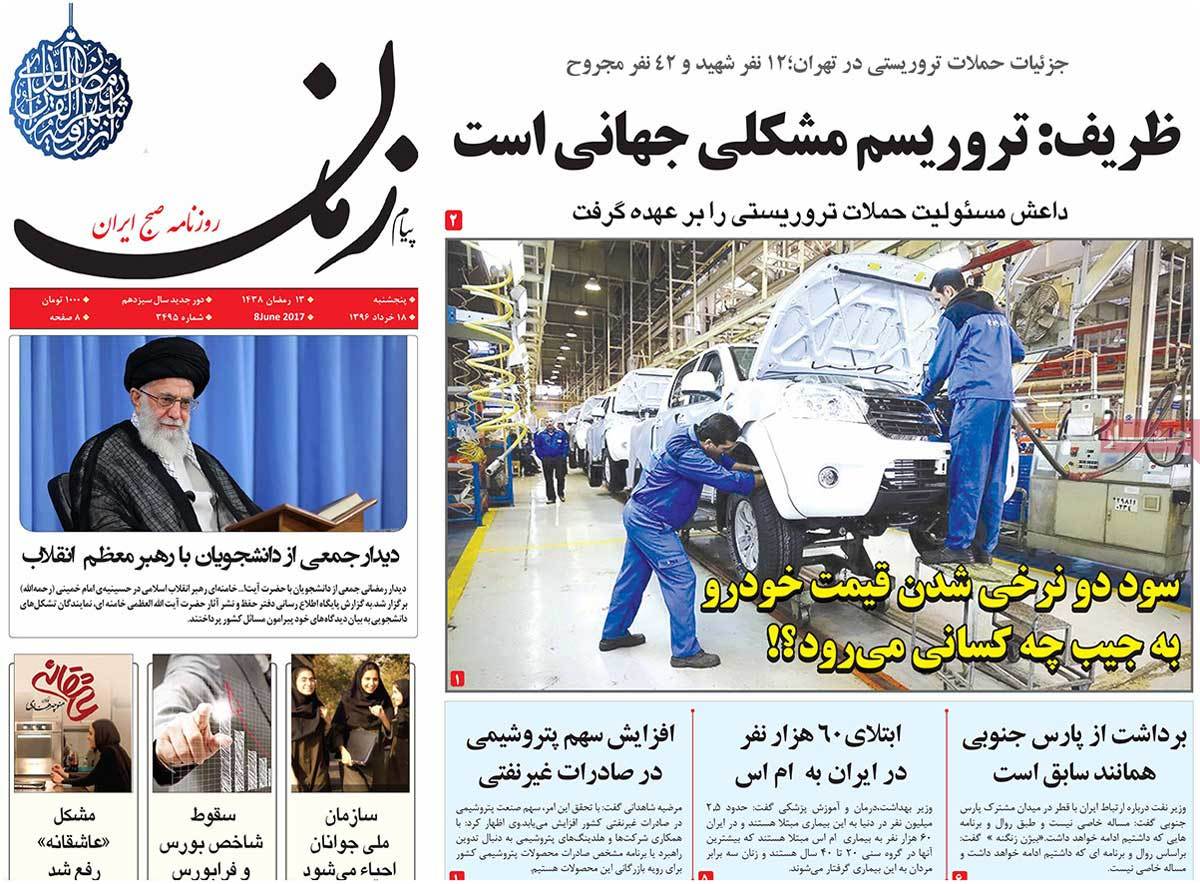 ---
Roozan:
1- Failed Attack on Heart of Democracy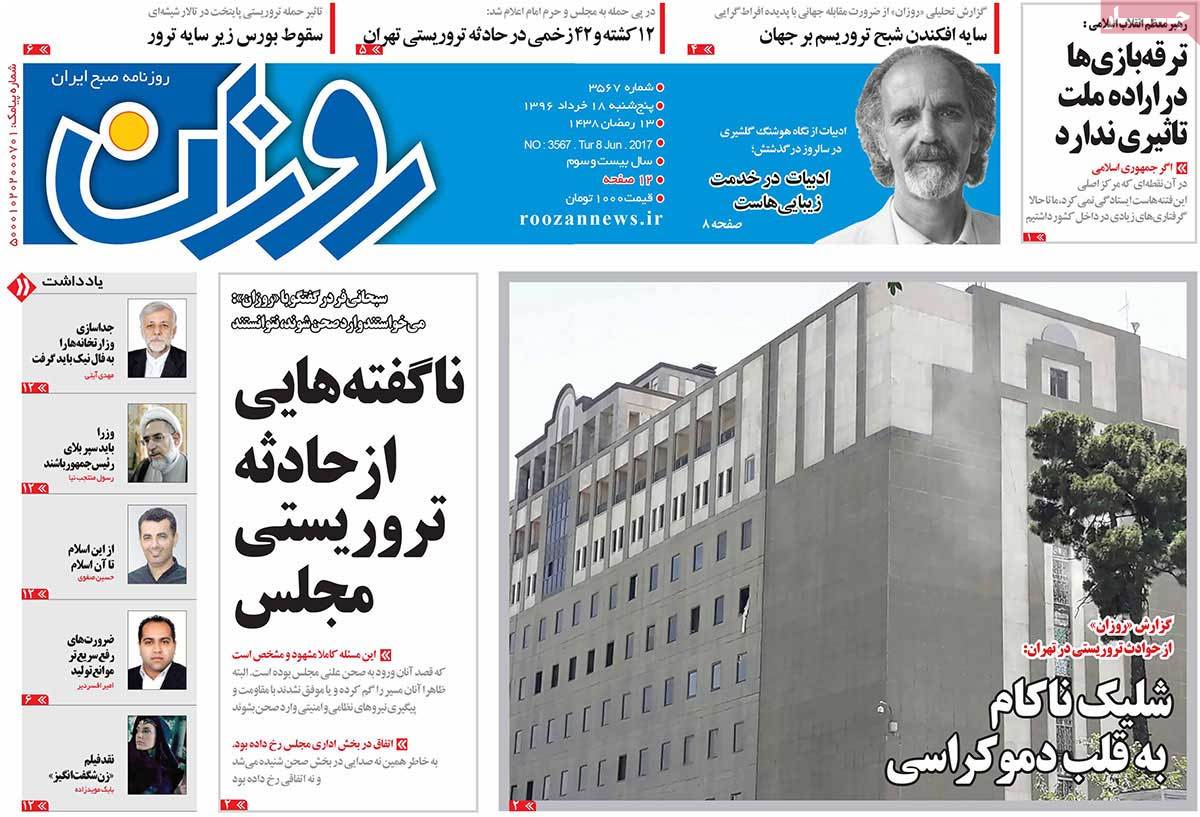 ---
Shahrvand:
1- We're Standing in Solidarity: Iran's Reaction to Blind Terror
---
Shargh:
1- Defending the People's House [Parliament]
2- World Stand by Iran: One Minute of Silence in UNSC
3- National Solidarity in Social Media
4- Shock of ISIS Presence in Tehran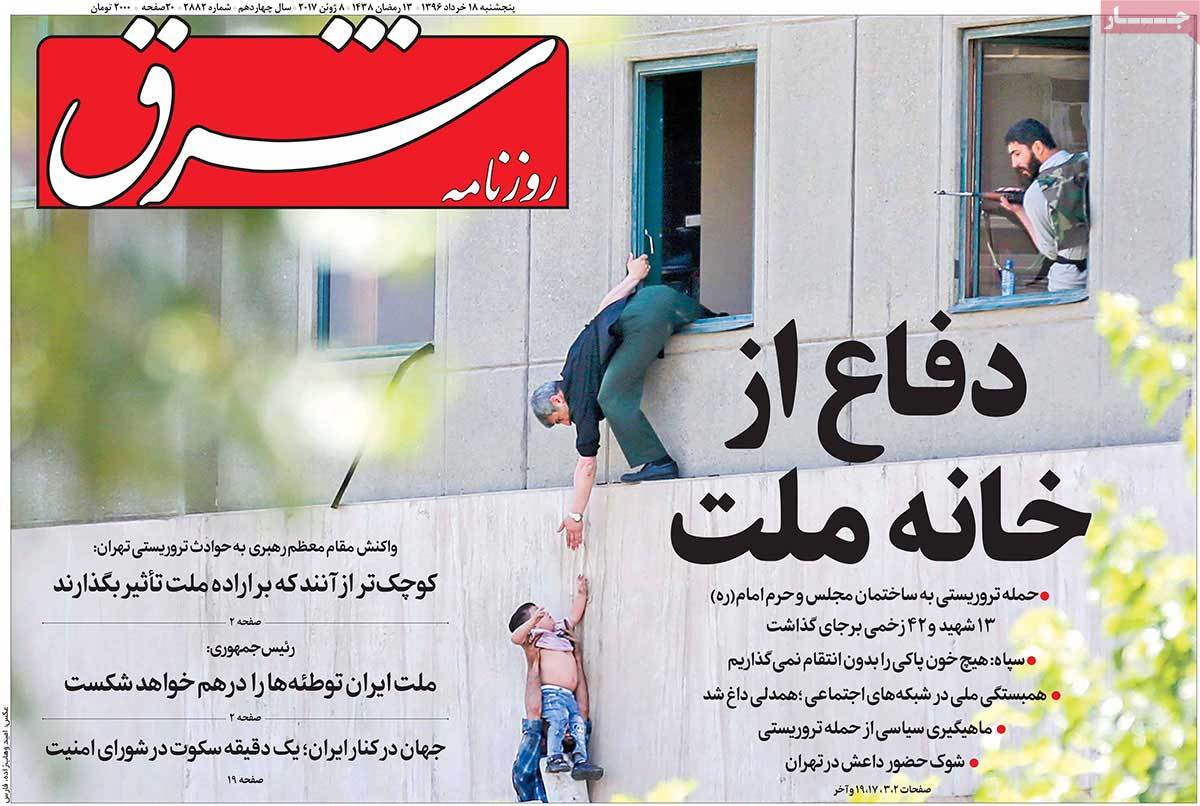 ---
Siasat-e Rooz:
1- Iran Was Shocked, but People Found Why Iranians Fight in Syria, Iraq
---
Vaghaye Ettefaghieh:
1- Resistance in Tehran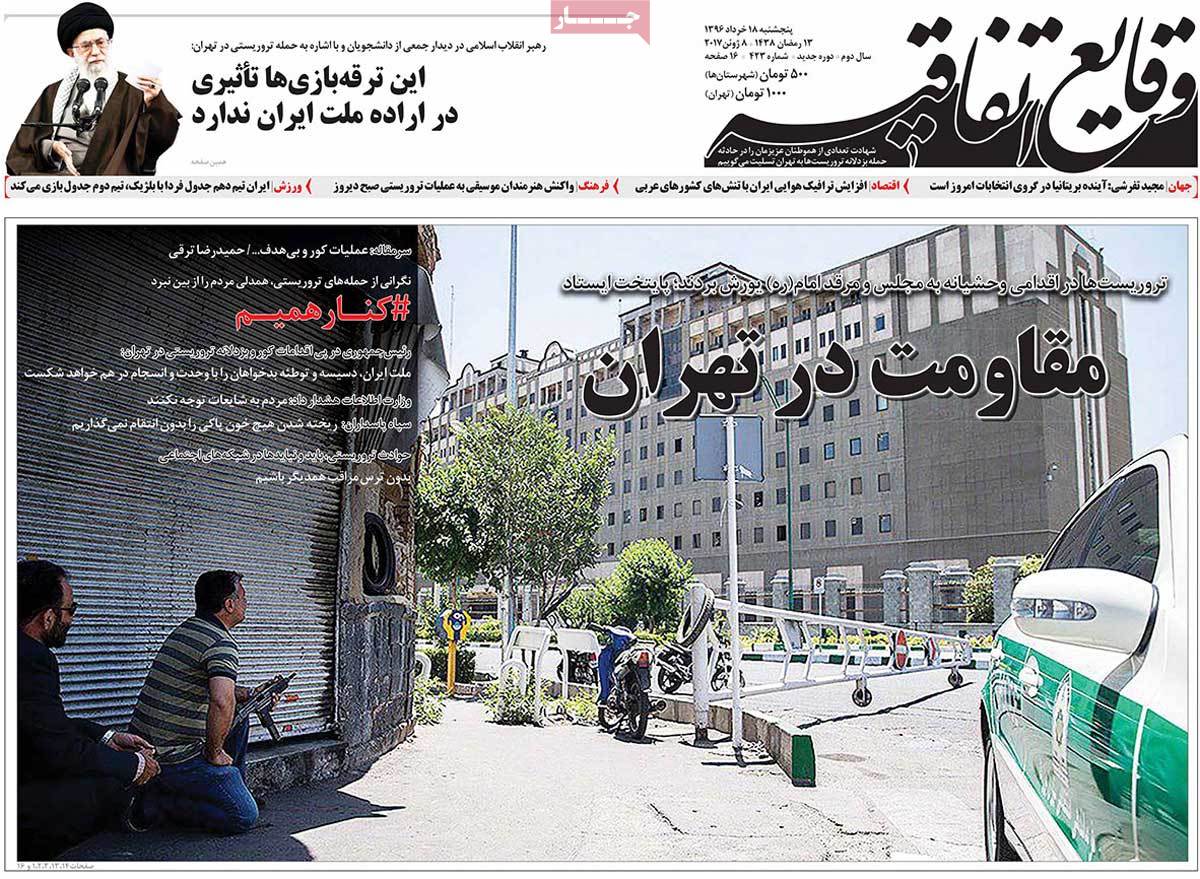 ---
Vatan-e Emrooz:
1- Iran Leader: They'll Be Eradicated
2- Midday Adventure