All newspapers today dedicated their headlines to the recent US Senate's vote to 10-year extension of Iran Sanctions Act (ISA), also known as D'Amato Sanctions, and the possible reactions by the Islamic Republic.
They also continued covering the recent agreement between members of Organization of Petroleum Exporting Countries (OPEC) for a cut in their oil output. Iran's exemption from the oil cut has been widely described as a victory for Rouhani's government.
Another top story was the International Day of Disabled Persons and the reports newspaper published about the problems of these people in Iran.
The above issues, as well as many more, are highlighted in the following headlines:
19 Dey:
1- Return to Previous Conditions and Triple-Urgent Motion: Harsh Reaction of Iranian MPs to US Extension of Anti-Iran Sanctions and Violation of JCPOA
2- Will Obama Sign Extension of D'Amato Act?
3- Iran Has a Deterrent Power in Reaction to Violation of JCPOA: Top Security Official
4- $10bn Increase in Iran's Oil Income: Oil Minister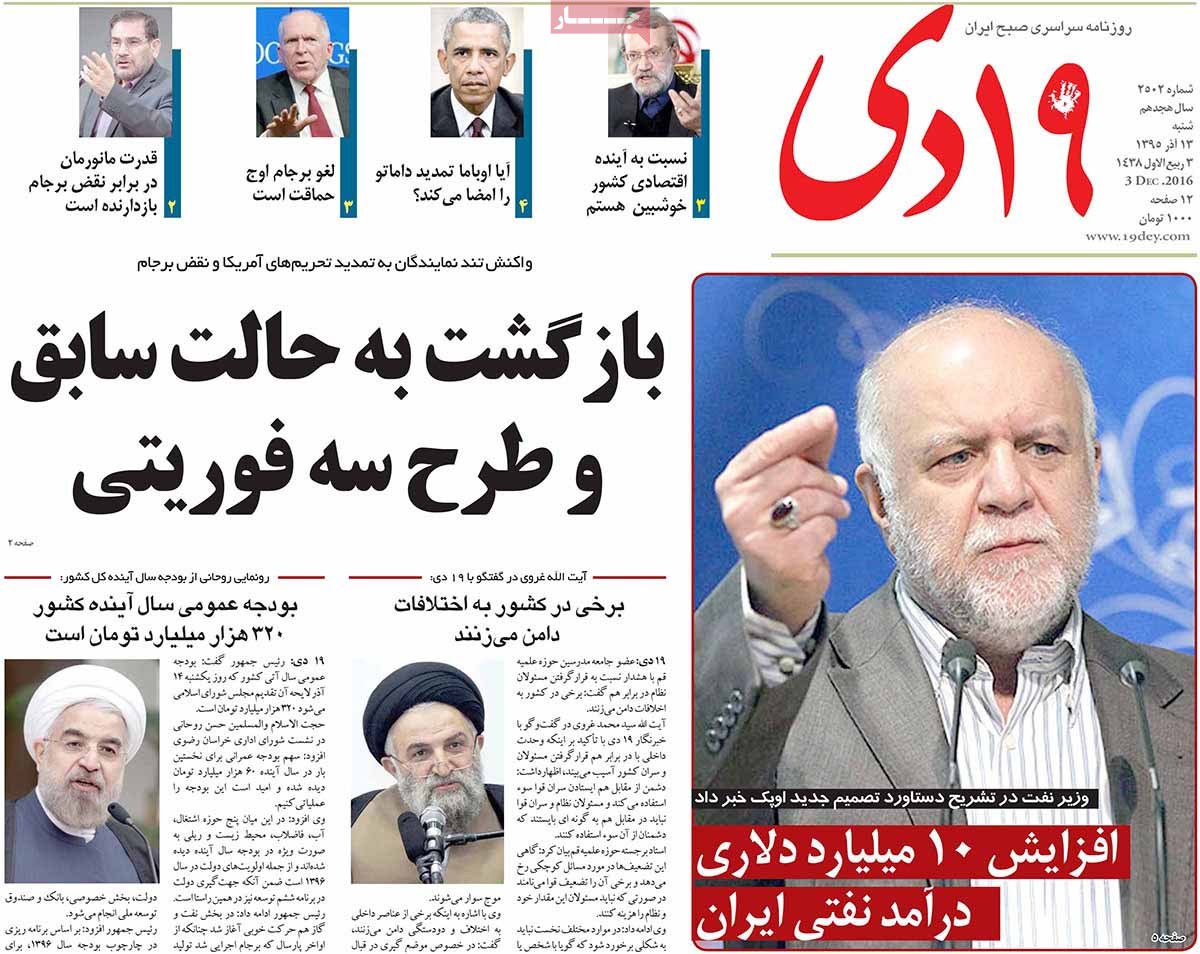 ---
Abrar:
1- Senate Approves Extension of Anti-Iran Sanctions for 10 Years
2- Trump Can Restore Anti-Iran Sanctions Obama Had Lifted: Nominated Secretary of State
3- Trump: Our Stupid Politicians Have Created Security Problems
4- White House Source Obama Will Sign Extension of Anti-Iran Sanctions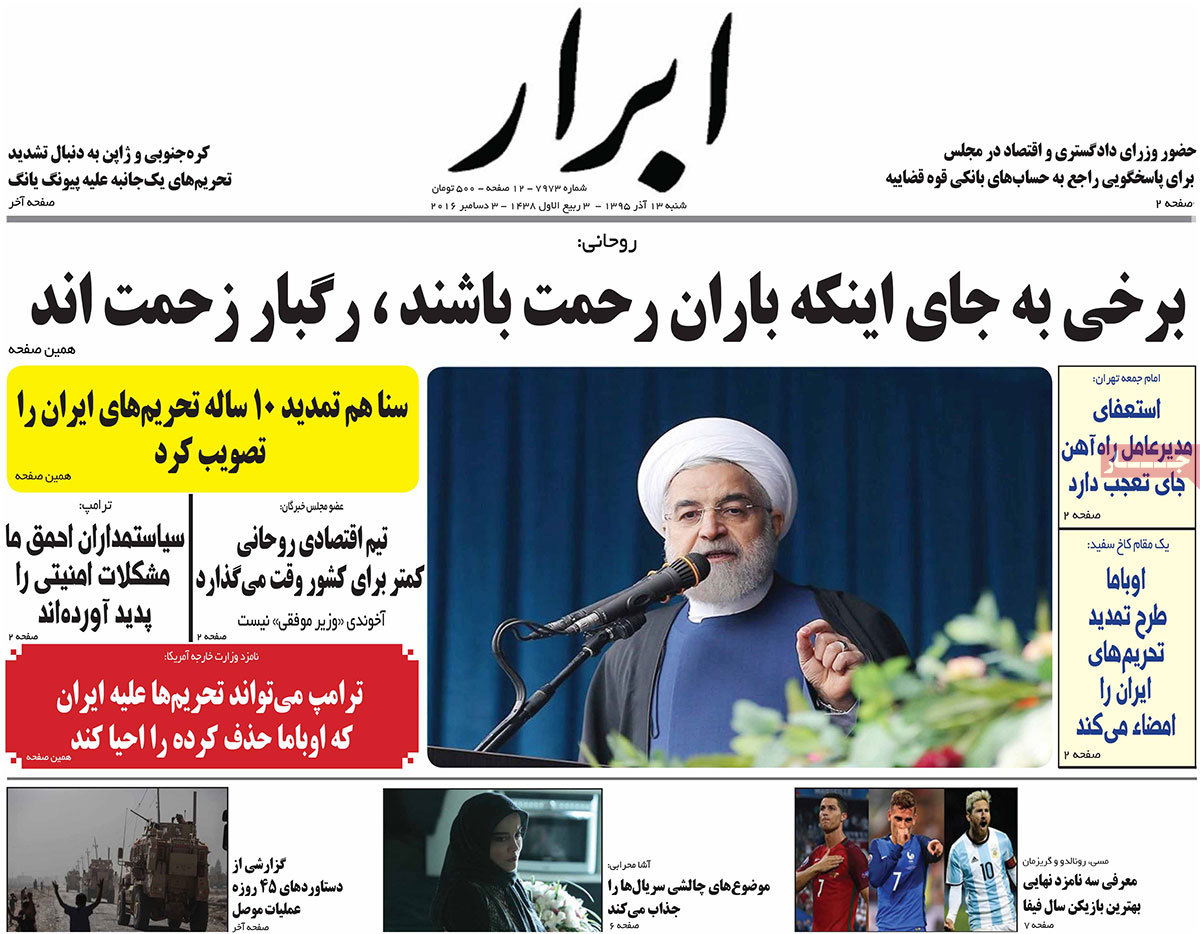 ---
Afkar:
1- If Sanctions Are Restored, It Will Be Violation of Nuclear Deal: Iran's Salehi
2- Iran's Foreign Ministry Urges Kenya to Immediately Release Two Iranian Lawyers
3- Navy Is Not Afraid of Any Threat: Army Navy Commander
4- US Government Has No Choice But to Veto Senate's Bill: Senior Reformist Aref
---
Aftab-e Yazd:
1- These Difficult Days: Senate's Extension of Anti-Iran Sanctions Pleases Hardliners in Iran and Increased Attacks on Rouhani's Government and Nuclear Negotiating Team
2- Iran's Double-Urgent and Triple-Urgent Motions to Counteract US Congress' Move
3- Strongest Reaction to US Move: All Parties to JCPOA Should Take Coordinated and Integrated Action
4- Iran's Victory in OPEC, the Real Fruit of JCPOA
---
Arman-e Emrooz:
1- Warning to US: Page to Be Turned
2- Foreign Ministry: Obama Should Veto the Bill
3- Obama Has 10 Days to Veto Extension of Anti-Iran Sanctions
4- Iran's Nuclear Chief: 10-Year Extension of Iran Sanctions Act Is Violation of JCPOA
5- Rouhani: We Should Not Disturb People; President Criticizes Hardliners Who Ban People from Everything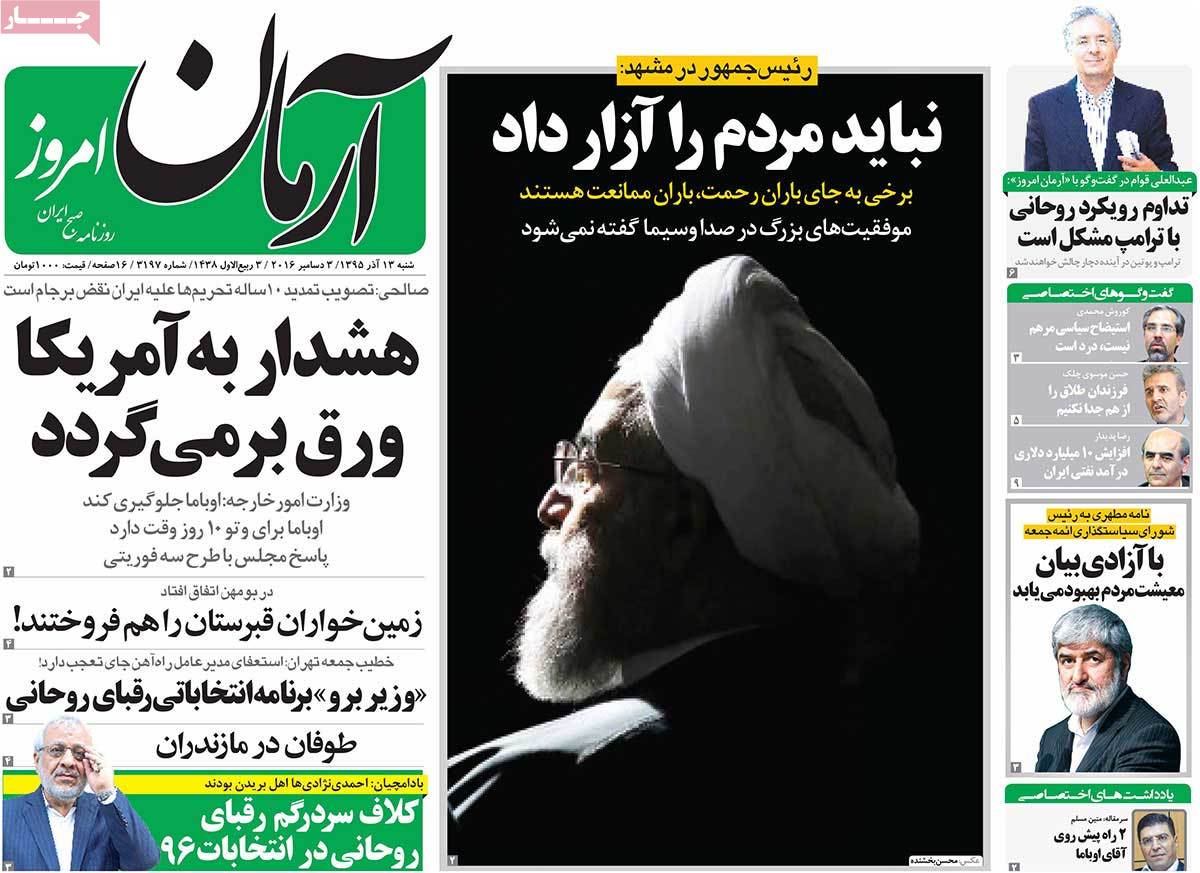 ---
Asr-e Iranian:
1- JCPOA Is Violated, How Will Government React?
2- If Head of Iran's Railways Is Guilty, He Should Be Tried: Cleric
3- After Brexit, EU Should Be Expecting Frexit
---
Asrar:
1- White House on Verge of an Important Decision: Will Obama Sign It?
2- OPEC Once Again Revived: Oil Minister
3- Putin's Special Representative in Tehran
4- Ibrahim al-Jafari: 70% of Iraqi Territory Is Now Liberated
5- Iran to Show Shocking Response to US Extension of Anti-Iran Sanctions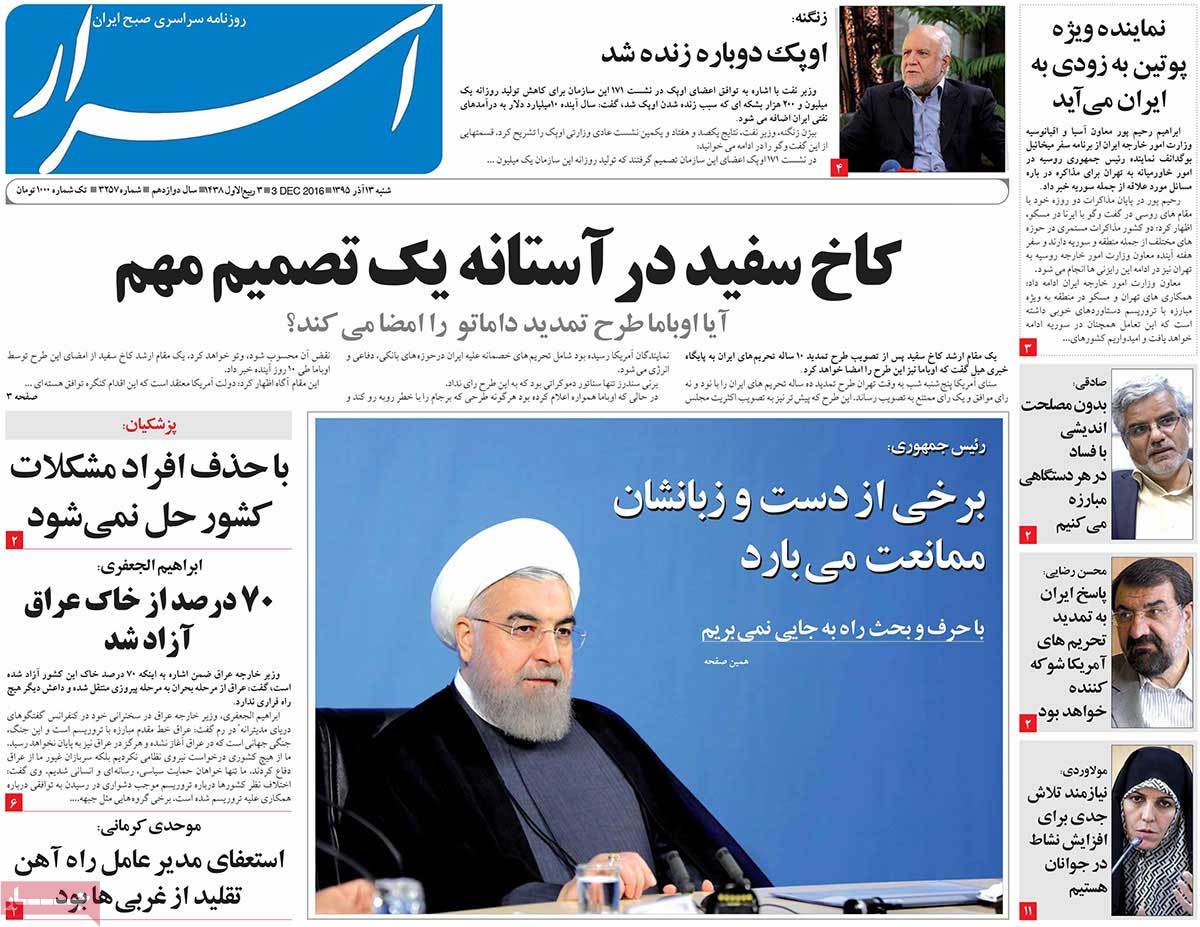 ---
Ebtekar:
1- ISA [Iran Sanctions Act] against JCPOA: Is Extension of ISA a Violation of Nuclear Deal?
2- Imperfect Law for Disabled Persons: A Report on Those Who Have Special Conditions
---
Emtiaz:
1- Environment Department Warns Pollutant Industries
2- Even Rainfall Did Not Manage to Clean Tehran's Air: Sixth Unhealthy Day of Tehran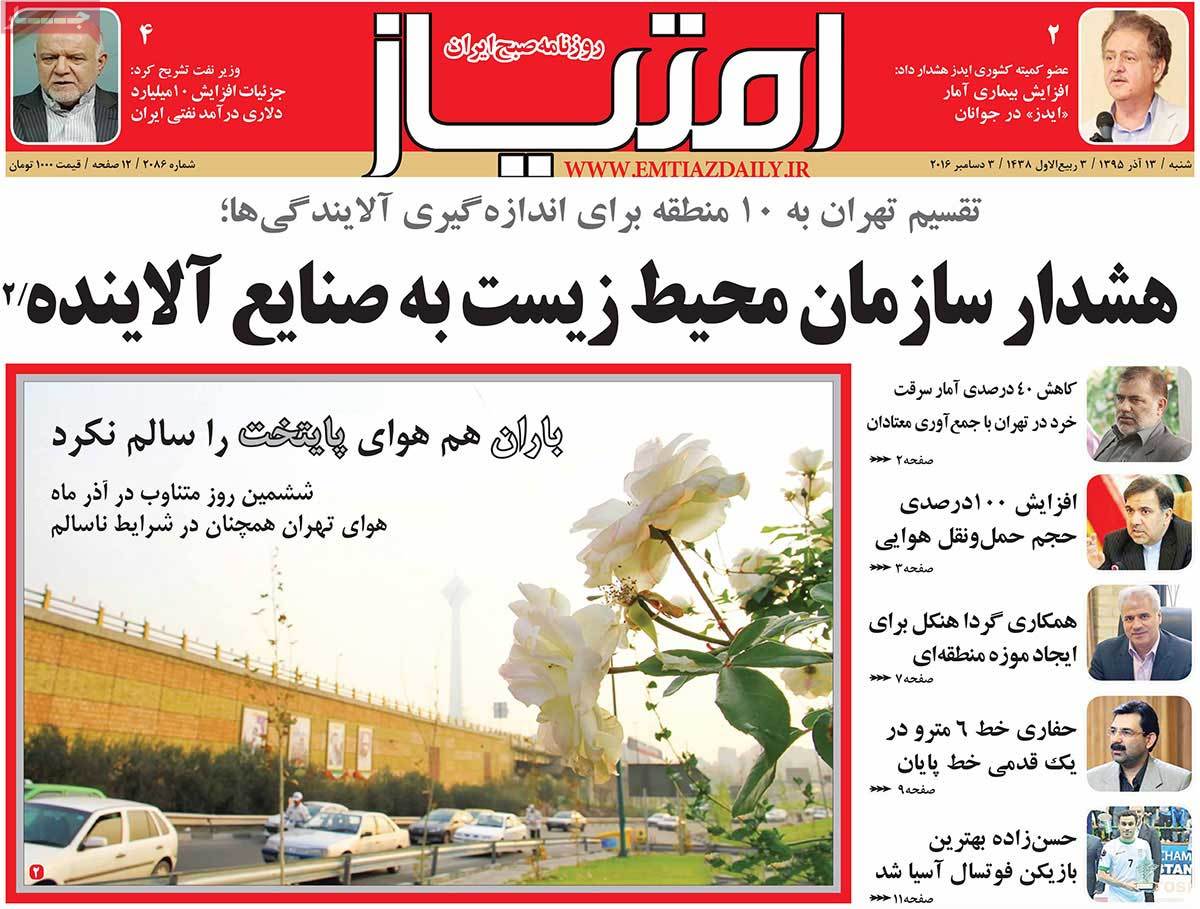 ---
Etemad:
1- Tehran-Riyadh Oil Ceasefire: An Analysis of Iran-Saudi Win-Win Game in Vienna Summit
2- Extension of US Violation of Its Commitments: Iran's Parliament Says It Would Reciprocate
3- US Congressman in Interview with Etemad: Through Extension of Anti-Iran Sanctions, We Prevented Early Death of JCPOA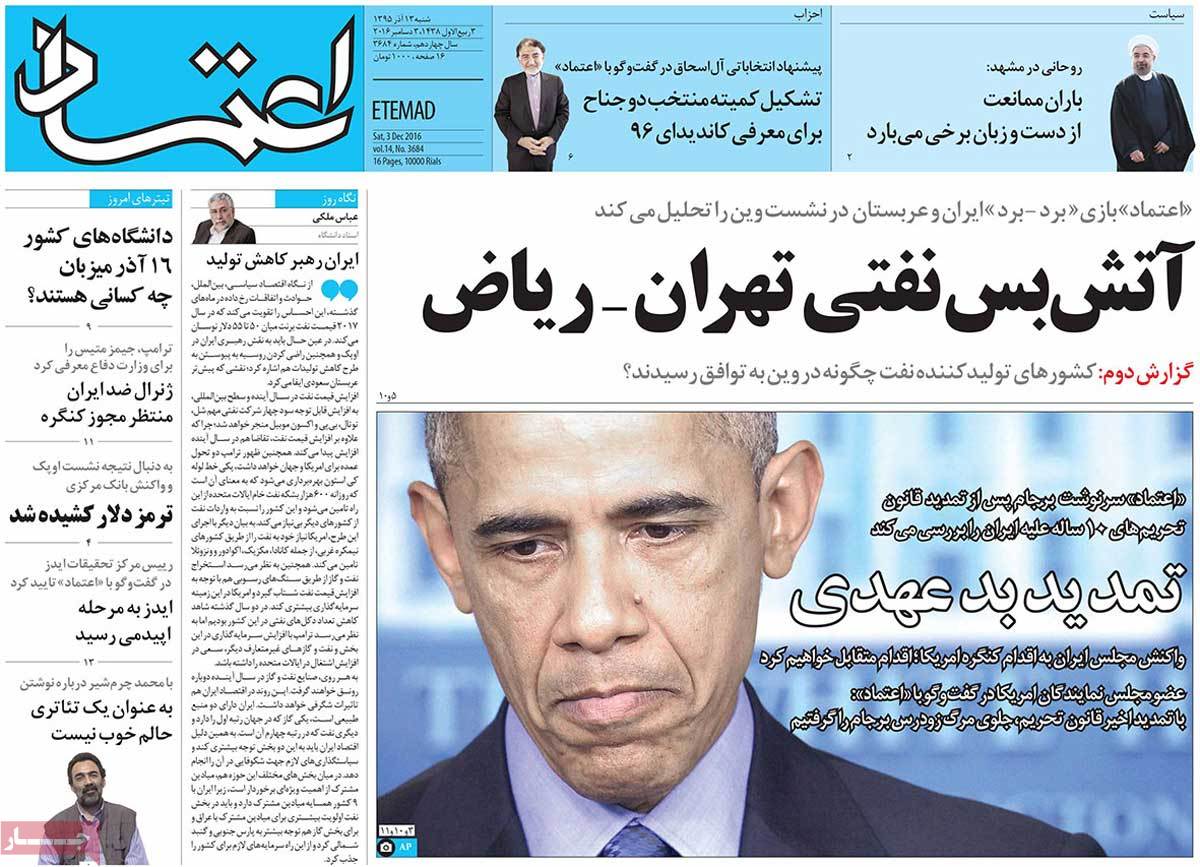 ---
Ettela'at:
1- Iran's Reaction to US Senate's Violation of JCPOA
2- Chomsky Warns of EU Collapse
3- A Warmonger Officially Selected as US Secretary of Defence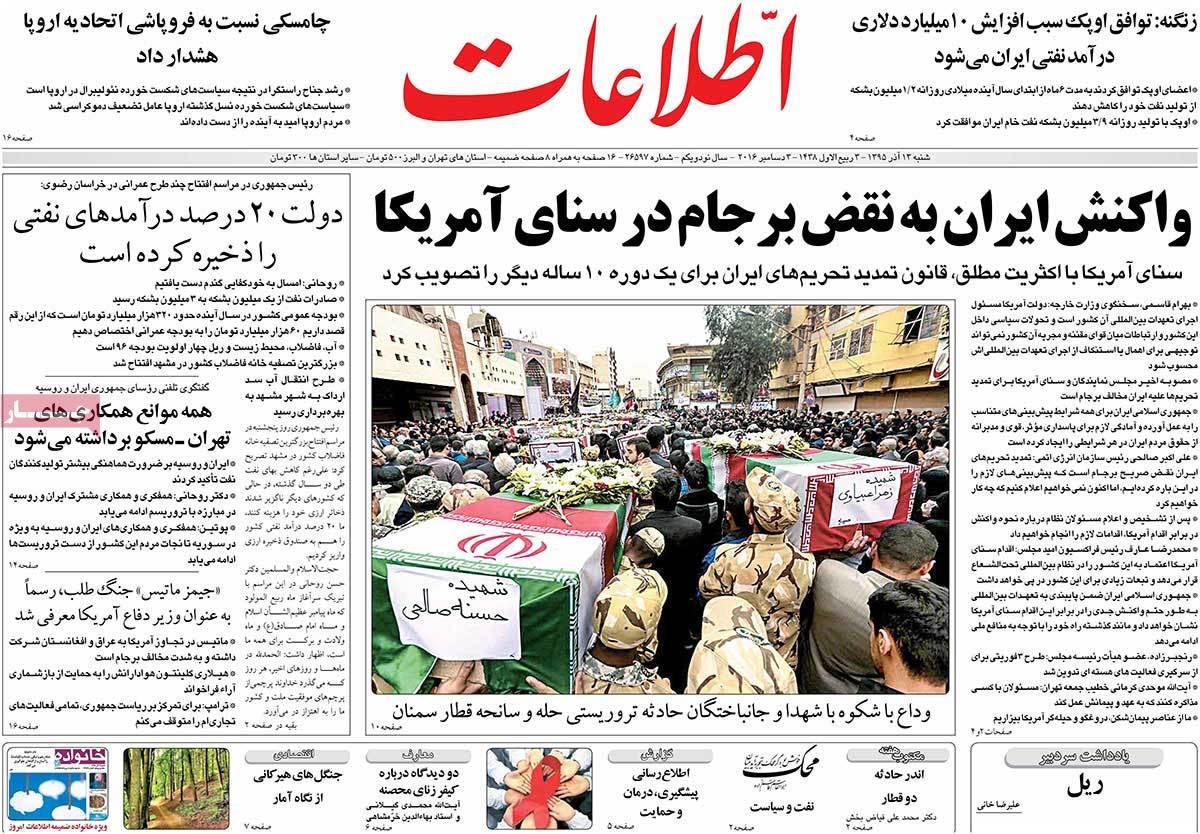 ---
Haft-e Sobh:
1- Busy Weekend with D'Amato Act, Surging Price of Dollar, and Oil Deal: A Totally Economic Weekend with Various Articles about Success in OPEC, Extension of US Sanctions, and Ups and Downs of Dollar Price in Iran
2- Successful Performance of 62-Year-Old Iranian Cyclist in Mediterranean Coasts
---
Hemayat:
1- American Senators' Anti-JCPOA Move
2- Millions of Indonesian Muslims Hold Demonstrations for Trial of Jakarta Governor
3- Iran's Moves to Counter Cyber-Terrorism: Prosecutor-General in Shanghai Summit
4- Nigerian Court Rules that Sheikh Zakzaky Should Be Released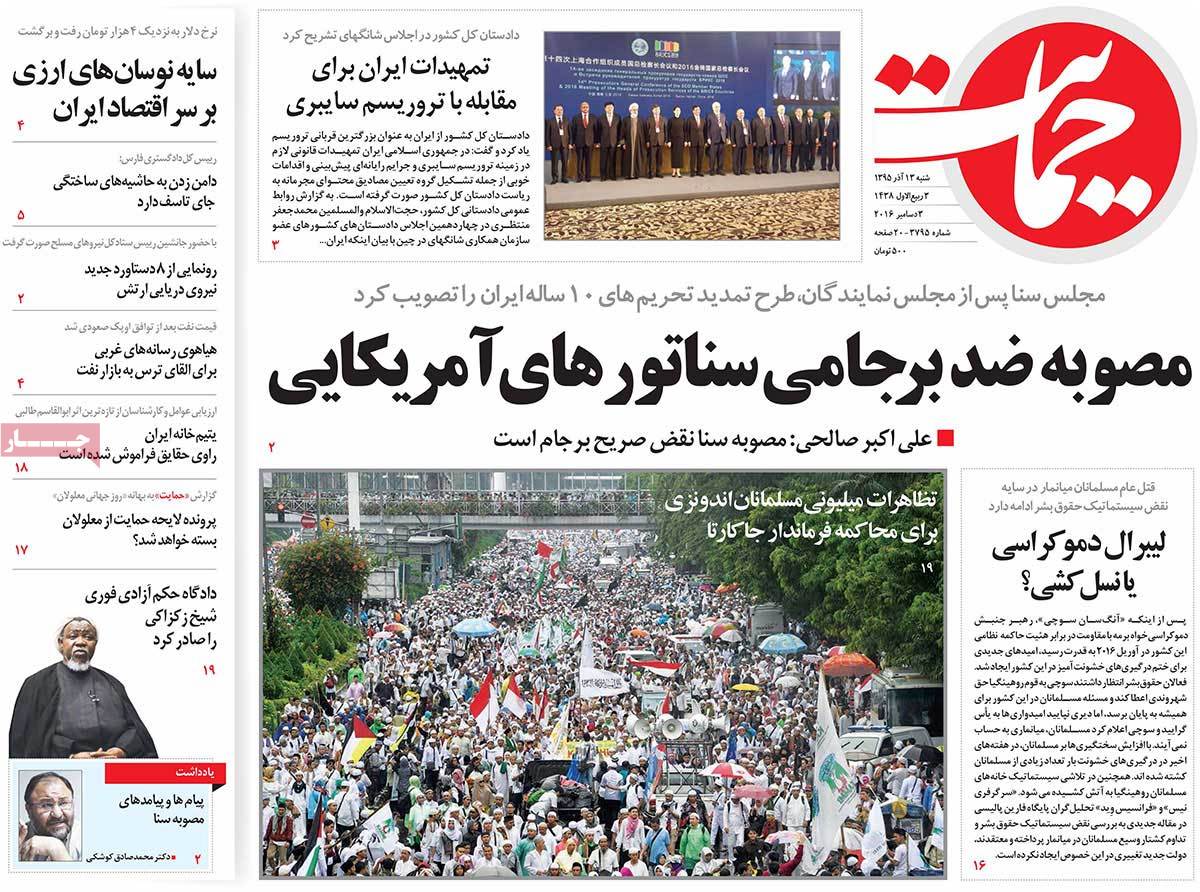 ---
Iran:
1- Reactions of Iran's Government and Parliament to US Senate: Reformist MP Says Double-Urgent Motion Will Ban Purchase of US-Made Consumer Goods
2- Foreign Ministry Spokesman: Complete Report to Be Given to Board for Monitoring JCPOA on US Government's Behaviour
3- Iran Suffers from a Shortage of Centres for AIDS Counselling Services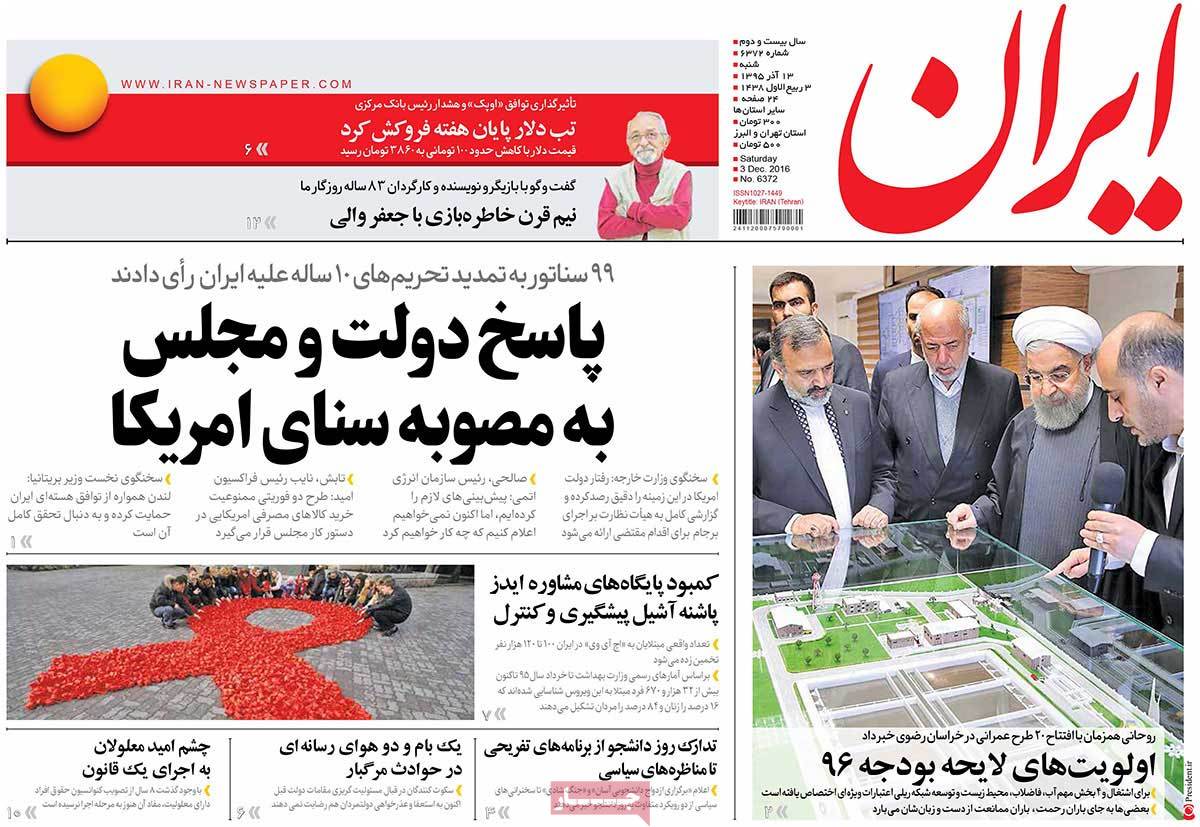 ---
Jame Jam:
1- Firm Reaction to Breach of Commitment: Experts Discuss Appropriate Response to US Violation of JCPOA
2- Cartoon: 10-Year Extension of Anti-Iran Sanctions
3- P5+1 Member States Should Not Remain Indifferent [Editorial]
4- People with Disabilities Waiting for Support: A Report to Mark Int'l Day of Disabled Persons
---
Javan:
1- Leaving JCPOA: Parliament's Triple-Urgent Motion to Resume Nuclear Activities
2- 2,000 Foreign Child Beggars in Tehran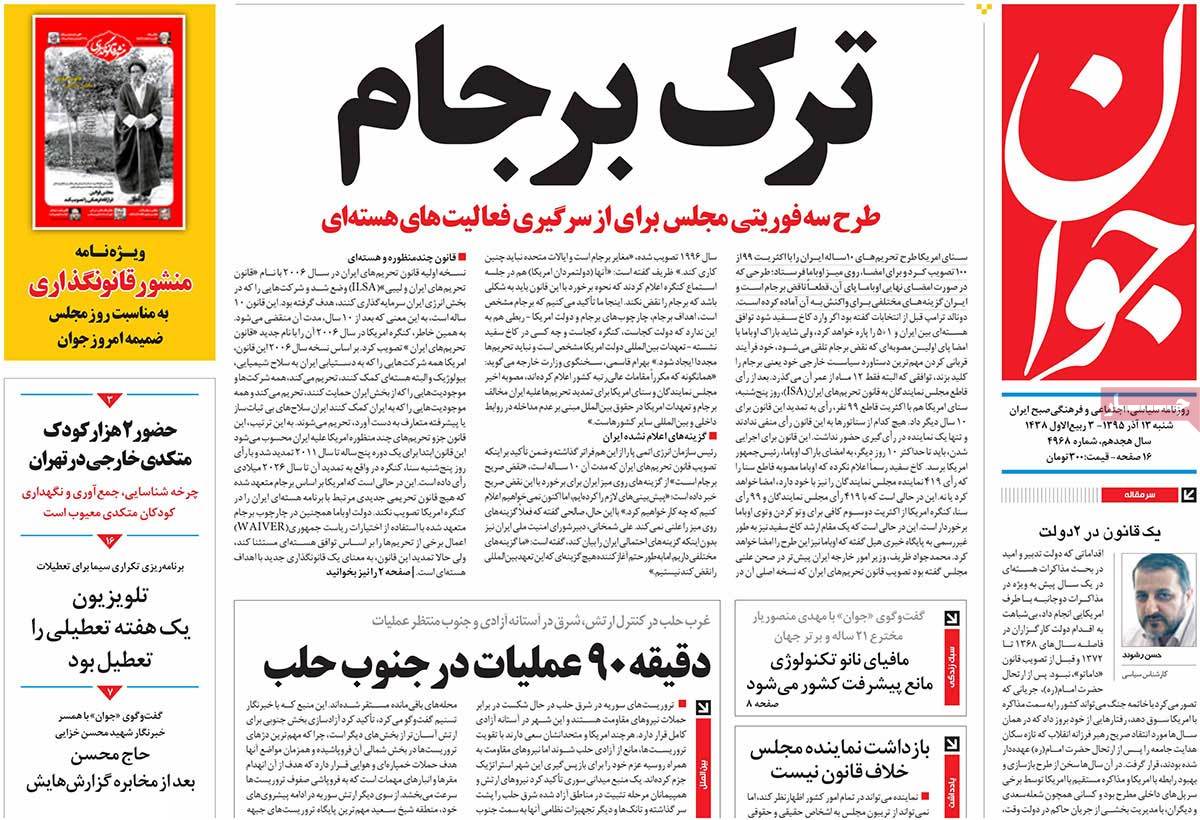 ---
Jomhouri Eslami:
1- Iran's Reaction to Washington's Latest Violation of Promises through Extension of D'Amato Act
2- Government to Insure Fluctuations in Rates of Foreign Currencies for Exporters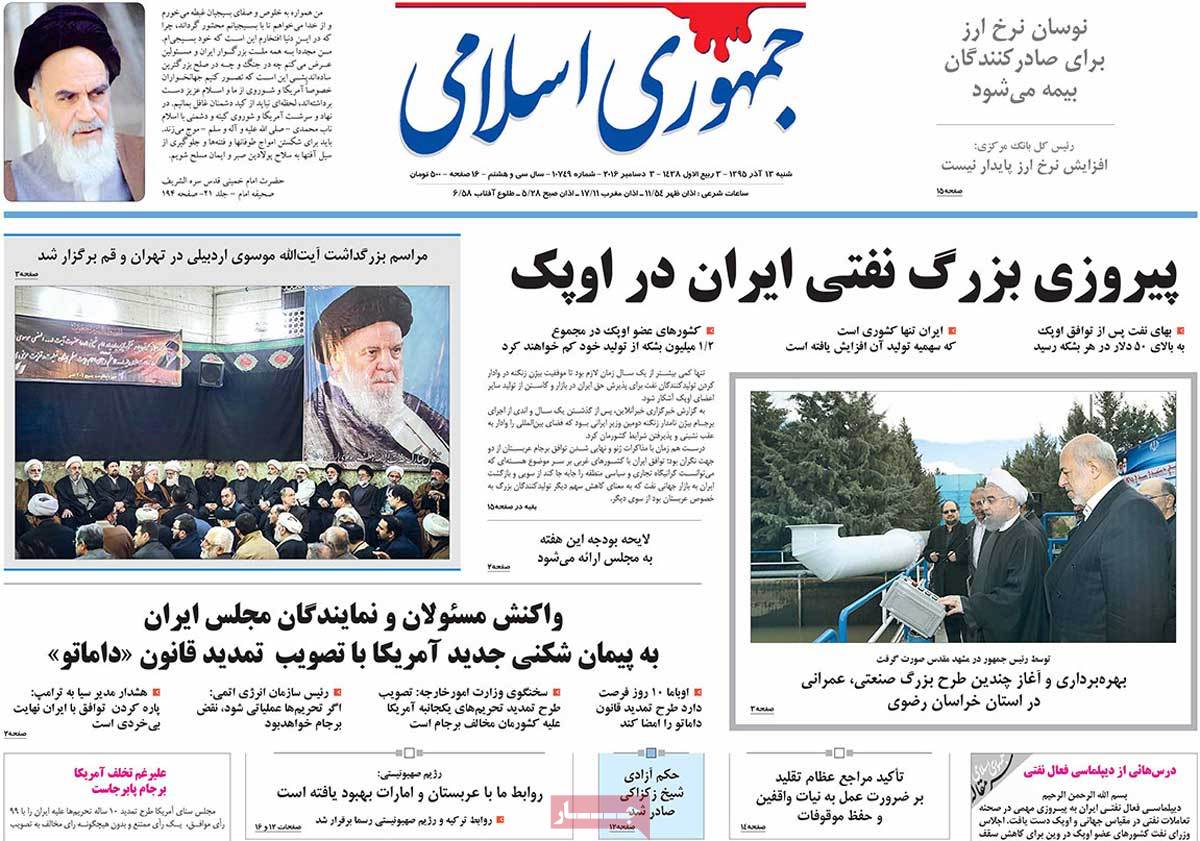 ---
Kayhan:
1- Washington's Death Blow to JCPOA: Result of Trusting the Satan
2- Value of Iran's Currency Is Currently at Least Level in History
3- 3 Saudi Youths Sentenced to Death for Taking Part in Demonstrations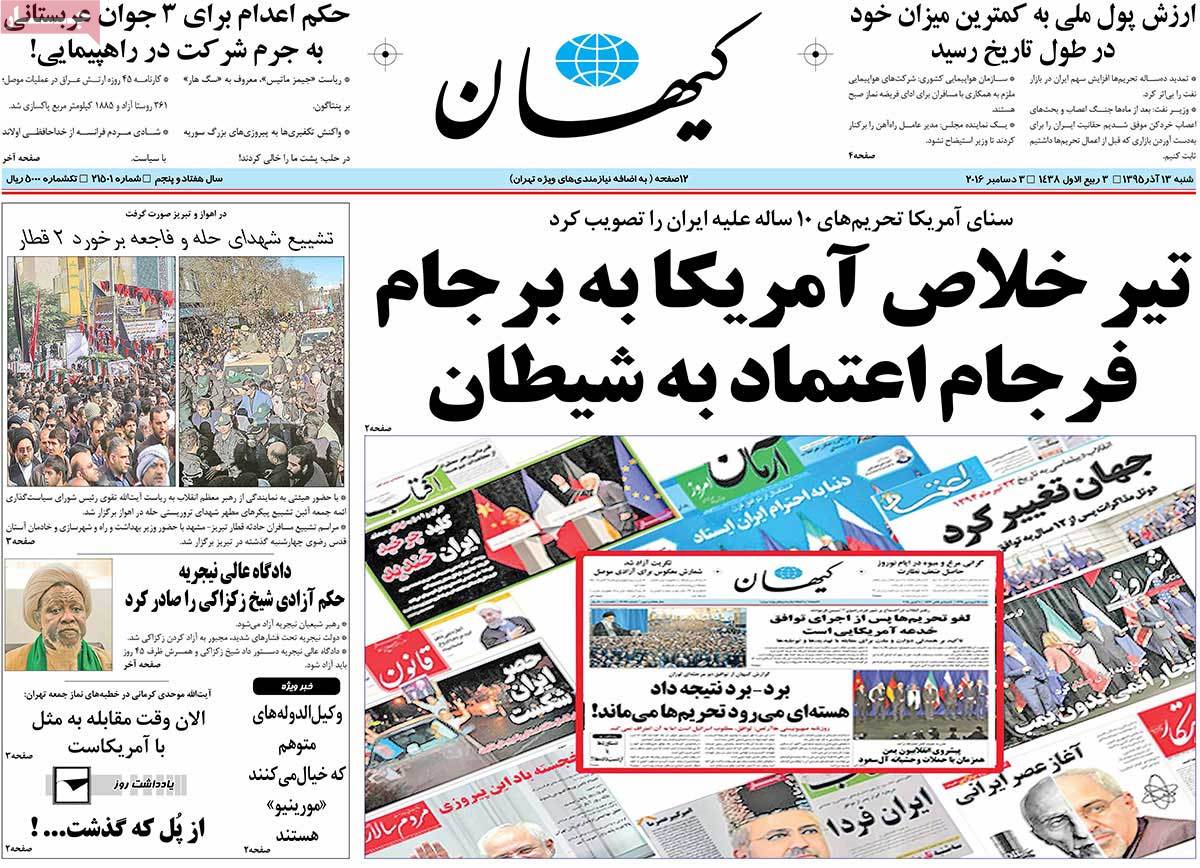 ---
Khorasan:
1- Reactions to Violation of Nuclear Deal
2- Resistance Worked: Nigerian Supreme Court Rules that Zakzaky and His Wife Should Be Released
---
Noavaran:
1- Gap of D'Amato in JCPOA
2- Iran and Saudi Arabia's Wills to Move towards Peace and Stability in Middle East: Analysis of Recent OPEC Deal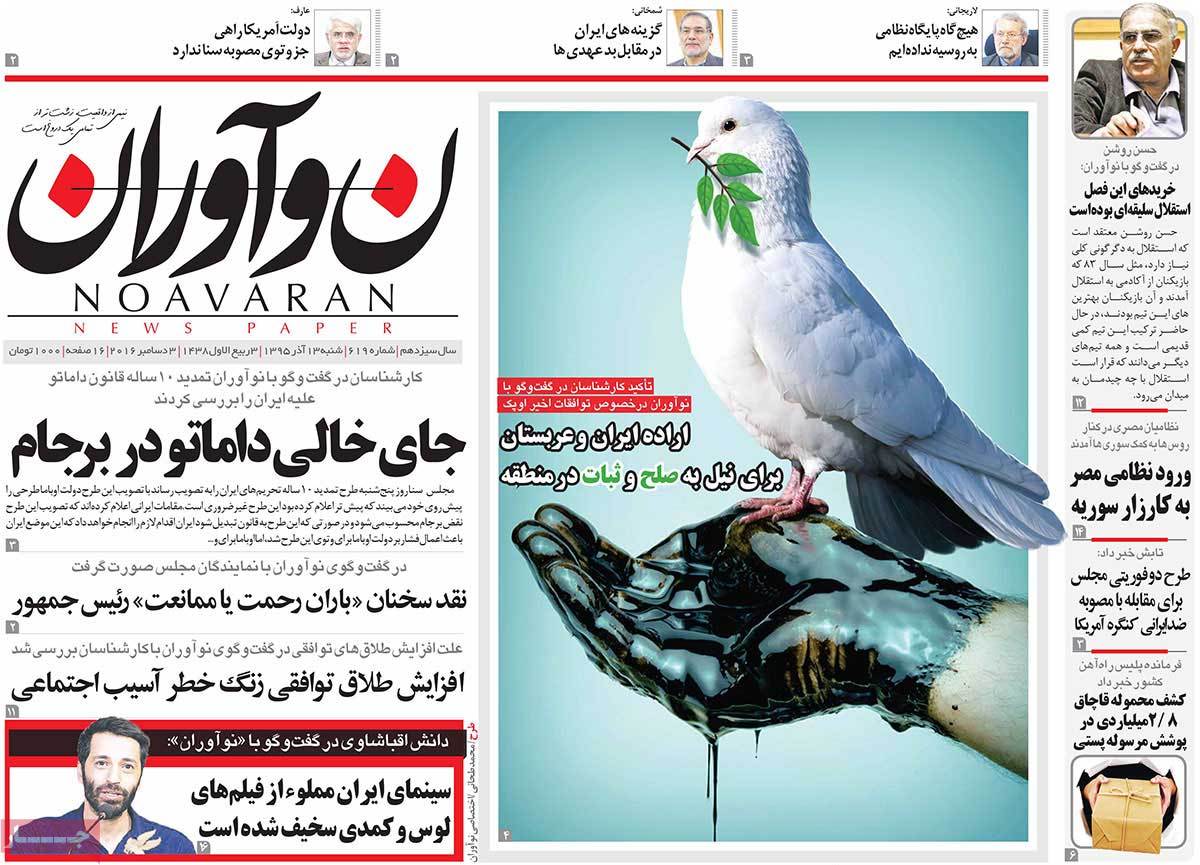 ---
Payam-e Zaman:
1- Dark Angles of JCPOA: Permission for US Abuse and Extension of D'Amato Act
2- Investors May Temporarily Take Out Their Money from Stock Exchange Market and Make Investment in Foreign Currencies
3- Senior Cleric Movahedi Kermani: It's the Time to Reciprocate US Measures
---
Quds:
1- Iran's Triple-Urgent Reaction to US Violation of Its Commitments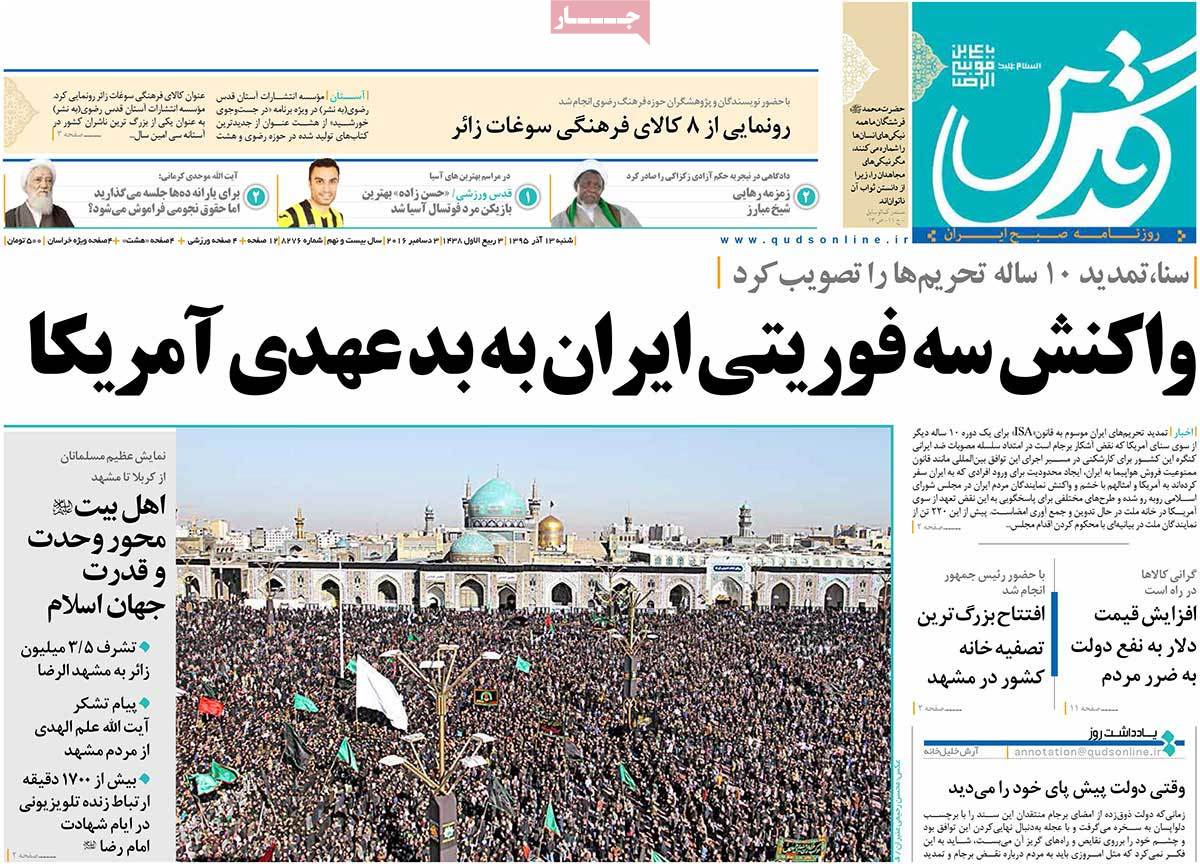 ---
Resalat:
1- Officials Should Wake Up and Stop Relying on US: Cleric
2- Rouhani's Gov't Cannot Resolve Issue of JCPOA: Veteran Conservative Figure
3- No Need to Wait until Trump's Inauguration: Violation of JCPOA Happens in Obama's Era
4- We're Tired of Running after EU: Erdogan
5- West Should Expect Iran's Reaction: Justice Minister
6- Extension of Sanctions Is Turning Your Back to Int'l Commitments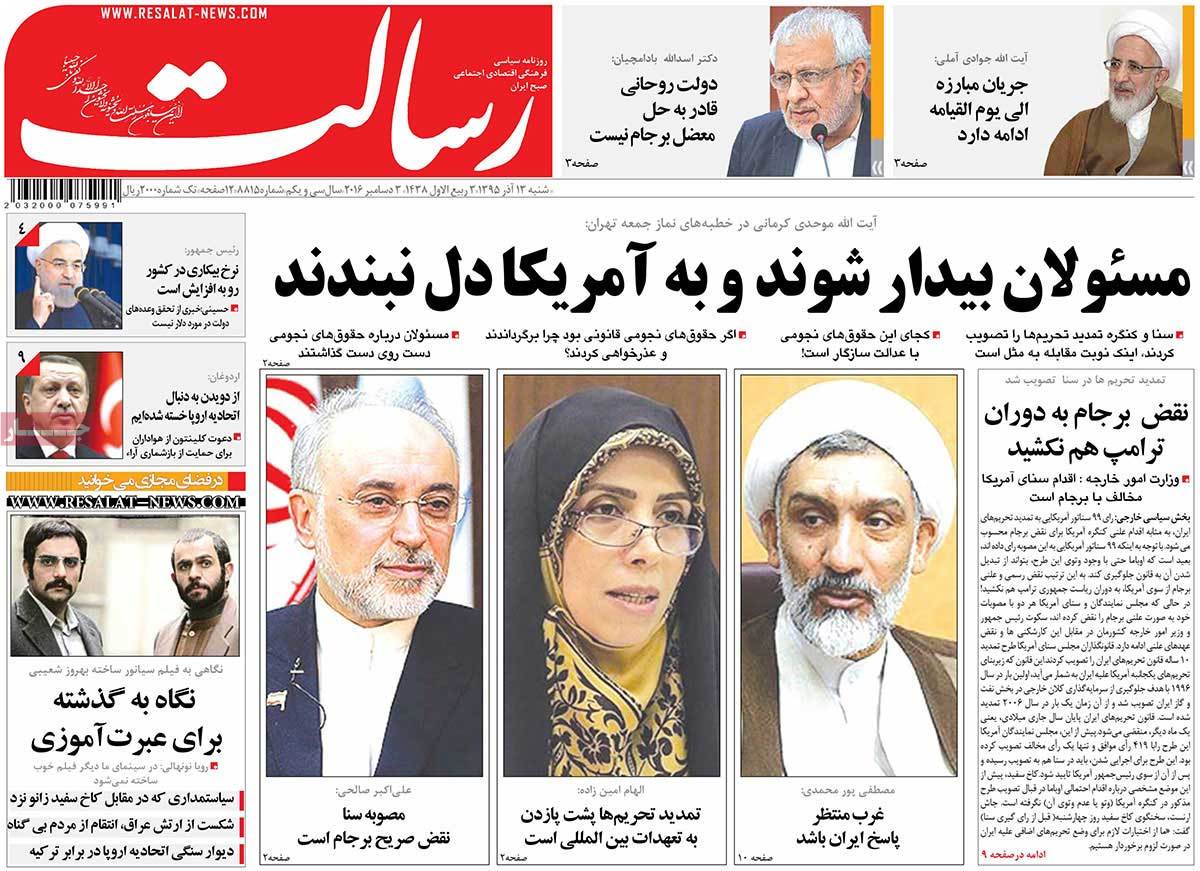 ---
Rooyesh-e Mellat:
1- Nothing but Hostility Is Expected of US: Cleric
2- Iran to Resume All of Its Nuclear Activities
---
Saheb Qalam:
1- Obama's Veto Is Ineffective
2- Iran Ready to Attract $5.3 Trillion of Investment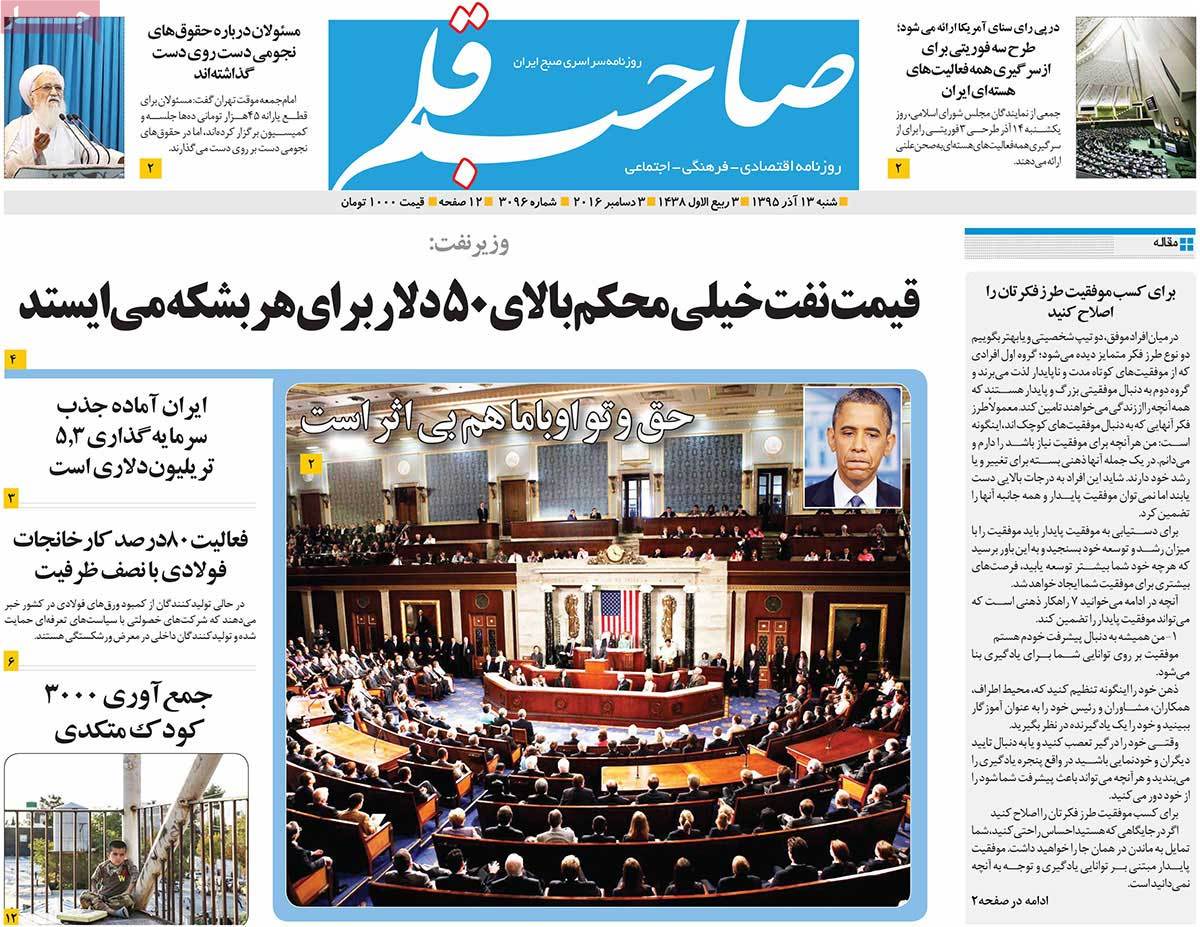 ---
Setareh Sobh:
1- Militia Government May Be Formed in US
2- If Obama Signs D'Amato Act, JCPOA Will Be Violated: Expert
---
Shahrvand:
1- JCPOA under Pressure: US Senate Unanimously Approves Extension of Anti-Iran Sanctions
2- A Report on Female Prisoners of Qarchak Prison in Southeastern Tehran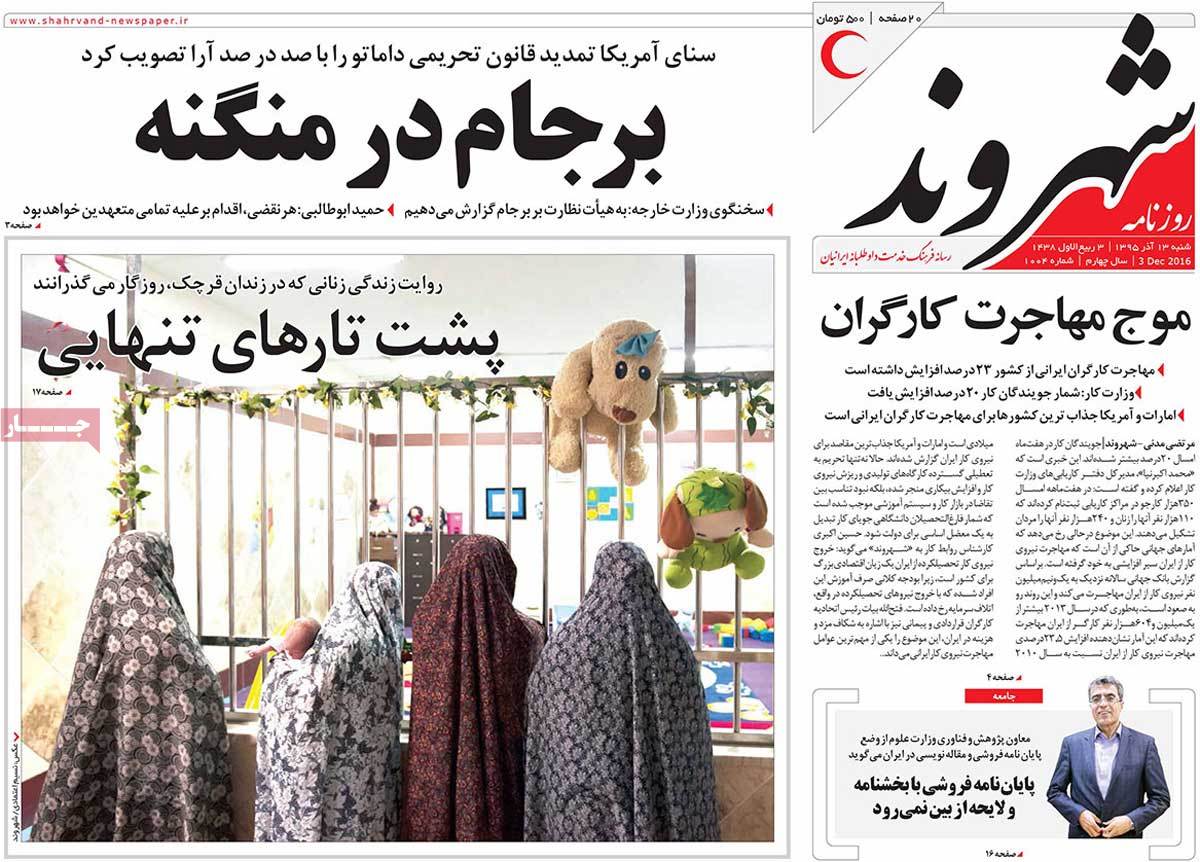 ---
Shargh:
1- Iran's Reaction to 10-Year Extension of Sanctions
2- Iran's Opponent Becomes Head of Pentagon
3- Mr Ambassador and His Wife in Buckingham Palace [Iranian ambassador meets with British Queen]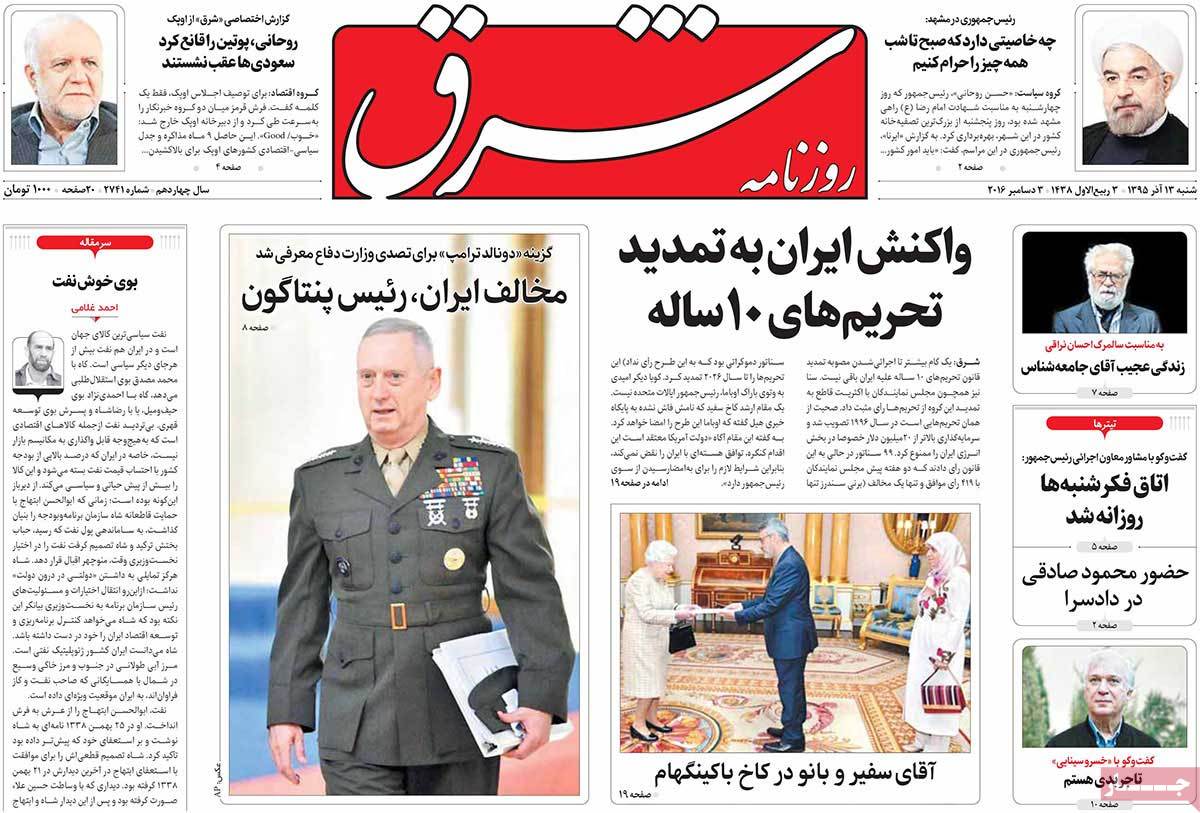 ---
Sobh-e Now:
1- Government Should Reconsider Its Foreign Policy and Study the Reasons of What Happened: Expert
2- Killing the Nuclear Deal!
3- Who's to Blame for Blood Shed on Railways: Legal Analysis of Those Responsible for Deadly Train Collision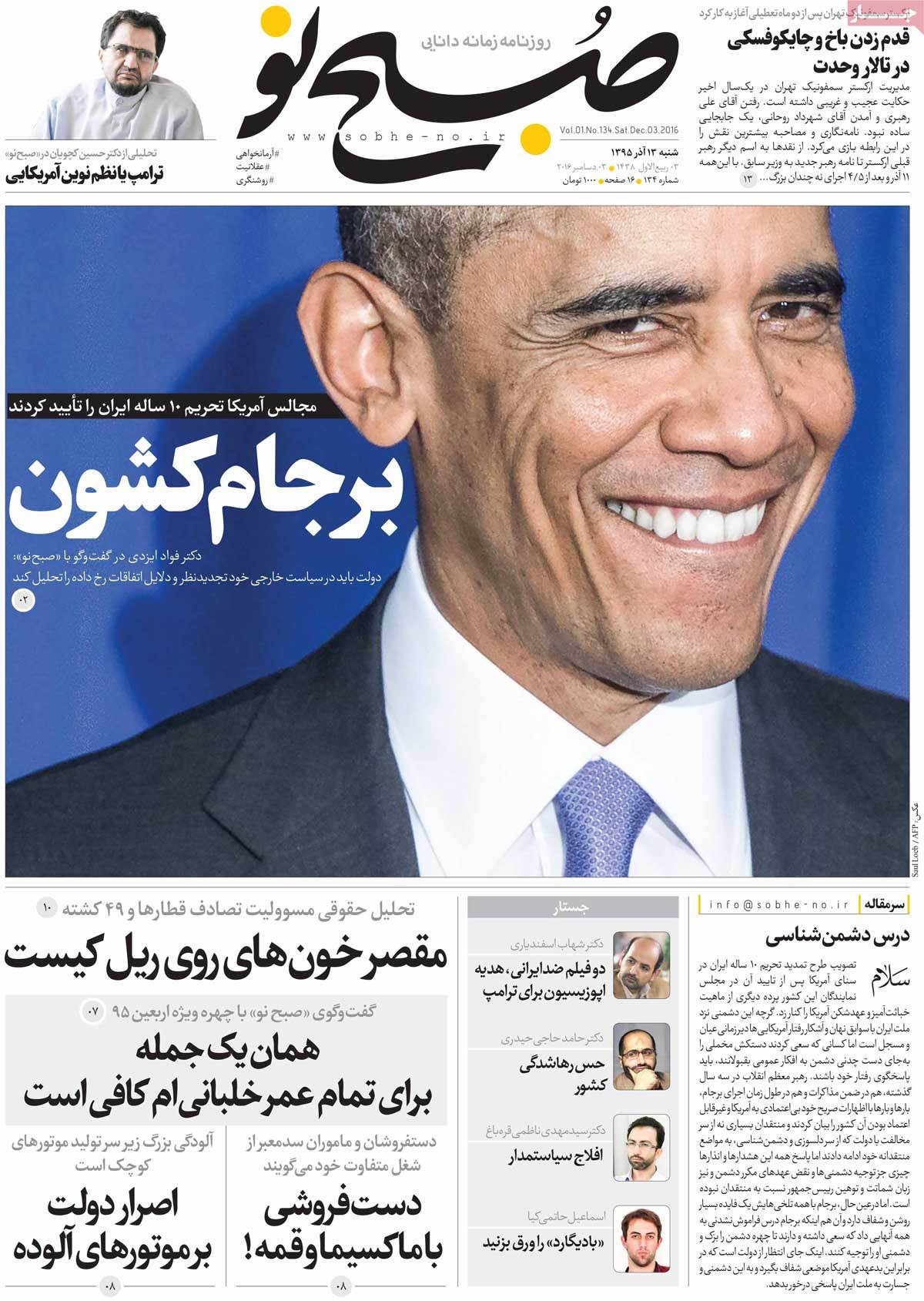 ---
Vaghaye Ettefaghieh:
1- JCPOA under Blade
2- Iran Wins OPEC Game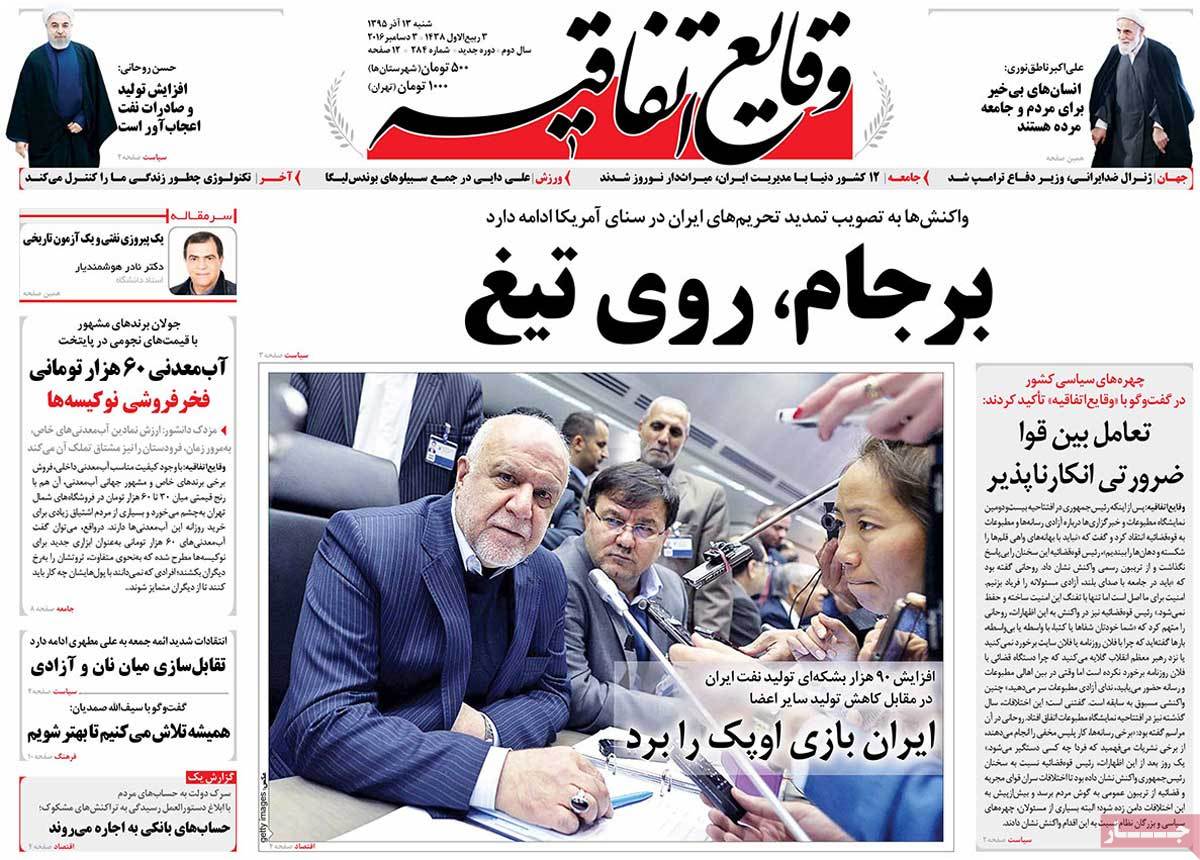 ---
Vatan-e Emrooz:
1- Gone with the Wind; Zarif Said in Parliament: ISA Extension Is Violation of JCPOA
2- Iran's Nuclear Chief: Senate's Approval Is against JCPOA