All papers today covered the tragic terrorist attack on a military parade in Ahvaz, south-west of Iran, which claimed the lives of 25 and wounded over 60 others.
Messages by the Leader of Iran's Islamic Revolution Ayatollah Seyyed Ali Khamenei and President Hassan Rouhani, and the condolences extended by world leaders and officials received great coverage today.
Several papers also criticized the media coverage of the event by the London-based TV channels Iran International, which had a live interview with the spokesman of the Al-Ahwazi terrorist group, and the BBC Persian, which refused to call the attack a 'terrorist' one.
The above issues, as well as many more, are highlighted in the following headlines and top stories:
Abrar:
1- Terrorist Attack on Military Parade in Ahvaz
War Veteran with 75% Disability Shot Dead on Wheelchair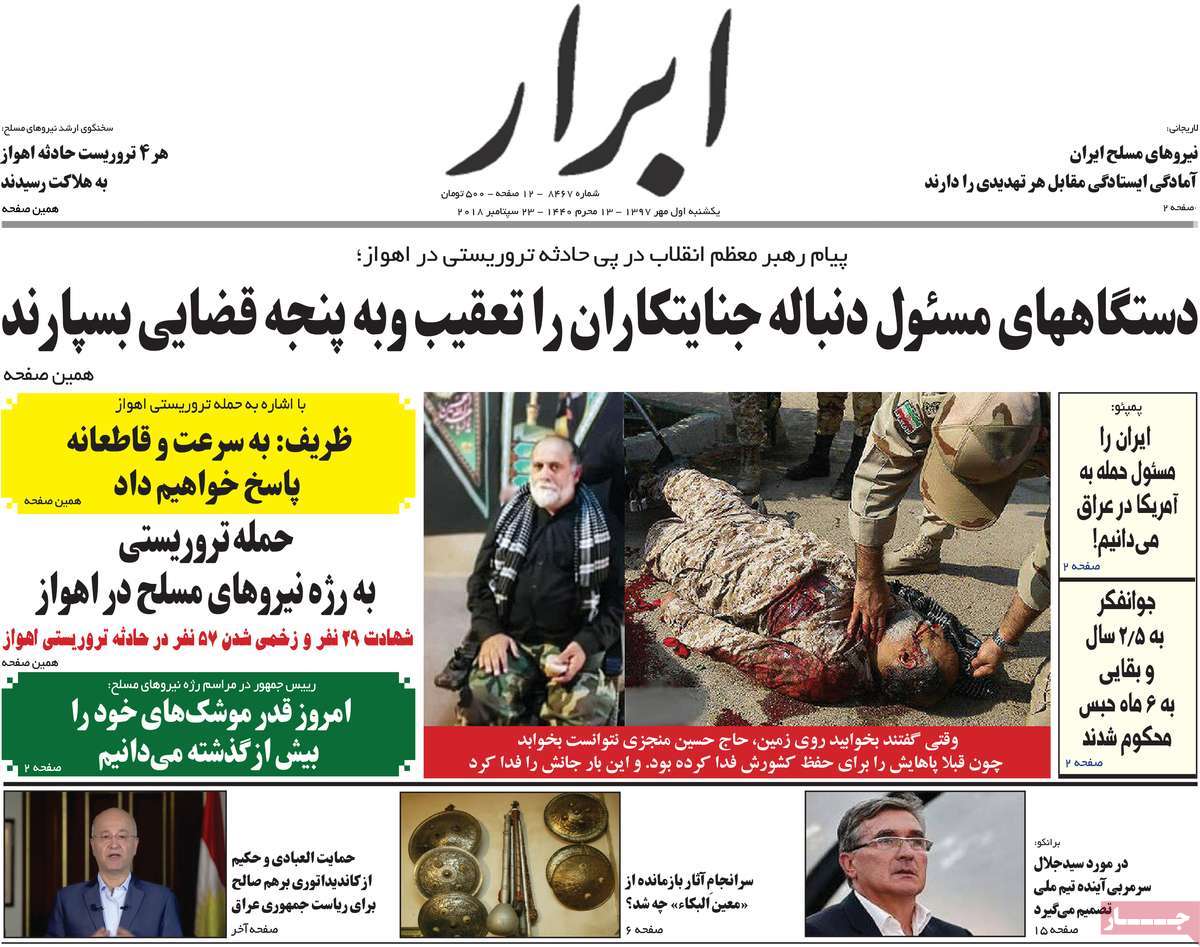 ---
Aftab-e Yazd:
1- Iran Saddened by Saturday Terrorist Attack, but We're Standing Firmly
2- Rouhani: We Now Value Our Missiles More than Ever: Rouhani
---
Arman-e Emrooz:
1- We Sacrifice Our Lives for Iran: A Report on Reactions to Ahvaz Terror Attack
Monday Declared as National Day of Mourning
Rouhani: Iran to Give Crushing Response to Terrorists
2- Iran Leader Urges Officials to Find Criminals, Have Them Punished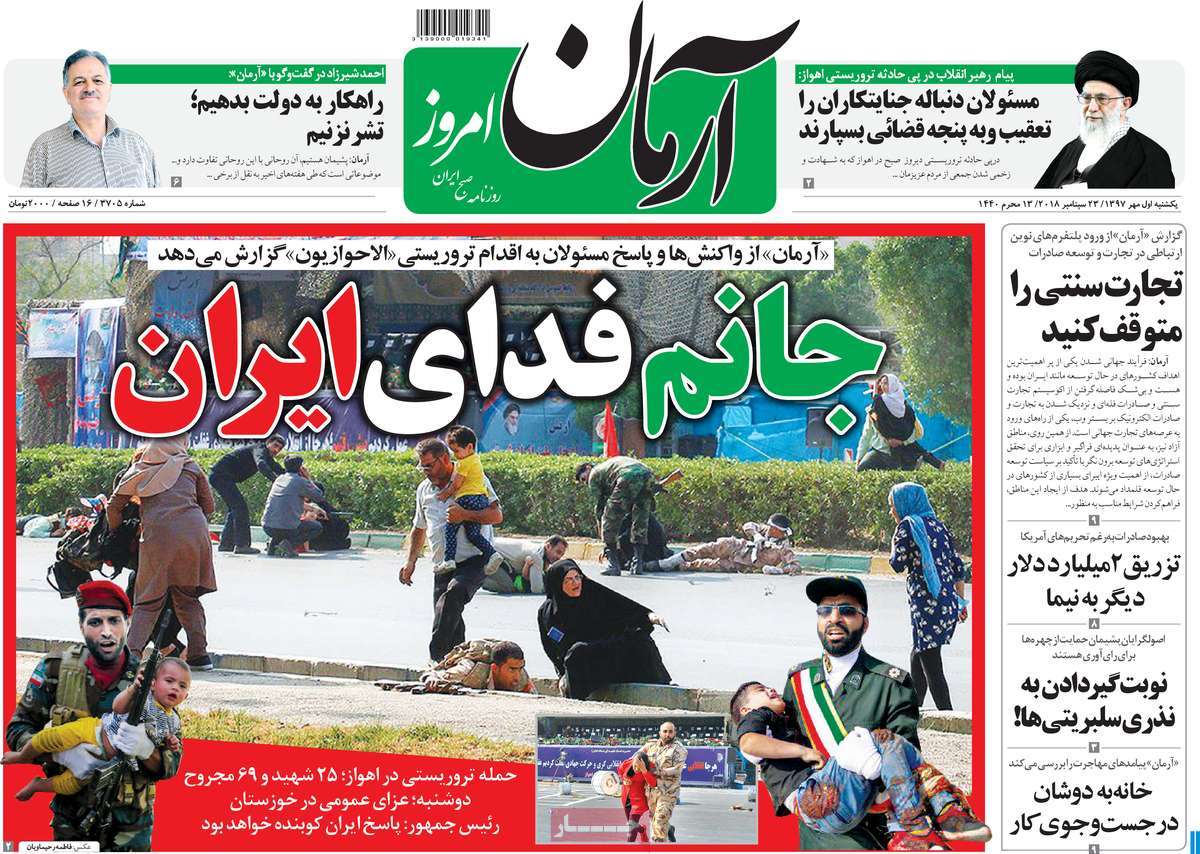 ---
Ebtekar:
1- Blood in Khuzestan
2- New Academic Year Begins as 14 Million Students Go to Schools
3- Rouhani: End of Economic War with US to Be Happier than End of Iran-Iraq War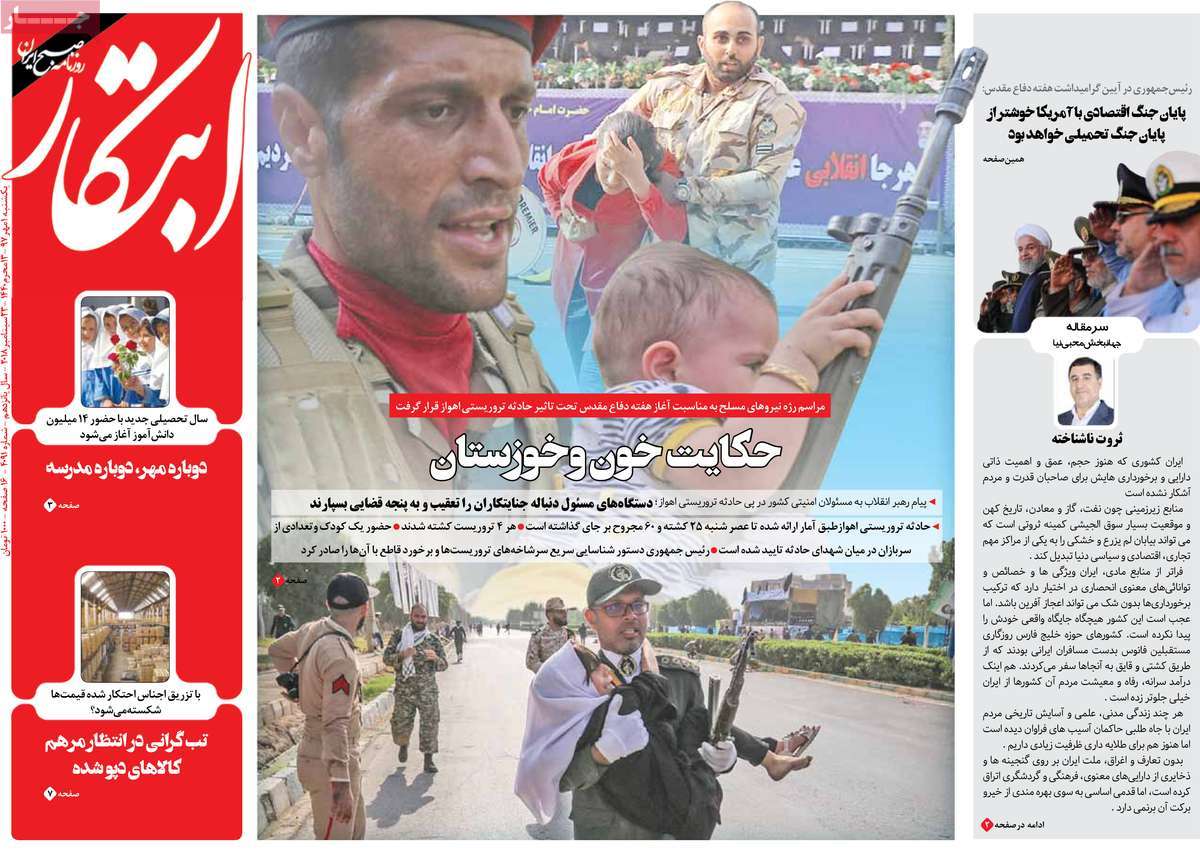 ---
Etemad:
1- Ahvaz in Blood: 29 Killed, 57 Wounded
2- Iran's Political Marathon Begins in New York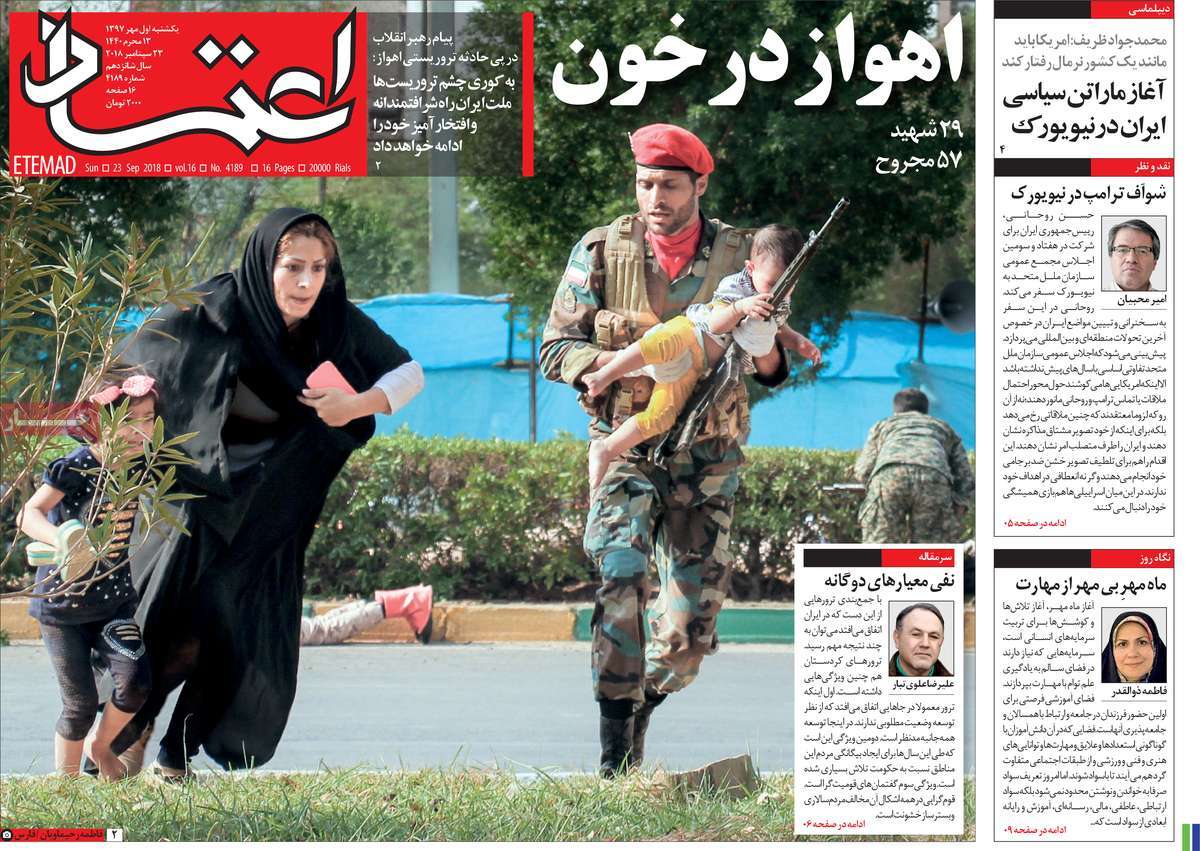 ---
Ettela'at:
1- Iran Leader: Cruel Terrorists Affiliated with Liars Who Claim to Advocate Human Rights
2- Rouhani: We'll Increase Our Defence Power Day by Day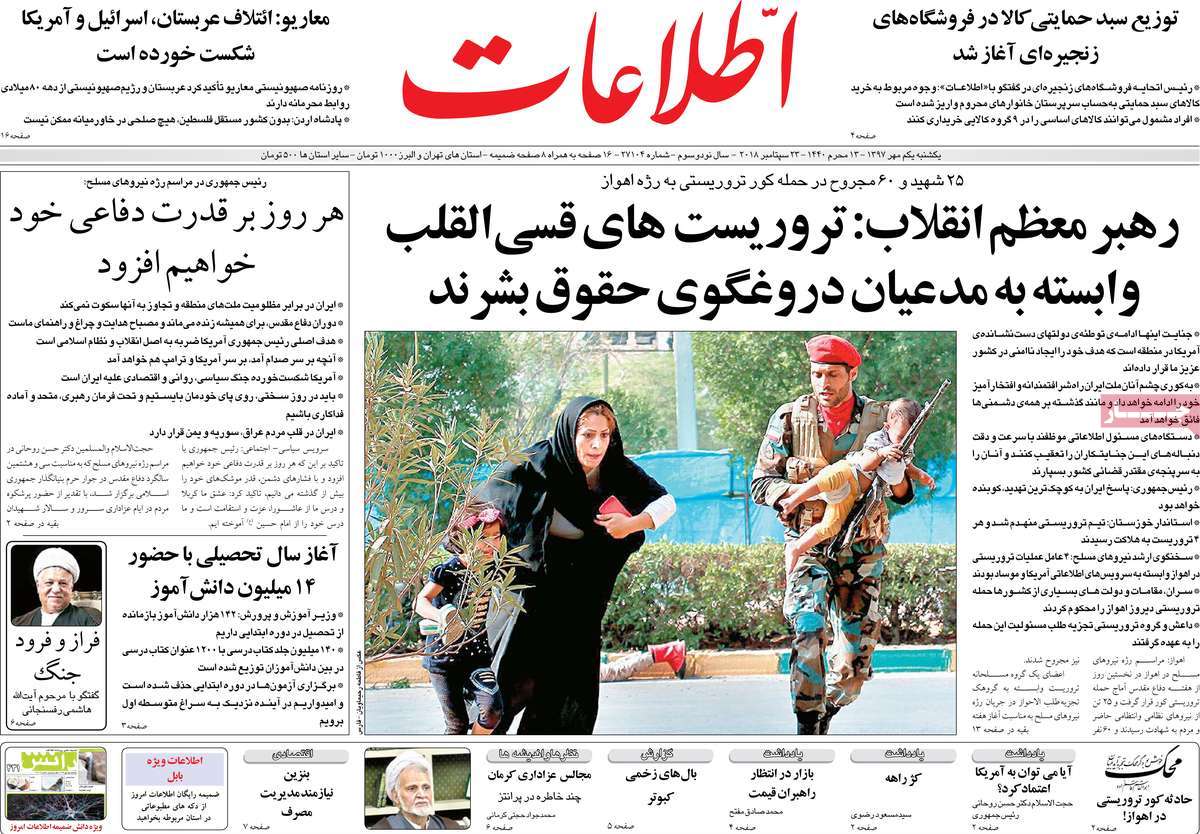 ---
Ghanoon:
1- Assassinating People: Separatist Terrorists Martyr Iranians by Attacking Innocent Civilians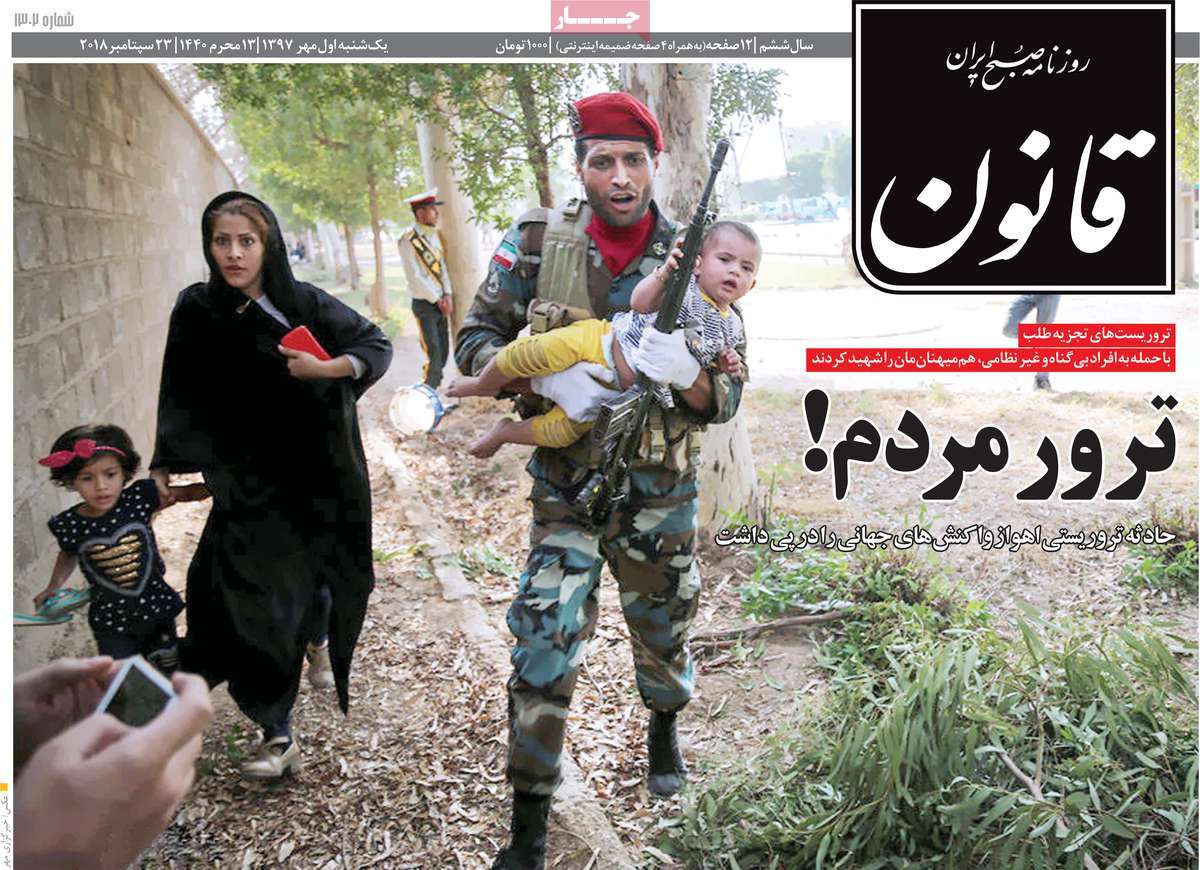 ---
Iran:
1- Here in Ahvaz; Many Innocent Women, Children, Soldiers Killed, Wounded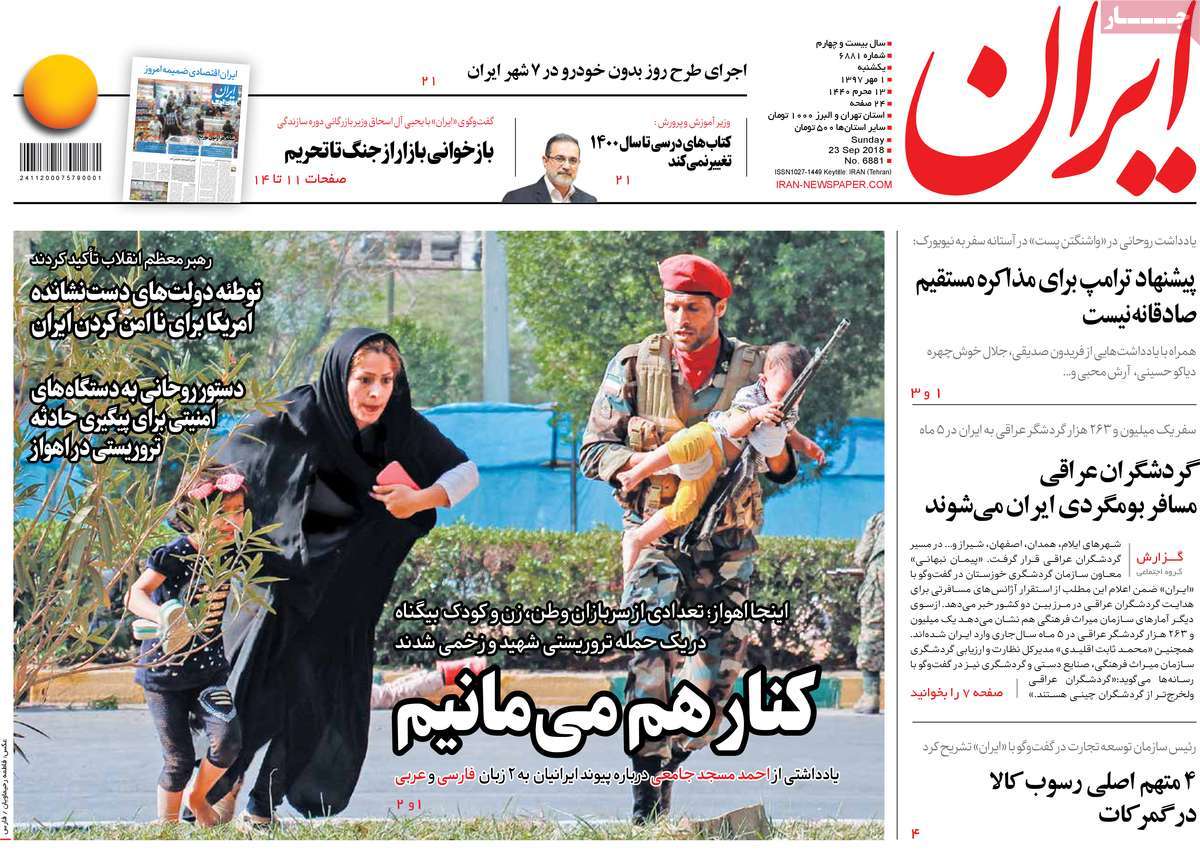 ---
Jame Jam:
1- Crushing Response to Terrorists
Iran Leader: To Enemies' Dismay, We'll Continue Our Honourable Path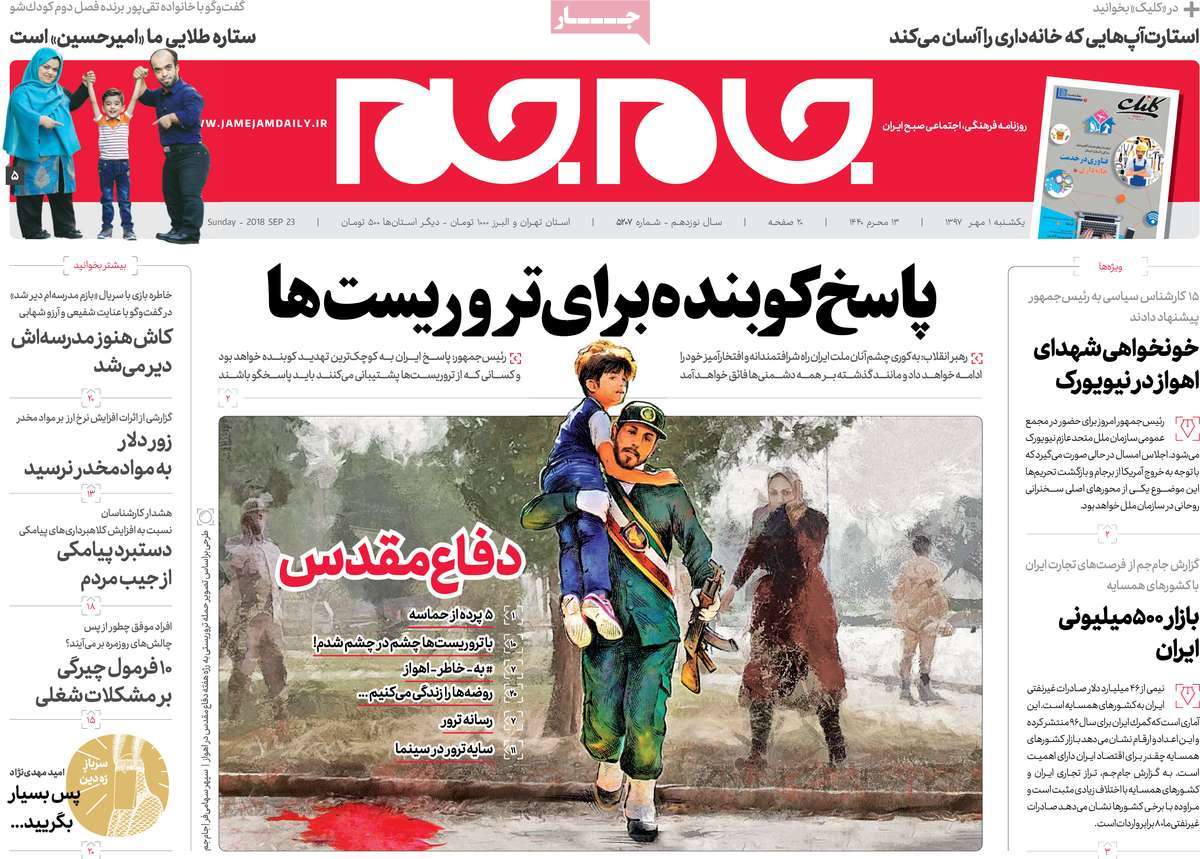 ---
Javan:
1- Blind Shooting at Symbol of Iran's Resistance
2- Advisor to UAE Ruling System Declares Proxy War against Iran
UAE Repeats Saudi's Vow to Take War inside Iran
3- BBC, Iran International Had Shameless, Treacherous Performance
Academic Discusses Media Aspects of Ahvaz Terror Attack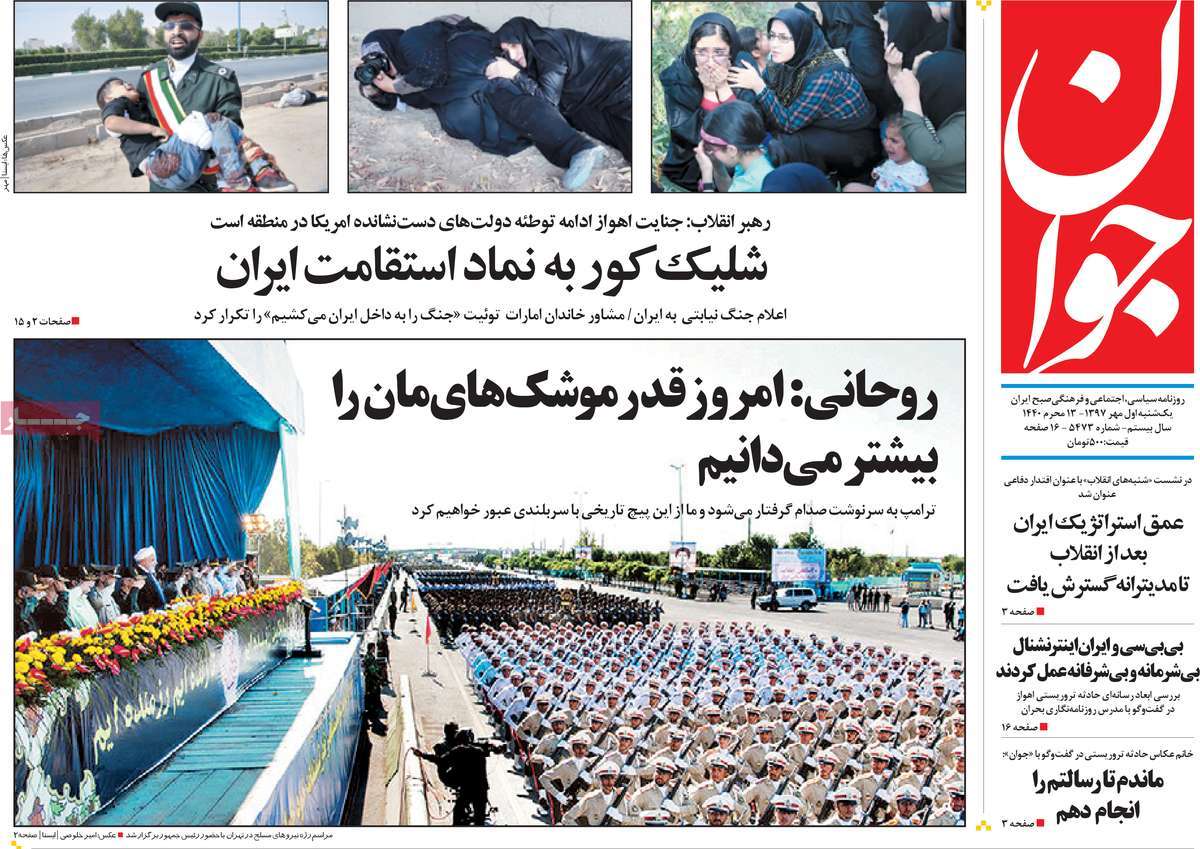 ---
Jomhouri Eslami:
1- Terror Attack on Military Parade in Ahvaz Leaves Many of Our Compatriots Martyred
2- Iranian Armed Forces Display Their Prowess across the Country
---
Kayhan:
1- People Expect Officials to Hardly Slap Riyadh in Revenge for Ahvaz Martyrs
2- Iran Leader: Terrorist Attack in Ahvaz Plot Hatched by US' Puppet States in Region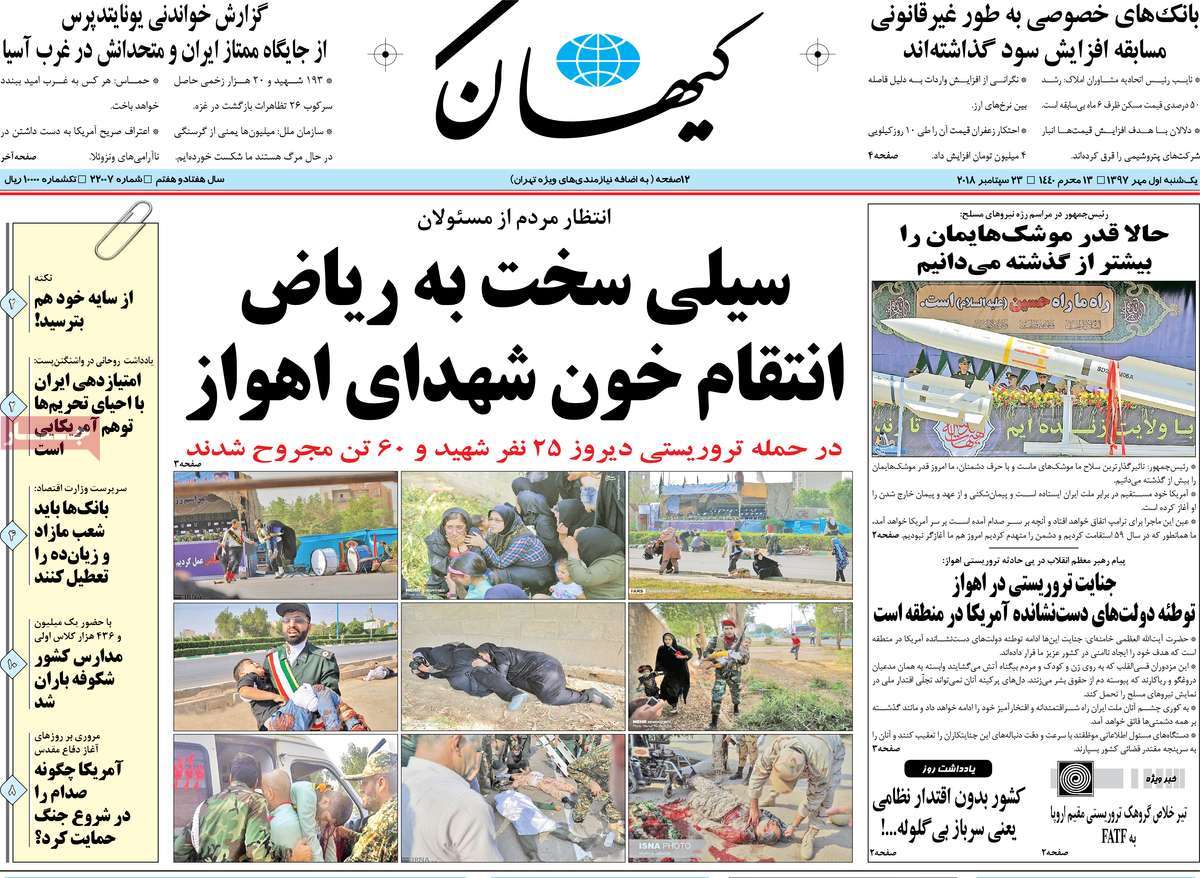 ---
Quds:
1- People Admire Armed Forces for Sacrificing Their Lives to Save Women, Children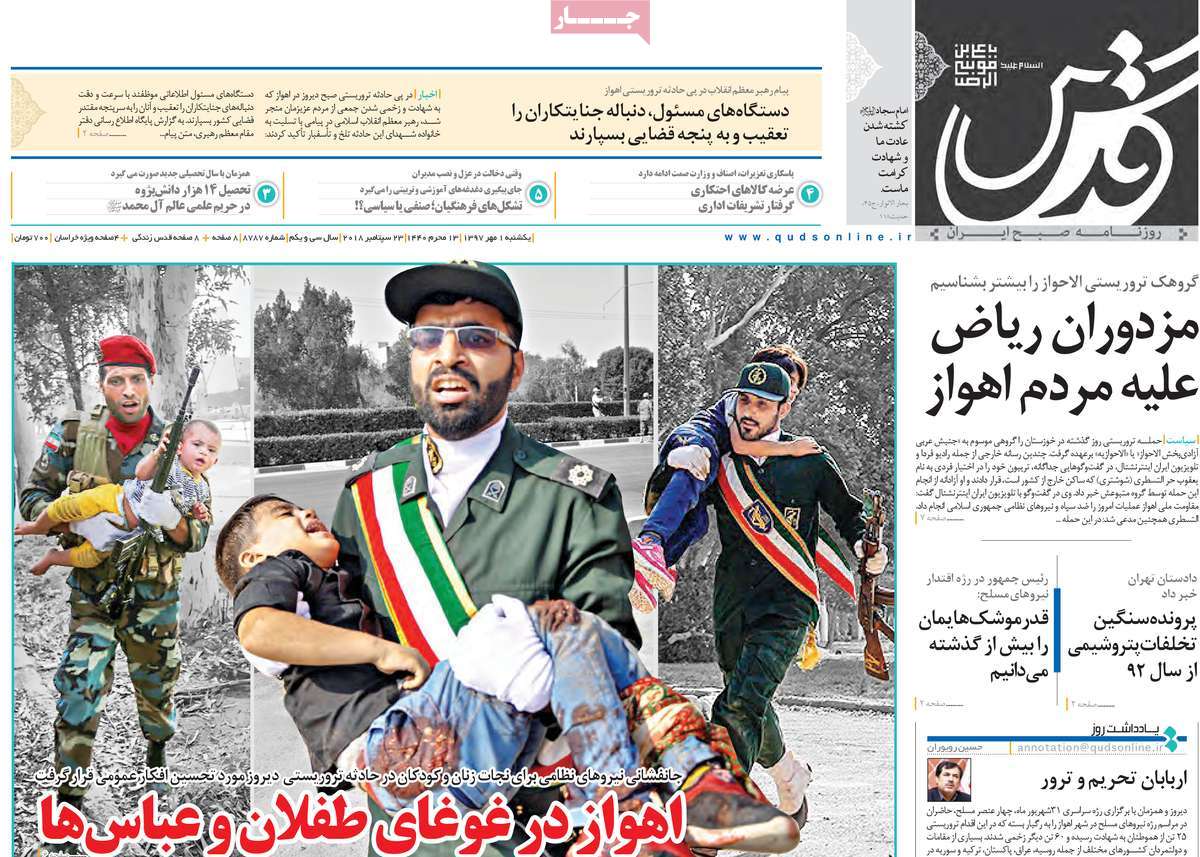 ---
Sazandegi:
1- What Happened in Bloody Noon of Ahvaz
2- Special Meeting in Parliament Speaker's Office
Larijani, FM Zarif, Intelligence Minister Alavi Hold Talks on CFT Bill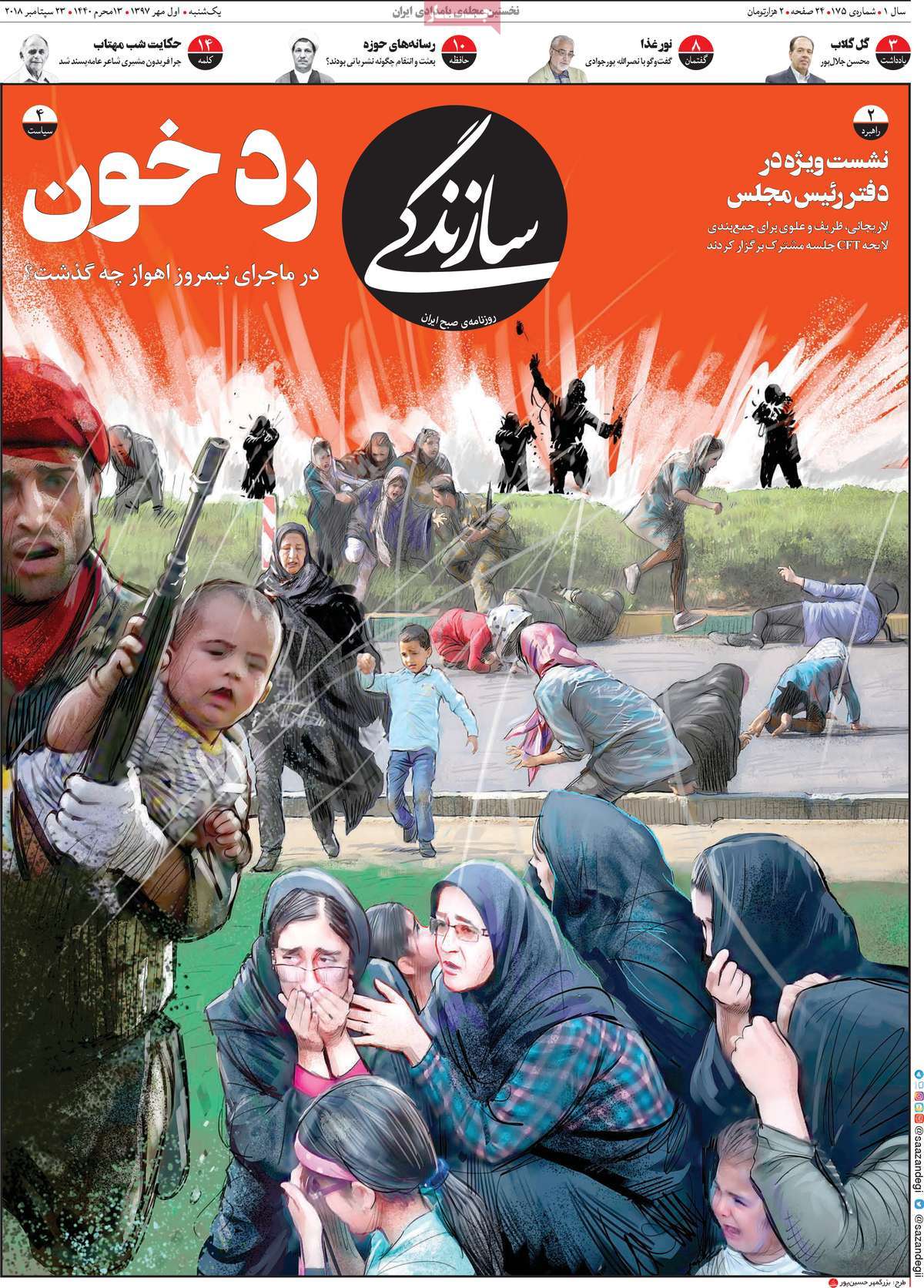 ---
Shahrvand:
1- Iran Outraged by Bloody Day
---
Shargh:
1- Bloody Morning in Ahvaz
Putin, Assad Offer Condolences to Rouhani
Zarif in Twitter: We'll Immediately, Decisively Respond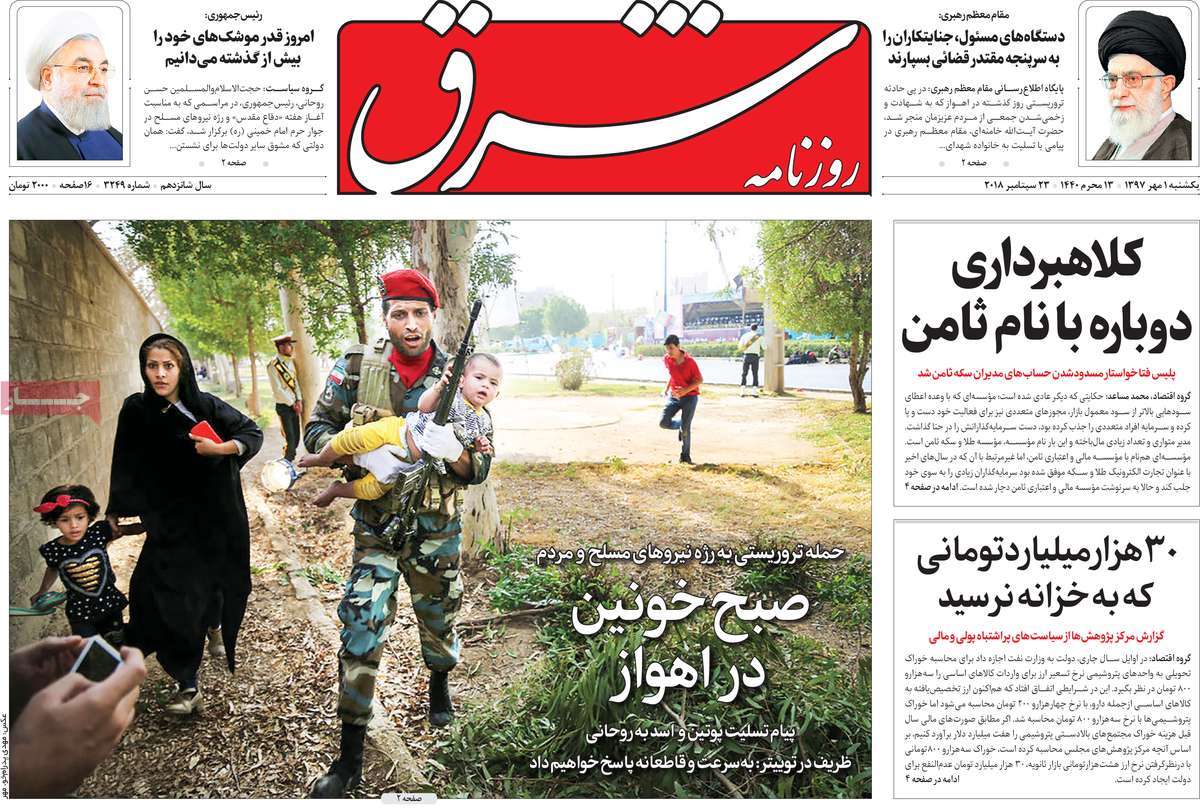 ---
Sobh-e Now:
1- Traces of Ahvaz Attack in Riyadh: When Cyberspace Comes to Terrorists' Help
2- Attack on Defenceless People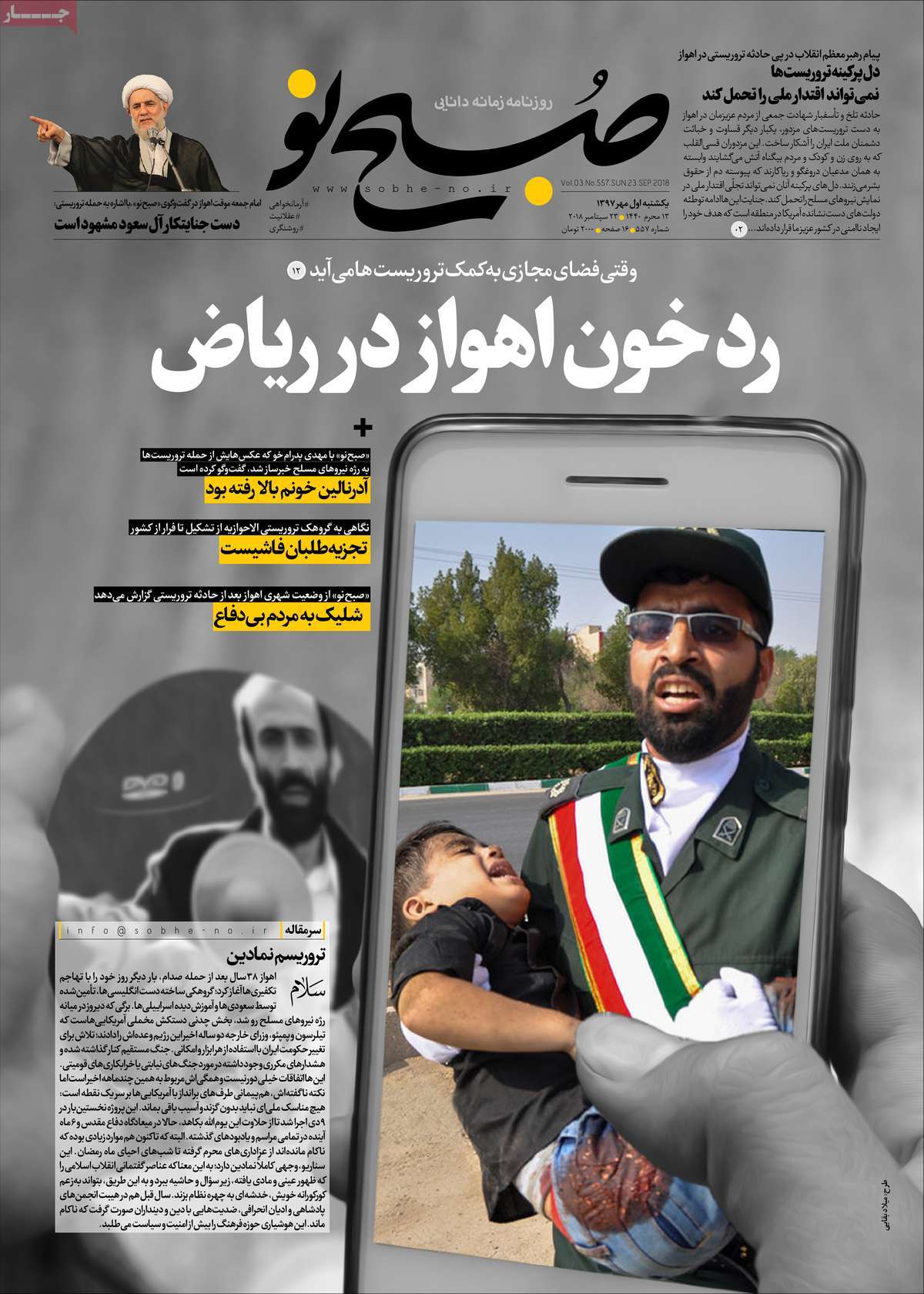 ---
Vatan-e Emrooz:
1- Crime of Shahrivar: Terrorists Sponsored by Saudi, US Kill 25, Wound 60