The comments of President Rouhani at the UN General Assembly dominated the front pages of Iranian newspapers on Tuesday. Also on the cover of dailies was the fallout of the deadly tragedy in Mina, Saudi Arabia.
Ettela'at: In a speech at the UN General Assembly President Rouhani called for a Joint Comprehensive Plan of Action to take on terrorism and extremism.
The loss and injury of thousands of innocent people from the four corners of the world is too big a tragedy to be treated as a natural or local incident.
---
Abrar: The interior minister has said the overall number of people killed in the Mina tragedy is higher than the current figure.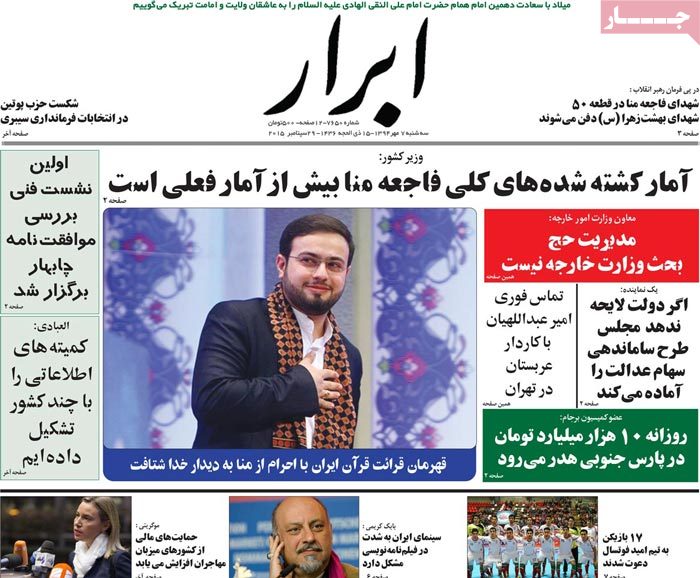 ---
Aftab-e Yazd: "In the absence of security, one can doubt the imperativeness of Hajj," said Ayatollah Mohammad Yazdi, the chairman of the Assembly of Experts.
---
Arman-e Emrooz: President Rouhani has cut short his New York trip to return home and attend the funeral of Iranian pilgrims killed in last Thursday's stampede in Mina, near Mecca.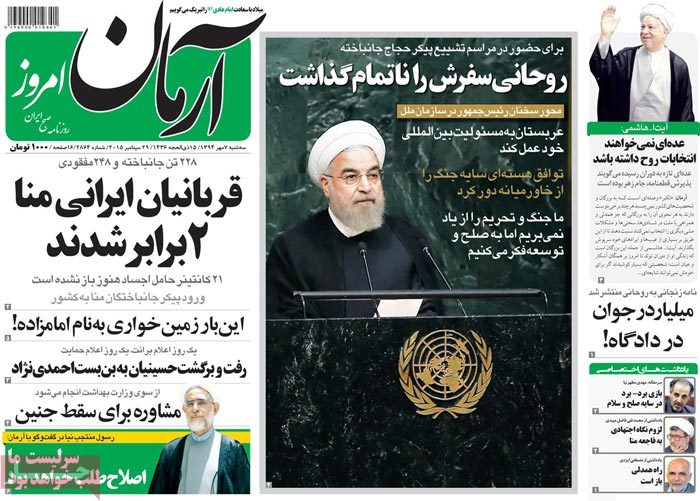 ---
Asr-e Rasaneh: Iran's oil output will rise by 500,000 barrels a day after the Joint Comprehensive Plan of Action is implemented, said the Iranian oil minister.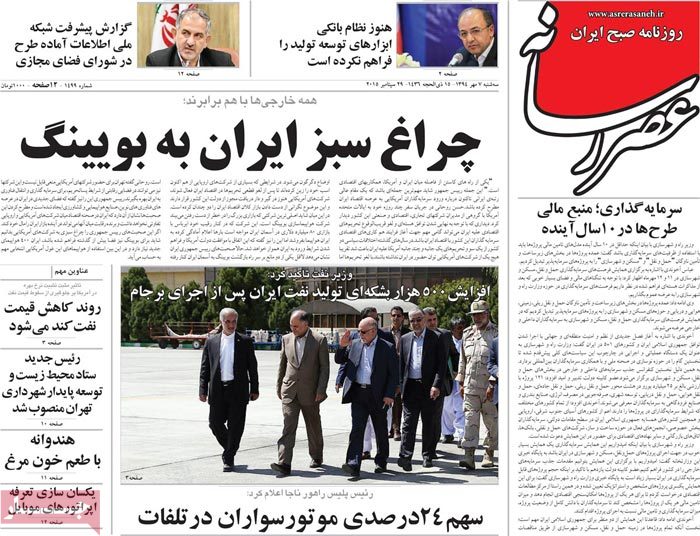 ---
Hemayat: The judiciary chief has said the Mina case won't be closed.
Ayatollah Sadegh Amoli Larijani called on the attorney general to follow up the case until it produces definitive results.
---
Iran: Iranian Hajj pilgrims have started to return home.
Iran: The Iranian private sector stands ready to cooperate with American firms.
Iran: The president has announced the opening of a new chapter in Iran's interaction with the rest of the world in a speech at the UN General Assembly.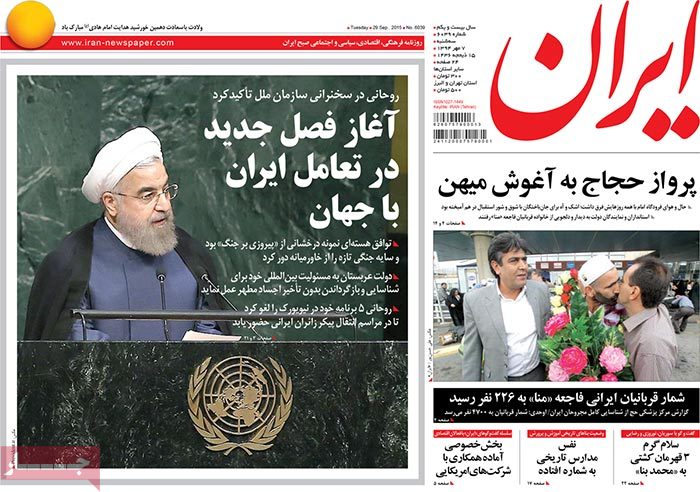 ---
Javan: Instead of distorting the facts, the US should bring its dangerous policies in the region to an end, the president told the UN General Assembly.
---
Jomhouri Islami: For the first time in five decades the tax revenues of the Iranian government have overtaken its oil income.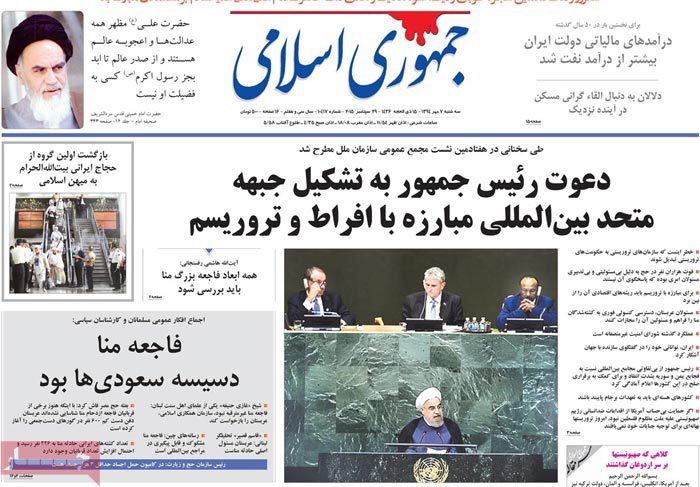 ---
Kaenat: Investment will be the primary mode of project finance in the next 10 years, said the minister of roads and urban development.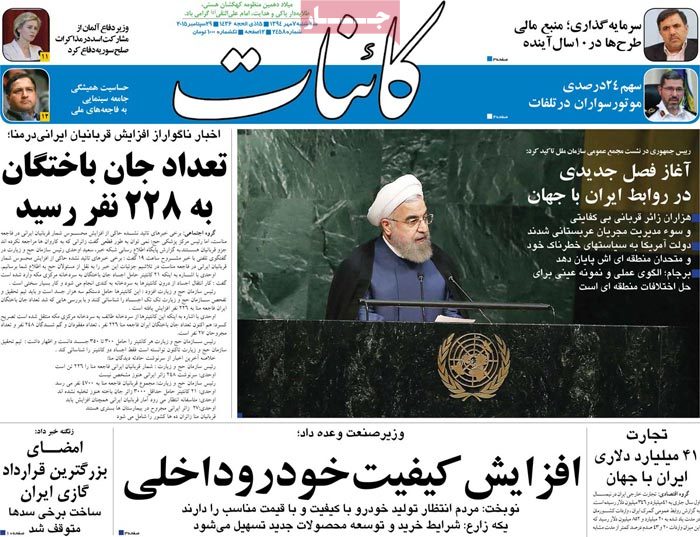 ---
Kayhan: A deal over nothing; termination of sanctions is nothing but an illusion, a Kayhan report.
---
Mardomsalari: "I am happy to receive an award in my own country," said Hossein Alizadeh [a leading classical composer who refused to accept France's Chevalier of Legion of Honor in 2014].
Mardomsalari: Saffron exports have registered a one percent increase over last year.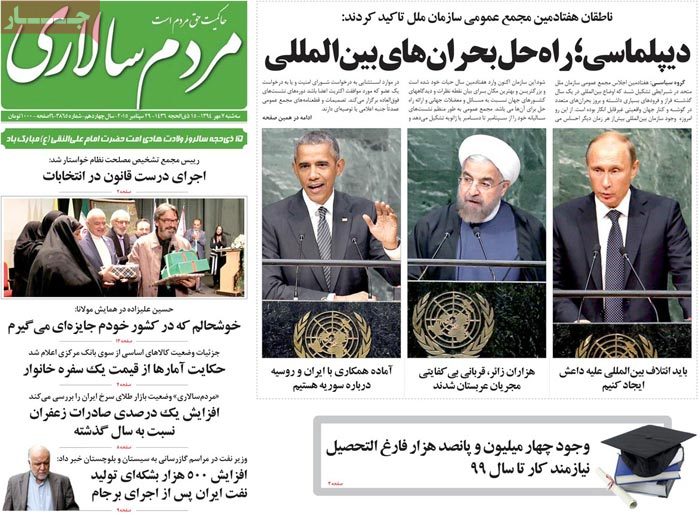 ---
Rah-e Mardom: President Rouhani has said that the massacre in Yemen has widened the gap between Iran and Saudi Arabia.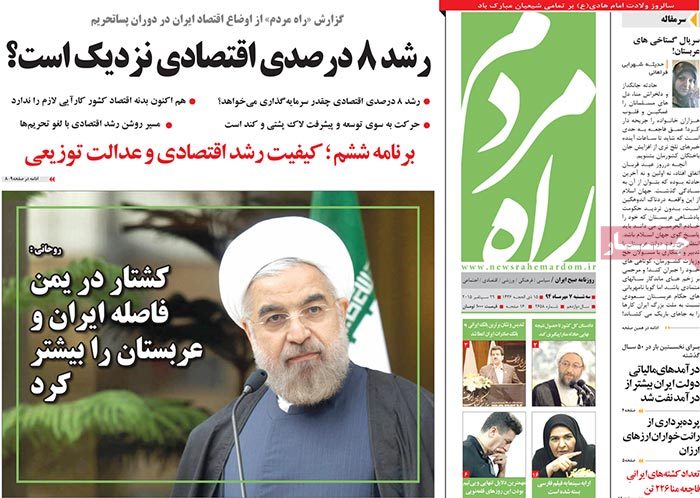 ---
Resalat: The chairman of the Assembly of Experts has urged the Iranian government to pursue the case involving the Mina tragedy.
---
Sharq: "Why should I give you information on my bank accounts?" Babak Zanjani [a young billionaire who stands accused of massive corruption] asked in a stern letter to President Rouhani.