The top story in today's newspapers was the glorious funeral ceremony held for martyr Mohsen Hojaji, the Iranian soldier who was beheaded by the ISIS terrorist group. Thousands of people including the Leader of Iran's Islamic Revolution Ayatollah Seyyed Ali Khamenei attended the separate funerals held in Tehran and Isfahan on Wednesday.
Another top story was the alleged ambiguities in the nuclear deal between Tehran and world powers, particularly its Article T, as raised by the IAEA Chief Yukiya Amano.
The latest developments of Iraqi Kurdistan and Iran's strong opposition to its independence also remained a top story. The Parliament's statement against the Kurdish referendum and a visit by the Chief of Staff of the Iranian Armed Forces Major General Mohammad Baqeri to Iraq were particularly highlighted in today's papers.
The move by Saudi King Salman to allow women to drive and obtain driver's licence also received great coverage today.
The above issues, as well as many more, are highlighted in the following headlines and top stories:
Aftab-e Yazd:
1- Iran Leader: God Made Martyr Hojaji a Dear One
2- Has Riyadh Given in to Modernity? A Report on Saudi Arabia's Move to Allow Women's Driving
3- General: US Warships Talking to Us in Persian
---
Arman-e Emrooz:
1- Stealing Water from Iran's Clouds: Minute Amount of 10 Billion Cubic Metres!
2- Glorious Farewell to Martyr Hojaji in Tehran, Isfahan: Along with Mohsen's Flight
3- Possibility of Civil War in Iraq
---
Ebtekar:
1- New Challenge of Nuclear Deal
Amano Creates Ambiguity in JCPOA with Article T
---
Etemad:
1- Iran Only Recognizes Republic of Iraq: Shamkhani
2- Iran Bids Farewell to Honourable Martyr
---
Ettela'at:
1- Baghdad Creates No-Fly Zone in Kurdistan
2- Shamkhani: Issue of Iraqi Kurdistan Region Should Be Resolved through Negotiation
3- Missile Attack on Kabul Airport amid US Defence Secretary's Visit
---
Ghanoon:
1- Wave of Changes in Saudi Arabia
King Salman Lets Women Drive after Letting Them Go to Stadiums
---
Hamdeli:
1- The Boy Who Brought Honour for Iran
2- Iran's Top Officer: Change in Iraq's Geography Not Acceptable
---
Javan:
1- Iranians Escort the Headless Martyr
2- Article T of JCPOA Sparks Controversy: IAEA Chief Challenged with JCPOA's Interpretability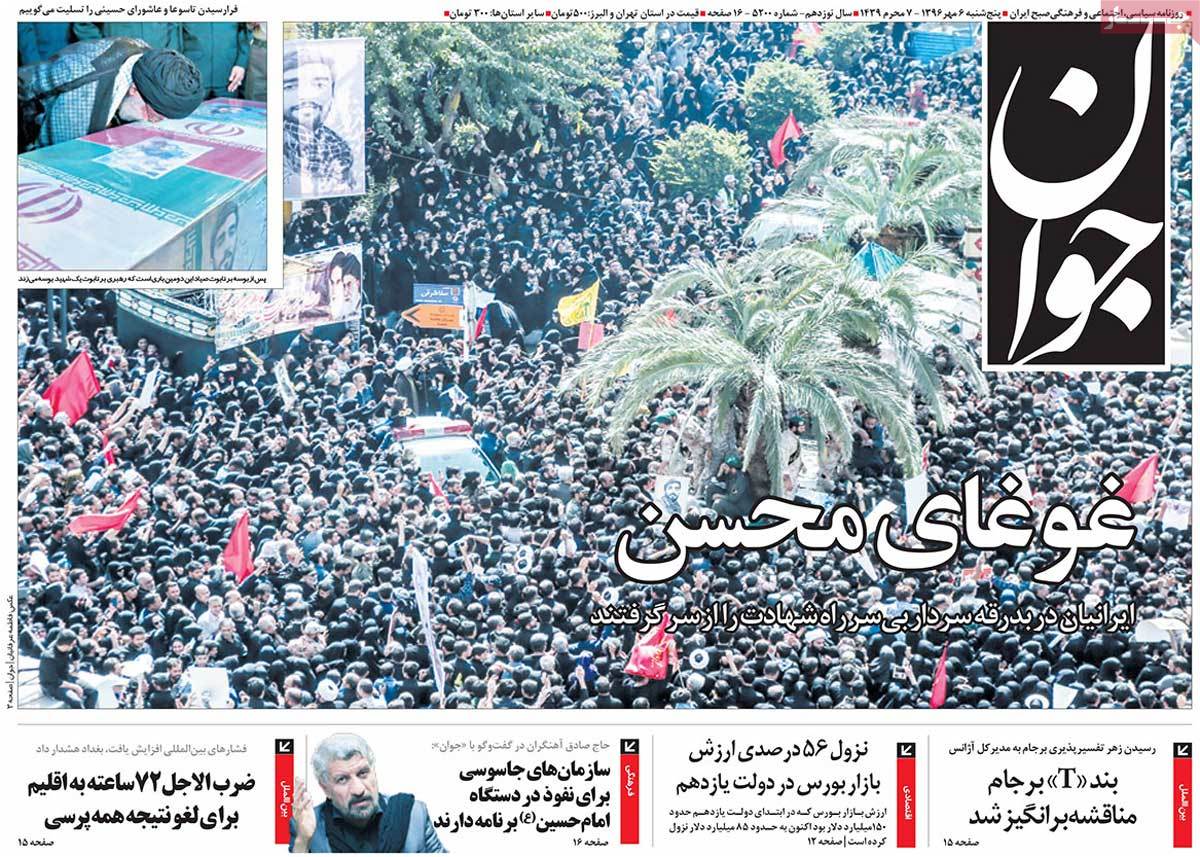 ---
Jomhouri Eslami:
1- Barzani to Be Prosecuted Based on Iraqi Parliament's Approval
2- Iran's Economy Up by 7 Places in Global Competitiveness Index
3- Role of Zionist Regime in Iraqi Kurdistan's Independence
---
Kayhan:
1- Salute to the One Who Sacrificed Himself for Imam Hussein
2- Washington Post: Iranian Warrior Buried Like an Icon
3- 3 Types of Production Loans to Be Given to Villagers with Maximum Interest Rate of 8%
---
Kelid:
1- Iran to Develop Comprehensive Document on Tourism
2- Amirkabir University Team Claims First Place in French Micro Air Vehicle Contest
---
Khorasan:
1- Iran's Strategy against Iraq's Disintegration
2- Solider of Iran
---
Shargh:
1- Four Gov't Bodies Receiving Highest Budgets
2- Several Flights to Iraqi Kurdistan Suspended
3- Saudi Women Allowed to Drive