The top story in all papers today was the comments made by the Leader of Iran's Islamic Revolution Ayatollah Seyyed Ali Khamenei about the key role played by Iranian military advisers in Syria, known as Defenders of the Holy Shrine, who kept terrorists from approaching the Shrine of Imam Hussein in Iraq's Karbala.
Also a top story was President Hassan Rouhani's remarks about the Saudi assassination of dissident journalist Jamal Khashoggi, and the US support for the crime.
A decision by a company affiliated with the Islamic Revolution Guards Corps (IRGC) to sell its shares in Iran's largest mobile phone operation MCI also received great coverage.
The above issues, as well as many more, are highlighted in the following headlines and top stories:
Abrar:
1- Iran President Urges Turkey to Continue Unbiased Probe into Khashoggi Case
2- Tehran Press Exhibition Not to Be Held This Year over Economic Woes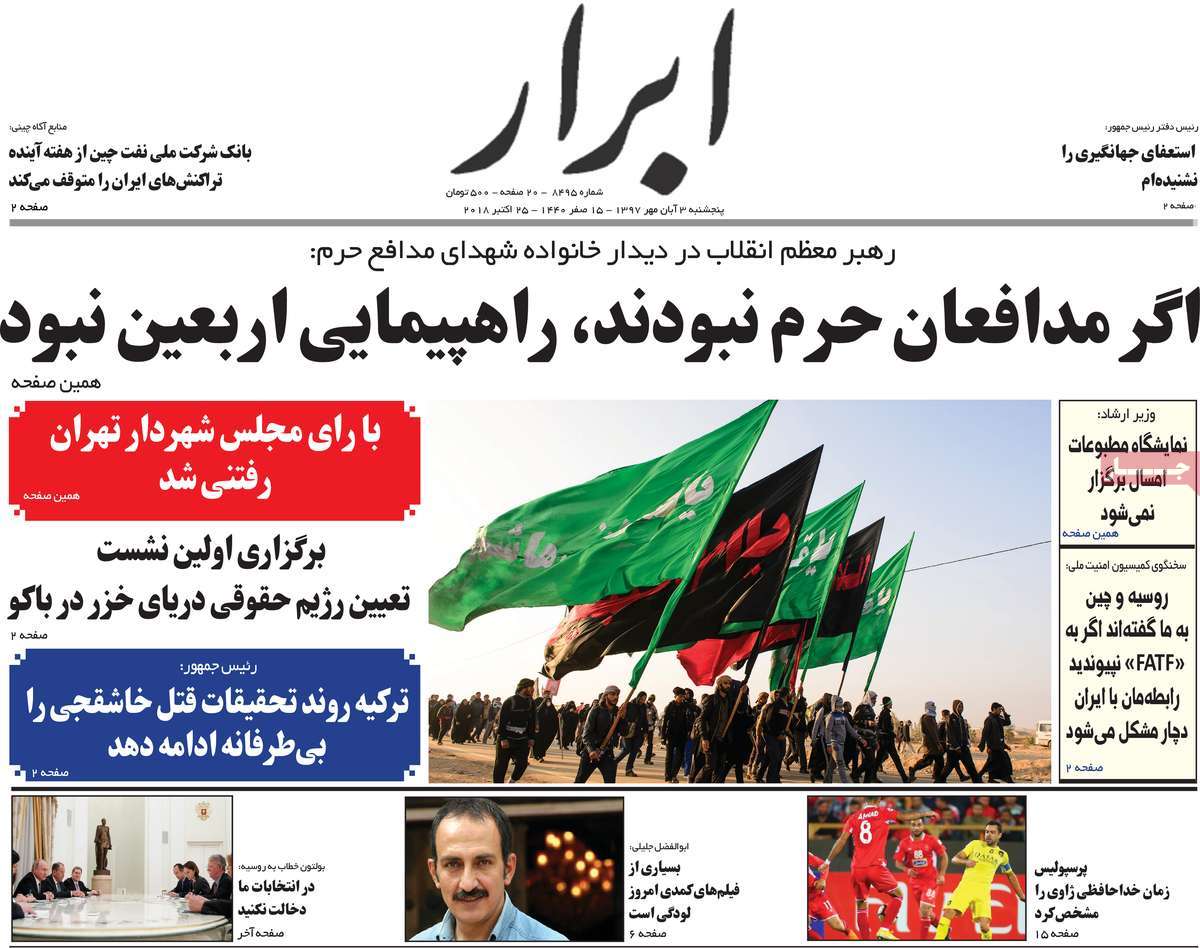 ---
Aftab-e Yazd:
1- Tell President We'll Freeze to Death without Money: Quake-Hit People of Kerman
2- Rouhani's Late, but Harsh Stance towards Saudis on Khashoggi's Case
3- There'd Be No Arba'een Pilgrimage without Defenders of Holy Shrine: Leader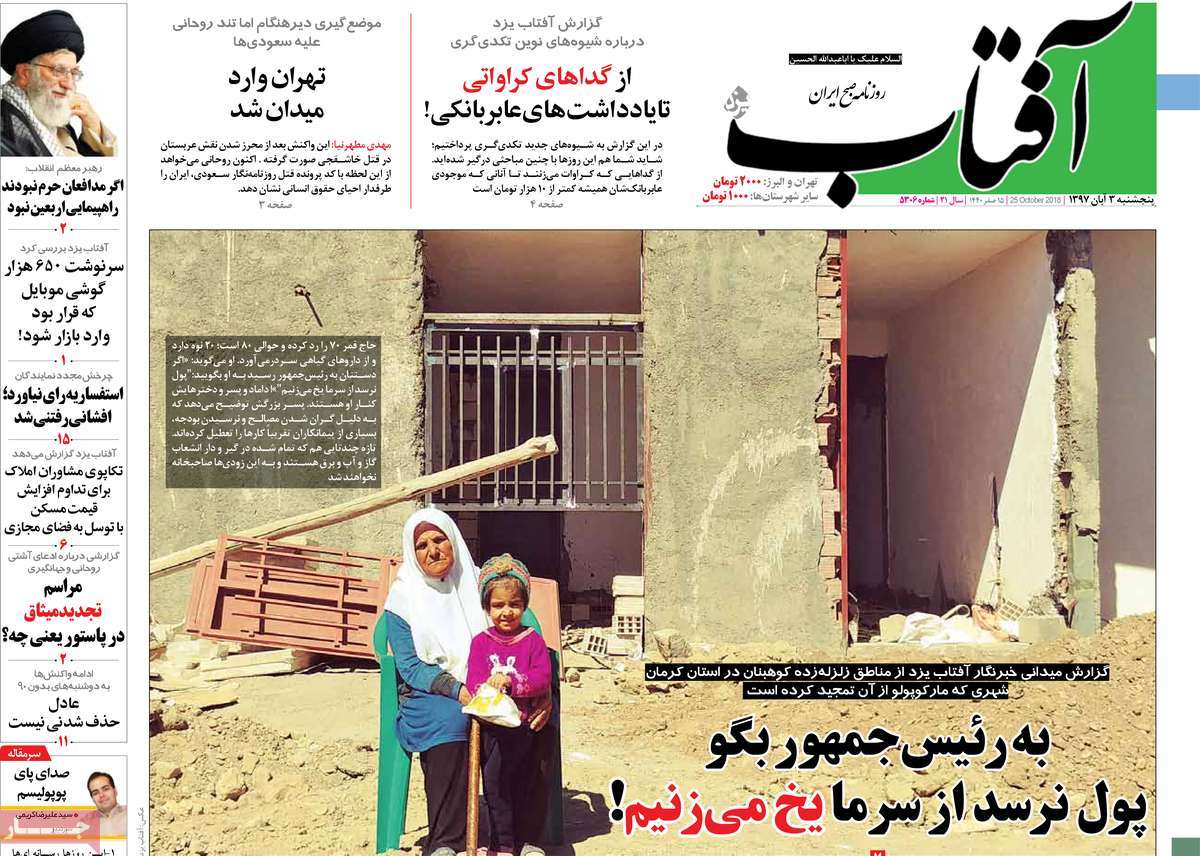 ---
Ebtekar:
1- Rouhani's 4 Ministerial Picks Have Good Chance to Win Vote of Confidence
2- Rouhani: US' Tactic of Putting Iran under Pressure in Nov. Weaker than Ever
3- Tehran Starts 120-Day Battle against Air Pollution
---
Etemad:
1- Washington's Light Punishment of Saudis: Trump Criticizes Worst Cover-up in History
2- IRGC's Withdrawal from MCI; A Step Forward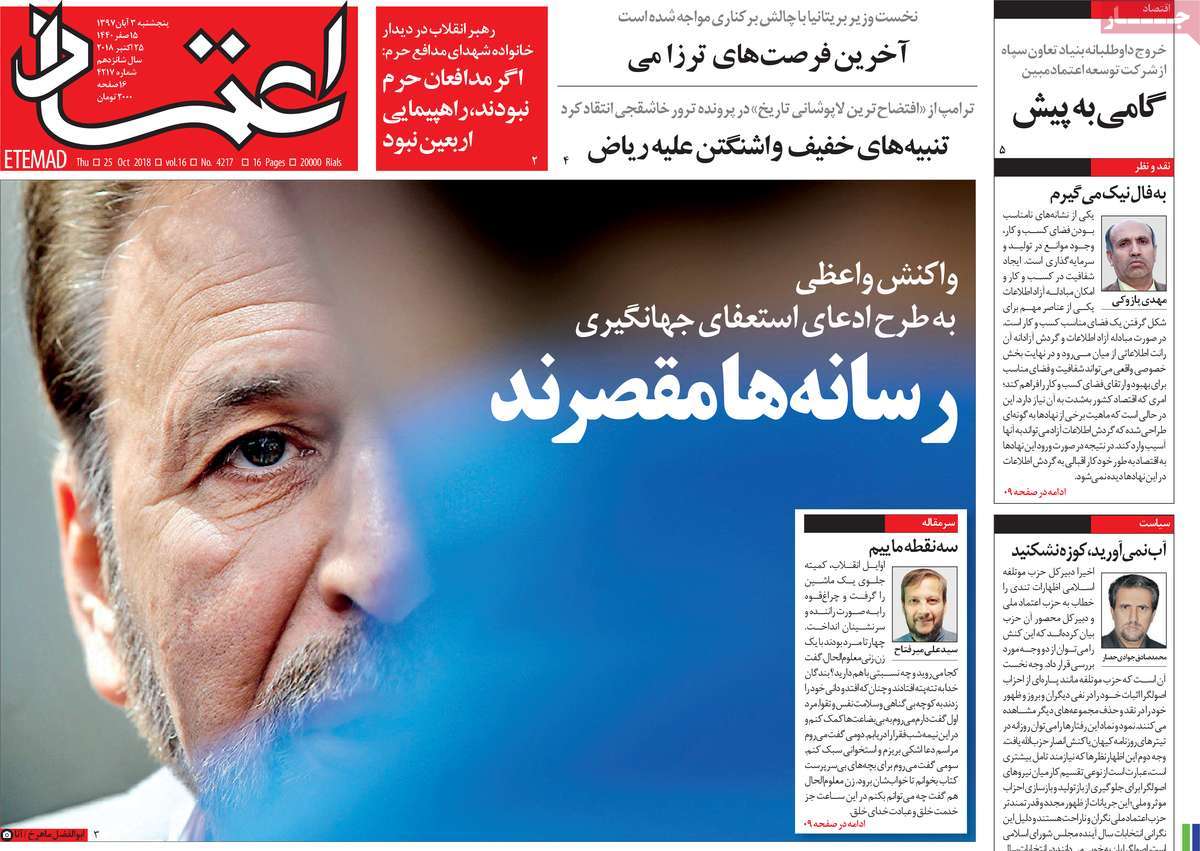 ---
Ettela'at:
1- Defenders of Holy Shrine Saved Islam, Muslims from Disaster: Iran Leader
2- Reuters: EU's Mechanism for Trade with Iran Ready
3- Trump: Bin Salman behind Gruesome Murder of Khashoggi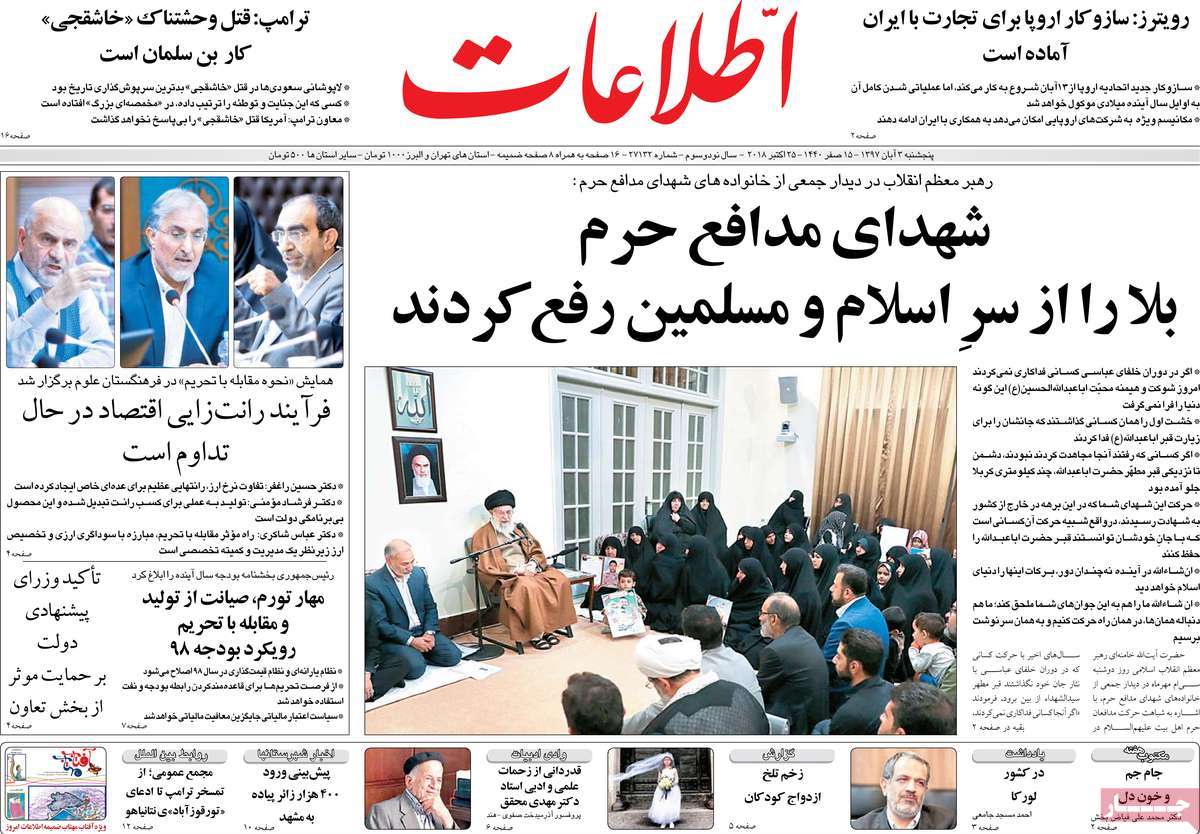 ---
Farhikhtegan:
1- Syria's Lucrative Market Waiting for Iran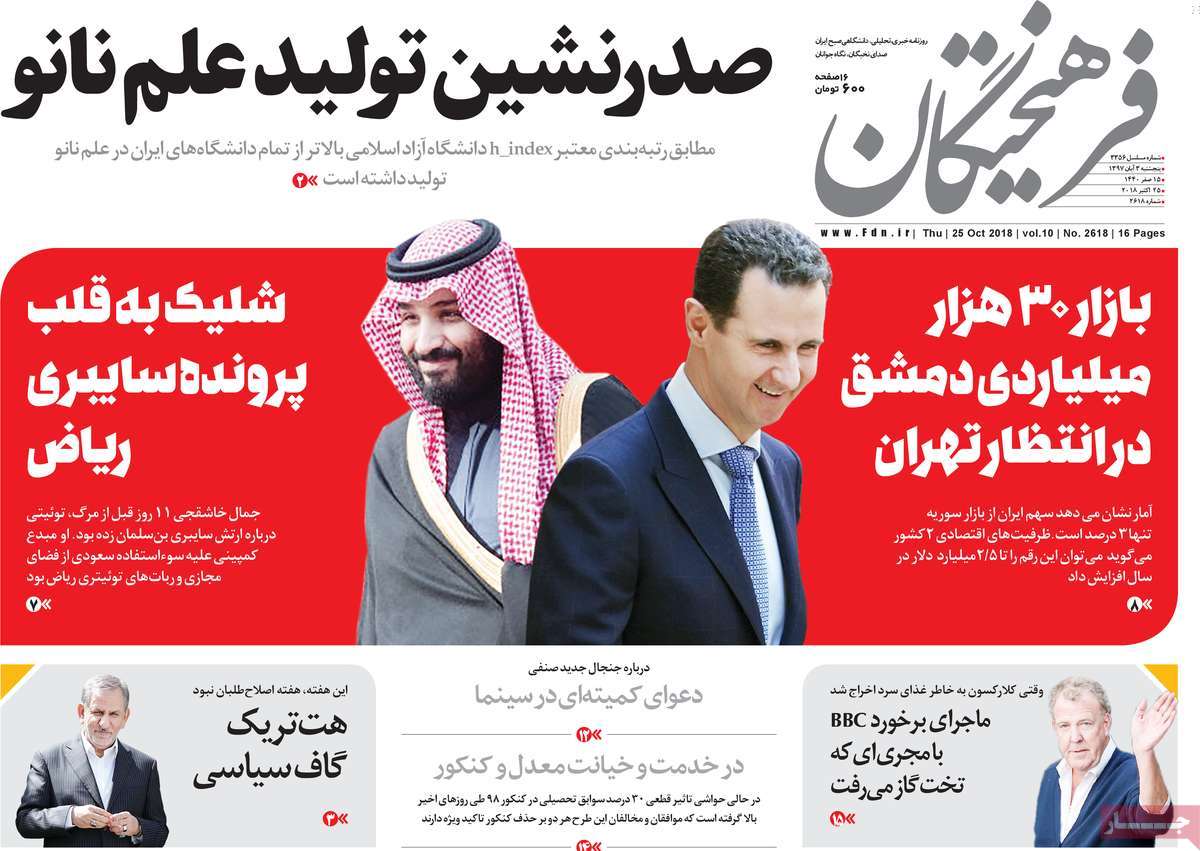 ---
Ghanoon:
1- Game Is Over: Parliament Says Tehran Mayor Must Leave Office as Retired Politician
2- Women's Presence in Stadiums Not Banned by Religious Rules: Judiciary Official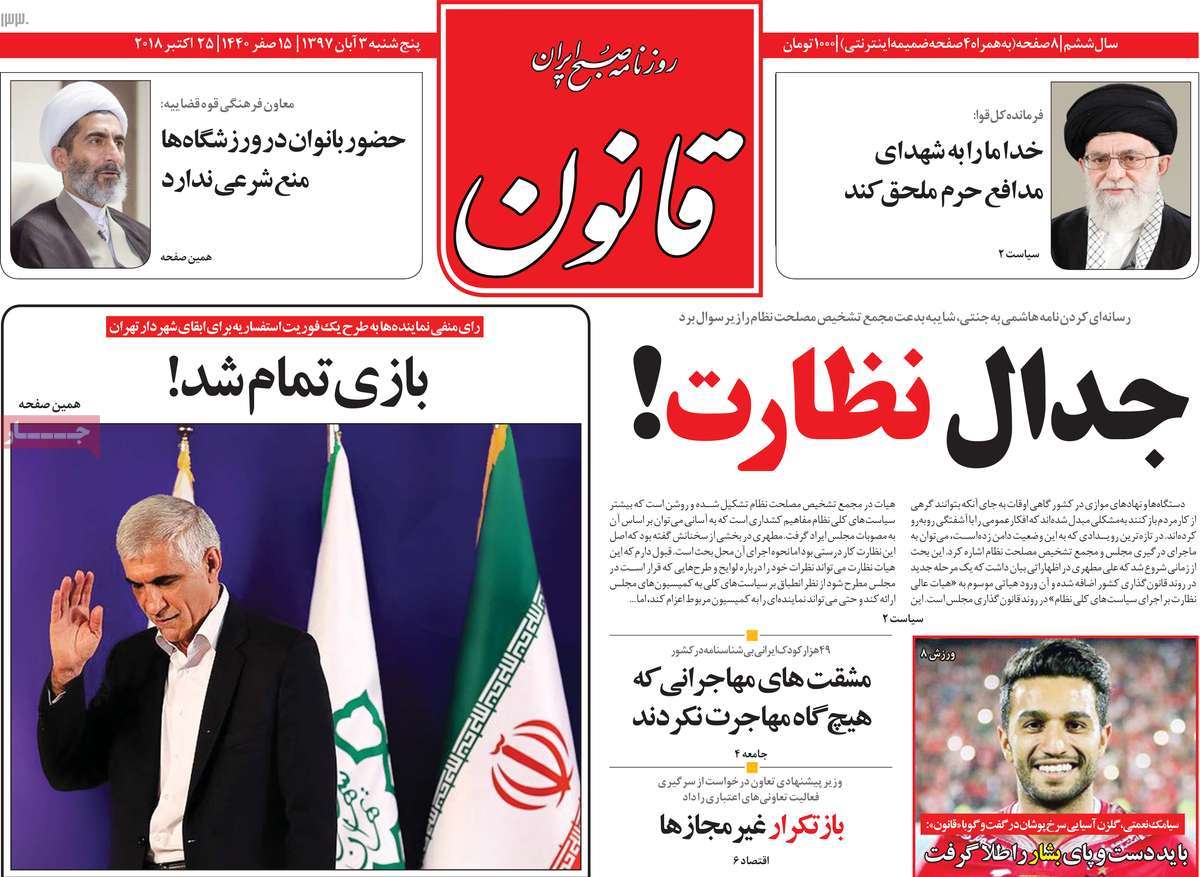 ---
Haft-e Sobh:
1- Police Arrests Motorcyclist Who Attacked 15 Women with Stitching Awl
* I Wanted to Take Revenge from Them: Attacker
2- Why IRGC Sold Its Shares in Iran's Number-One Mobile Phone Operator?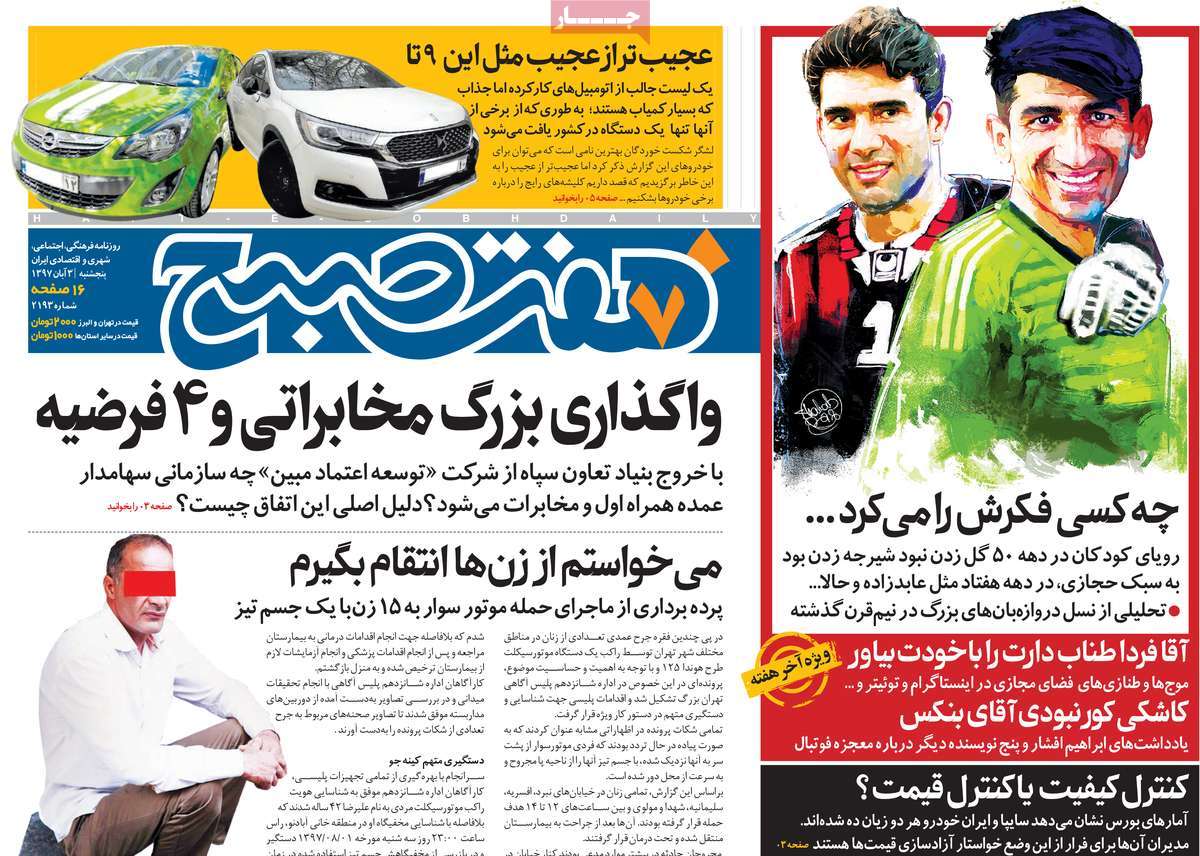 ---
Iran:
1- Obama: We Should Return Rationality to Politics
2- Khashoggi's Murder Is Condemned: Rouhani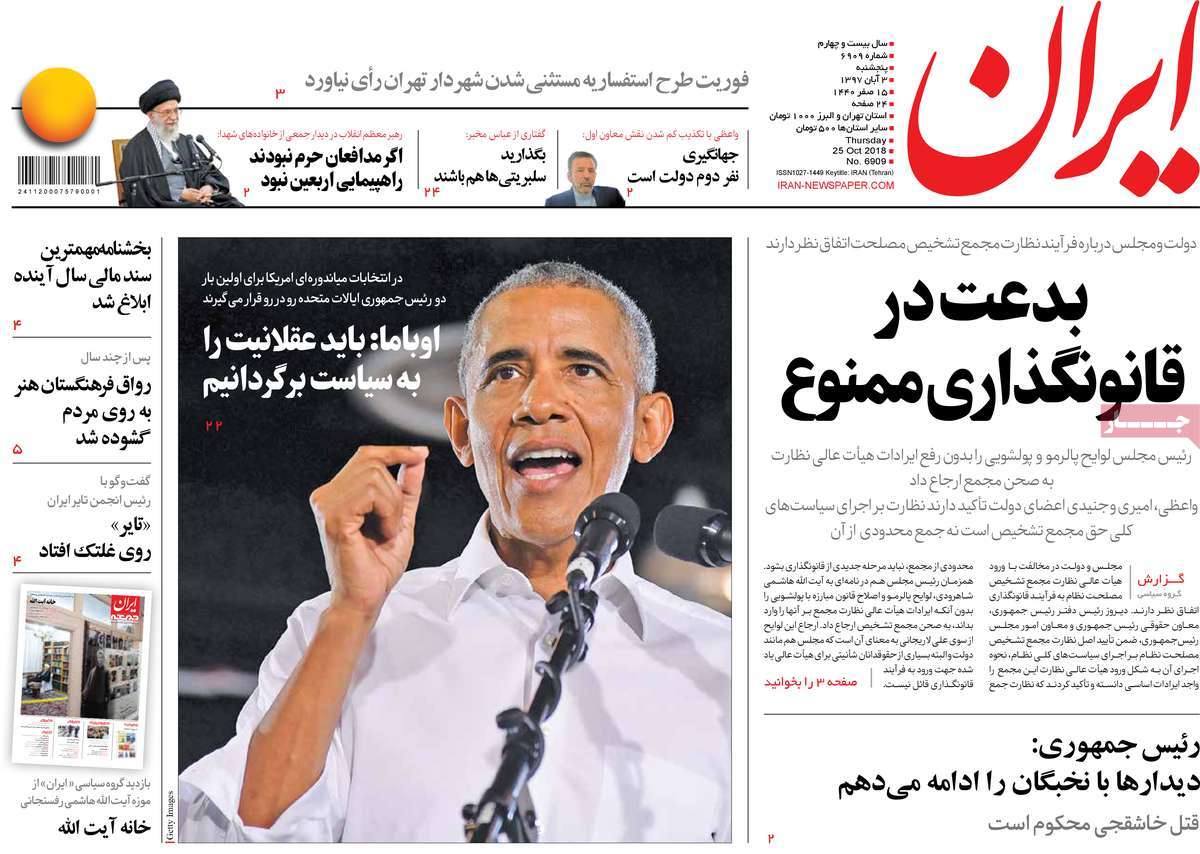 ---
Javan:
1- Turkey Joins China, India, Russia, S Korea, EU, Iraq in Rejecting US Bans
* Turkey Says Not Obliged to Listen to US Words on Iran Sanctions
2- Khashoggi's Murder Not Possible without US Support: Rouhani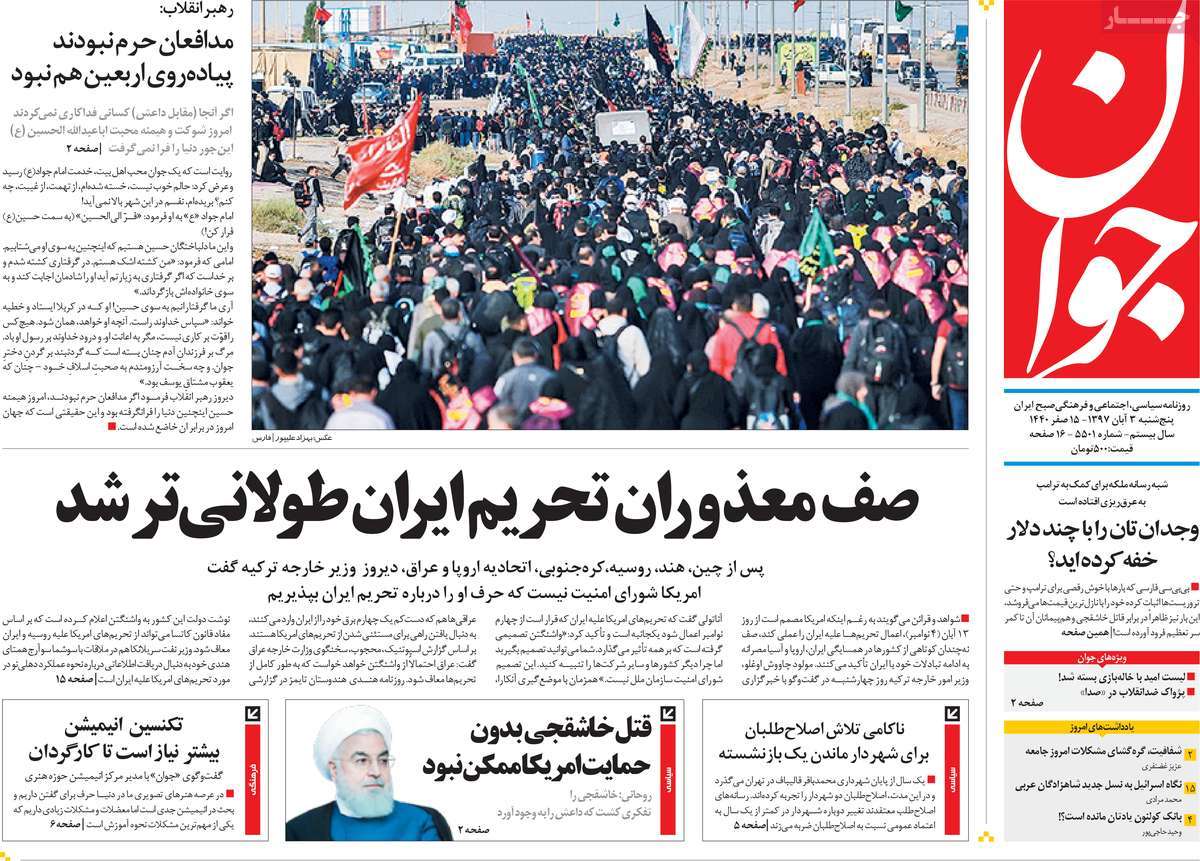 ---
Jomhouri Eslami:
1- Khashoggi's Murder Big Test for Self-Proclaimed Advocates of Human Rights: Rouhani
2- US Will Finally Back Off from Confrontational Approach to Iran: Foreign Policy
---
Kayhan:
1- There Was No Arba'een Procession without Defenders of Holy Shrine: Leader
2- Female MPs Working on Motion that Serves Enemies' Plot to Decrease Iran's Population
3- Failure of Bin Salman's Show: Empty Seats in Davos in Desert
---
Resalat:
1- Government's Duty Is to Maintain Value of National Currency
2- Saudis Didn't Dare to Commit Such a Crime without US Backing: Rouhani
---
Sazandegi:
1- Persepolis Goalkeeper Beiranvand Saving Iranian People's Hope in Hard Days
2- Apple to Unveil Its Magical Products Next Week