Iranian papers today widely covered the AFC Champions League semi-final match between Iran's Persepolis FC and Qatar's Al-Sadd in Tehran, which ended with a 1-1 draw, but led to the Iranian side's victory on aggregate. Persepolis made history by booking a place in the final match, which is to be held against Japanese or Korean teams on November 3 and 10.
Also a top story was Turkish President Recep Tayyip Erdogan's comments about Saudi journalist Jamal Khashoggi's case, which disappointed those who expected to know the "naked truth" about the murder. Analysts believe the CIA chief's visit to Turkey has led to a collusion between Riyadh, Ankara, and Washington, and that has kept Erdogan from revealing the truth.
The above issues, as well as many more, are highlighted in the following headlines and top stories:
Abrar:
1- Zarif: We'll Both Sell Our Oil, Protect Our Economy
2- Bolton: Iran Sanctions Have Affected Oil Prices
3- US Treasury Secretary, Bin Salman Discuss Iran Oil Sanctions
4- US Ambassador to UK: Either with Iran or with US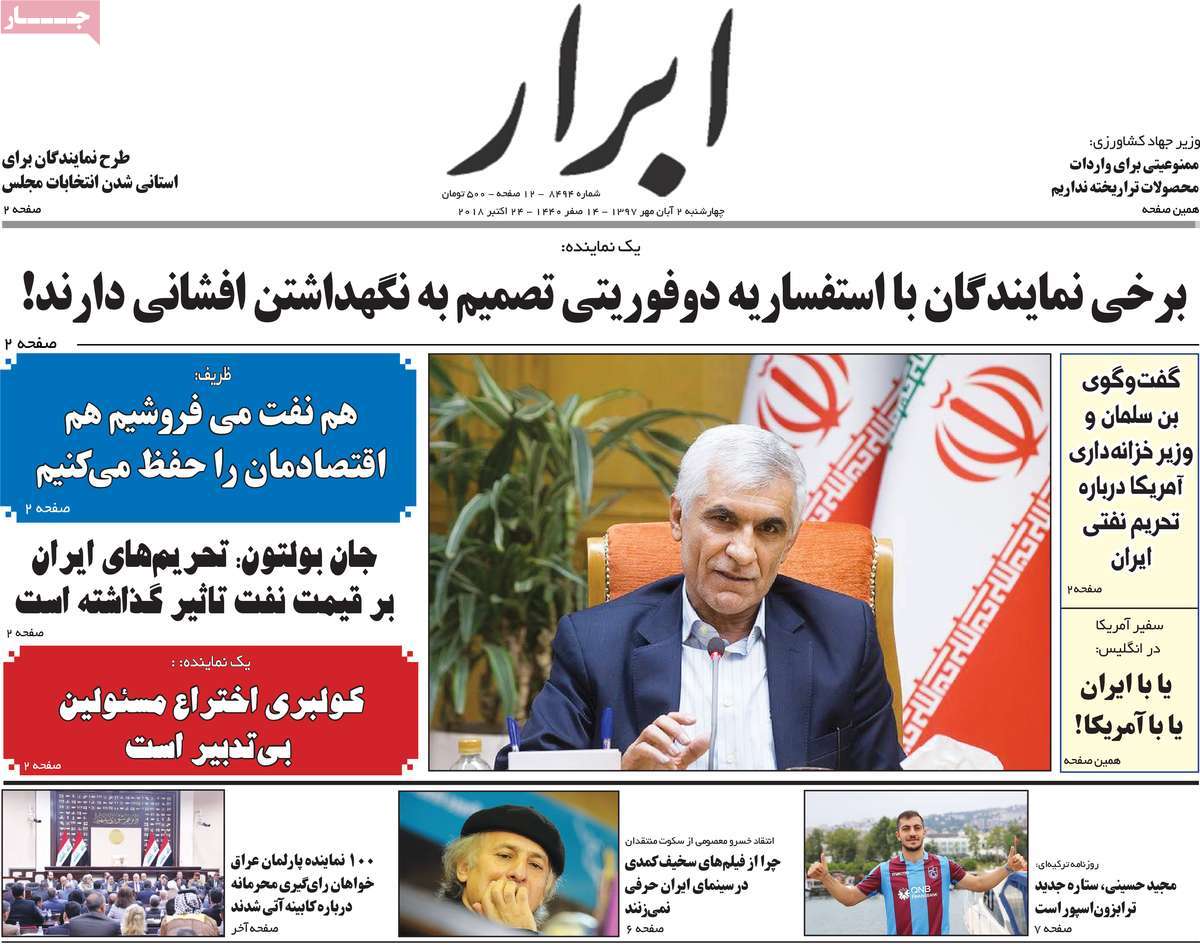 ---
Arman-e Emrooz:
1- Three Terrorist Teams Busted in Khuzestan
2- Reaching ACL Final with Empty Hands: Persepolis Makes History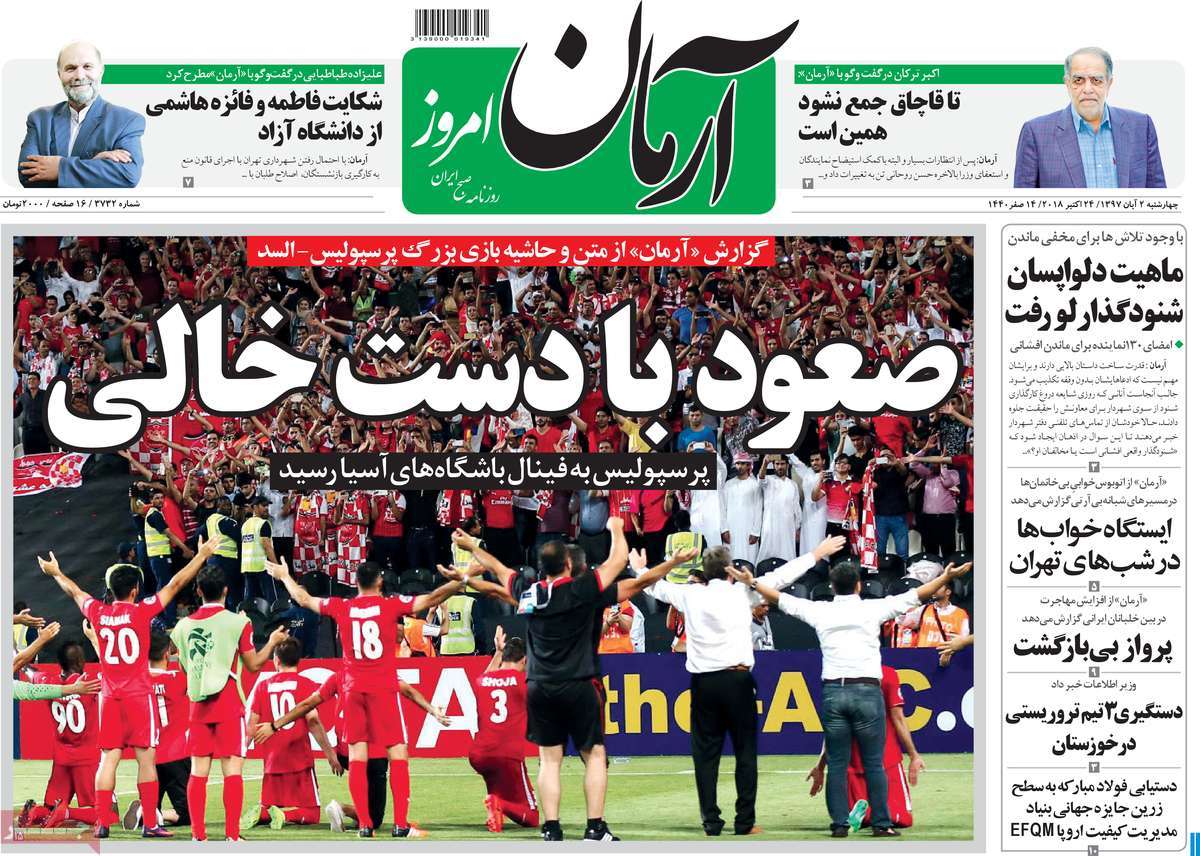 ---
Donya-ye Eqtesad:
1- Trump's Campaign against Iran Weakened
2- Erdogan's Account of Khashoggi's Murder
3- Persepolis Poised to Win ACL Title
---
Ebtekar:
1- There Are Rumours Barriers to Iran's FATF Accession Removed
2- Rouhani: Criticisms Shouldn't Be Expressed in Imperative Form
---
Etemad:
1- Rouhani: US Cannot Turn Nov. 4 into Bitter Memory for Iranians
2- Bin Salman Foiled All Anti-Iran Plots Hatched by Trump
---
Ettela'at:
1- We'll Overcome Current Crisis through Our Social Assets: Rouhani
2- Zarif: Europe Promised Iran Financial Channel Will Be Established as of Nov. 4
3- Erdogan: Khashoggi's Murderers Should Be Tried in Turkey
---
Hamshahri:
1- Unprecedented Brouhaha of FATF Opponents against FM Zarif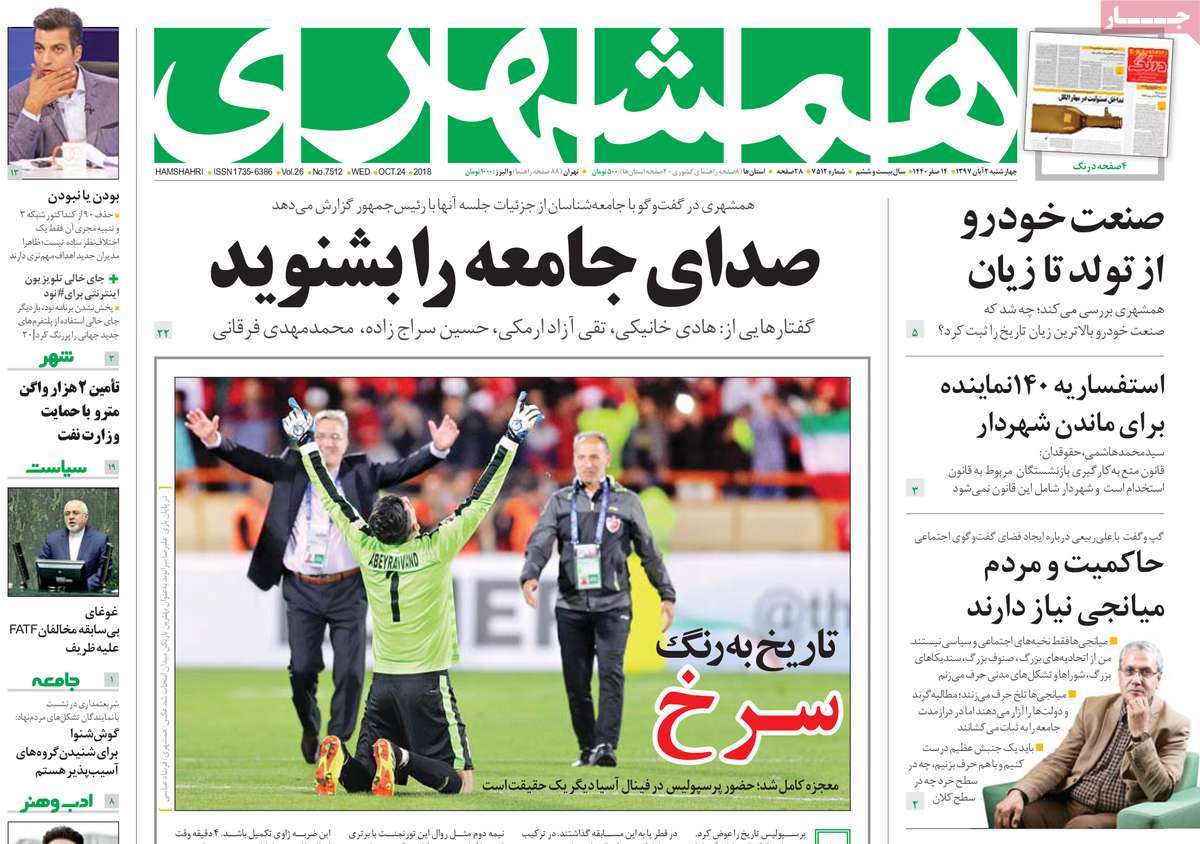 ---
Javan:
1- Zionist Paper: We Prayed for 50 Years Someone Like Bin Salman Takes Office
2- CIA Keeps Erdogan from Revealing Naked Truth about Khashoggi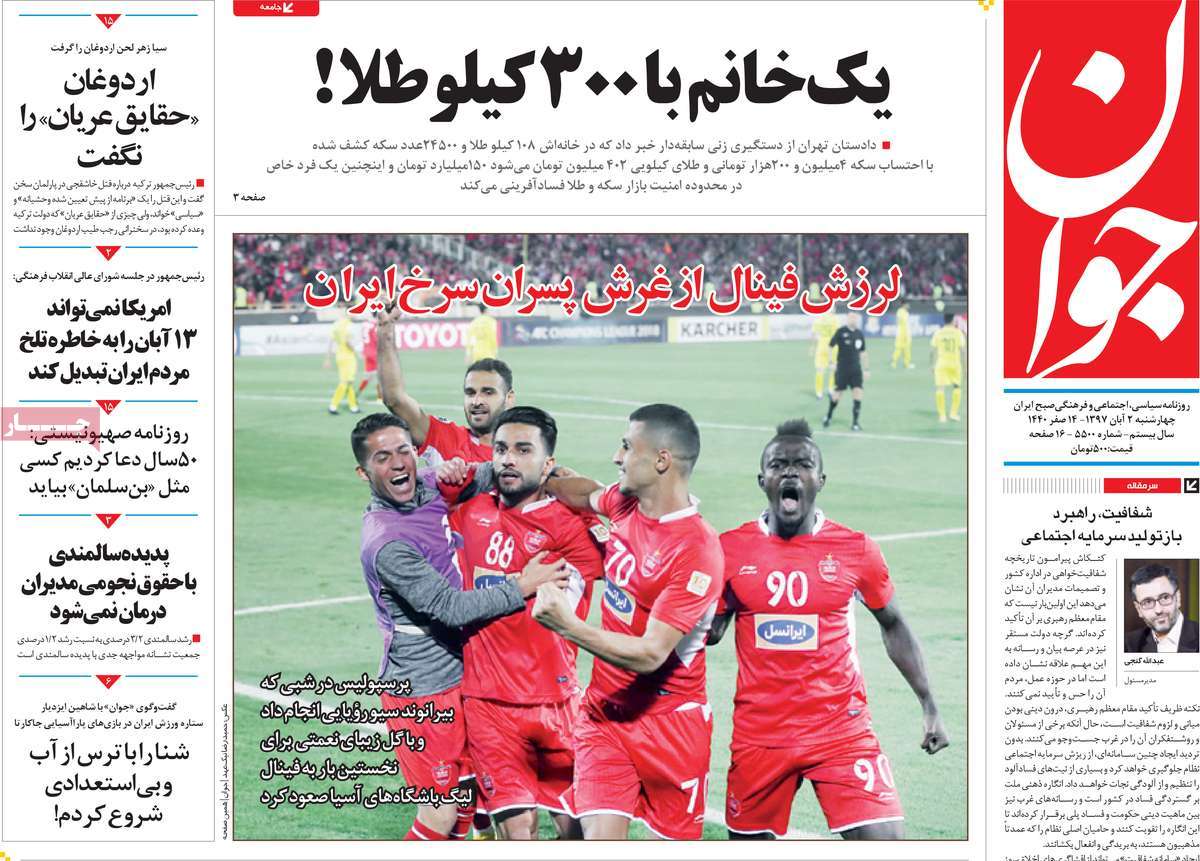 ---
Jomhouri Eslami:
1- Rouhani: November, Historic Month for Iranians' Struggle against Arrogance
2- India to Start Temporary Operation of Iran's Chabahar Port in Two Weeks
3- French Lawmaker: France to Use All Its Capacities to Maintain JCPOA
4- Erdogan, Trump Remarks Signal Collusion of US, Turkey, Saudi Arabia on Khashoggi Case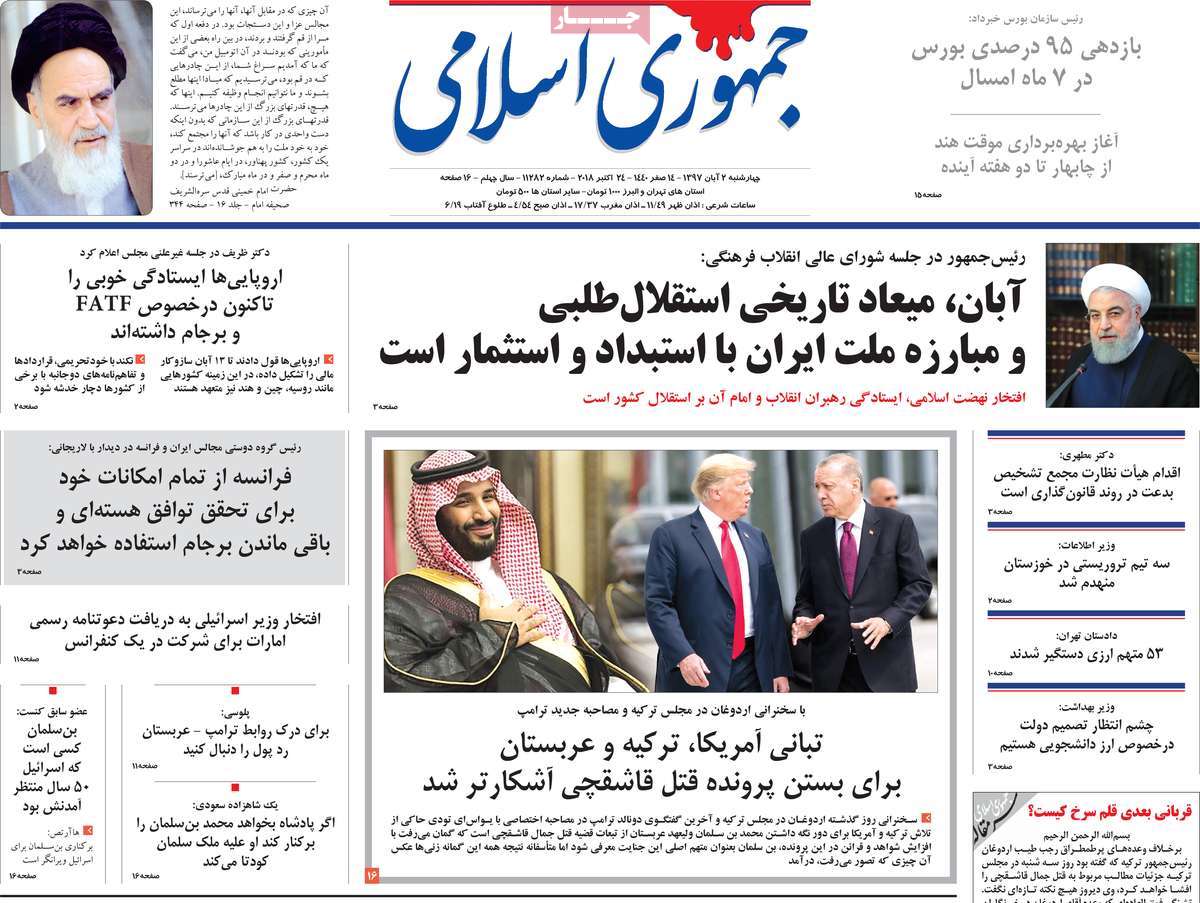 ---
Kayhan:
1- Guardian's Report Shows Knife Crimes Increasing in London
2- Washington Times Urges Iranian Officials Not to Send Their Children to Enemy's Territory
---
Sazandegi:
1- Online Terror: Bin Salman's Aide Ordered Khashoggi's Killing
2- Khashoggi's Dead Body Found
---
Shargh:
1- Closed Parliamentary Session to Discuss FATF
Zarif: FATF Must Be Ratified before 4-Month Deadline
2- Certain Individuals Shouldn't Be Allowed to Show Dark Image of Future for Iranians: Rouhani
---
Sobh-e Now:
1- Why US Dollar Rates Remain Stable in Iraq, Syria, Lebanon?
2- Fighting for Victory: Iran's Persepolis Reaches AFC Champions League Final