The top story in all papers today was the surprising plunge in US dollar rates in the Iranian market on Monday. Many people rushed to forex markets overnight to sell their foreign currencies as the Iranian rial regained part of its lost value.
Also a top story was remarks made by the Leader of Iran's Islamic Revolution Ayatollah Seyyed Ali Khamenei in a meeting with Hajj pilgrimage officials.
The missiles fired by the Islamic Revolution Guards Corps (IRGC) on Monday at the positions of ISIS terrorists in Syria's Bukamal also received great coverage.
The above issues, as well as many more, are highlighted in the following headlines and top stories:
Abrar:
1- Rouhani Writes to German President to Ask for Expansion of Cooperation
2- US House of Representatives Issue Resolution against Iran for Alleged Support of Polisario
---
Aftab-e Yazd:
1- Counterproductive Psychological War in Iran's Forex Market
Dealers Worried about Decreasing Dollar Rates
2- Revenge with Missiles: IRGC Gives Strong Response to Terrorists after Ahvaz Attack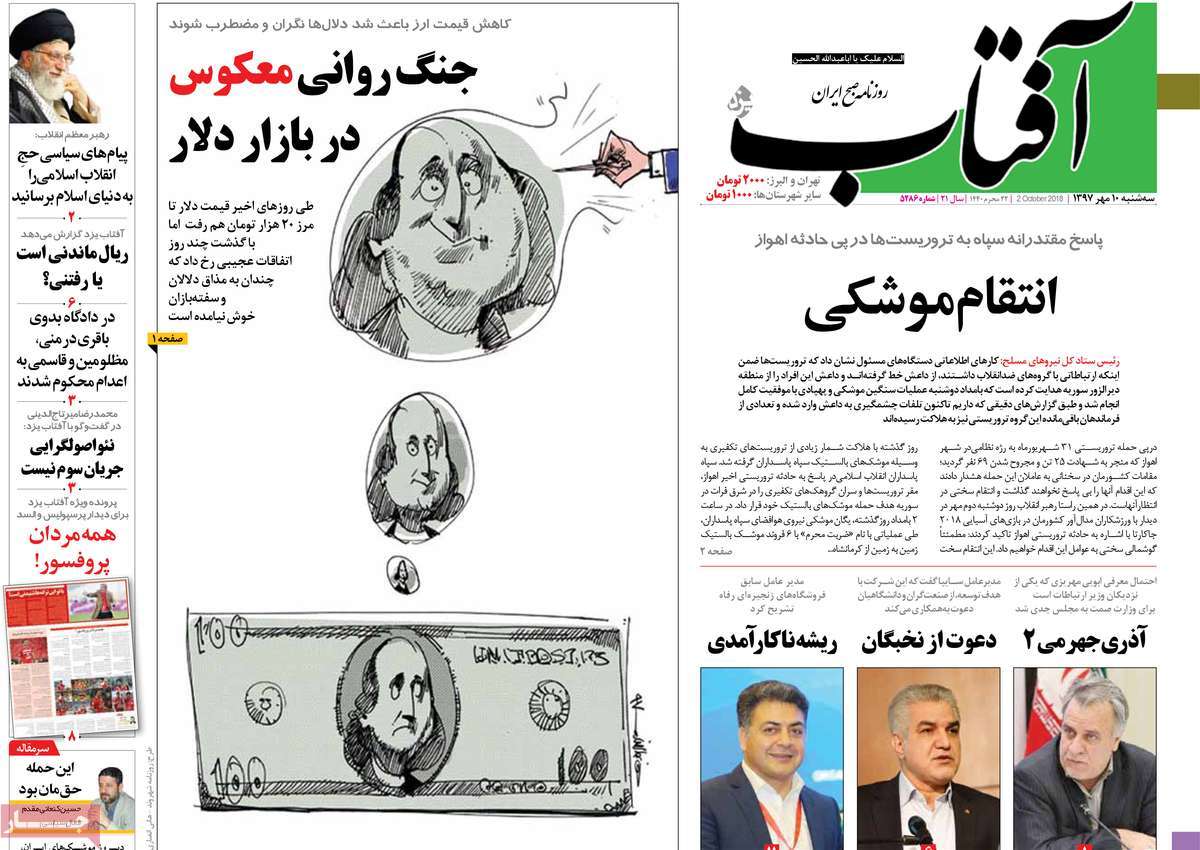 ---
Arman-e Emrooz:
1- Bubble of Forex Rates to Burst Again
2- Dollar Rates Go Down as People Rush to Sell Their Foreign Currencies in Market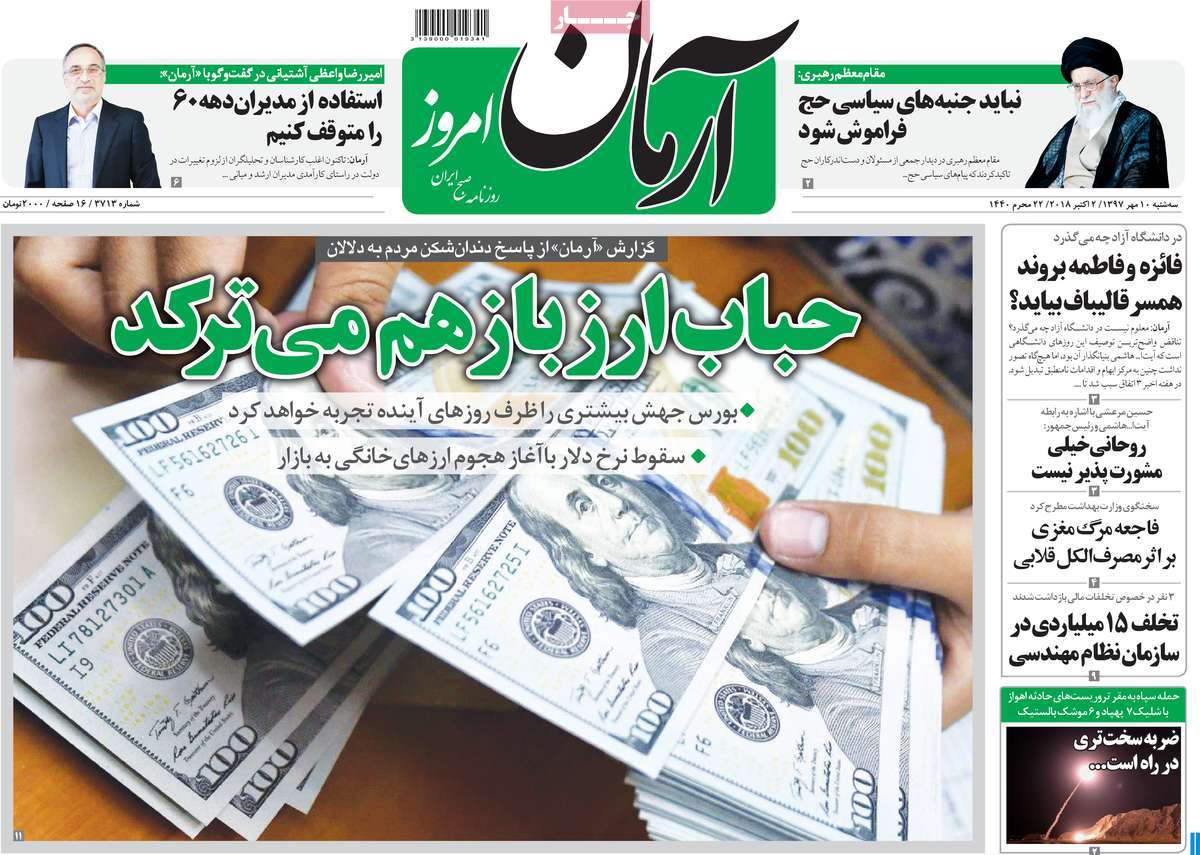 ---
Donya-ye Eqtesad:
1- Forex Dealers Back Off
2- Private Sector Files Lawsuit against Government's Economic Team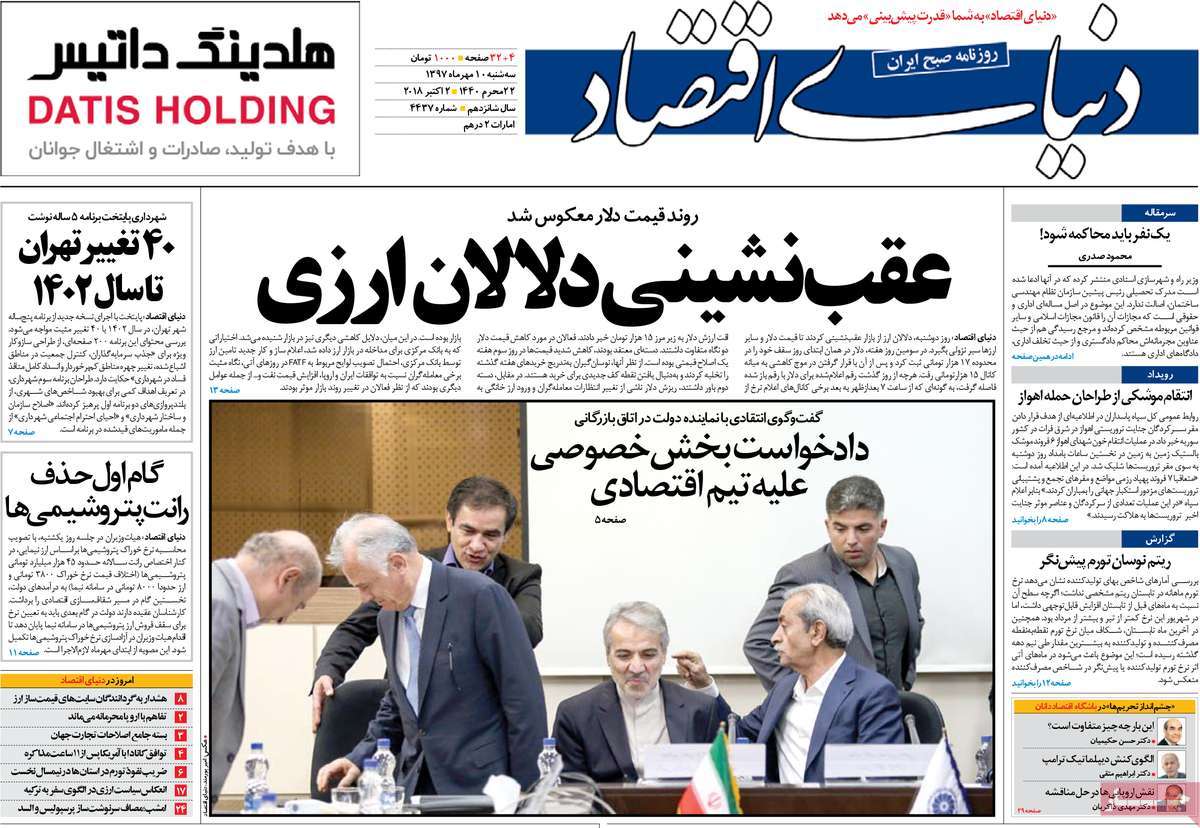 ---
Ebtekar:
1- Five Fateful Weeks in US: Will Democrats Once Again Take Helm in US Congress?
2- Dollar Rates Decrease in Tehran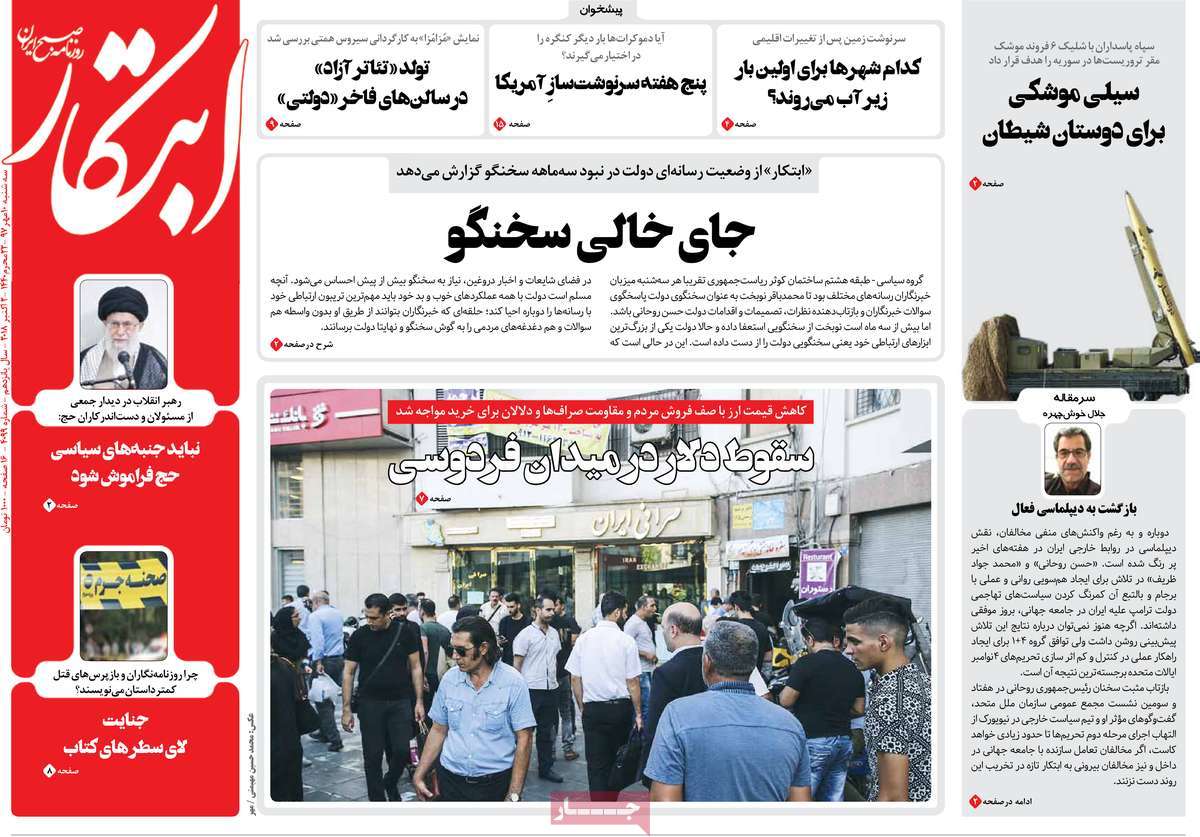 ---
Etemad:
1- 'Muharram Strike' Operation: IRGC Takes Revenge from Ahvaz Terrorists
2- When the Barefooted United: Interview with India Ambassador on Gandhi's Birthday
3- The Man Who Liberated India [Editorial]
---
Ettela'at:
1- IRGC's Decisive Response to Terrorists
2- Economists Offer 14 Proposals to Judiciary Chief, President, Speaker
3- Zarif: US Punishing Other States for Adhering to Law!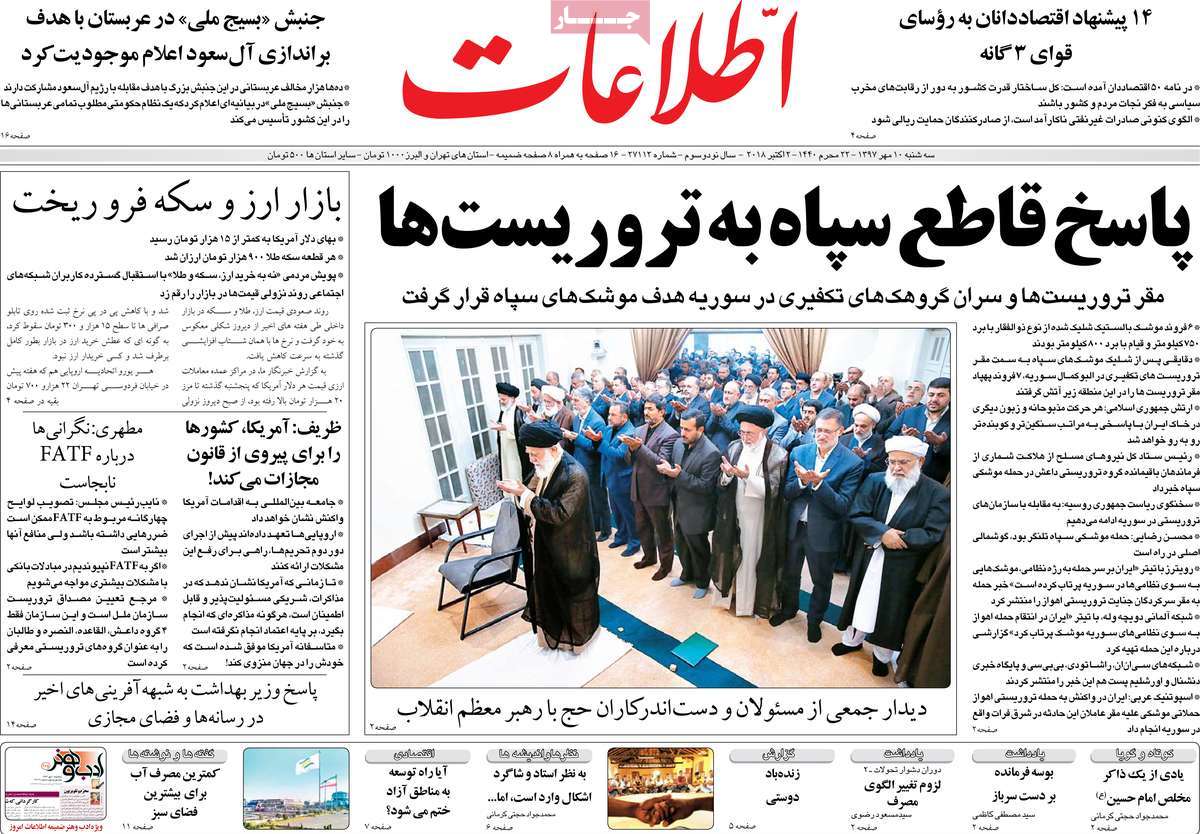 ---
Haft-e Sobh:
1- Black Monday for Forex Offices
Death Sentence

for Two Culprits behind Chaos in Gold, Forex Markets
Plunge in US Dollar Rate Forces Forex Offices to Close Their Doors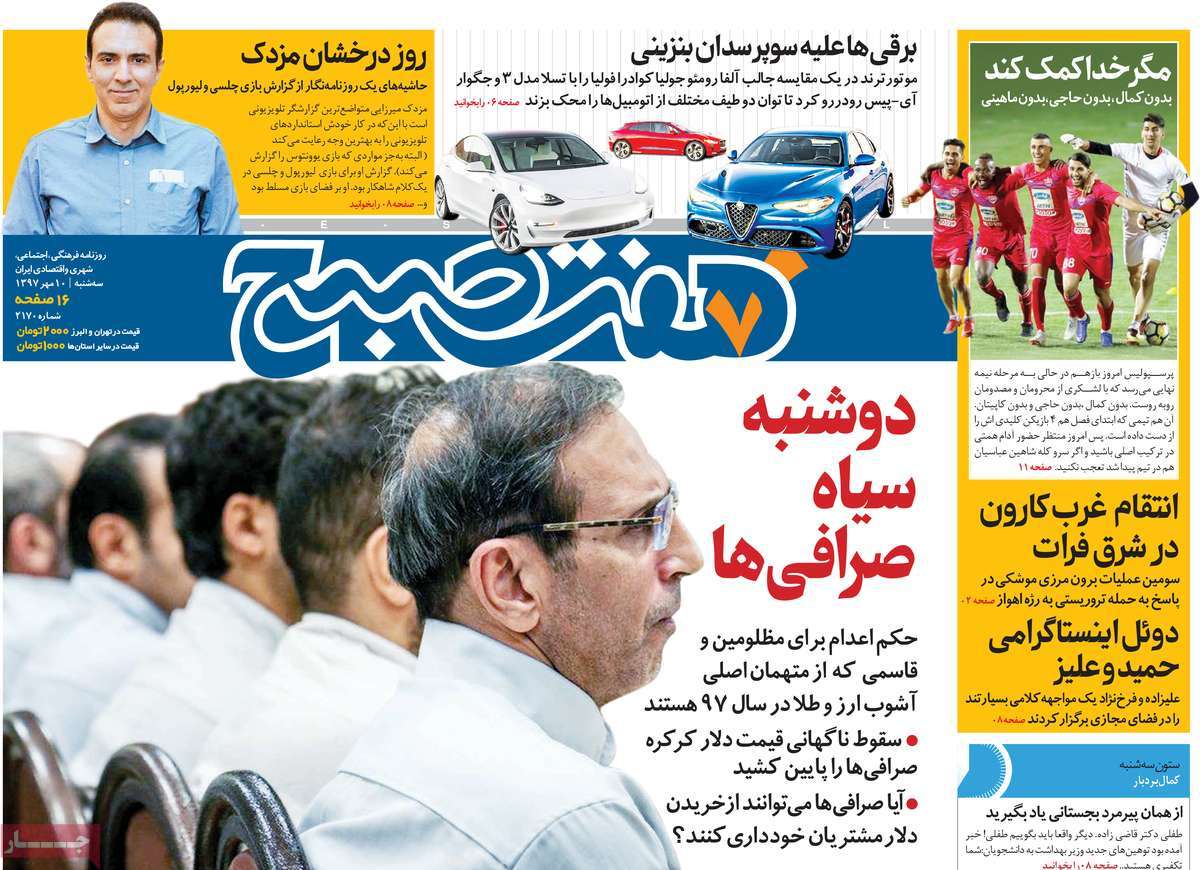 ---
Iran:
1- Iran Leader Urges Action against Destruction of Islamic Monuments in Mecca, Medina
2- IRGC's Missile Attack on ISIS in Syria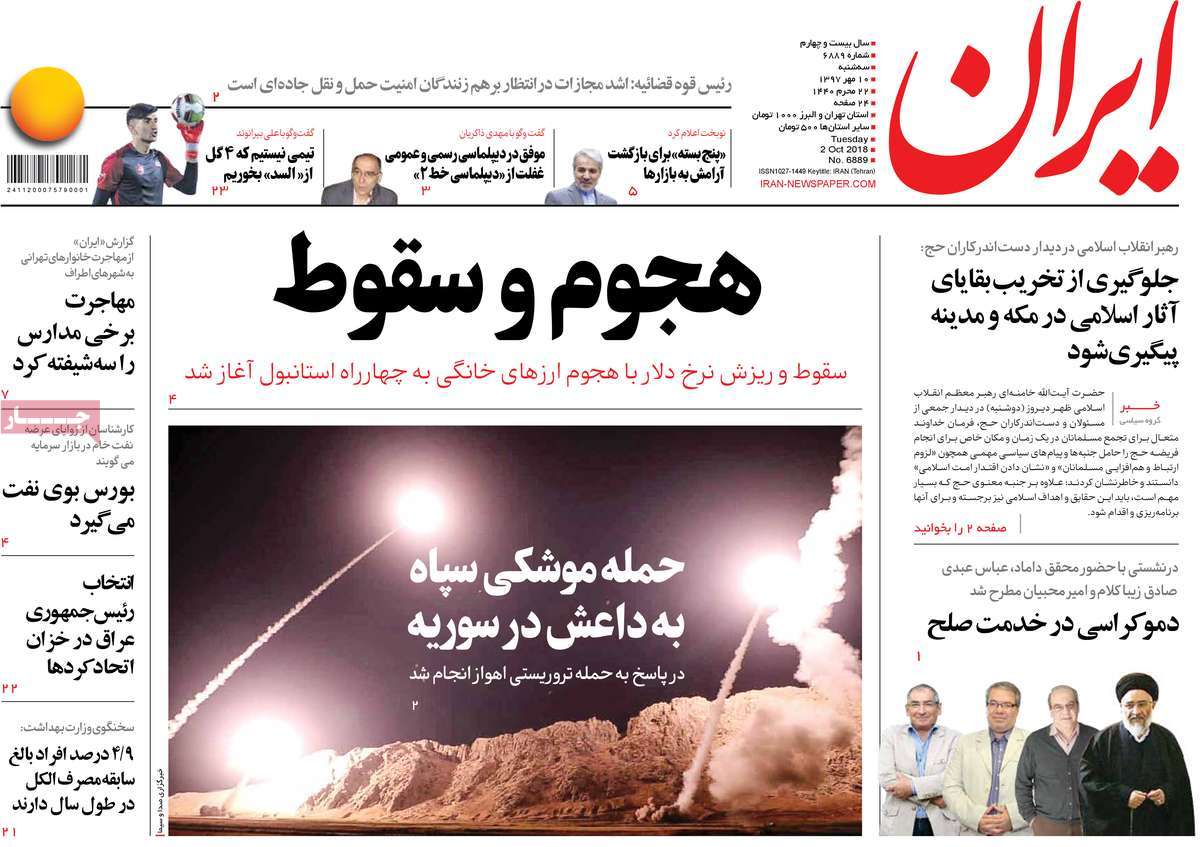 ---
Javan:
1- Clown Dollar
2- Chamber of Commerce: Mr Nobakht! How Did You Plan All This Economic Chaos?
---
Kayhan:
1- US Dollar Rate Plunges after Missile Attack, Death Sentences, Postponing FATF Ratification
2- US Shocked by Iran's Strong Response to ISIS
---
Sazandegi:
1- Dream of First AFC Champions League Final for Persepolis
2- Why Dollar Rates Went Down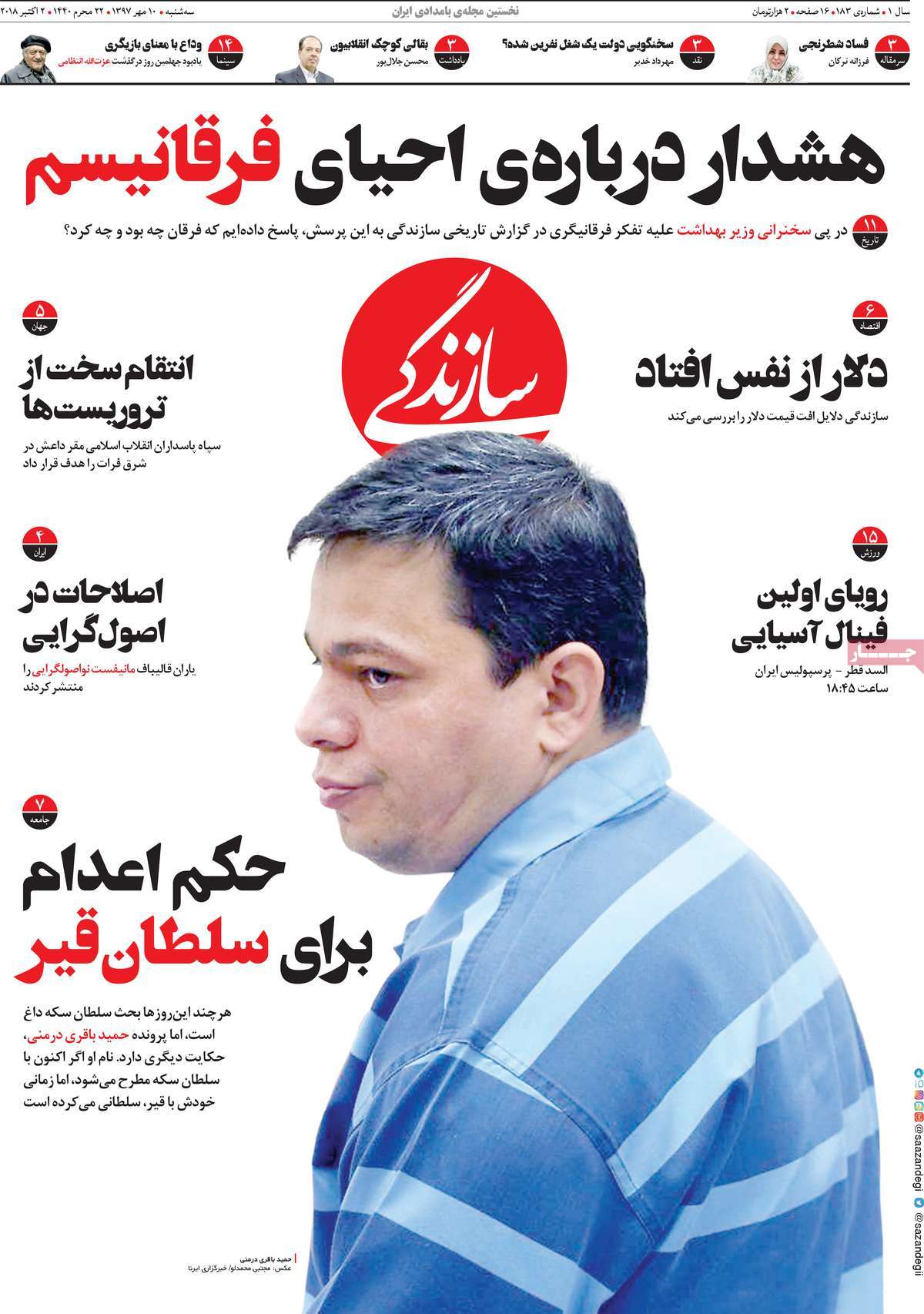 ---
Shahrvand:
1- Return of Trust to Market after IRGC, Judiciary Show Their Power
2- Iranian Footballer Has Been in Love with Monica Bellucci
Birthday Congratulations by Former Persepolis Player Sparks Controversy
---
Shargh:
1- 50 Economists in Open Letter Call for Action against Fourth Forex Shock
2- IRGC Attacks Terrorists' Base with 7 Drones, 6 Ballistic Missiles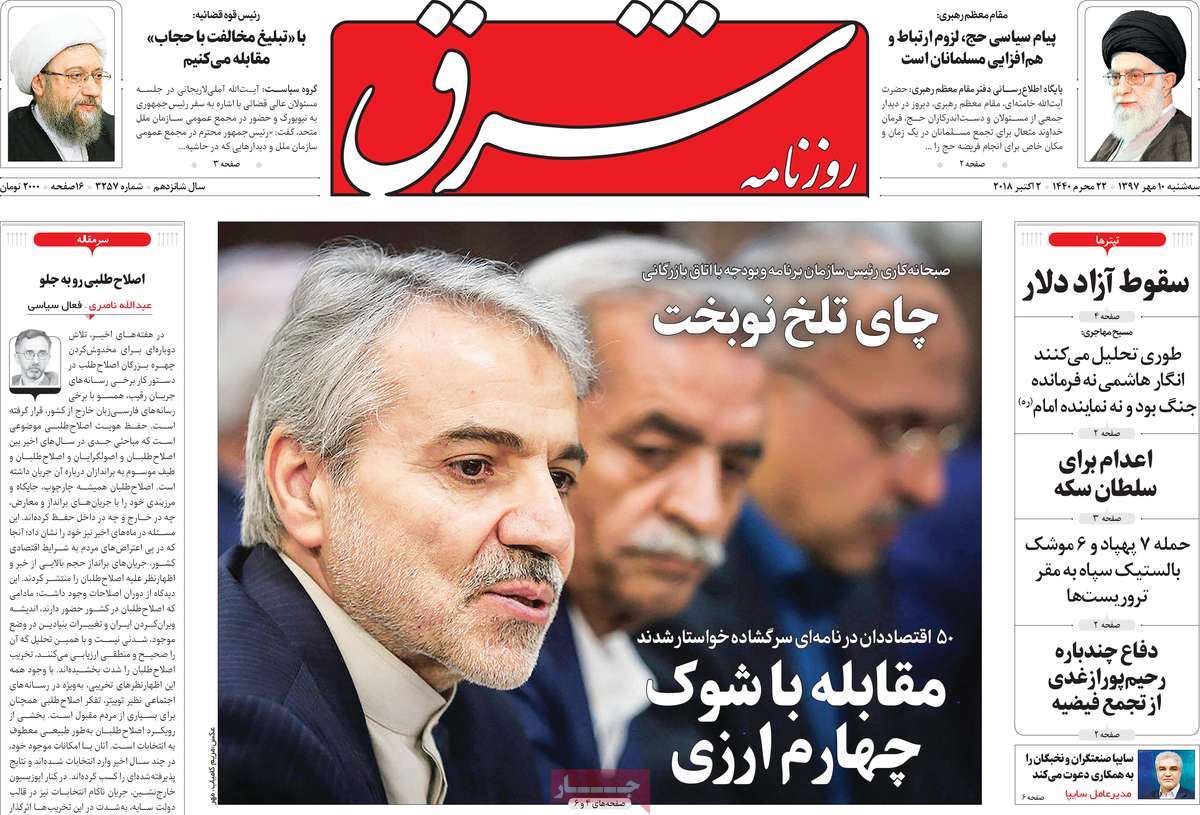 ---
Sobh-e Now:
1- Several Good Forex News in One Day
Dollar rates go down, action taken against costly policies, news of death sentences given for economic corruption