All newspapers today continued covering the reactions to US President Donald Trump's speech against the Islamic Republic.
The Iraqi army and popular forces' operation to retake Kirkuk from the Iraqi Kurds was also a top story today.
Several newspapers, particularly the conservative ones, also discussed the dangers of Iran's trust in Europe amid the US withdrawal from the nuclear deal.
The above issues, as well as many more, are highlighted in the following headlines and top stories:
19 Dey:
1- Larijani: Trump's Approach Shows US Not Responsible for Commitments
---
Abrar:
1- Former CIA Official: Trump's Decision to Tarnish US Credibility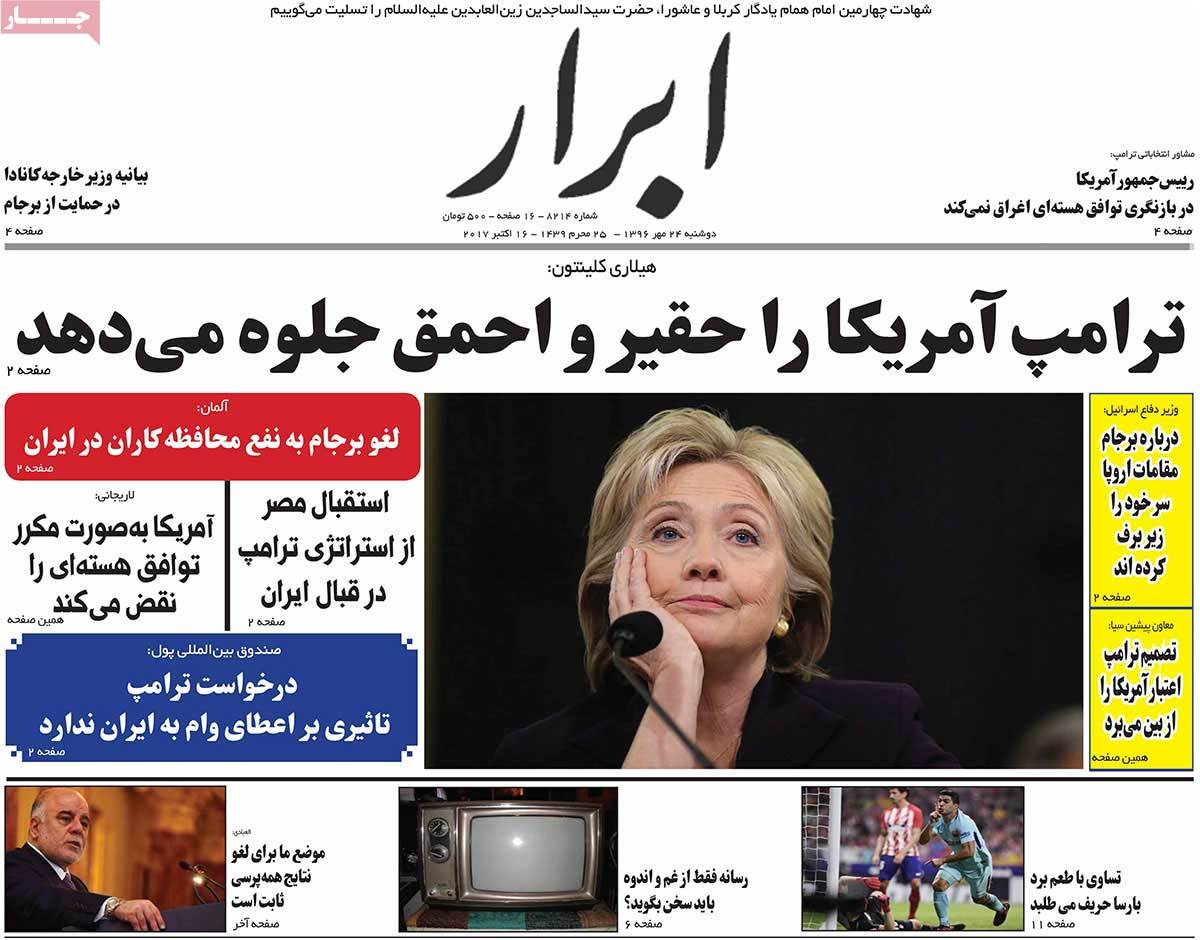 ---
Afkar:
1- Larijani: Trump Has Mistaken Politics for Real Estate
2- #Europe_Same_as_US: Iranians Protest Continued JCPOA Implementation with Europe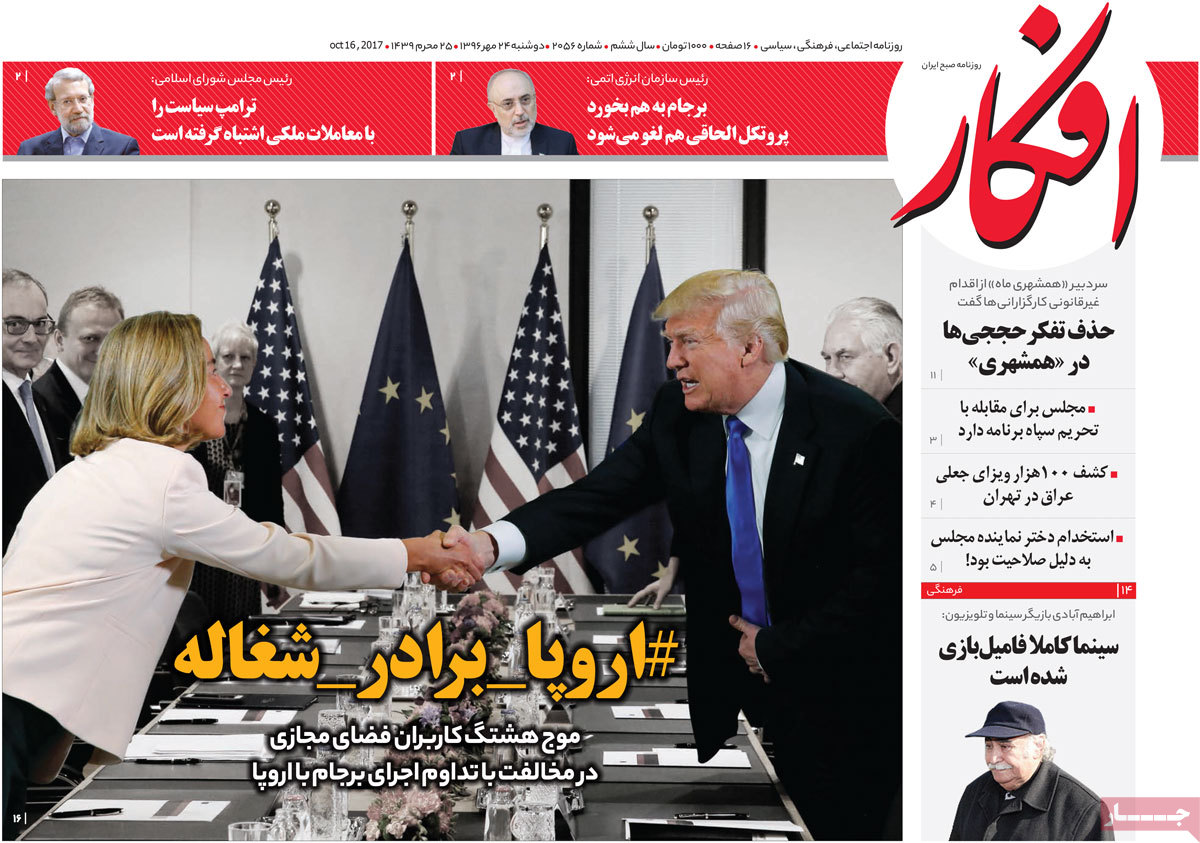 ---
Aftab-e Yazd:
1- Reformist Figure: Rouhani Keeping Reformists behind Doors of Gov't
2- US Envoy to UN: We Seek to Remain in Nuclear Deal
3- IMF Rejects Trump's Request on Iran
4- Why We Say Trump Is Crazy (Editorial)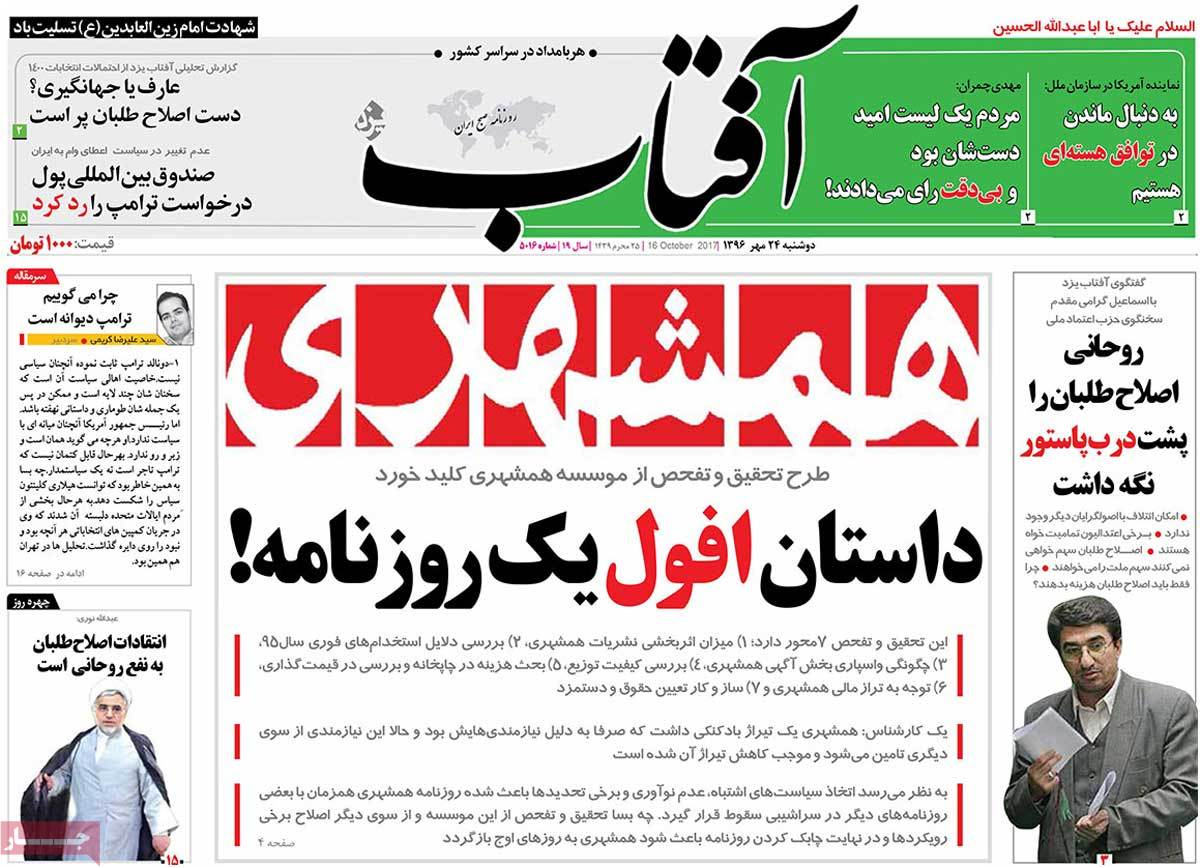 ---
Arman-e Emrooz:
1- Wise Americans Back Off: We'll Remain in Nuclear Deal
A Report on US Officials' Latest Stances on JCPOA
2- Letter for Trump: Zarif Says He'll Write Letter on Trump's Recent Remarks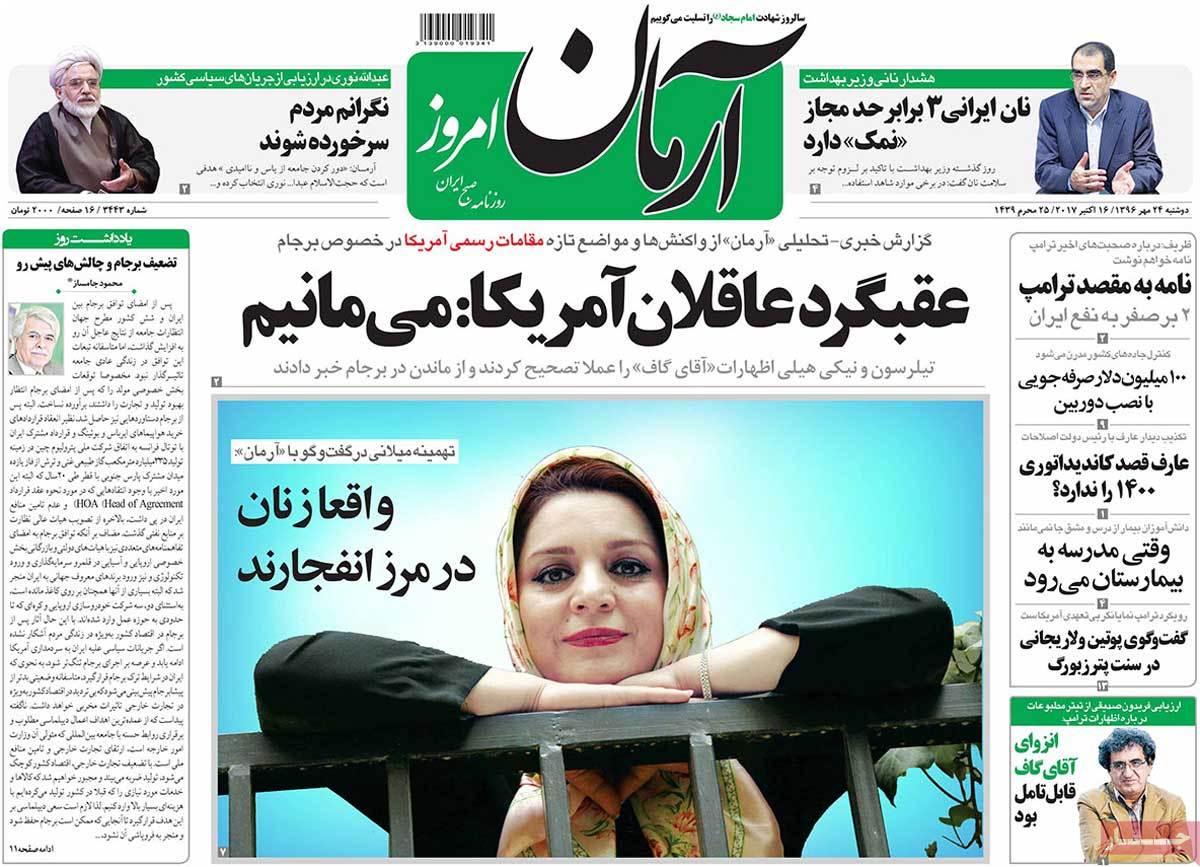 ---
Ebtekar:
1- Zarif: No One to Trust US in Long-Term Negotiations
2- Iran Nuclear Chief: We Should Be Grateful Our Enemies Are Ignorant
3- Tillerson: Remaining in JCPOA in Line with US National Interests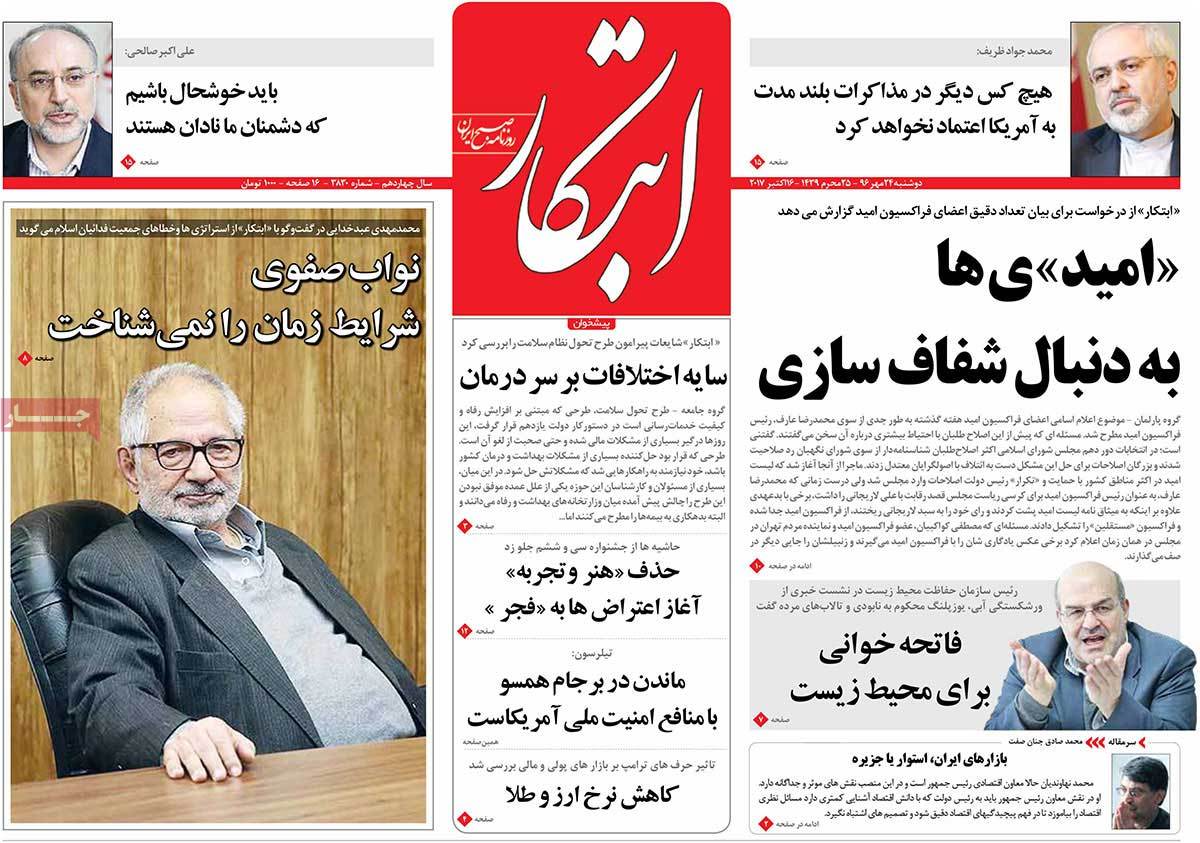 ---
Etemad:
1- Iranophobia, an Expensive Commodity from Middle East
Four Governments Support Trump's Stances
2- Kurdish Leaders Hold Meeting, Say Ready for Talks without Precondition
3- Iran, Iraq Eye $20 Billion worth of Trade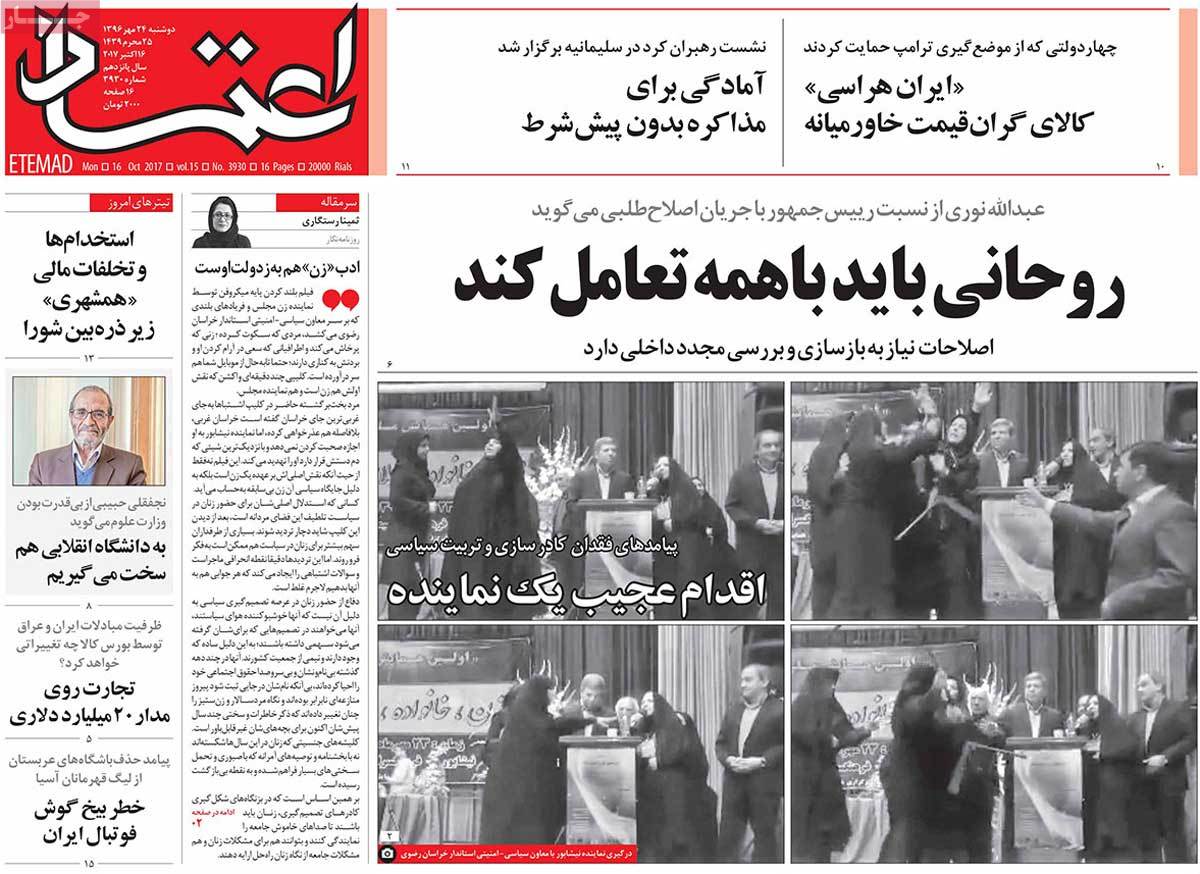 ---
Ettela'at:
1- Iran Nuclear Chief: If JCPOA Scrapped, Iran to Stop Implementing Additional Protocol
2- Larijani: Trump's Allegations against IRGC in Line with Defending ISIS
3- Three Days of National Mourning in Somalia after 240 Killed in Mogadishu Blast
4- People in Isfahan Hold Gathering to Condemn Trump's Remarks
---
Iran:
1- Details of $86 Billion worth of Deals Signed after Nuclear Deal
2- Iran Gone Bankrupt in Water Resources: Department of Environment Warns
---
Jame Jam:
1- Barbara Slavin: European Businessmen's Deeds Important, Not Politicians' Words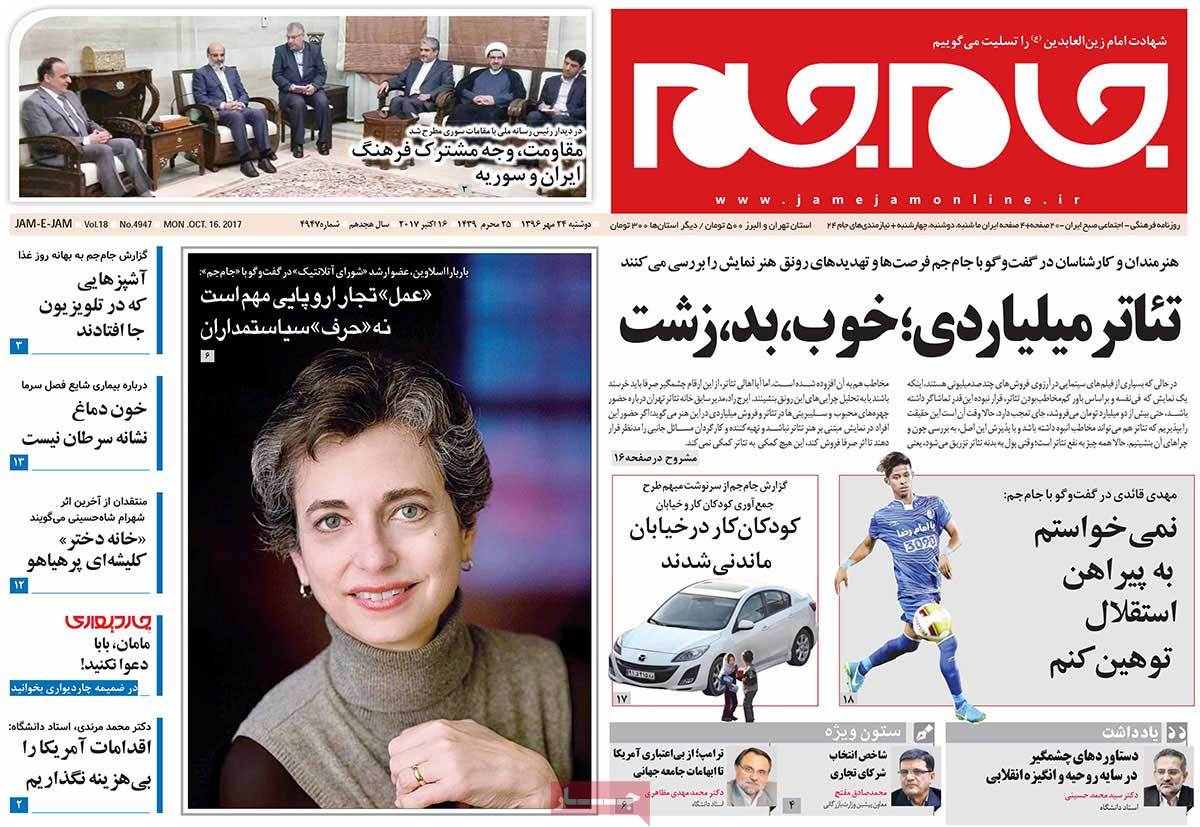 ---
Javan:
1- Call for Negotiation after Undermining Nuclear Deal
Tillerson: We Seek to Reinforce JCPOA through Secondary Agreement
2- Saudi Women from Driving to Singing! Analysis of Hasty Reforms Started from Women
3- UN to Train Iranian Ethics Teachers!
30 Iranian Elites to Be Trained to Become Heads of Int'l Zionist Networks in Iran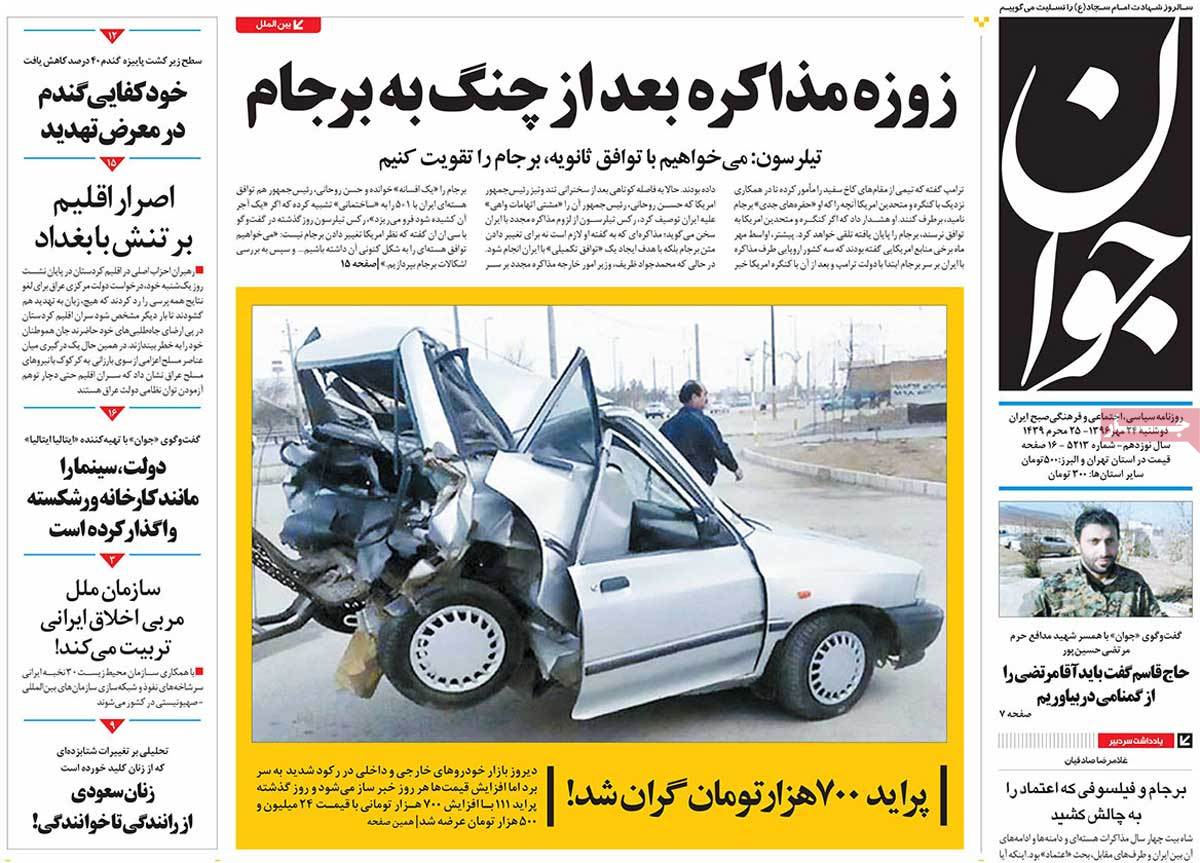 ---
Jomhouri Eslami:
1- Int'l Economic Bodies Underline Continuation of Post-JCPOA Cooperation with Iran
2- Barzani's Adventure Leading to War in Kirkuk
3- Zarif: Trump's Problem Is Lack of Strategy
4- Group of American Psychologists Call for Trump's Removal
---
Ka'enat:
1- American Withdrawal
Tillerson: Trump Not Asking Congress to Impose Sanctions Leading to JCPOA Annulment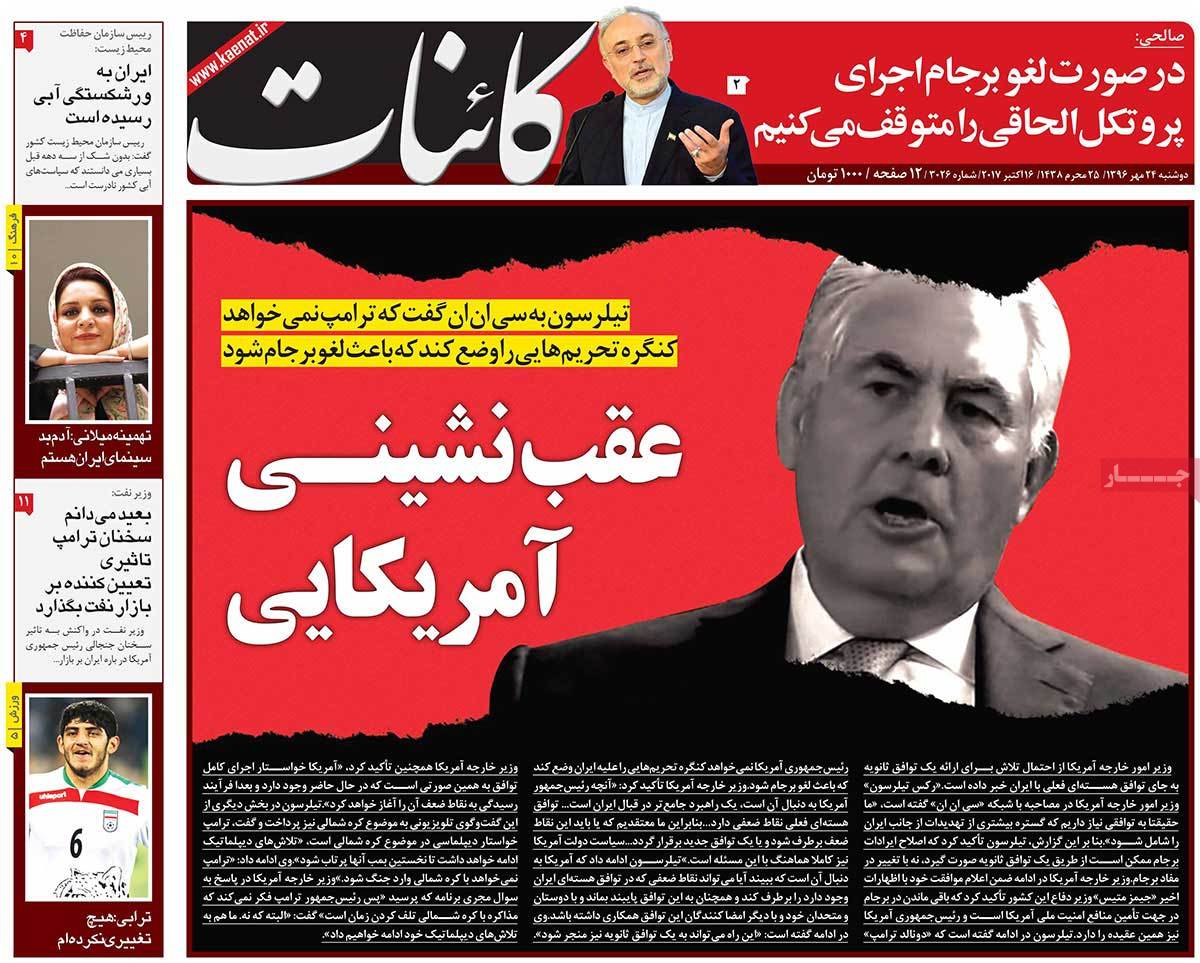 ---
Kayhan:
1- US, Europe Two Sides of Same Coin
2- US Secretary of State: Keeping Nuclear Deal Benefits US
3- European Leaders: We'll Counter Iran's Regional, Missile Program While Maintaining JCPOA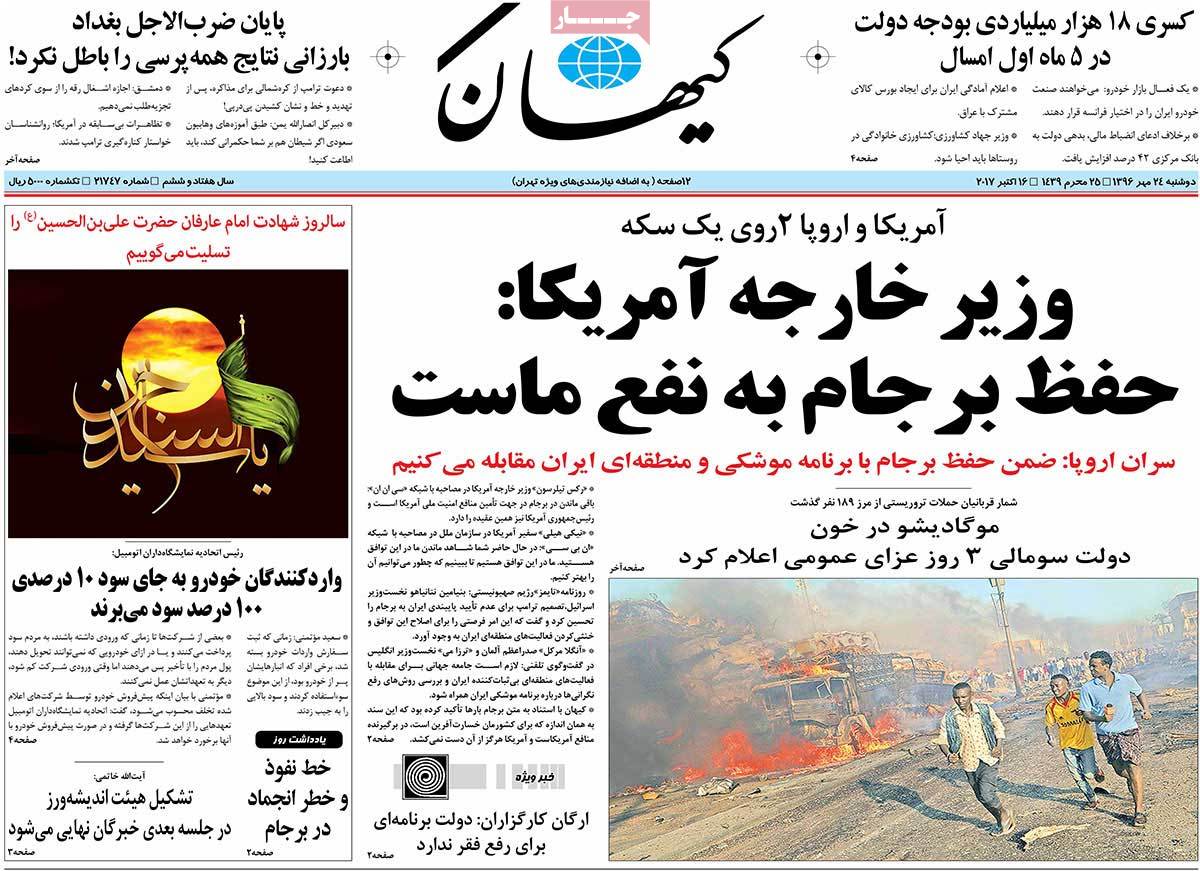 ---
Resalat:
1- IRGC General: History to Remember How We Defeat Trump
2- Sunni Cleric Urges Iran Foreign Ministry to Firmly Stand against US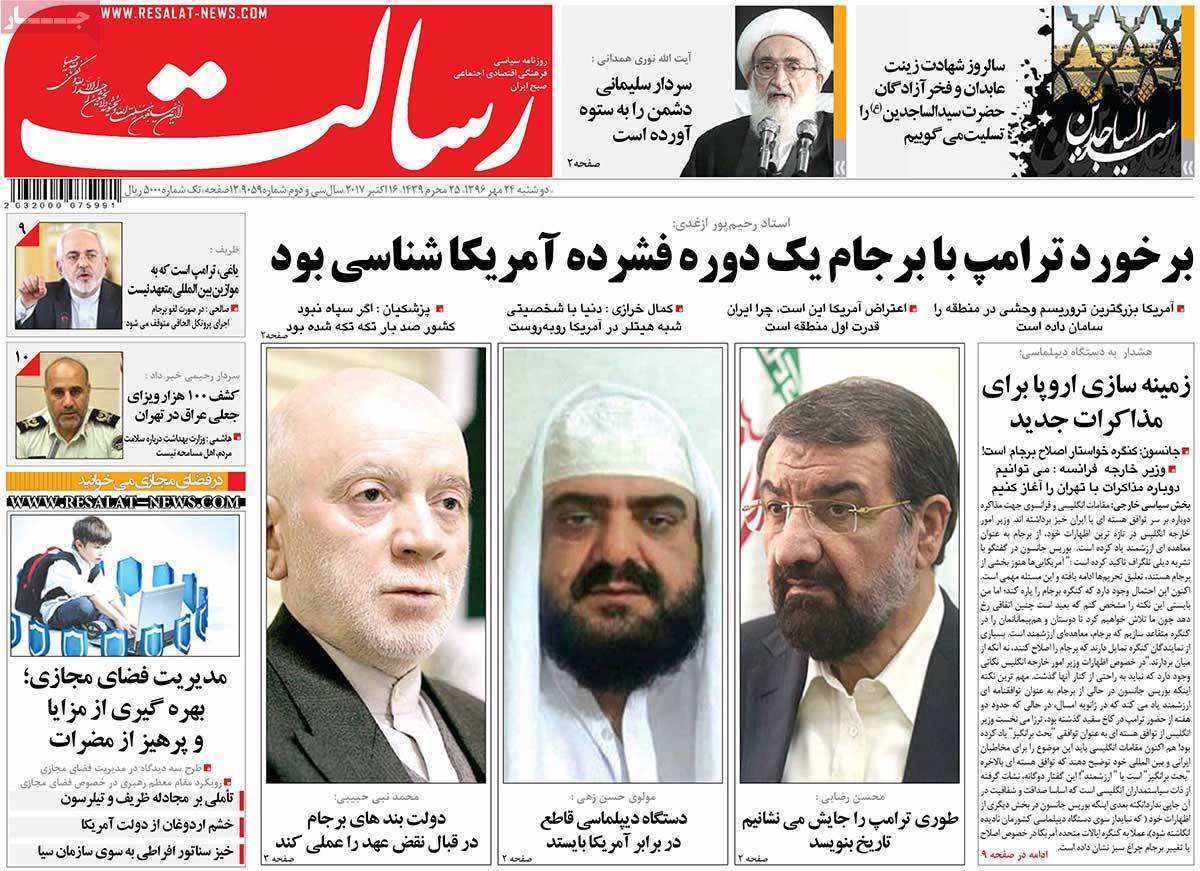 ---
Rooyesh-e Mellat:
1- Larijani: Trump Trouble-Making President for the World
2- Qassemi: No New Development in Iran-Kurdistan Borders
3- Iran's Nuclear Chief Warns US against Forcing Tehran to Show Reaction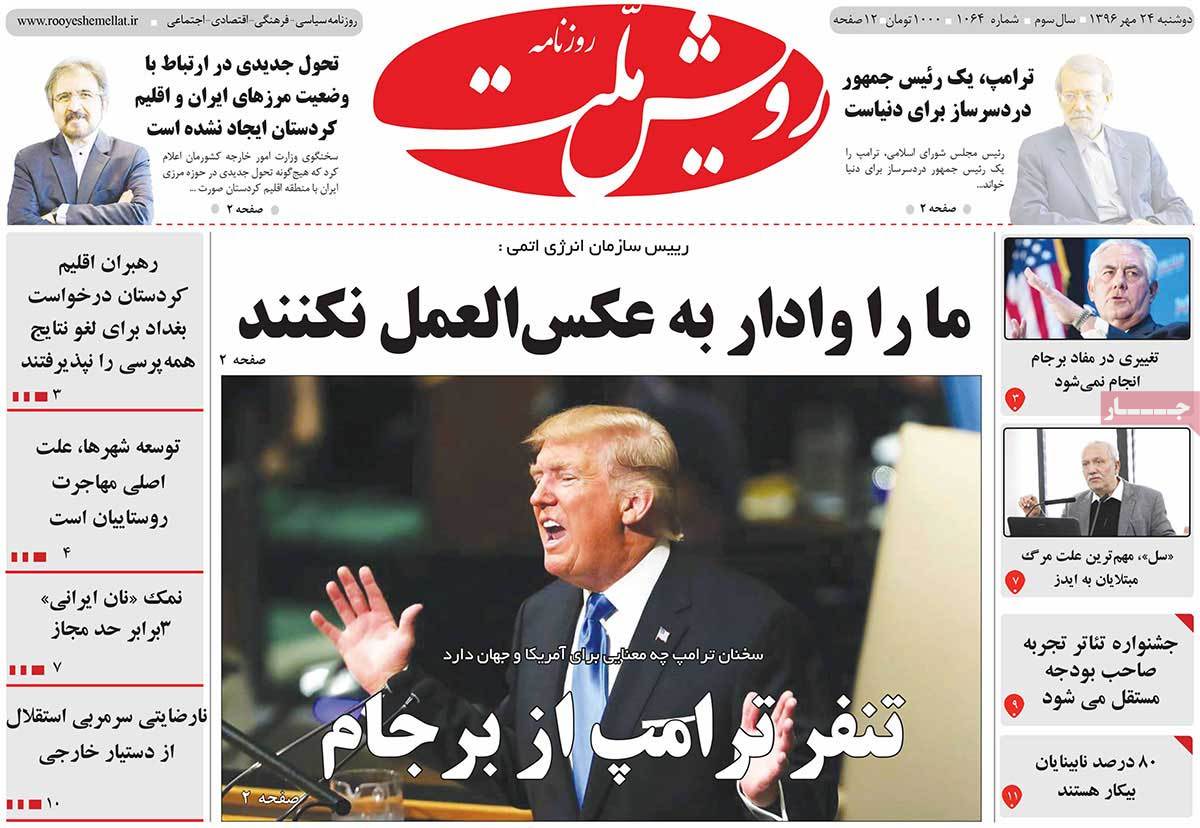 ---
Setareh Sobh:
1- Trump's Role in US Decline: A Report on Reactions to Trump's Remarks
---
Shargh:
1- General Soleimani's Mediation
IRGC Quds Force Mediate between Iraqi Kurds, Central Gov't
2- Tillerson: We Want Secondary Agreement
3- Trump's Bomb Defused [Editorial]