Several newspapers today covered the comments made by the Leader of Iran's Islamic Revolution Ayatollah Seyyed Ali Khamenei on the need to quickly resolve the country's economic woes in a meeting with President Hassan Rouhani, Judiciary Chief Ayatollah Sadeq Amoli Larijani, and Parliament Speaker Ali Larijani.
The top story in all papers today was the alleged murder of Saudi journalist Jamal Khashoggi in the Saudi Arabian consulate in Istanbul, Turkey.
Headlines today particularly covered US President Donald Trump's reaction to the alleged murder which is blamed on the Saudi government, and his remarks that US cannot jeopardize its arms deal with Riyadh over the assassination.
The above issues, as well as many more, are highlighted in the following headlines and top stories:
Aftab-e Yazd:
1- Mystery of Iran's Oil ahead of November Sanctions
2- Milking Saudis More than Ever: How Would US React to Possible Murder of Khashoggi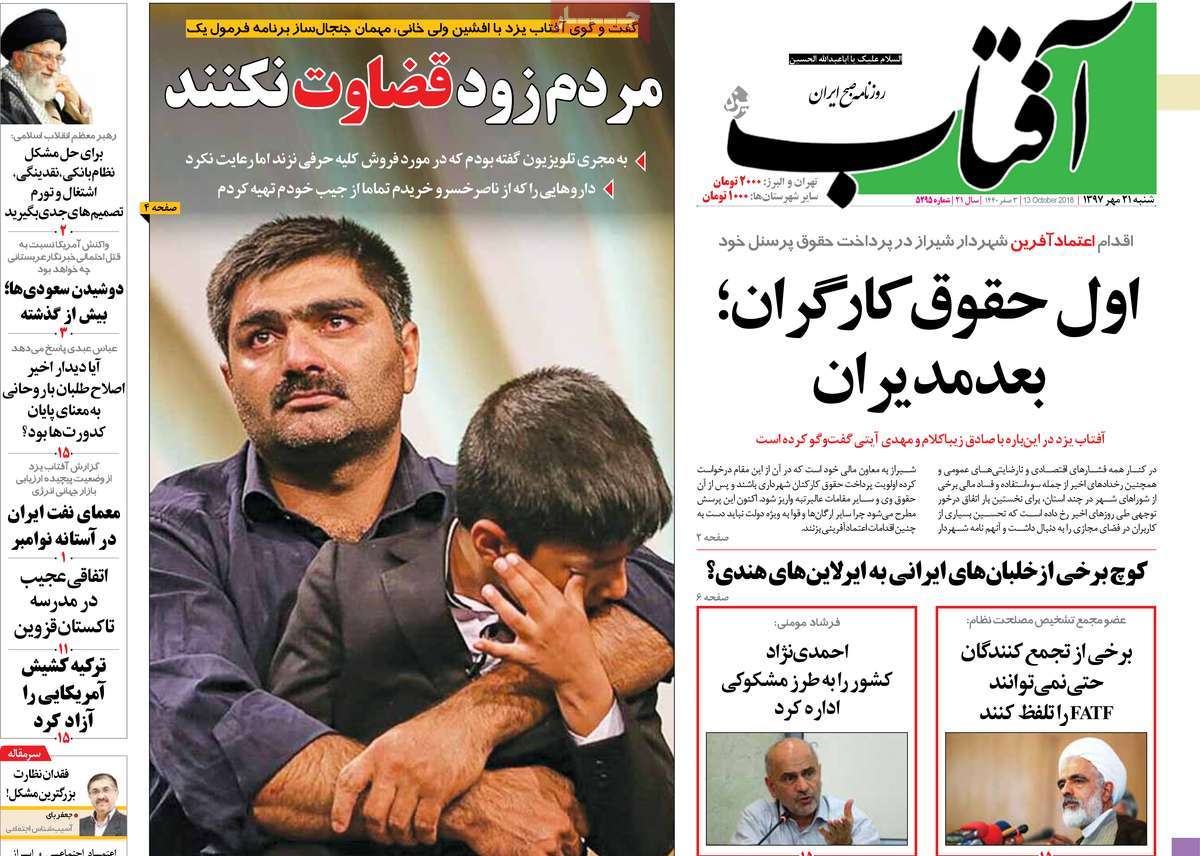 ---
Arman-e Emrooz:
1- US Making New Attempt to Attract Europe in Reaction to SPV Initiative
---
Ebtekar:
1- Police Says Those Playing Music in Streets Must Obtain Licence
2- Countdown for Second Diplomatic Victory at The Hague
3- US' Paradoxes in Iran Sanctions
US Treasury Threatens All Countries to Avoid Doing Business with Iran
---
Etemad:
1- FATF Can Be Used against US: Analyst
2- Iran Leader: Make Decisive Decisions to Resolve Banking, Unemployment Problems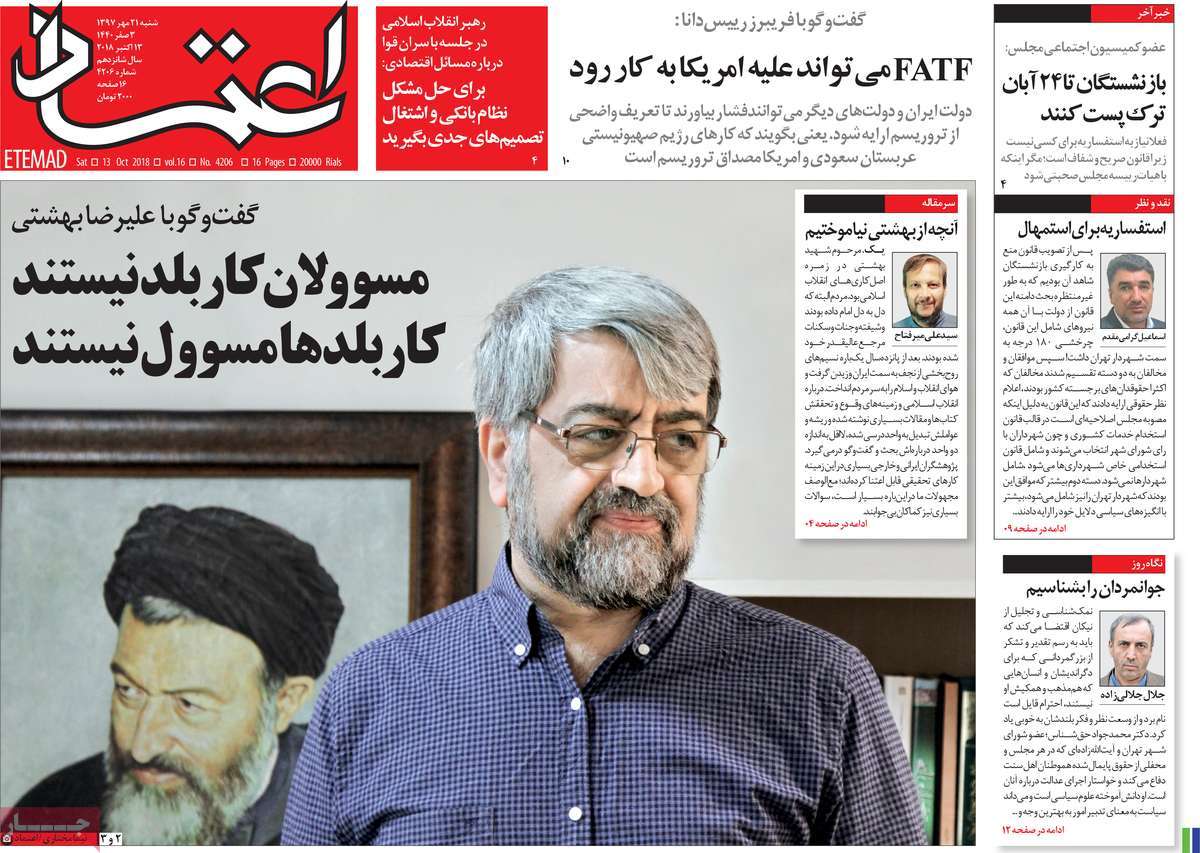 ---
Ettela'at:
1- Iran Leader: Extraordinary Effort Needed to Resolve Economic Woes
2- Purchasers of Iran's Oil Showing Resistance against US Sanctions
3- Special Plan Implemented in Tehran to Control Air Pollution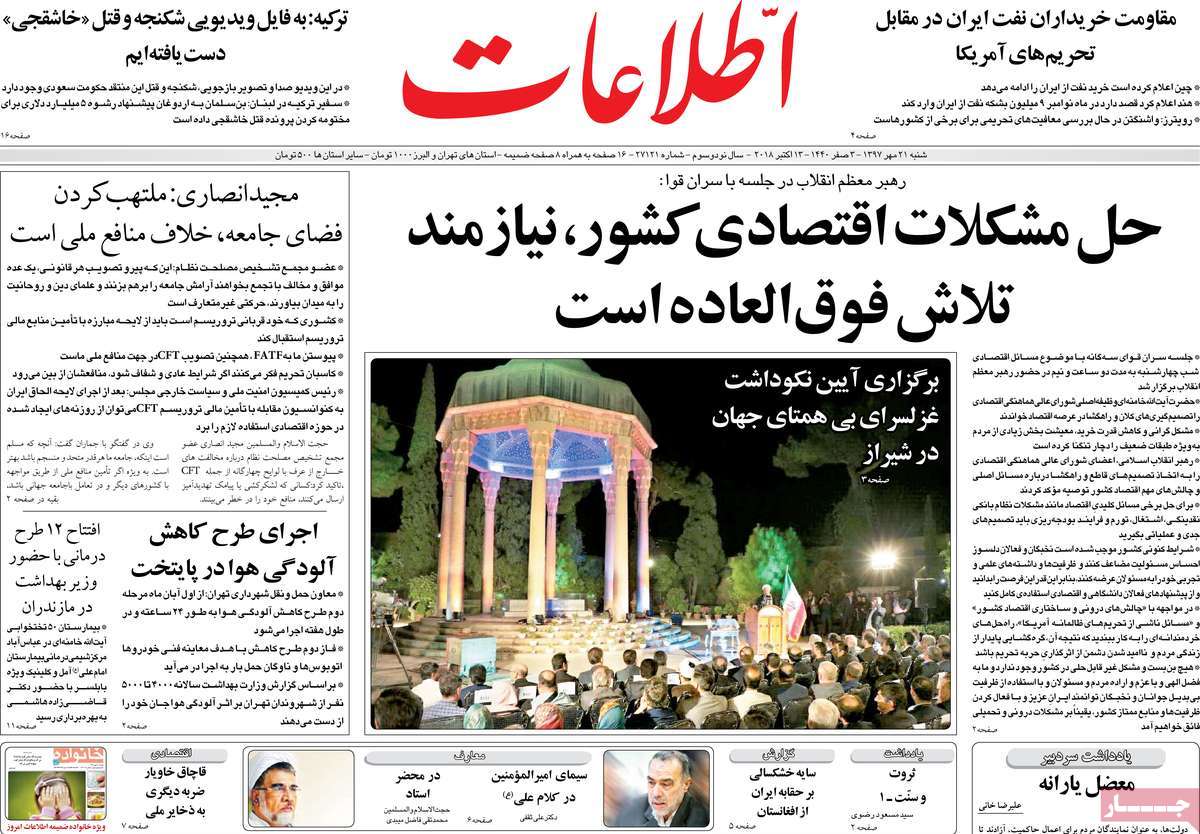 ---
Iran:
1- Boycotting Bin Salman: World Media, Corporations Start Boycotting Saudi Crown Prince
2- Heavy Storms Start in North of Sistan and Baluchestan Province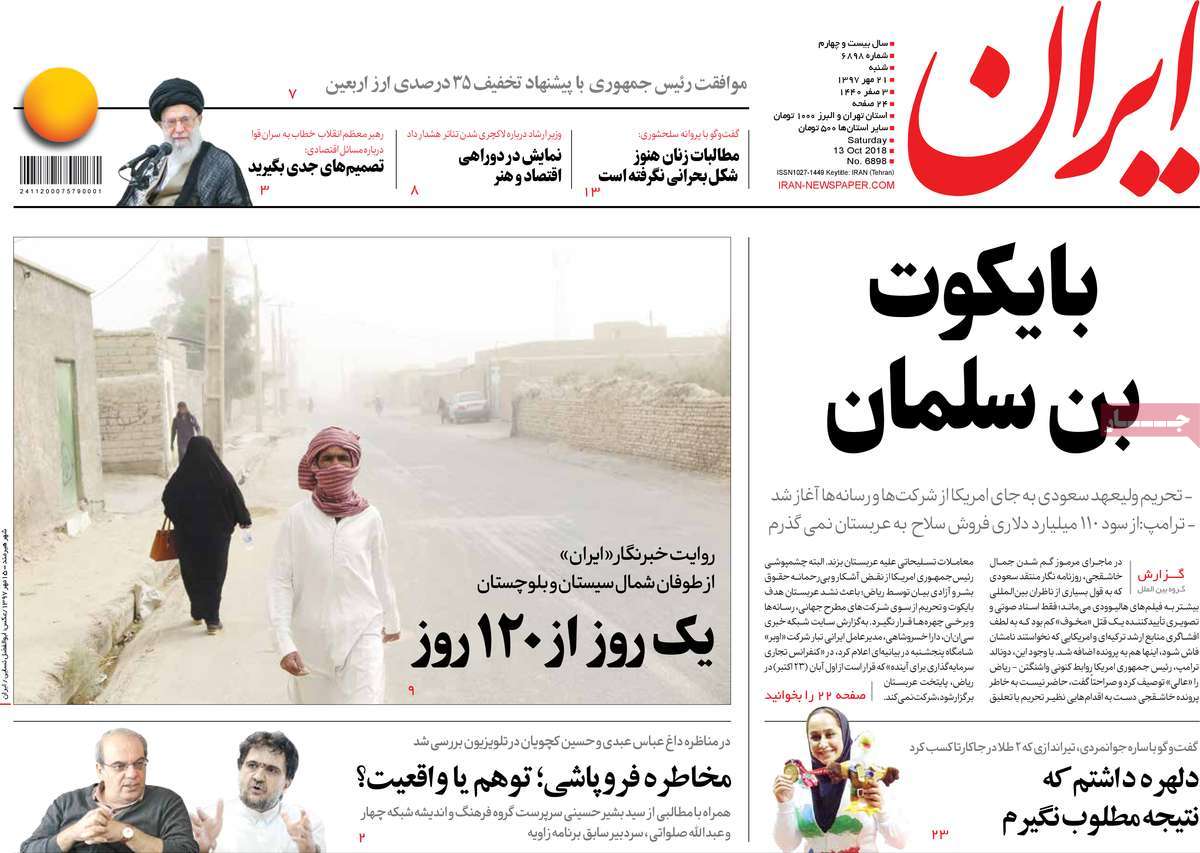 ---
Jame Jam:
1- Confidential Meeting with Durov in Tehran
ICT Minister Reveals Details of Negotiations with Telegram
---
Javan:
1- Nasrallah: Trump Humiliates Arabs, Confesses to Iran's Power
2- Turkey: We Have Audio, Video of Khashoggi's Murder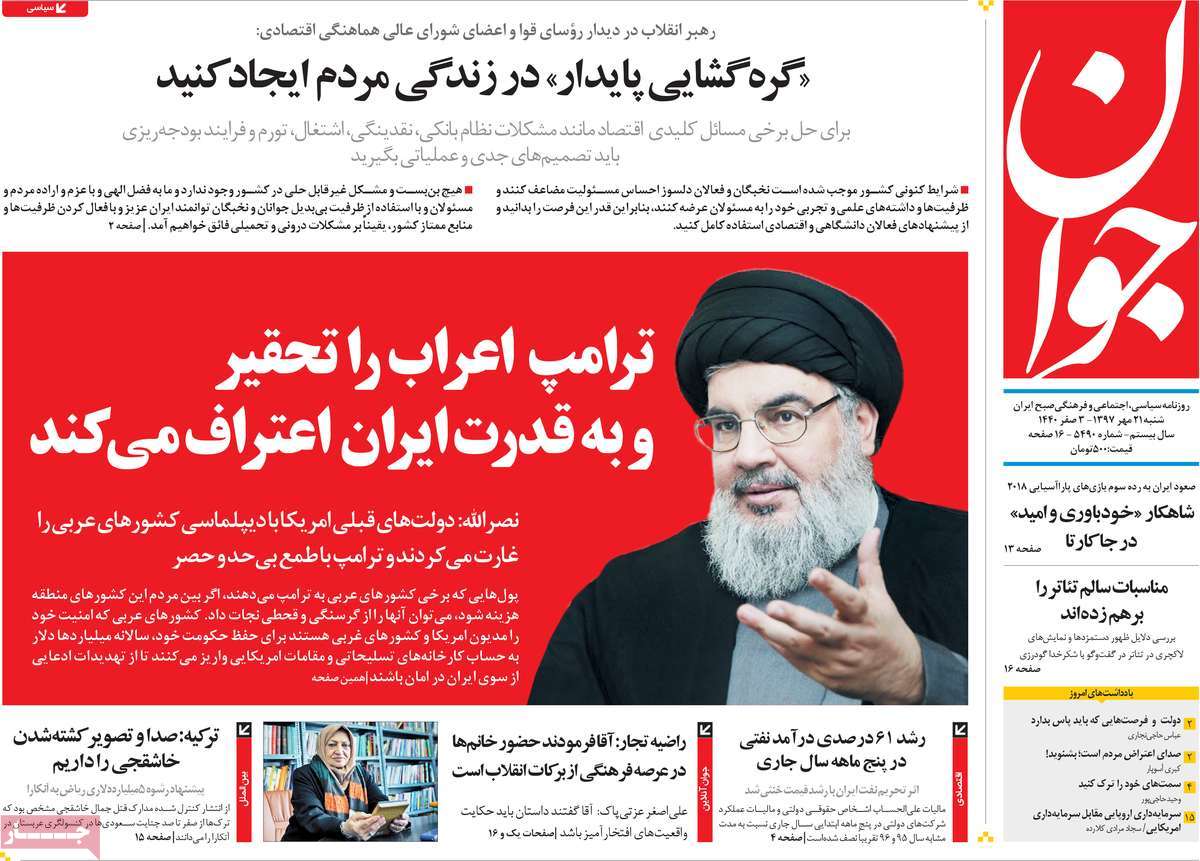 ---
Jomhouri Eslami:
1- Bin Salman Offers $5 Billion Bribe to Erdogan to Close Khashoggi's Case
2- UN: Saudi Arabia Slaughtering Yemeni Children
---
Kayhan:
1- Mr Zarif! FATF Didn't Stop US from Accusing Iran
US Treasury Accuses Iran of Money Laundering, Financing of Terror
2- US Must Be Prosecuted for Crime against Humanity in Raqqa
3- Trump: I Won't Break Up $110 Billion Arms Deal with Saudis for Khashoggi's Case
---
Khorasan:
1- Iran Leader Holds 2.5-Hour Meeting with Rouhani, Larijani, Amoli Larijani
Ayatollah Khamenei Once Again Calls for Decisive Economic Decisions
2- Iran's Exports Rising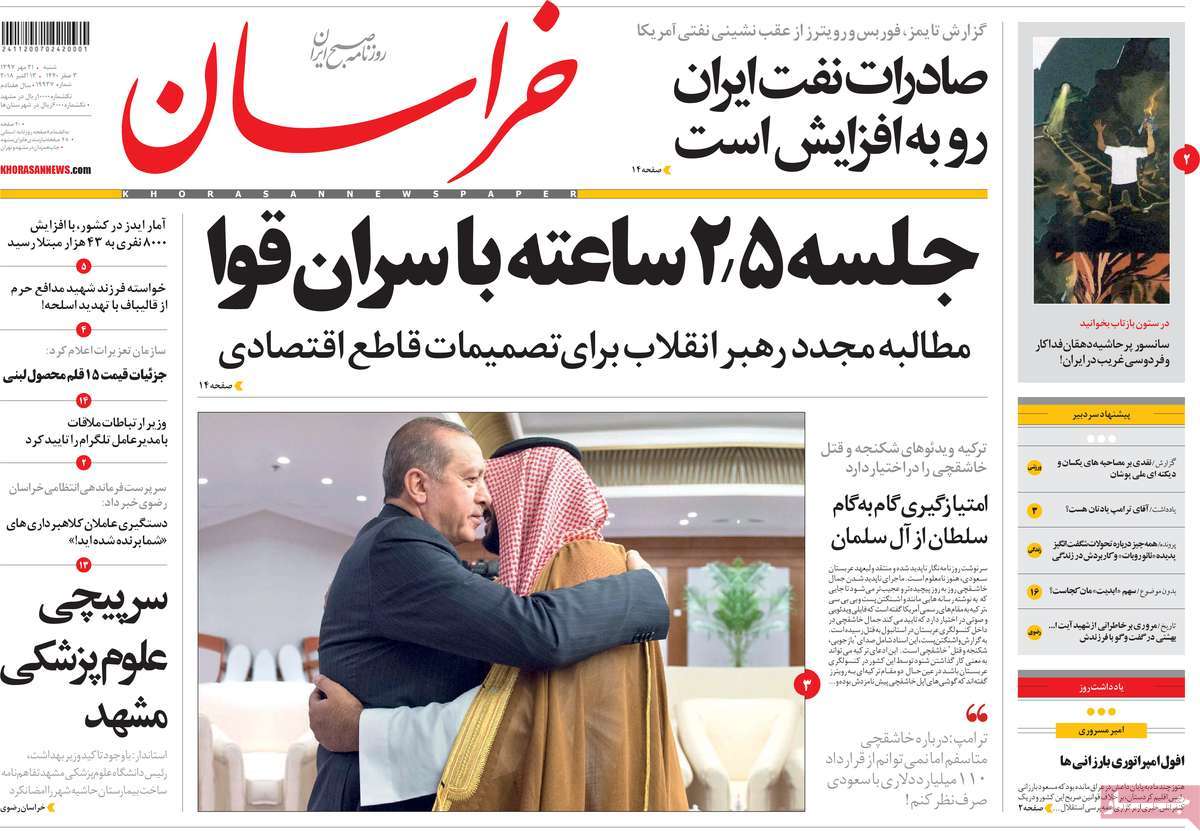 ---
Sazandegi:
1- War of Caliph [Erdogan] and Sultan [King Salman]
2- Fraud of World Bank: A Review of World Bank's Report on Iranian Economy
---
Shahrvand:
1- Iran Leader: No Deadlock in Iran
2- Secrets behind a Blood Sugar Test of Schoolgirls
Young man, wearing Red Crescent uniform, uses one syringe to take blood sugar test from numerous schoolgirls in Iran's Takestan
School Dean, Master, Young Man Arrested
Health Ministry Says Schoolgirls Safe
3- I Never Understood Why People Kill Each Other: Former Interrogator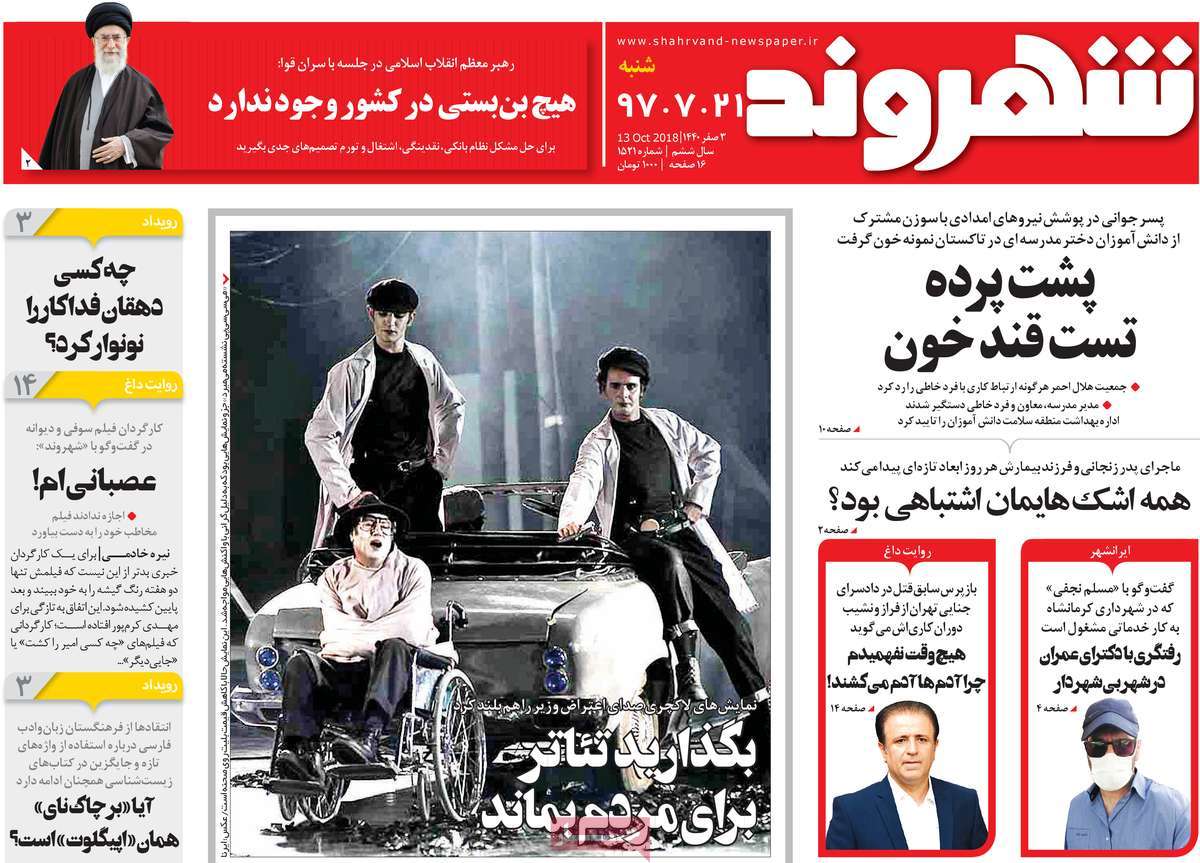 ---
Shargh:
1- US, India Divided over Iran's Oil
2- Iranian Parliament's Foreign Policy Commission Pursuing Opening of EU Office in Tehran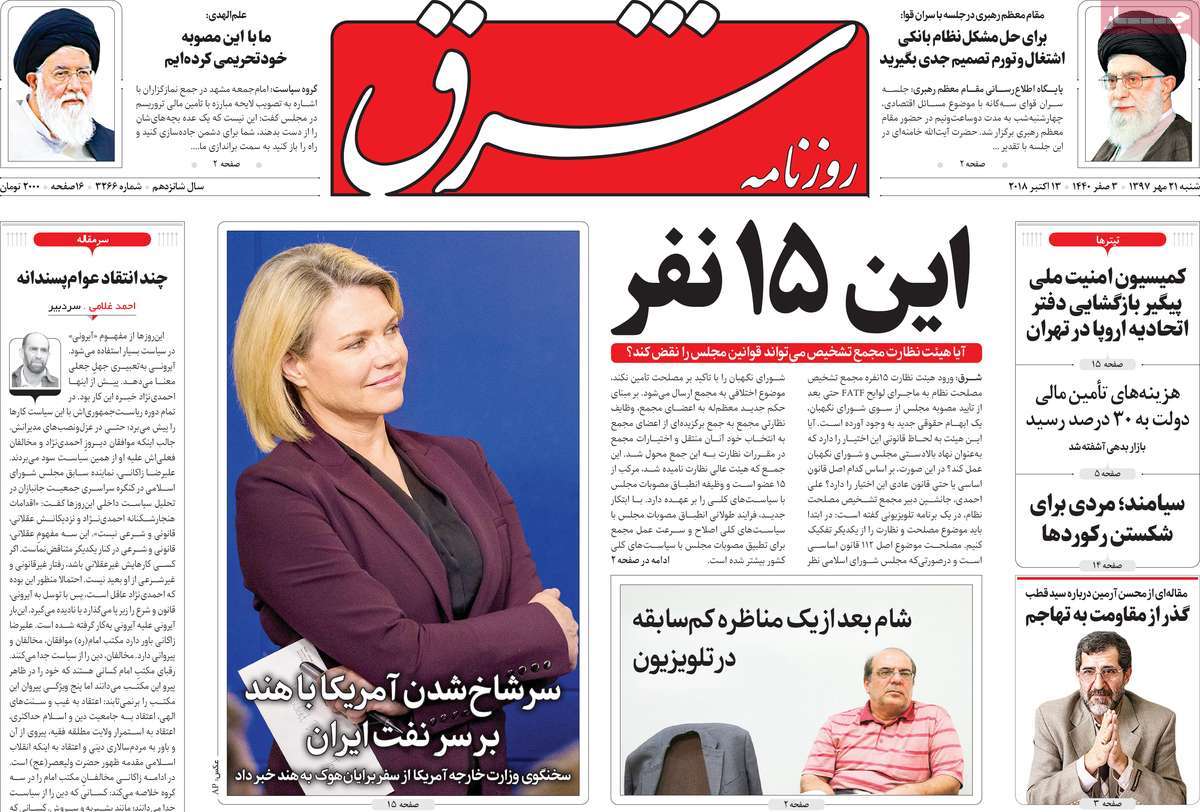 ---
Sobh-e Now:
1- IRGC Chief-Commander: We'll Kick US Out of Region in Less than 12 Minutes