IFP has taken a look at the front pages of newspapers on Sunday and picked headlines from 20 of them. IFP has simply translated the headlines and does not vouch for their accuracy.
A message of condolence by the Supreme Leader on the martyrdom of IRGC's General Hossein Hamedani and remarks by President Rouhani in an international industry conference dominated the front pages of Iranian newspapers on Sunday.
Ettela'at: "Production has the full support of the government," said President Rouhani at an international gathering on industrial and trade policies to promote exports and employment.
He further said his government has crafted a comprehensive plan to prop up the economy and promote employment as well as non-oil exports.   
---
Abrar: "We have never prevented American investors from finding their way into Iran," said President Rouhani.
---
Afkar: "Assad", "the current government in Damascus" and "resistance" are the red lines of the Iranian plan to end the crisis in Syria.
---
Aftab-e Yazd: Reformists have stepped up contacts with members of the Guardian Council.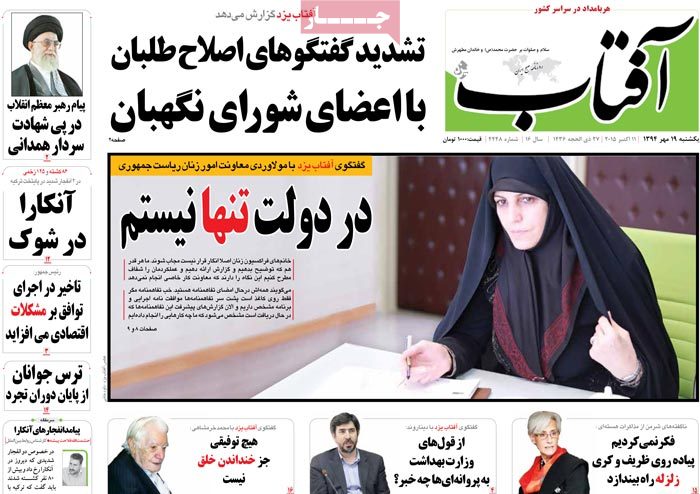 ---
Arman-e Emrooz: Indictments have been issued against eight previous managers of Qeshm Free Zone, said the head of Hormozgan provincial justice department.
Arman-e Emrooz: President Rouhani has said that holding up the implementation of the nuclear deal will exacerbate the economic problems.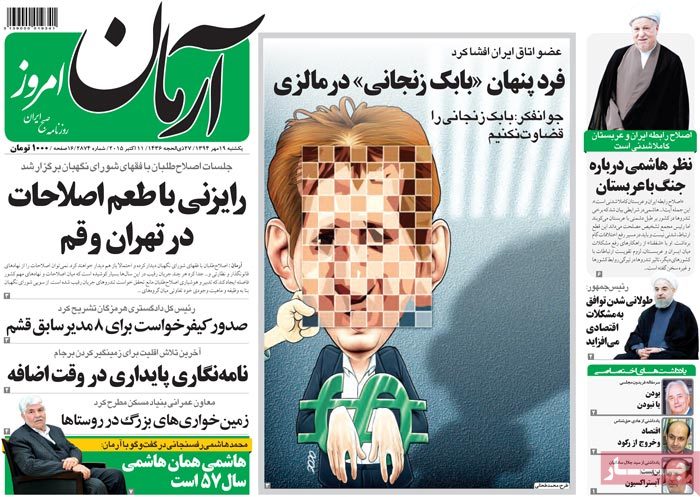 ---
Asrar: "Everyone should have freedom of speech," said the grandson of the late Imam Khomeini.
Asrar: "Next year will usher in major transformation in Iran's economy," said the minister of trade.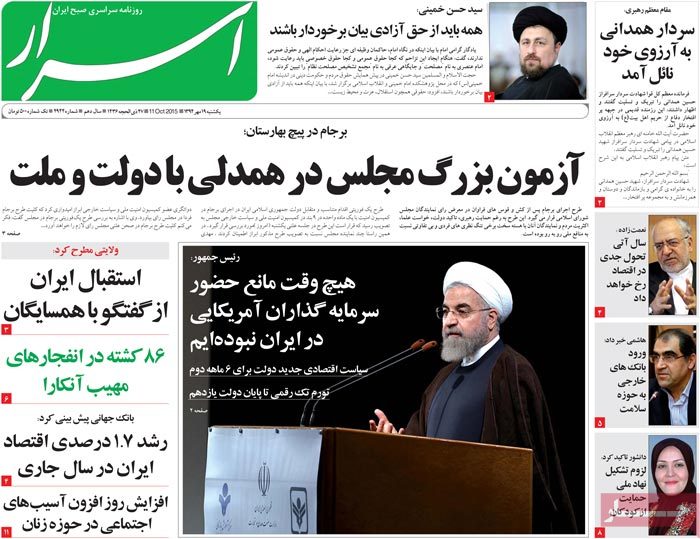 ---
Etemad: The personal bank account of Ahmadinejad has been frozen as new details leak about pervasive violations in the case involving the Iranian University [a higher education institute the former president vowed to launch, but Science Ministry officials have declared illegal].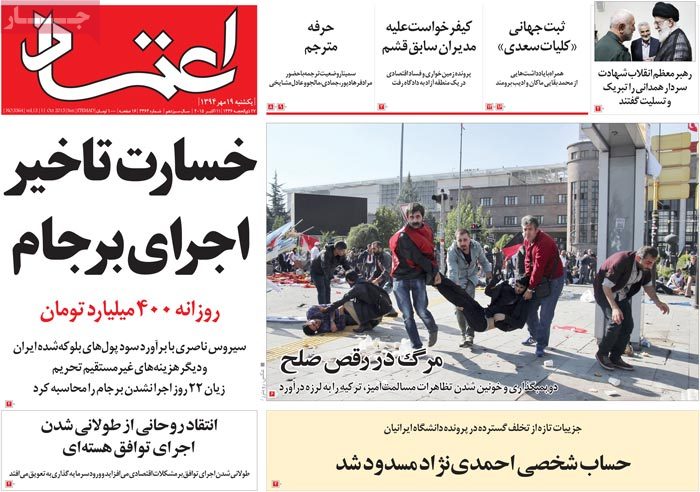 ---
Hambastegi: President Rouhani has said that extremist groups make a career out of arguments.
Hambastegi: "No one is seeking to disapprove the Joint Comprehensive Plan of Action," said Chairman of the JCPOA Review Committee Alireza Zakani.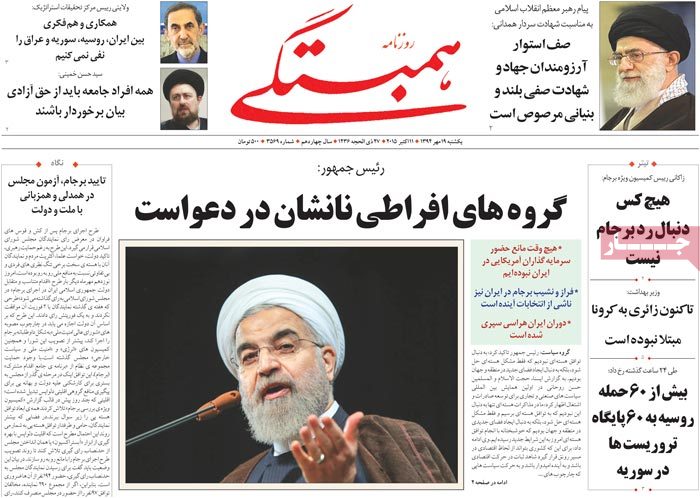 ---
Iran: The document giving Babak Zanjani authorization to operate bore the signature of four officials of the previous government.
---
Javan: The US to its allies: Sanctions have not cracked.
Javan: Overexcitement over the nuclear deal has deepened the recession.
"We have lifted ourselves out of recession but may slip back into it," said President Rouhani.
---
Jomhouri Islami: Iran and Japan on course to inking a bilateral investment treaty
Jomhouri Islami: Delaying the implementation of the Joint Comprehensive Plan of Action will earn others billions of dollars in profits, said a former nuclear negotiator.
---
Kaenat: In a gathering on exports and employment, President Rouhani announced his government's new policies on boosting the economy.
---
Kayhan: For the attention of MPs: a danger is waiting in ambush beyond the red lines.
Kayhan: A bill which approves the Joint Comprehensive Plan of Action breaches the Constitution, said 17 MPs in a letter to the parliament speaker.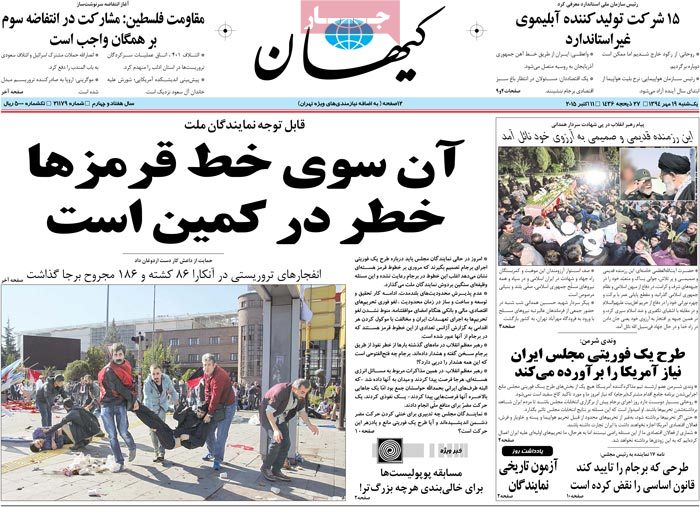 ---
Mardomsalari: Ayatollah Hashemi Rafsanjani has said that the policy the new Saudi rulers are pursuing defies wisdom.
---
Rah-e Mardom: Bewilderment of thousands of rough sleepers in the buildup to the cold season
The daily features an analytical report on those who sleep rough.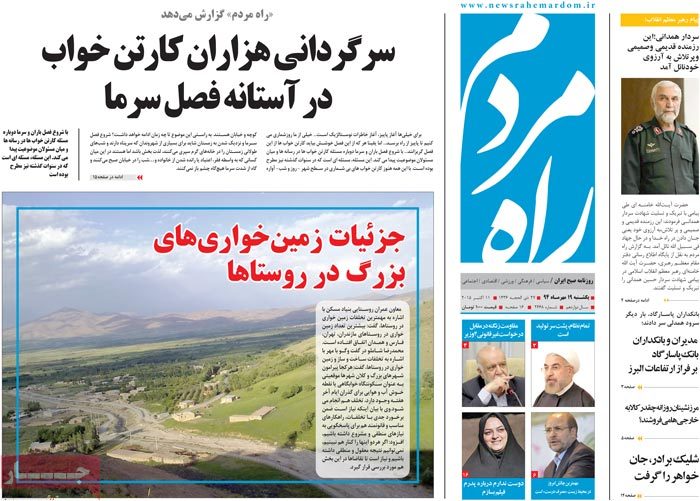 ---
Resalat: "We are likely to slip back into recession," said President Rouhani.
Resalat: Europe has turned into an exporter of terrorism, said Federica Mogherini, the EU foreign policy chief.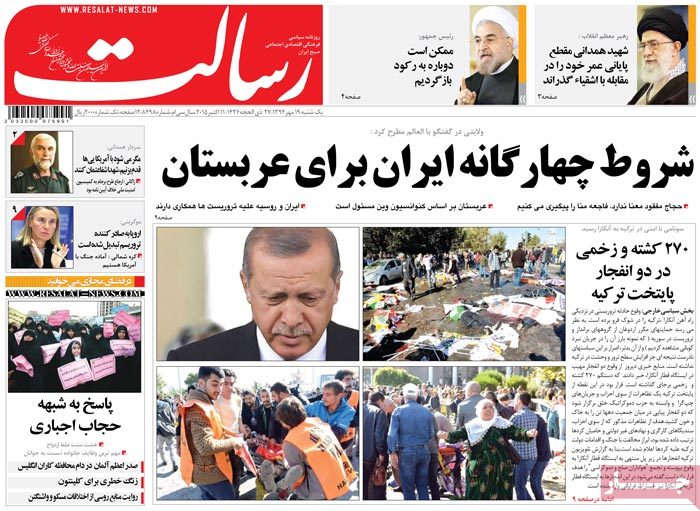 ---
Roozan: An obstruction threat [by some deputies] is an affront to fellow MPs, said Behrouz Nemati, an MP.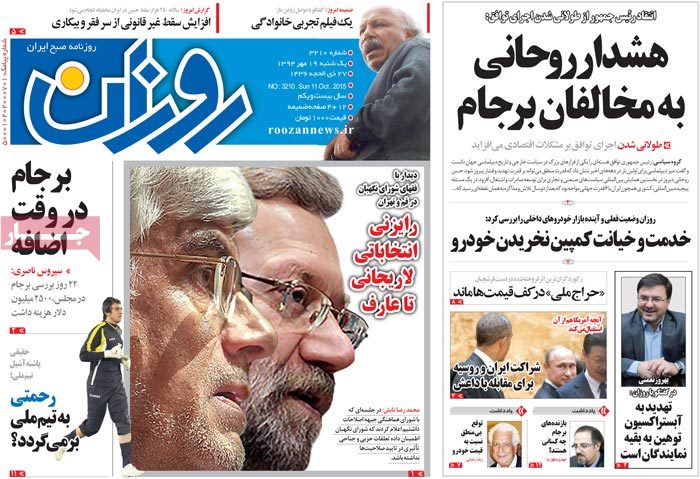 ---
Setareh Sobh: Green light for elections
"I will decide [on running for the Assembly of Experts election] in due time," said Seyyed Hassan Khomeini in response to calls by reformists in Bushehr Province for him to run.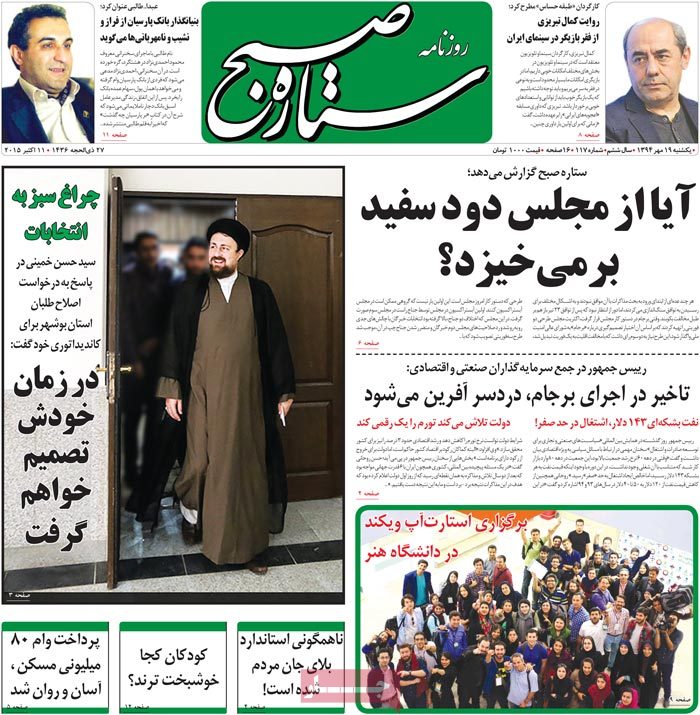 ---
Sharq: Iran has suffered $2.5 billion in losses for a 22-day delay in the implementation of the Joint Comprehensive Plan of Action, said Sirous Nasseri, a former nuclear negotiator.
---
Tafahom: Sanctions facing economic players will soon be removed, said President Rouhani in a gathering on industry and trade.