Almost all newspapers covered the remarks made by the Leader of the Islamic Revolution Ayatollah Seyyed Ali Khamenei about the reaction Iran will show in case the US violates the nuclear deal.
They also highlighted the Judiciary Chief's harsh criticism of President Hassan Rouhani and Parliament Speaker Ali Larijani over their remarks about the cancellation of outspoken MP Ali Motahari's speech in Mashhad.
The death of prominent moderate cleric Ayatollah Mousavi Ardabili also received great coverage. His death prompted President Rouhani to declare two days of national morning in Iran.
The above issues, as well as many more, are highlighted in the following headlines:
Abrar:
1- Parliament to Start Its Investigation of Tehran Municipality
2- Ayatollah Rafsanjani's Clear Answers to Slovenian President about the US
3- Nuclear Deal Has a Multilateral International Nature: US State Dept.
---
Abrar-e Eqtesadi:
1- Croats Ready to Invest in Iran's Oil Industry
2- Iran Won't Agree with Oil Production Cut: Tehran's Firm Reaction to Rumours
3- Government to Fund 70% of House Rent Expenses for Low-Income People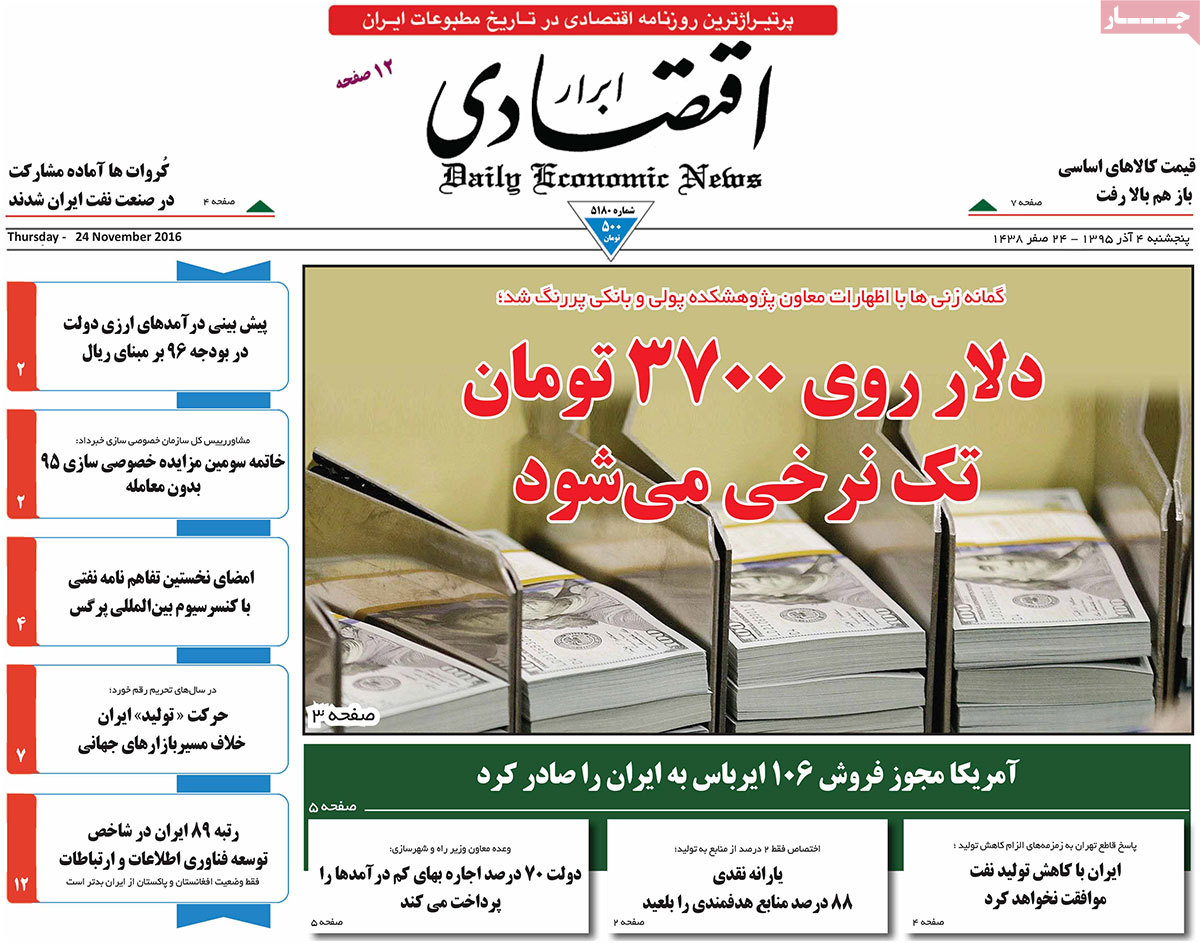 ---
Aftab-e Yazd:
1- Pro-Assad Woman in Trump's Cabinet: President-Elect Continues His Political Turnaround
2- Farewell to a Freedom-Seeking Cleric: Ayatollah Mousavi Ardabili Passes Away
3- Teacher's Regrettable Joke with Pupil: A Video Clip that Went Viral in Iran
4- Parliament to Discuss a Plan that Devises Alternative Punishments to Death Penalty for Drug-Related Crimes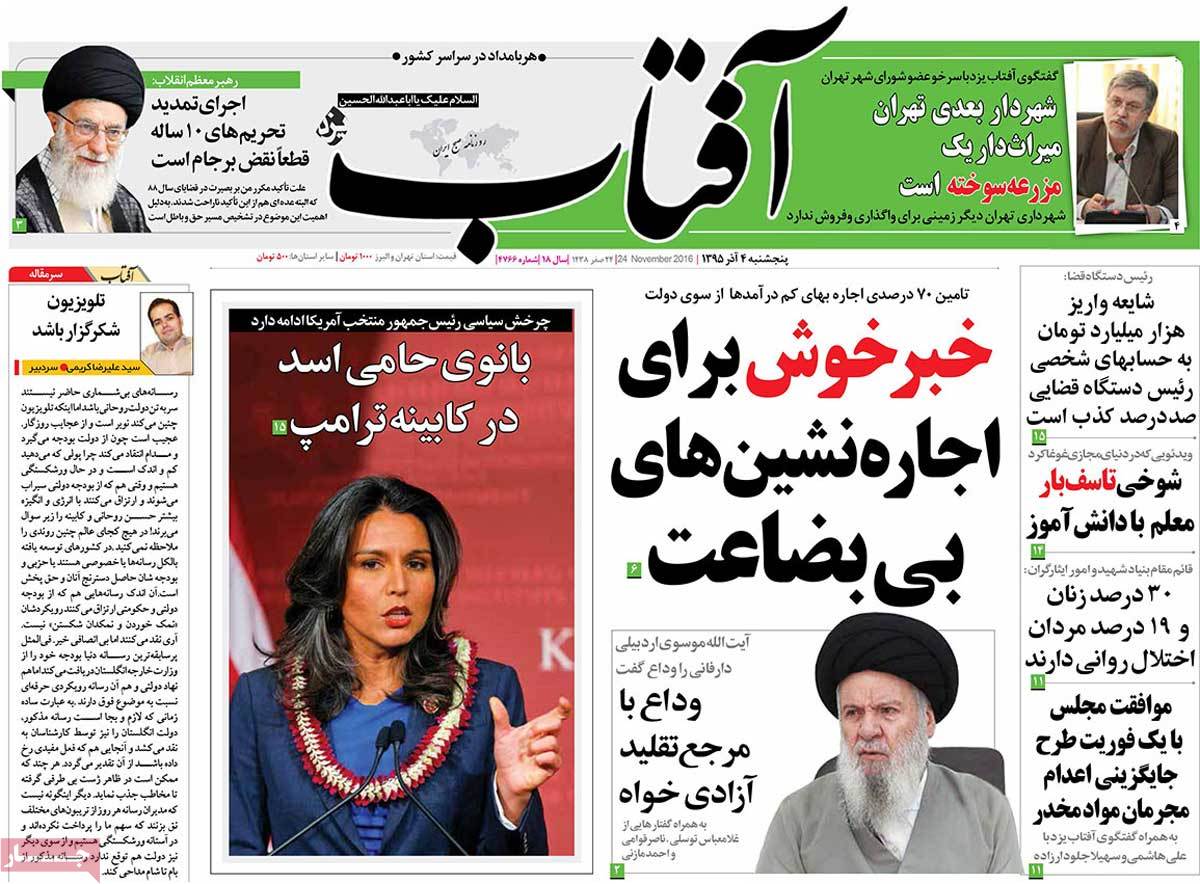 ---
Arman-e Emrooz:
1- Goodbye the Cleric of Moderation: Rouhani Declares Two Days of National Mourning after Mousavi Ardabili's Death
2- Armed Forces Should Not Interfere in Iran Elections: President Rouhani
3- Permission Given to Airbus for Sale of 106 Planes to Iran
4- IRGC Explains about Cancellation of Motahari's Speech in Mashhad
5- Iranian Judiciary Chief's Complaints against President and Parliament Speaker
6- Europe Gives Greenlight for Iran's Accession to WTO
7- Trump's Attacks on JCPOA Were Aimed at Questioning Clinton
---
Asrar:
1- Basij (Volunteer) Forces Are Not Part of Any Iranian Party: Leader
2- IRGC's Intelligence Organization Had No Role in Cancellation of Motahari's Speech in Mashhad: Spokesman
3- Increasing Speculations about Rigged Ballot Boxes in US
4- Saudi Arabia Lost Its Influence in OPEC: Bloomberg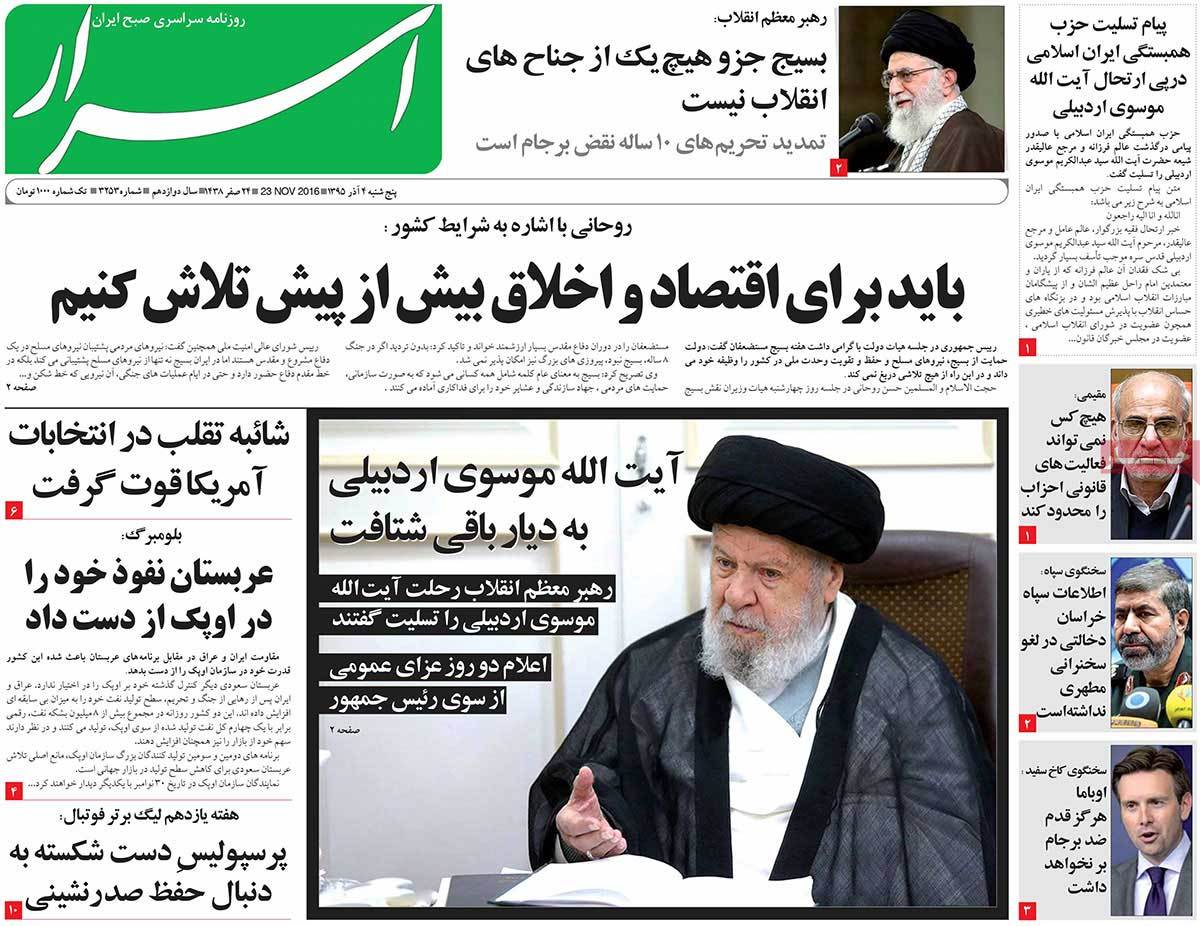 ---
Ebtekar:
1- Stopping Death Penalty for Drug Traffickers: Positive or Negative?
2- Cold Slap of Weather: Sub-Zero Temperature Threatens Lives of over 25,000 Homeless People in Tehran
---
Emtiaz:
1- Death Business for Becoming Hercules: Horrible Side-Effects of Using Body Building Powders
2- 80% Increase in Electronic Trade in Iran
3- 30% of Women Suffering from Neurological Disorders
4- 1,800 Beggars in Tehran Are under 15 Years of Age
---
Ettela'at:
1- Implementation of US Law on Sanctions against Iran Violates Nuclear Deal: Leader
2- Egyptian President Officially Supports Assad's Army against Terrorists
3- General Soleimani: It's a National Duty to Support Basij (Volunteer) Forces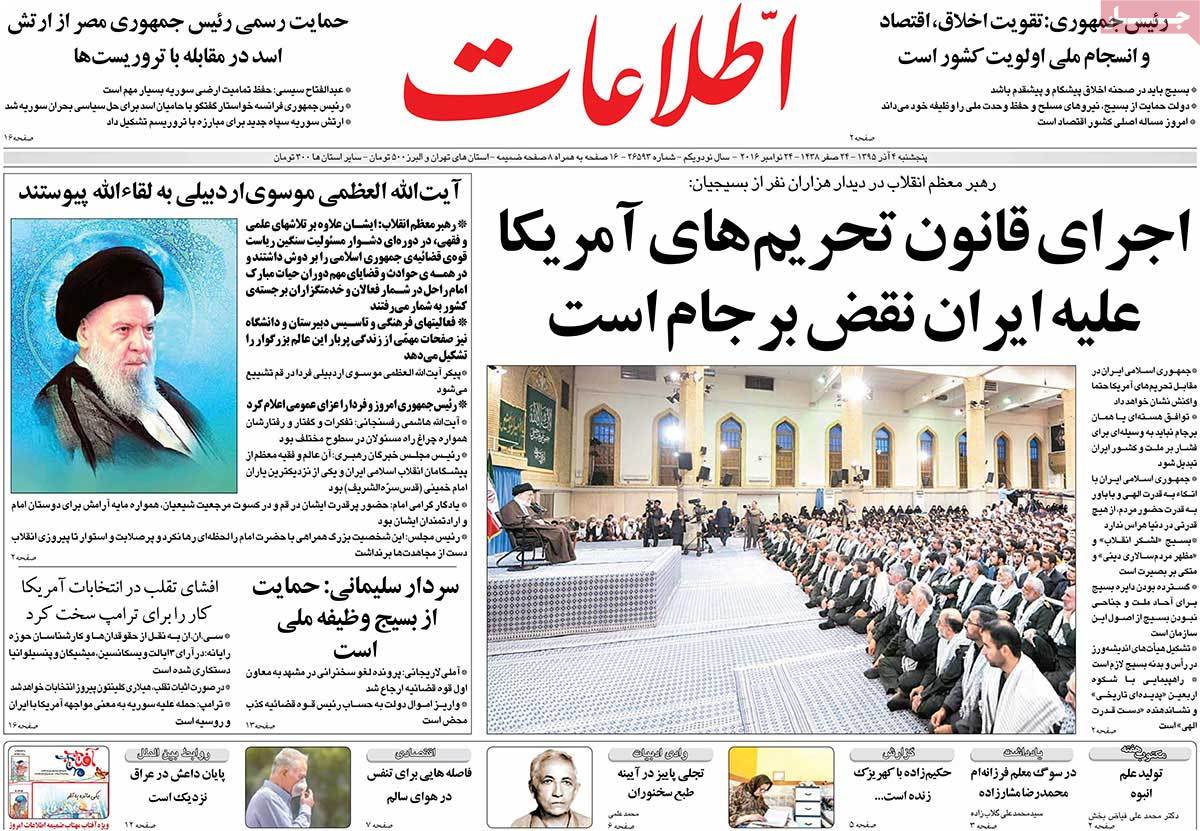 ---
Haft-e Sobh:
1- Secrets of Iranian Birdmen: Interview with Iran's First Wingsuit Athlete
2- Oil Reconciliation with Britain: BP Gives Greenlight to Iran's Oil Industry
3- Iranian Cities of Hamadan and Mashhad Are Now Colder than Moscow and Toronto
---
Hamshahri:
1- Call 137 to Save Homeless People from the Cold
2- ISIS in Mosul Trap
3- Death Penalty Will Be Restricted
4- Parliament's Major Step to Restore Clean Air to Megacities
---
Jame Jam:
1- 10-Year Extension of Anti-Iran Sanctions Is Violation of JCPOA: Leader
2- Sardar Azmoun, Iranian Striker, Scored a Beautiful Goal in Match against Bayern Munich
3- Americans Should Think about Consequences of Violating JCPOA: Former Diplomat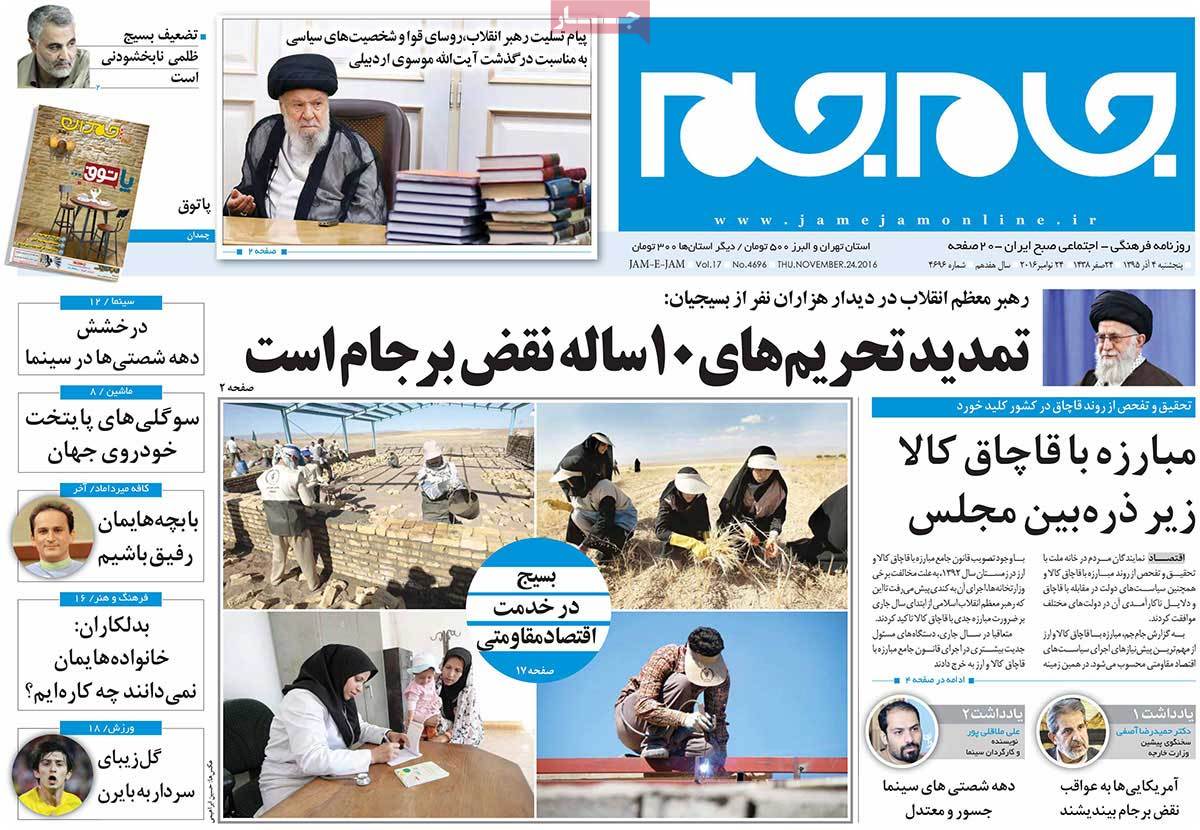 ---
Javan:
1- Judiciary Chief Ayatollah Amoli Larijani: President Rouhani and Parliament Speaker Larijani Kept Silent over Accusations Raised against Me and Became Embarrassed of Cancellation of an MP's Speech; I Don't Need These People's Backing!
2- Hollywood Standards in Narrating the Massacre of Iranian People: Critics Talk about 'Iran Orphanage' Film
3- CNN Says It Has Documents that Show US Election Was Rigged
4- Reasons for Erdogan's Intervention in Northern Iraq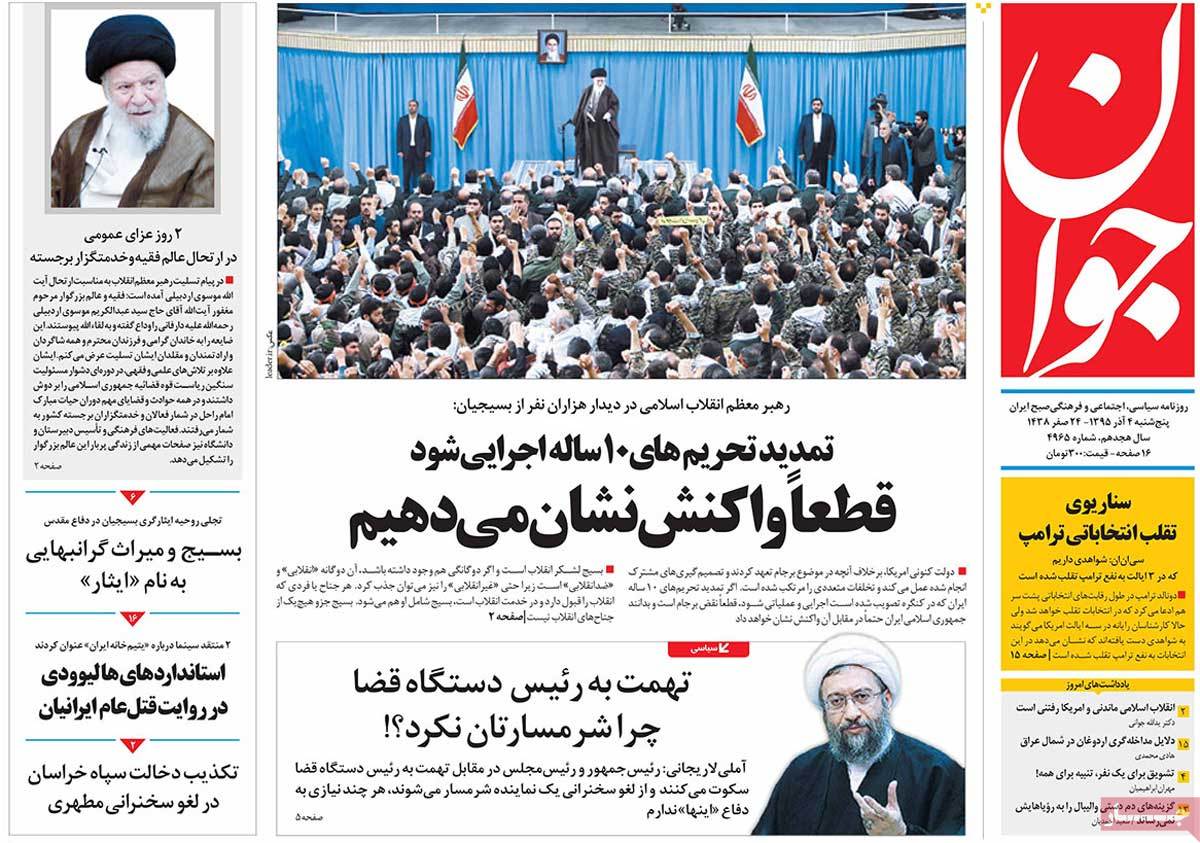 ---
Jomhouri Eslami:
1- Iran Will Definitely Show Reaction If US Violates Nuclear Deal: Leader
2- Violation of JCPOA Will Have Dire Consequences: US State Dept. Spokesman
3- UN's Ban Urges All Sides to Stay Committed to Nuclear Deal
4- 150 MPs Call for Action against Those Who Cancelled Parliament Vice-Speaker's Speech in Mashhad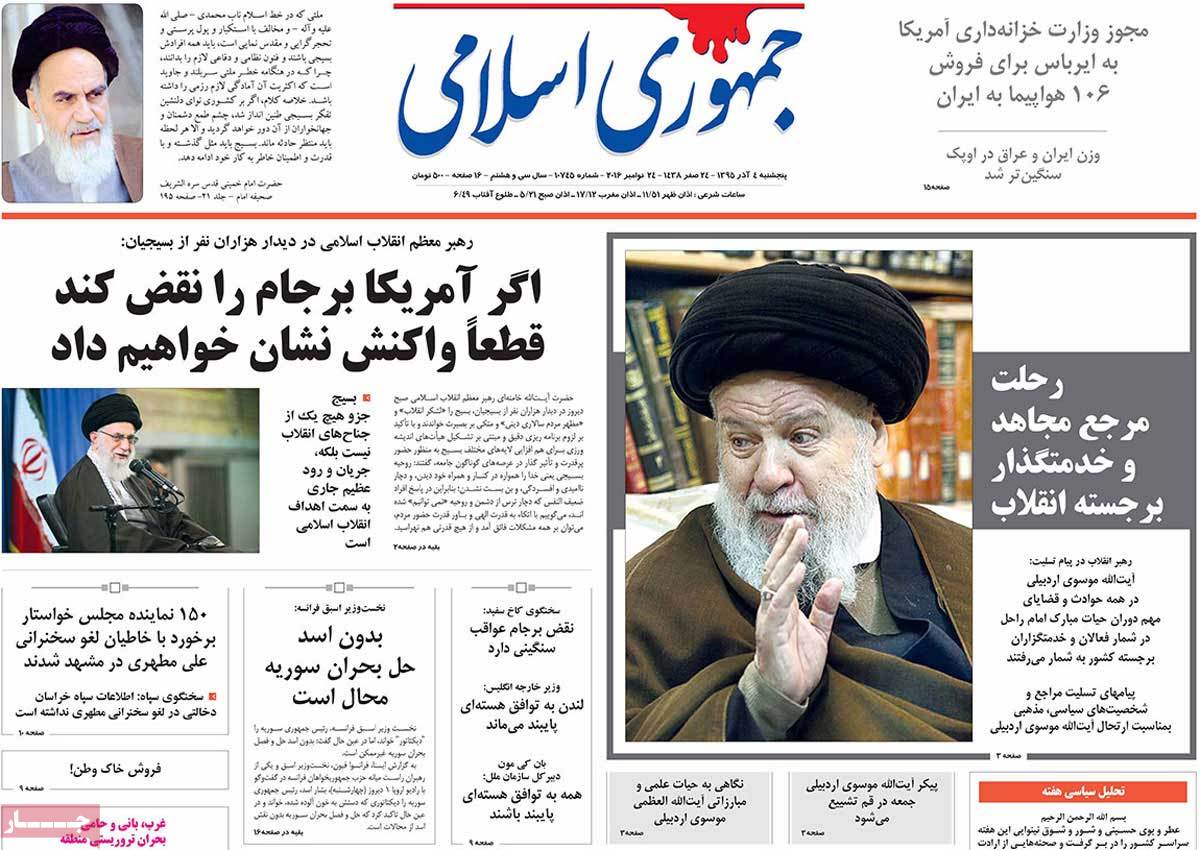 ---
Kayhan:
1- Trump's Step-by-Step Withdrawal from Controversial Stances
2- Organized Crime against Myanmar Muslims: Where's Human Rights?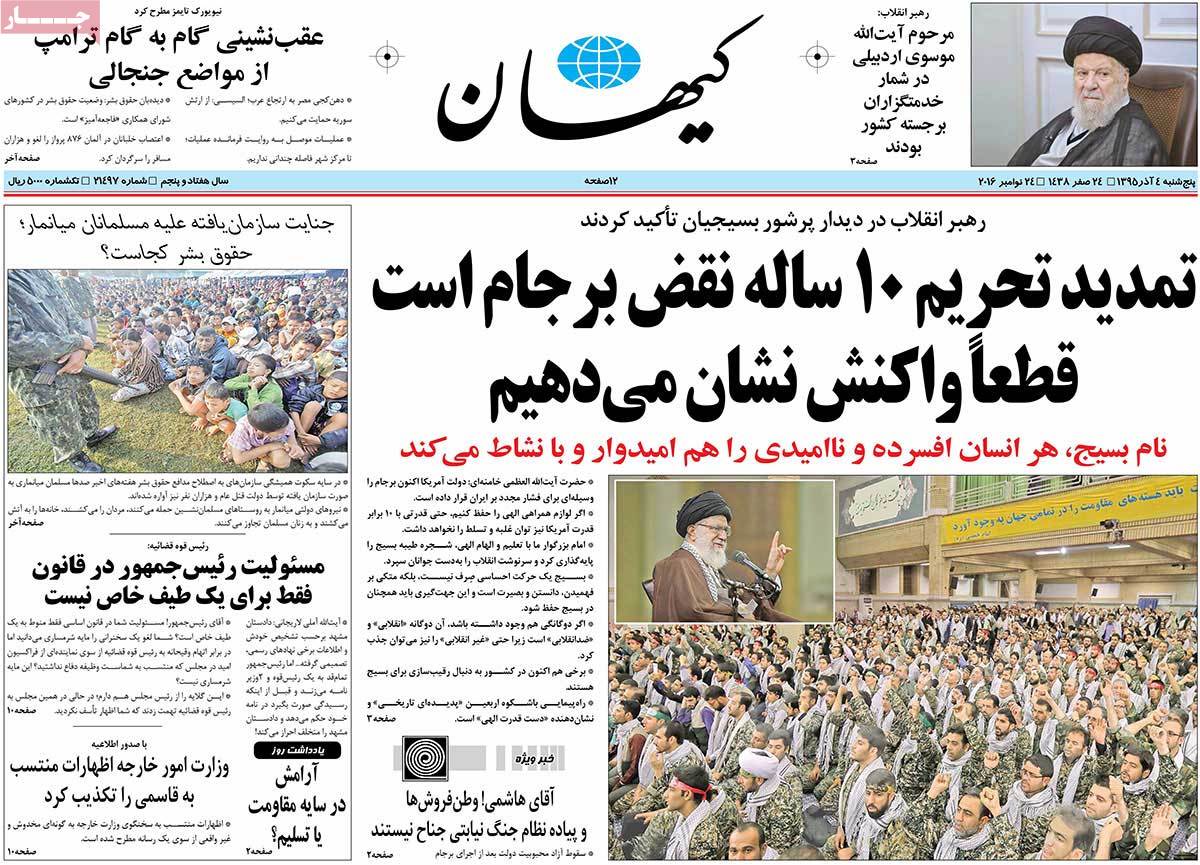 ---
Khorasan:
1- Italian Trade Minister: We'll Continue Our Billion-Dollar Trade with Iran in Spite of Trump's Election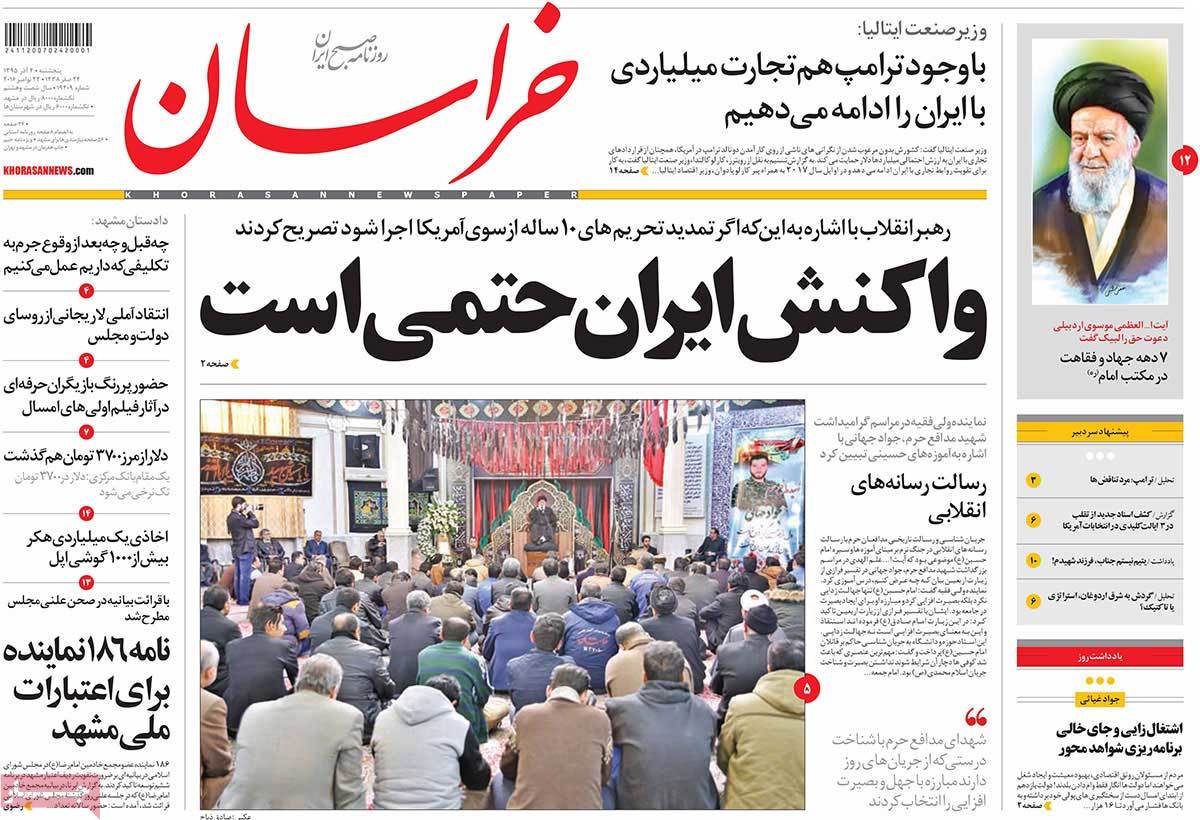 ---
Resalat:
1- JCPOA Will Be Definitely Violated in Trump's Administration
2- West's Sanctions Have Benefited Russia: Putin
3- Government Feels Duty-Bound to Support Basij: Rouhani
---
Shargh:
1- What Has Happened to Freedom of Speech in Iran? [Editorial]
2- Analysis of Photos Taken during Obama's 8-Year Term
3- Inauspicious Oil Offer to Iran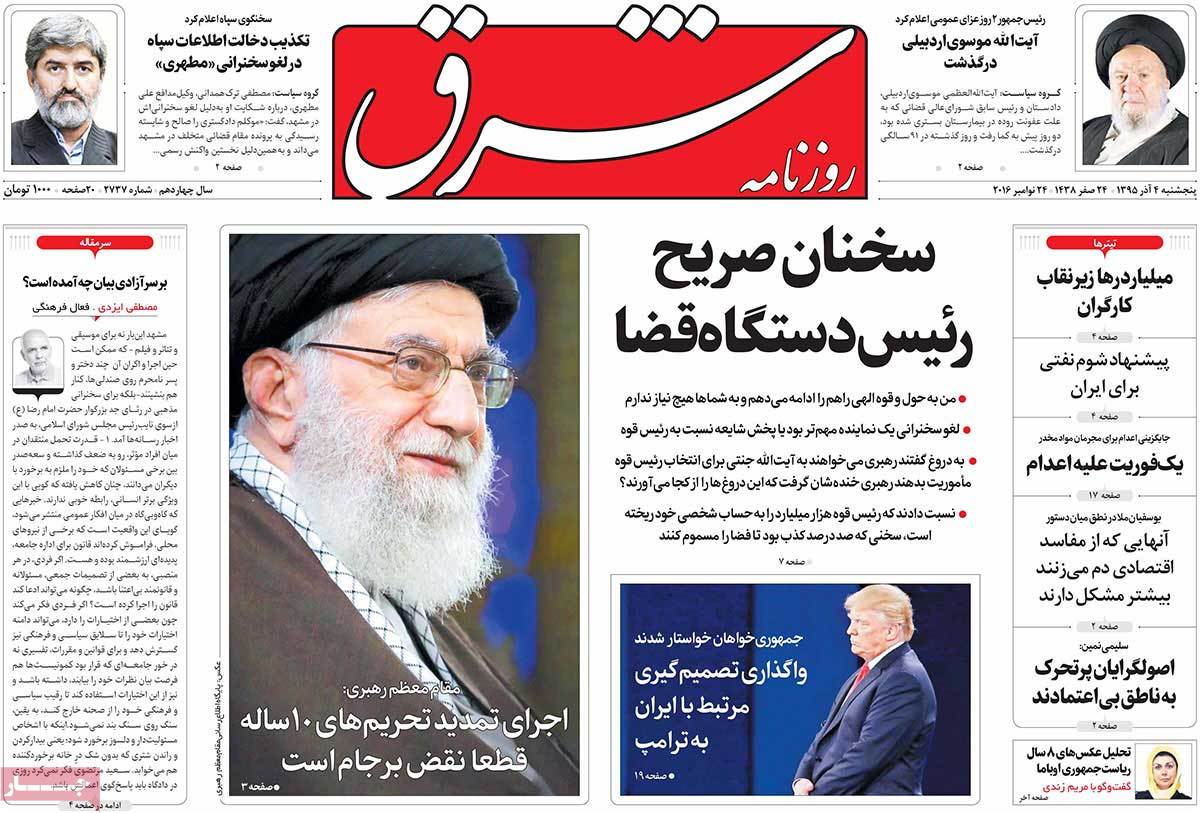 ---
Siasat-e Rooz:
1- JCPOA Should Not Become a Means for Putting Pressure on Iranian Nation: Leader
2- Everyone Knows that Syrian Crisis Has No Military Solution: Expert
3- Analysts Discuss Iran's Possible Reaction to US Violation of JCPOA
4- Bahrainis Suppressed with Poisonous Gases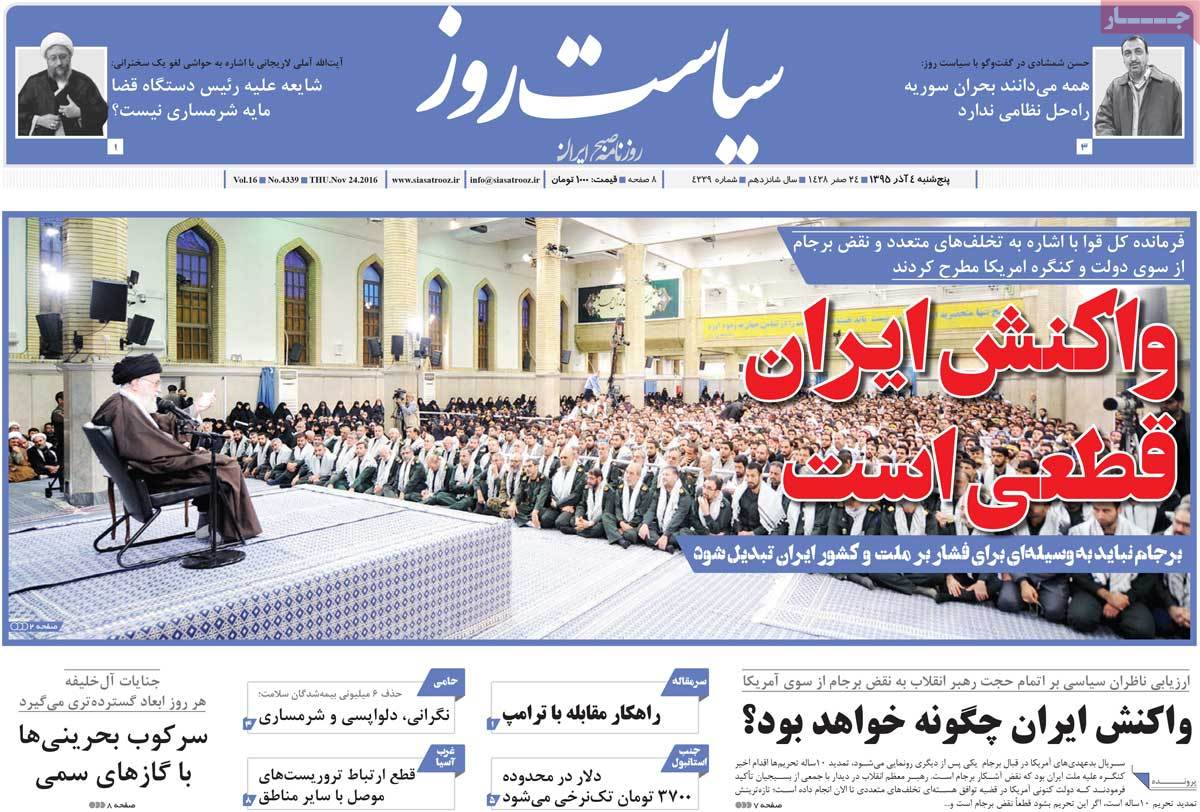 ---
Vaghaye Ettefaghieh:
1- Judiciary Chief Dismisses Reports about $275 Million Deposit in His Personal Account
2- The Laws that Will Prevent Criminals from Committing Further Crimes: Parliament Discussing a Plan to Devise Alternative Punishment to Death Penalty for Drug Traffickers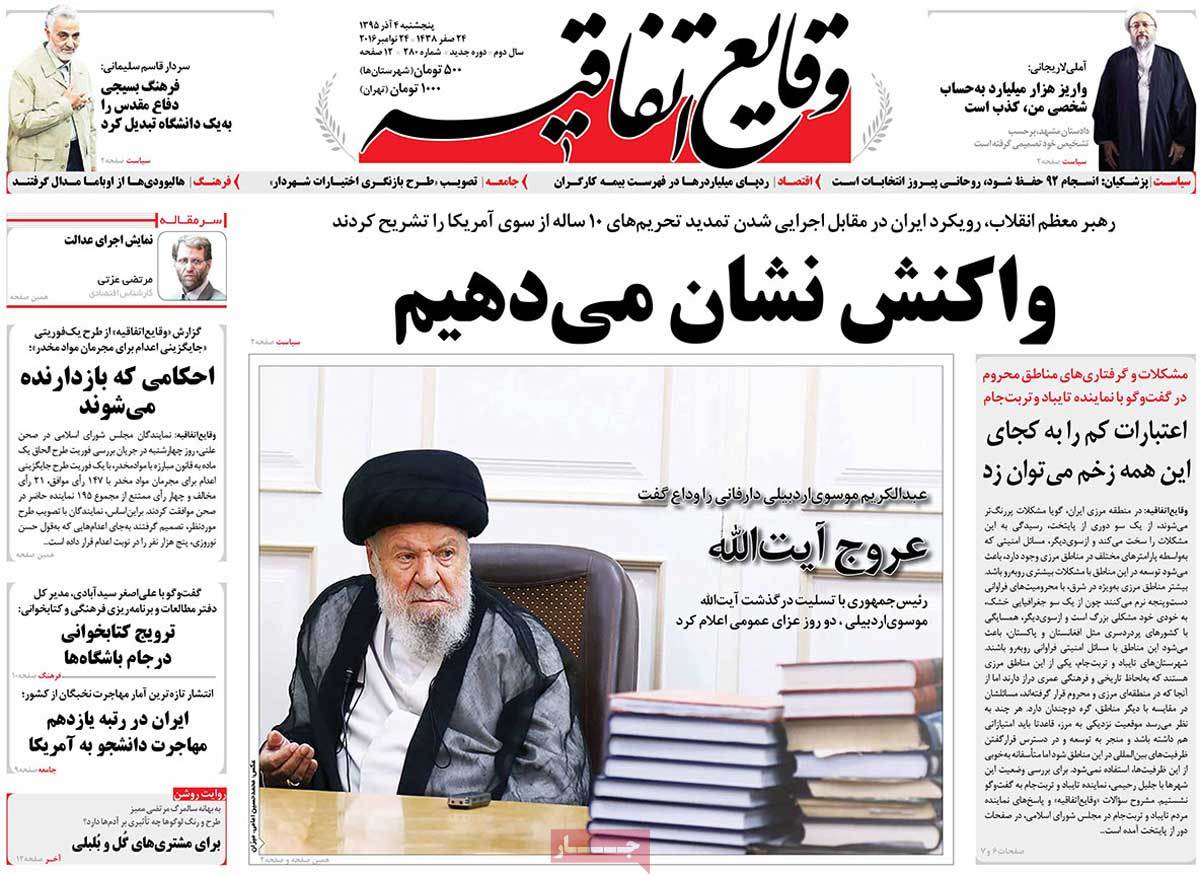 ---
Vatan-e Emrooz:
1- 101 Cases the Government Should Be Ashamed of!
2- World Observing Iran's Government: Future of Sanctions
3- Government Officials Hatching Plot against the Honest Cleric [the Judiciary Chief Ayatollah Amoli Larijani]