IFP has taken a look at the front pages of Iranian newspapers on Wednesday, November 21, 2018, and picked headlines from 13 of them. IFP has simply translated the headlines and does not vouch for their accuracy.
Iranian papers today widely covered the ongoing controversy over Foreign Minister Mohammad Javad Zarif's remarks about 'rampant' money laundering in Iran, which have prompted a group of lawmakers to seek his impeachment.
Also a top story today was the Iranian officials' criticisms of Europe over its failure to implement the Special Purpose Vehicle (SPV), a payment mechanism to facilitate trade between the two sides.
The above issues, as well as many more, are highlighted in the following headlines and top stories:
Abrar:
1- EU's Failure to Implement JCPOA Commitments Not Justifiable: Iran
2- Zarif: Choosing the Country to Host SPV a Challenge for Europe
3- Rouhani: We'll Give Enemies a Good Lesson
---
Aftab-e Yazd:
1- Parliament Mulling Over Impeachment of Zarif
---
Etemad:
1- Imran Khan against Trump: Pakistani PM, US President Clash in Twitter
2- Danger of Failure to Ratify CFT [Editorial]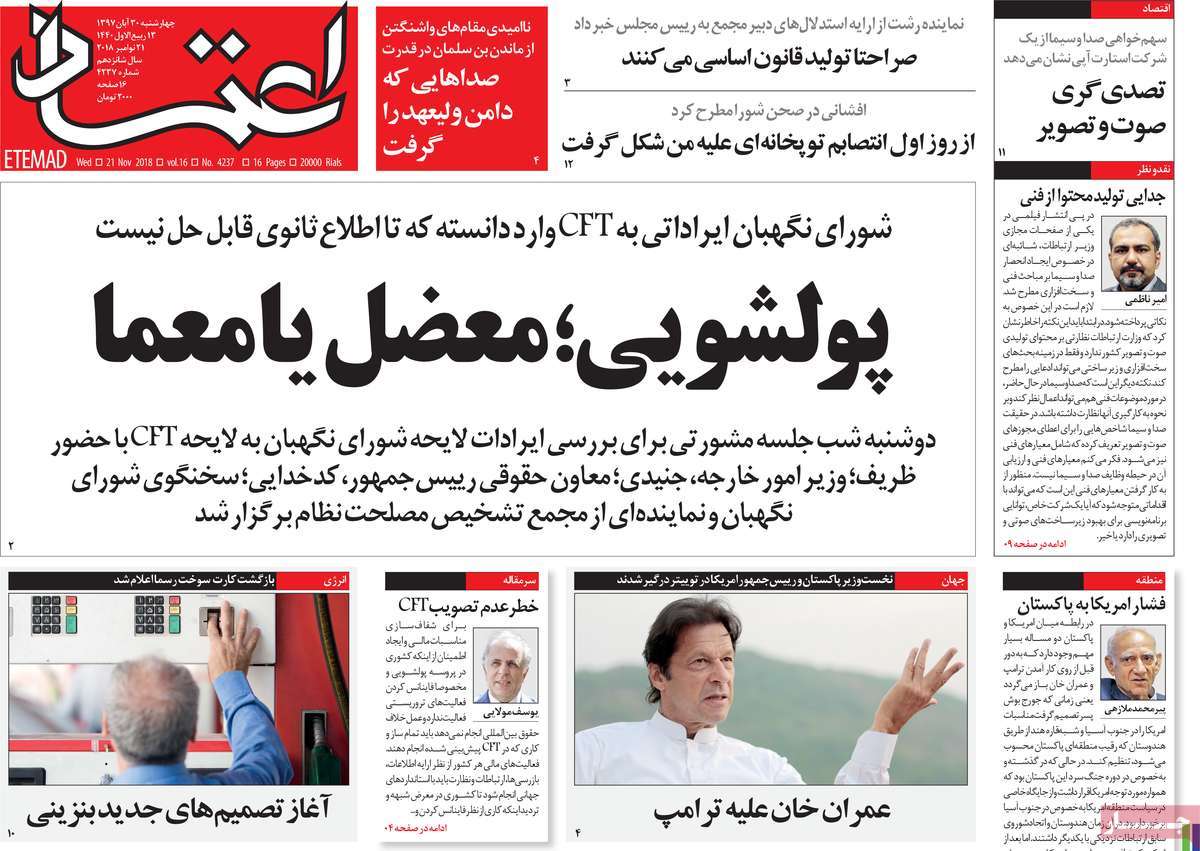 ---
Ettela'at:
1- 60 Dead after Suicide Attack on Prophet Muhammad's Birthday Anniversary in Kabul
2- Zarif to Le Figaro: We Support Political Solution to Support Syria
3- Mogherini: Iran, EU's Efforts to End Yemen Crisis Bearing Fruit
4- Army Navy Commander: We Tap Conversations of American Vessels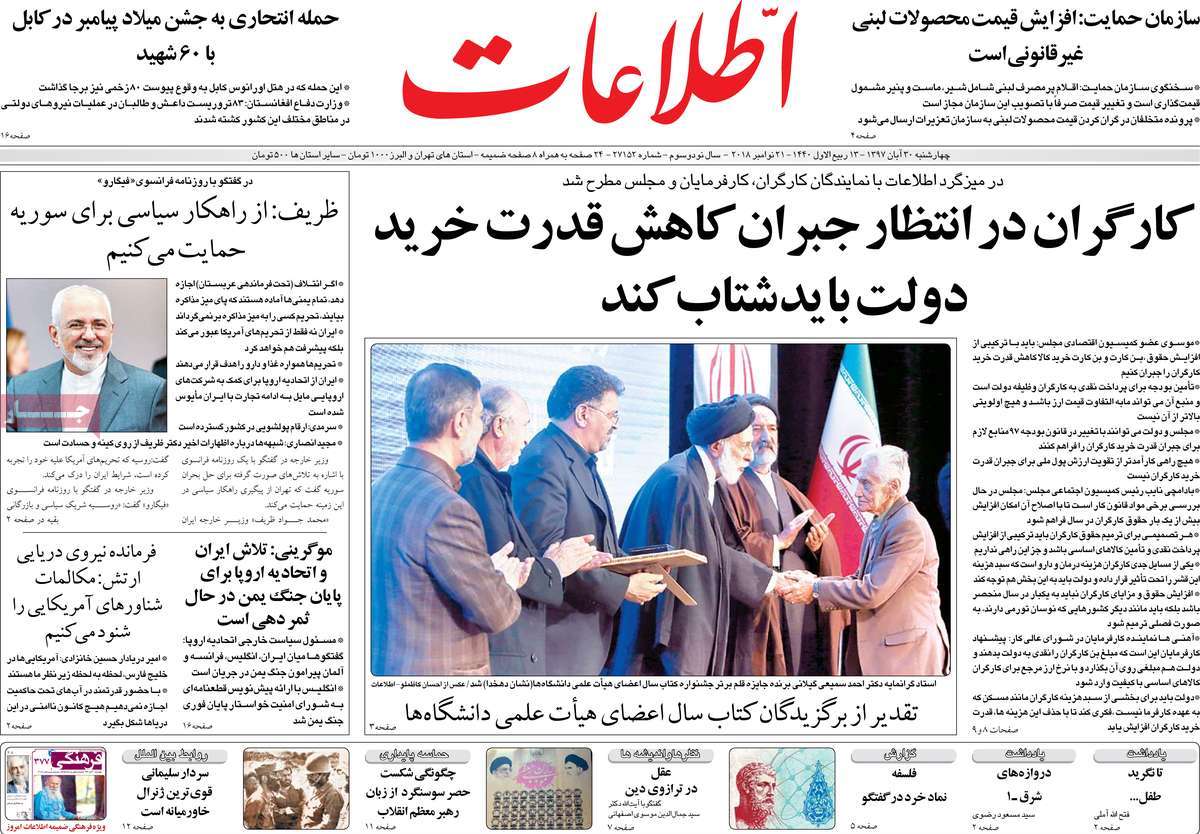 ---
Iran:
1- Development through Railways
Rouhani Inaugurates Oroumiyeh Railway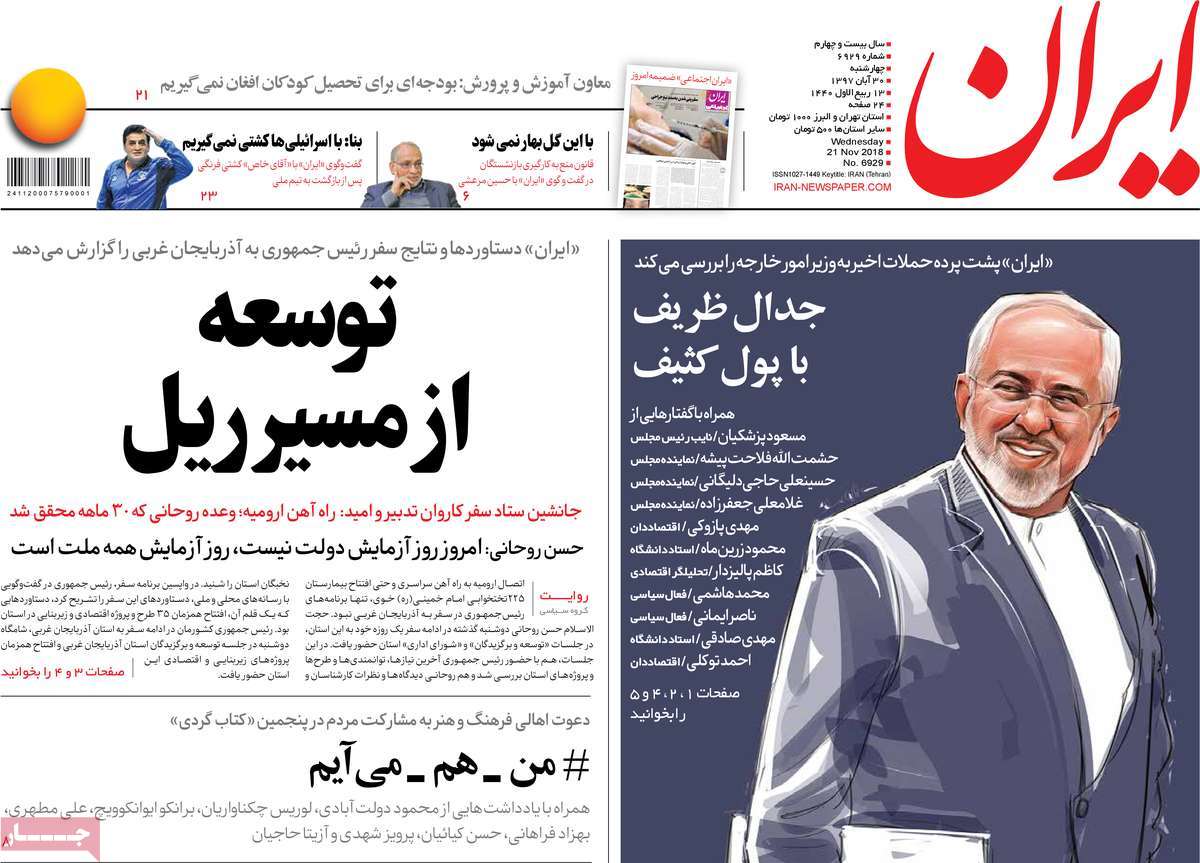 ---
Javan:
1- 80% of World's Money Laundering Is in US, Europe
2- Iran Unveils Mine-Resistant Armoured Vehicle
3- Europe to Join Trump, Netanyahu in Boycotting Iran
4- Israel Has Lost Capability of Harming Resistance Forces
---
Kayhan:
1- FATF Member States Centres of World's Money Laundering
2- Released Audio Reveals Details of Khashoggi's Murder
3- UK Foreign Secretary Visited Iran for Release of Spy Not for JCPOA
A Look at Chain Newspapers' Tuesday Editions
4- Europe's Mission Is to Complete US' Plot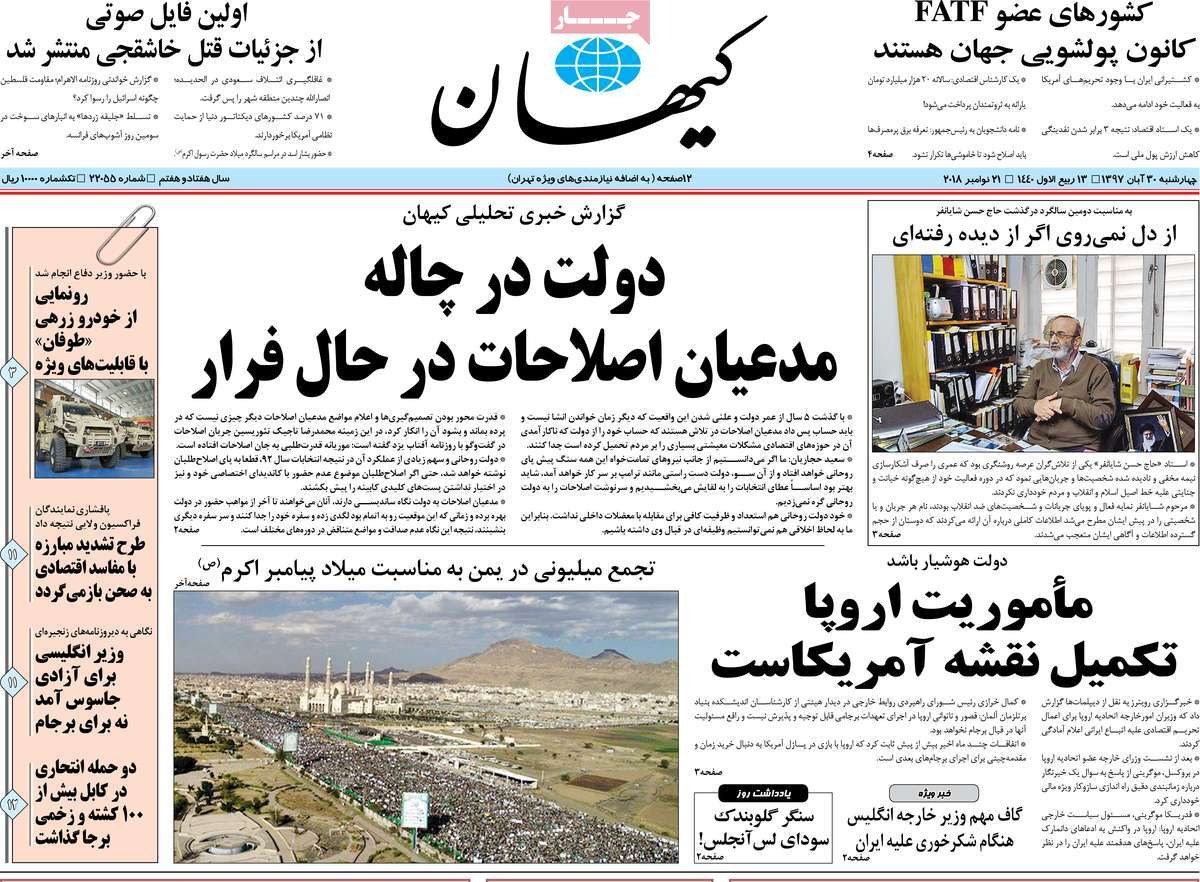 ---
Resalat:
1- Zarif: US Sanctions Not to Bring Iran to Negotiating Table
2- Putin: US Withdrawal from INF Not to Remain Unanswered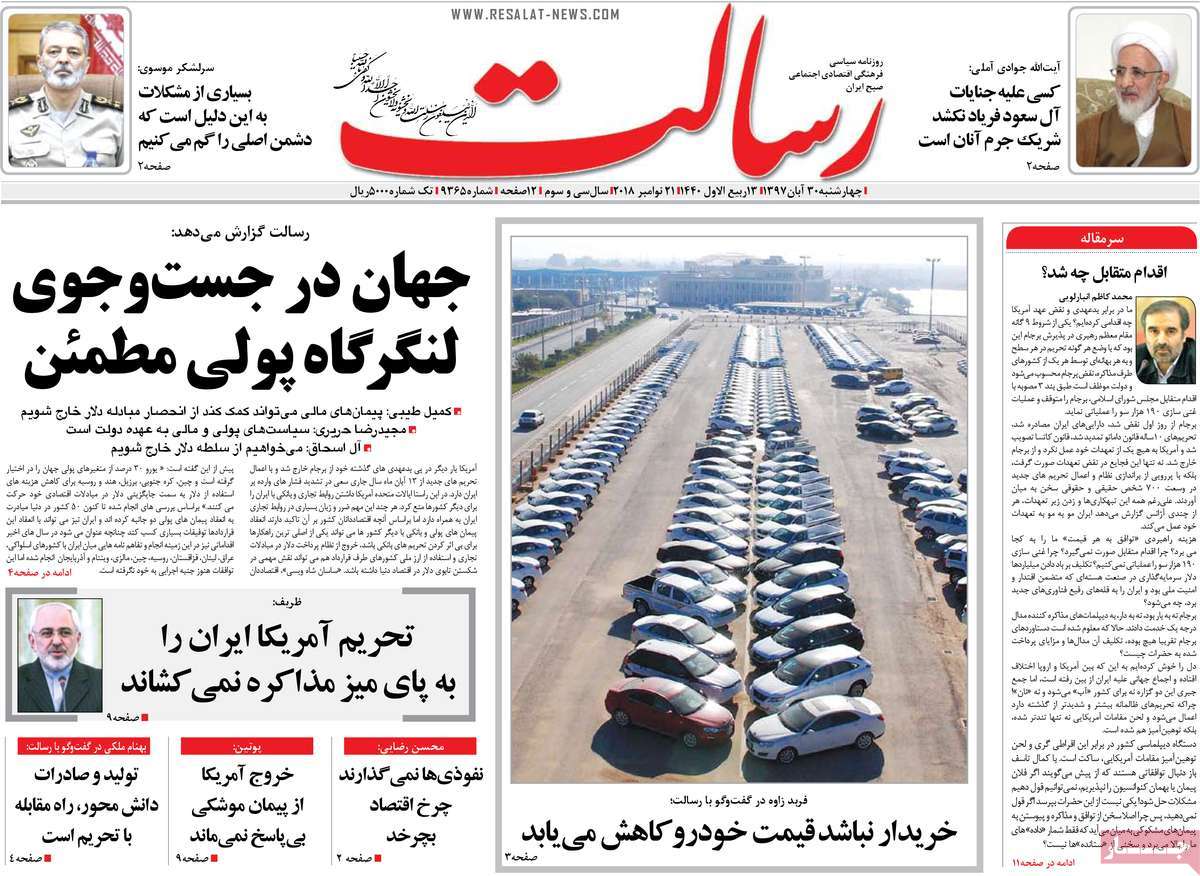 ---
Sazandegi:
1- CFT on Boiling Point
Parliament to Insist on Its Stances towards FATF, CFT
2- Riot against Party Leader
16 US Democrats Opposed to Nancy Pelosi's Re-Election as House Majority Leader
NY Times Calls Them Rioters Seeking to Tarnish Party's Image
---
Setareh Sobh:
1- Crown Prince May Be Toppled
Germany Cuts Weapons Exports to Saudi
2- Forex, Gold Coin Rates Decrease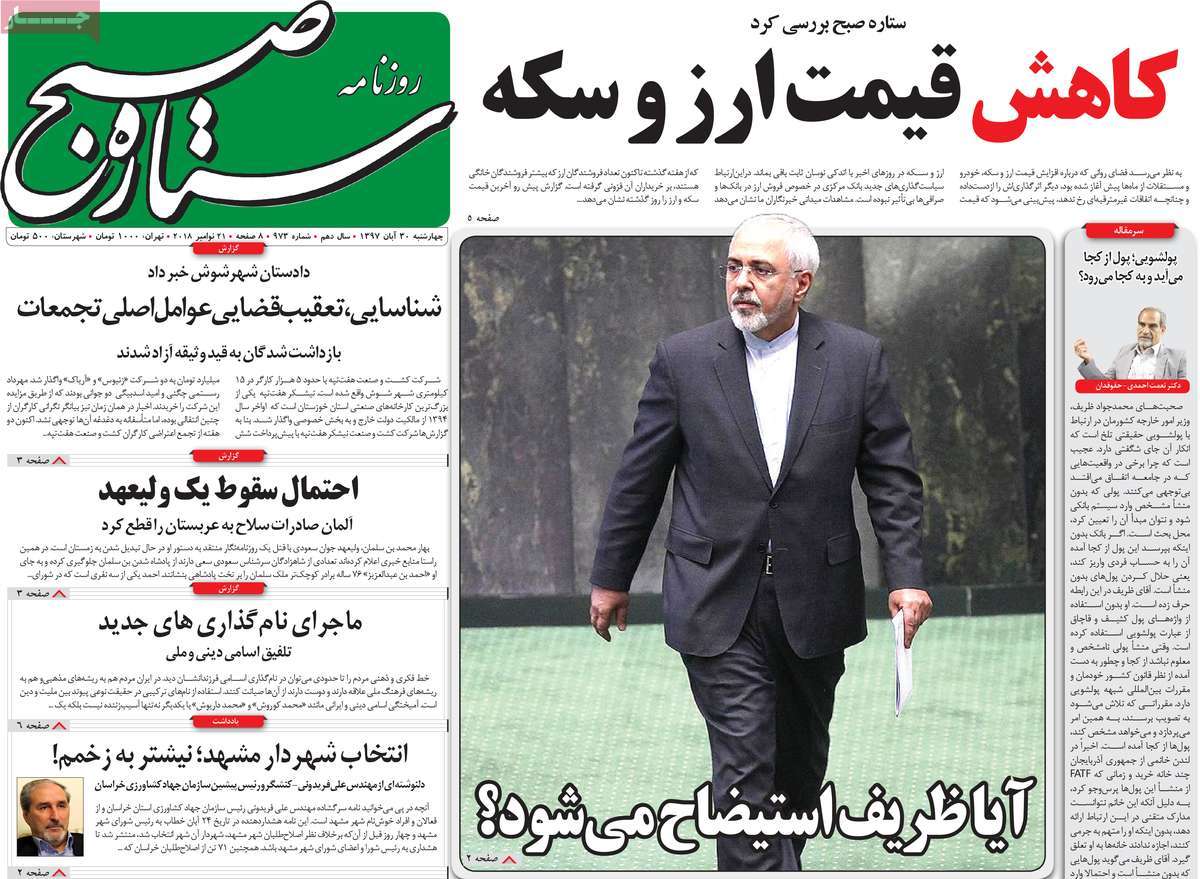 ---
Shahrvand:
1- Rouhani: We'll Foil Plots If We Remain United
2- Attacks on FM Zarif Are Attacks on Unity of Establishment: Senior Cleric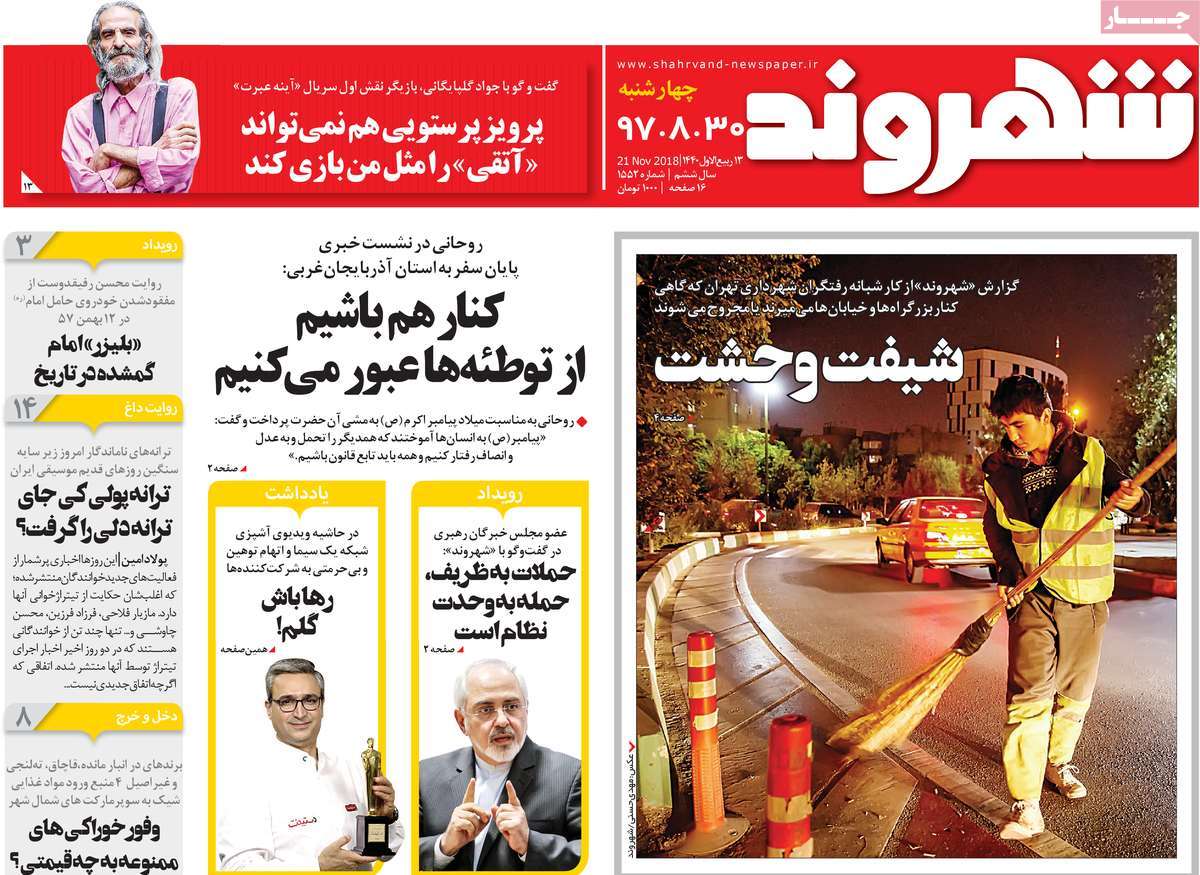 ---
Shargh:
1- Foreign Ministry Denies It's Received Ultimatum from Judiciary over Zarif's Remarks
2- The White Obama from Texas May Be Democrats' New Candidate for 2020 Elections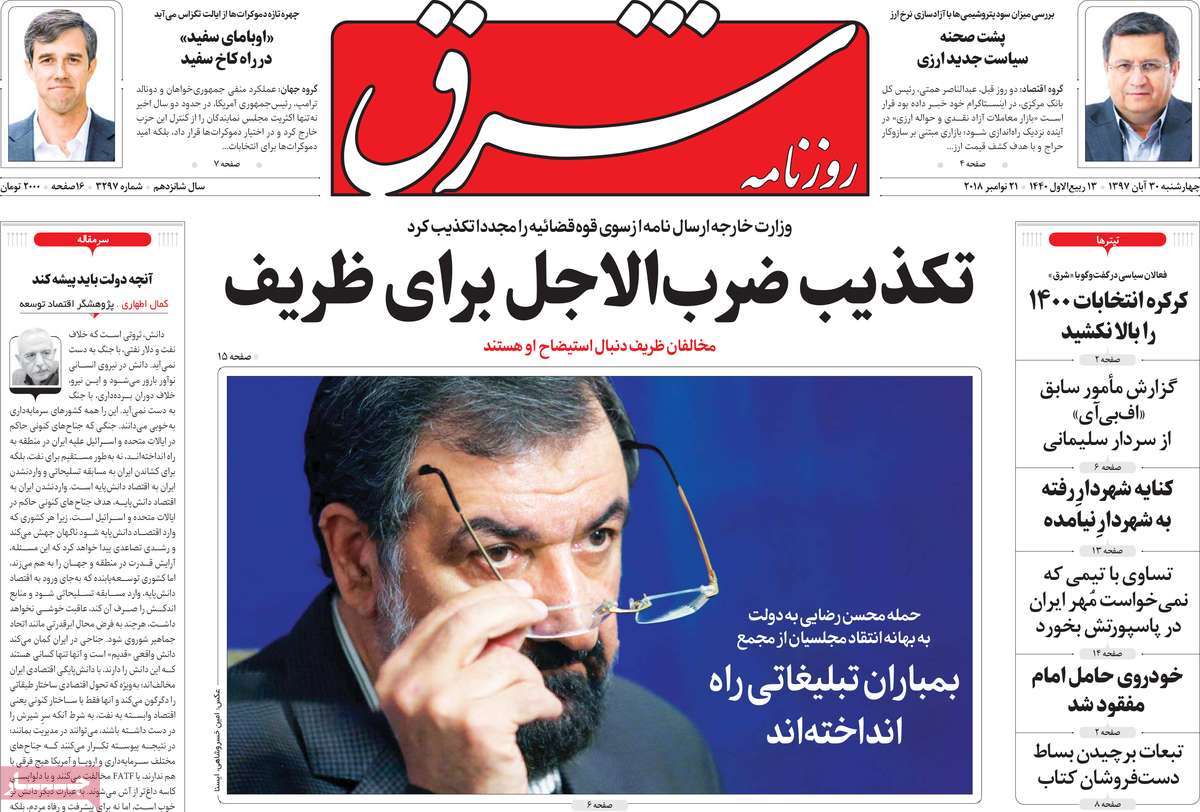 ---
Sobh-e Now:
1- Deceitful Peace Plan: Saudis Break Truce by Attacking Yemen
2- Expanding Axis of Resistance to Northern Africa