Newspapers today widely covered the Iranian Parliament's move to summon Foreign Minister Mohammad Javad Zarif over his comments about "rampant" money laundering in Iran.
Almost all papers highlighted the execution of Vahid Mazloomin, also known as the Sultan of Coin, and his accomplice, over their role in disruption of gold coin and forex markets.
Also a top story was the ceasefire in Gaza Strip between Palestinian resistance group Hamas and the Israeli regime, and the subsequent resignation of Israeli minister of military forces Avigdor Lieberman, which may cost dearly for Prime Minister Benjamin Netanyahu.
Remarks made by the Leader of Iran's Islamic Revolution Ayatollah Seyyed Ali Khamenei in a meeting with a group of Iranian Paralympics athletes also received great coverage.
The above issues, as well as many more, are highlighted in the following headlines and top stories:
Aftab-e Yazd:
1- Rouhani Urges People to Voice Their Complaints Loudly
2- Iran FM Summoned to Parliament over FATF Remarks
* Zarif Undoubtedly Has Evidence on Money Laundering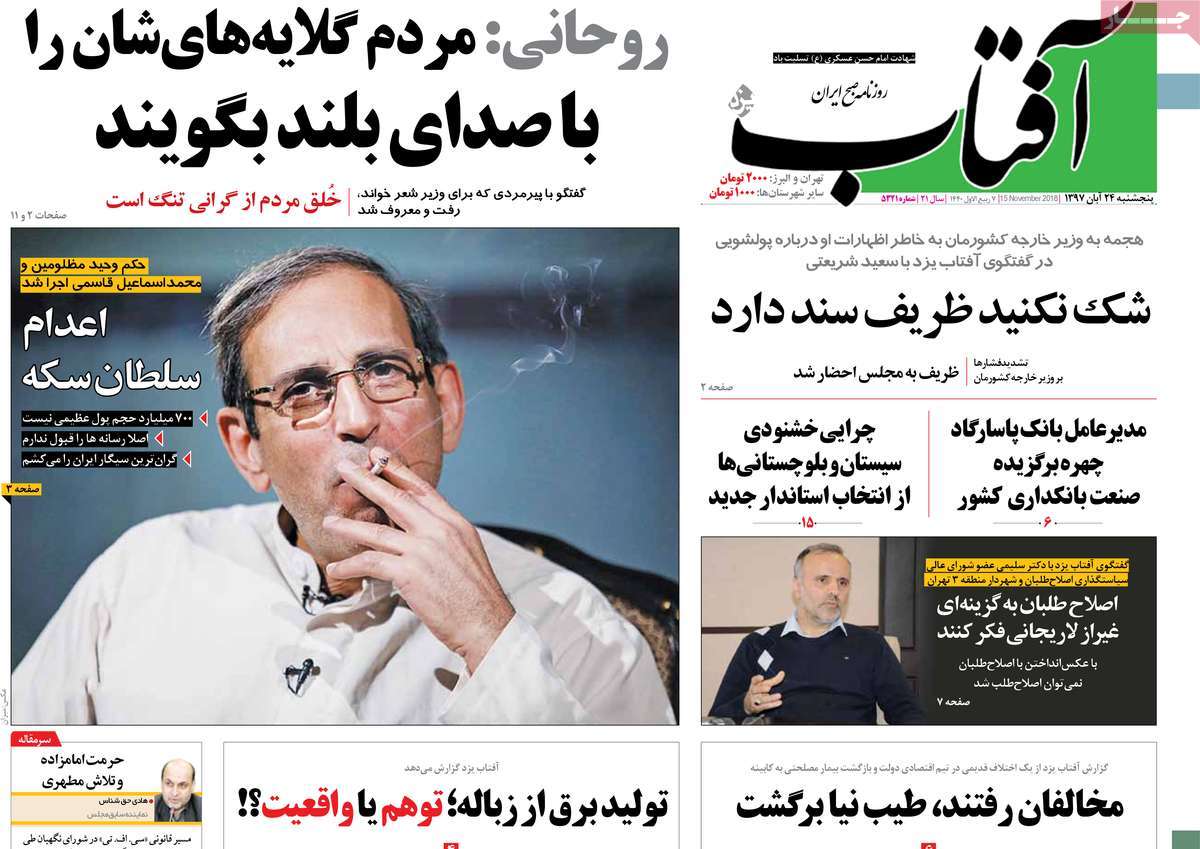 ---
Etemad:
1- Zarif to Elaborate on His Money Laundering Comments in Parliament
2- Resistance's Political Force Puts Netanyahu's Cabinet on Verge of Collapse
* Resonance of Gaza Rockets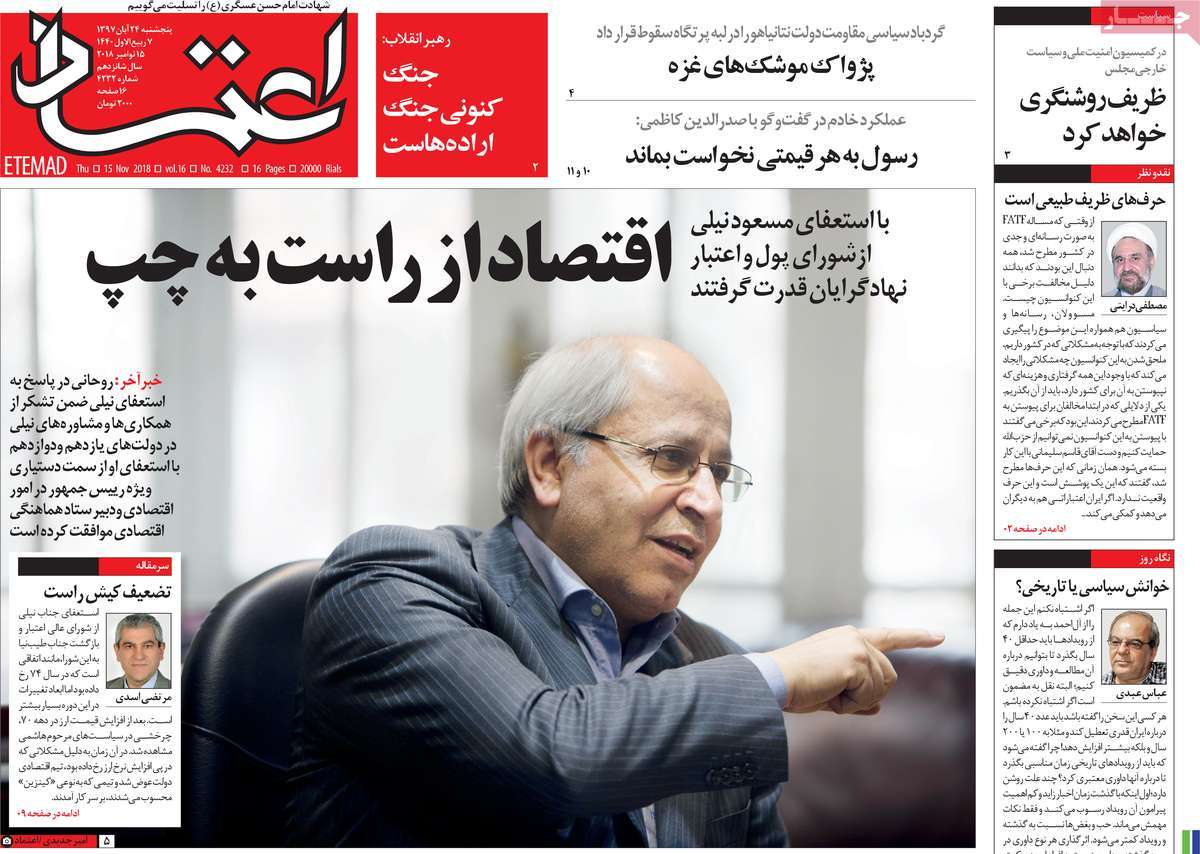 ---
Ghanoon:
1- Opportunity for Revealing Facts against Money Laundering: Zarif Summoned to Parliament
2- Heavy Rainfall Leads to Heavy Traffic Jam, Turns Tehran into Huge Parking Lot
3- Consequences of Hamas-Israel Ceasefire
---
Iran:
1- Line-up of Government's Economic Team Changed
* Ex-Finance Minister Tayyebnia Added to Money and Credit Council
2- Lieberman's Storm against Netanyahu
3- Gender Shouldn't Be Obstacle to Hiring Most Competent Personnel: Rouhani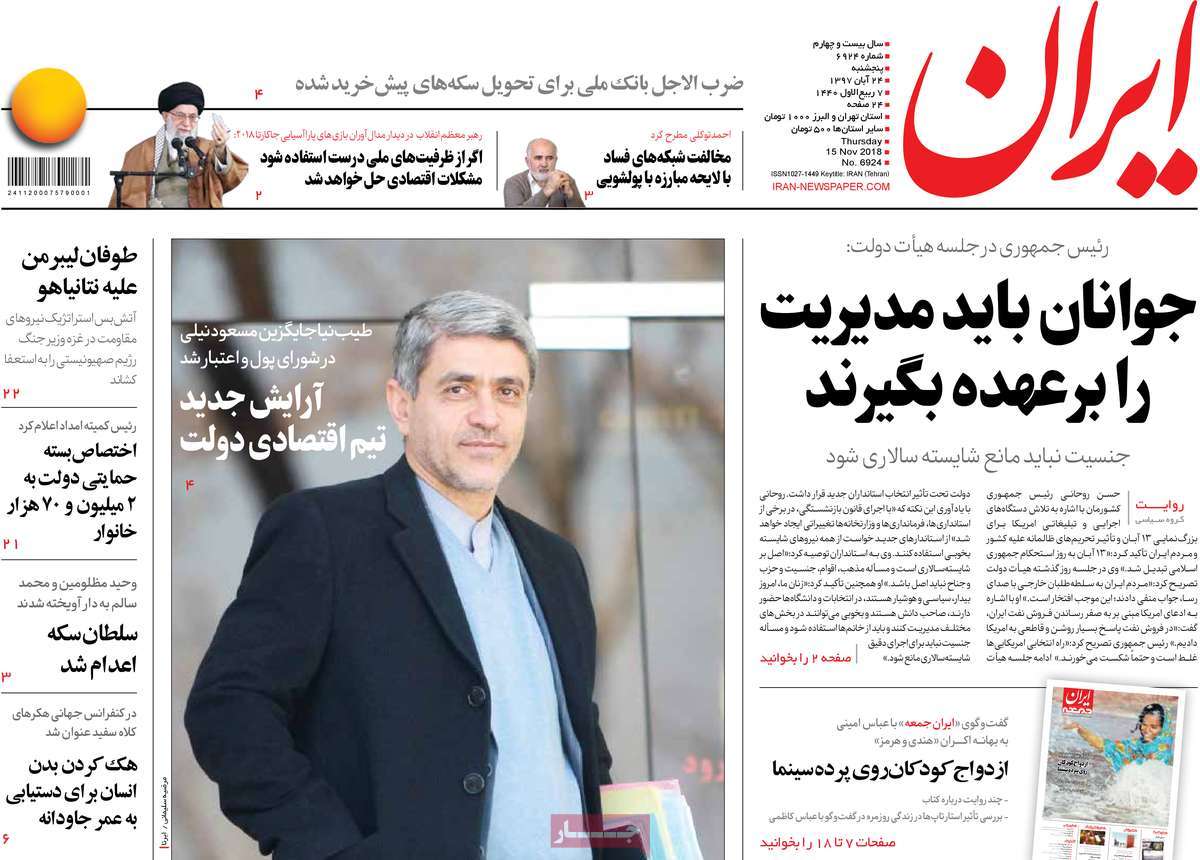 ---
Jame Jam:
1- Girl in Chador Bearing Iran Flag in Asian Games Show of Cultural Power: Iran Leader
2- Celebration of Victory in Gaza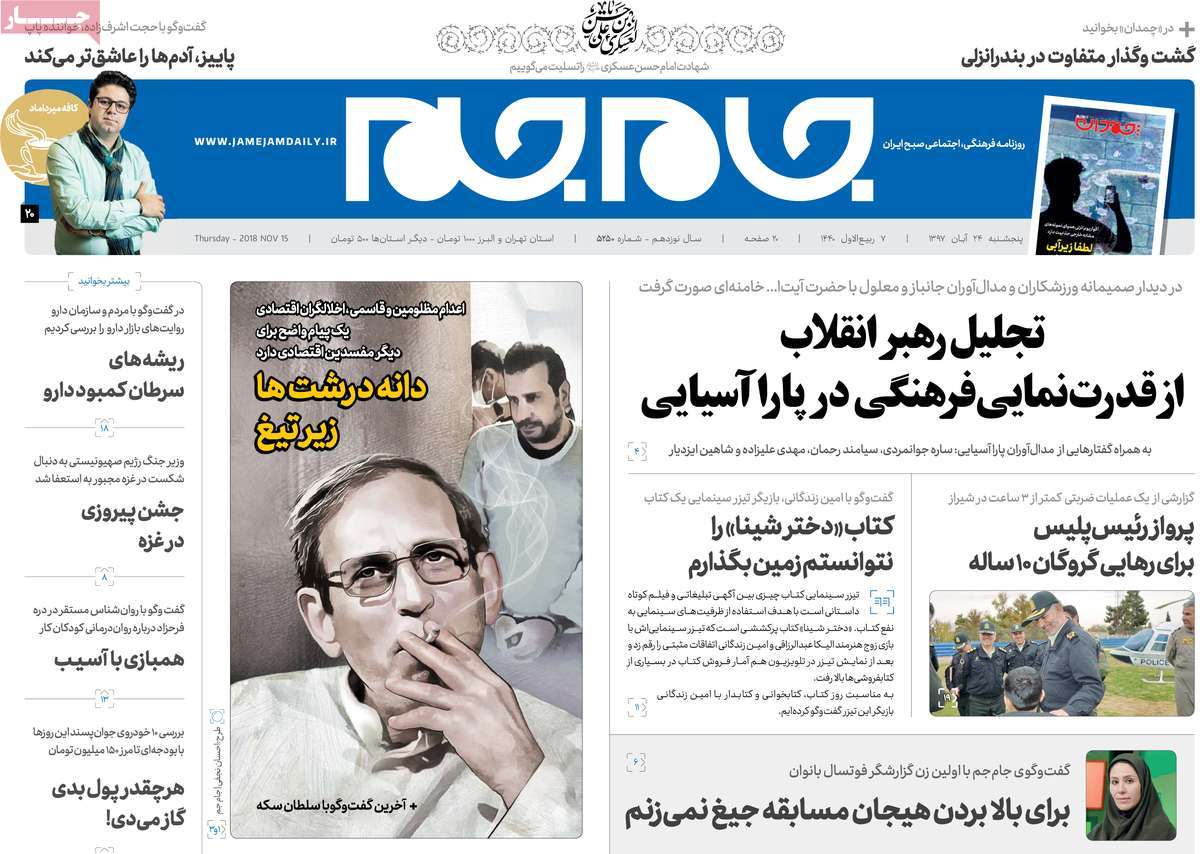 ---
Javan:
1- Execution of Those Disrupting Iranian Economy Starts with Sultan of Coin
2- We Must Stand against US Plots Today: Rouhani
3- Resistance's Rockets Fired at Heart of Israeli Cabinet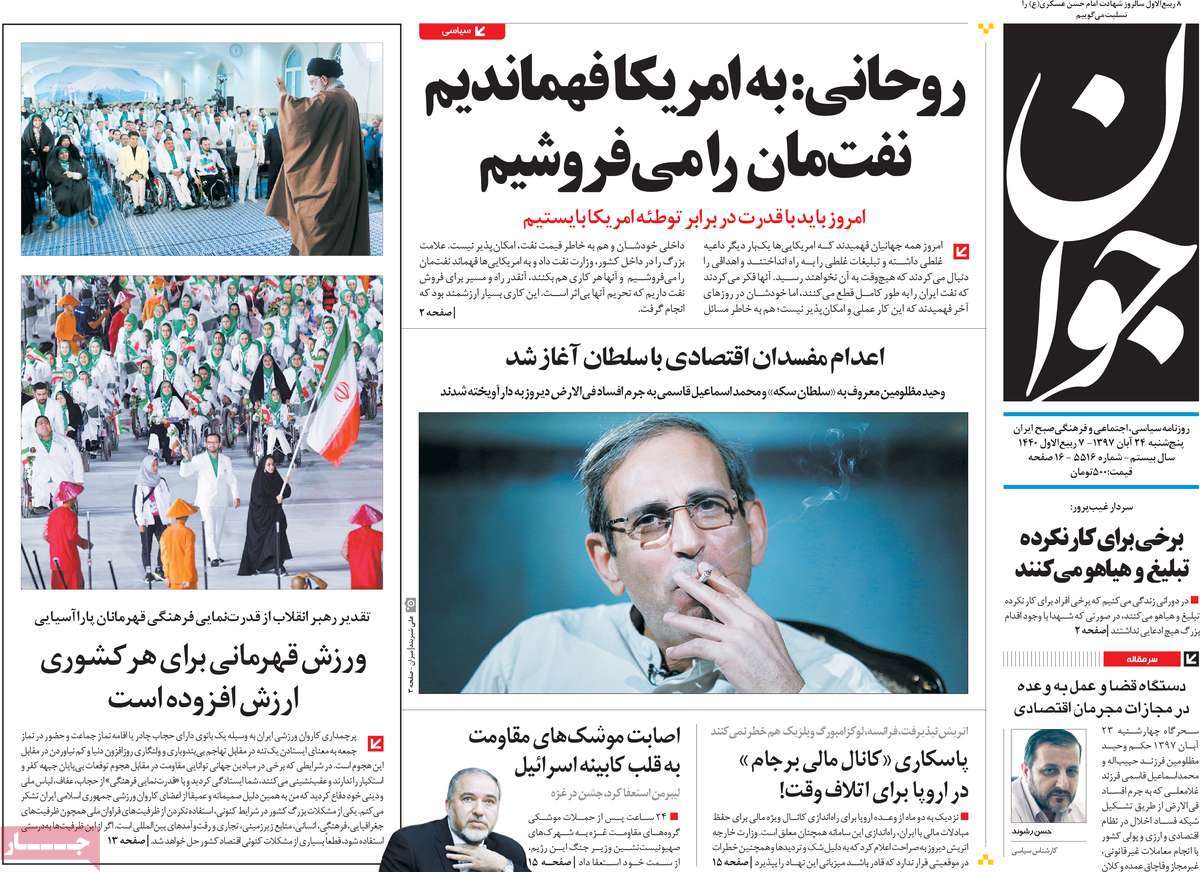 ---
Jomhouri Eslami:
1- Continued Decline in Gold Coin, Forex Rates
2- Judiciary Executes Sultan of Coin, His Accomplice in Praiseworthy Move
3- Iran Leader Commends Disabled Athletes for Their Success at Asian Games
4- We Made Americans Understand We'll Sell Our Oil: Rouhani
5- IMF Hails Measures to Boost Financial Transparency in Iran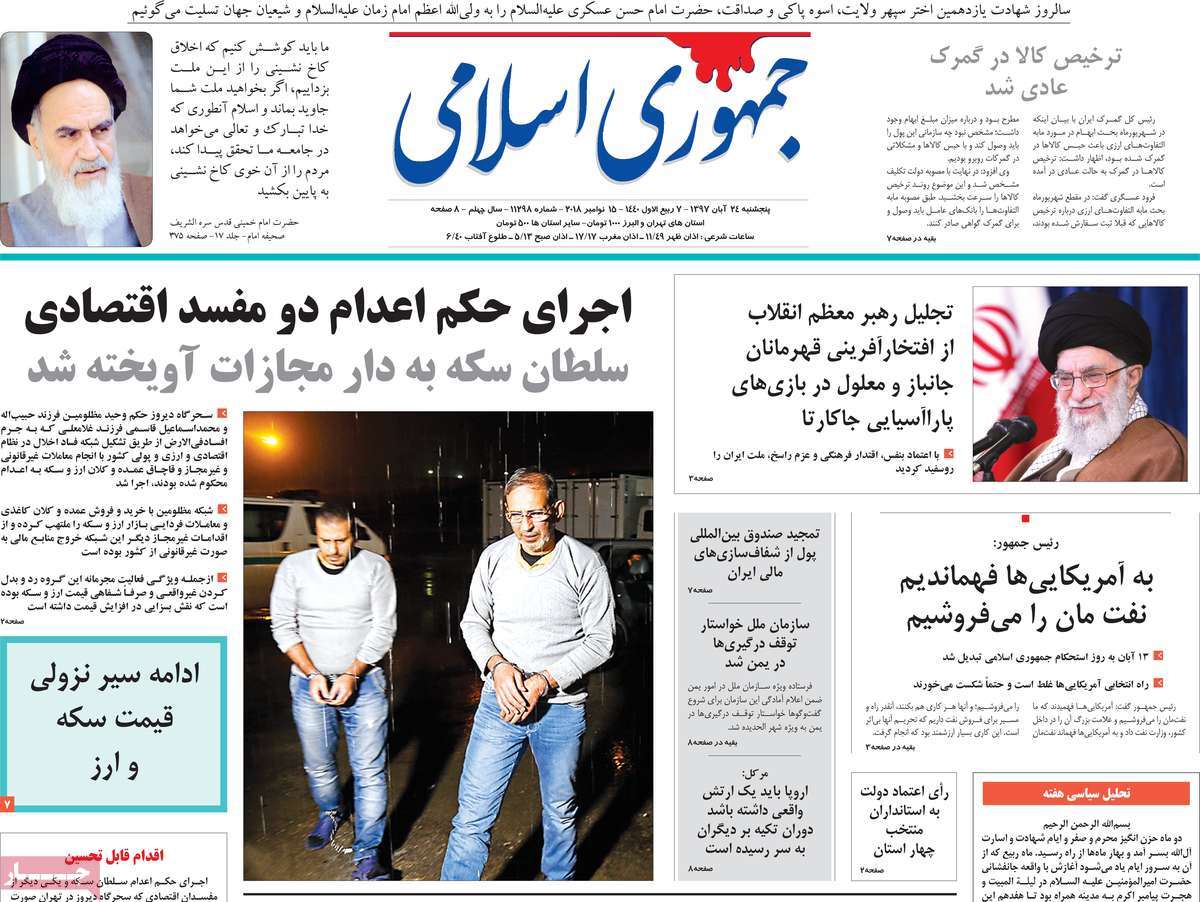 ---
Kayhan:
1- Two People Executed for Disrupting Coin, Forex Markets
* Now It's Turn of Executives Who Prepared Grounds for Corruption
2- Zarif's Comments on Rampant Money Laundering in Iran Give Clues to Enemies
3- Austria Refuses to Host SPV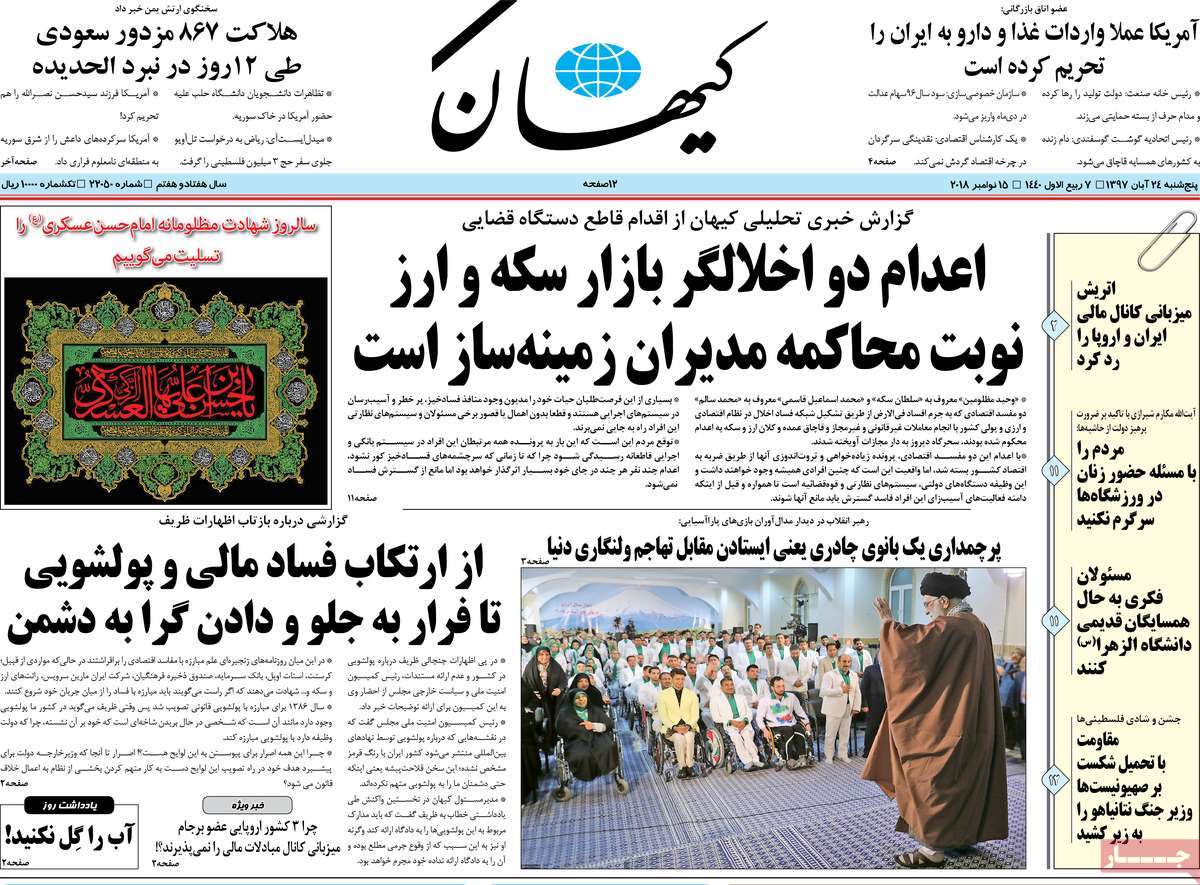 ---
Khorasan:
1- Sultan of Coin Executed after 2 Months of Legal Procedures
2- Iran Losing $8 Billion in Revenues by Selling Its Saffron Raw
---
Sazandegi:
1- Zarif's Attack on Money Launderers Faced with Conservatives' Strong Counterattacks
2- Israel in Crisis: Minister of Military Forces Resign amid Gaza Flare-Up
3- Sultan of Coin Hanged
4- Saudi Games: Secrets behind Sport Tournaments Held by Saudis
---
Shargh:
1- 'Sultan of Coin' Case Closed with Execution
2- Economic Woes Can Be Resolved through Correct Use of National Resources: Leader
3- More Hawkish Minister Out of the Israeli Cabinet of Hawks
4- US Preconditions for Talks with Iran Impossible to Meet: Iranian Envoy
---
Vatan-e Emrooz:
1- California on Fire: 50 Killed, Dozens Missing in Deadliest Wildfire in US History