Several papers today covered the remarks made by Iranian Foreign Minister Mohammad Javad Zarif about the Europeans' failure to implement their plan to save the Iran nuclear deal, and their reluctance to pay any economic cost for salvaging the JCPOA.
Also a top story was the Israeli attacks on the besieged Gaza Strip, and the retaliatory rocket attacks of Palestinian Resistance Group Hamas against occupied territories.
Tehran City Council's election of Pirouz Hanachi as the new mayor of the Iranian capital also received great coverage
The above issues, as well as many more, are highlighted in the following headlines and top stories:
Abrar:
1- Iran to Continue Nuclear Cooperation with Europe by Next Two Years
2- Iran Leader's Advisor Outlines Negative Impact of US Sanctions on Iran's Environment
3- John Bolton Holds Talks with UAE Officials over Iran
4- Wall Street Journal: US Interested in Postponement of Afghan Elections
5- Zarif: Europe Not Yet Ready to Implement Political Commitments While Paying Economic Costs
---
Ebtekar:
1- Outraged by Idea of European Army, Trump Attacks French President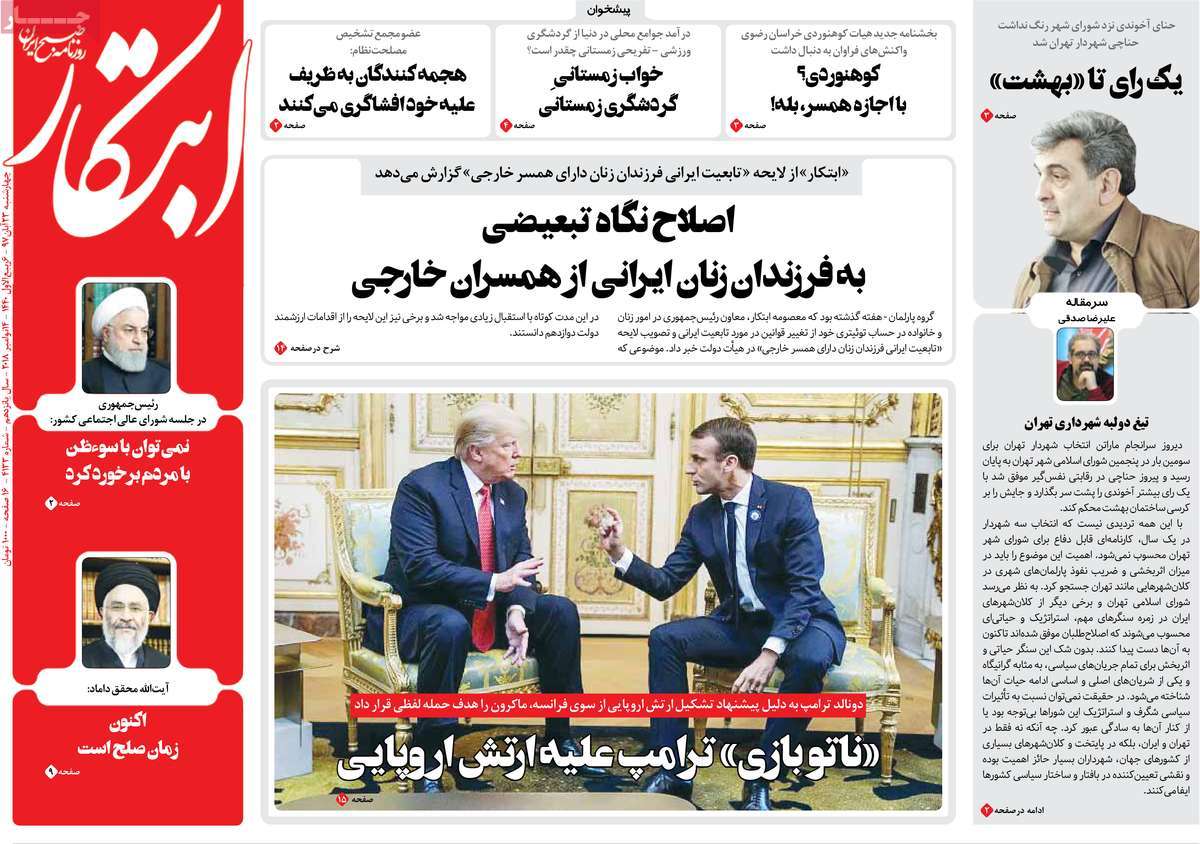 ---
Etemad:
1- Israel's Iron Dome Fails to Intercept Hamas Rockets
Gaza Once Again Attacked by Israeli Airstrikes
2- Hanachi Elected as New Mayor of Tehran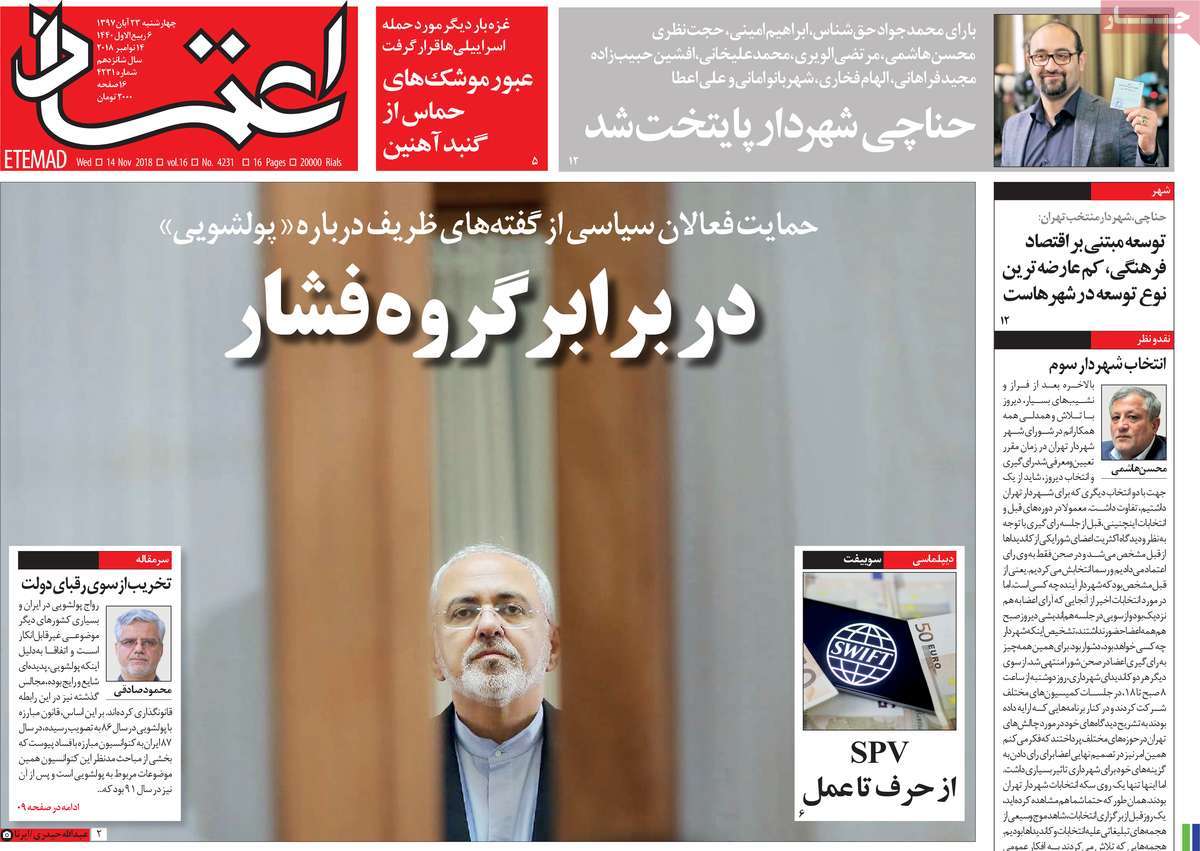 ---
Ettela'at:
1- Zarif: Europe Not Prepared to Pay Economic Expenses to Save JCPOA
2- Yemen's Ansarullah Bogs Down Saudi-led Coalition in Hudaydah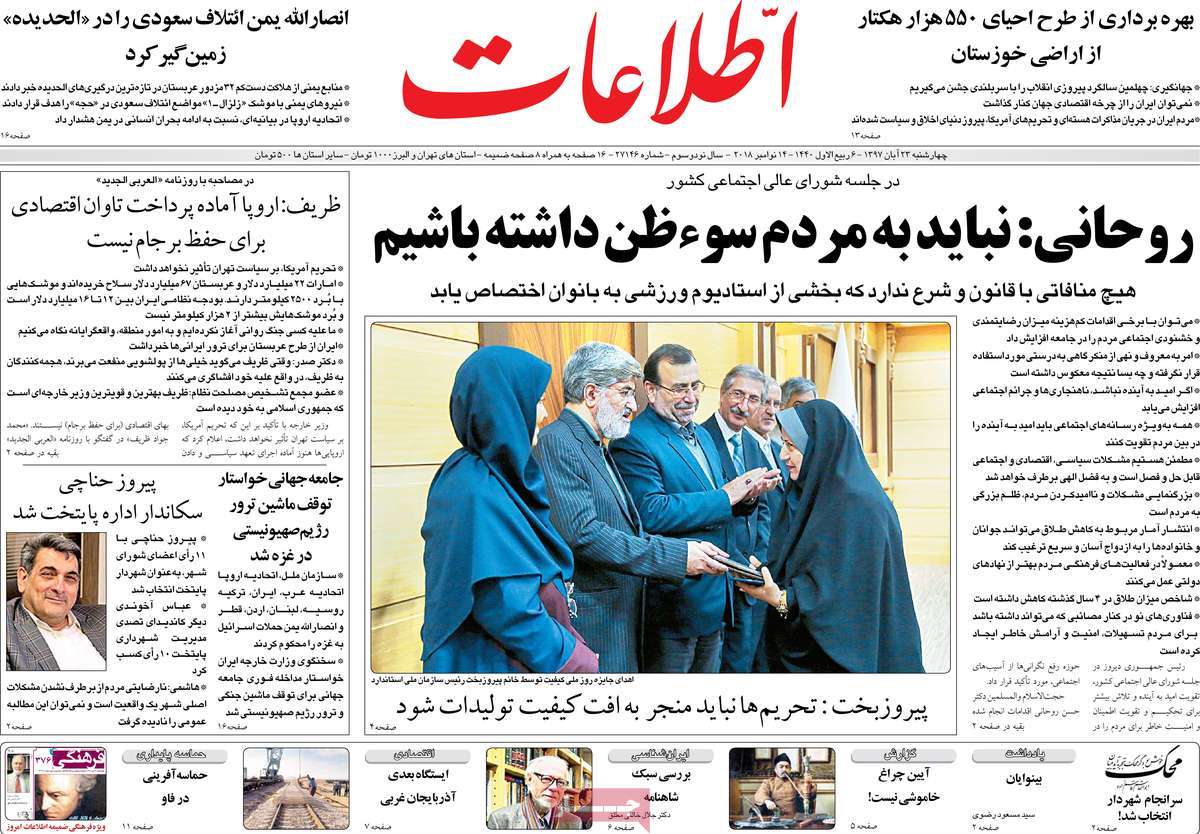 ---
Ghanoon:
1- Democrats' Anti-Trump Plan to Be Implemented in His Final Year in Office: Diplomat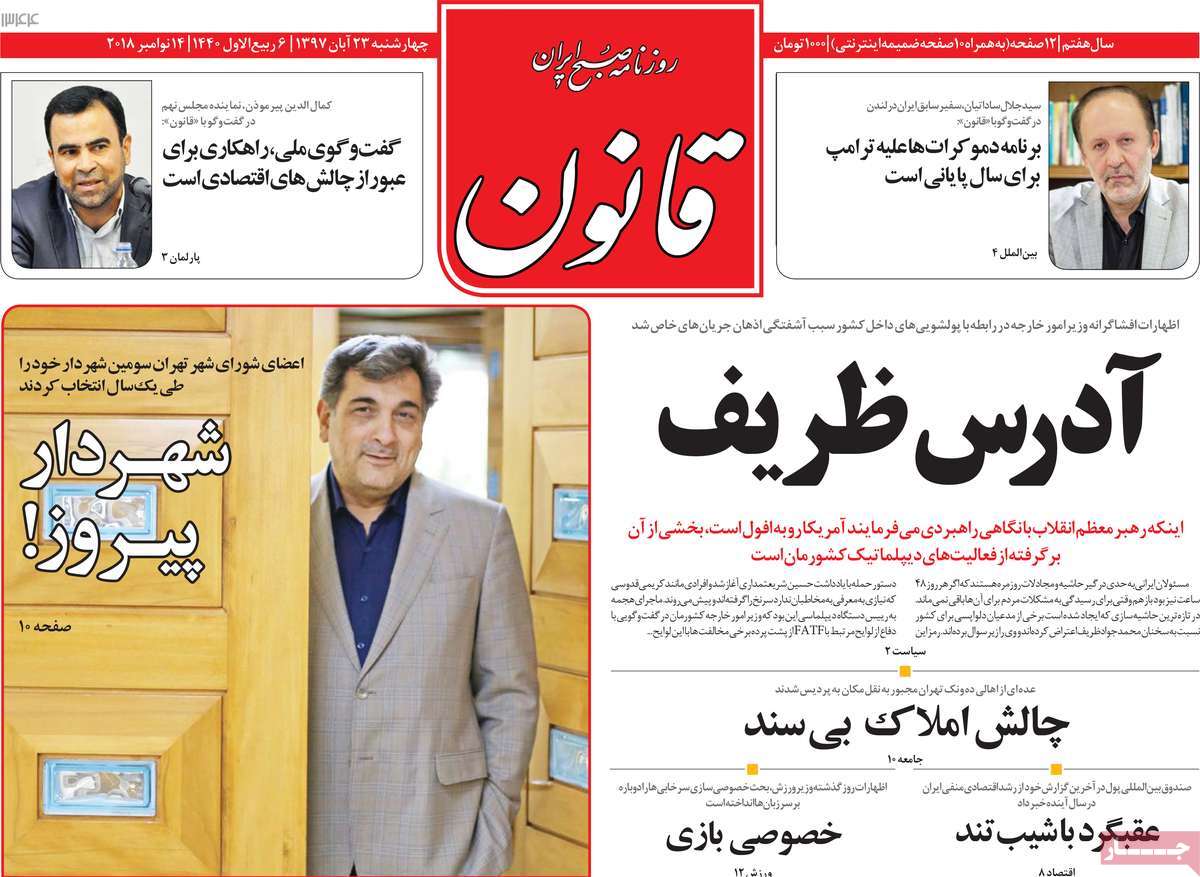 ---
Iran:
1- Two Spokesmen with Two Missions
Government's New Plan for Disseminating Information
2- Loneliness of Gaza: Arab Countries' Meaningful Silence over Israeli Attacks
---
Jame Jam:
1- Attacking House of Spider: Resistance Forces Retaliate Israelis' Attacks
2- Saudis Using Sports to Distract World's Attention from Khashoggi Crime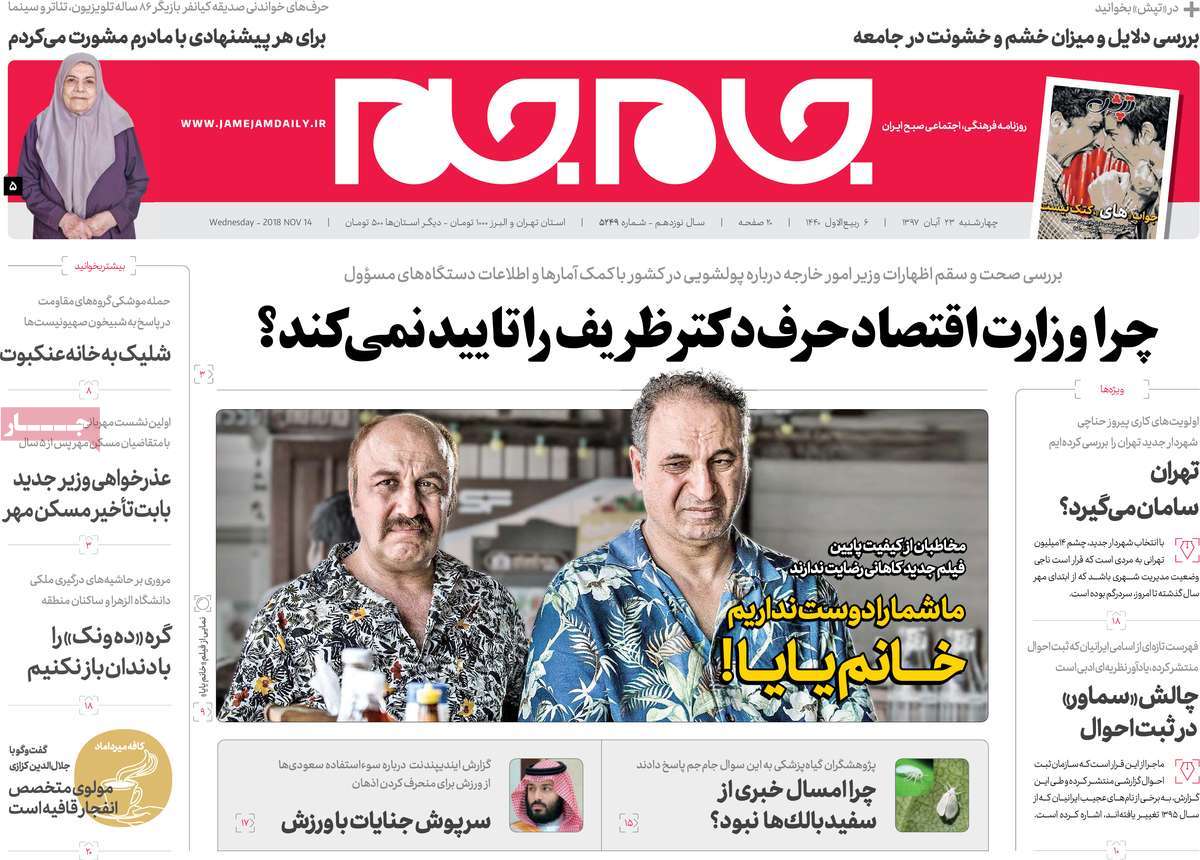 ---
Javan:
1- We'll Squeeze Iranians 'Until the Pips Squeak': Bolton
---
Jomhouri Eslami:
1- France: Dirty War in Yemen Must Be Stopped
2- Amnesty Int'l Strips Suu Kyi of 'Conscience' Award
3- Zarif: Sanctions Not to Have Any Impact on Our Policies
4- Mahathir Mohamad: Trump Is to Blame for Increased Tension, War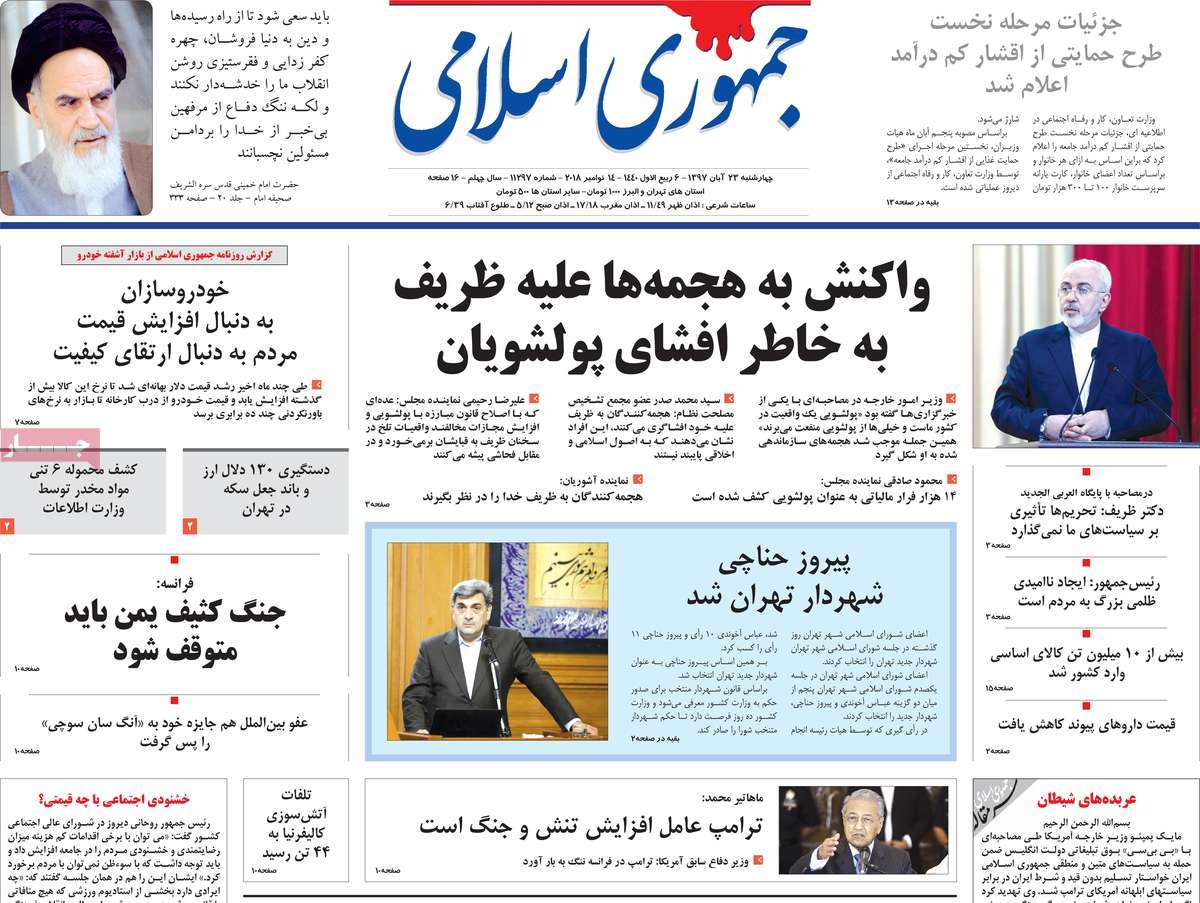 ---
Kayhan:
1- Palestinian Resistance: 470 Rockets Fired at Occupied Territories
Next Target Will Be Tel Aviv
2- SWIFT: We're Sorry We Couldn't Remain Impartial
3- UN Secretary-General: Biggest Famine of Century Threatening Yemeni People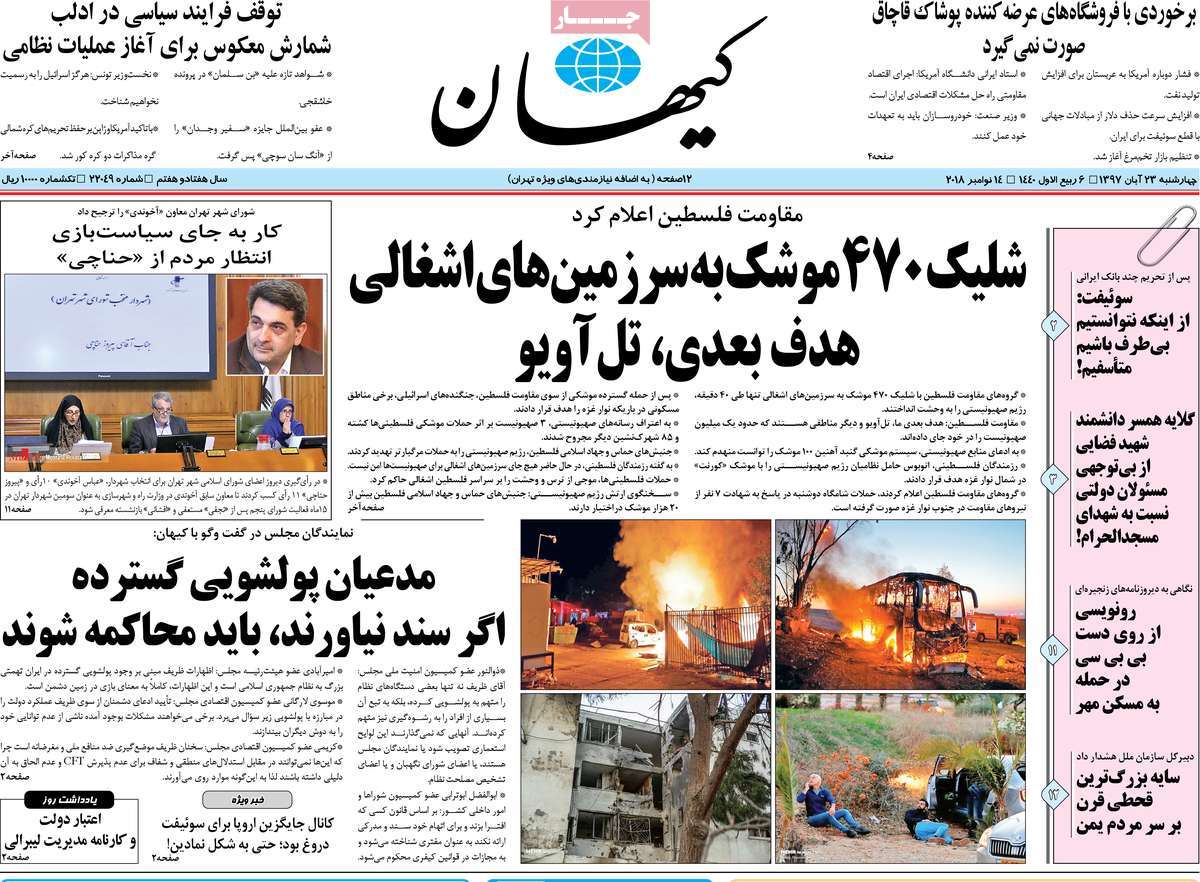 ---
Sazandegi:
1- Hanachi's Victory: Deputy Defeats Minister with One Vote Difference
2- Tell Your Boss Assassination Done
New York Times' Account of Khashoggi Murderer's Conversation with Bin Salman's Aide
---
Setareh Sobh:
1- Erdogan Says 18 Top Saudi Officials behind Khashoggi Murder
2- Russia's Oil Production in Favour of US Breaks Records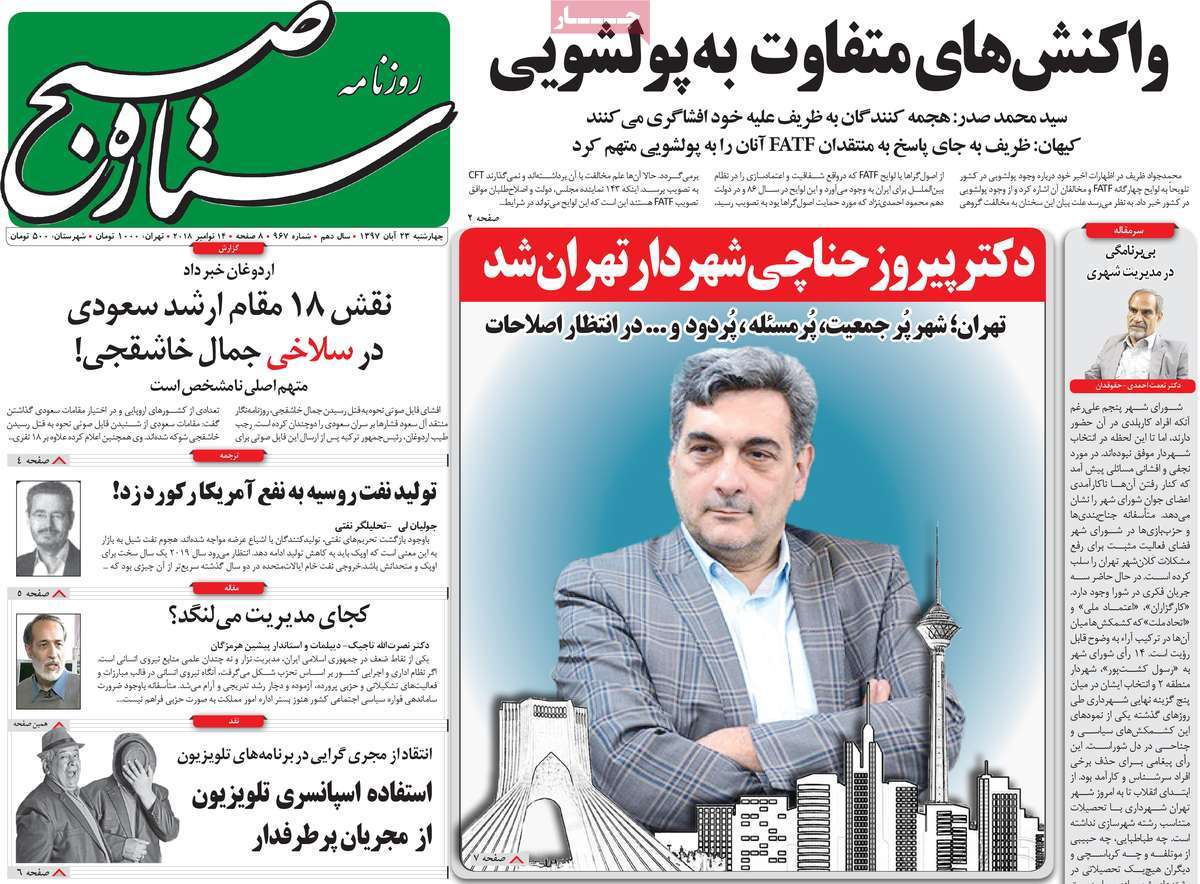 ---
Shargh:
1- Rouhani: What's Problem with Allowing Women to Go to Stadiums?
2- Ayatollah Khamenei Supporting President Rouhani: Kharrazi
3- Europe's Conditional Financial Prescription for Bypassing Sanctions
4- World Cup in Iran: Qatar Finally Confirmed
5- Zarif under Fire for FAT Remarks
Conservatives Widely Condemn Zarif for Criticizing FATF Opponents