The dominant news story on the front pages of Iranian dailies on Saturday was the ongoing nuclear talks between Iran and P5+1. Another top story of the day was the funeral procession of Gholamhossein Mazloumi, a veteran footballer and coach, who passed away on November 19 after losing a hard-fought two-year battle to cancer.
---
Aftab-e Yazd: "Ahmad Jannati, the secretary of the Guardian Council, has thanked parliament for not granting a vote of confidence to government-proposed ministers for the vacant top job at the Ministry of Science, Research and Technology."
Aftab-e Yazd: "We should not trample national interests because of internal pressure," said Oil Minister Bijan Namdar Zanganeh.
---
Asrar: "We will provide security for those who want to be active on economic, cultural and scientific fronts," said Intelligence Minister Seyyed Mahmoud Alavi.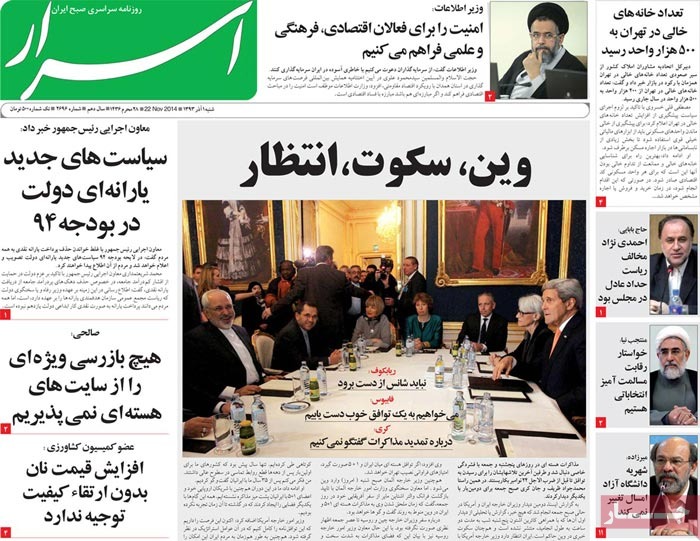 ---
Emtiaz: "Ezzatolah Entezami, a veteran Iranian actor, and Director of the National Library of Iran Seyyed Reza Salehi Amiri paid a bedside visit to Najaf Daryabandari, a very famous writer and translator of works from English into Persian.
Emtiaz: "Gholamhossein Mazloumi nicknamed 'the Golden Head', a famous soccer player, coach and administrator who passed away on November 19, was laid to rest."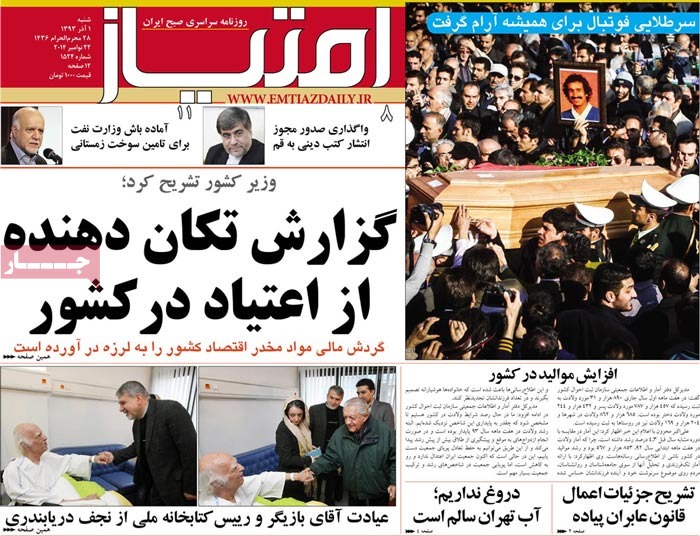 ---
Ettela'at: "Oil exports will see a two-fold rise after the lifting of sanctions," said Oil Minister Bijan Namdar Zanganeh.
Ettela'at: "The invitation to visit bookshops – called the day of bookstore- hopping – was welcomed by the public and scholars."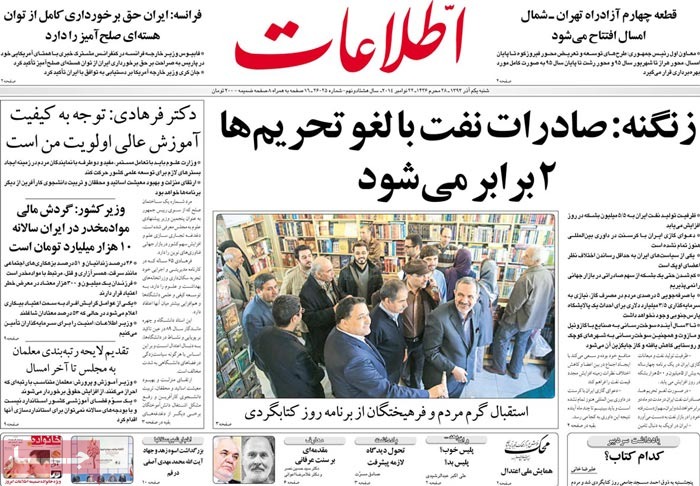 ---
Hambastegi: "Addict mortality rate has seen a 6-percent increase," said Interior Minister Abdolreza Rahmani Fazli.
Hambastegi: "Zarif's trip back to Tehran has been scrapped; the talks will carry on."
---
Hamshahri: "Iran's beach soccer defeated Japan and came first in 2014 Asian Beach Games in Phuket, Thailand."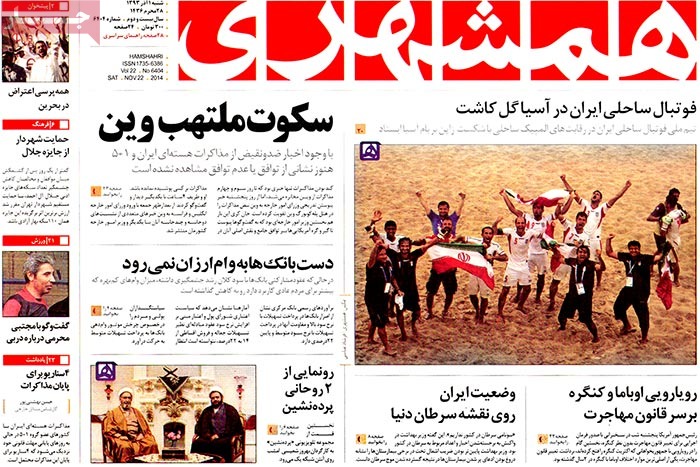 ---
Iran: "Drug smugglers rake in almost $3.3 billion in revenues each year," said the interior minister.
---
Javan: "We seek a deal which guarantees the independence and dignity of the country," said President Rouhani.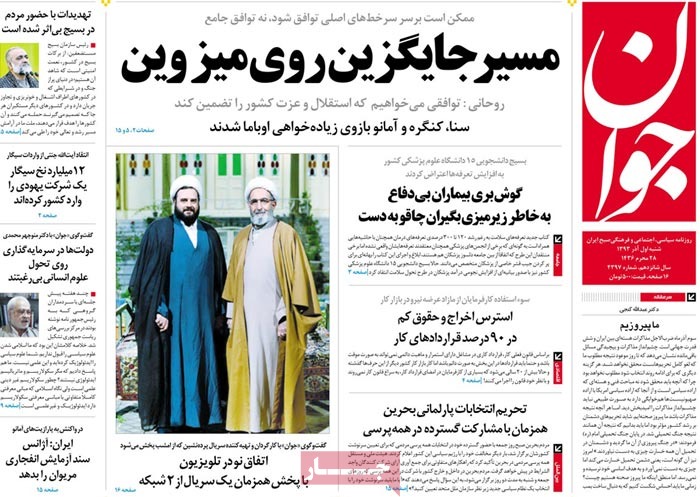 ---
Jomhouri Islami: "The government is utterly determined to complete the construction of the freeway linking Tehran to the north," said First Vice President Eshagh Jahangiri.
---
Kaenat: "Poor air quality of Tehran persists; the Air Quality Control Organization has urged people with medical conditions to stay indoors."
---
Khorasan: "Child birth has seen a 4.3 percent rise between March 21 and October 22, 2014."
---
Sepid: "Those who are behind recording the dying moments of pop singer Morteza Pashaei in the hospital and posting the video online will be punished," said Health Minister Hassan Hashemi, stressing that no one has the right to film patients in operating rooms and that the privacy of patients should be respected.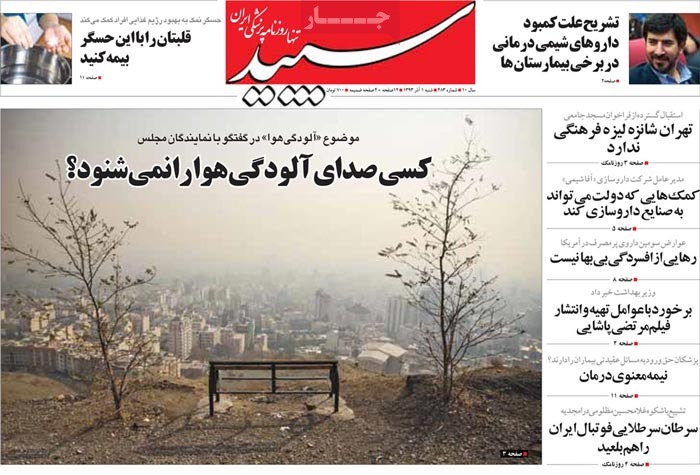 ---
Sharq: "We do not have a nuclear facility in Marivan; we will grant the International Atomic Energy Agency (IAEA) access; the country which gave such baseless information to the agency has not given the exact location of it yet, because such a nuclear site does not exist at all," said Iran's envoy to IAEA Reza Najafi.
Sharq: "The National Development Fund of Iran has $70 billion."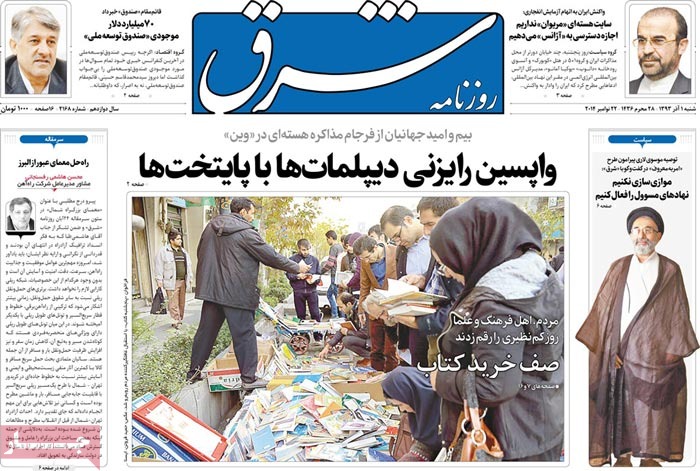 ---
Tafahom: "We have nothing to hide; drinking water in Tehran is clean enough for drinking purposes," said the health minister.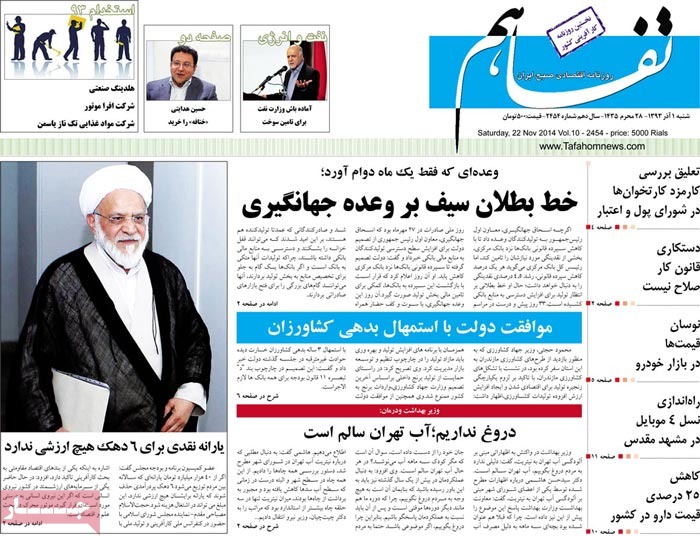 ---