The top story in all newspapers today was the upcoming announcement of Trump's decision on the Iran nuclear deal, which is slated for Tuesday night. The European Union has already stated that it will remain in the JCPOA regardless of Trump's decision. However, speculations about the possible consequences of the decision have grabbed the headlines in Iran.
Several papers today also highlighted the meetings between Iranian Foreign Minister Mohammad Javad Zarif and a number of US politicians, including former US Secretary of State John Kerry and other influential figures from both GOP and Democrat parties.
The victory of the Lebanese resistance movement Hezbollah and its allies in the Arab country's parliamentary votes also received great coverage, particularly in conservative papers.
The above issues, as well as many more, are highlighted in the following headlines and top stories:
19 Dey:
IKRF Chief: Rouhani Fulfilled Campaign Promise of Eradicating Poverty
Johnson: Iran Winner of JCPOA Annulment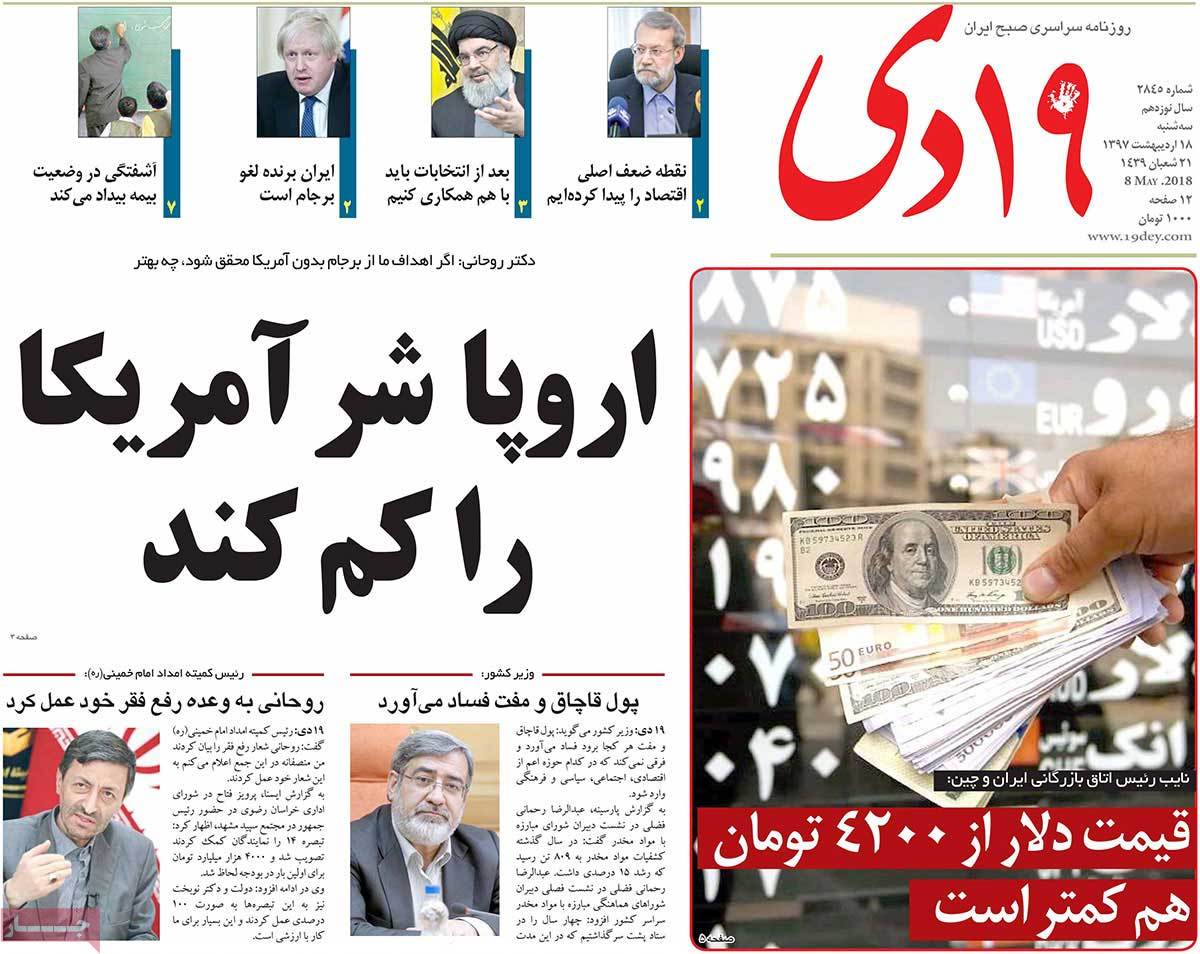 ---
Abrar:
Spokesman: If US Withdraws from Iran Deal, We'll Take Surprising Decision
Zarif: I Held Talks with Influential Figures of Both Parties in US
Zionist Minister: Iran's Continued in Presence Means End of Assad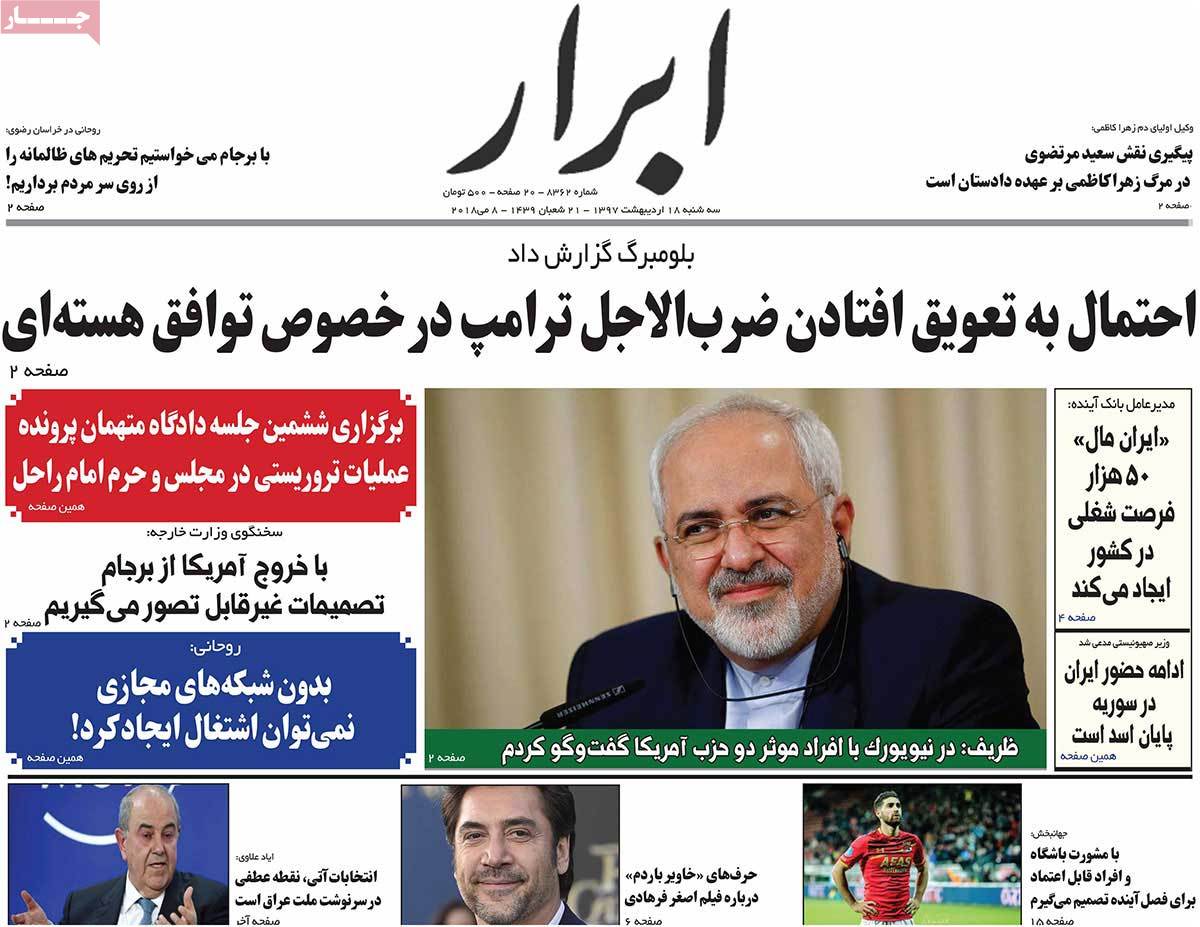 ---
Afarinesh:
"Pars" Crude Oil Sold in Global Markets
Iran's Crude Exports Break Records in April
---
Afkar:
Zarif: Iran's Interests in JCPOA Must Be Secured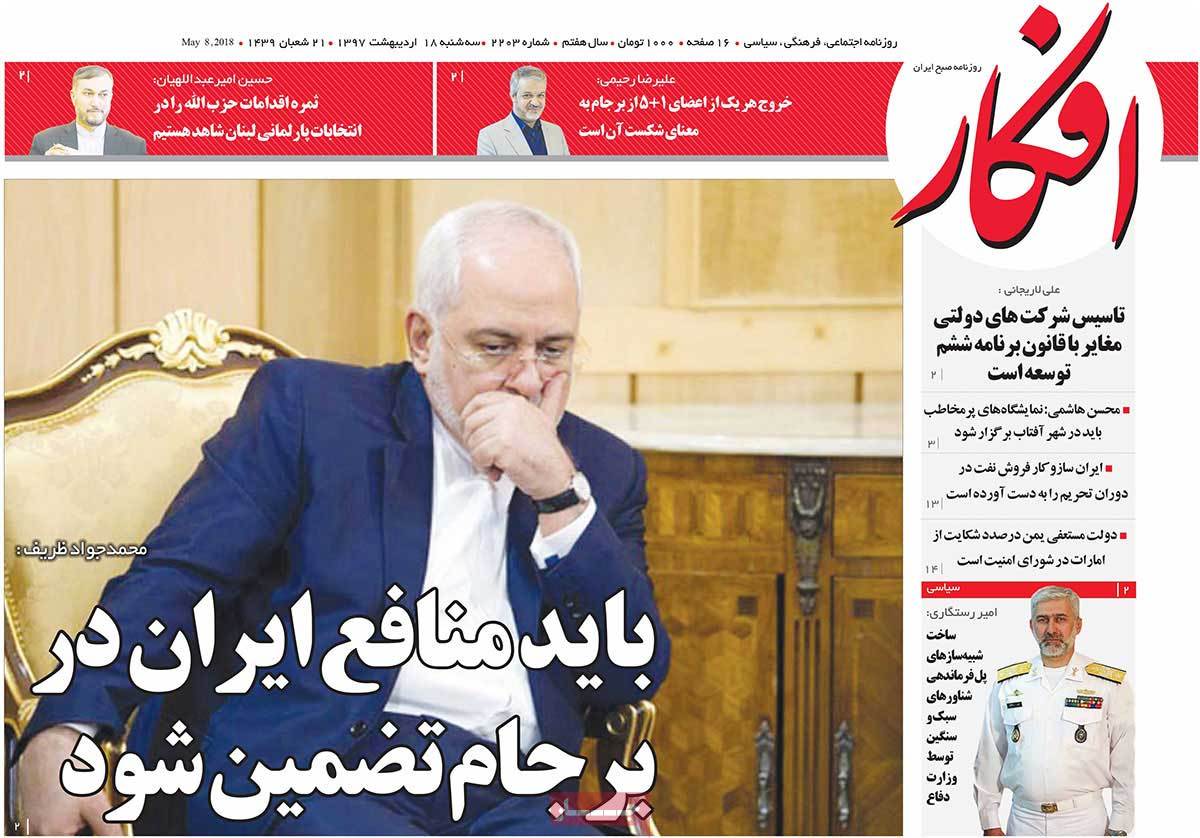 ---
Aftab-e Yazd:
Rumours Say Trump Administration May Think Twice on Iran Deal
Fanning Flames of Rumours in Forex Market
Conservative Media Making People Disappointed as Part of Major Plot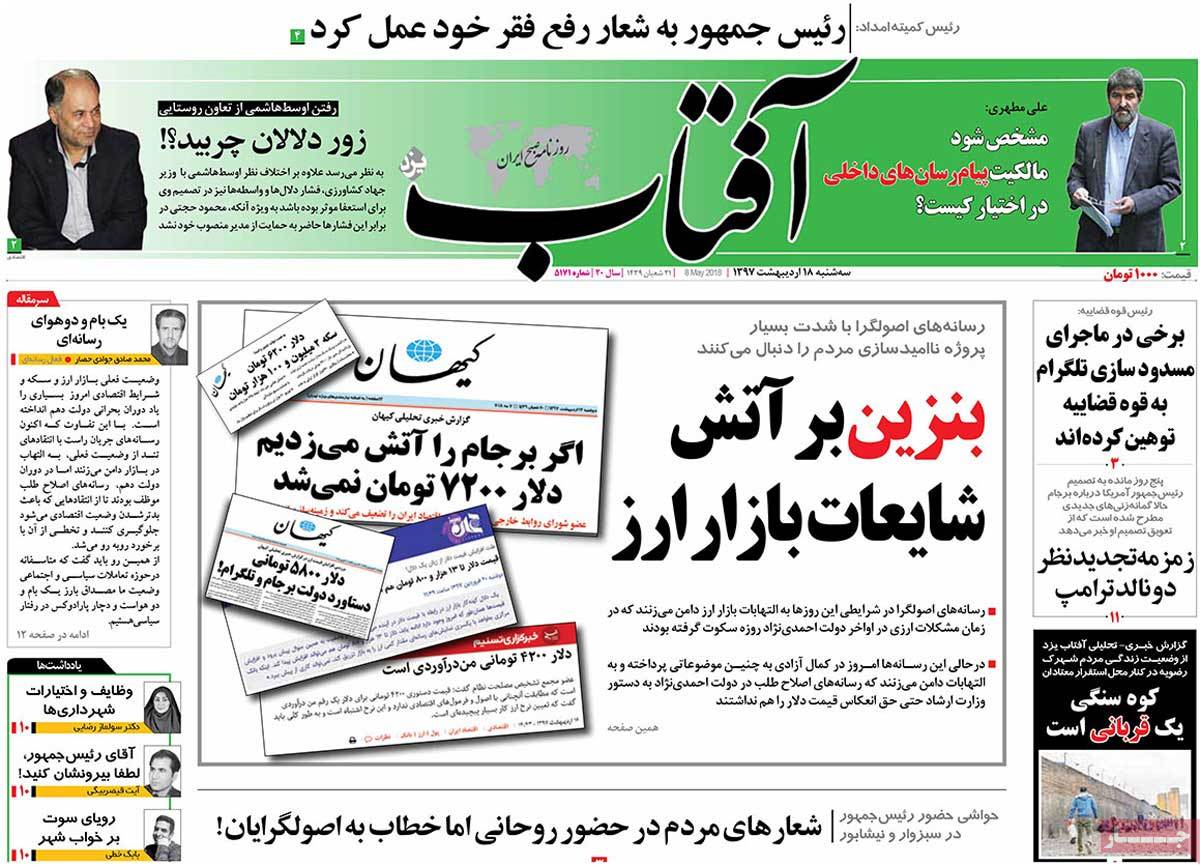 ---
Arman-e Emrooz:
Zarif, Kerry Meet in New York on Iran Nuclear Deal: Spokesman
Domestic Messaging Apps Fail to Defeat Telegram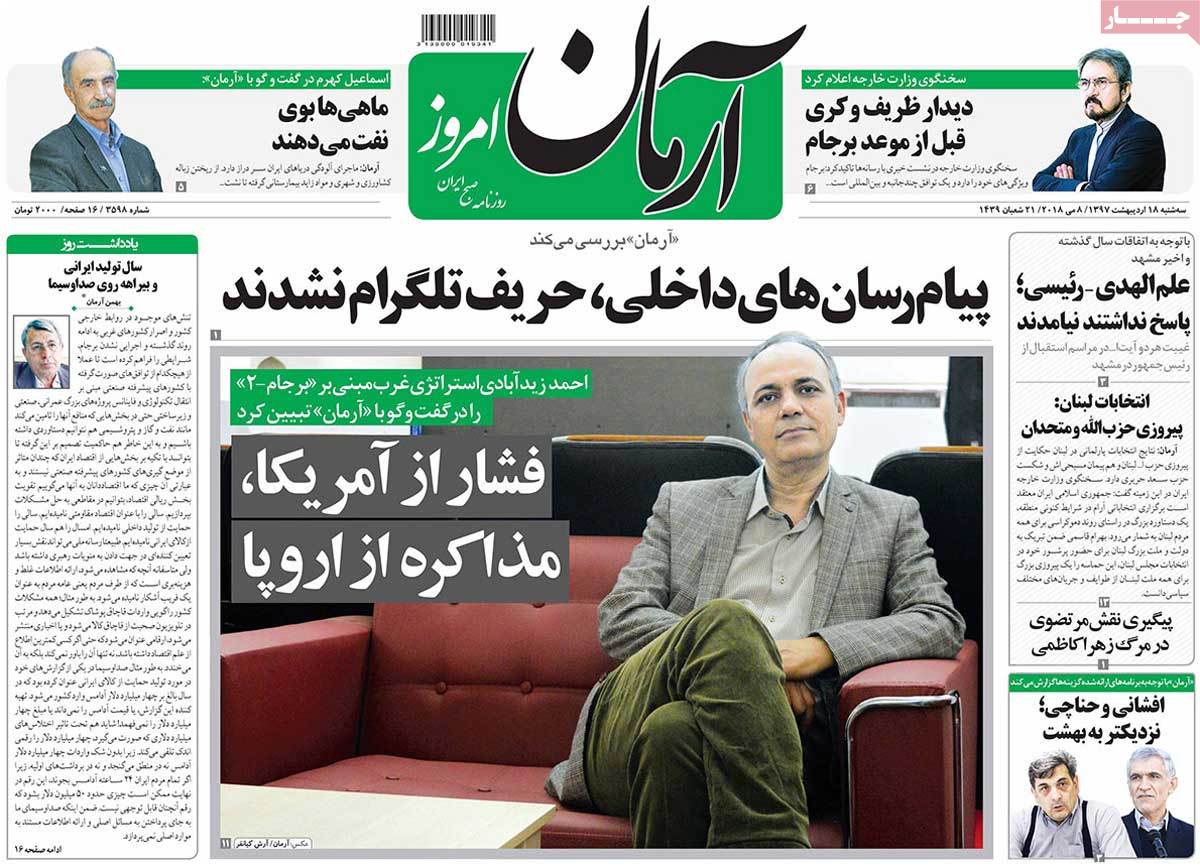 ---
Asrar:
Judiciary Chief: Move to Block Telegram Aimed at Restoring People's Rights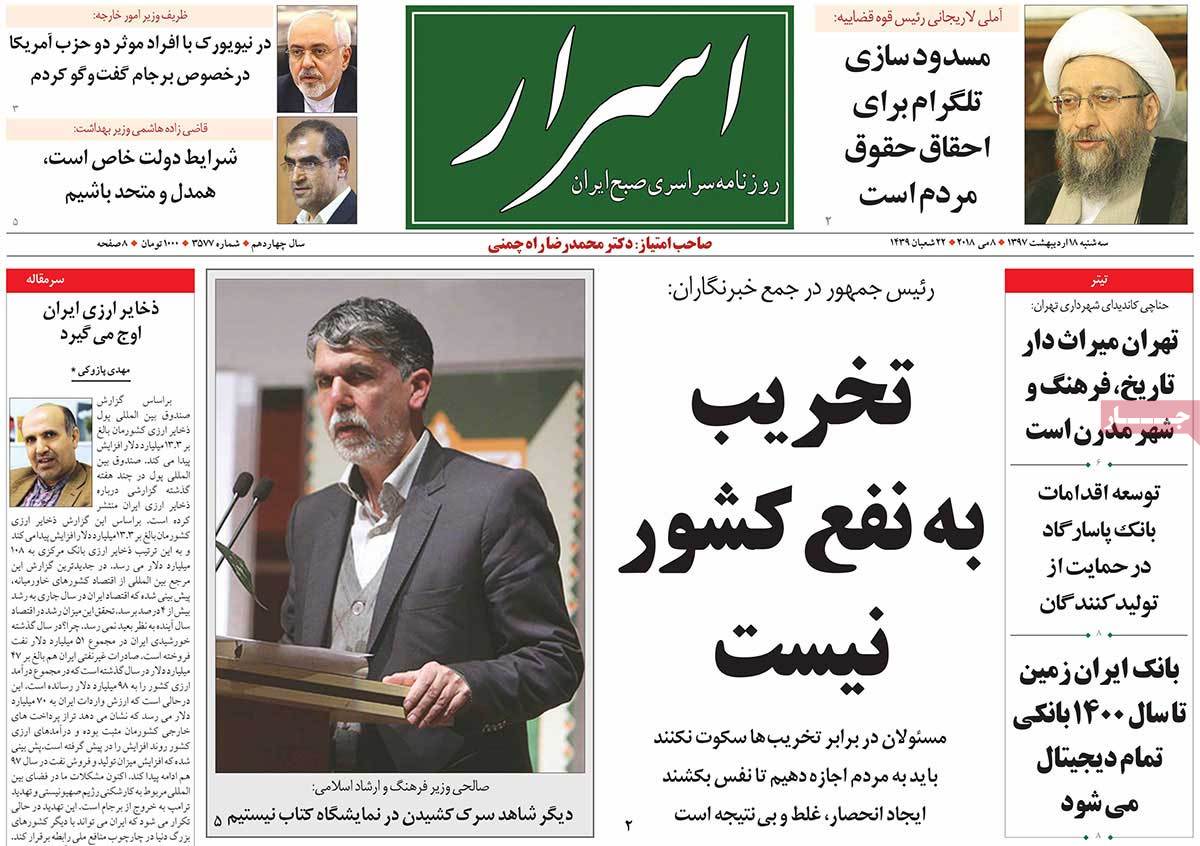 ---
Ebtekar:
Fourth Coronation of New Age's Russian Tsar
Putin Once Again Swears in as Russia President
France, Germany, UK: We'll Stay in JCPOA Regardless of Trump Decision
---
Etemad:
Last Encouraging, Threatening Remarks
British, French FMs Give Ultimatum to US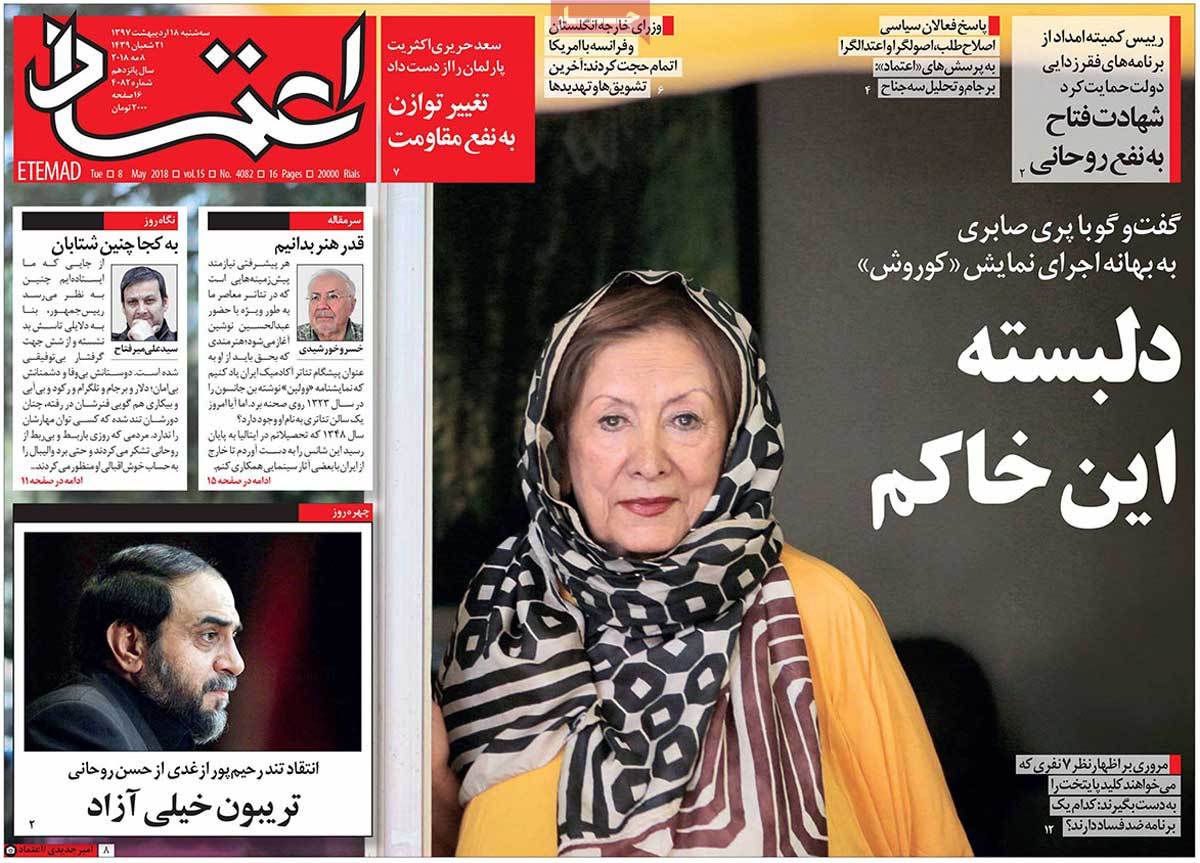 ---
Ettela'at:
Zarif: Iran's Staying in or Withdrawing from JCPOA Hinges on Trump Decision
Resistance Movement's Decisive Victory in Lebanese Parliamentary Votes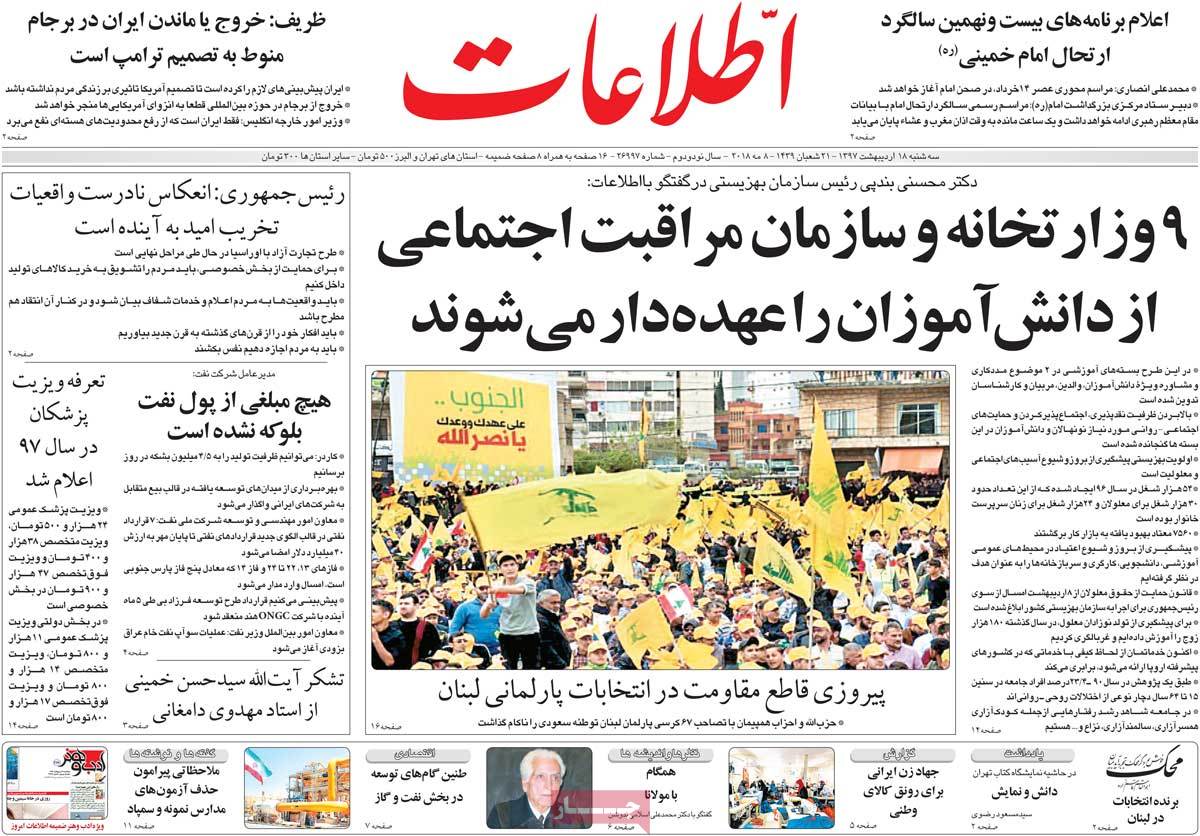 ---
Hamshahri:
Iran Nuclear Deal Minus US
Clayderman to Hold Live Performance in Tehran
Now Time for French Pianist after Einaudi, Kitaro, Gypsy Kings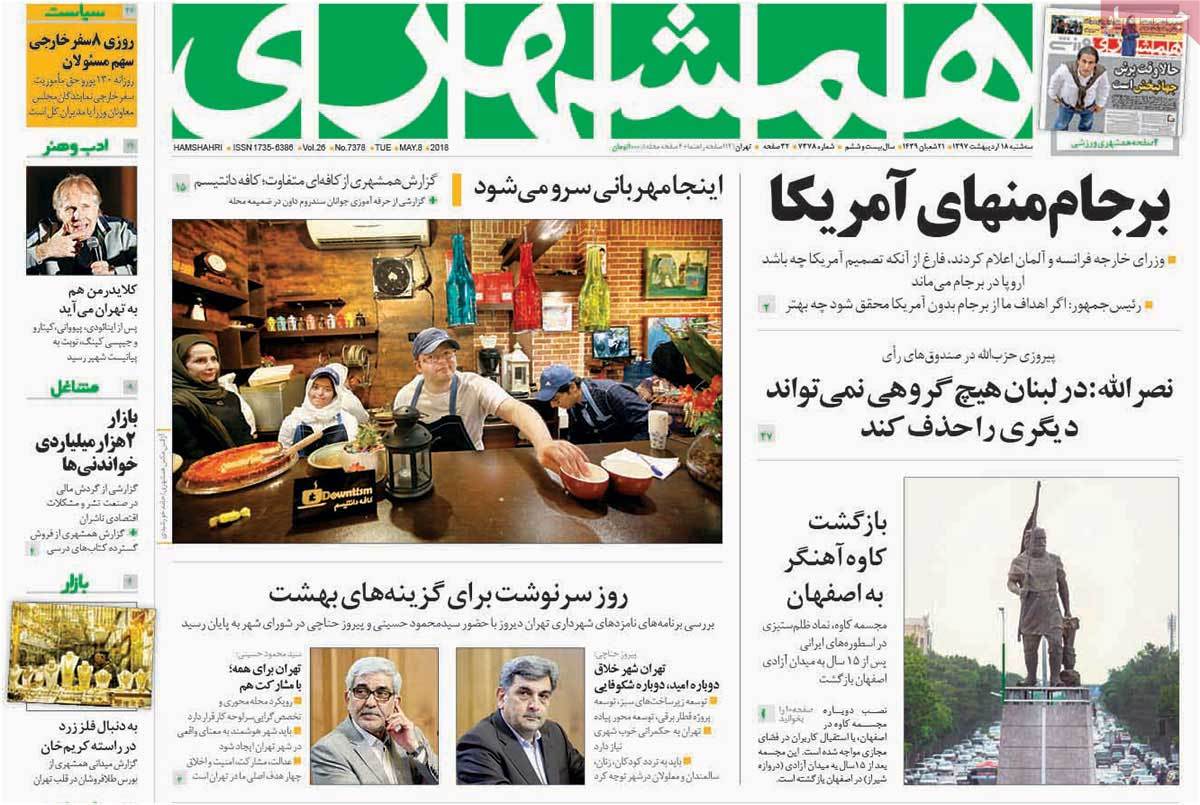 ---
Iran:
Iran's Banking System to Be Frozen If We Don't Accept FATF: MP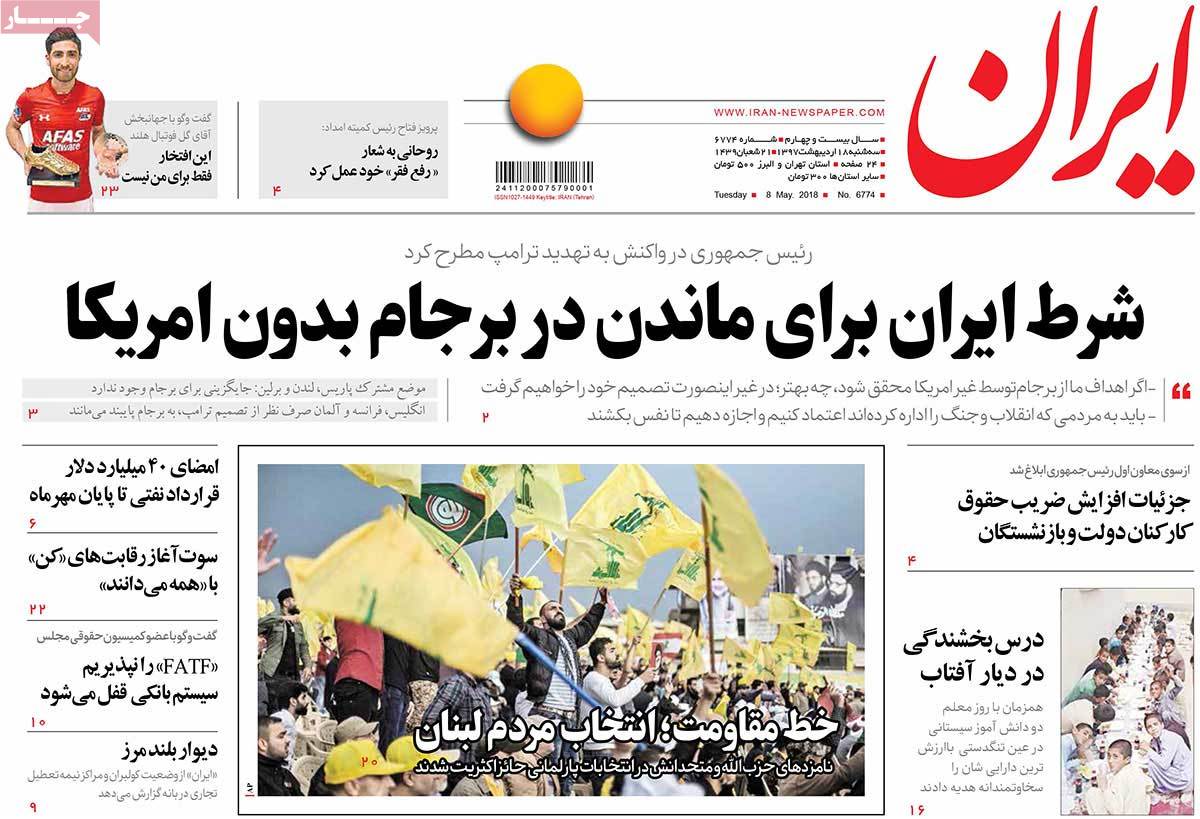 ---
Javan:
Rouhani: We Have Foreign Currencies, but Not for Smugglers, Tourists of Luxury Hotels
Farhadi's Film Commissioned by EU
---
Jomhouri Eslami:
$40 Billion Worth of Oil Deals to Be Signed in Coming Months
Yemeni Nobel Peace Prize Laureate: KSA, UAE's Crimes in Yemen 'State Terrorism'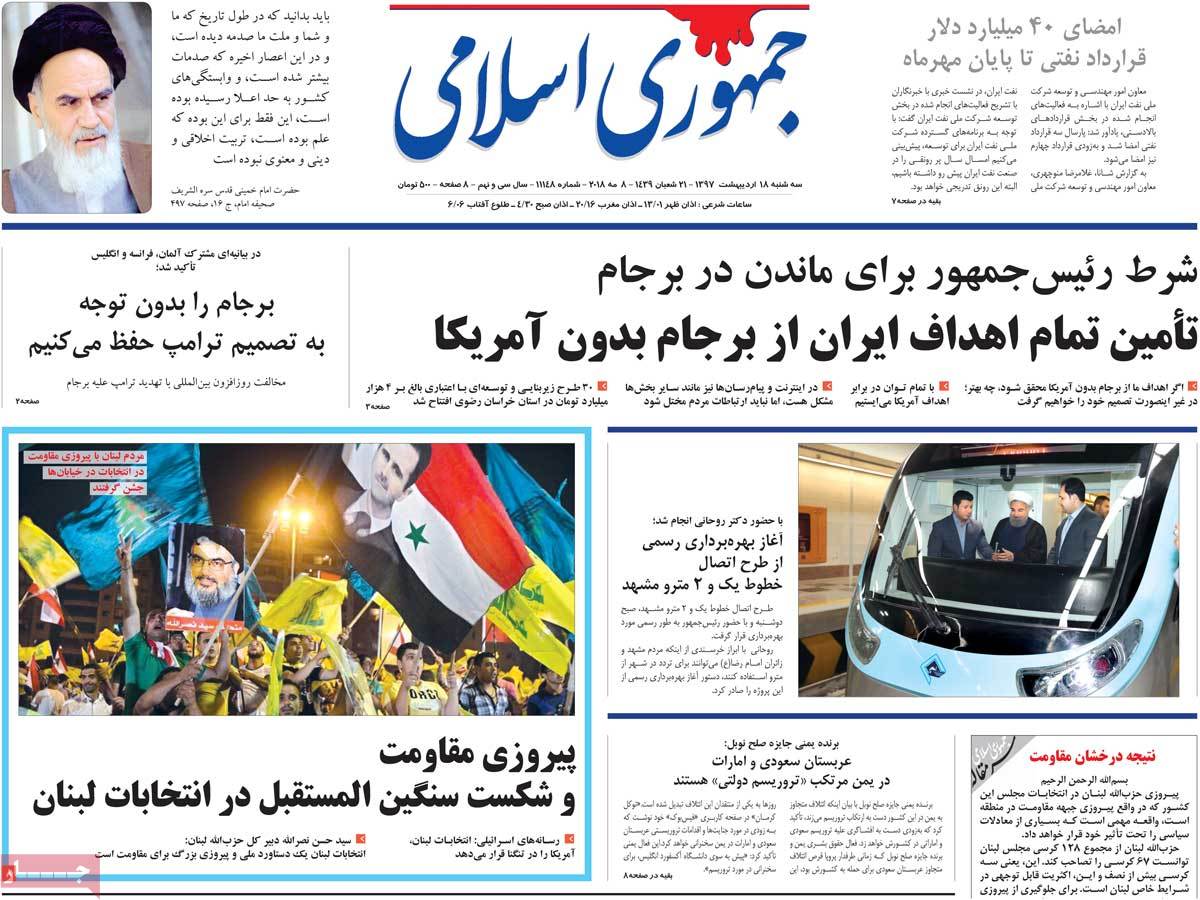 ---
Ka'enat:
One Country, One Law!
Rouhani: Mashhad Not Different from Other Cities
Judiciary: US Withdrawal from Iran Nuclear Deal Not to Cause Any Trouble
---
Kayhan:
Hezbollah's Historic Victory: US, Al Saud, Israel Mourning
UK Foreign Secretary: JCPOA Handcuffs on Iran, We Shouldn't Open Them
---
Resalat:
You Can't Talk to US in Any Language but that of Resistance, Power: Analyst
---
Sazandegi:
Cannes to Open with Iran
In Historic Moment, Cannes Film Festival to Be Opened with Iranian Director's Film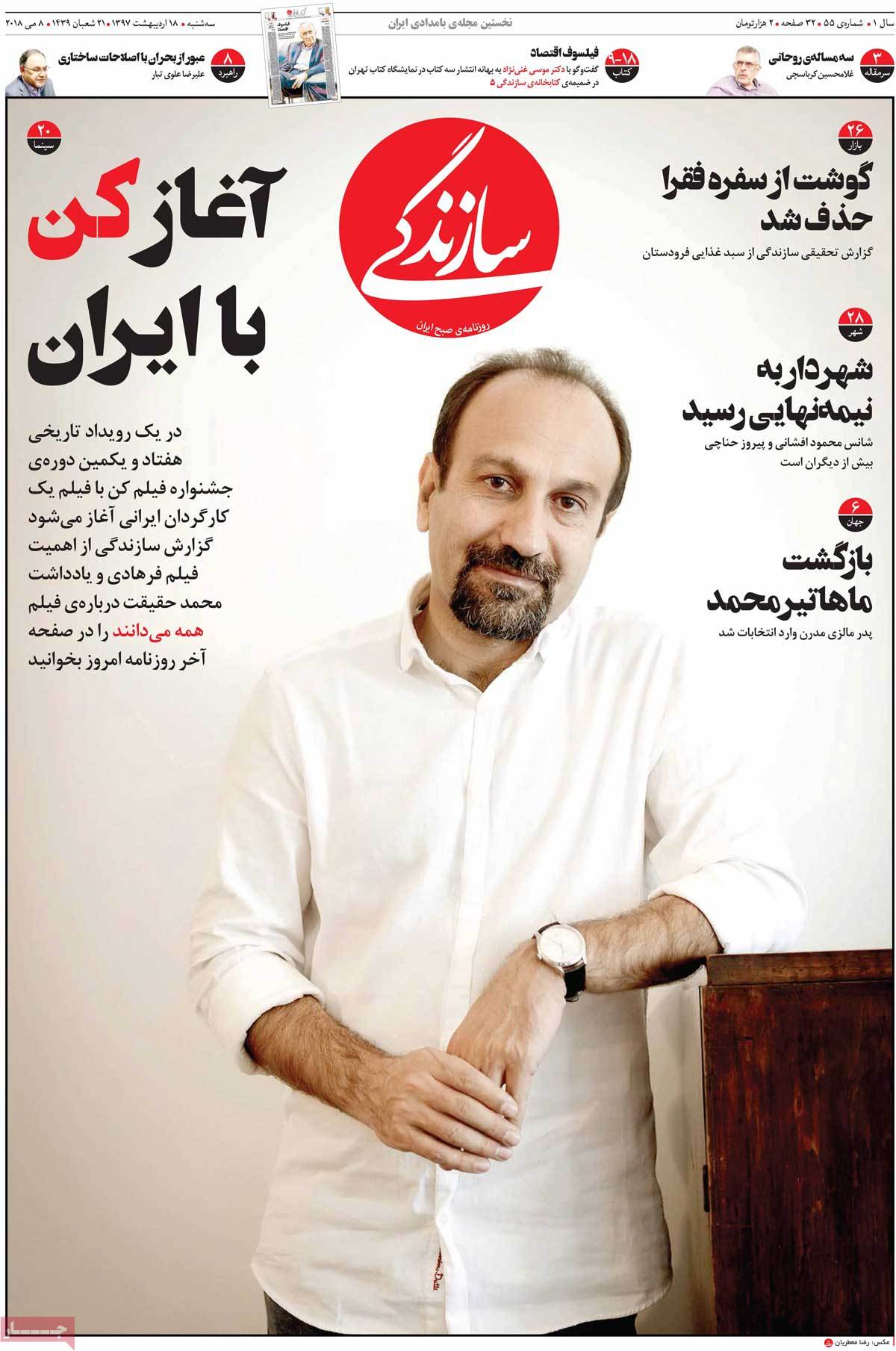 ---
Setareh Sobh:
Consultation with Republicans, Democrats: FM's Efforts to Preserve JCPOA
---
Shargh:
Rahnavard: I Won't Accept End of My House Arrest without Mousavi, Karroubi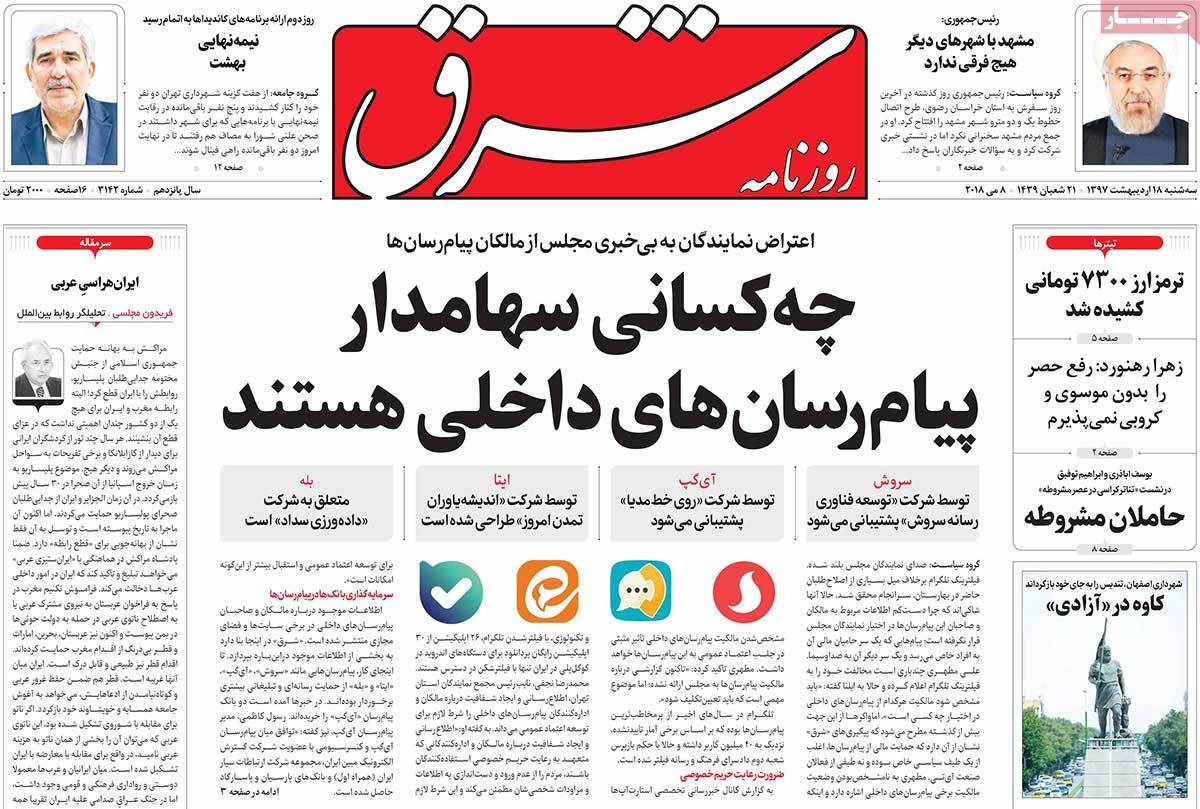 ---
Ta'adol:
Deputy Oil Minister: I'd Remain in Iran If I Were in Total's Shoes