On Saturday, almost all Iranian newspapers covered the remarks by the Leader of the Islamic Revolution, Ayatollah Seyyed Ali Khamenei, at a gathering of Islamic countries' ambassadors.
They also focused on President Hassan Rouhani's controversial criticism of "Revolutionary Islam" idea, vis-à-vis his preferred idea of "Islamic Revolution", publishing a variety of reactions, including calling Islam a religion both for struggle and for life.
The most important regional development, the resignation of Turkish Prime Minister Ahmet Davutoğlu after his quarrel with President Recep Tayyip Erdoğan, was also a hot topic in many newspapers.
Abrar:
1- Turkish PM Resigns from Government and Chairmanship of Ruling Party
2- Why FM Zarif Postponed His Latin America Visit
3- UN Special Rapporteur: Now Is the Time for New Interaction with Tehran
4- Expert Visits to Begin Soon: AEOI Chief Salehi after Meeting with Amano
---
Abrar-e Eqtesadi:
1- Balance of Iran's Trade with US Turns Positive
2- Opening of BP Office in Iran
3- Bank Interest Rates in Iran Four Times Higher than Europe
4- Turkish Central Bank: Iran and Turkey to Trade in Rials
5- Iran's Oil Partnership with Norway and Sweden
6- Banking Problems with Transfer of Petrodollars to Be Settled in 1 Month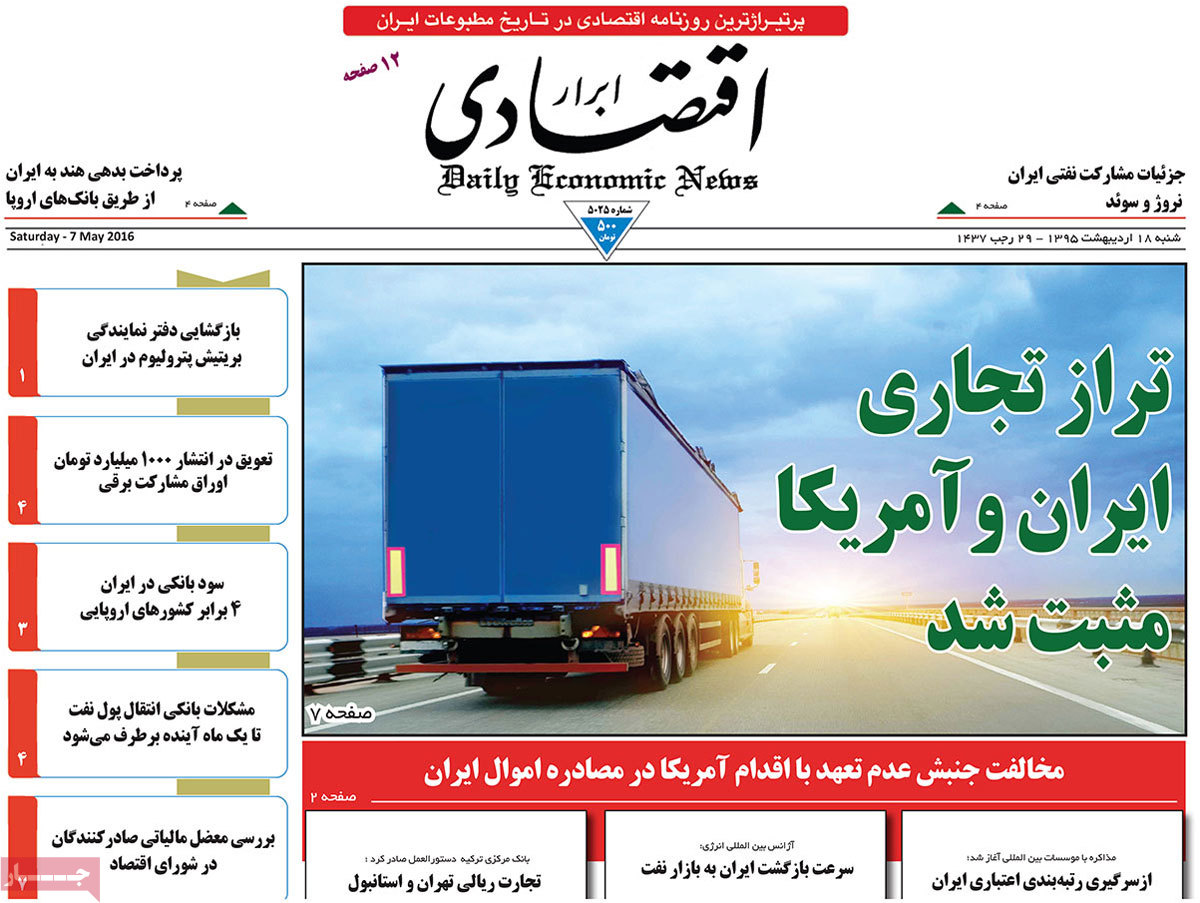 ---
Afkar:
1- Inflation Is Now Under Control, but Repercussions Continue
2- ISIS's Unprecedented Activity in Mecca
3- Iran Should Enter Global Economy through Brand-Building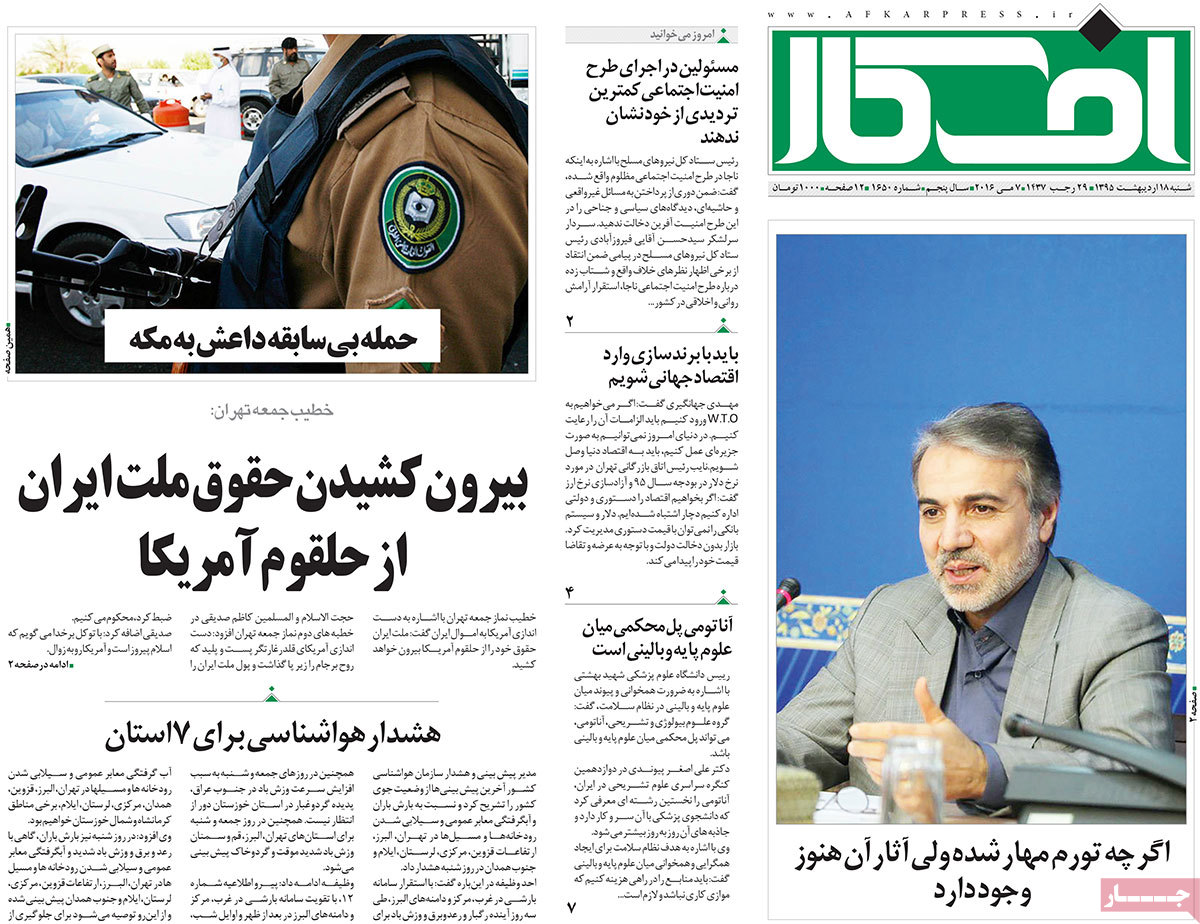 ---
Aftab-e Yazd:
1- Member of Assembly of Experts Criticizes Popular TV Show Khandevaneh for Inviting Female Artists
2- Passenger Suicide – Nightmare of Subway Operators
3- Russia No Longer Supporting Syria's Assad?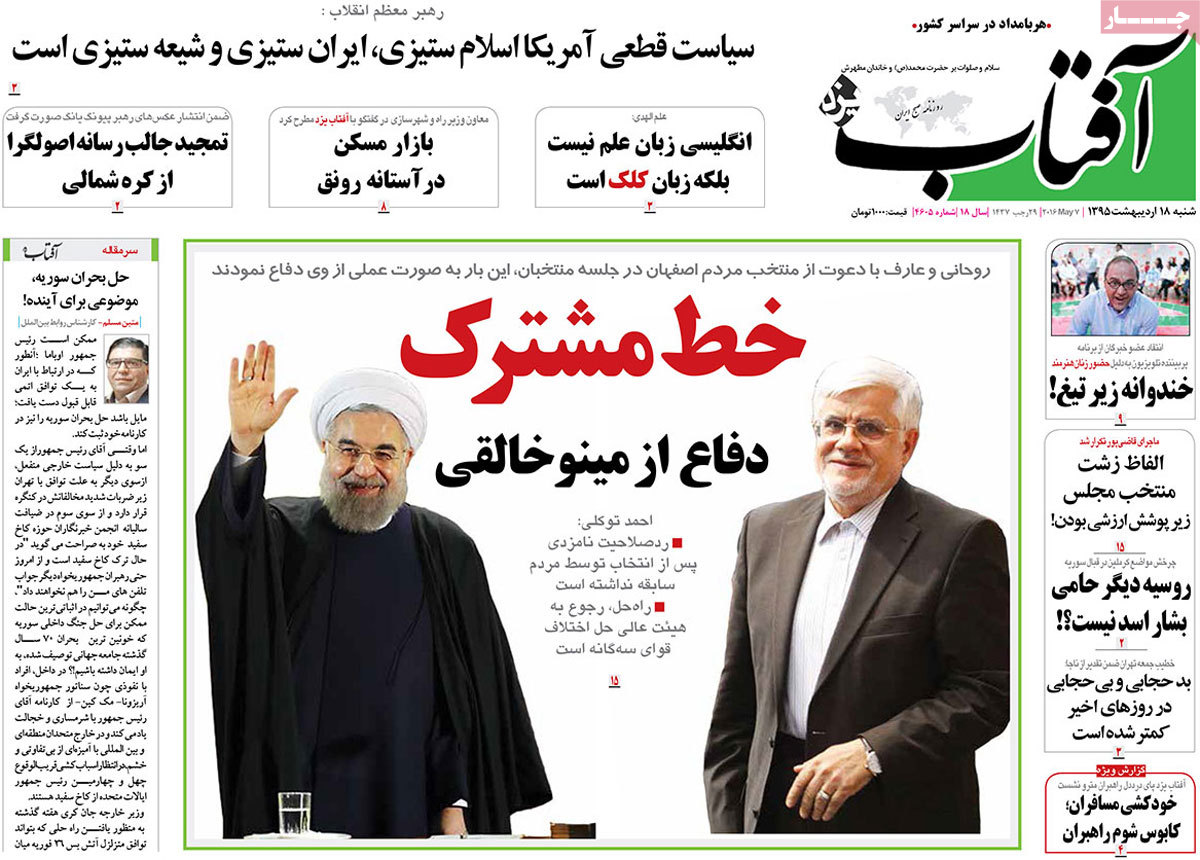 ---
Arman-e Emrooz:
1- Rouhani to Mediate between Aref and Larijani for Parliament Presidency!
2- Iran Has Never Commenced Military Action against any Country: Leader
3- 7 Famous Actors/Actresses Arrested in Party
4- English Is the Language of Ignorance and Deceit: Leader's Representative in Mashhad
---
Asia:
1- US Special Representative Attends Iran-Europe Forum in Zurich
2- CIA Releases Report on Iran's Economy
3- Deadlock in Iran's Banking Ties to Be Broken by 2 US Orders
4- How Far Will Trump Go?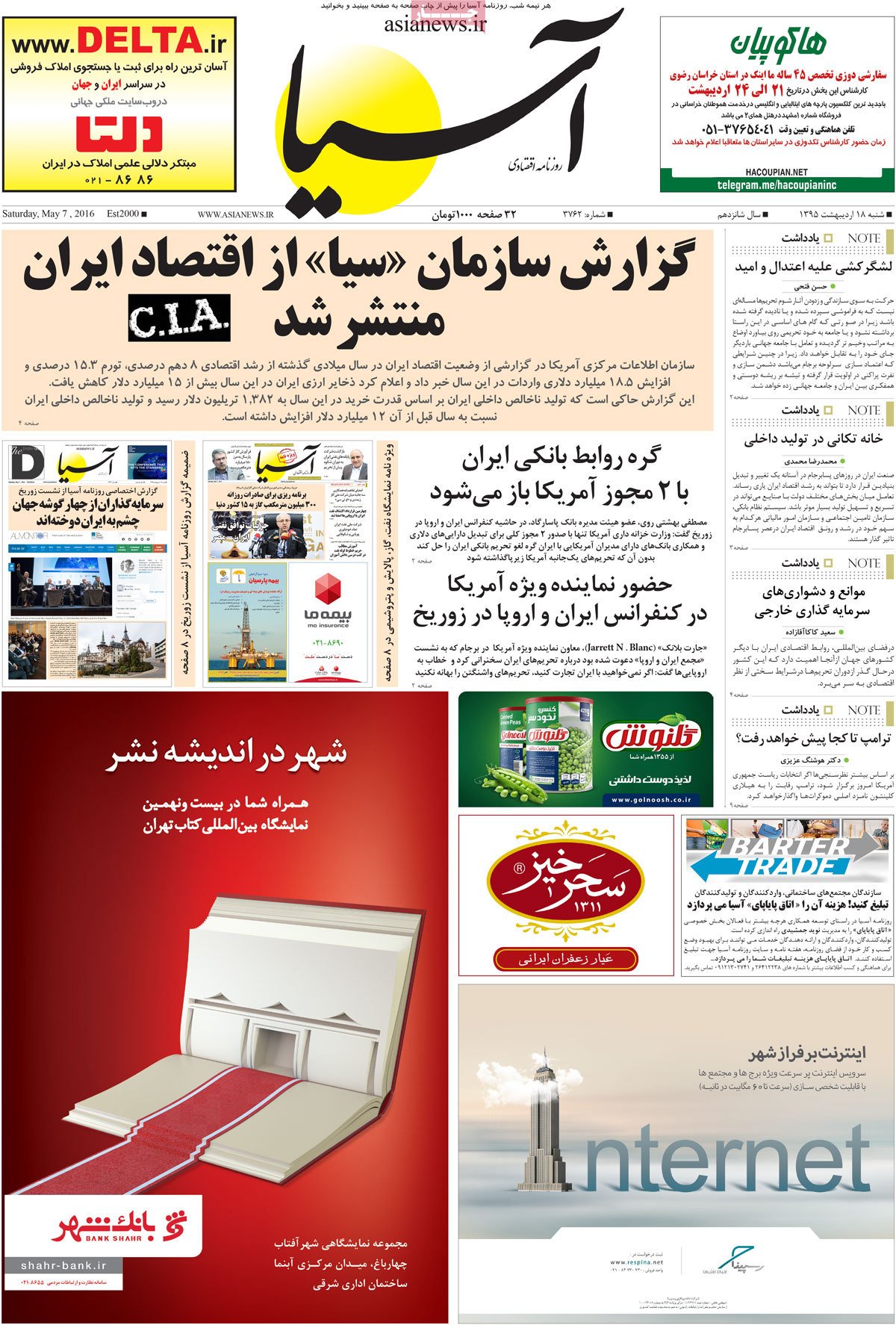 ---
Bani Film:
1- Asghar Farhadi's "Salesman" Renamed "Client"
2- How Much Do Actors' Social Media Followers Affect Their Fees?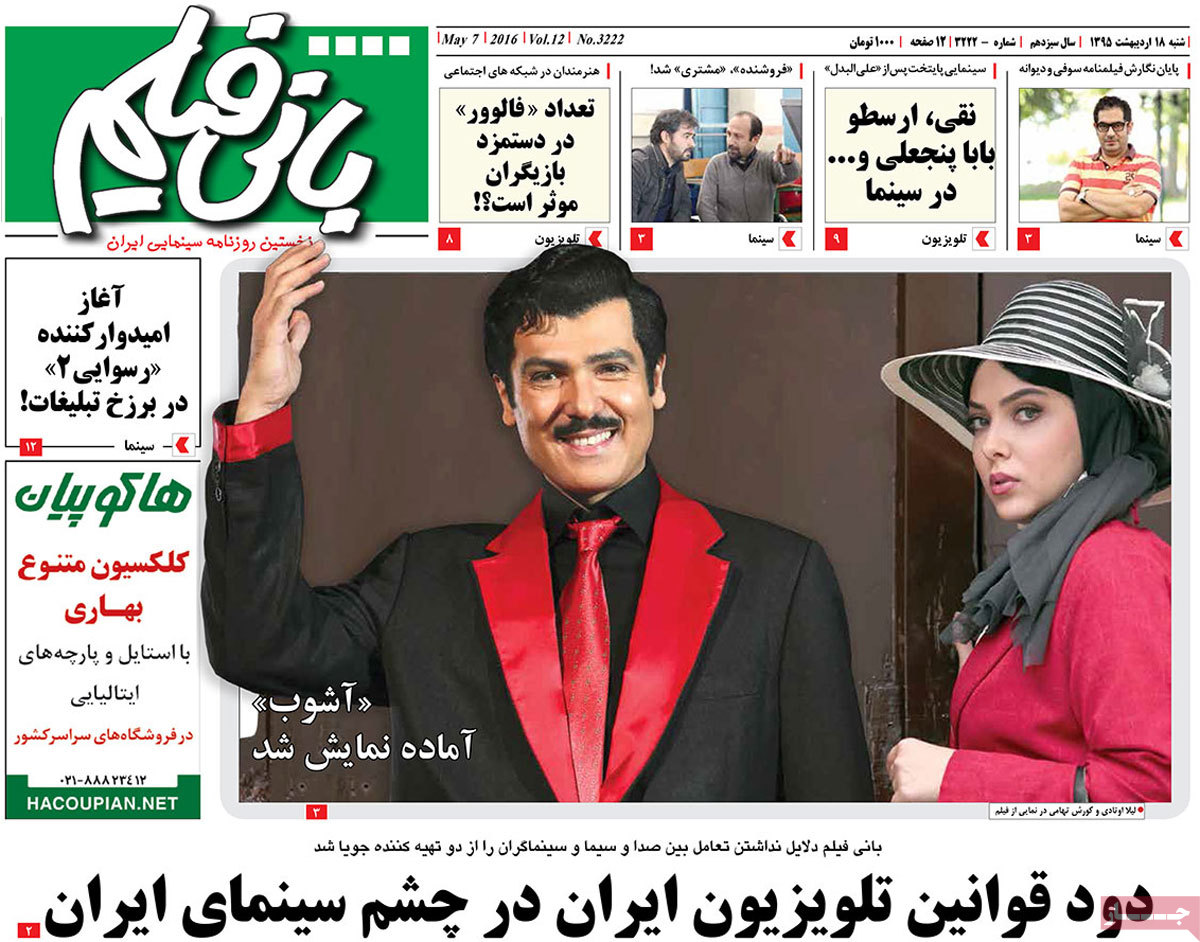 ---
Ebtekar:
1- Iran Threatened with Imposition of [Fresh] Sanctions Because of Its Opposition to US Policies: Leader
2- Iranian Homes to Host Foreign Tourists
3- Epidemic of Death among Young People: A Report on Increase of Death Rate among Young Athletes and Artists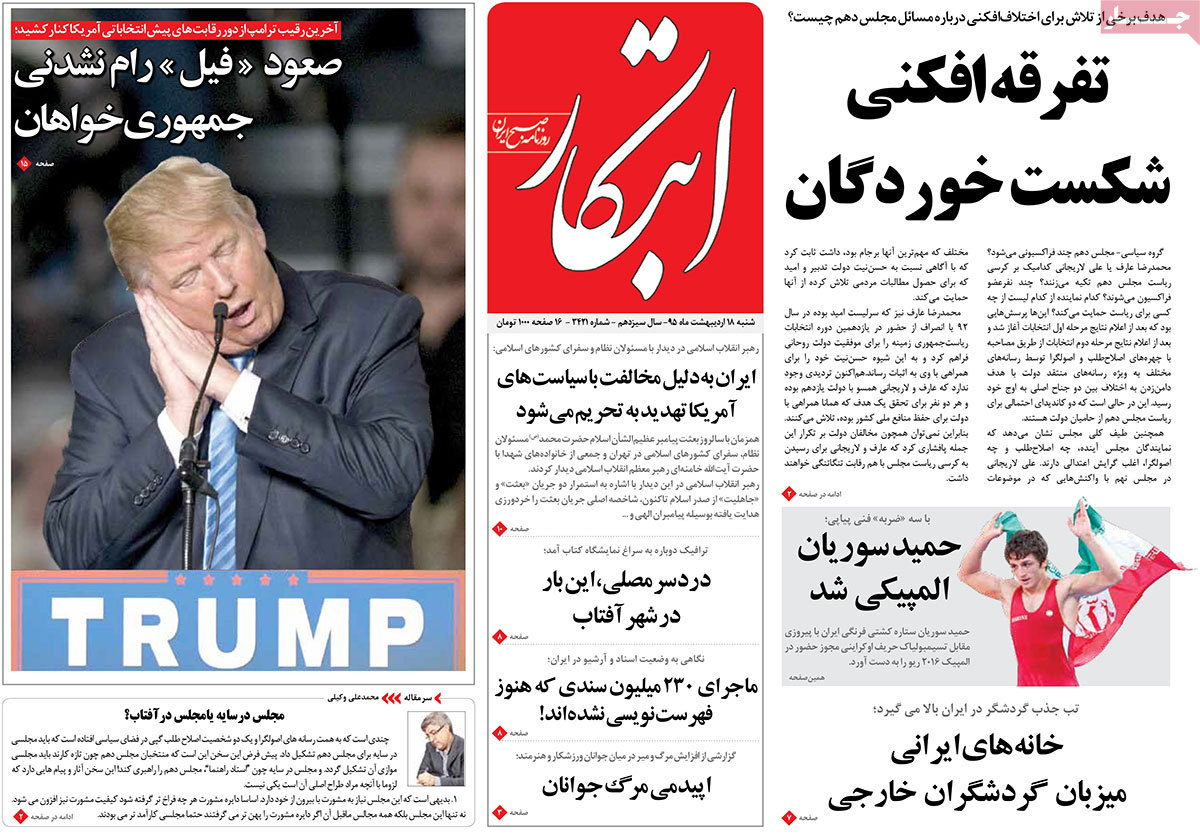 ---
Emtiaz:
1- Growth of Birth Rate Down Again: Official
2- Assembly of Belarusian Trucks and Buses in Iran
3- Iran Planning for Gas Export of 300m Cubic Metres/Day
---
Etemad:
1- Trump's One-Man Show: Cruz and Kasich Quit Presidential Race
2- Leader: Islamophobia and Iranophobia Are Definite US Policies
3- Turkish PM Ends Work with President: Coup or Resignation?
---
Ettela'at:
1- Colonialism and Humiliation of Nations Are Due to Rule of Ignorance: Leader
2- NAM Raps US Move to Seize Iran's Frozen Assets
3- Nasrallah: Position of Ayatollah Khamenei and Iranian Nation Is to Strongly Support Resistance Movement
4- Iran to Increase Oil Output to 3.8m bpd Soon: Deputy Minister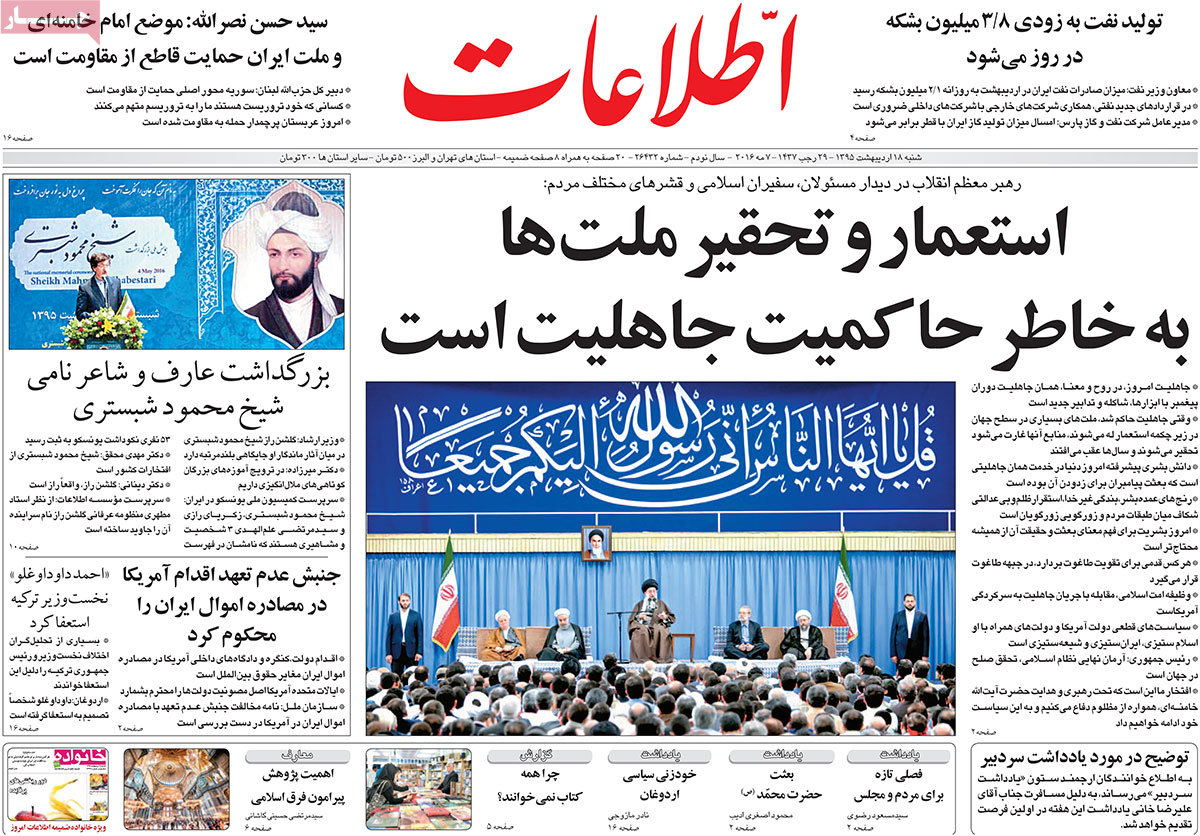 ---
Ghanoon:
1- Inquisition of President's Beliefs: Offensive Minority Denounces Rouhani for Uttering His Beliefs
2- Soft Coup d'état in Turkey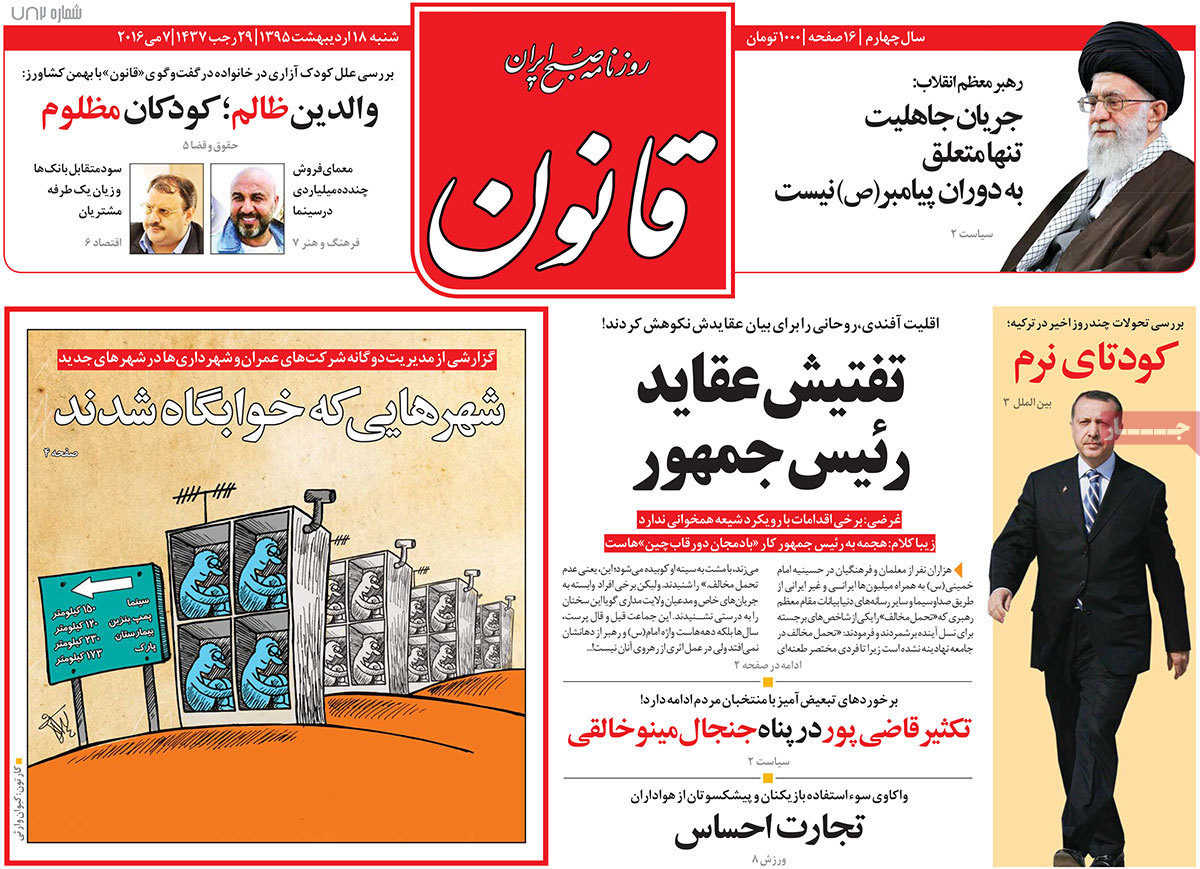 ---
Haft-e Sobh:
1- Parisa, 13, Commits Suicide by Jumping Off Niayesh Bridge in Tehran
2- Even Harvard Business Review Criticizes US Stonewalling in JCPOA Implementation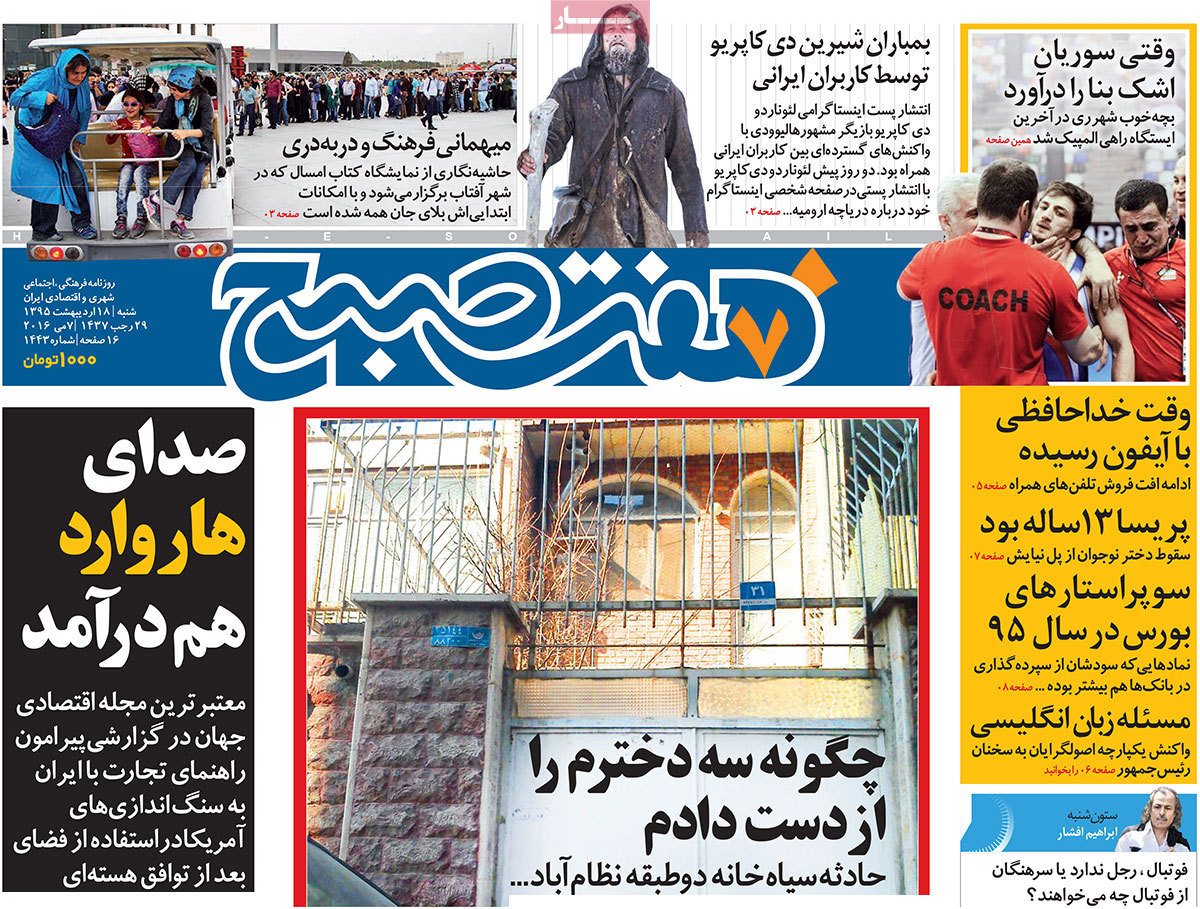 ---
Hamshahri:
1- West's Fight against Terrorism Just for Show: Leader
2- Deadly Torture of 4-Year-Old Kid in Washing Machine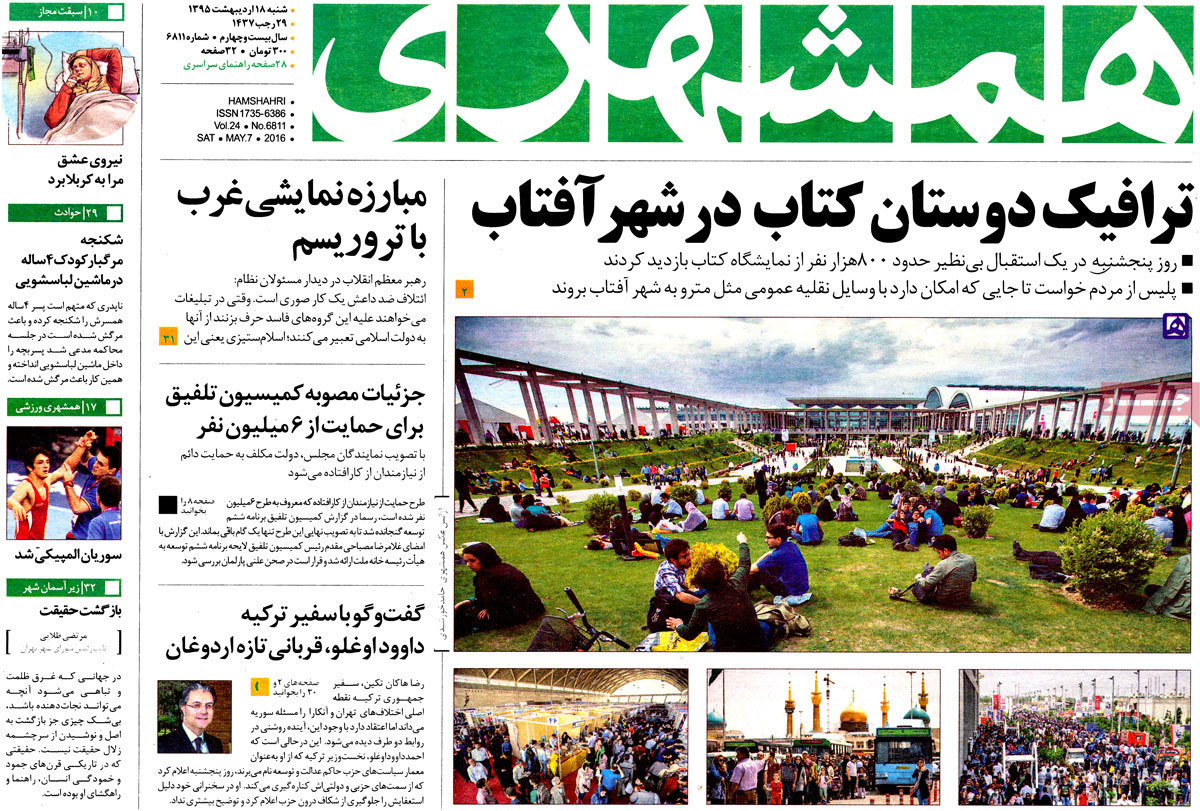 ---
Hemayat:
1- US Violator of Int'l Laws: NAM Slams Washington's Seizure of Iranian Assets
2- Erdoğan: Davutoğlu's Resignation Is in Turkey's Interest
3- People Warmly Welcome Tehran International Book Fair
4- Canadian Senate's Human Rights Session Unveils Canadian Version of Anti-Iran Pressure and Influence
5- Islam Fought against Slavery 1,000 Years Before Europeans Did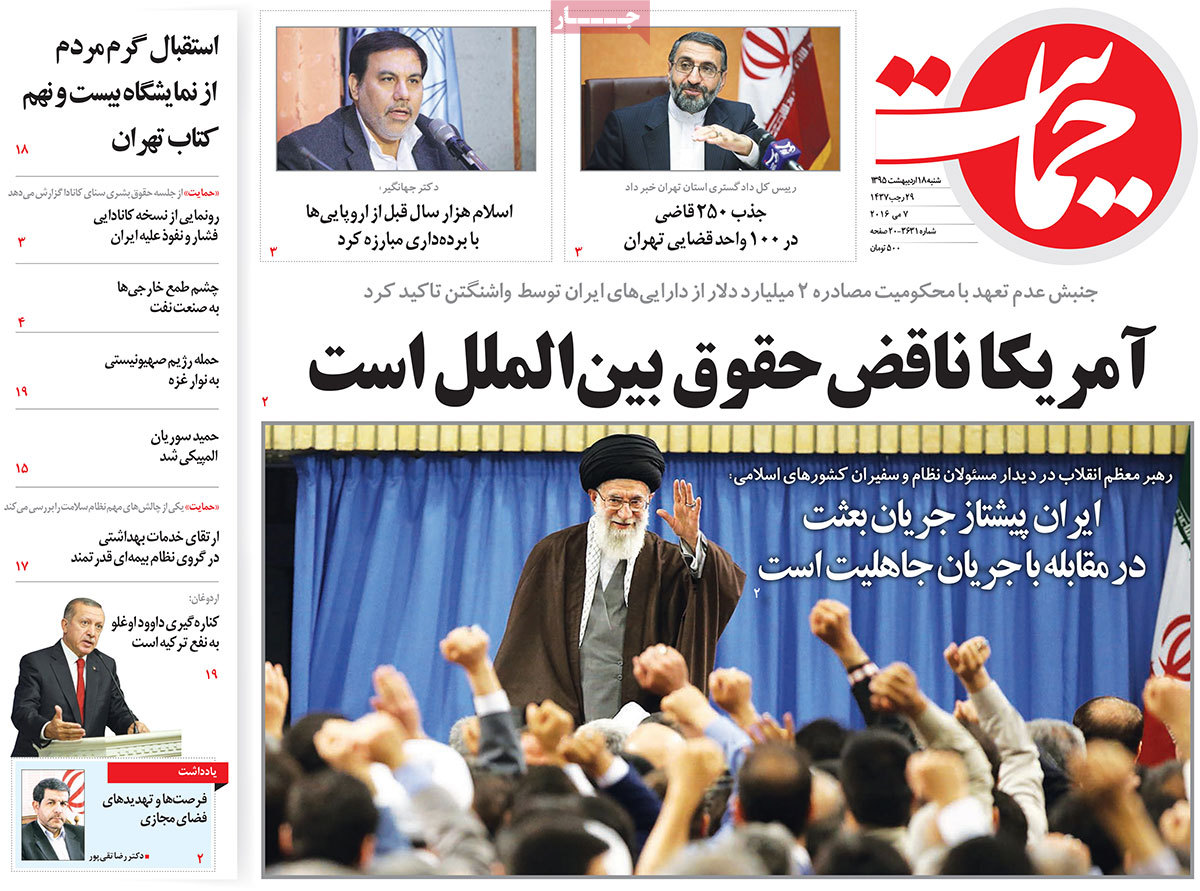 ---
Iran:
1- World's Oil Giants in Tehran Exhibition
2- Permissions Issued for $3,418m of Investment in Iran: Official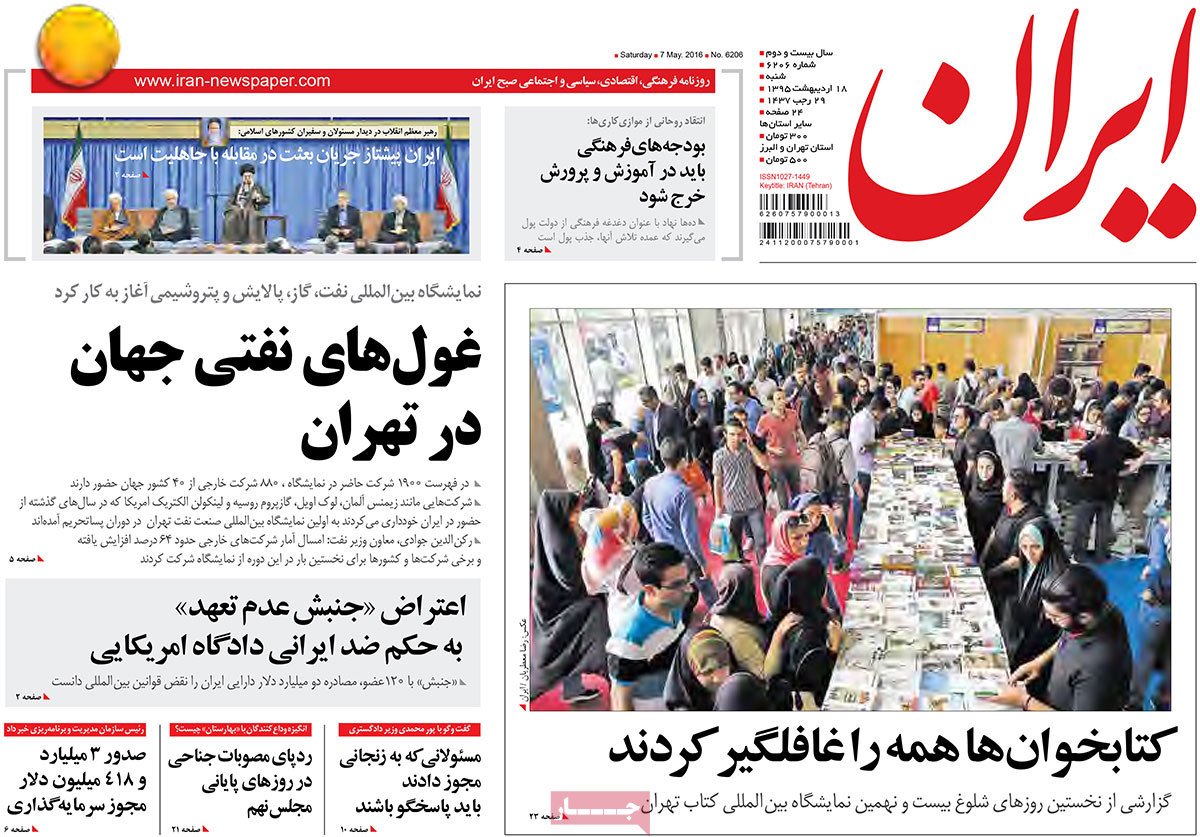 ---
Jame-Jam:
1- Jewellery Shop Robbery, Hollywood Style
2- Triangle of War: Leader Reveals Anti-Iran Policies of US and Allied Gov'ts
3- Erdoğan vs. Davutoğlu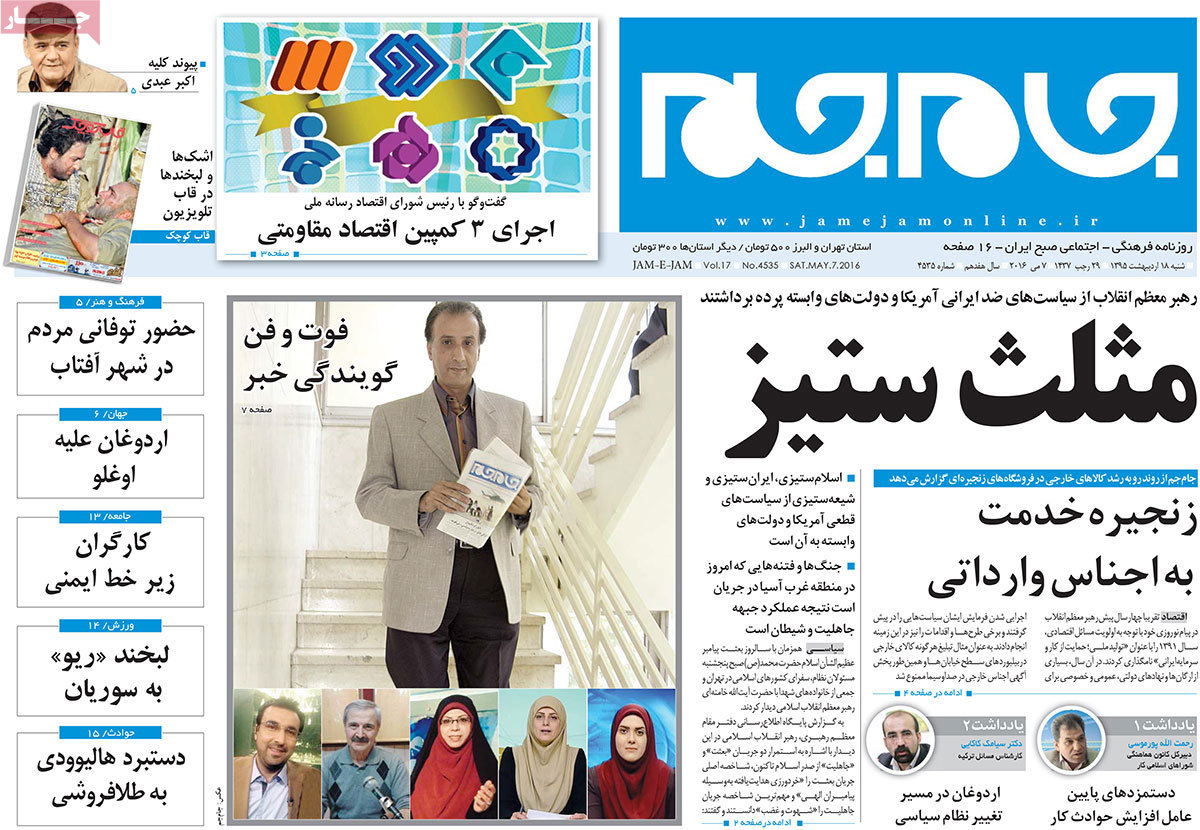 ---
Javan:
1- India's Advanced Civilization Totally Destroyed by British Rule: Ayatollah Khamenei in Reference to Nehru's Remarks
2- Vicious Circle in 80 Days: Sharif University Returns to List of Sanctions
3- Erdoğan's Marathon towards Neo-Ottomanism
4- Aleppo's Fate to Be Determined by War: Assad in Letter to Putin, Comparing Aleppo with Stalingrad
5- Neo-Colonialism through English Language Teaching
6- Basij Commander: Colonialists Can No Longer Force Nations to Speak Their Own Tongue
7- Islam, a Model for Both Life and Struggle (Editorial in Reaction to Rouhani's Opposition to Idea of "Revolutionary Islam" Rather than "Islamic Revolution")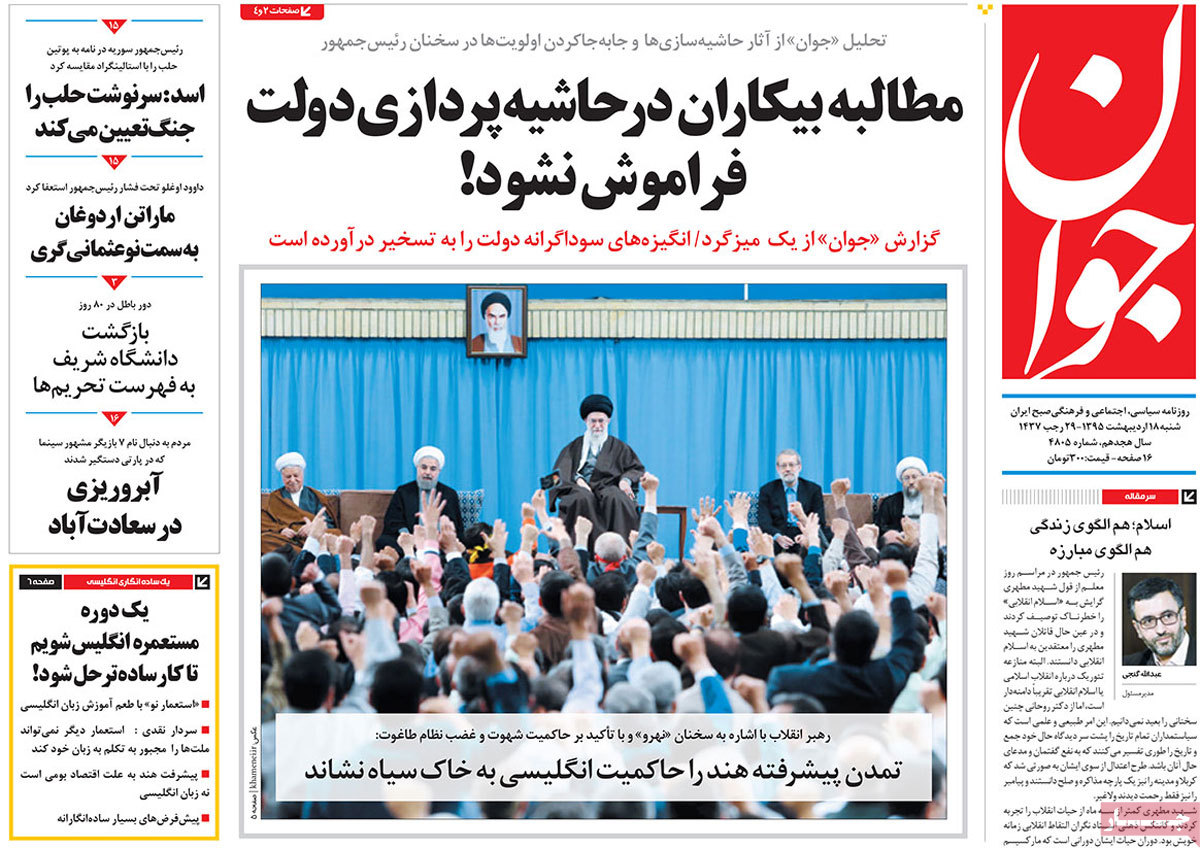 ---
Jomhouri Eslami:
1- India to Clear $6.4bn Debt to Iran through European Banks
2- JCPOA Reduced Money Transfer Costs: Chamber of Commerce Chief
3- European Banks Ready to Invest in Iran's Petchem Industry
4- Islamic Society (Ummah) Responsible for Countering Ignorant Movement Headed by US: Leader
5- Top Iraqi Shiite Cleric Warns Politicians against Sensitive Conditions of Iraq
6- Davutoğlu, Defeat in 3 Fronts (Editorial)
7- Erdoğan's Tyranny Forced Turkish PM to Resign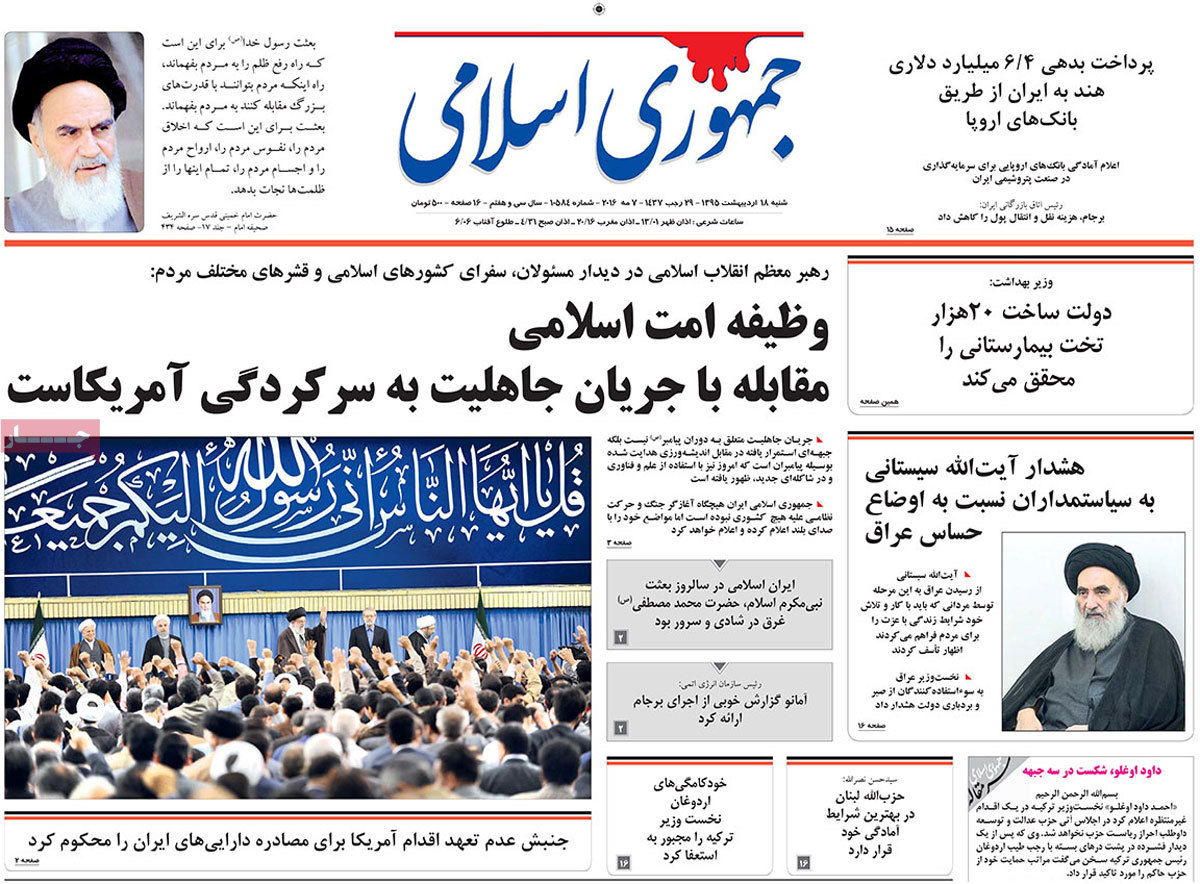 ---
Keyhan:
1- Share of Iran's Deprived Oil Rich Regions from Oil Incomes to Be Increased
2- Iran's Hostility towards US and Zionism Is Enmity towards Ignorance and Humiliation: Leader
3- Kerry Admits: Assad's Opponents Shelled Aleppo Hospital
---
Khorasan:
1- Tehran Book Fair Surprised by  Massive Popular Attendance
2- Reformists and Conservatives Seeking to Attract Independent MPs for Future Parliament Makeup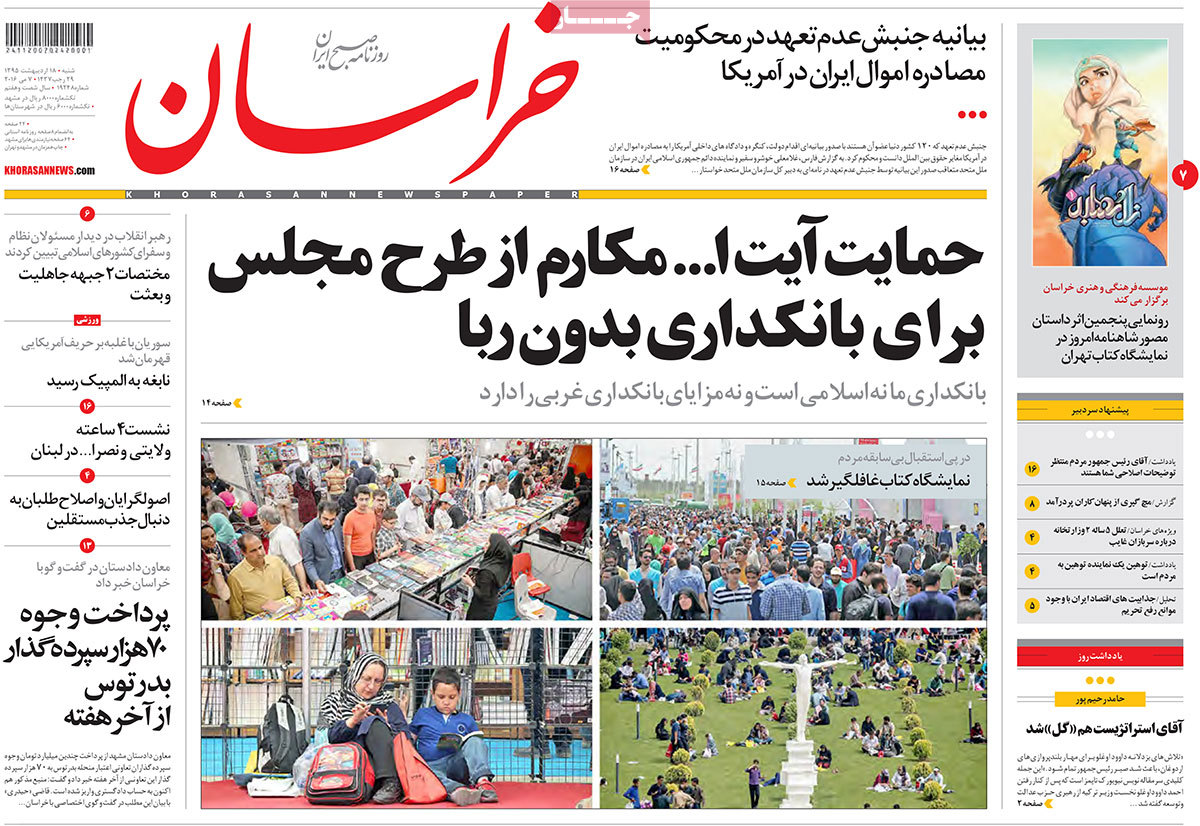 ---
Resalat:
1- Unanswered Questions on JCPOA Implementation: US Behavioural Model in Implementation of Nuclear Deal
2- Hezbollah is the Honour of Islam and the Arab World: Leader's Advisor
3- President Rouhani Vows to Defend World's Oppressed People under Ayatollah Khamenei's Leadership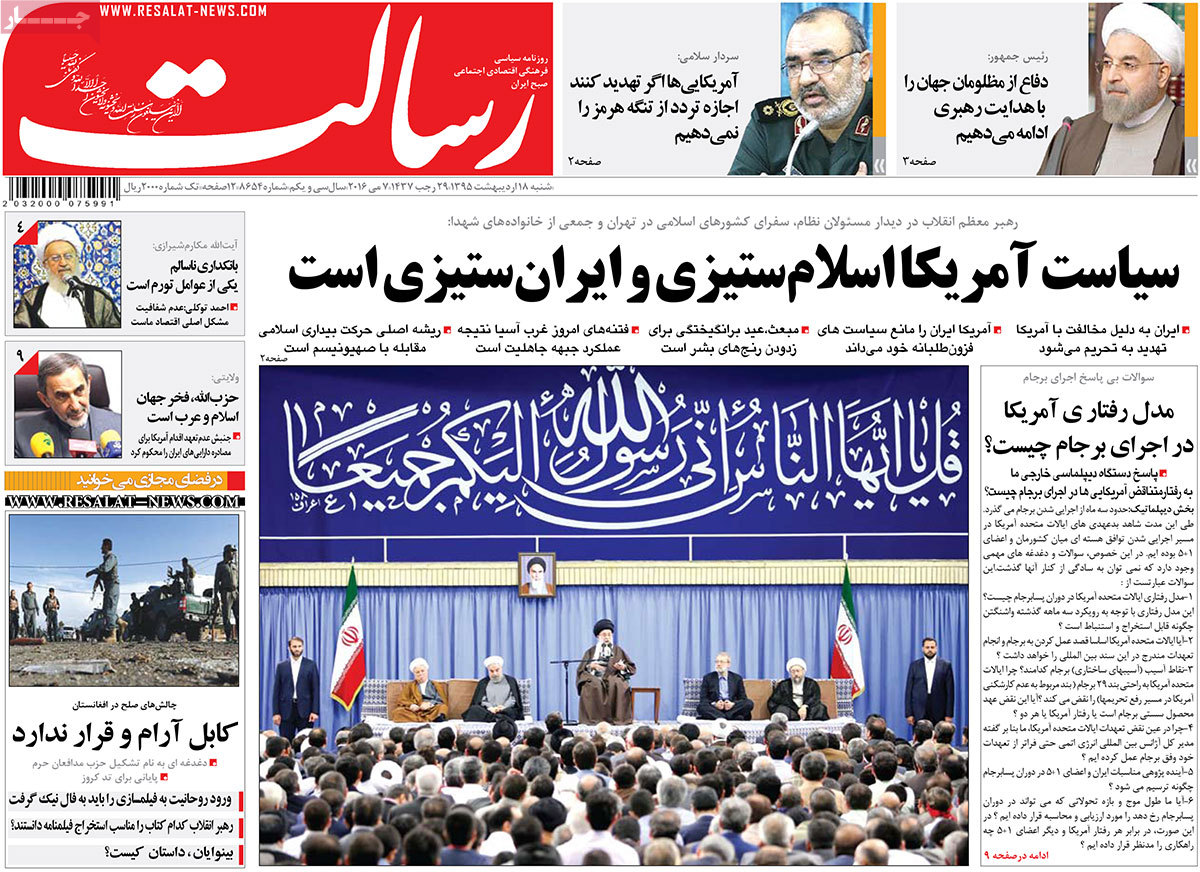 ---
Roozan:
1- Iran's Parliament No Longer a Centre of Opposition to Rouhani
2- Turkey Displays 2,000 Books in Tehran Book Fair
3- Iran's Renowned Wrestler Sourian Books Rio Olympic Ticket
---
Sayeh:
1- Persian Sweets Less Popular: Iran's Failure in Global Confectionary Market
2- Certain Regional Countries Are Negligent for Calling Hezbollah a Terror Group: Leader's Advisor
3- New US Challenge in Near Future: What Donald Trump's Thoughts Would Do to the World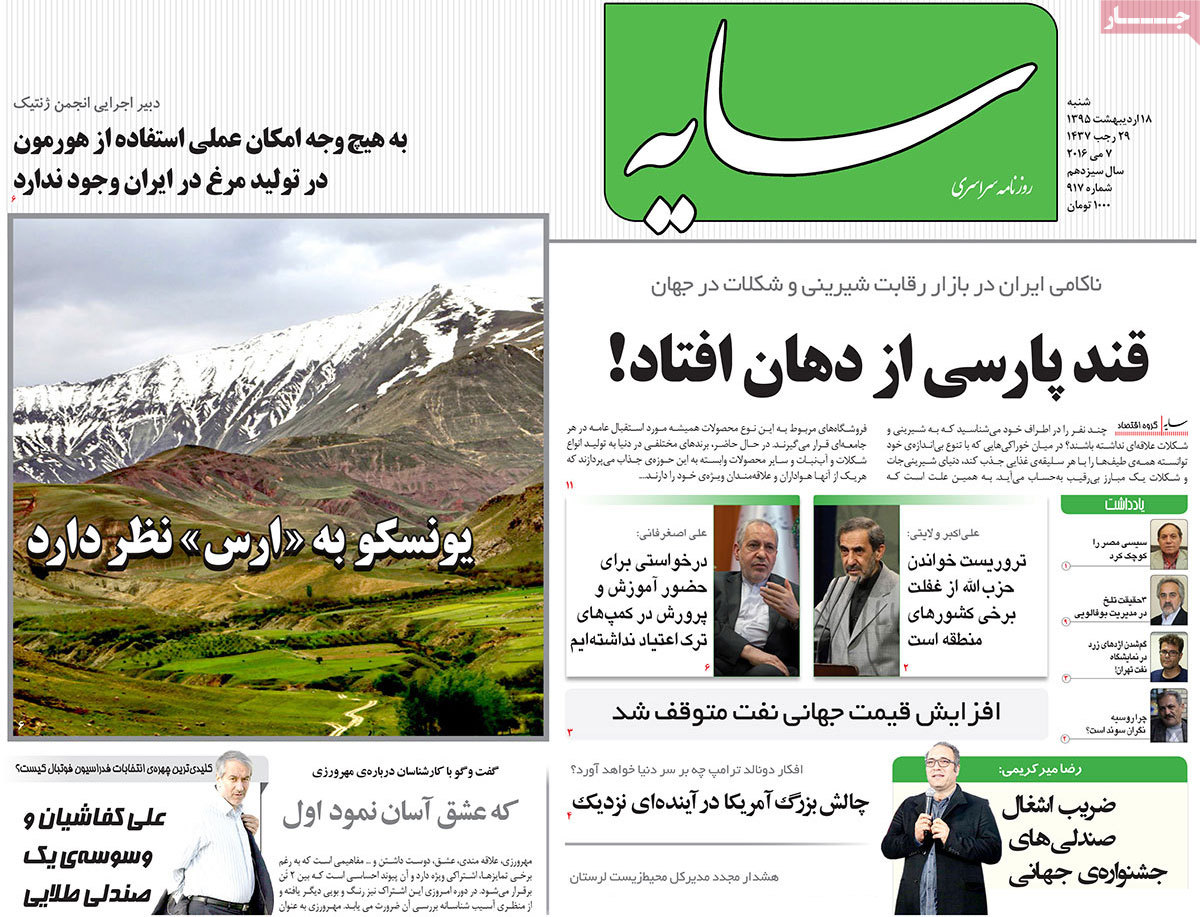 ---
Shahrvand:
1- Iranians Flock to DiCaprio's Instagram Page to Thank Him for Highlighting Lake Urmia Crisis
2- Marathon Oil Talks with Iran Begin: Tehran Oil and Gas Exhibition Welcomes Global Oil Companies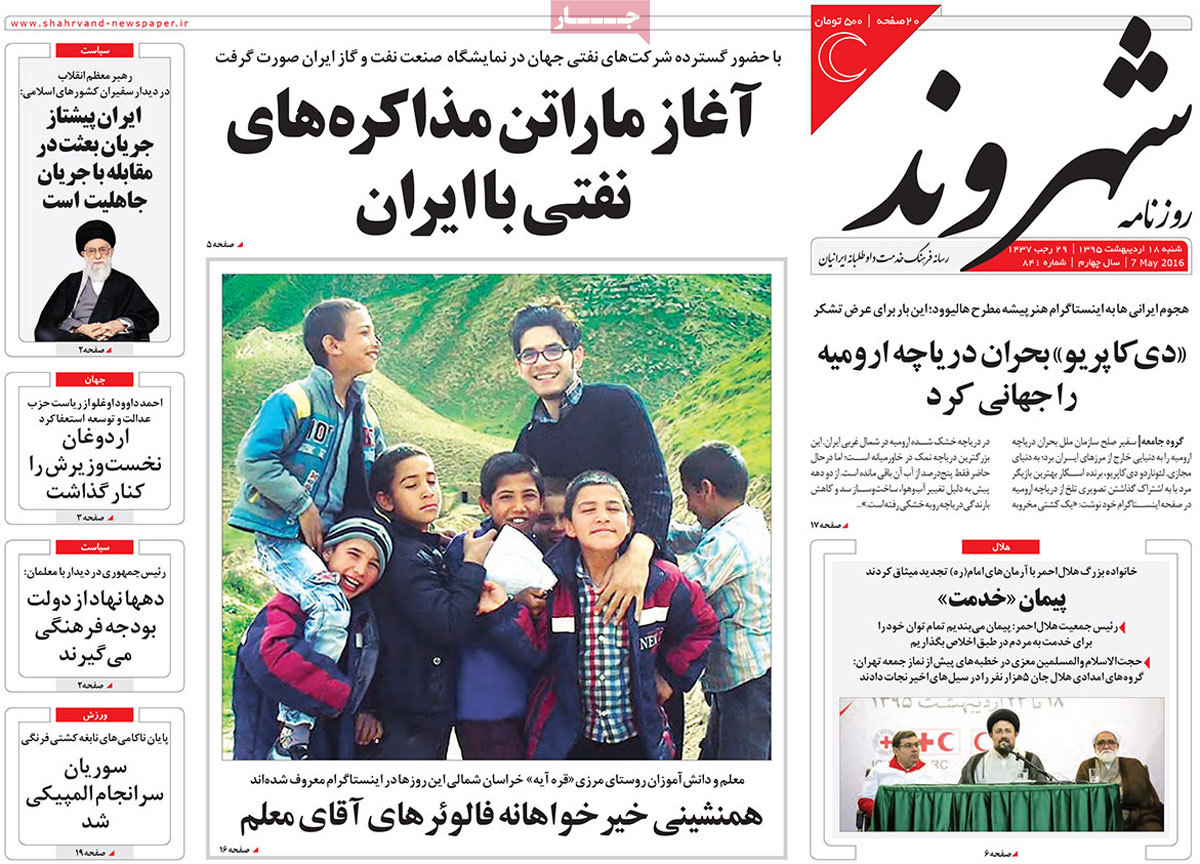 ---
Sharq:
1- Hopes for Saturday: Moderate Conservatives to Choose between Reformists and Hard-Line Opponents of JCPOA
2- Disqualified Minoo Khaleqi Invited to President's Ceremony for Elected MPs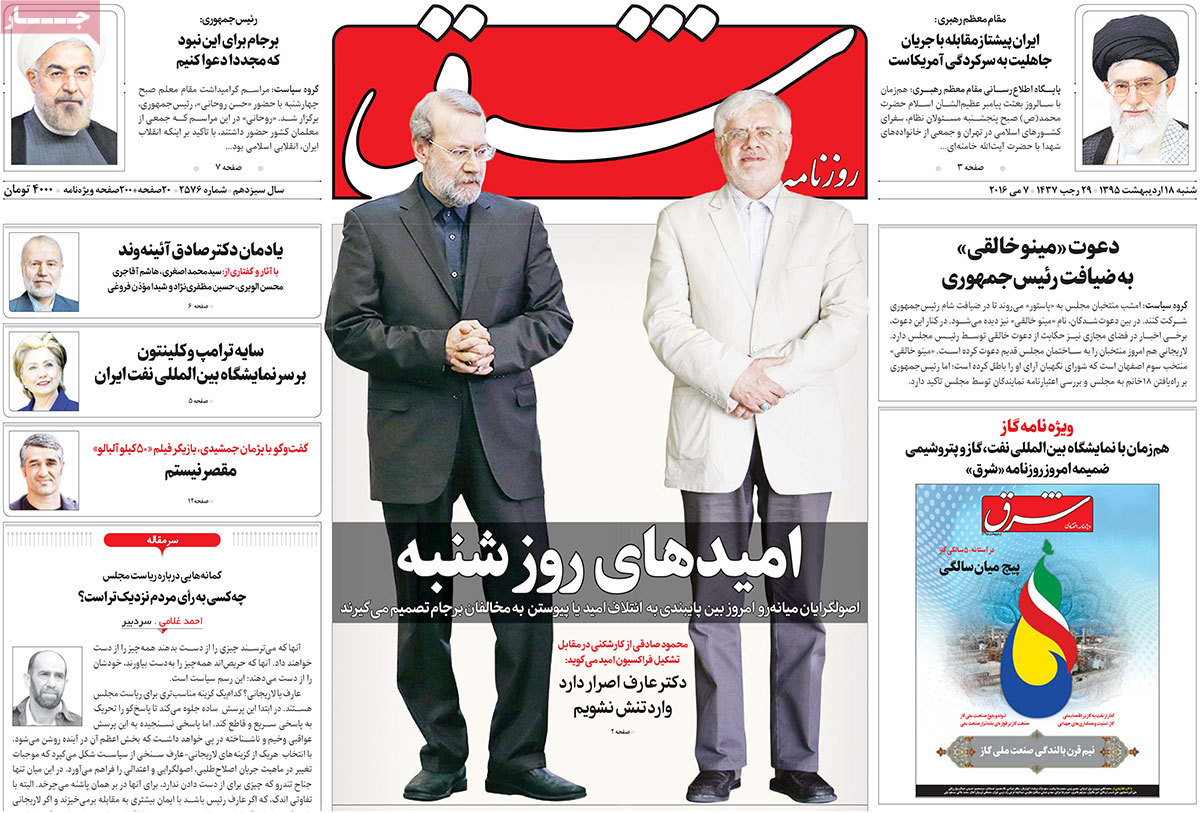 ---
Vaghaye Ettefaghieh:
1- US and Zionism [Israel] are Main Culprits behind Regional Crimes: Rouhani
2- Even Conservatives Express Opposition to [Reformist] Minoo Khaleqi's Disqualification after Being Elected as MP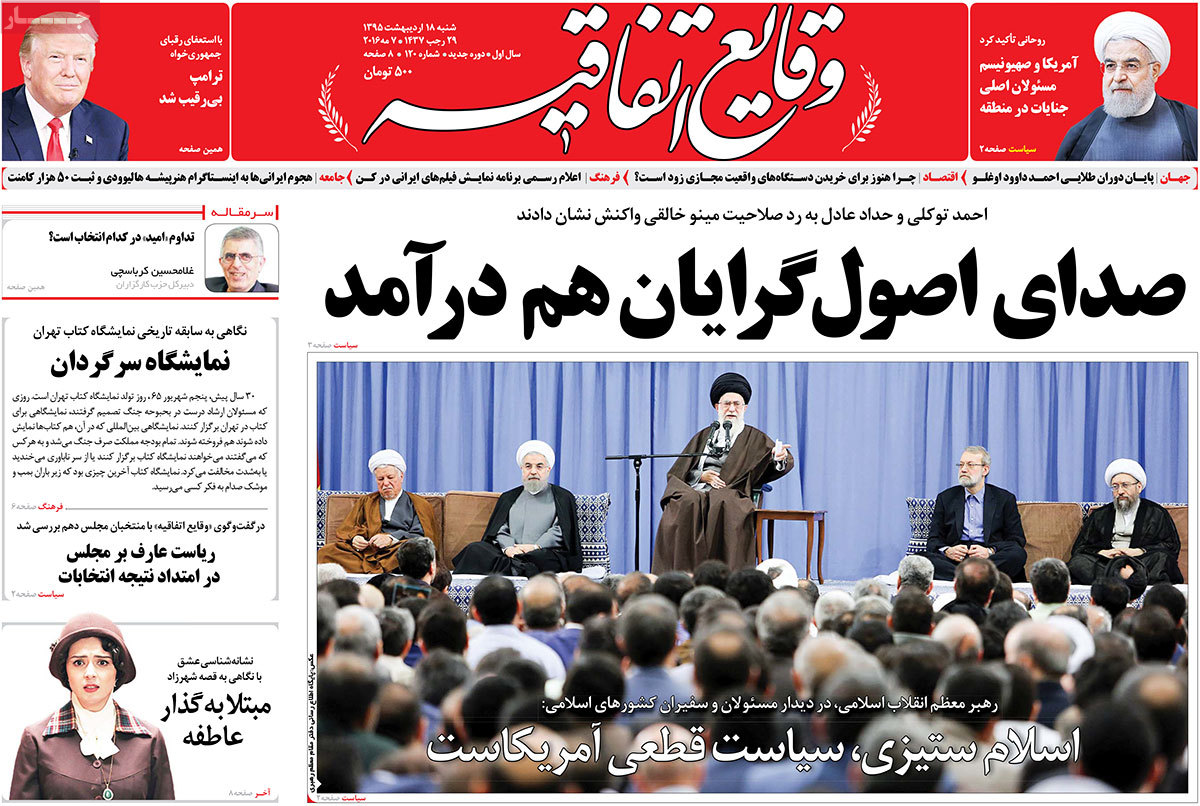 ---
Vatan-e Emrooz:
1- Sanctions against Sharif University: After US Stonewalling in JCPOA Implementation, EU Also Continues to Restrict Iran's Science
2- US State Department Angry about IRGC's Emphasis on Closing Hormuz Strait in Case of Anti-Iran Threats