President Rouhani and Ayatollah Hashemi Rafsanjani's comments in separate events marking Teacher's Day dominated the front pages of Iranian newspapers on Tuesday. Also in the news were the remarks of the Judiciary spokesman at a news conference about a wide range of issues from cases involving Babak Zanjani, Mahmoud Ahmadinejad and Jason Rezaian to land grab and corruption.
Abrar: "The legal case against the former president [Mahmoud Ahmadinejad] has yet to be finalized," said the Judiciary spokesman.
Abrar: "We are determined to end this manufactured crisis," tweeted FM Zarif.
Abrar: The president has said the education system should not be controlled by the state.
---
Afarinesh: "Babak Zanjani's assets are not enough to pay back his debts," said the Judiciary spokesman at a news conference.
[Zanjani is a young billionaire who stands accused of massive corruption and is expected to go on trial shortly.]
---
Aftab-e Yazd: Despite opposition by a small group, Ayatollah [Hashemi Rafsanjani] showed up at [Amir Kabir] University for a speech to mark Teacher's Day.
"We shouldn't cause trouble for those who stand up for our rights," the chairman of the Expediency Council told students.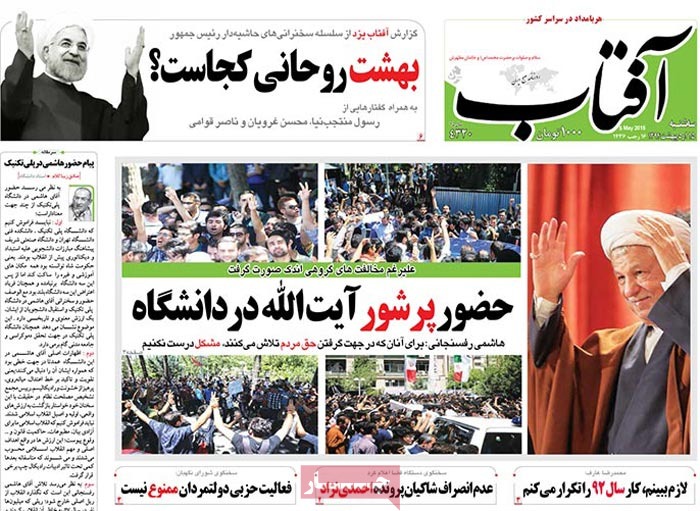 ---
Arman-e Emrooz: "Government recognizes people's right to protest," said President Hassan Rouhani.
Speaking at a ceremony to mark Teacher's Day, the president also said everyone needs to take care of the responsibilities assigned to them.
Arman-e Emrooz: Ten individuals who owe massive debts to the banking system have been arrested.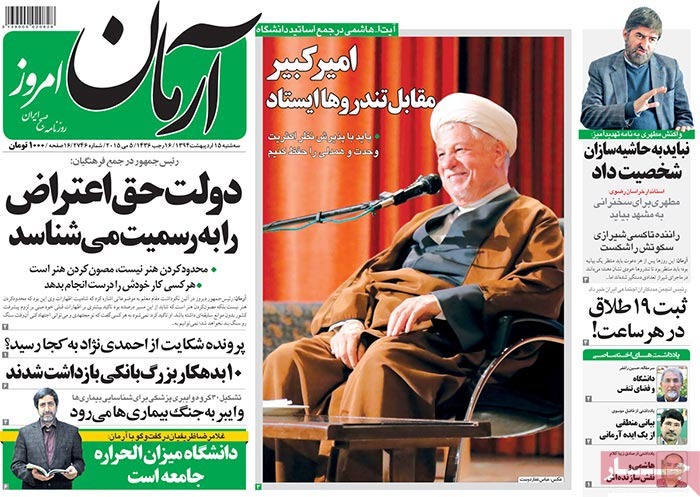 ---
Emtiaz: As many as 19 divorces are registered in Iran every hour.
Emtiaz: "Earthquake poses a threat to Tehran," said the mayor of the capital.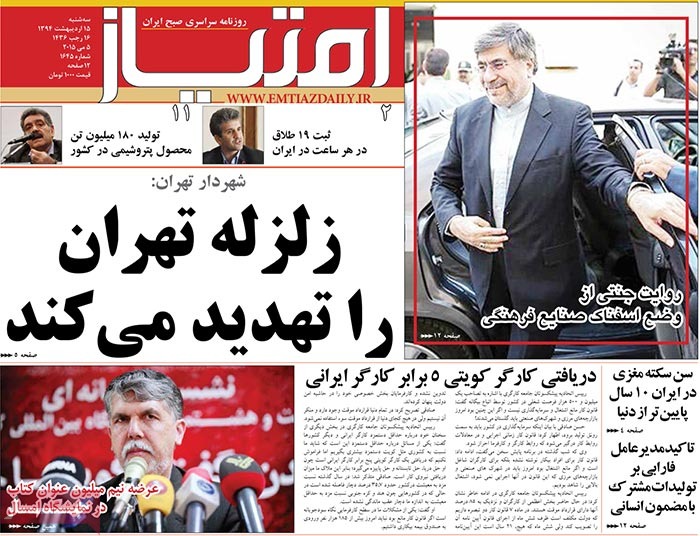 ---
Etemad: "Let's help reformists win a majority of seats in parliament," former Vice-President Mohammad Reza Aref said.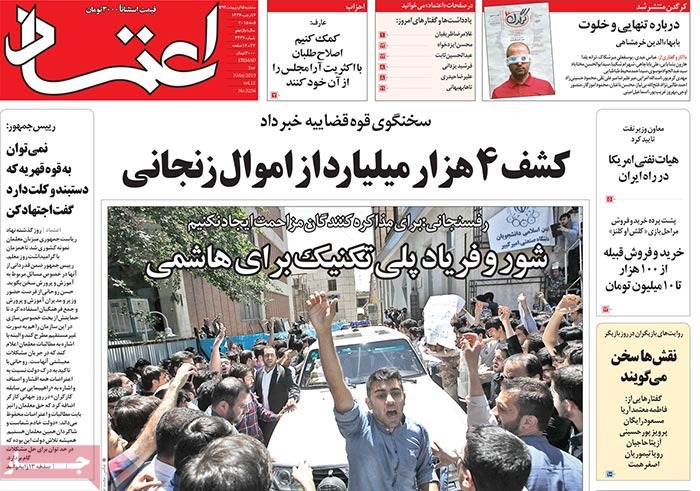 ---
Ettela'at: The 28th edition of Tehran International Book Fair opens on Tuesday.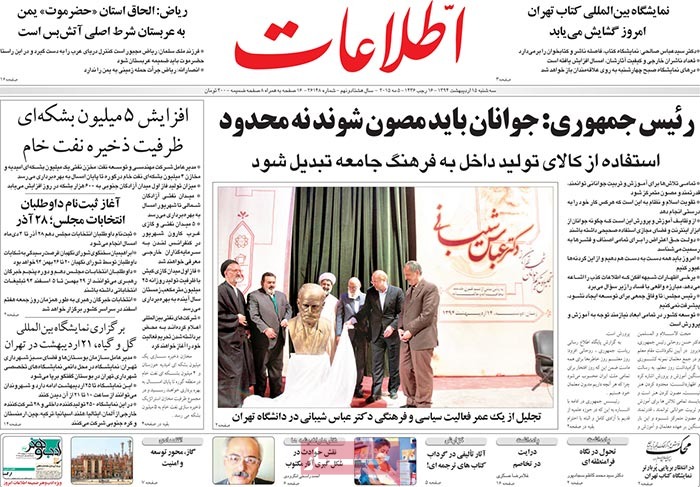 ---
Hambastegi: "We cannot wall off our borders and live in an island," said Minister of Culture and Islamic Guidance Ali Jannati.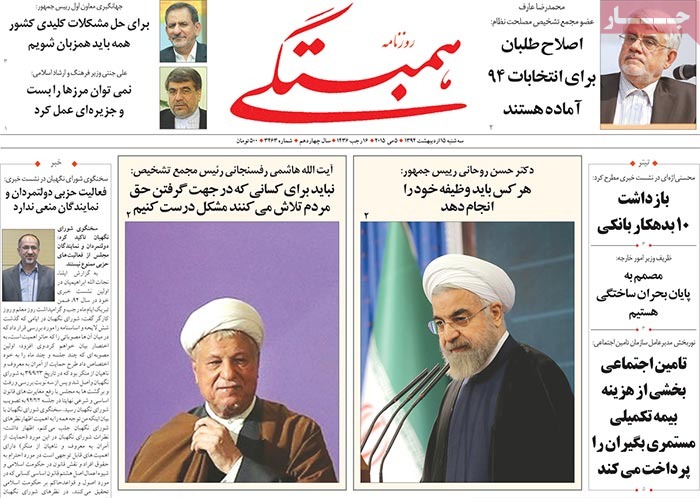 ---
Iran: The new interest rates take effect on May 6.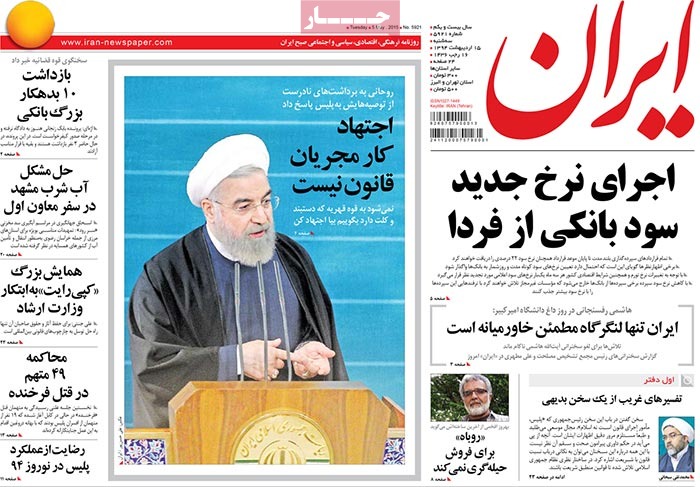 ---
Javan: "The stage is being set for the trial of Washington Post reporter Jason Rezaian," said Judiciary Spokesman Gholamhossein Mohseni Ejei.
---
Jomhouri Islami: First Vice-President Eshagh Jahangiri was on hand for the inauguration of a dam in Neyshabur.
---
Kaenat: Signs of increased foreign investment in Iran are emerging.
Kaenat: Students staged a protest against the presence of Chairman of the Expediency Council Akbar Hashemi Rafsanjani at Amir Kabir University of Technology.
---
Kar va Kargar: Workers of Tehran electricity authority have staged a rally outside parliament.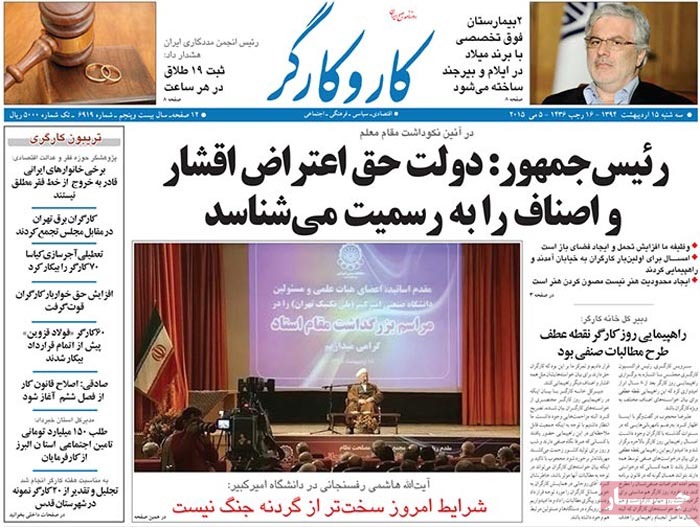 ---
Kayhan: Israeli and Turkish intelligence officers have been killed in an ambush by the Syrian Army.
Kayhan: "The use of government resources to serve the interests of a single group or party is against the law," said the judiciary spokesman.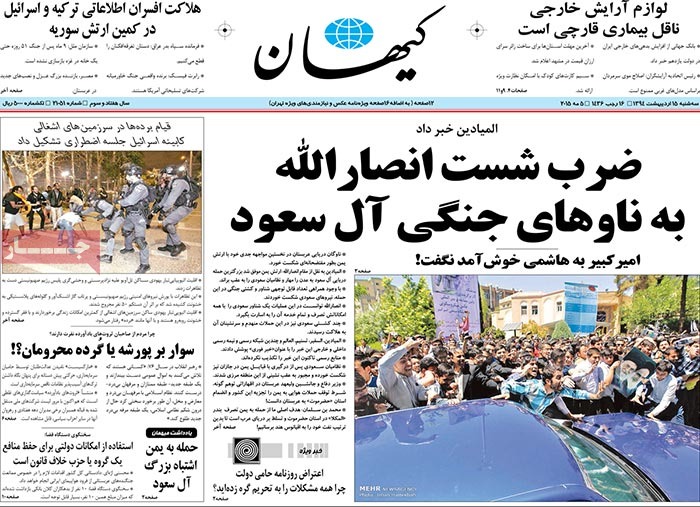 ---
Mardomsalari: With oil being replaced as the staple export item, Iran's foreign trade is preparing for takeoff.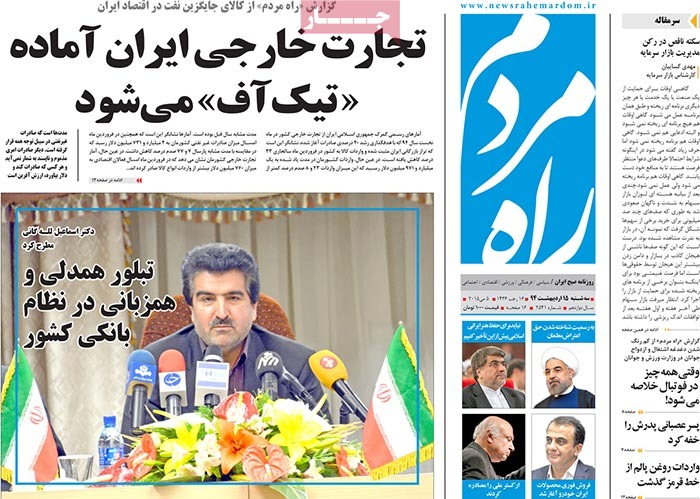 ---
Sayeh: "Cooperation with the Oil Ministry to revive Hour al-Azim Lagoon continues," said the director of the Environment Protection Organization.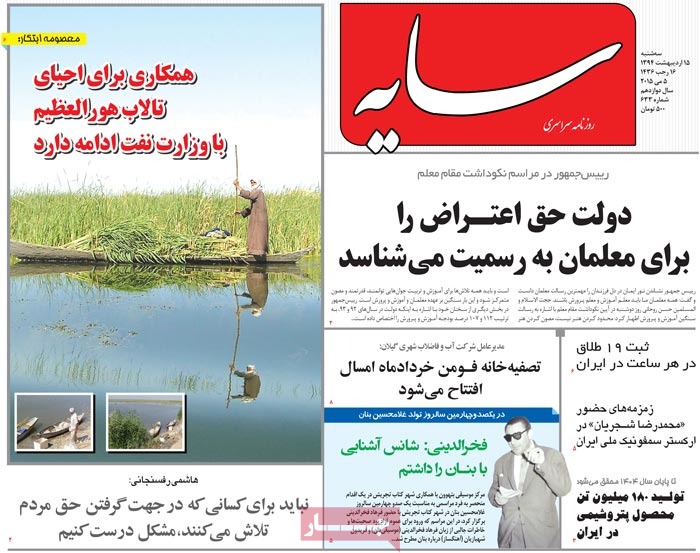 ---
Sharq: The Judiciary spokesman has said that the judicial branch will seriously deal with those who take the implementation of law into their own hands.
Sharq: "Mere membership of dissolved parties does not result in automatic disqualification of potential [parliamentary] candidates," said the spokesman of the Guardian Council.