Comments of President Rouhani in defense of his top nuclear negotiator dominated the front pages of Iranian newspapers on Sunday. Also in the news were continued nuclear talks between Iran and P5+1 and the record-breaking sale of a famous painting by Sohrab Sepehri at an auction in Tehran.
Afkar: Japanese imports of Iranian oil were up 20 percent in April 2015.
---
Aftab-e Yazd: "Unfortunately some officials conceal their political leanings," said Secretary of the Guardian Council Ayatollah Ahmad Jannati.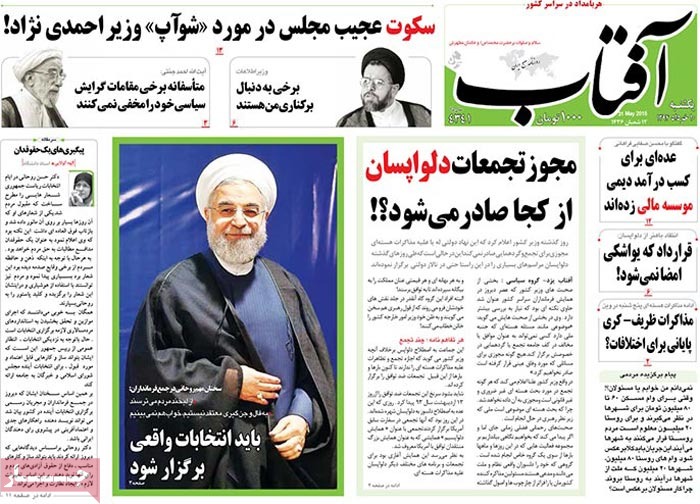 ---
Amin: President Rouhani has urged IRGC, the Army, offices of Friday prayer leaders and IRIB (the national broadcaster) not to wield influence in elections.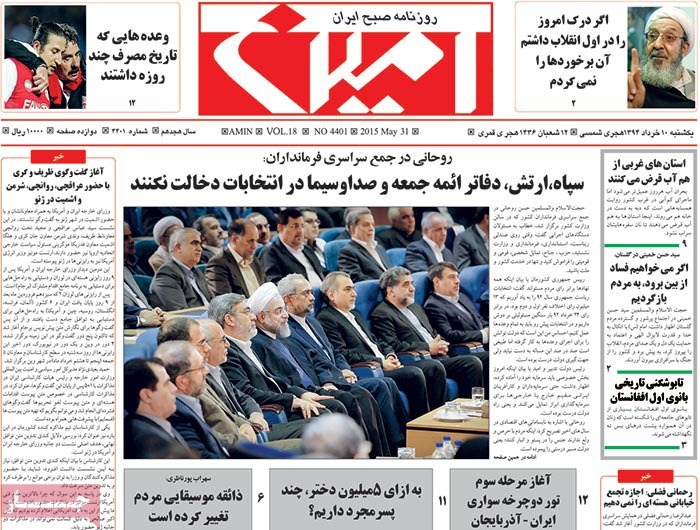 ---
Arman-e Emrooz: "Some are scrambling to replace me," said Intelligence Minister Seyyed Mahmoud Alavi.
Arman-e Emrooz: Parliament Speaker Ali Larijani has been called in to help speed up legal proceedings against Saeed Mortazavi [a former director of the Social Welfare Organization who is on trial for fraud and corruption].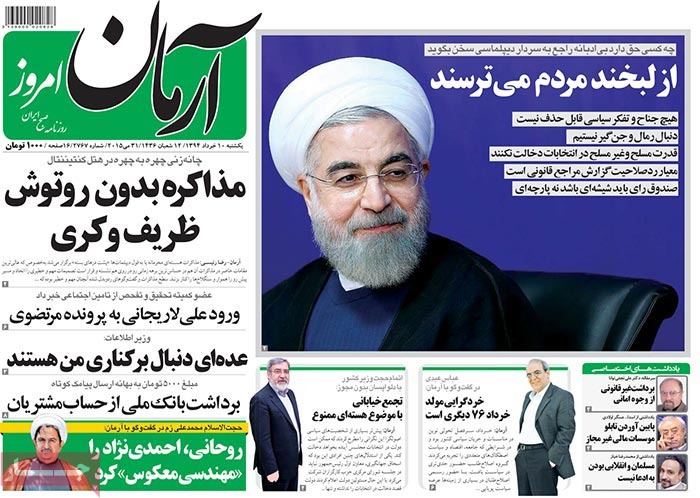 ---
Asrar: "The report the IAEA has released is flawed and repetitive," said Behrouz Kamalvandi, the spokesman of the Atomic Energy Organization of Iran.
---
Ebtekar: "No one has the right to insult the country's diplomacy commander," said President Rouhani as he took a swipe at opponents of nuclear talks.
"Everyone has turned into a nuclear expert! Why is it that they are afraid of the smile on the faces of the people? Don't lie to the public; the truth will out," the president said.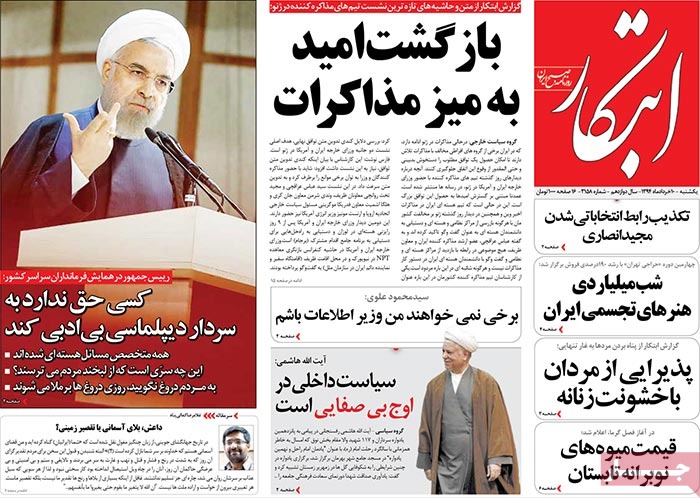 ---
Etemad: In a meeting in Geneva, Foreign Minister Mohammad Javad Zarif and US Secretary of State John Kerry have tried to push forward nuclear talks.
---
Ettela'at: The Lebanese nomads have pledged allegiance to Hezbollah Leader Seyyed Hassan Nasrallah in the fight against terrorists.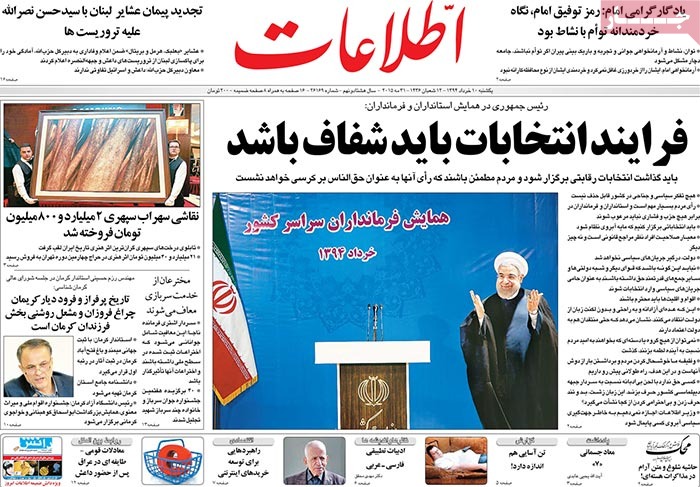 ---
Hemayat: "Likely electoral irregularities will be placed on judicial fast-track," said the attorney general.
---
Kaenat: "Iranian companies will complete the highway that links the capital to the north," said the minister of roads.
Kaenat: A committee has been set up at the Intelligence Ministry to screen potential electoral candidates.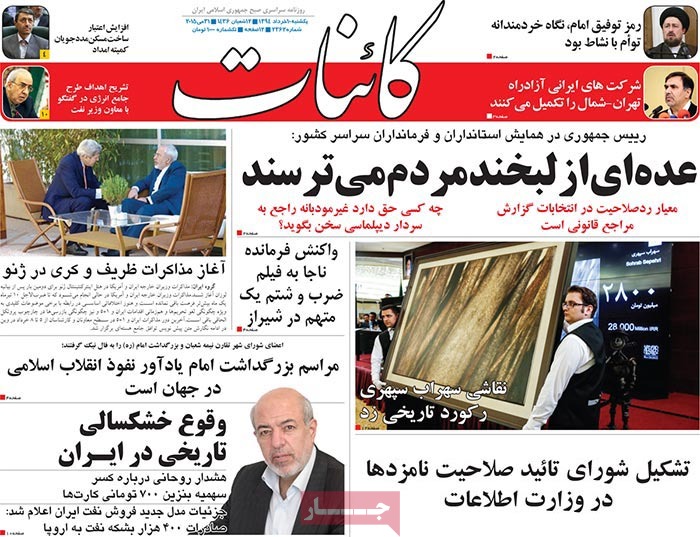 ---
Kayhan: "Seditionists [a reference to those who supported the two 2009 presidential candidates who disputed the results of the vote and caused widespread unrest] won't be allowed to throw their hat in the ring," said Ayatollah Ahmad Jannati at a gathering of governors-general.
---
Resalat: "The success of the nuclear negotiating team hinges on its commitment to respect for the red lines," said Ayatollah Hashemi Shahroodi, a former judiciary chief.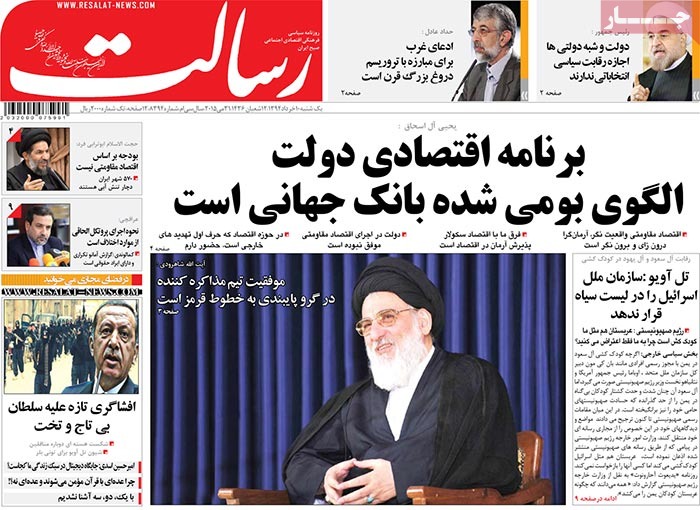 ---
Shahrvand: Sohrab Sepehri has become the most expensive painter in Iranian history.
It came after a painting of the well-known poet fetched more than $800,000 in a Tehran auction.