Comments by the intelligence minister that his men have busted IS terrorist cells across the country dominated the front pages of Iranian newspapers on Saturday. Also in the news was the visit to the northern province of Golestan by the grandson of the late Imam Khomeini and his comments on the fight against corruption.
Afarinesh: Terrorists blow up a Shiite mosque in Saudi Arabia.
Afarinesh: Iran's embassy in Paris has denied accusations by terrorist Mojahedin Khalgh Organization (MKO) [that Iran and North Korea have missile and nuclear cooperation].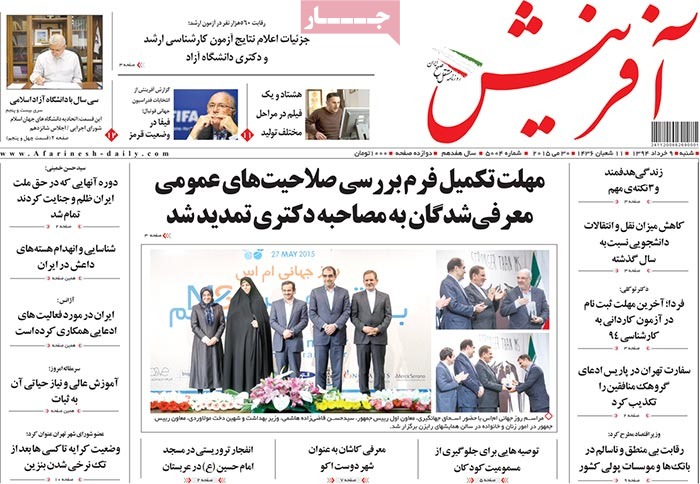 ---
Aftab-e Yazd: An indictment has been issued against the oil minister under Ahmadinejad.
The prosecutor of the Supreme Audit Court said the indictment against the former minister – who now serves as an MP – centers on his unilateral decision to call off oil swaps which in turn cost the country millions of dollars in damages.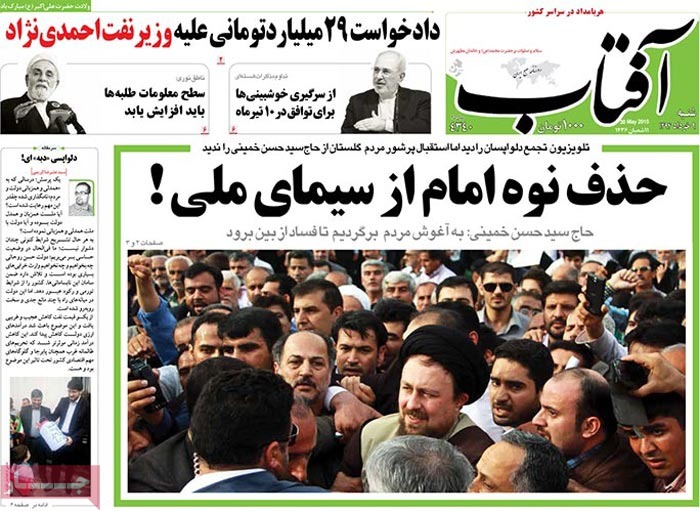 ---
Arman-e Emrooz: "Injustice is not here to stay. To make the fight against corruption effective, we need to bring the public on board," said the grandson of the architect of the Islamic Republic.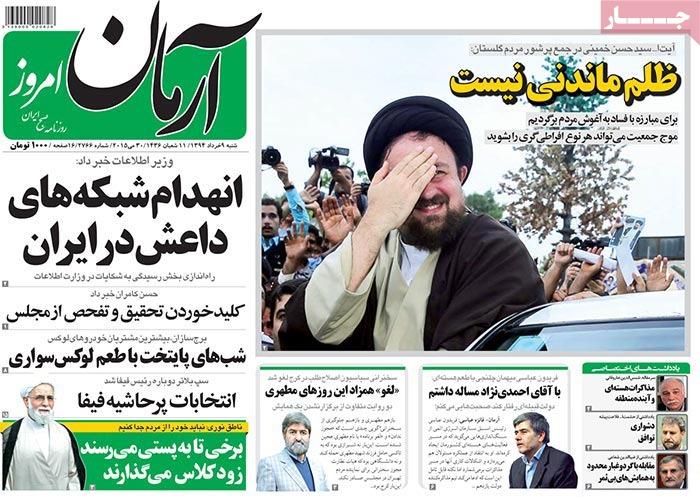 ---
Asrar: The value of cash subsidies handed to the public over the past four years equaled nine years of the country's development budget.
Asrar: Non-oil exports brought in some $50 billion in revenues in the 12 months to March 20, 2015.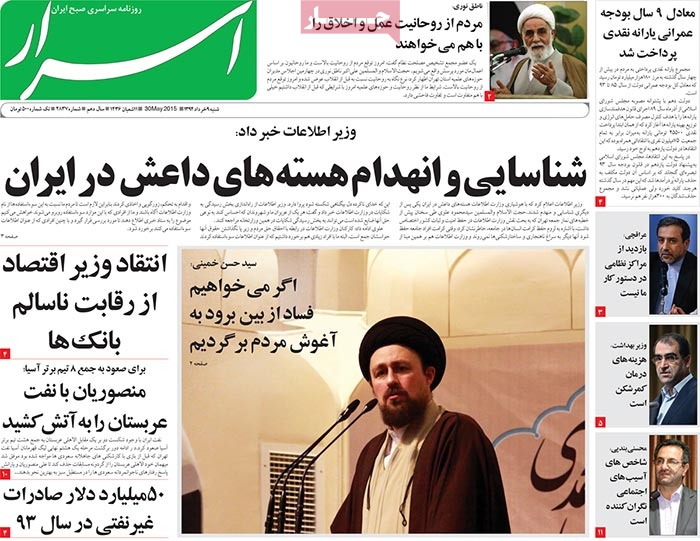 ---
Ebtekar: "IS cells have been busted in Iran," said Intelligence Minister Seyyed Mahmoud Alavai.
---
Emtiaz: The Health Ministry has denied reports that there has been an outbreak of cholera in Iran.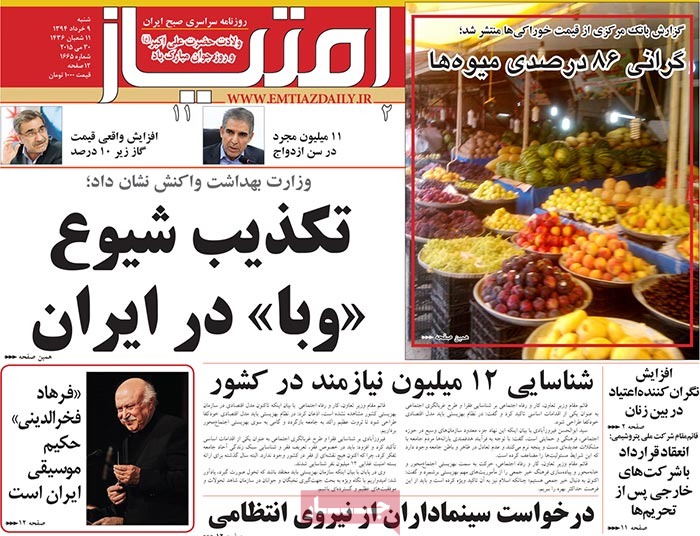 ---
Iran: At a ceremony attended by cultural and artistic greats, the services of Farhad Fakhreddini, a renowned composer, conductor and founder of Iran's National Orchestra, were hailed.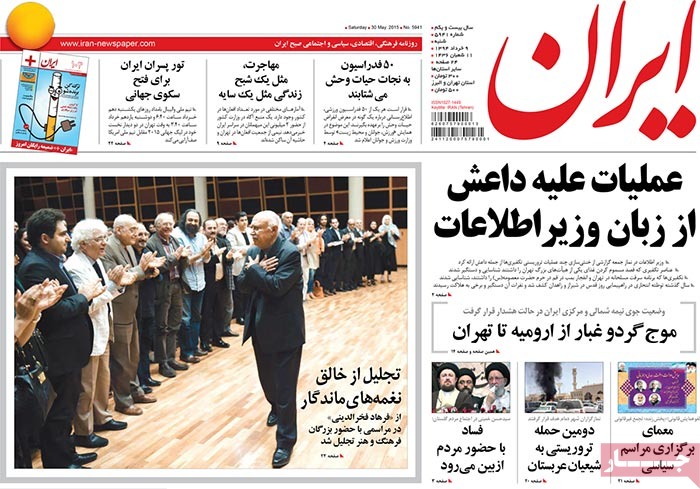 ---
Kayhan: In nationwide rallies Iranians said yes to agreement but not at any cost.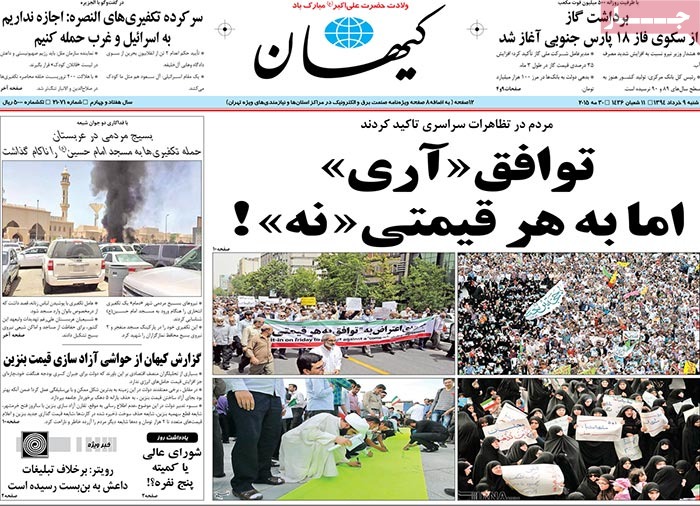 ---
Payam-e Zaman: "Inspection of military sites and access to nuclear individuals are not on our agenda," said Iranian nuclear negotiator Abbas Araghchi.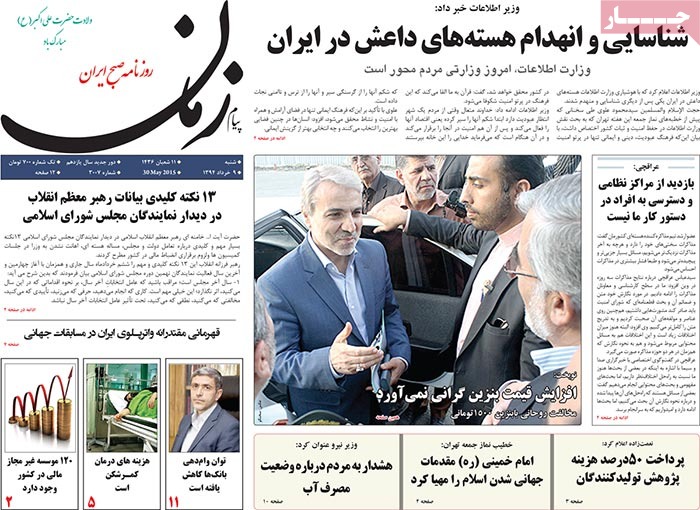 ---
Resalat: "Access to military sites would amount to the green-light for military action against the country," said Tehran Friday prayer leader Ayatollah Sedighi.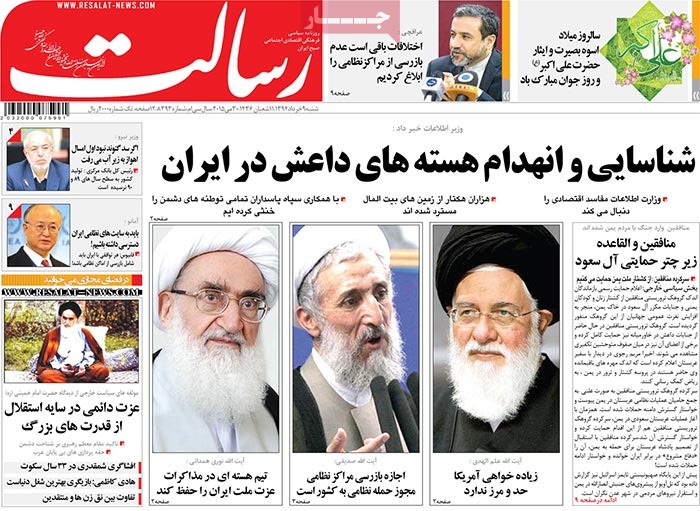 ---
Sharq: A former deputy director of the IAEA has said that he [and his men] had meetings with Iranian nuclear scientists.