Most Iranian newspapers on Tuesday covered the remarks about the US naval presence in the Persian Gulf made by the Leader of the Islamic Revolution Ayatollah Seyyed Ali Khamenei, who was speaking during a meeting with Iranian educators.
They also highlighted the Leader's meeting with South Korean President Park Geun-Hye and his comments on sustainable relations between Tehran and Seoul.
The opening of Tehran International Book Fair in the capital's new fairground, Shahr-e Aftab, is also a hot topic.
Abrar:
Insistence on Sole Promotion of English Language is Unhealthy: Leader
Water Transfer from Caspian Sea Would Pollute Mazandaran Environment: MP
Iran Overhauls F-4 Fighter Jets in Mehrabad Airport
Tehran Book Exhibition to Be Opened by President Rouhani
Javad Nekounam: I Will Start Coaching Career as Queiroz's Assistant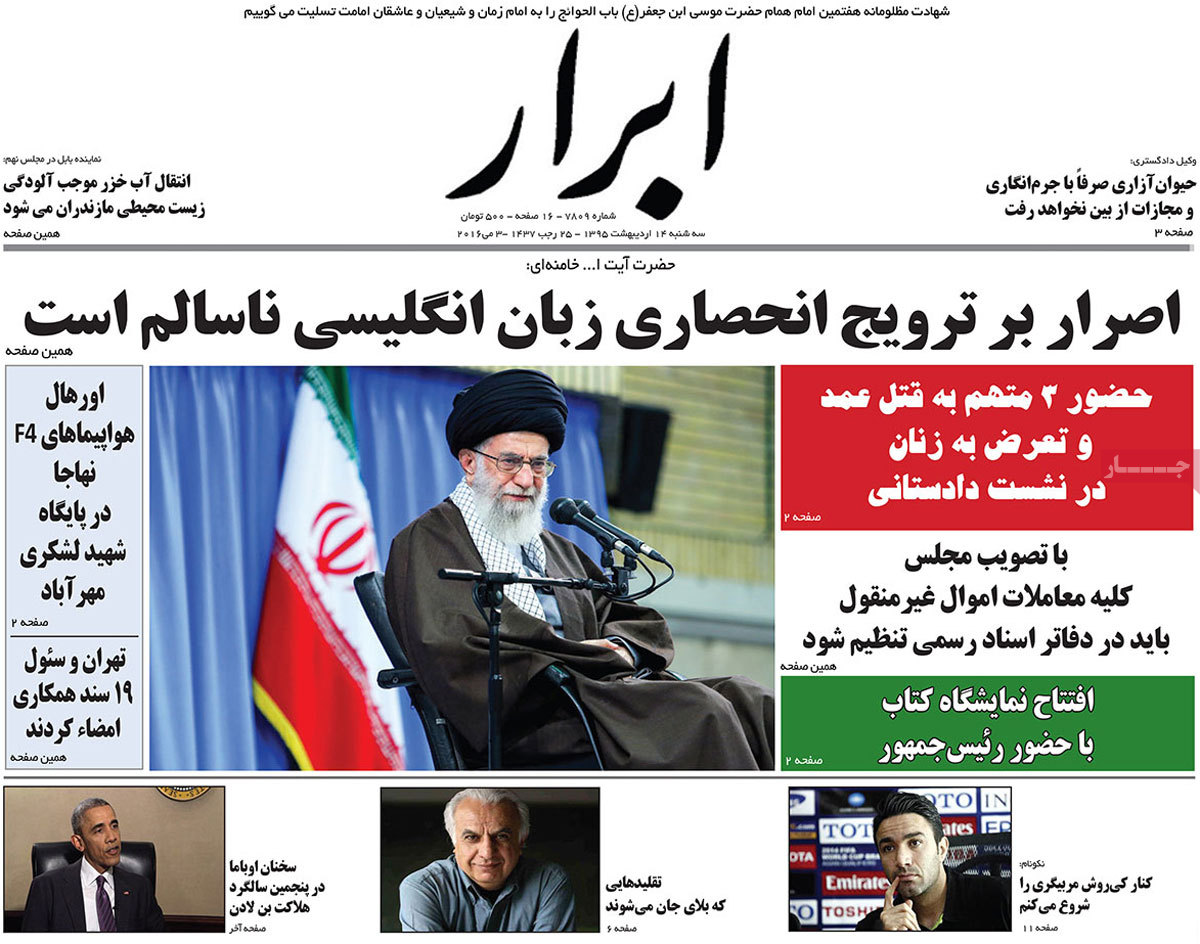 ---
Afkar:
Persian Gulf is Our Home: Ayatollah Khamenei
We Built Iran's Infrastructure by Easing Foreign Policy Tensions: Rafsanjani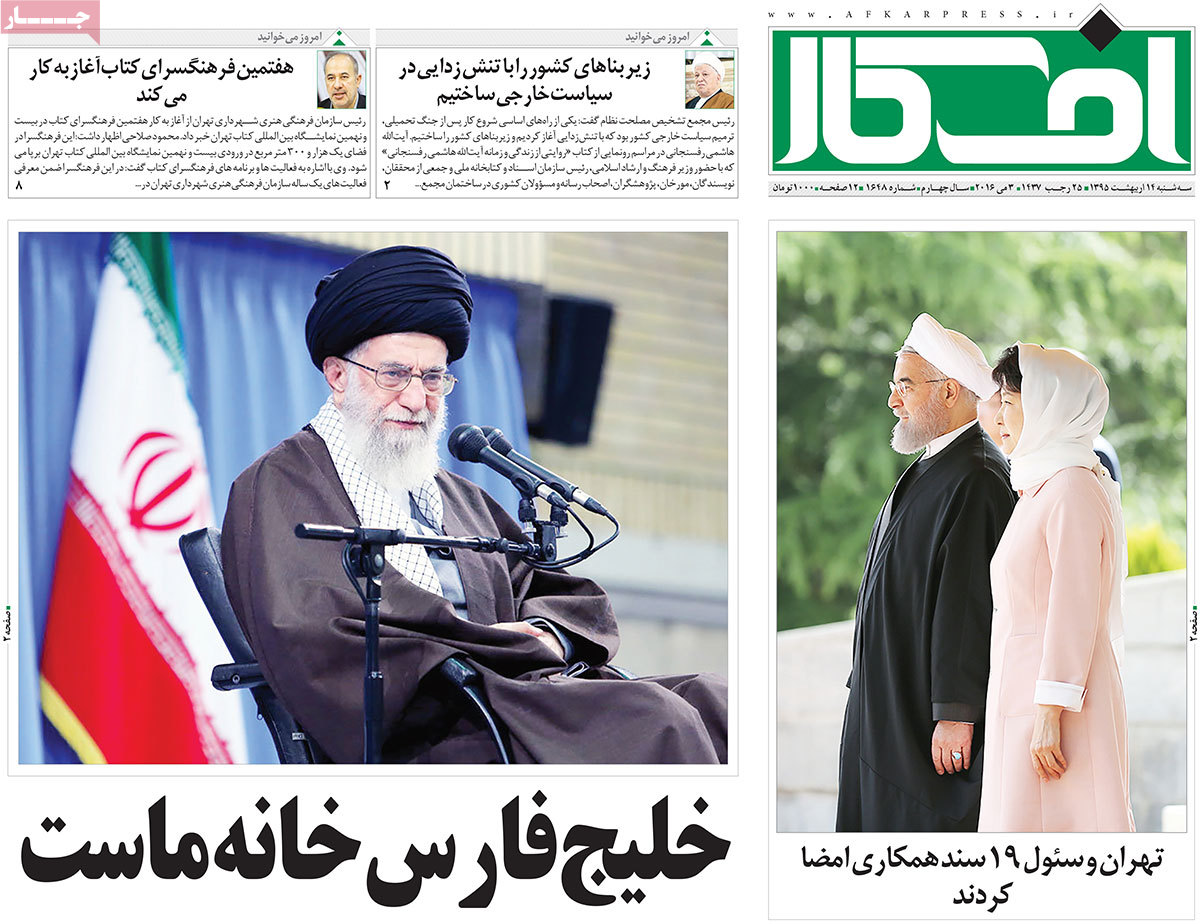 ---
Arman-e Emrooz:
Leader Might Personally Decide on Disqualified Parliament Member-Elect Khaleqi
Korea's Iron Lady in Tehran: 19 MoUs Signed with South Korean President
Messages Being Sent to Rouhani Asking Him Not to Run for 2017 Presidential Elections
Acid Freely Sold in Iran's Cyberspace: Special Court Established for Acid-Throwing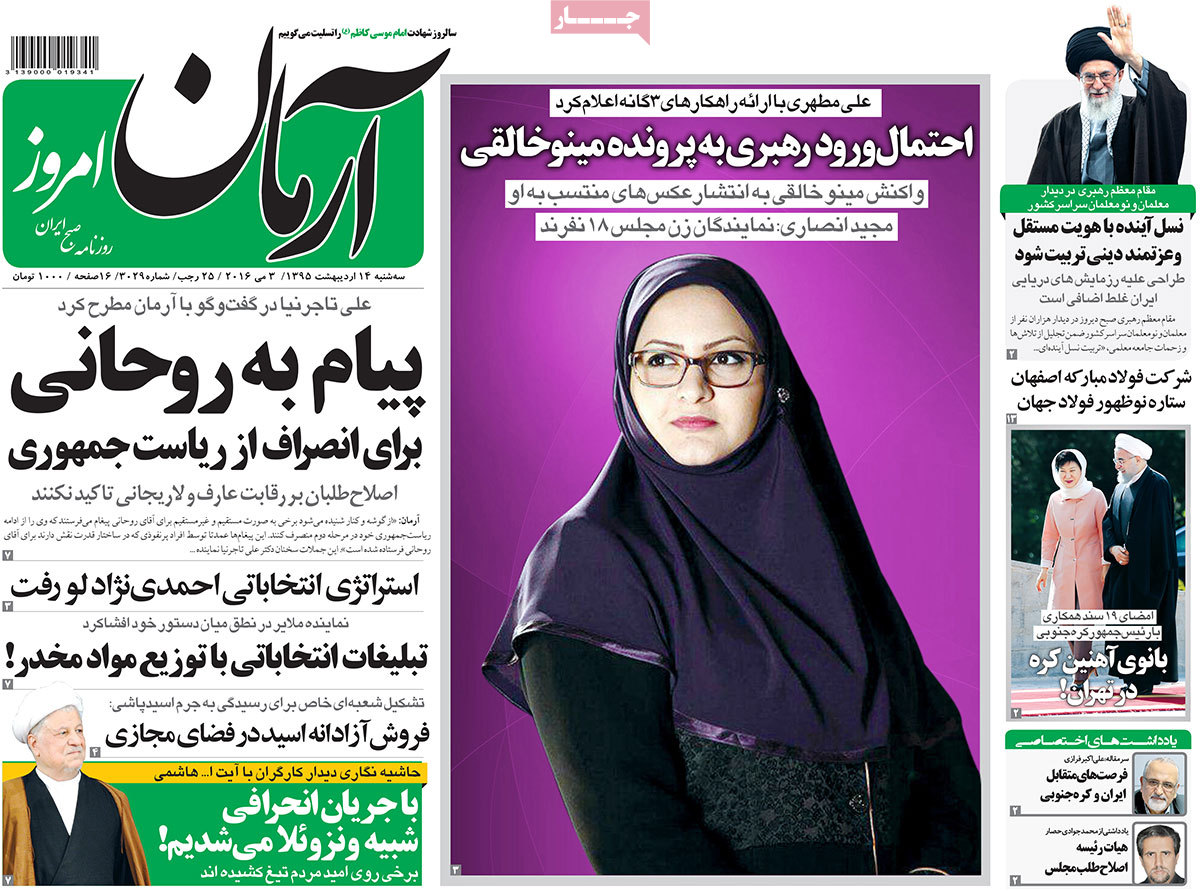 ---
Asia:
Jack Straw Tasked with Opening Iran-Britain Economic Ties
Positive Performance of Rouhani's Gov't in Its 1000-Day Life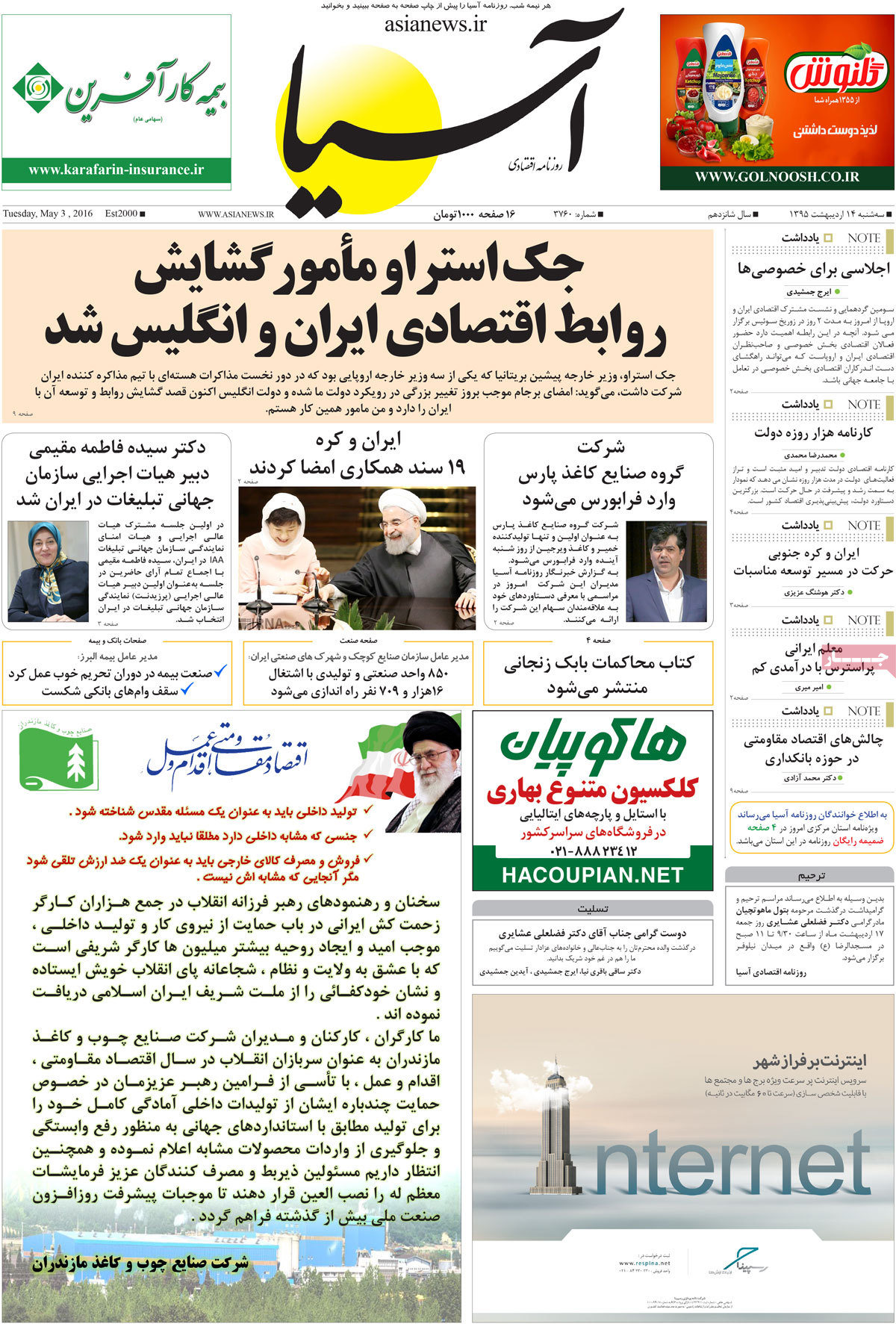 ---
Emtiaz:
43% of Girls, 64% of Boys "Sometimes" Smoke Hookah
Iranian Football Referee Faghani Selected for Rio Olympics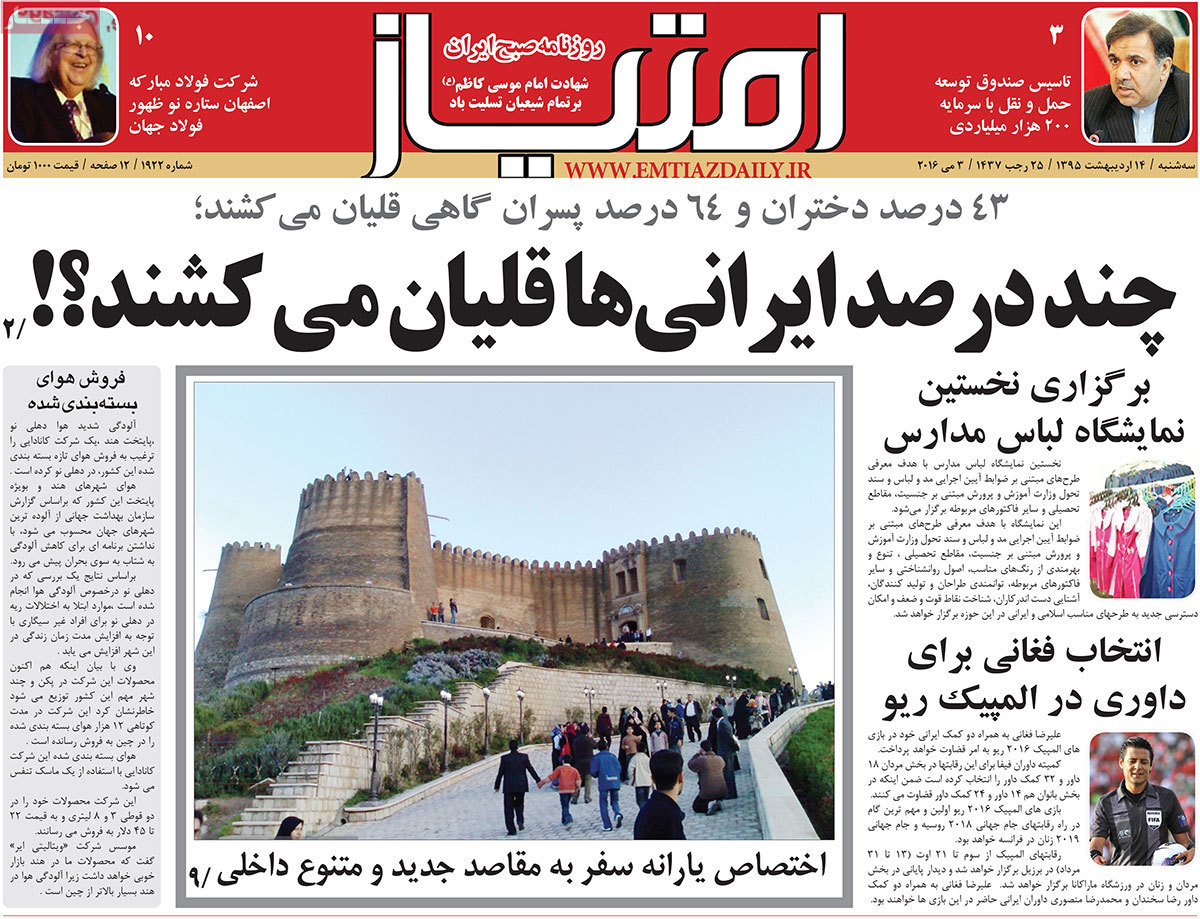 ---
Etemad:
18 Women in Iran's Parliament: Not Any More or Less
"Lady of Development" Meets Jurist Sheikh [Park meets Rouhani]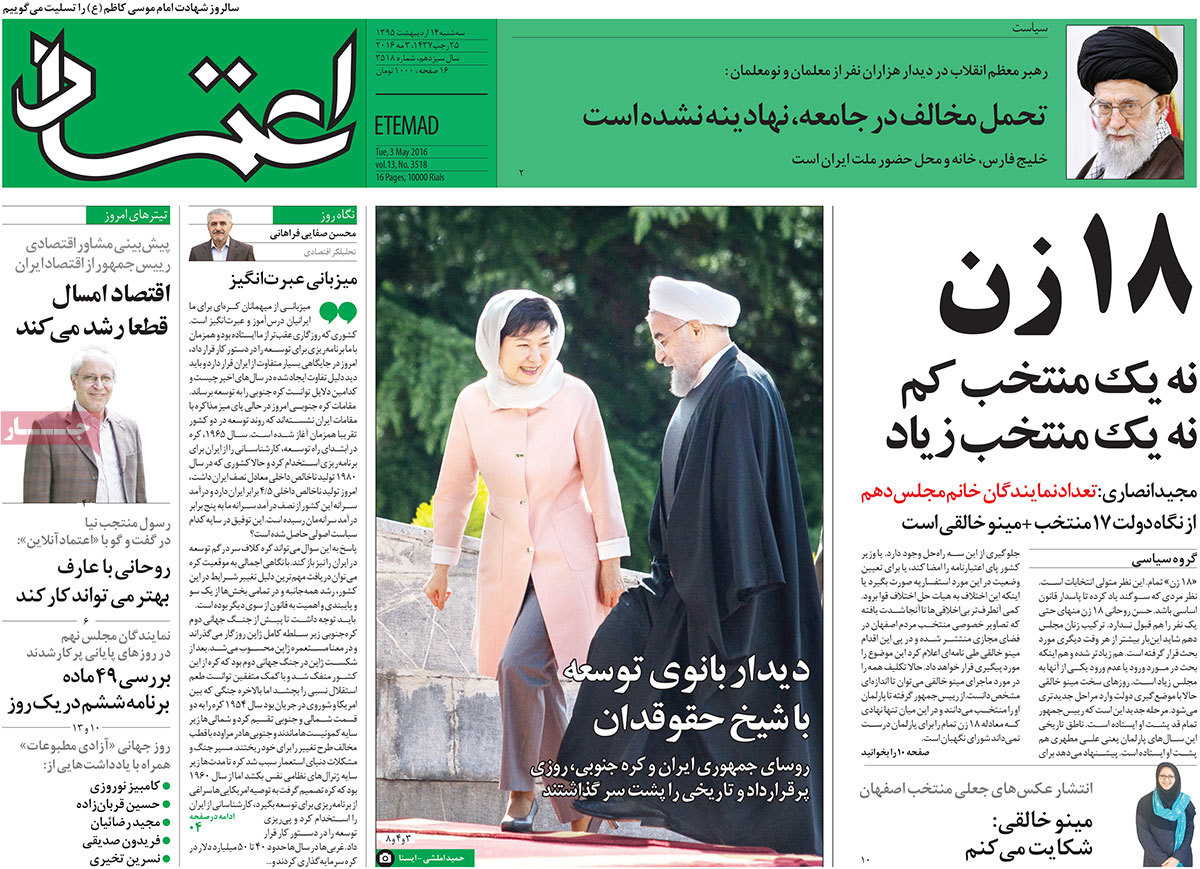 ---
Ettela'at:
Joining Int'l Copyright Convention Inevitable for Iran: Culture Minister
20 Killed in Terrorist Attack on Imam Kadhim Pilgrims in Iraq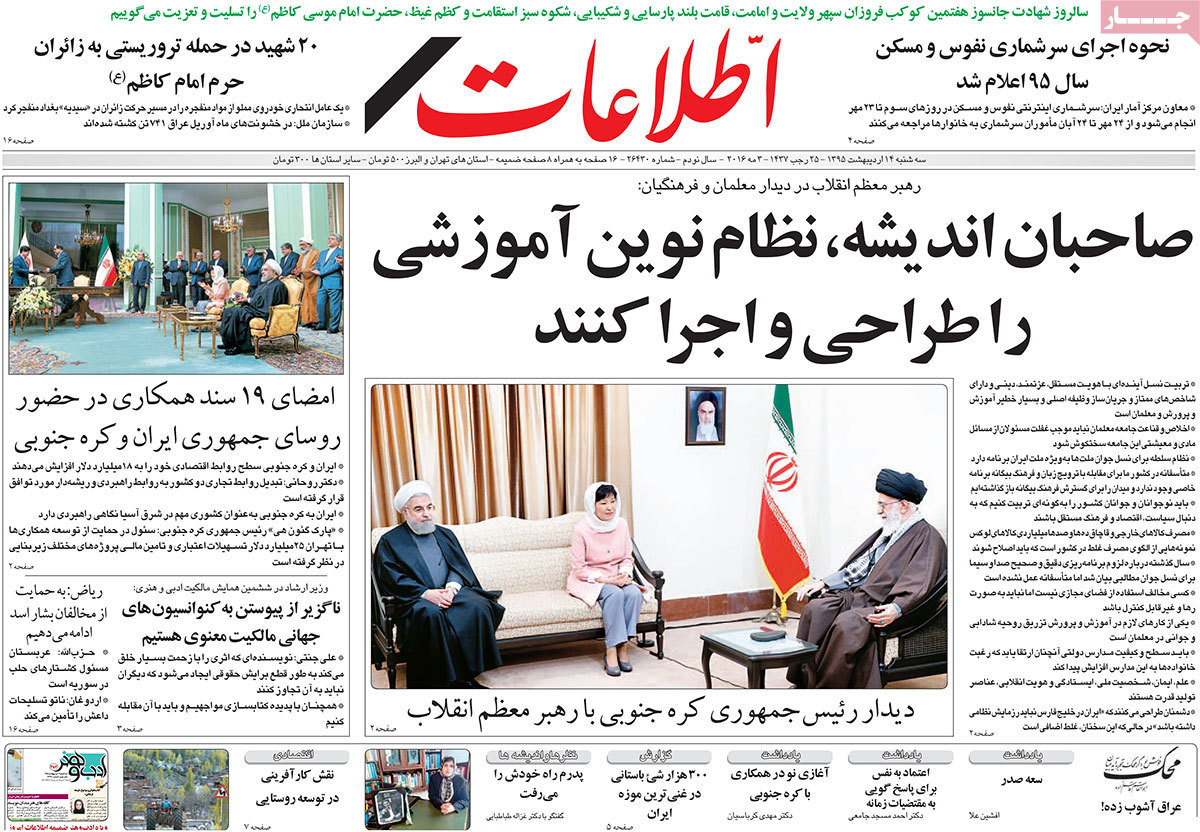 ---
Ghanoon:
On Press Freedom Day: Lives of Press as Short as Butterflies'
No Difference between Plainclothes or Uniformed Morality Police
---
Haft-e Sobh:
Leader's Repeated Cautions on Lifestyle
Persian Dinner with Stephen Hawking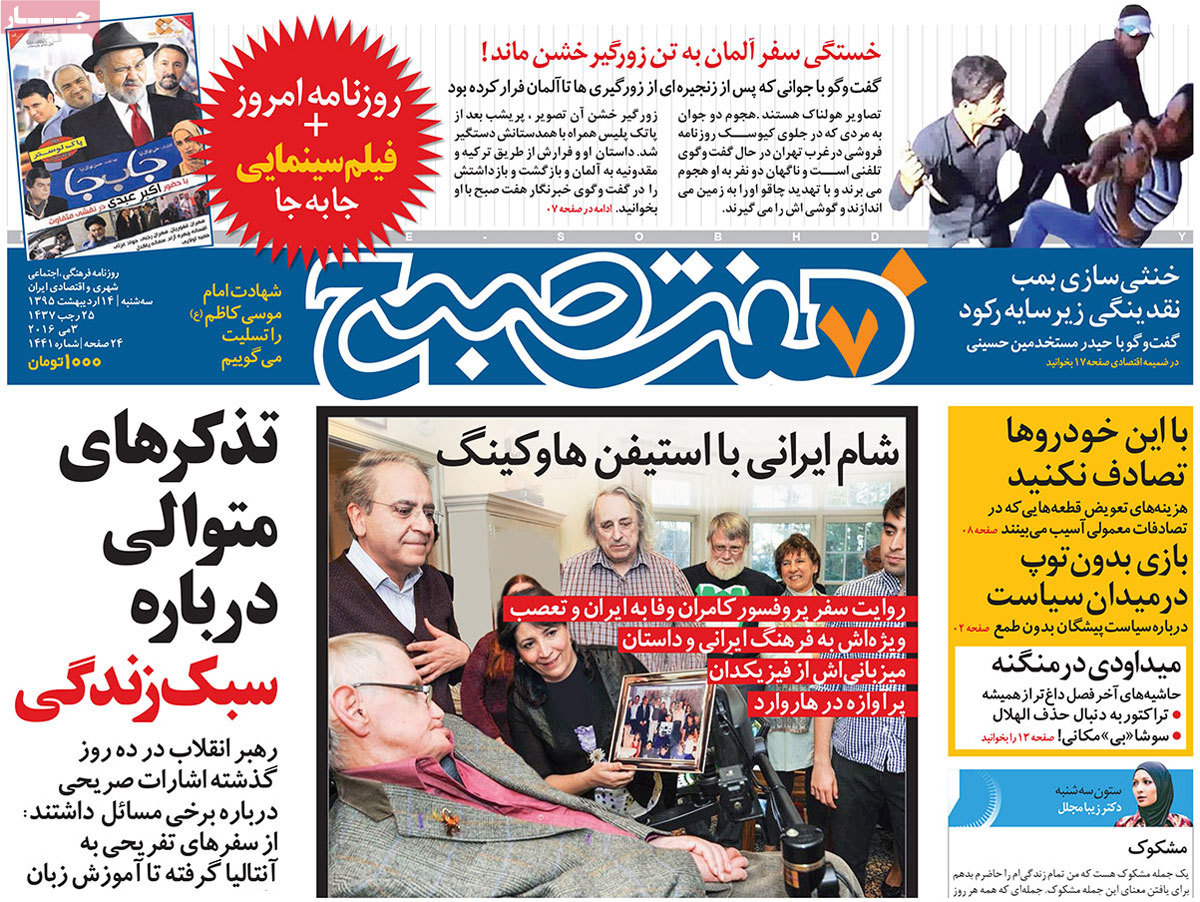 ---
Hamshahri:
Shahr-e Aftab (Sun City), Tehran's New Fairground, to Rise Today
CIA Supports Saudi Arabia on 9/11 Case
---
Iran:
Iran-South Korea Ties Should Be Sustainable: Leader with President Park
Rouhani: We Should Increase Value of Tehran-Seoul Trade Exchange to $30bn
Empty Seat of 18th Woman in Iran's Parliament: Khaleqi's Fate Still Unclear
---
Javan:
Leader Criticizes Cultural and Educational Bodies: We Have Left the Field to Foreign Cultures
US Sends 140 Letters to Major Corporations to Disrupt JCPOA
Enemies' Impudence Necessitates Appropriate Response (Editorial)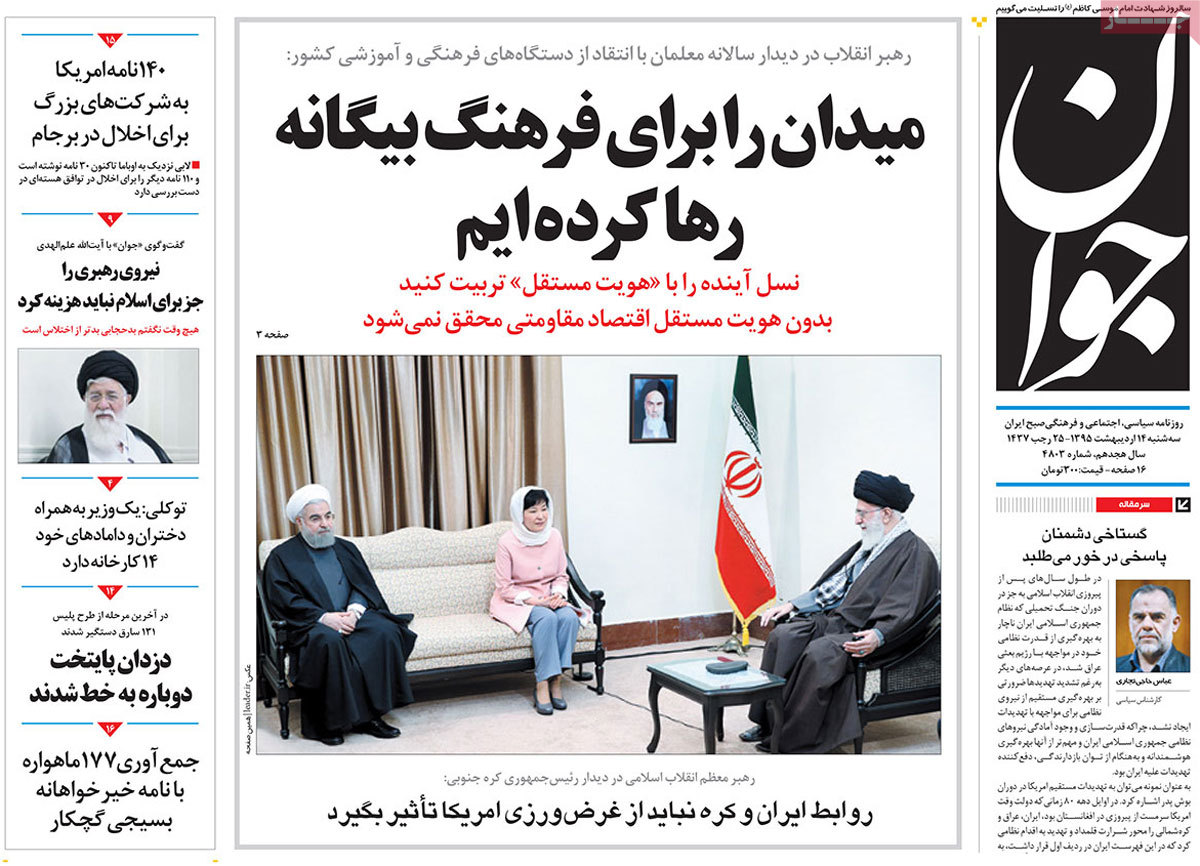 ---
Jomhouri Eslami:
American Troops Occupy South of Yemen
Iran-South Korea Ties Should Be Free from Influence of US Sanctions and Biases: Leader
Number of Trade Delegations Visiting Iran Tripled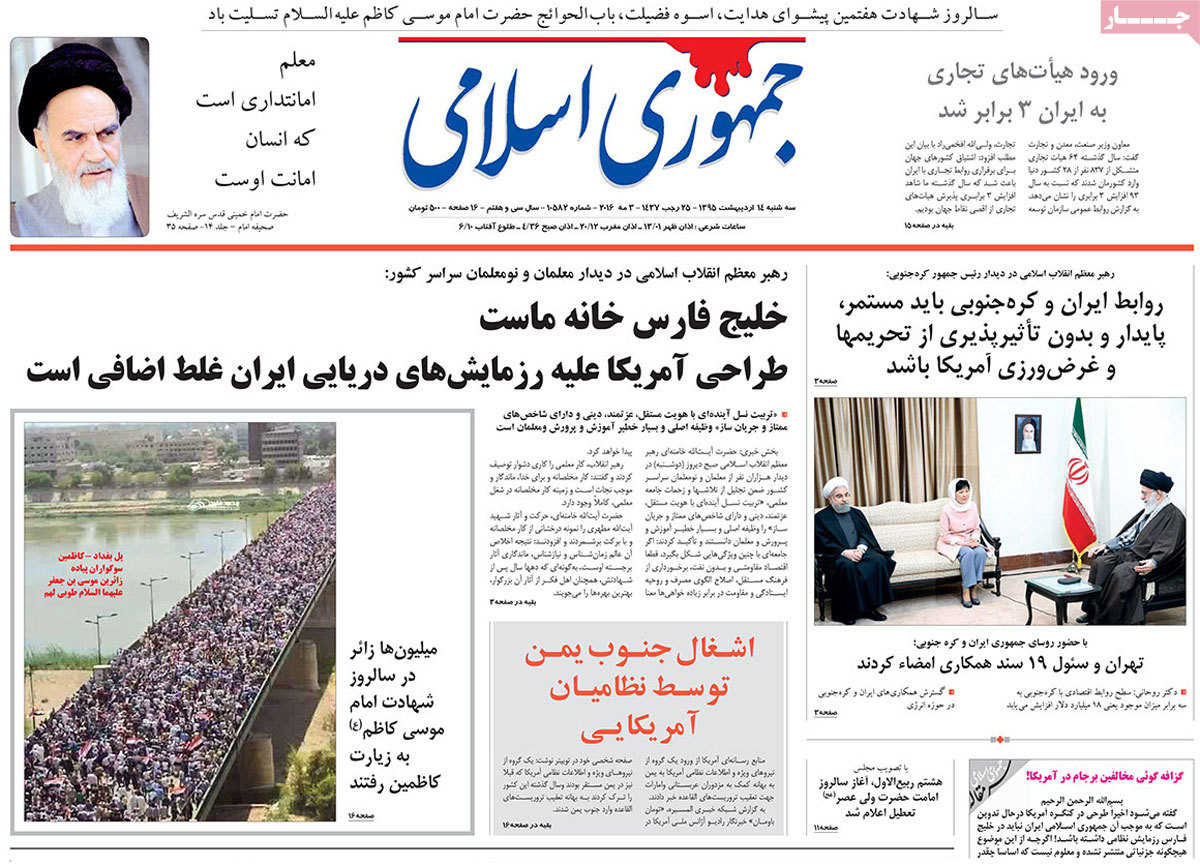 ---
Khorasan:
Iran to Sue US in Hague over Seizure of Assets: VP
Serie A Newcomer Keen to Hire Persepolis FC's Attacker Taremi
---
Payam-e Zaman:
Plots against Iran's Marine War Games Are Big-Mouthed Claims: Leader
Rouhani: Iran Wants a World without Nuclear Weapons
Petrol Likely to Be Released at Two Different Rates in Five Months
Asset Seizure Issue Being Pursued Seriously: Spokesman
Saudi Gov't Responsible for Blocking Iranian Hajj Pilgrimage: Jaberi Ansari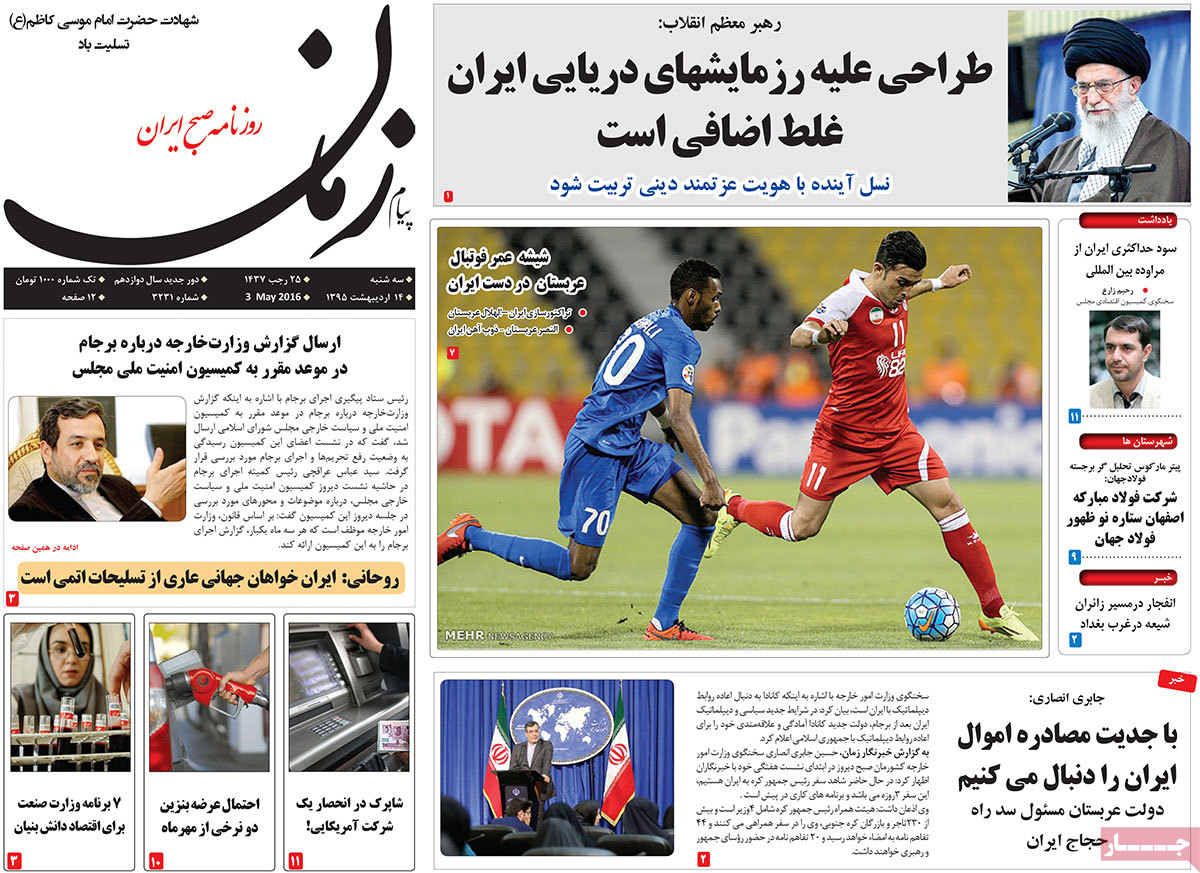 ---
Resalat:
Persian Gulf is Our Home, US Should Go Back to Bay of Pigs: Leader
English is Not the Only Language of Science: Ayatollah Khamenei
Saudi Arabia Mixing Hajj with Political Conflicts: Spokesman
Growing Hatred of European Citizens towards Zionist Regime [Israel]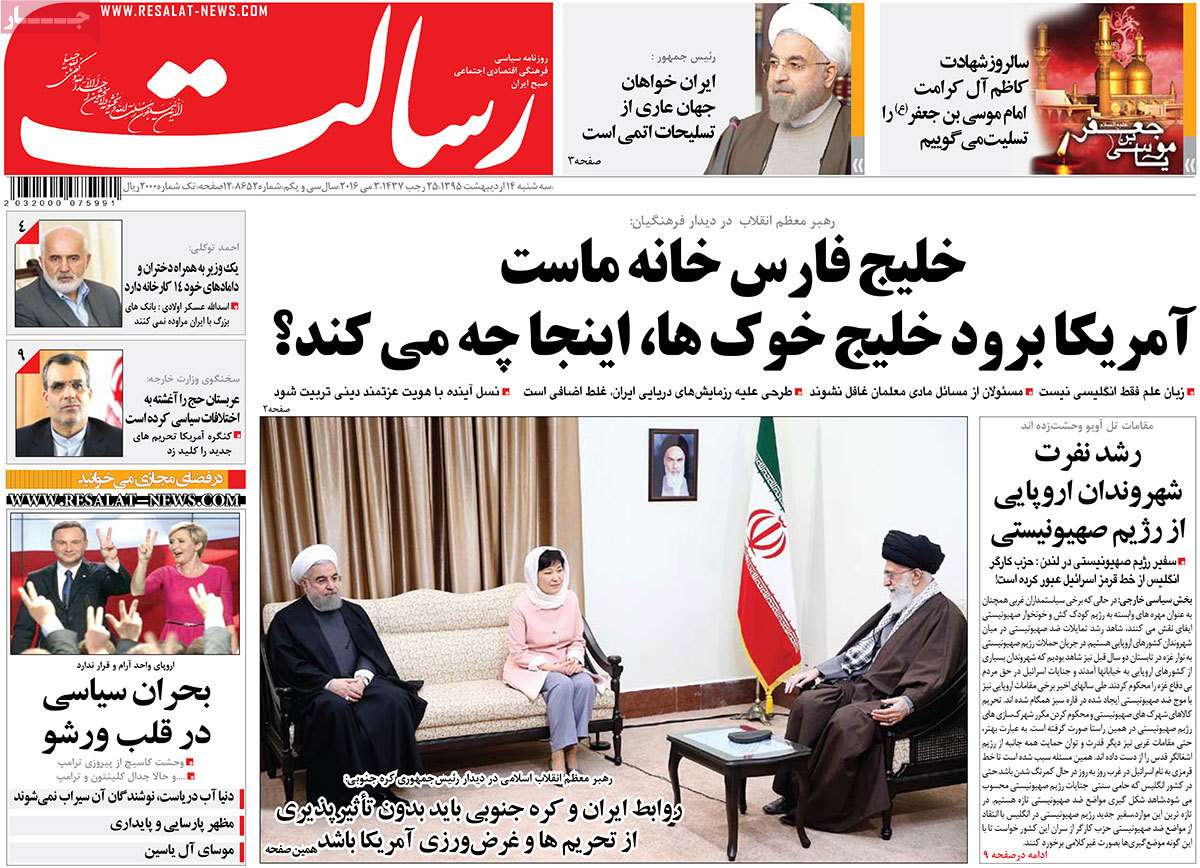 ---
Roozan:
Tehran, from Pyongyang to Seoul: Iran's Mediation between Koreas, Possible Outcome of South Korean President's Visit to Tehran
Leader Says It is Unwise to Block Cyberspace
---
Sayeh:
Illegal Imports and Exports of Herbs
Muslim World in Worst Condition in Its History: Rafsanjani
---
Shahrvand:
Major Regression in Caspian Sea Tide
Korean Quality and Technology to Replace Chinese Junk
---
Sharq:
Mayors to Be Directly Elected by Popular Vote
Leader Slams Intolerance of Opponents
Tehran, Bridge of Reconciliation between South and North Korea
"I Am Now Ready to Die": Rafsanjani on Iran's Improved Political Condition
---
Vaghaye Ettefaghieh:
World to Watch Animated Story of Zahhak, Evil Figure in Iranian Myth, at Cannes Festival
Leader Criticizes Islamic Republic of Iran Broadcasting [IRIB, the national broadcaster]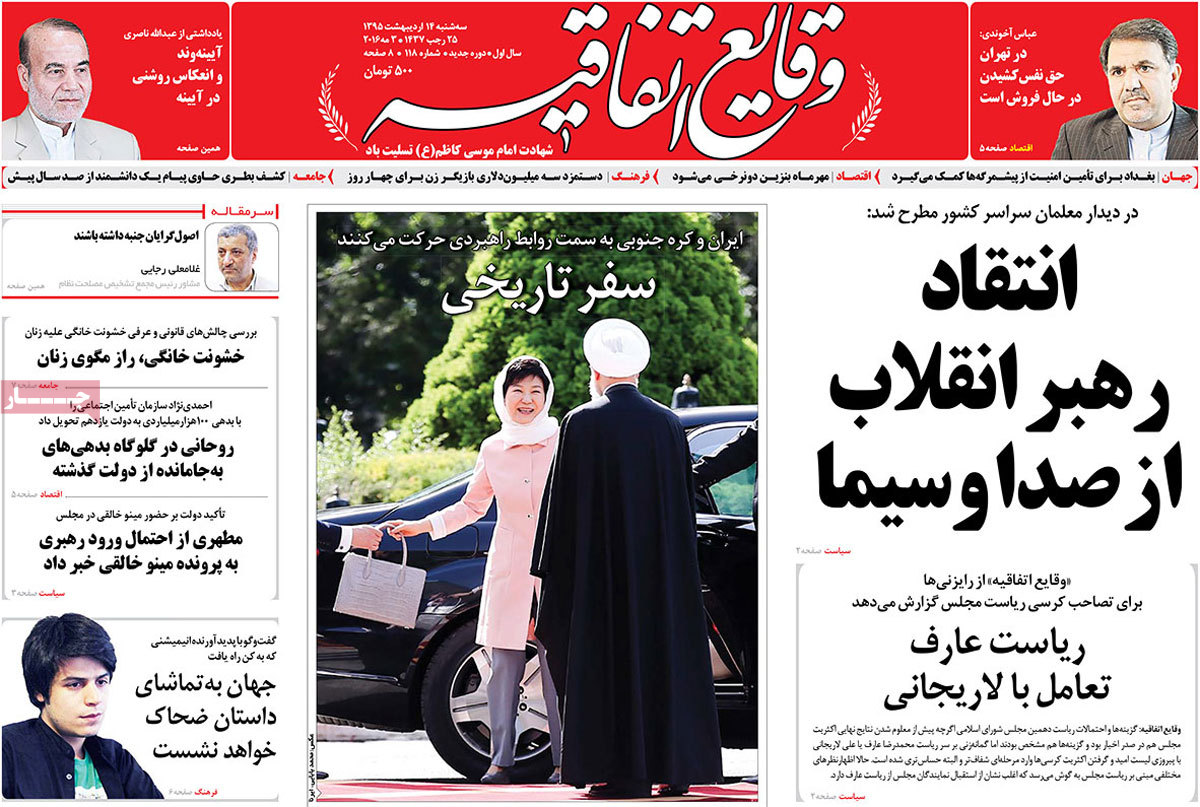 ---
Vatan-e Emrooz:
Cabinet Minister and Family Own 14 Factories: MP
Commencement of Imam Mahdi's Imamate Declared as National Holiday
Rouhani's Gov't Withdraws near $2bn from Central Bank: No-Return Loan!