Almost all papers today highlighted the remarks made by senior Iranian negotiator and deputy foreign minister, Seyyed Abbas Araqchi, who talked about the Iran nuclear deal and the re-imposing of US sanctions on Iran.
Al Jazeera Arabic's interview with Ali Shamkhani, the secretary of Iran's Supreme National Security Council, was also a top story today.
The above issues, as well as many more, are highlighted in the following headlines and top stories:
19 Dey:
1- Rouhani: It Was a Mistake that Clerics Entered into Political Factions
2- Larijani: Convergence between Gov't, Parliament, Judiciary Can Resolve Banking Woes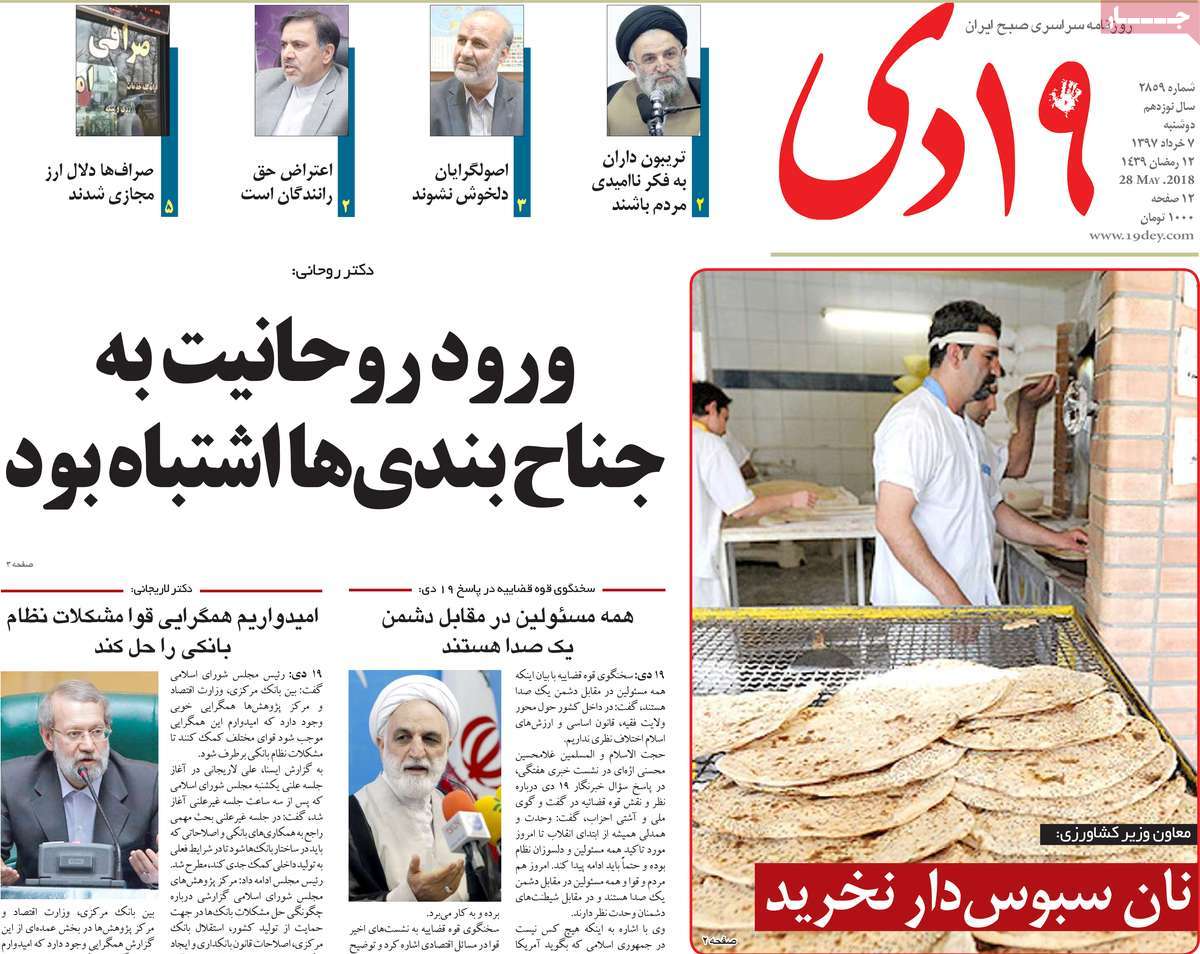 ---
Abrar:
1- Judiciary Spokesman: We'll Punish Any Movement that Seeks to Disrupt Iran's Security
2- Poland: Europe to Follow US Policies against Iran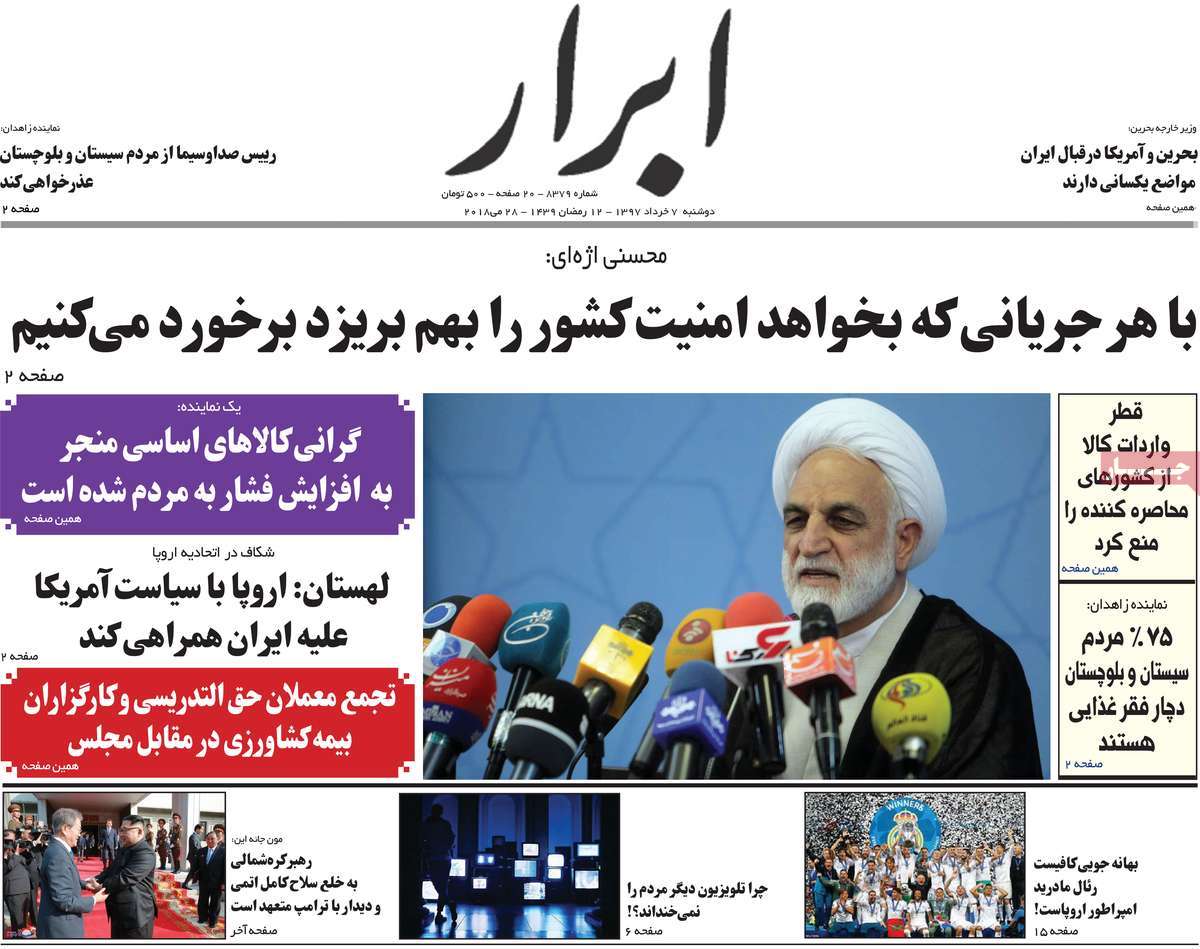 ---
Aftab-e Yazd:
1- Man with Huge Debts to Iran's Banking System Escapes
2- Psychological War against Iran President: Consequences of US Sanctions against Dena Airways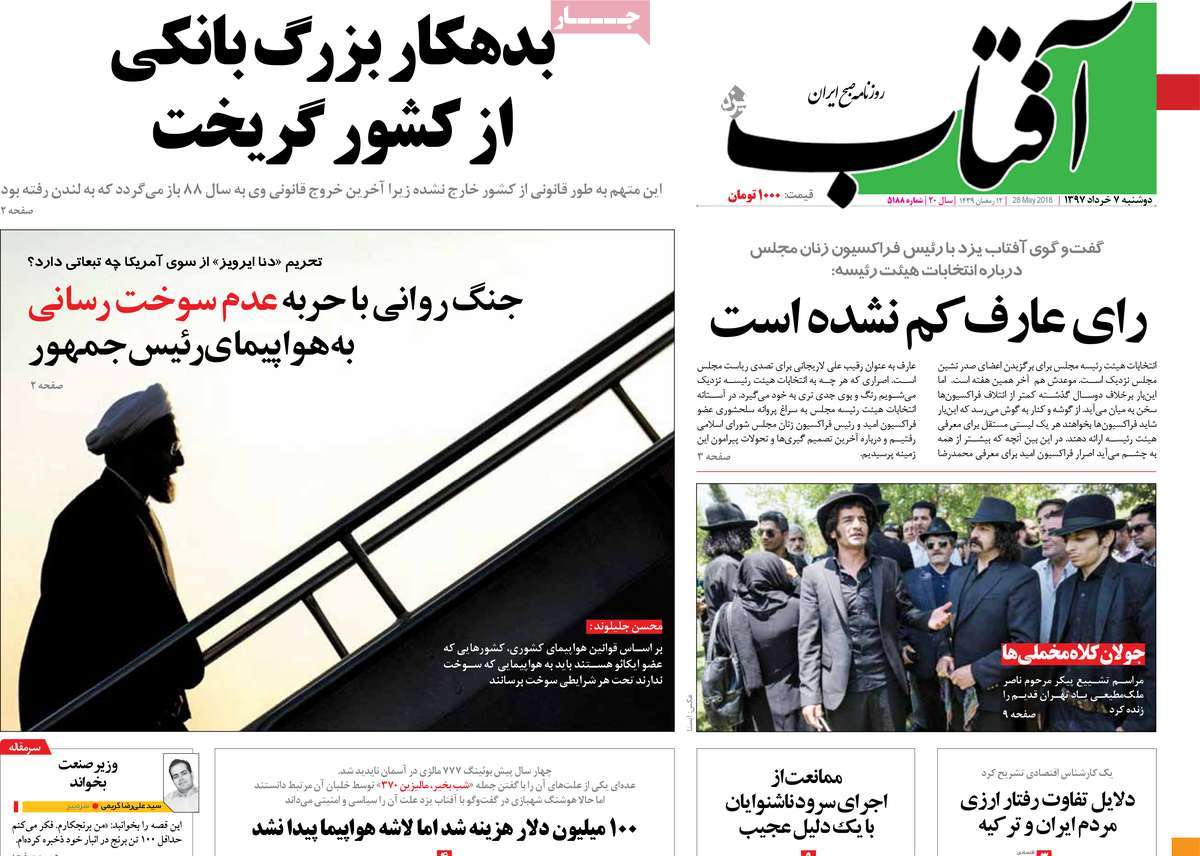 ---
Arman-e Emrooz:
1- Where Do Iranians Make Their Investments?
A Report on Reasons, Consequences of Flow of Iranian Assets to Other Countries
2- Massive Crowds of People Attend Funeral Ceremony of Famous Actor
3- Iran Has Given Final Ultimatum to Europe: Araqchi
---
Asrar:
1- Araqchi: Iran to Stop Negotiations Once It Feels Europeans Dragging Their Feet
2- China's CNPC, Petropars to Replace Total
---
Etemad:
1- Against Macron: Protests in Paris Continue against Government's Reforms
---
Ettela'at:
1- Zarif: We Won't Remain in Iran Nuclear Deal If Europe Fails to Give Enough Guarantees
2- Rouhani: Engagement with World, Economic Calm, Fighting Poverty Top Priorities
3- Shamkhani: Iran Not to Give in to US Excessive Demands
---
Iran:
1- Rouhani: Sanctions Can Be Overcome If Private Sector Takes the Lead
2- 500 Female Prisoners Waiting to Be Released
---
Javan:
1- Iranian Economy without JCPOA, with People
Analysts Discuss Ways to Boost Iran's Economy after JCPOA
2- Seoul: North Korea Doesn't Trust America's Words
3- Araqchi: Iran's Decision on JCPOA Hinges on Talks in Coming Weeks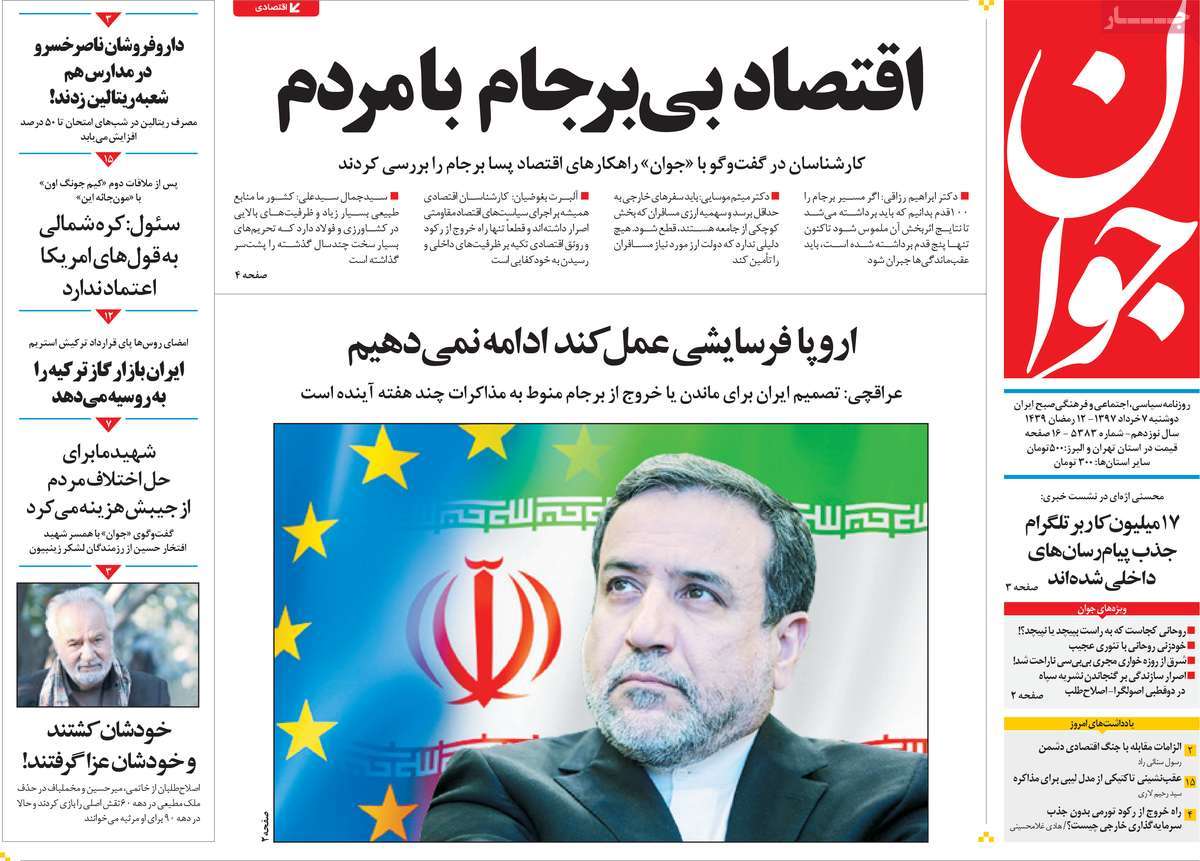 ---
Jomhouri Eslami:
1- Ansarullah: Yemenis' New Deterrent Weapon to Be Used in Saudi-led War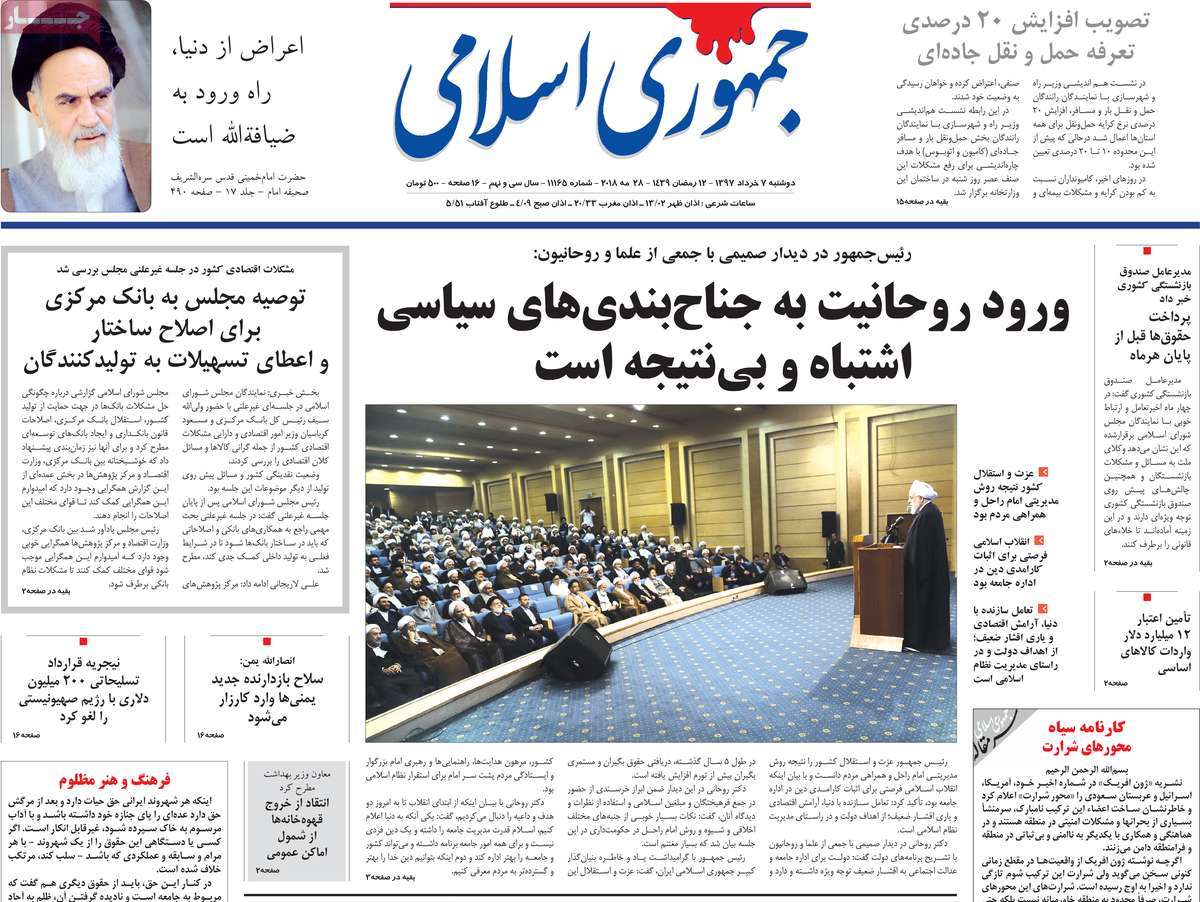 ---
Kayhan:
1- A Look at Dark Record of Europe: Long List of Europe's Violation of Commitments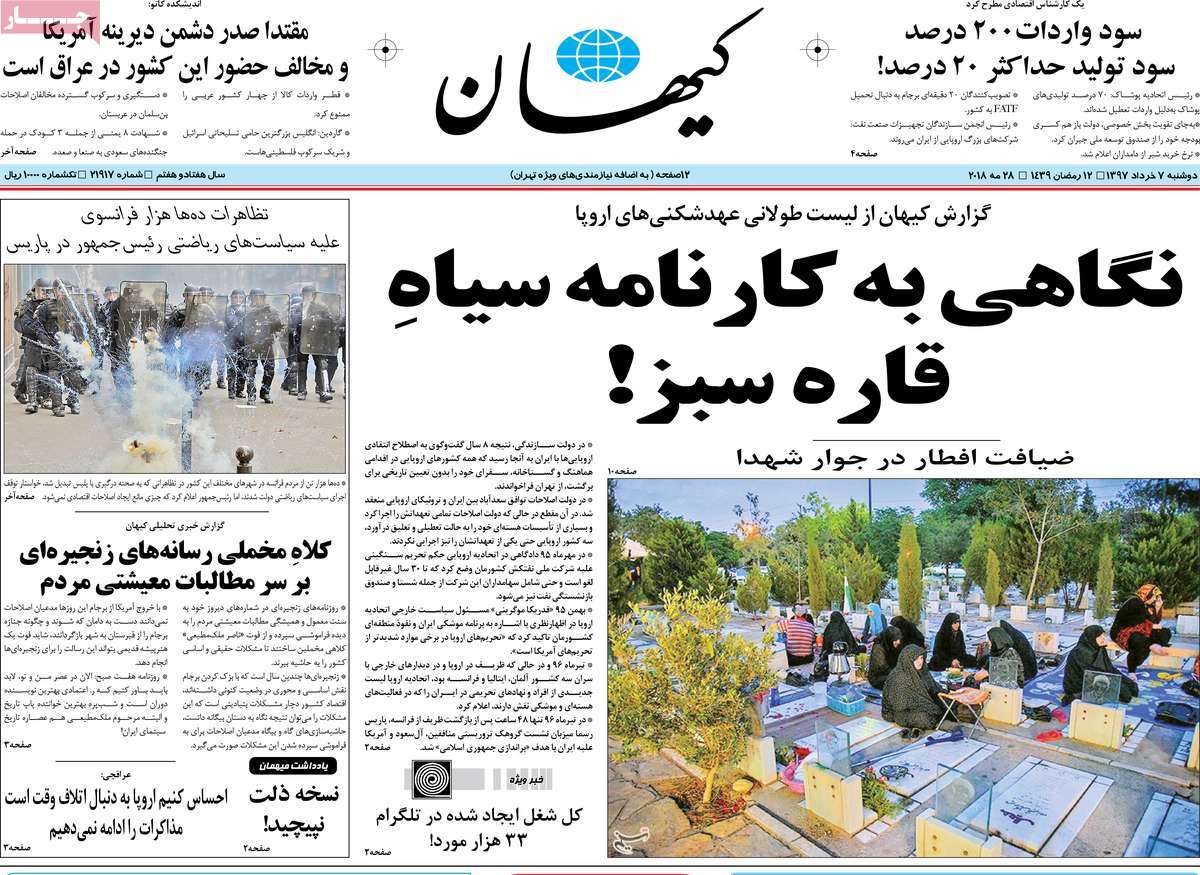 ---
Khorasan:
1- GOP Senator Rand Paul Tries Pompeo in Senate
You Can't Ignore Israel, Saudi Nuke Program and Tell Iran It Shouldn't Have Missiles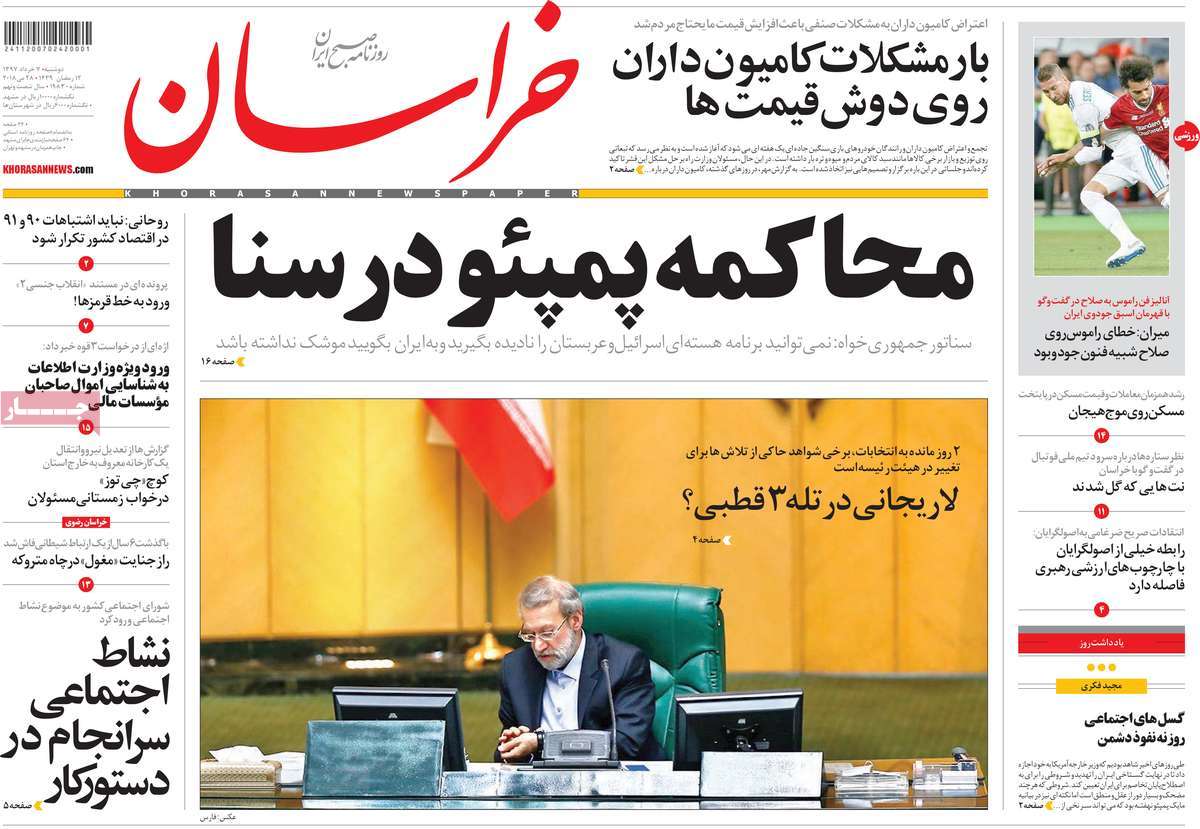 ---
Resalat
1- Shamkhani: US Strategy against Iran Based on Bullying, Shouting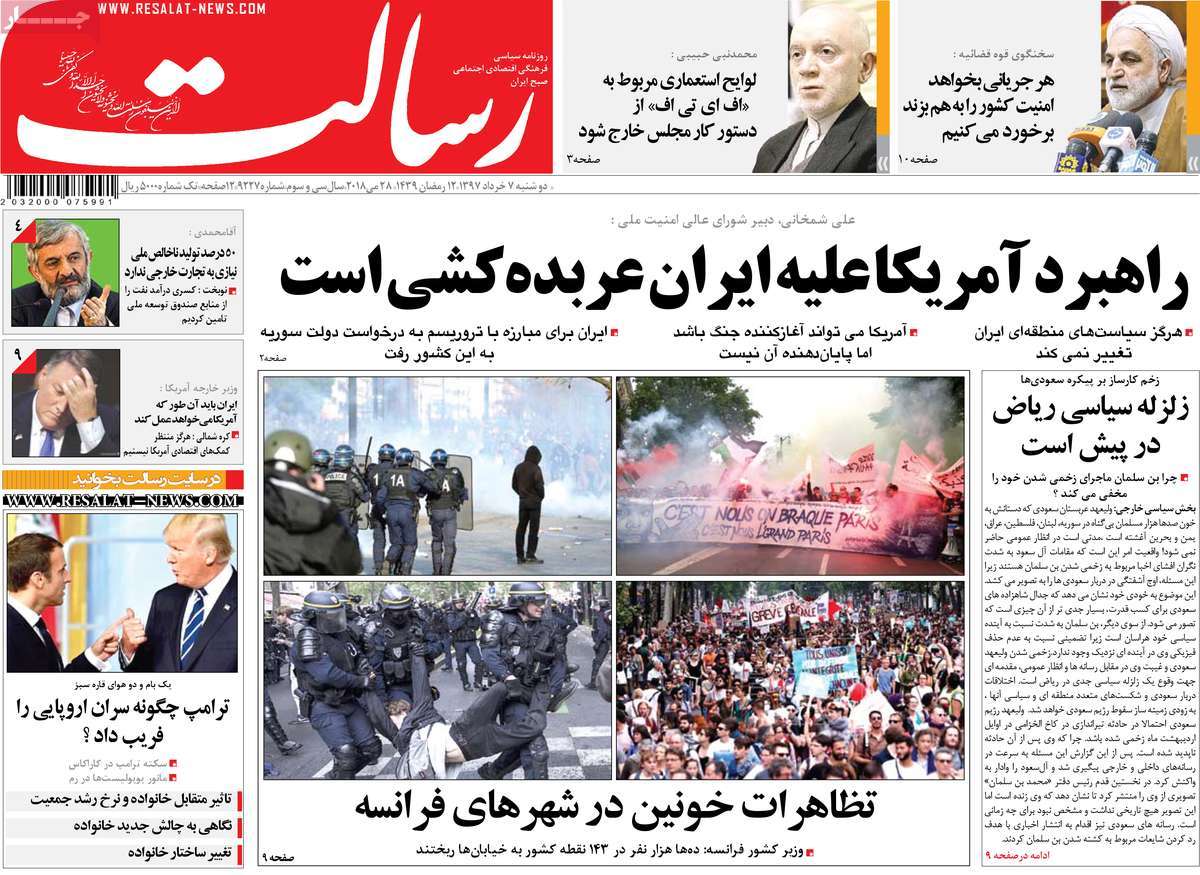 ---
Sepid:
1- Deputy Health Minister: 55 Billion Cigarettes Smoked in Iran
It's Not Easy to Fight Such Lucrative Business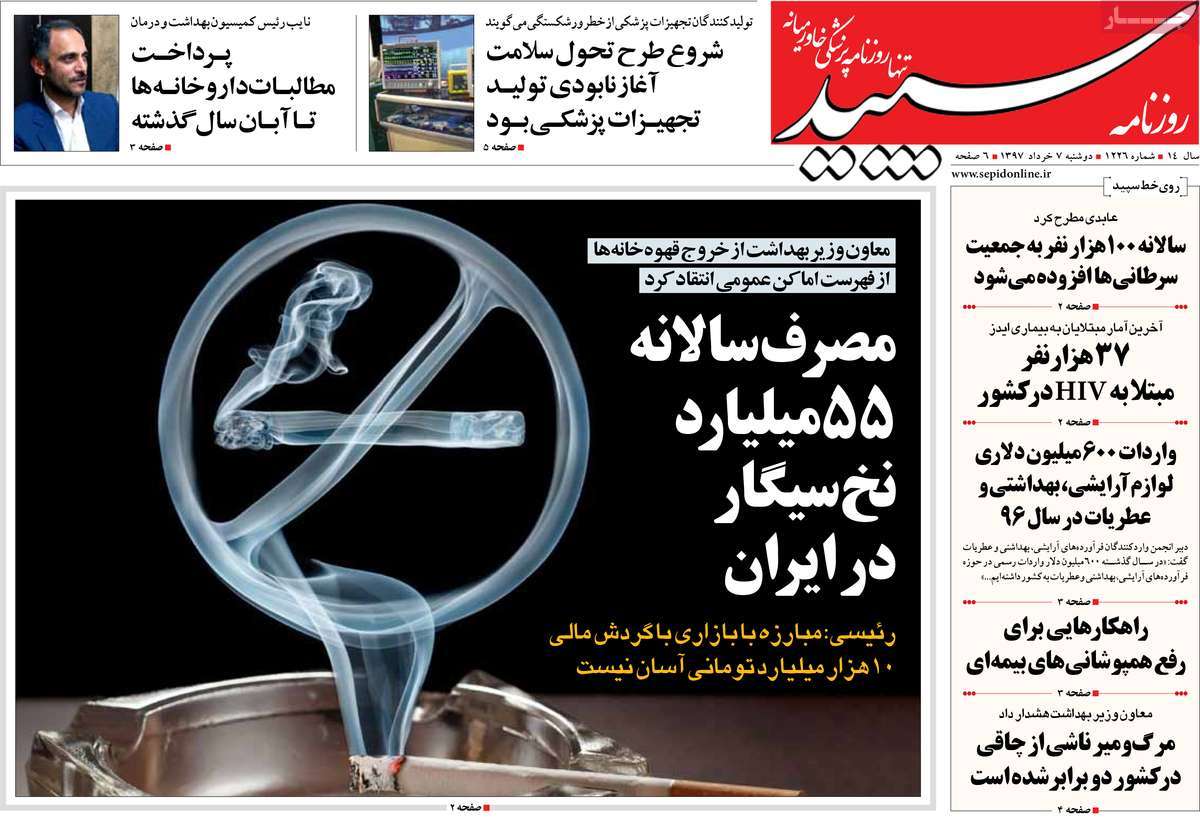 ---
Setareh Sobh
1- Parliamentary Factions Ready to Take Larijani's Seat as Speaker
Hardline MP: Parliament Must Be Run by Factions, Not with Monopoly
---
Shargh:
1- Shamkhani: We'll Remain in Syria as Long as Damascus Wants Us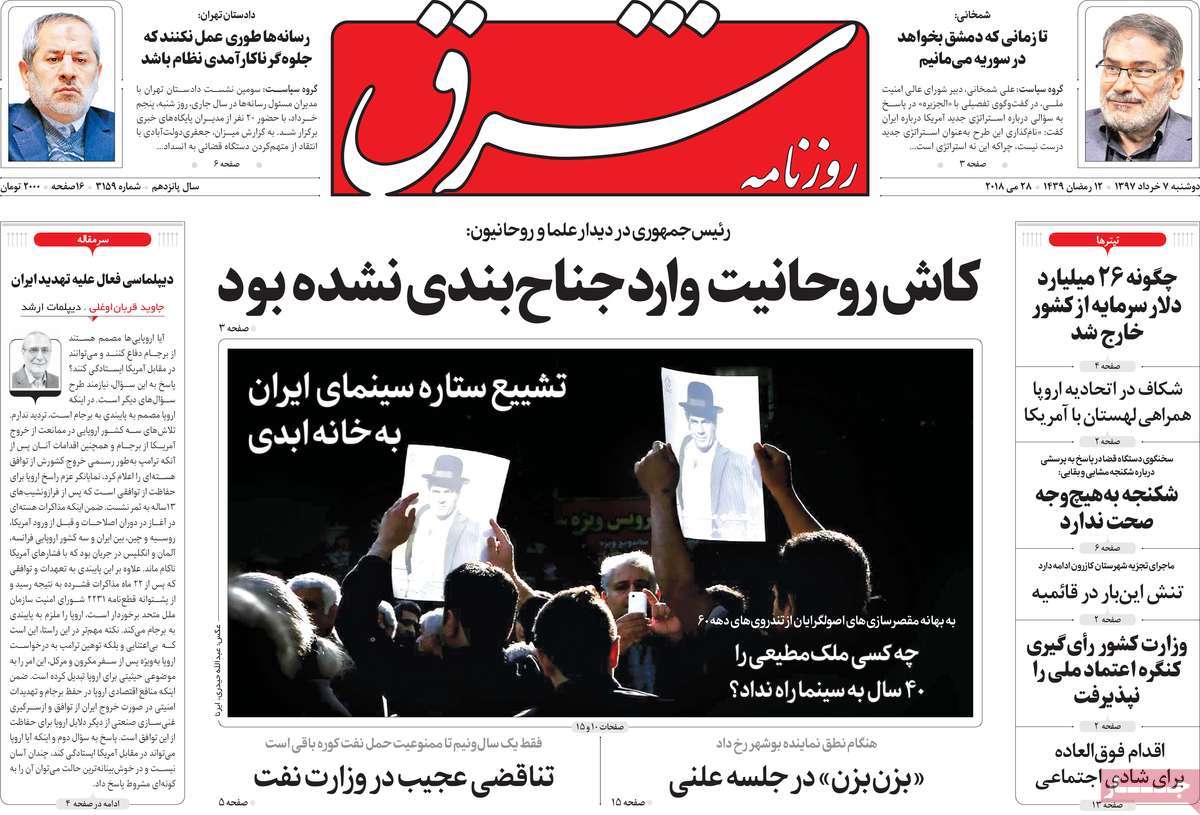 ---
Sobh-e Now:
1- Maryam Smiles at French People's Mocking of Her
Controversy Sparked after French Minister Strongly Protests Muslim Student's Hijab