Comments by the Supreme Leader that any voice which fans the flames of division represents the enemy dominated the front pages of Iranian newspapers on Sunday. Also on the covers of most dailies were images of Khorramshahr, an Iranian city whose control was wrested back from the Iraqi Army 33 years ago today.
Abrar: A second stage of a military exercise by the Iranian Army got underway.
The successful launch of missiles by the Army marked the beginning of Beit ul-Moqaddas-27 Maneuvers.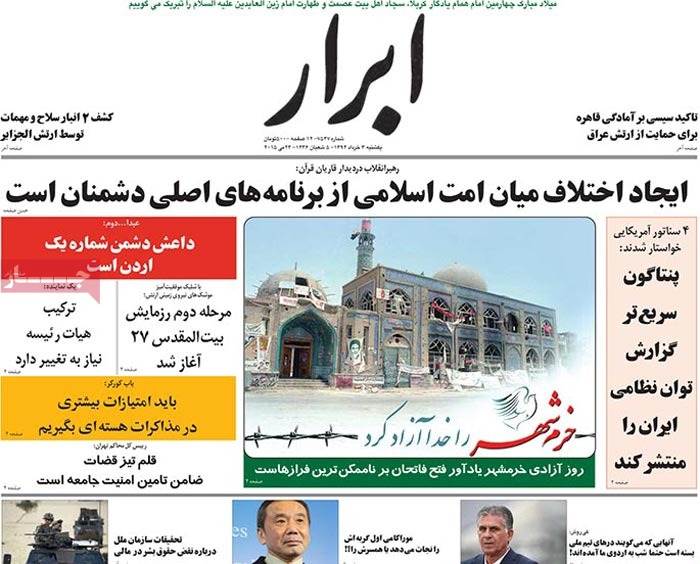 ---
Arman-e Emrooz: Threats by hardliners did not work; Ayatollah Seyyed Hassan Khomeini visits Gorgan on Thursday.
[It comes after a statement purportedly by the Gorgan chapter of Hezbollah urged the grandson of the late Imam not to visit the northern province of Golestan.]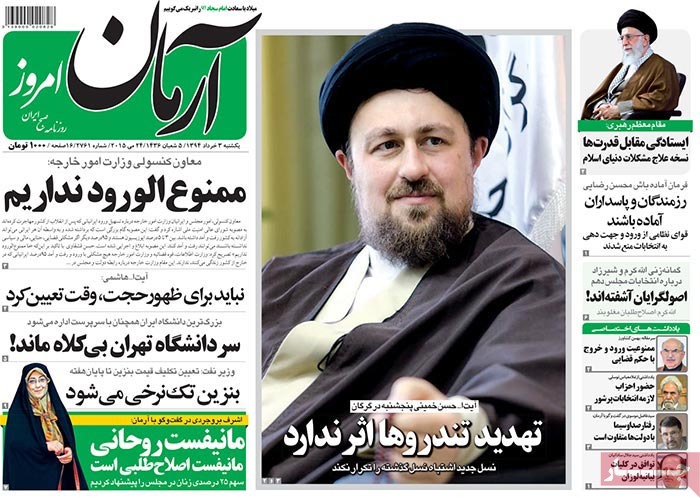 ---
Asrar: "No Iranian is banned from entering the country," said Deputy Foreign Minister Hassan Ghashghavi.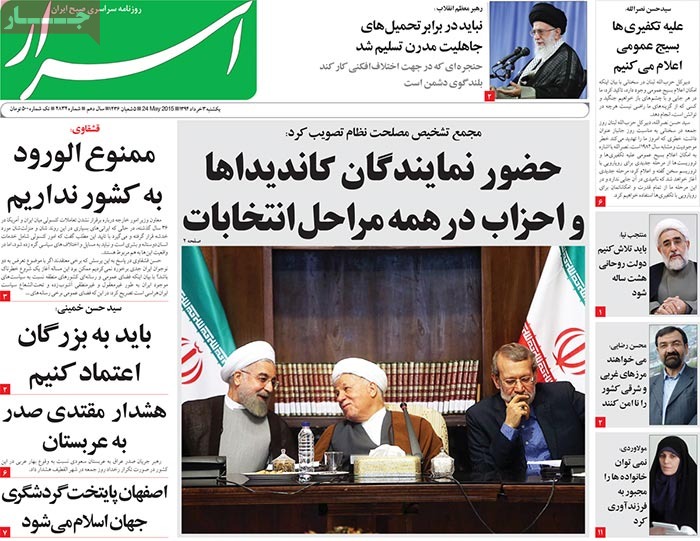 ---
Ebtekar: Supreme Leader: Creation of division in the ranks of the Islamic community is a top priority of the enemies.
Ayatollah Khamenei made the comment at a meeting with Koranic reciters.
Ebtekar: As many as 15 million Iranians live below the poverty line.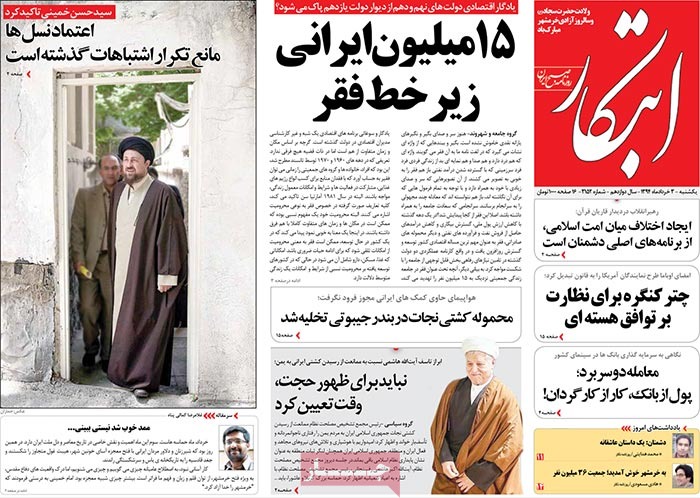 ---
Emtiaz: "Crackdown on drug dealers and thieves are among top priorities of the law enforcement," said Police Chief Brigadier General Hossein Ashtari.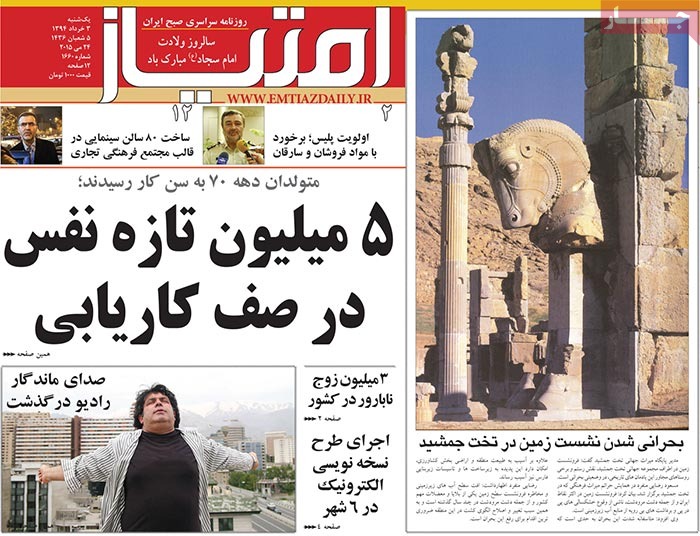 ---
Esfahan Emrooz: Famous radio announcer Mehran Dousti has passed away.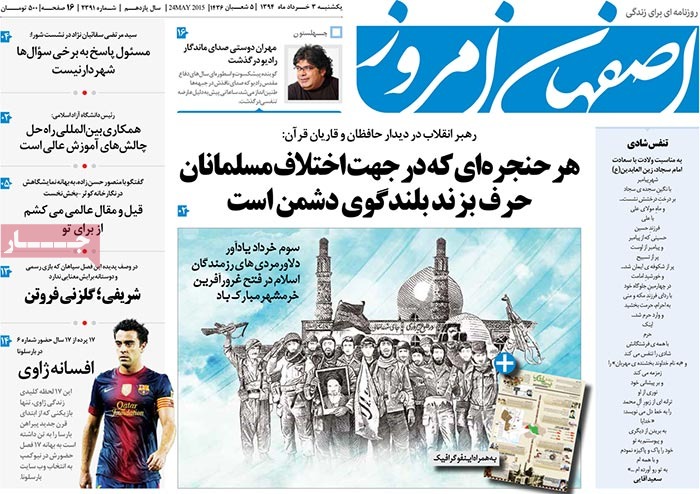 ---
Ettela'at: "A directive on the fight against administrative corruption is being drawn up," said Vice-President for Legal Affairs Elham Aminzadeh.
Ettela'at: The Central Bank of Iran has put inflation in the 30-day period to April 20 at 15.5 percent.
---
Iran: The oil minister has said that decisions will be made within days on the price of gasoline and whether or not the cut-rate rations will remain in place.
Iran: Following a decision by the Expediency Council, the three branches of government have been ordered not to wield any influence in elections.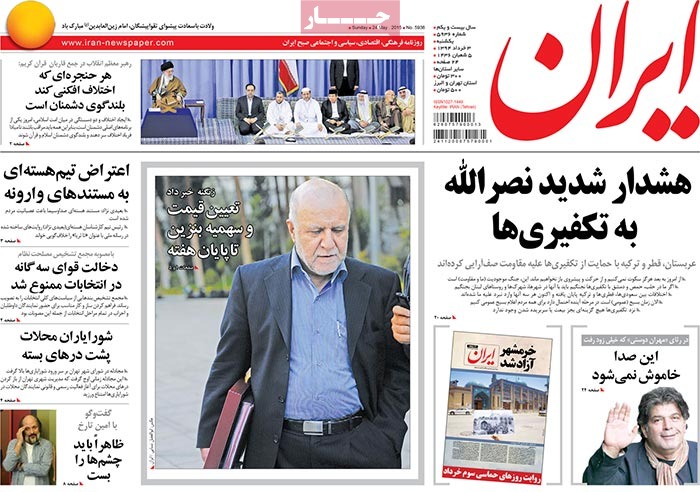 ---
Jomhouri Islami: The secretary general of Lebanon's Hezbollah has said that he would soon mobilize the public against Takfiri terrorists [a reference to IS].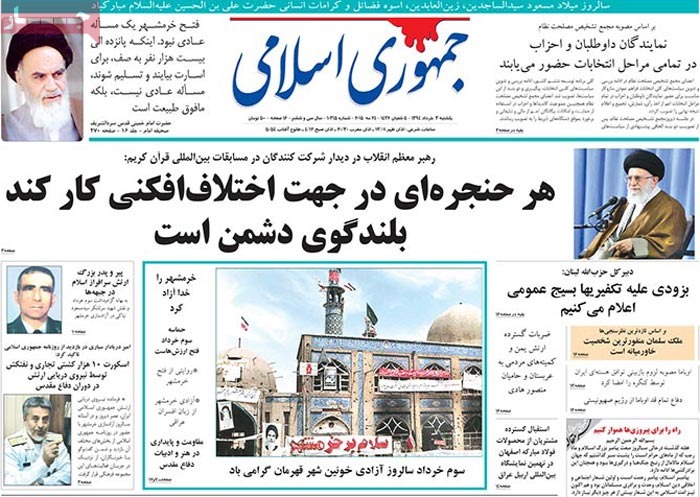 ---
Kar va Kargar: "The US seeks to take regional insecurity to the borders of Iran," said Secretary of the Expediency Council Mohsen Rezaei.
---
Nasl-e Farda: "Alcohol addiction rehabilitation centers will be launched," said an official with the State Welfare Organization.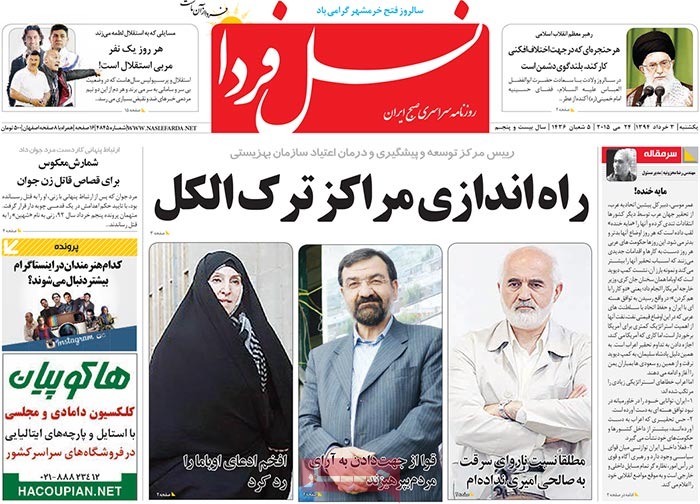 ---
Resalat: "Sanctions and threats won't create a gap between the public and the establishment," said Foreign Minister Mohammad Javad Zarif.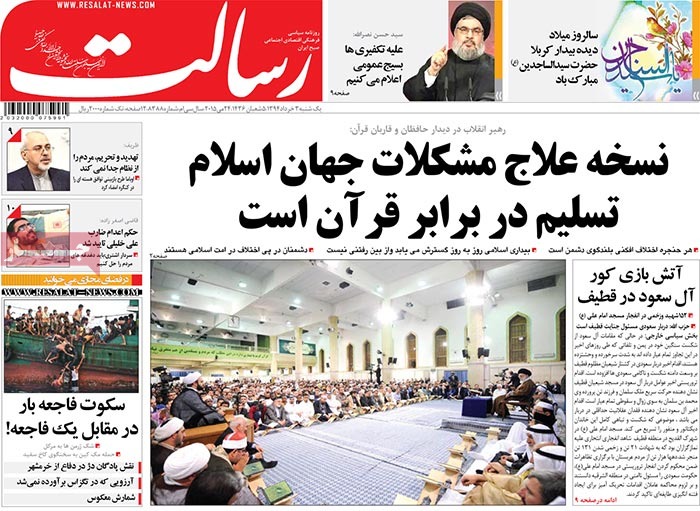 ---
Sayeh: The volume of trade between Iran and Europe is up by 11 percent.
Iran's imports from the European Union have increased 5-fold.