The Leader of the Islamic Revolution, Ayatollah Seyyed Ali Khamenei, separately met Afghan President Ashraf Ghani and Indian Prime Minister Narendra Modi in Tehran. The Leader also attended a graduation ceremony at Imam Hossein University. Ayatollah Khemenei's remarks on the three occasions were widely covered by Iranian newspapers on Tuesday.
The deal on Chabahar port, a strategic port city in south-east of Iran, was also a top story. The deal was signed between Iran's President Hassan Rouhani, his Afghan counterpart, and the Indian PM in Tehran.
The reactions to the awards won by Iranian artists in Cannes Festival, and the poor coverage of the success by the Islamic Republic of Iran Broadcasting (IRIB) were also highlighted.
The Assembly of Experts was also set to choose its new chairperson during its inaugural session on Tuesday, and the probable candidates and related developments were focused on by a number of newspapers.
Abrar:
1- Chabahar Port Can Become Great Symbol of Iran-India Cooperation: Rouhani
2- US State Department Congratulates The Salesman Crew
3- China's Repression Expands under 'Stability Maintenance' in Tibetan Areas: HRW
---
Abrar-e Eqtesadi:
1- Japan to Give Loan to Iran: Tokyo's Plans for Massive Presence in Iranian Market
2- Guardian Council Mulling Decreasing Women's Working Hours
3- Contract with Airbus to Be Finalized by End of May
4- Oil Talks Begin between Iran and Norway's Statoil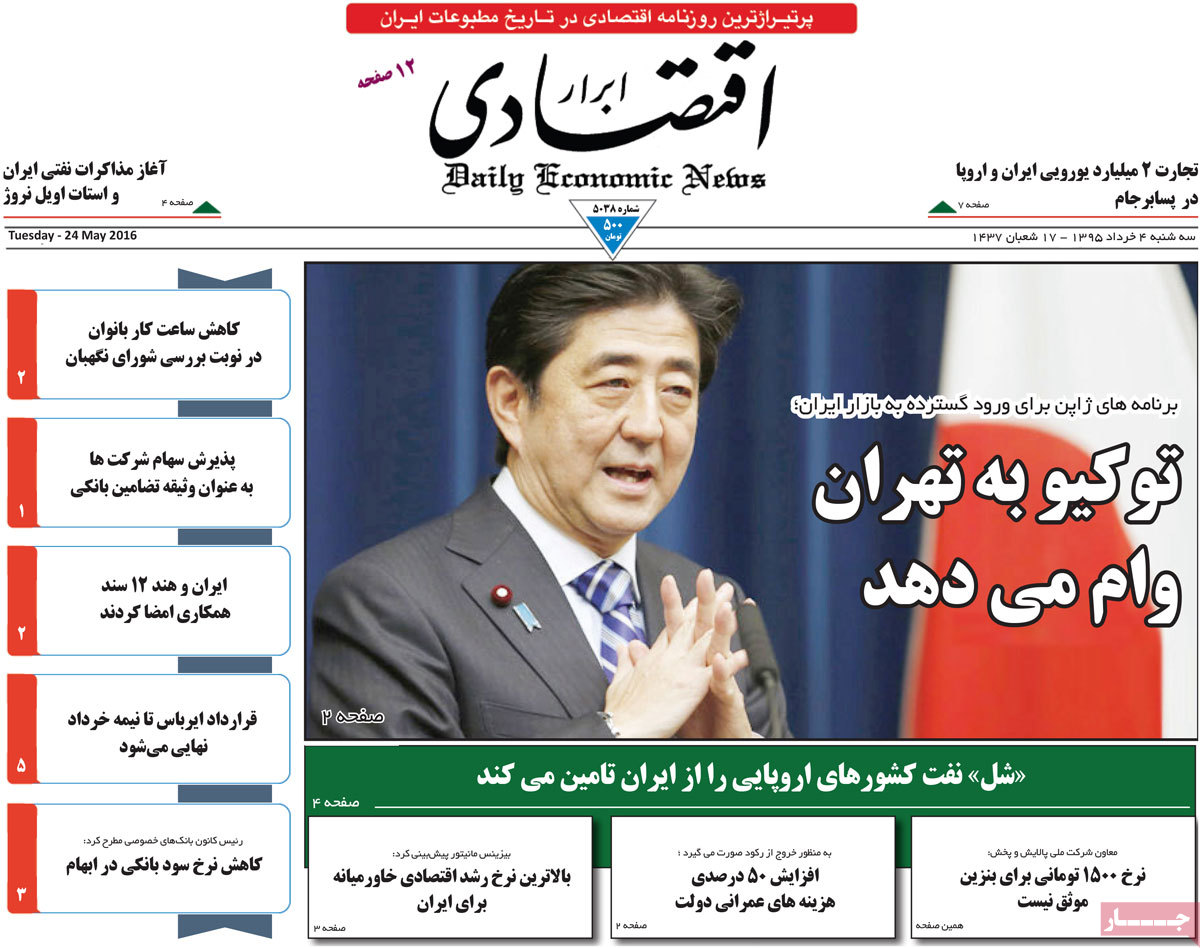 ---
Aftab-e Yazd:
1- Ahmadinejad Isn't the Hardliners' Candidate; He'll Show Up Later: President's Adviser
2- State TV Caught Napping: IRIB's Performance on Cannes
3- Aref's Withdrawal from Parliament Presidency Is Like Committing Suicide for Fear of Death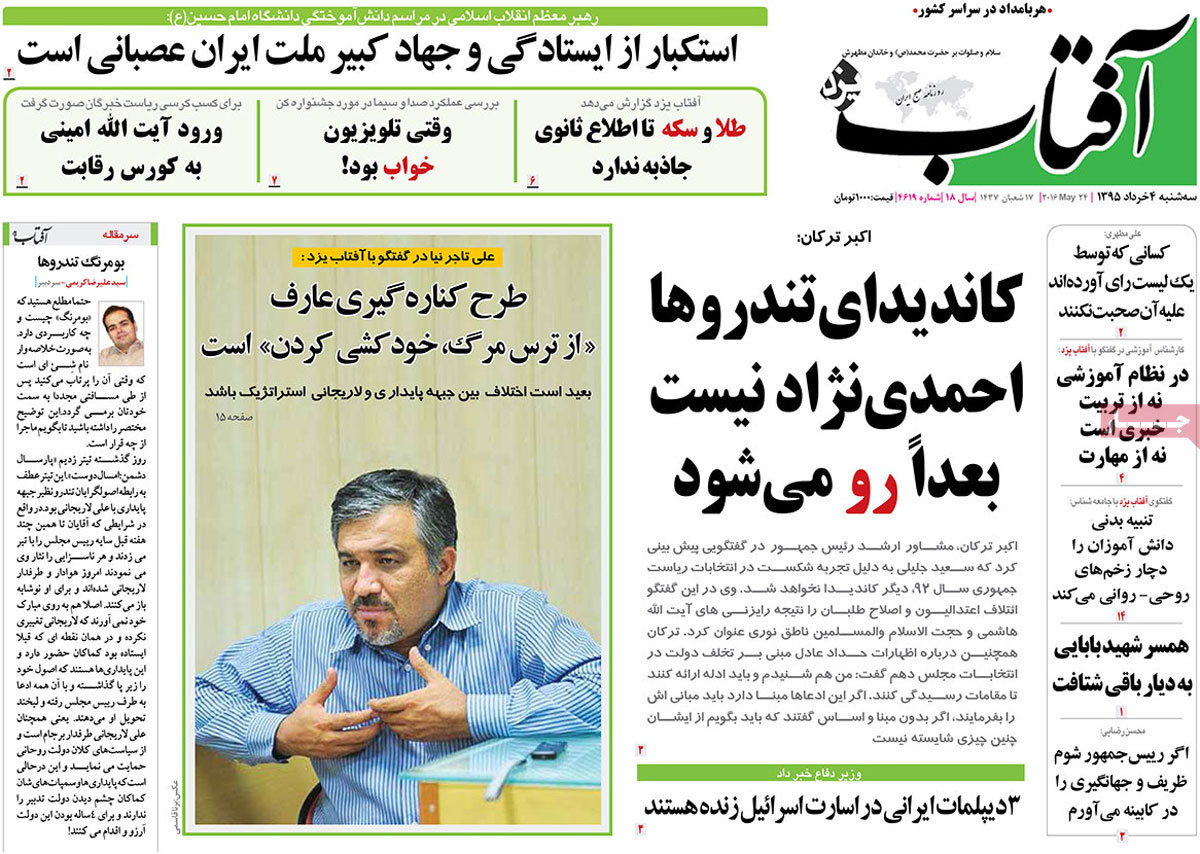 ---
Arman-e Emrooz:
1- Leader: By No Means Do We Believe in Cutting Ties with the World
2- 40% of Prisoners Return [to Prison after Release]
3- Iran Becomes North-South Transit Route: Cooperation of Iran, India, Afghanistan to Benefit of Entire Region, Rouhani Says
4- A Report on Early Failure of Project for Ahmadinejad's Return
---
Asia:
1- Iran to Achieve Middle East's Highest Economic Growth Rate: Business Monitor
2- Tokyo to Give Loans to Iran in Yen
3- Chabahar Free Trade Zone to Connect Iran, Afghanistan, and India
4- Iranian Cinema on Verge of Becoming Global
---
Asrar:
1- Assembly of Experts to Elect New Chair Today
2- IRGC General Rezaei Urges Officials to Actively Counter Saudi Moves
3- Iran to Stand against Regional Plots: Leader's Adviser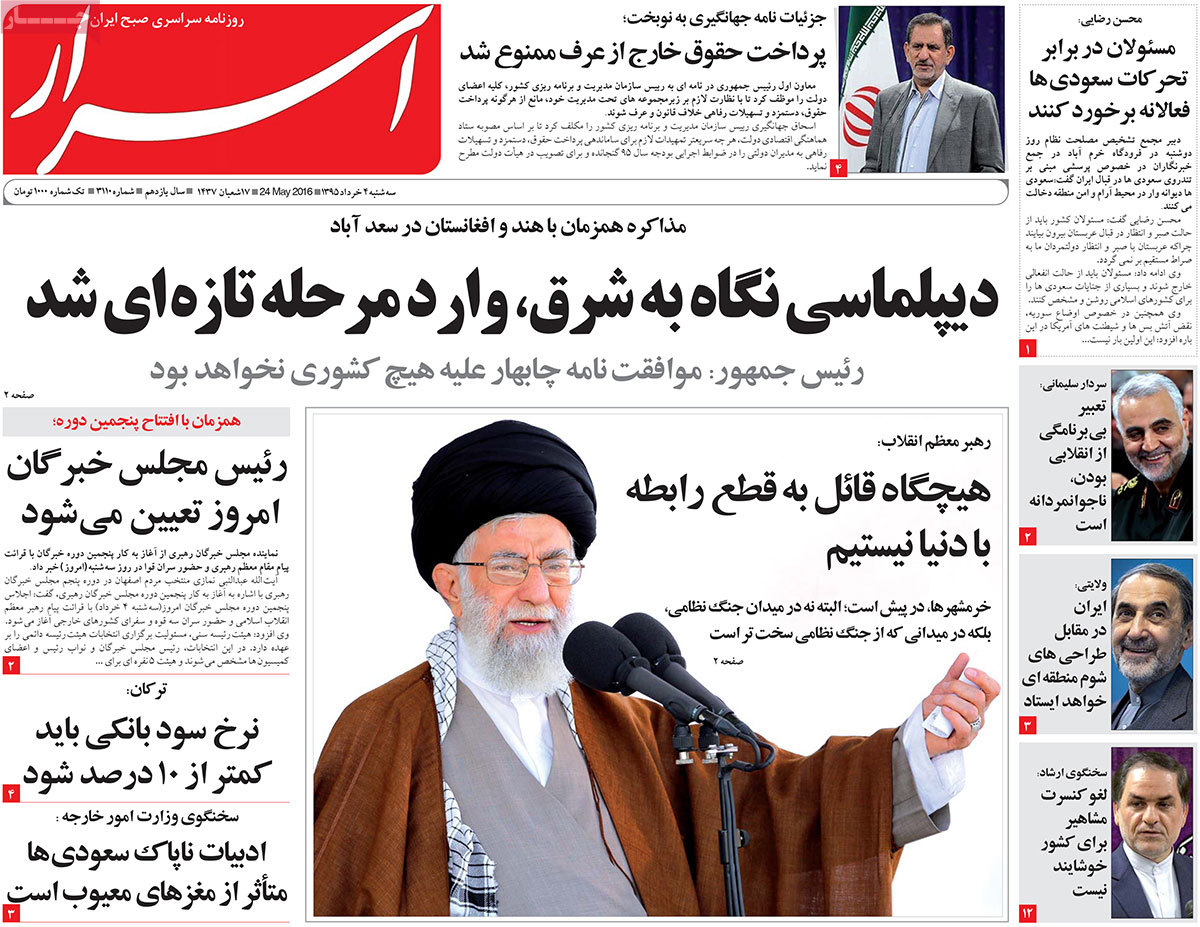 ---
Ebtekar:
1- Chabahar Is 3-Nation Transit Junction: Iran, India, and Afghanistan Ink Regional Transit Deal
2- Will Taliban Disintegrate [after Mullah Mansour's Death]?
3- 4 Missing Iranian Diplomats Are Alive, Held Captive by Israel: DM
4- Instagram Models Likely to Be Sentenced to 2 Years in Prison
5- IRIB Unable to Provide Guidelines for Society: Ex-Chief Mohammad Hashemi Rafsanjani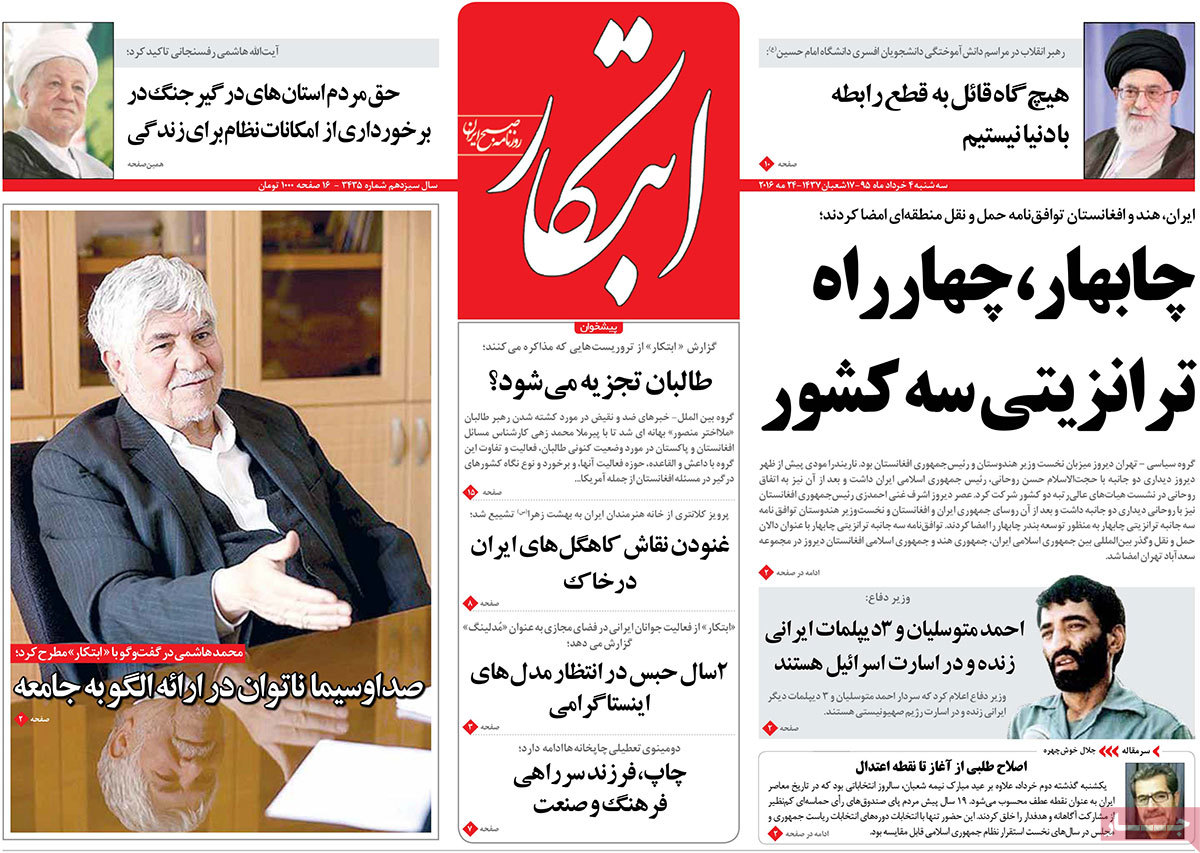 ---
Emtiaz:
1- Iran Starts Receiving Tax on Empty Houses
2- Culture Ministry Welcomes Success of Iranian Artists in Cannes
3- Police Begins Shutting Down Cafes that Serve Hookah [over health issues]
4- Hackers Penetrate Middle Eastern Banks
5- Obesity in Schools Alarming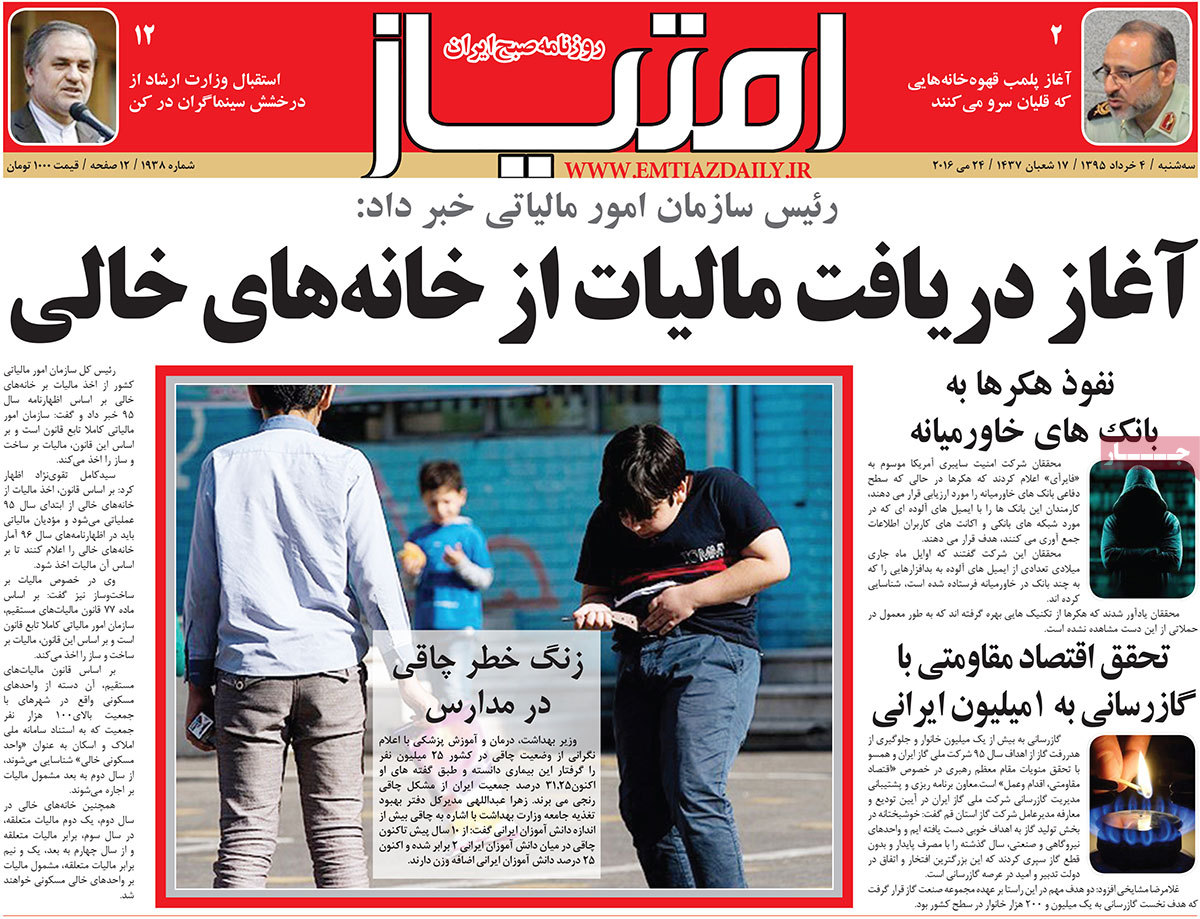 ---
Etemad:
1- Leader: We Don't Seek to Cut Ties with the World
2- Iranian, Afghan, Indian Leaders Sign Trilateral Agreement on Chabahar
---
Ettela'at:
1- 145 Killed in Terrorist Attacks on Syria's "Bloody Monday"
2- Indian PM, Afghan President Meet with Ayatollah Khamenei
3- ISIS under Fire from Ground and Sky: Operation Begins to Liberate Fallujah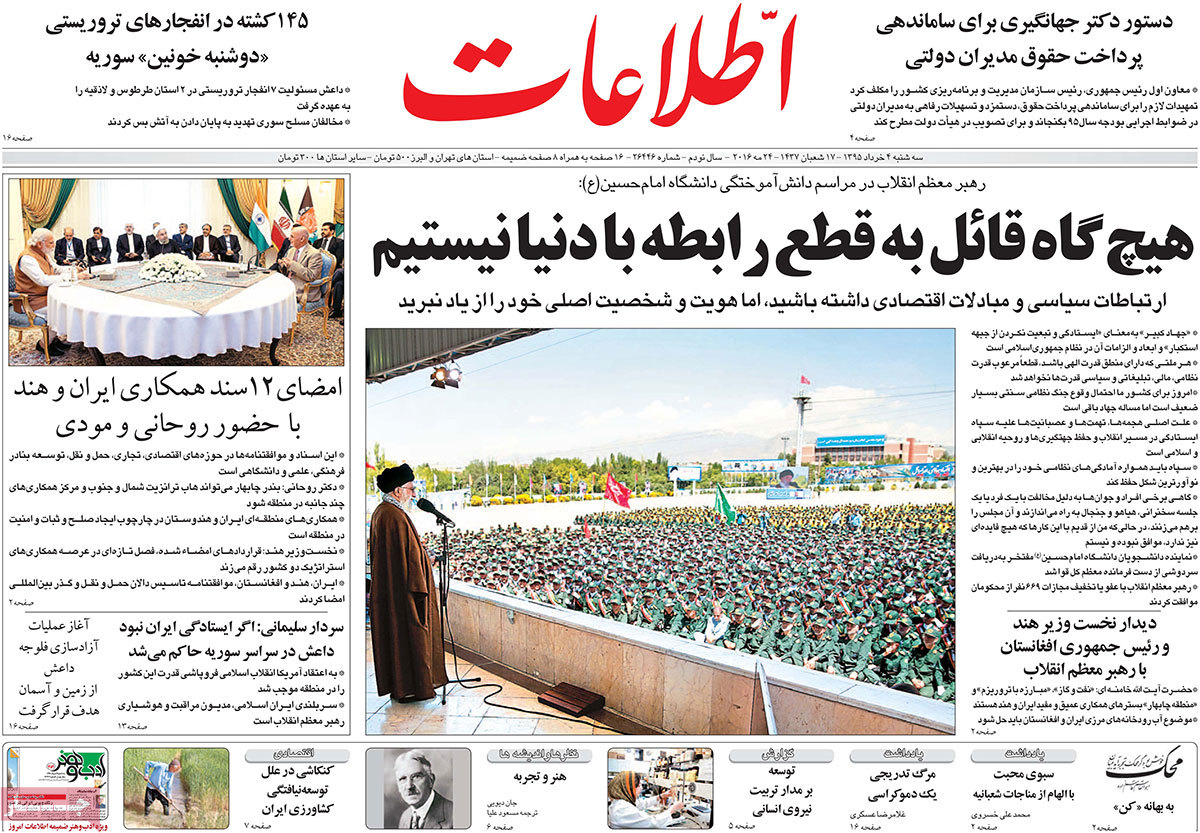 ---
Ghanoon:
1- Chabahar Treaty, New Alliance between Iran, Afghanistan, and India: Pakistan Is Left Out
2- I've Always Been Opposed to Disruption of Figures' Addresses: Leader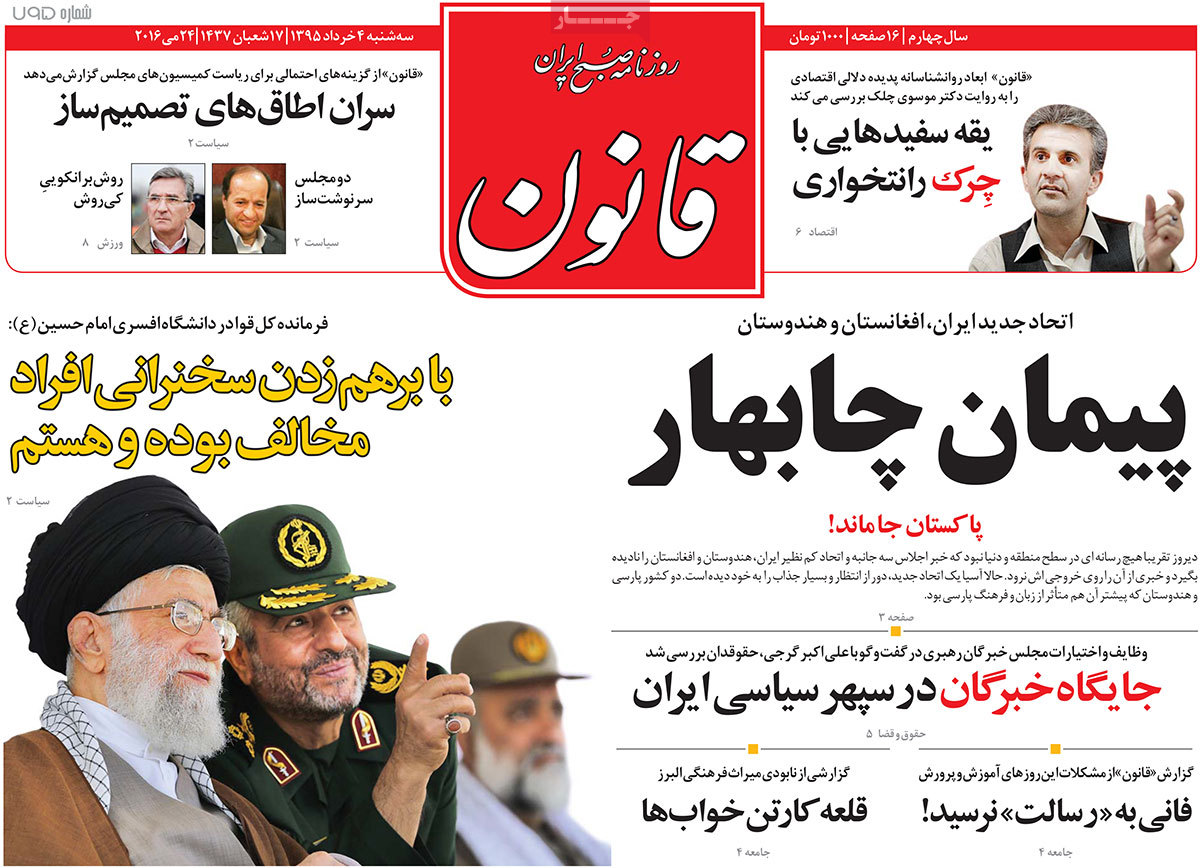 ---
Hemayat:
1- Hostilities towards Iran Caused by Tehran's Refusal to Obey Hegemony: Leader
2- Islamic Countries Should Find a Way to Free Hajj Pilgrimage from Saudi Arabia's Hands: Judiciary Chief
3- I Admire Iran's Leader for His Visionary Diplomacy: Indian PM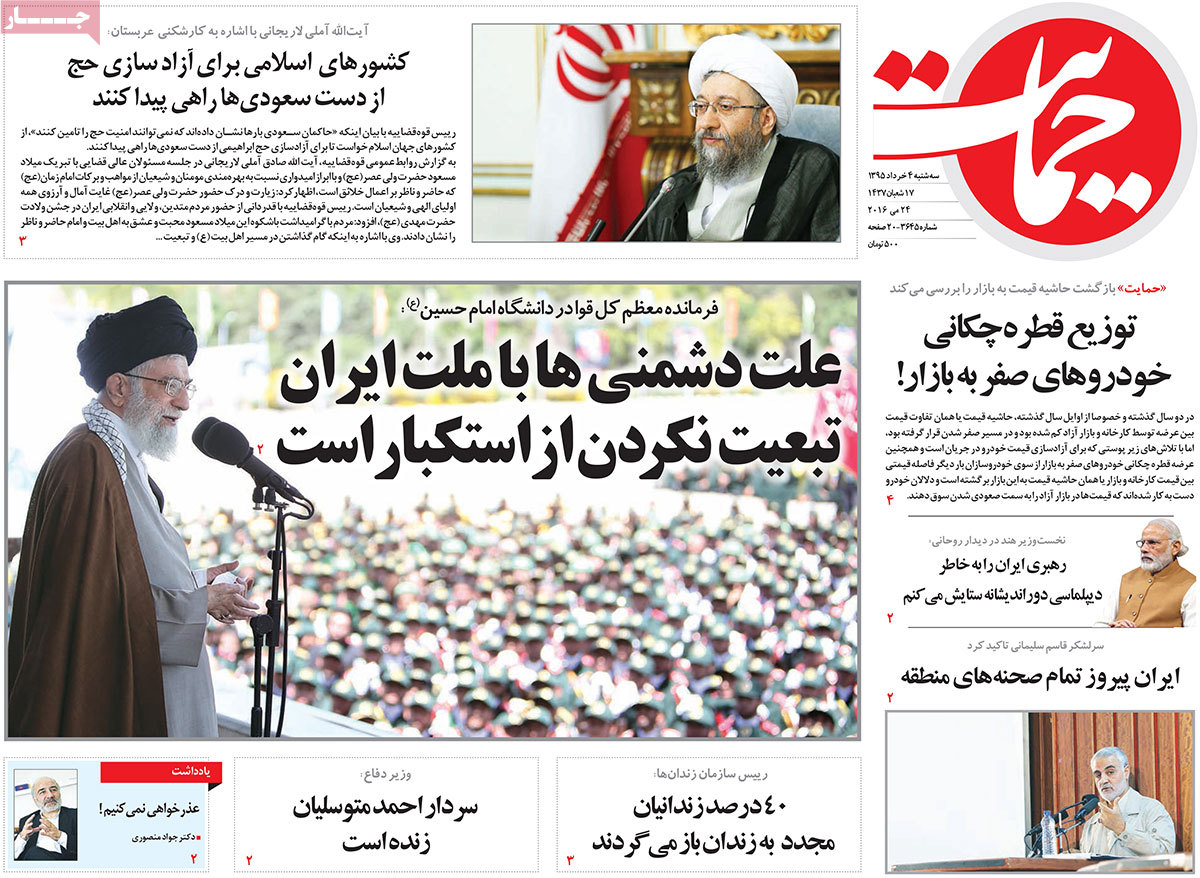 ---
Iran:
1- Culture Minister Congratulates Farhadi and Hosseini [on winning Cannes awards]
2- Overcoming Deprivation in Sistan and Baluchestan Province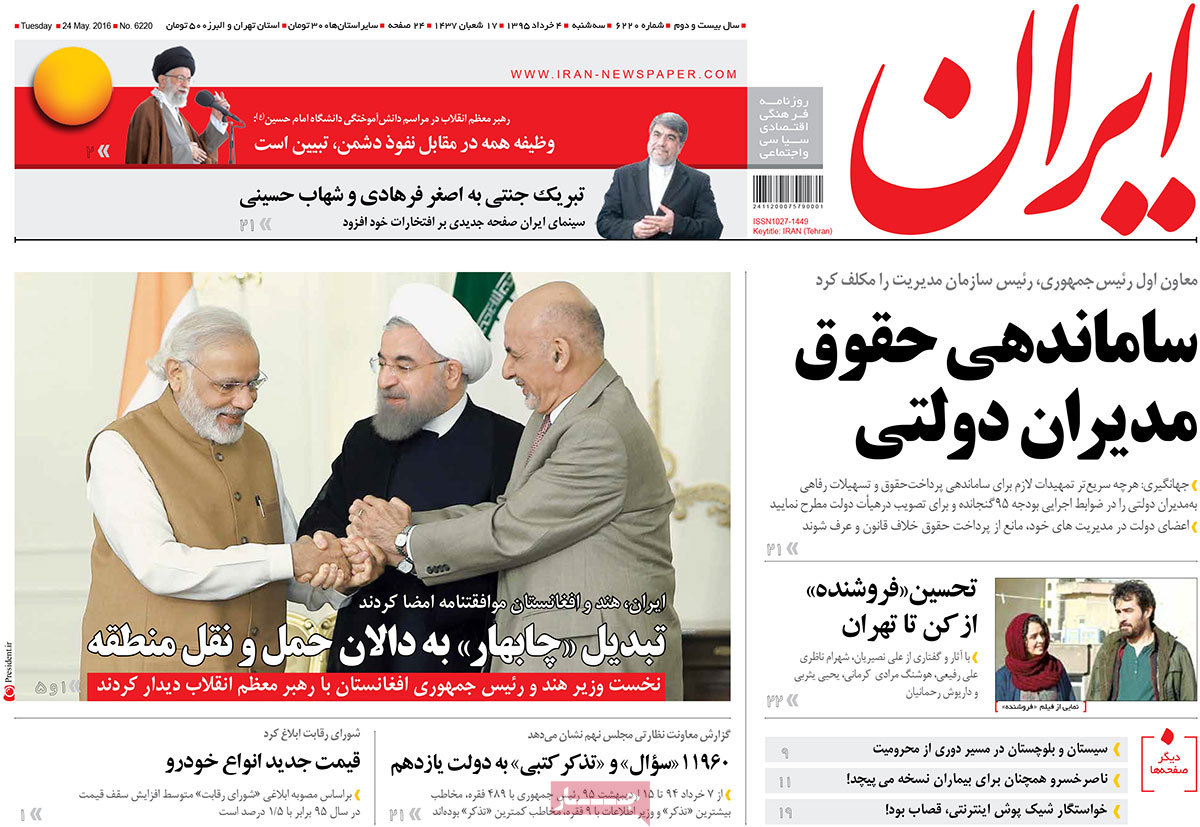 ---
Javan:
1- Fight against Terrorism Should Be Taken Over by Muslim States that Are Independent of US: Leader
2- US Elections Process Not Democratic: Sanders
3- Unlike US and Britain, Iran Has Respect for Afghanistan and Considers It as Its Brother: Leader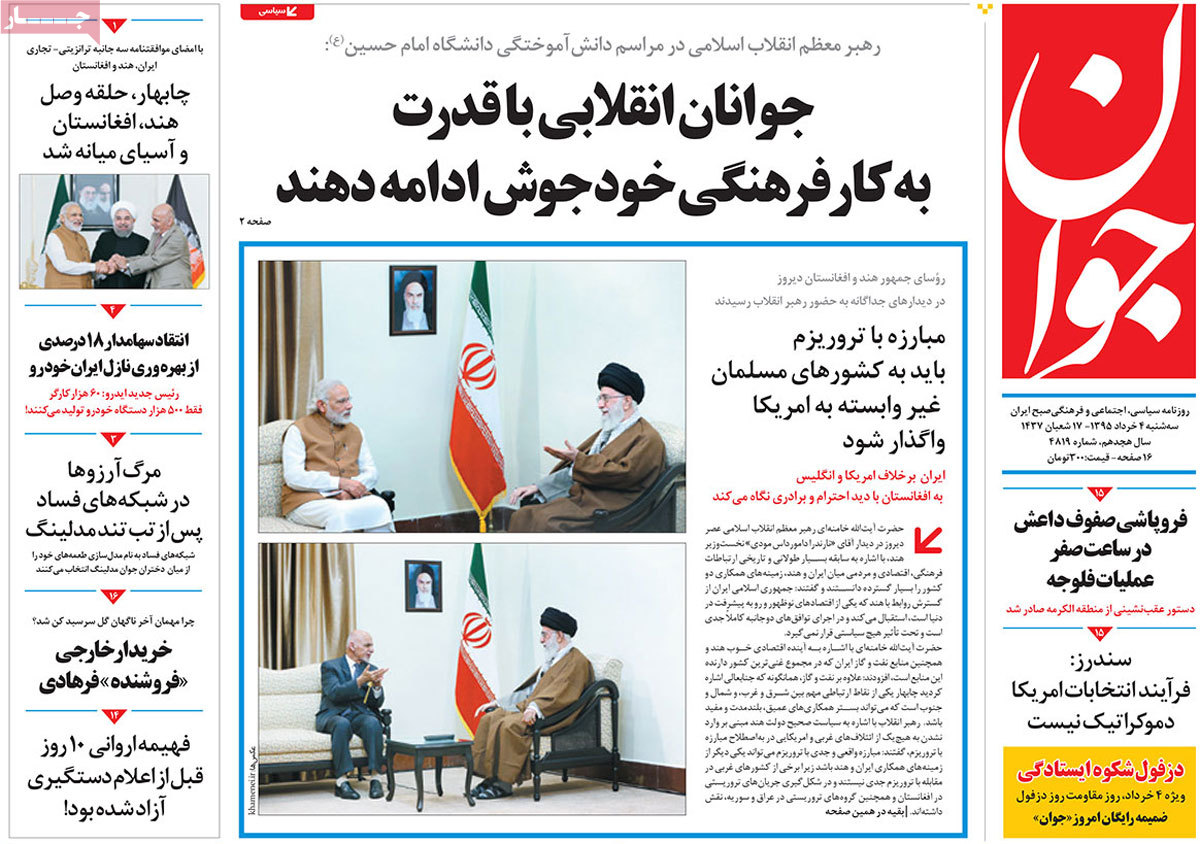 ---
Jomhouri Eslami:
1- 22% of Increase in Value of Iran-Europe Trade in 3 Months since JCPOA
2- Oil and Gas, Fight against Terrorism, and Chabahar Region Are Useful Grounds for Iran-India Cooperation: Leader
3- Issue of Border Waters Should Be Resolved: Leader Said in Meeting with Afghan President
4- New Reports of Mossad Leaders' Secret Visits to Saudi Arabia
5- We Have Evidence that 4 Iranian Diplomats Are Alive: DM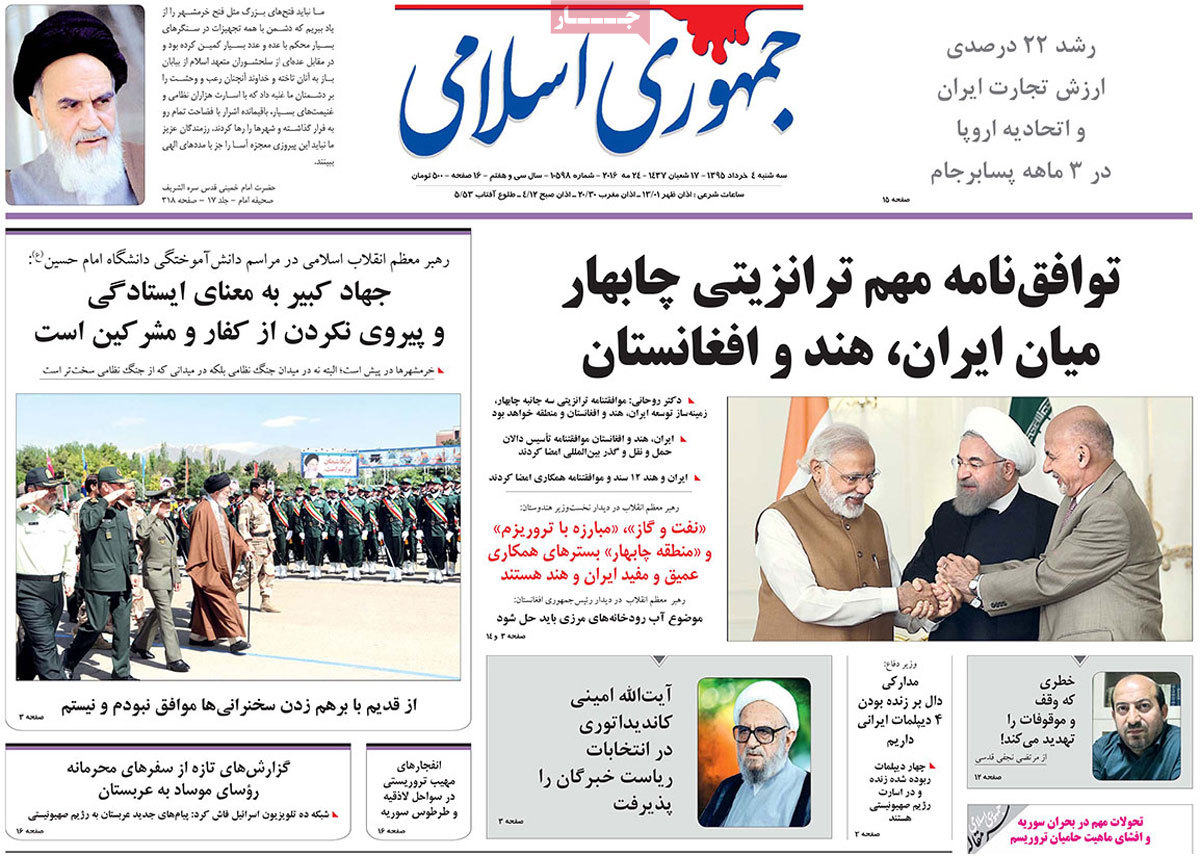 ---
Kayhan:
1- Alert for "Great Jihad": Great Jihad Is Refusing to Obey Global Arrogance, Leader Says
2- 1000s of Emirati Workers Fired amid Economic Crisis
3- Majority of Members in Assembly of Experts to Vote for Presidency of Ayatollah Jannati: Movahedi Kermani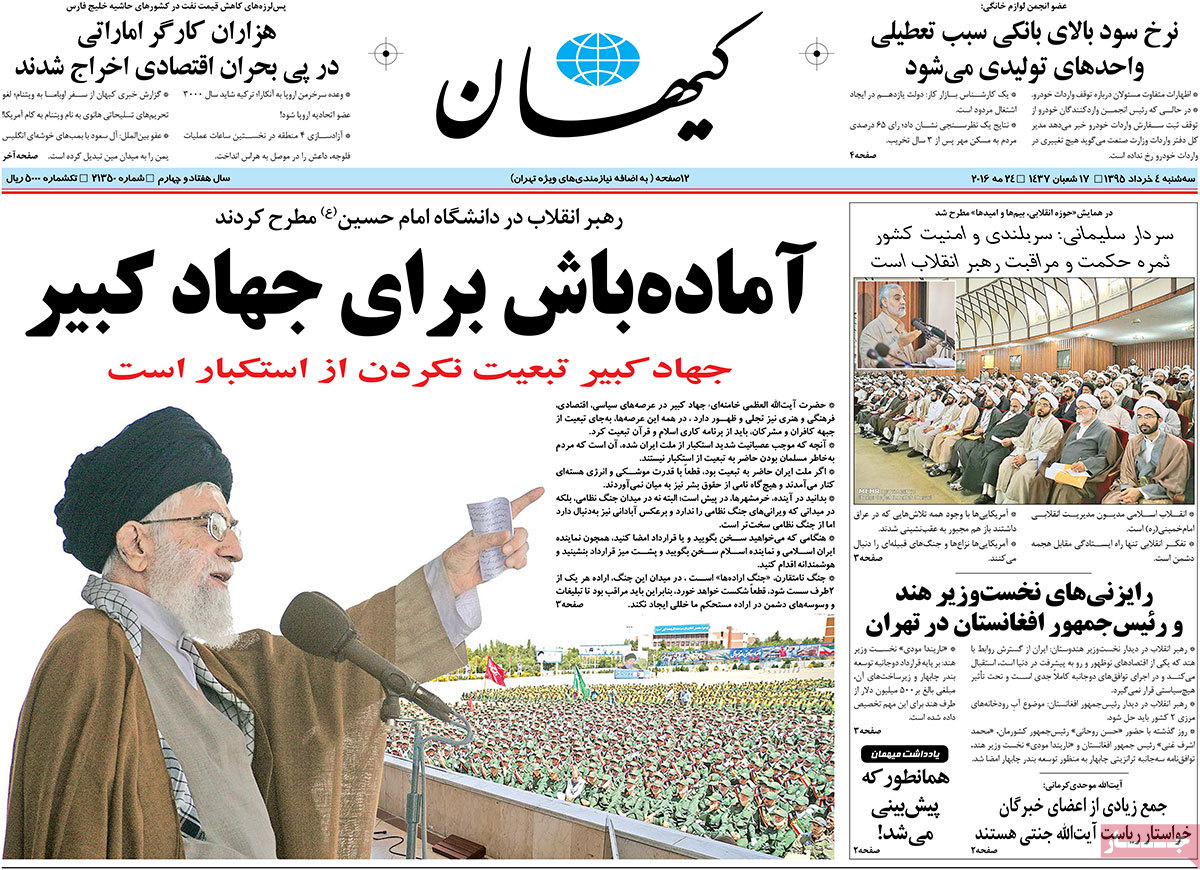 ---
Khorasan:
1- Licence for Importing Sunflower Seeds from US
---
Payam-e Zaman:
1- Zarif to Visit 4 European Countries Soon
2- New Anti-HIV and Anti-Cancer Pharmaceuticals Produced in Iran's Kashan University
3- Iran Will Definitely Claim Back Its Rights from the US: Spokesman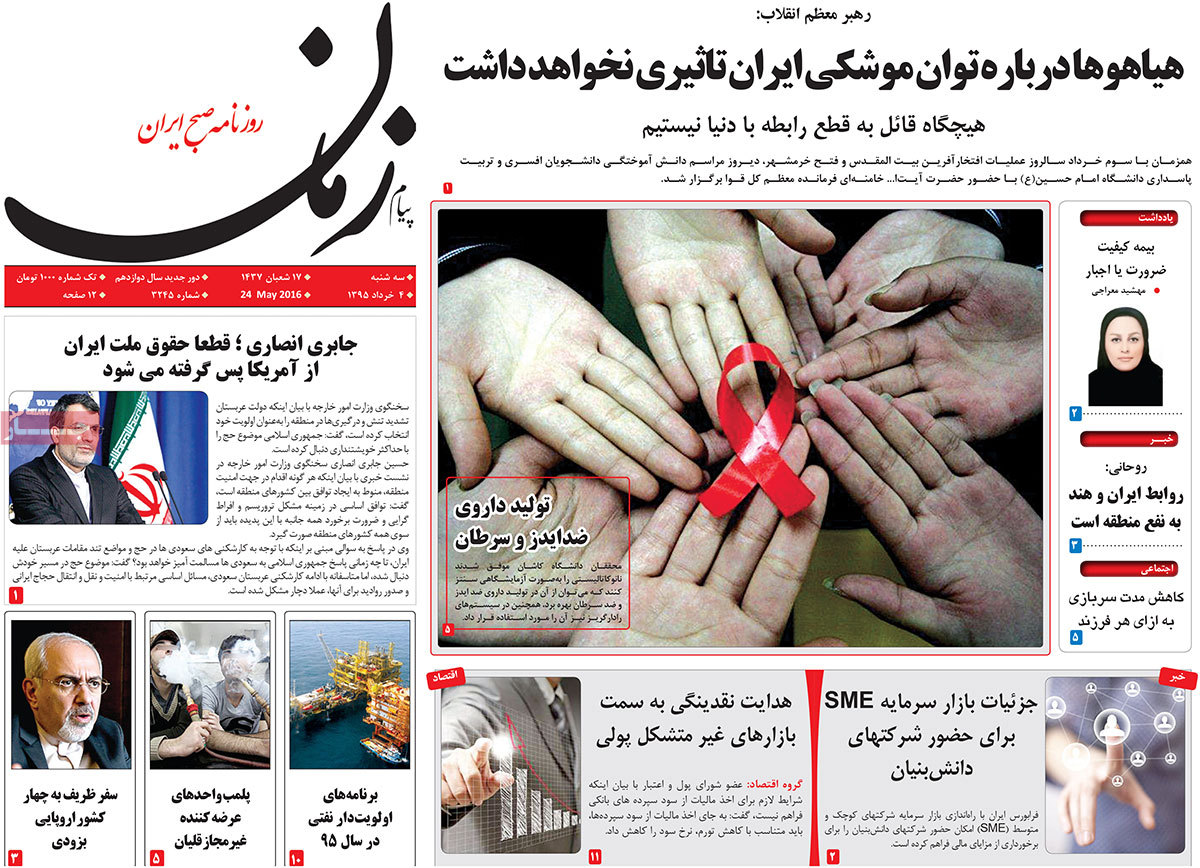 ---
Resalat:
1- Some Western Countries Not Serious in Fight against Terrorism: Leader
2- Role of Moderate European Countries in JCPOA
3- 1 More Step to Liberation of Fallujah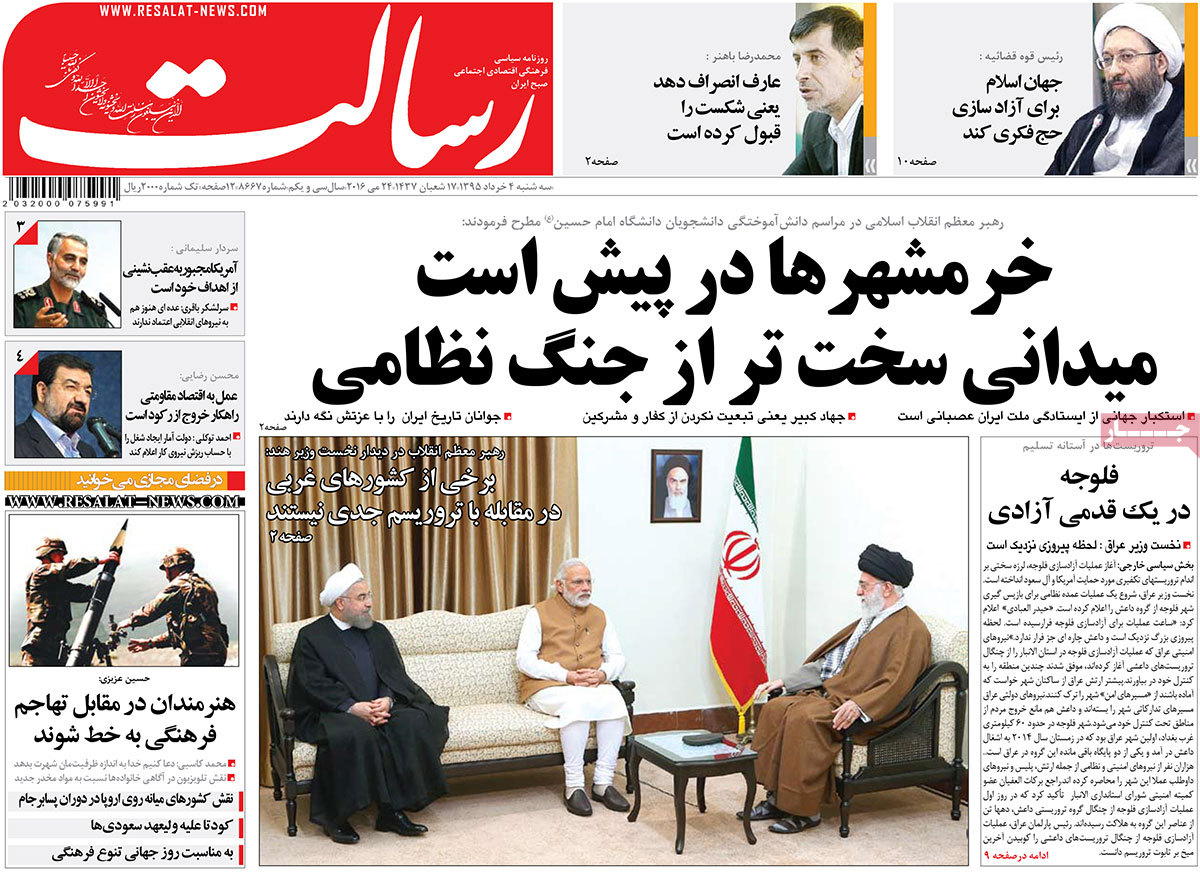 ---
Roozan:
1- Iran Ranks 1st in Number of People Diagnosed with MS in Middle East
2- After 5 Years of Restrictions: European Ports Awaiting Iranian Oil Tankers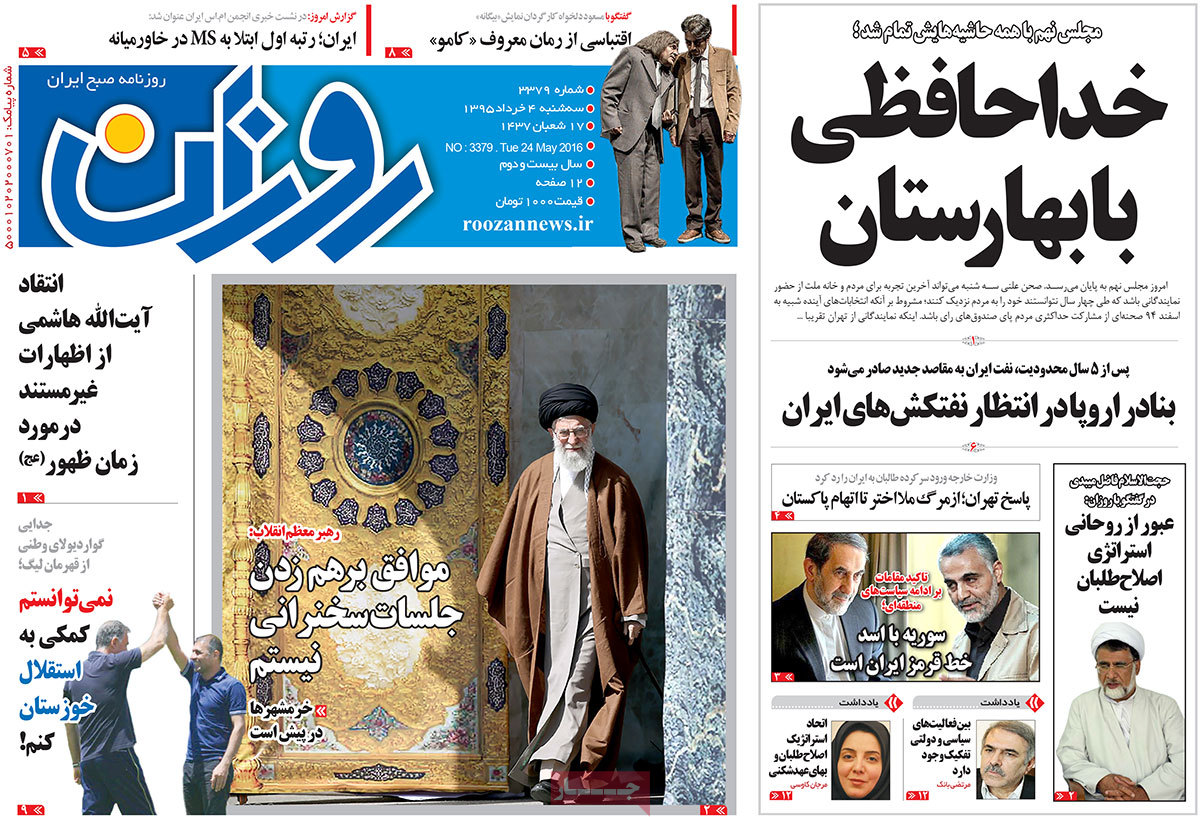 ---
Sayeh:
1- Iran's Cinema Can Compete with World's Top Films: Spokesman
2- Iranian Oil Reclaims Strong Position in Oil Market
3- It Takes Time for Iran's Banks to Enhance Ties with Foreign Banks
4- Tehran-Riyadh: Bilateral Choice, All-Out Necessity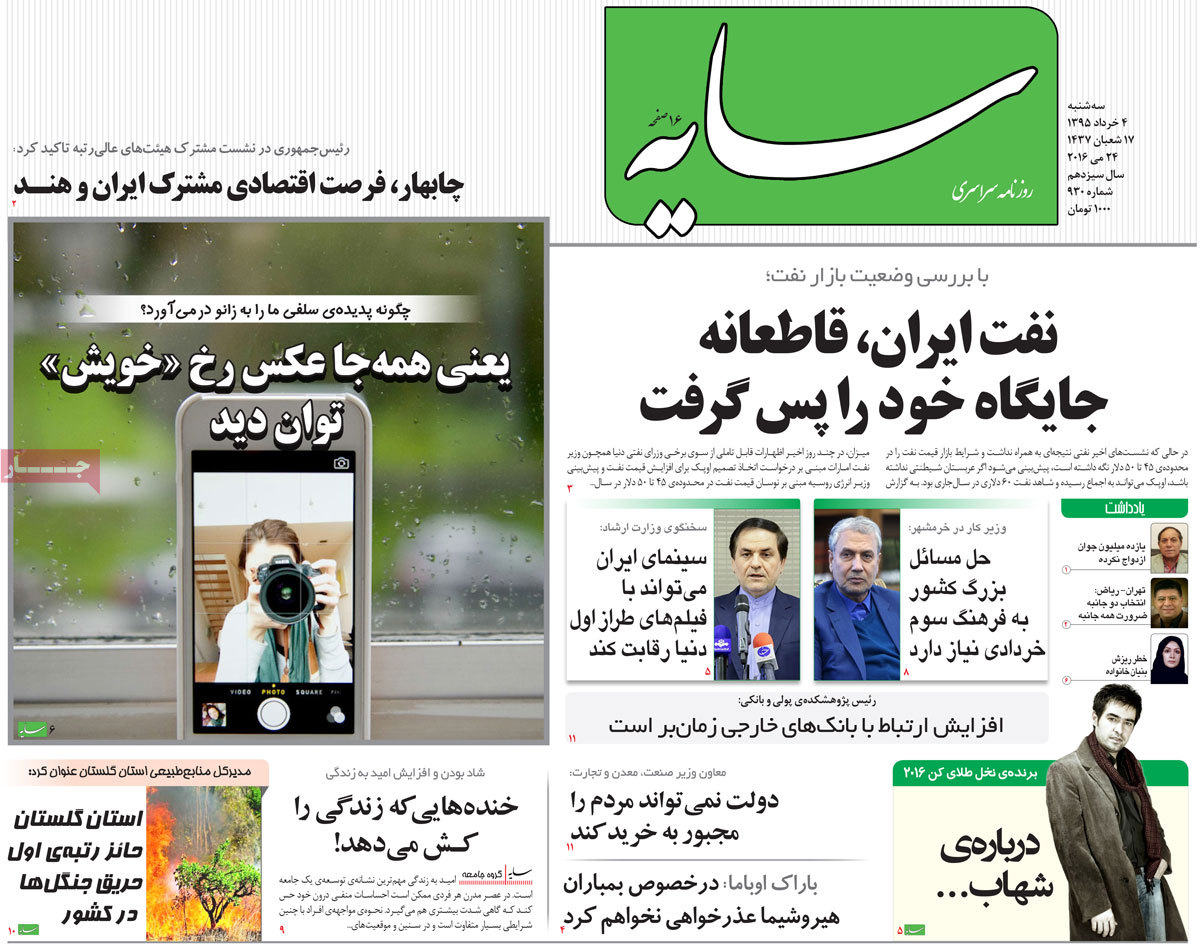 ---
Shahrvand:
1- Students to Go to Schools in Summer as Well, Ministry Partially Approves Plan
2- I Don't Agree with Disruption of Speeches: Leader
3- I Wish a World without War: Shahab Hossein after Receiving Cannes Award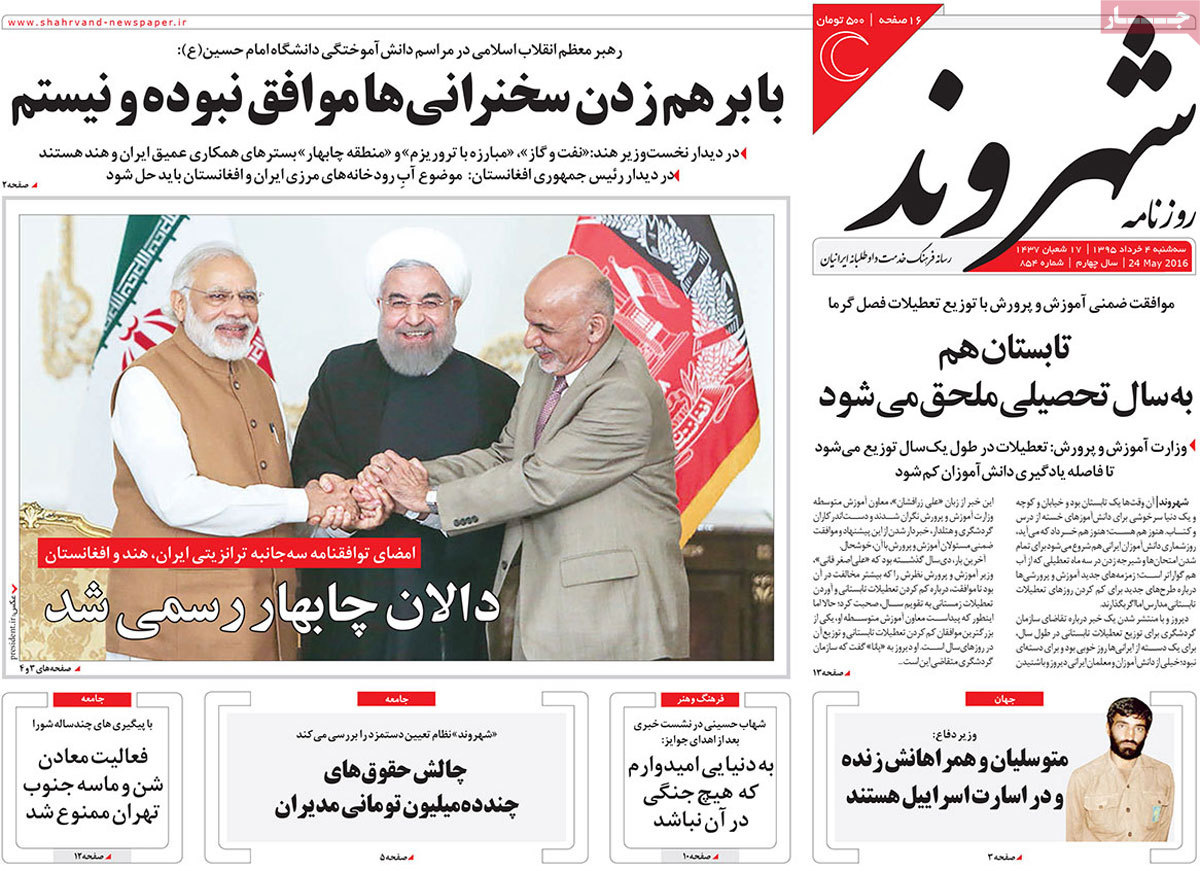 ---
Shargh:
1- Most Probable Chair of Assembly of Experts: Speculations Focused on Ayatollah Amini
2- Other Countries Can Also Join, Rouhani Said after Signing Trilateral Deal with India and Afghanistan
3- Mousavian's Lawyer Dismisses Reports on White House's Fund for His Pro-JCPOA Articles
4- We Never Believe in Erecting a Wall around Ourselves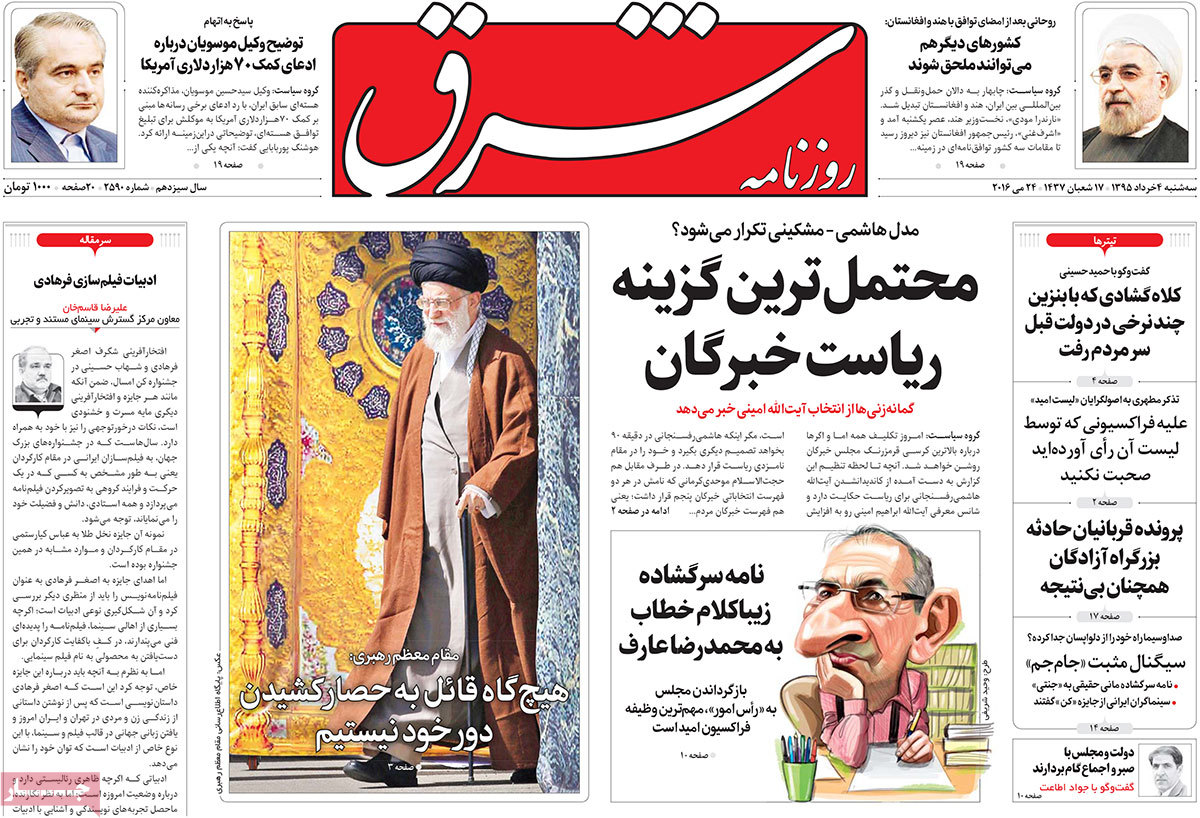 ---
Ta'adol:
1- Dearth of Int'l Experience among Iranian Bankers: Ex-Adviser to Iran's Central Bank Pierre Bultez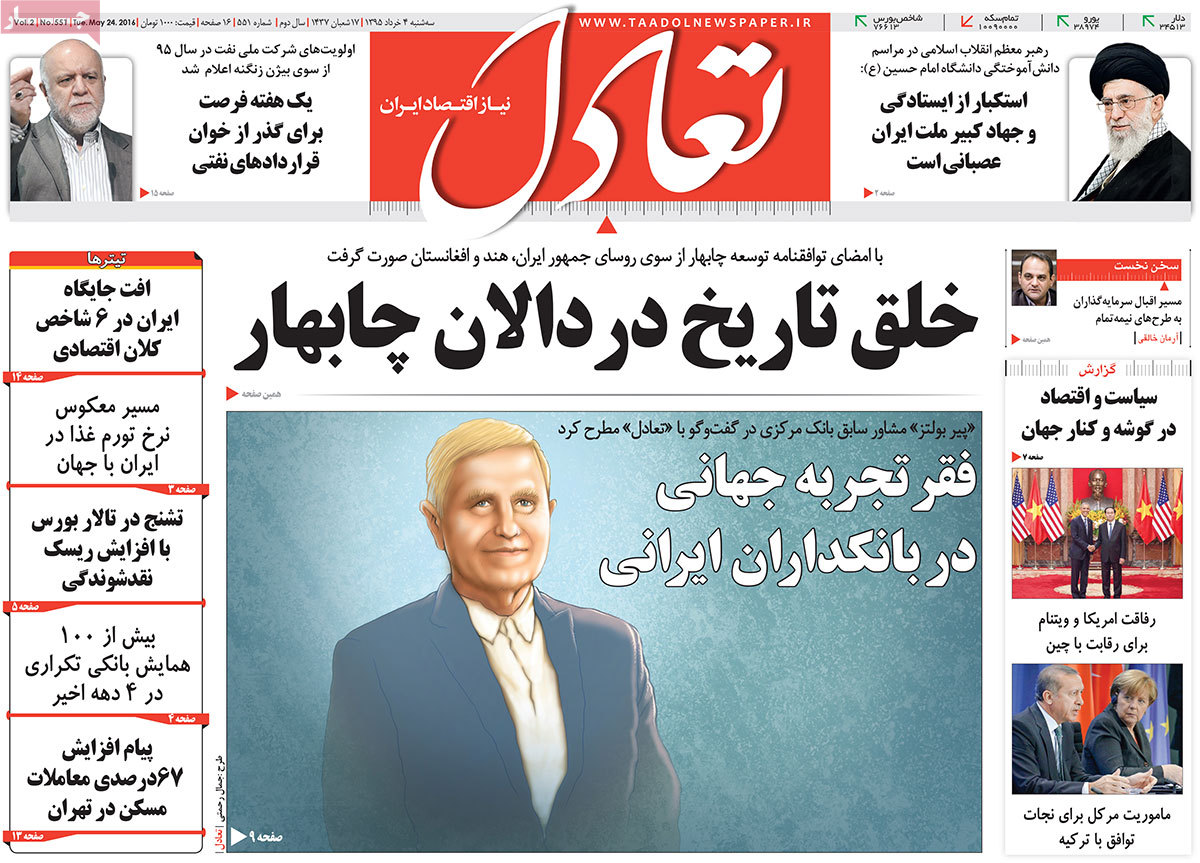 ---
Vaghaye Ettefaghieh:
1- Who Killed Mullah Mansour: US, Pakistan, or Opposition Groups?
2- Economic Outcomes of JCPOA: From Imam Khomeini Airport to 5-Star Hotels
3- We're Worried about Growing Trend of Modelling in Iran: Ministry Spokesman
4- Ahmadinejad's Candidacy Is Just a Hobby: President's Adviser
5- The Salesman Won, IRIB Lost: National Medium Once Again Closed Its Eyes to Global Success
6- Iran's Conditions for Saudis Are Rational: Judiciary Chief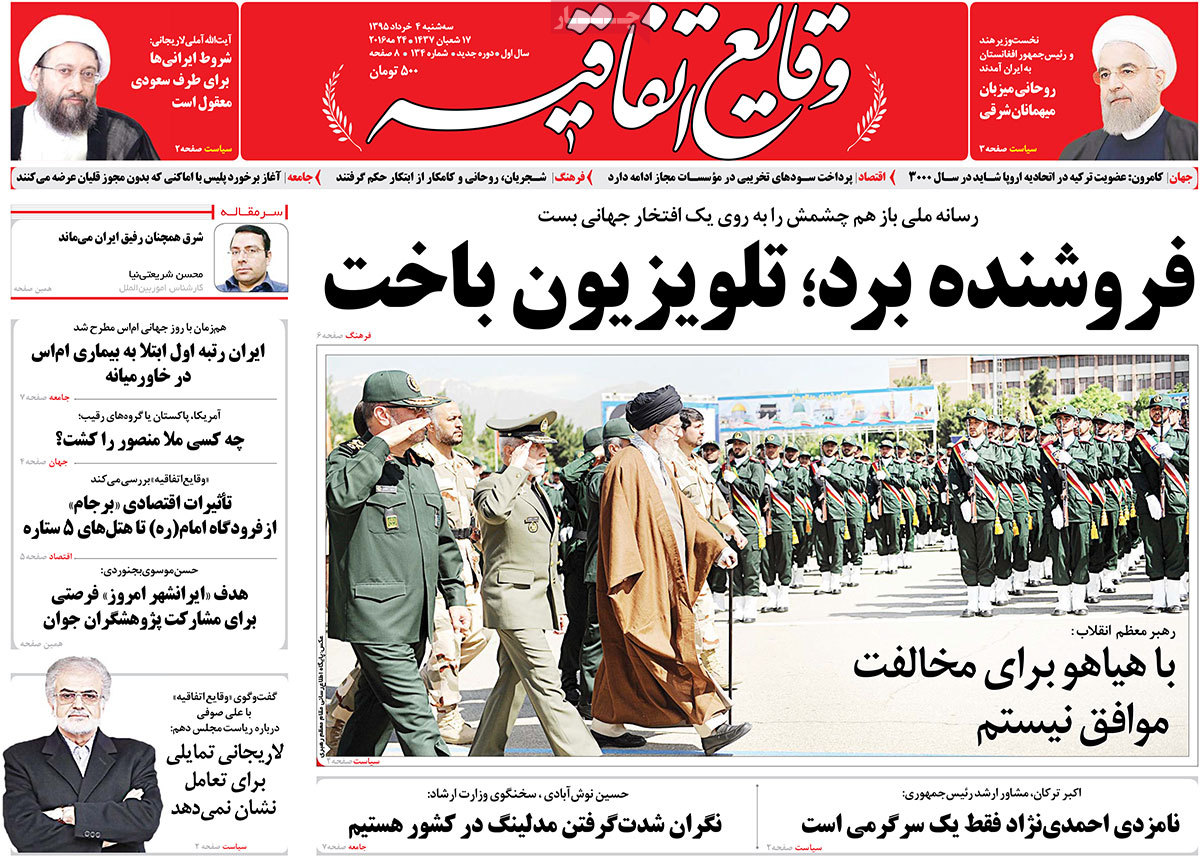 ---
Vatan-e Emrooz:
1- More Khorramshahrs Lie ahead of Us: Leader [Iranian port city of Khorramshahr was liberated in 1982 during the Iraqi-imposed war, and the Leader suggested on Monday that Holy Quds (Jerusalem) can also be liberated in the same way.]
2- Mousavian's Lawyer Explains about Americans' $70,000 Aid in Selling JCPOA: Money Confirmed to Have Been Received
3- If [Reformist] Aref Withdraws from Running for Parliament Presidency, It Means He's Accepted Defeat: Senior Conservative Bahonar