The top story in almost all papers today was the new Iran strategy declared by US State Secretary Mike Pompeo, in which he urged Iran to fulfil 12 requirements if it wants US sanctions lifted.
Iranian President Hassan Rouhani's reaction to Pompeo's comments, as well as the statement released by the Iranian foreign ministry to denounce the strategy, also received great coverage.
Several papers also released articles discussing the repercussions of the upcoming return of US sanctions, particularly the fate of Iran's deals with Airbus and ATR to buy passenger planes.
The above issues, as well as many more, are highlighted in the following headlines and top stories:
Abrar:
1- Araqchi Elaborates on Tehran's Expectations from Europeans on Trade
2- Spain Head Coach Admires Iran Football Team
---
Abrar-e Eqtesadi:
1- Iran to Receive ATR Planes in Less than 3 Months
---
Aftab-e Yazd:
1- Tehran's Straightforward Answer
We've Been Requested to Be in Syria, We'll Stay There
2- Secrets behind Closure of Iranians' Bank Accounts in Georgia
3- 6 Ministers, 2 MPs Call for Unblocking Twitter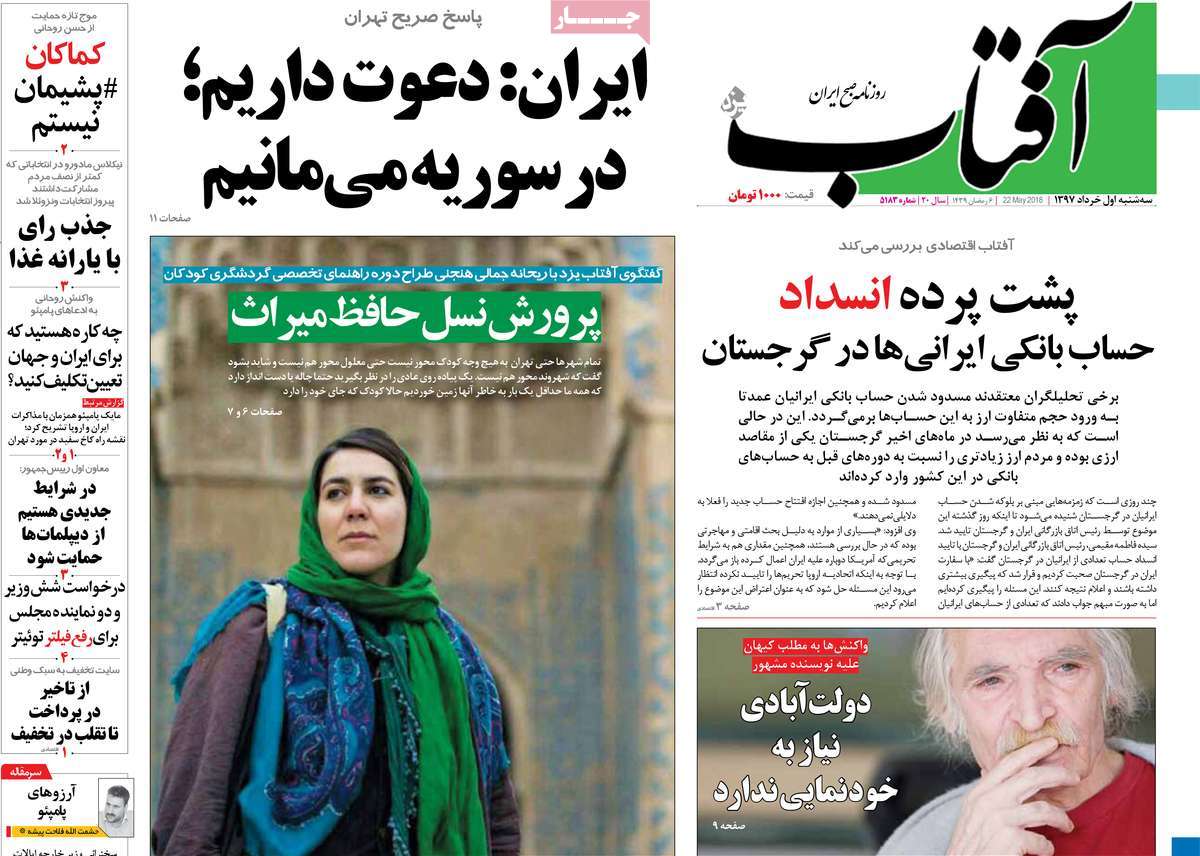 ---
Arman-e Emrooz:
1- Iran VP: Poverty Line to Be Lowered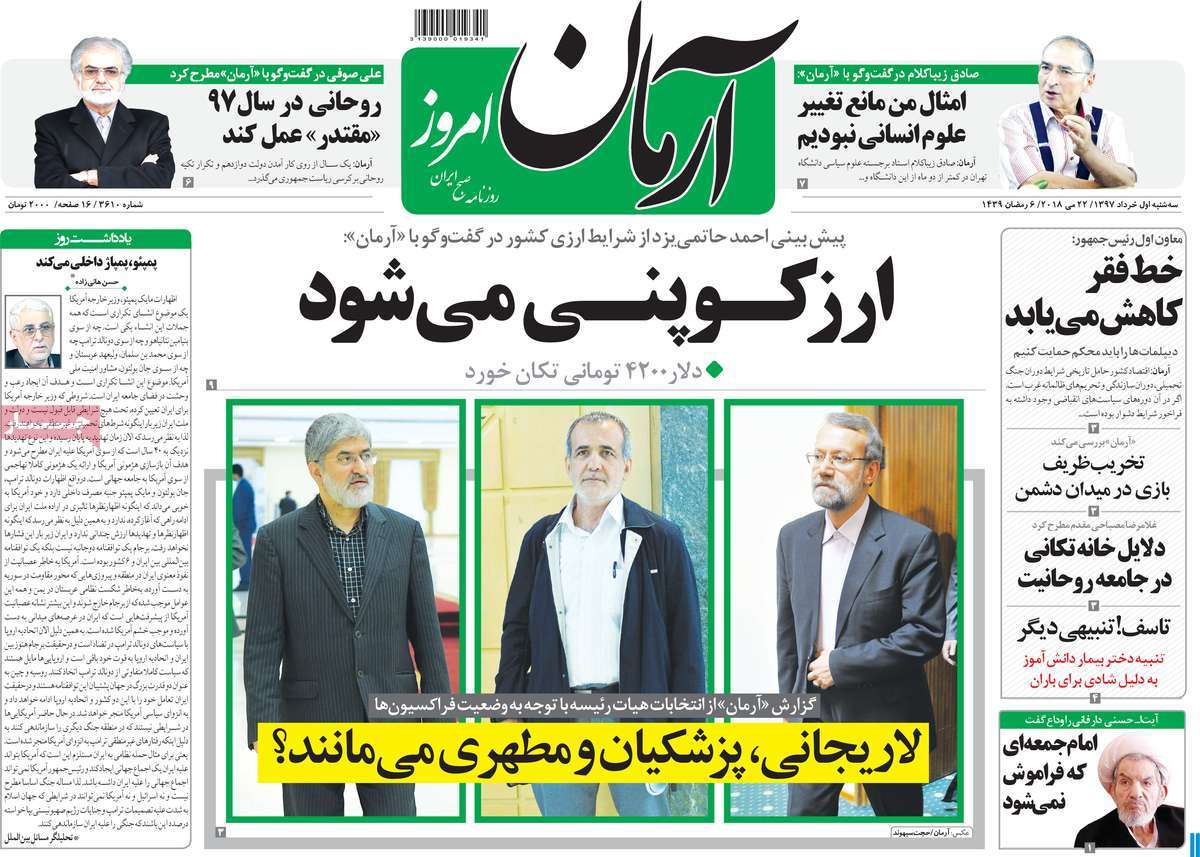 ---
Asrar:
1- Iran Foreign Ministry Spokesman: Europe Resolved to Keep JCPOA without US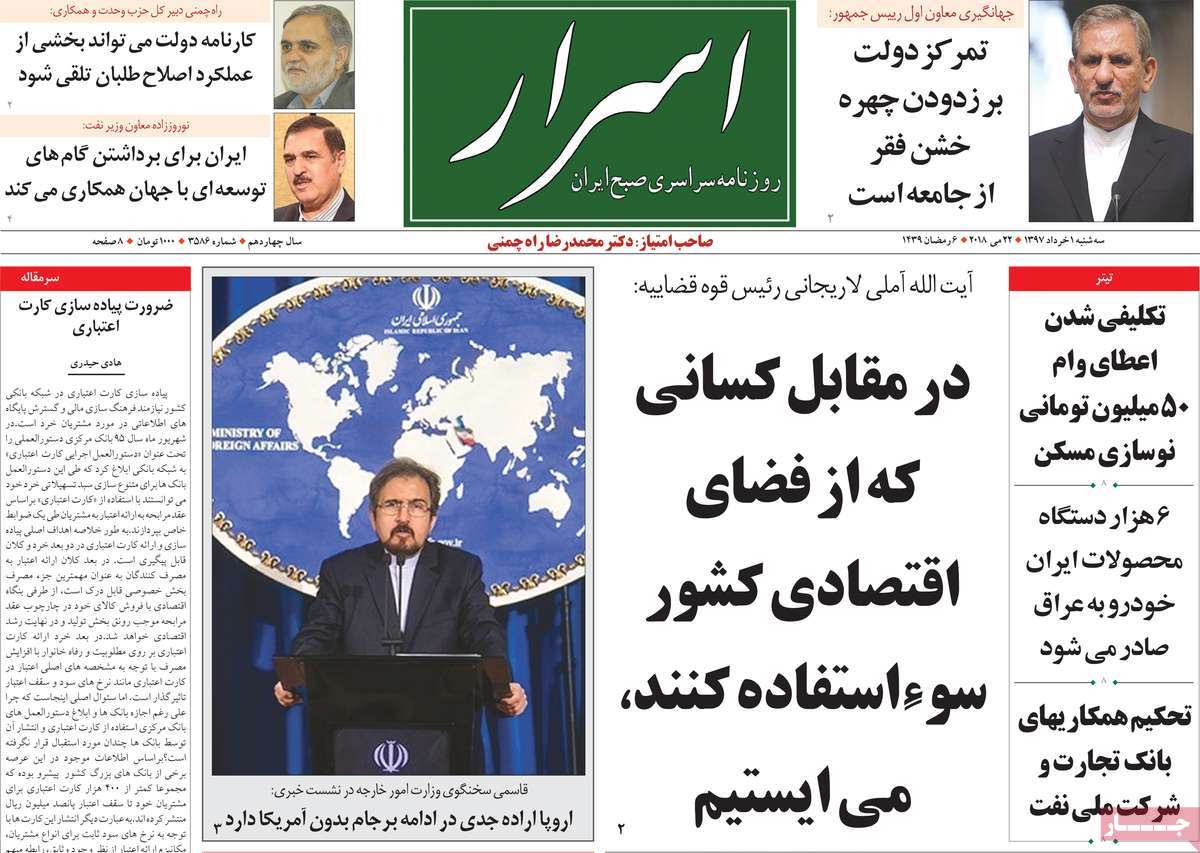 ---
Ebtekar:
1- Washington's 12 Demands from Tehran to Lift Sanctions
2- Rouhani's Reaction to Pompeo: Who Are YOU to Decide for Iran, World?
---
Etemad:
1- Pompeo Seems Delirious
American Wishful Thinking instead of Diplomacy
---
Ettela'at:
1- Rouhani: US Regressed to 15 Years Earlier under Trump
2- Persian Gulf Arab States Agree on US' Anti-Palestine Plan
3- Araqchi: European Governments Must Support Companies Working with Iran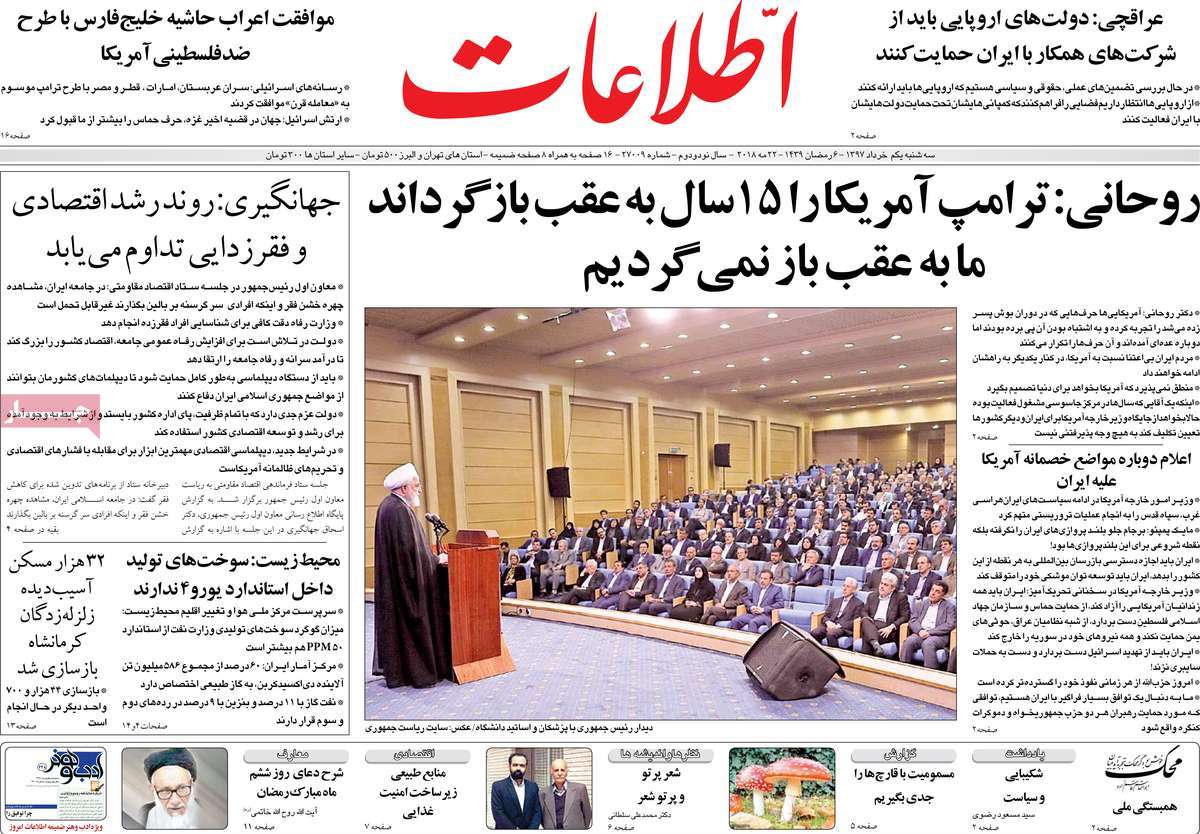 ---
Iran:
1- Informed Source: Iran's Crude Oil Exports Going on without Problem
2- Novice Politician's Illusions
Pompeo Explains White House's New Strategy to Counter Iran
3- Iran: Pompeo's Remarks Show US' Analytical Backwardness, Lack of Knowledge
---
Jame Jam:
1- Tragedy of Extinction: Number of Iranian Species on Red List Doubled in 3 Years
---
Javan:
1- Pompeo Pumps Out Nonsense Remarks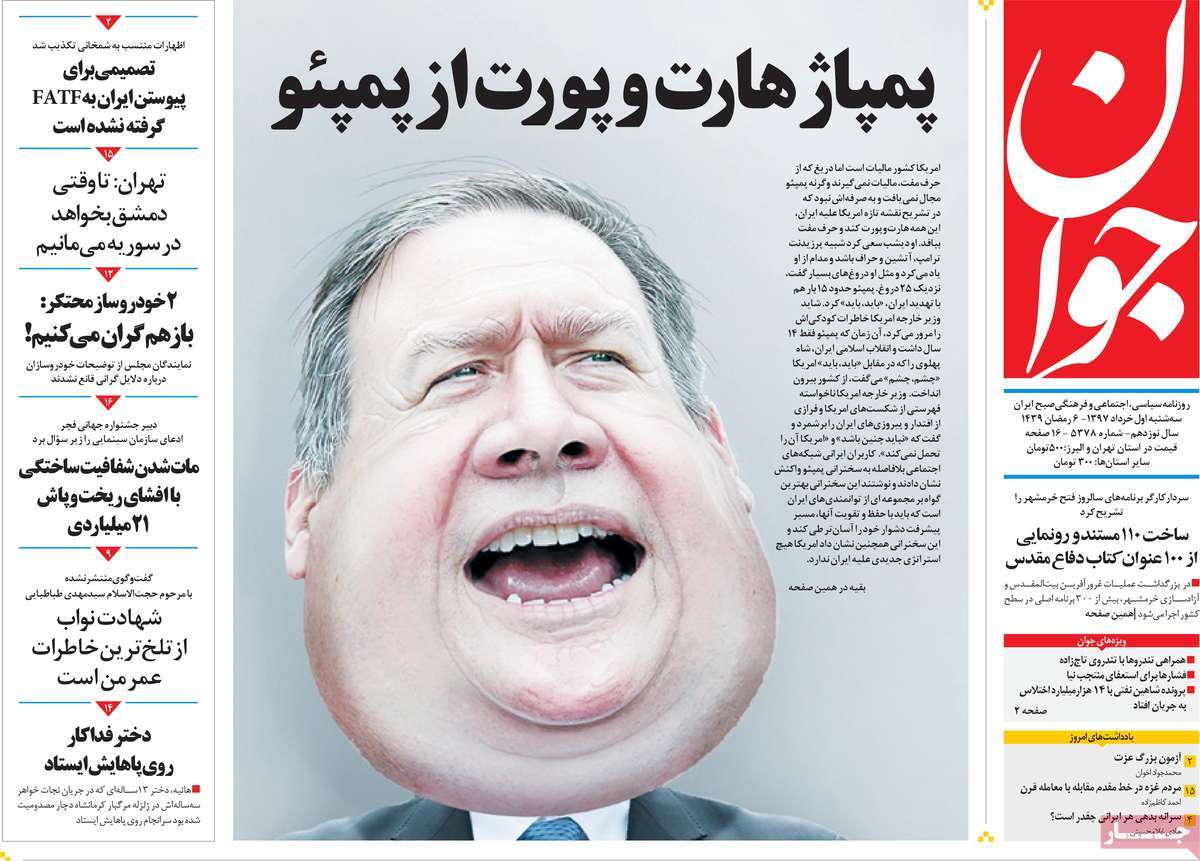 ---
Jomhouri Eslami:
1- Iran President's Harsh Reaction to US Secretary of State's Anti-Iran Comments
No One Today Accepts US Makes Decision for Entire World
---
Kayhan:
1- Pompeo Makes 12 Baseless Claims
US Continues Making Nonsense Comments Despite Its Empty Hands
2- Maduro Re-Elected as Venezuelan President
---
Khorasan:
1- Surprising Deal in Iraq
Reports Say Sadr, Abadi, Amiri, Hakim Will Form Coalition
---
Resalat:
1- Rouhani: US Cannot Bring Iranian Nation to Its Knees
2- British Journalist: Islamic Revolution of Iran Born in Karbala
Iranian People Main Source of Iran's Real Beauty
---
Rooyesh-e Mellat:
1- Army Ground Force Commander: Trump's Presence in JCPOA Had No Benefit for Iran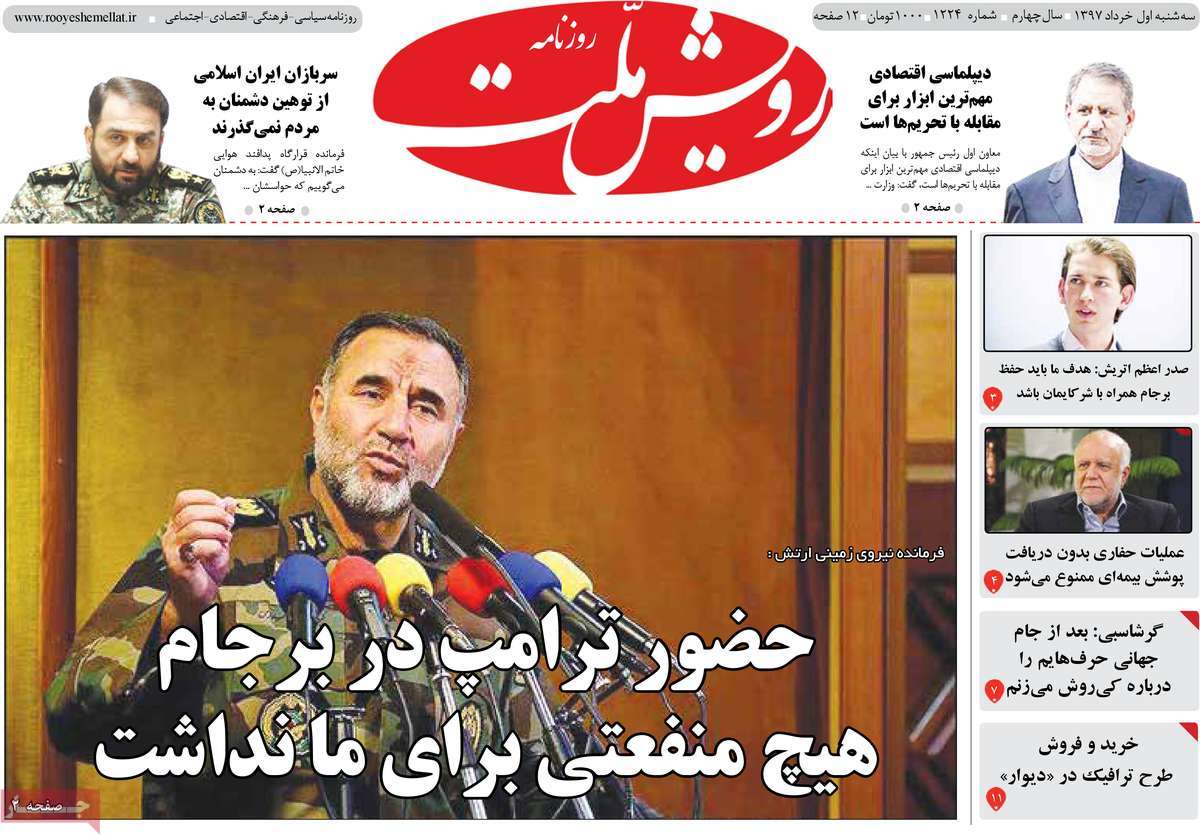 ---
Saheb Qalam:
1- Economic Analyst: We Shouldn't Tie Our Country's Economy to Europe
---
Sazandegi:
1- Trump's State Secretary, in Interventionist Speech, Declares New US Strategy against Iran
---
Shahrvand:
1- Returning Home
Over One-Third of Houses Damaged in Kermanshah Quake Reconstructed, Delivered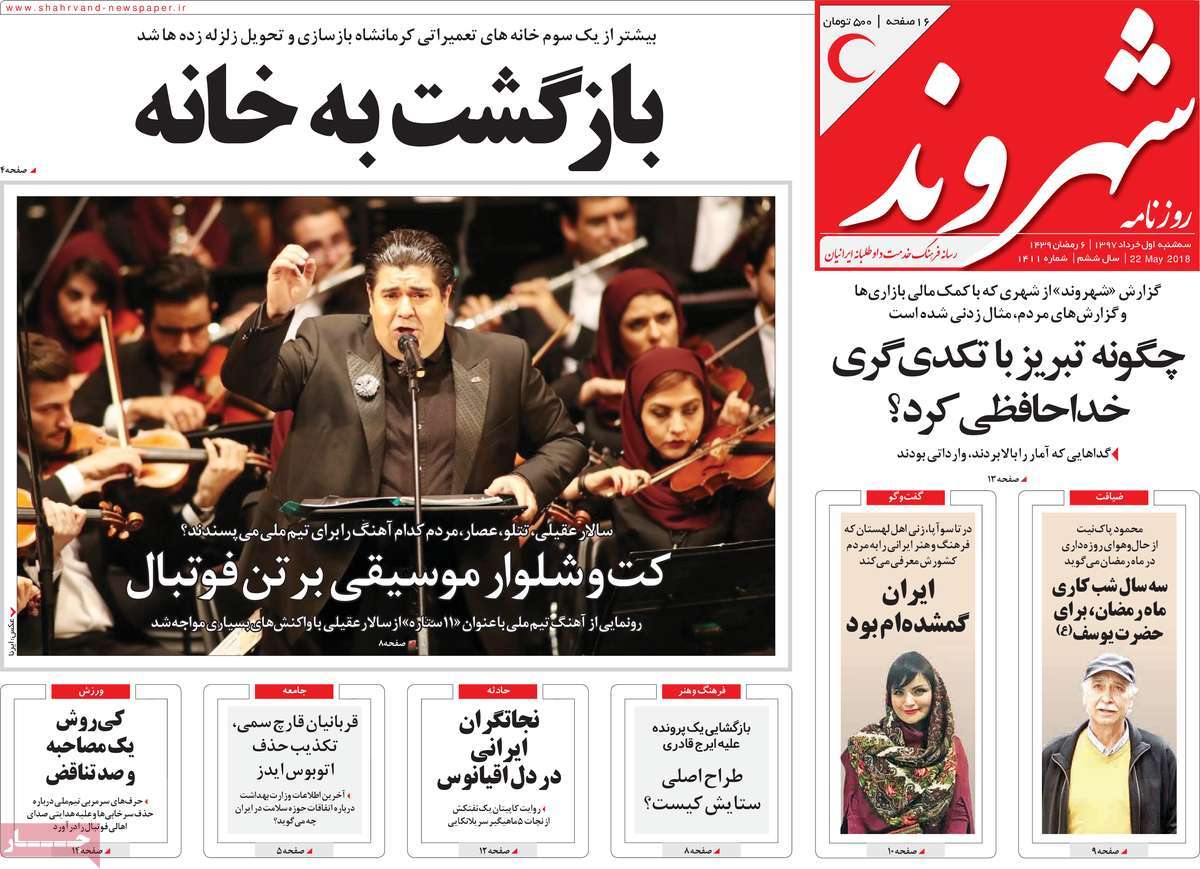 ---
Shargh:
1- New Round of Talks with Airbus
Fate of Plane Purchase Deals to Be Determined in Two Weeks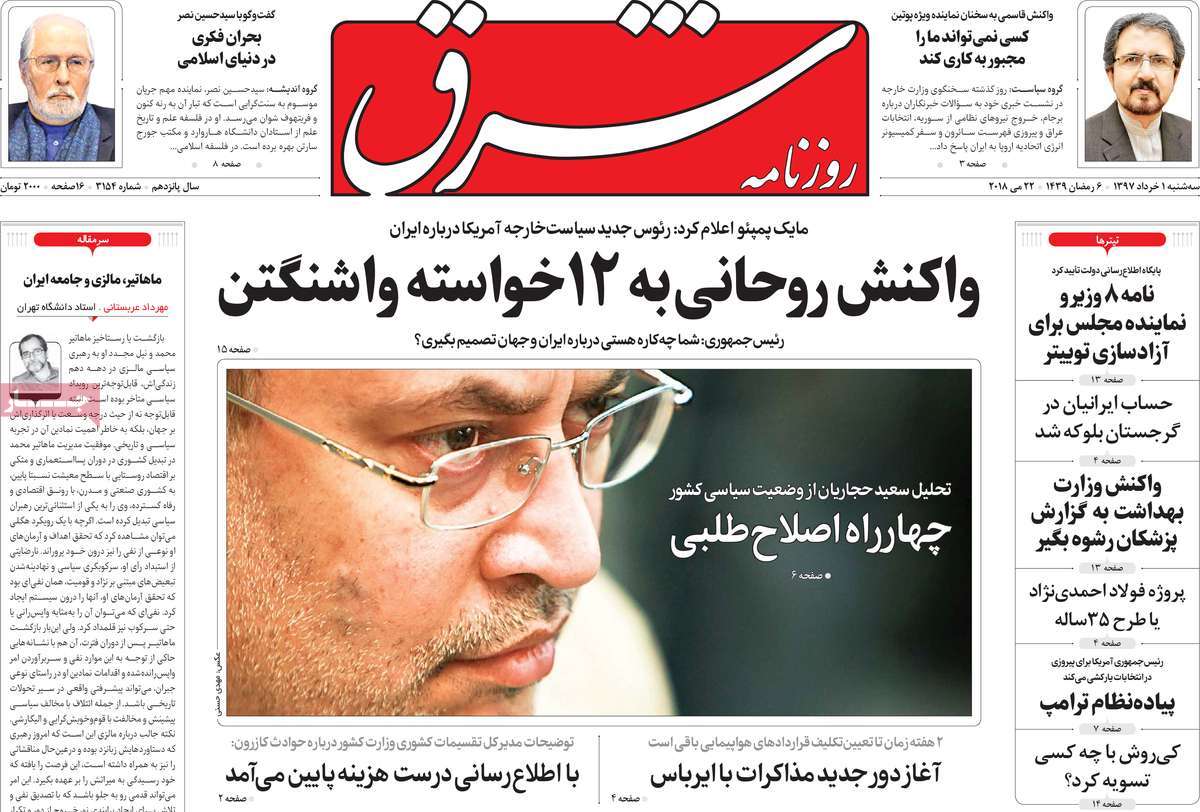 ---
Sobh-e Now:
1- Total, Unfulfilled Wishes
French Company Not to Be Fined despite Withdrawing from Iran: Minister