The top story in all papers today was a closed session in the Iranian parliament attended by Foreign Minister Mohammad Javad Zarif, top security official Ali Shamkhani, and economy minister Masoud Karbasian. The session was focused on the issues of the Iran nuclear deal and the country's accession to the Financial Action Task Force (FATF).
Also a top story was Iranian President Hassan Rouhani's meeting with members of Iran's national football team, who were going to leave Iran for their pre-world cup preparatory camp in Turkey.
The end of Cannes Film Festival, and the awards won by Iranian artists, also received great coverage today.
The above issues, as well as many more, are highlighted in the following headlines and top stories:
19 Dey:
1- President Rouhani, 12th Member of Iran's National Team
---
Abrar:
1- MP Quotes Zarif as Saying: JCPOA Is a Dying Patient
2- Lawmaker: Central Bank Weak Point of Rouhani's Administration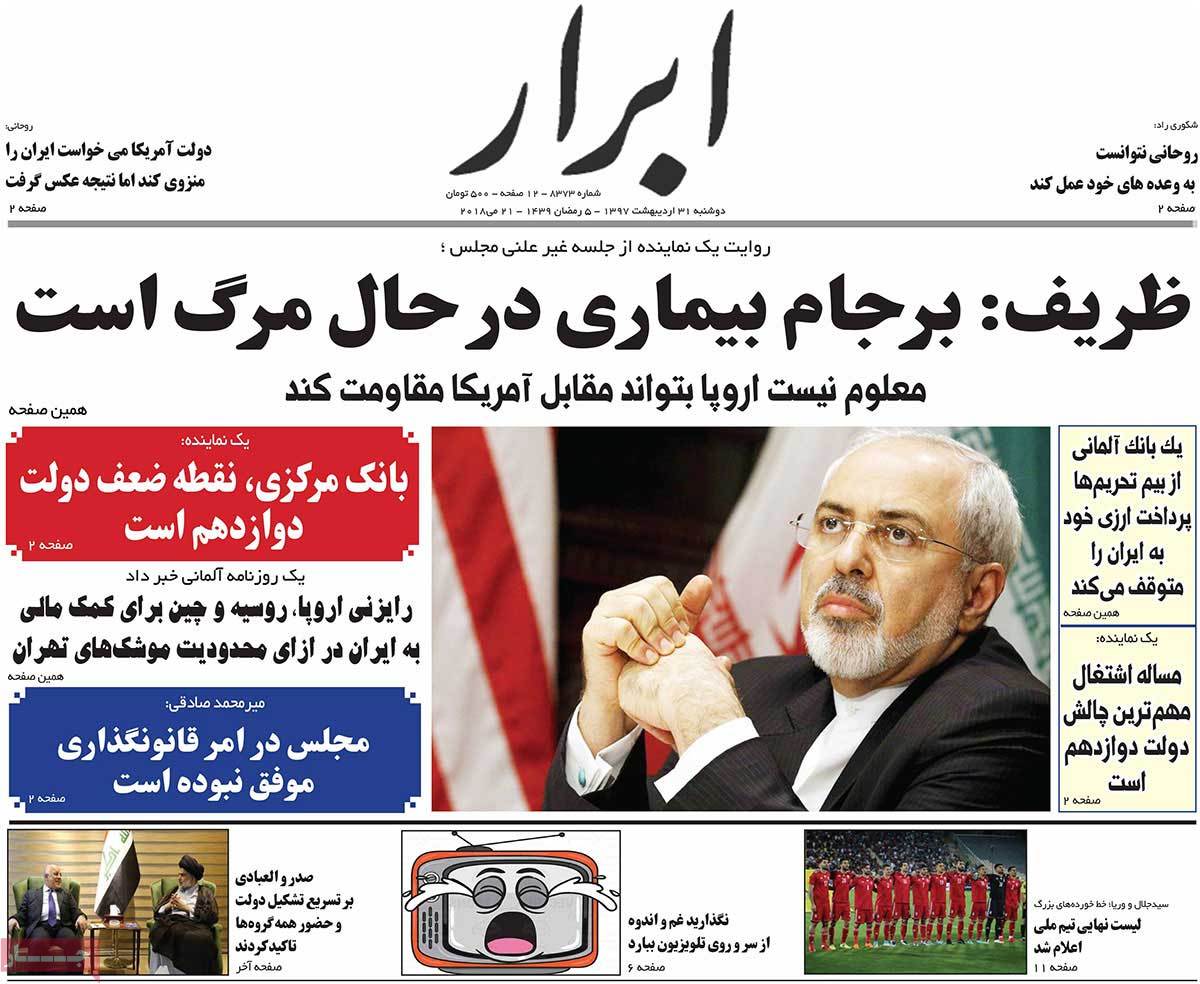 ---
Aftab-e Yazd:
1- Fate of Lake Urmia Depends on Caspian Sea?
2- Iranian People's Heated Debate over Make-up of Queen's New Bride
Controversial Ceremony in Britain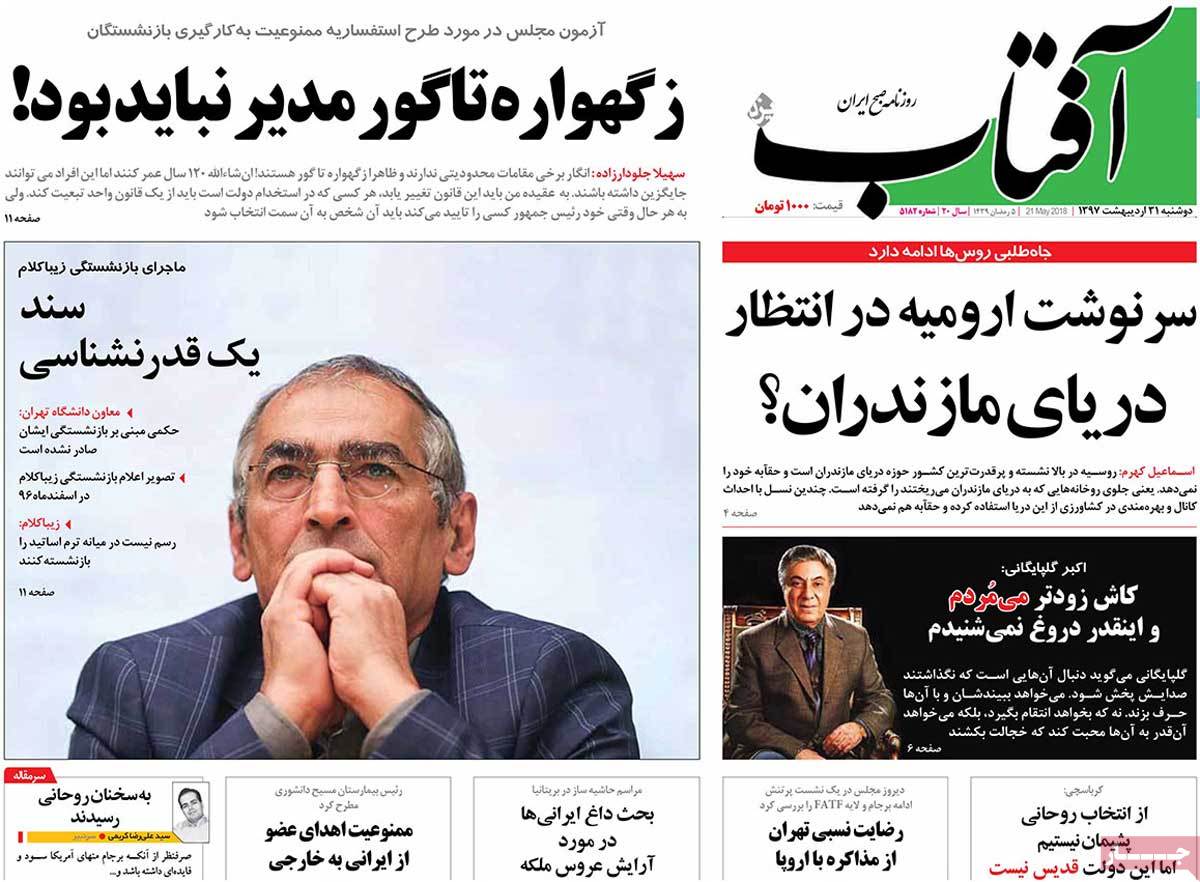 ---
Arman-e Emrooz:
1- Europe's Guarantee in Vienna
---
Asrar:
1- Araqchi: We Won't Negotiate with Europeans over Issues beyond JCPOA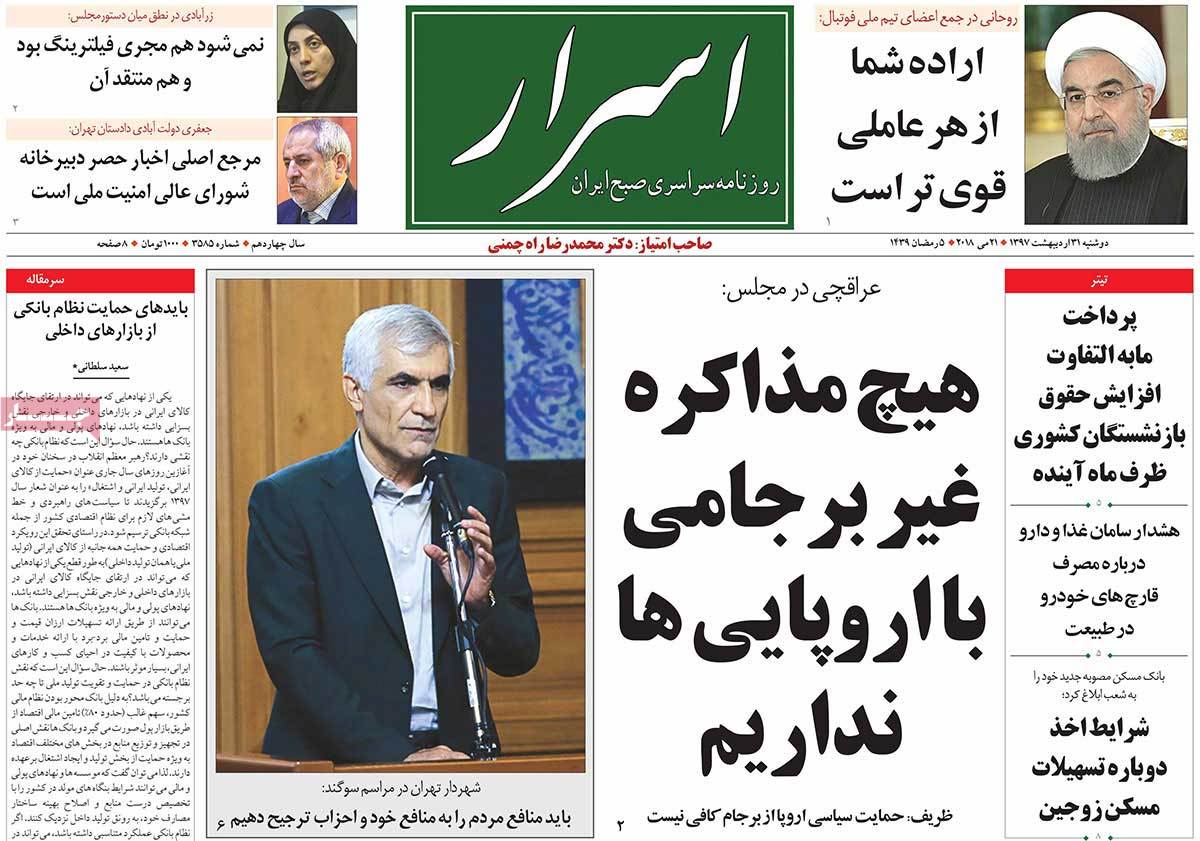 ---
Ebtekar:
1- Europe Afraid of Italy's Exit from EU
2- Quarrel in Iran Parliament over JCPOA
A Report on Parliament's Closed Session on JCPOA, FATF
3- Japanese Tragic Story vs. Farhadi's New Mystery Film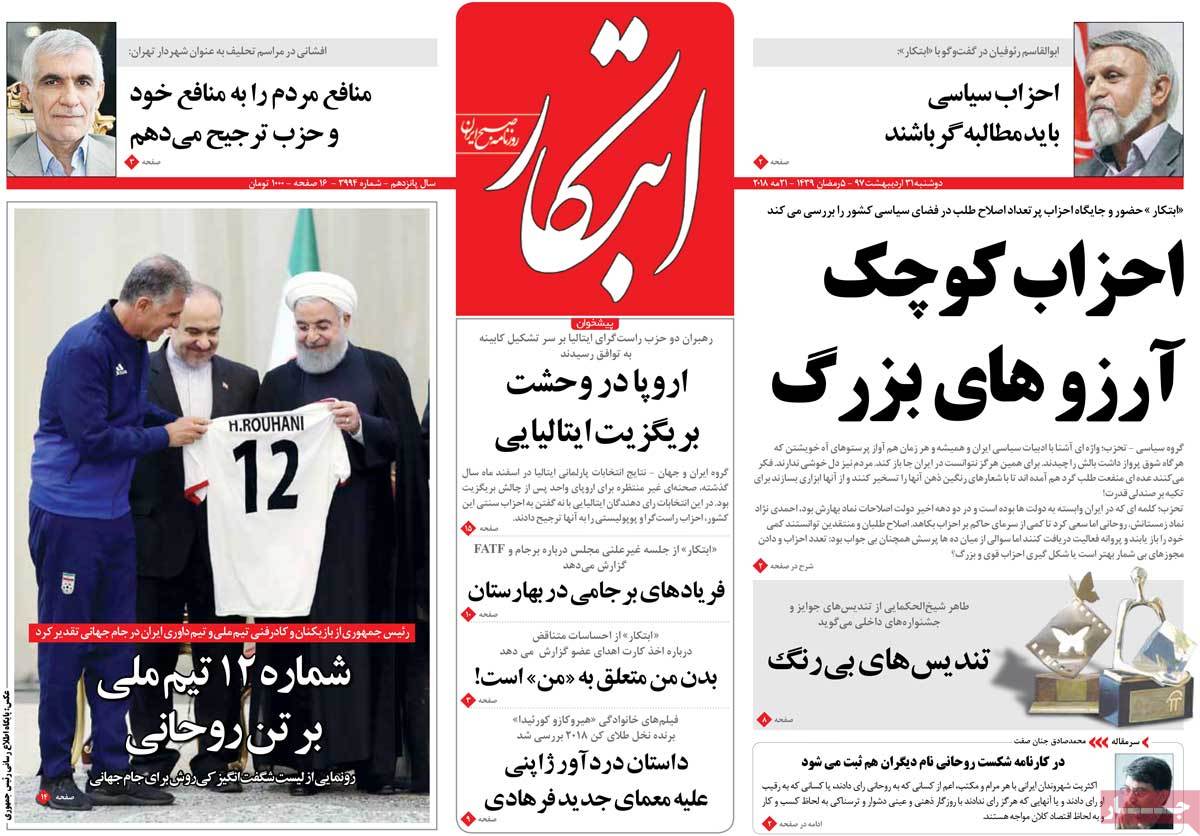 ---
Etemad:
1- Iranian Cheetahs Warmly Received by President before Departing for FIFA World Cup
2- Iran Envoy to OPCW: Iran Has Repeatedly Expressed Preparedness to Help Identify Those behind Syria Chemical Attacks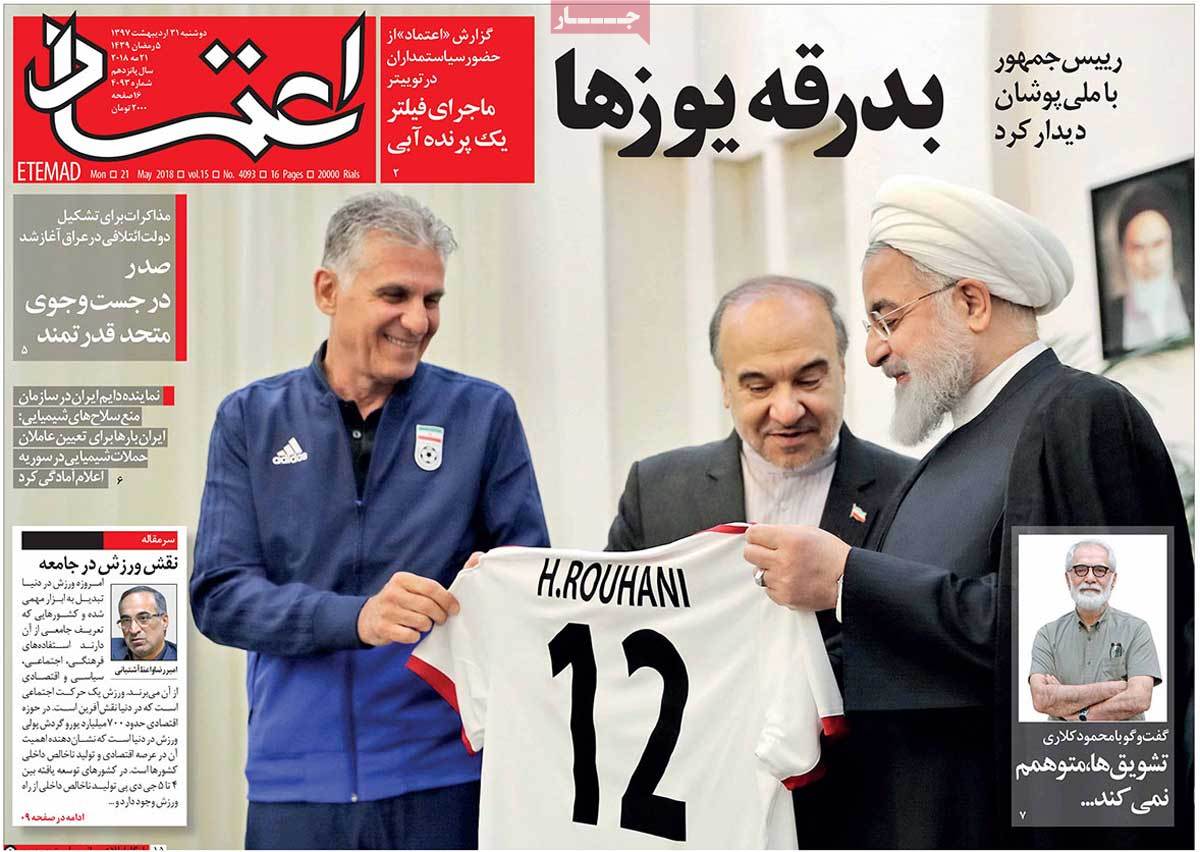 ---
Ettela'at:
1- Rouhani: Gov't Believes in Open Atmosphere for Communication between People
2- France: US Not Gendarme of World Economy
3- Chomsky: Trump Resolved to Destroy Humanity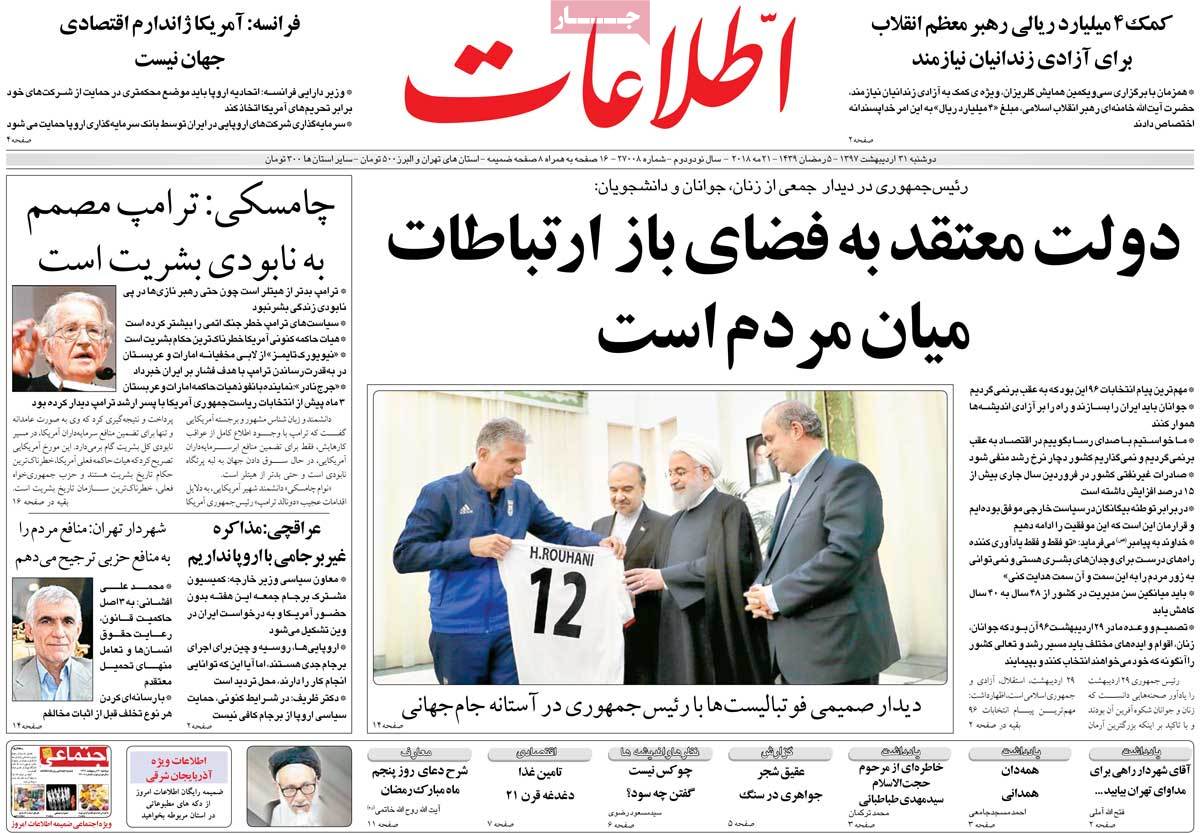 ---
Ghanoon:
1- Money Earned from Iranian Oil Rig Spent on Trump's Presidential Campaign
Lawyer Elaborates on Details of Fortuna Oil Rig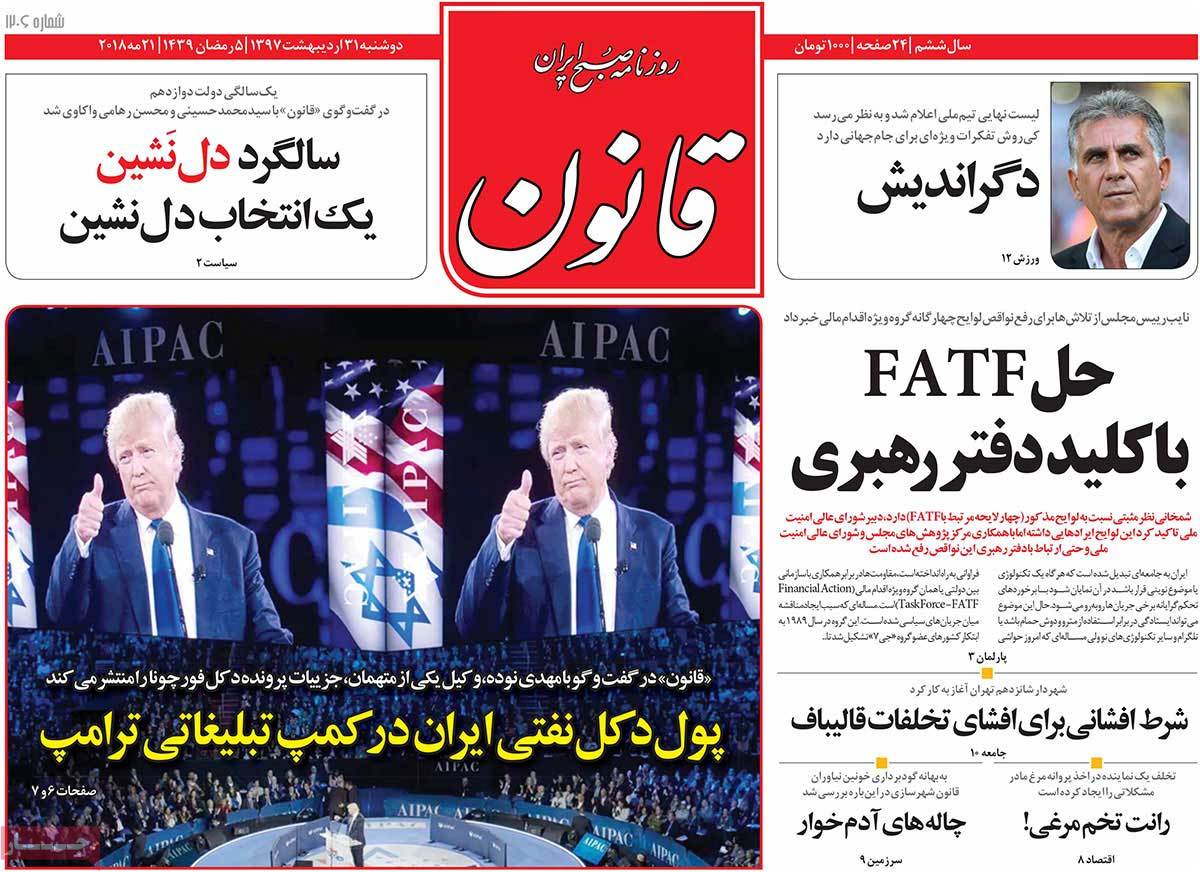 ---
Iran:
1- Iran President Wishes Success, Honour for Team Melli
---
Jame Jam:
1- Apples of Cannes Film Festival's Eyes: A Report on Effective Lobbies in Cannes
2- Four European Think-Tanks Urges EU to Remain Independent to Save JCPOA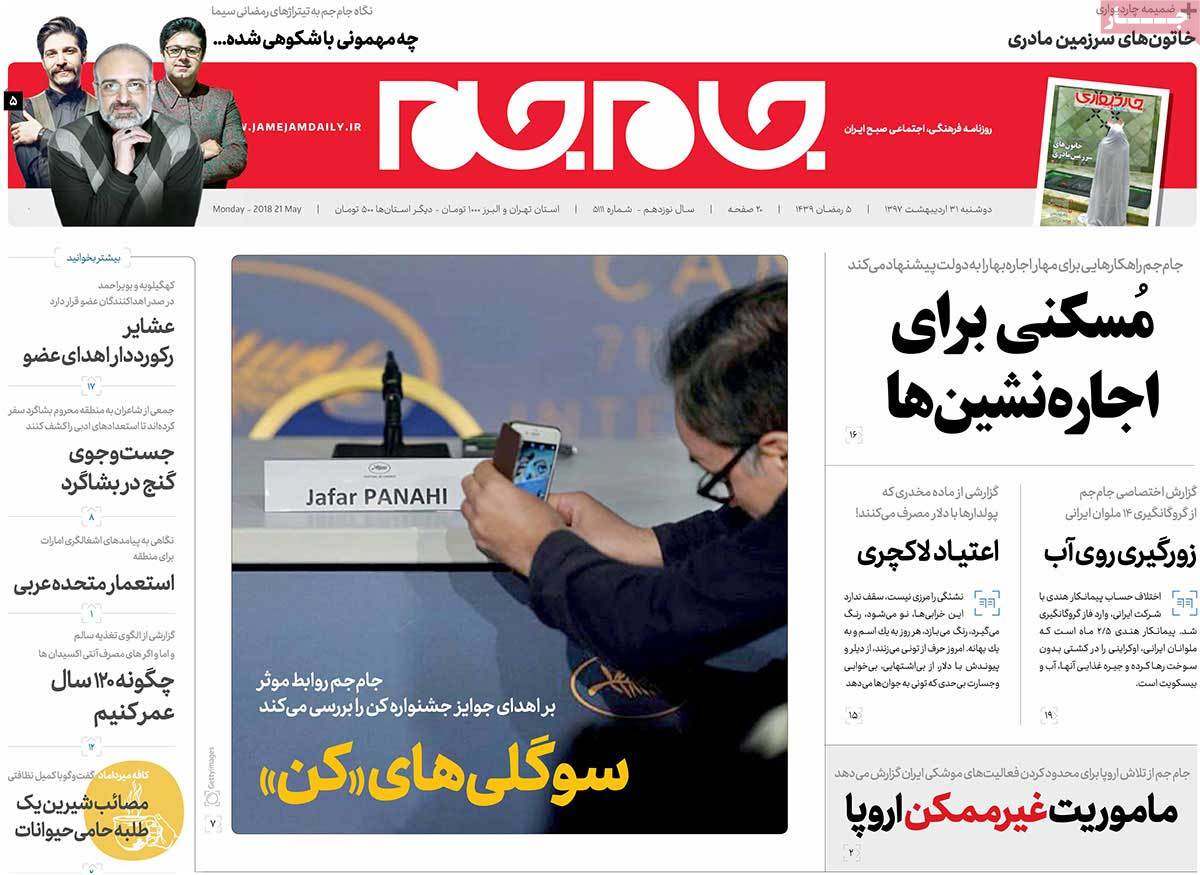 ---
Javan:
1- Iran Leader Donates over $95,000 for Release of Prisoners
2- Araqchi: We Are Doubtful Whether Europe Is Capable of Saving JCPOA
3- Zarif: EU's Commitment to JCPOA Implementation Not Consistent with EU Firms' Withdrawal from Iran Market
---
Jomhouri Eslami:
1- Government Briefs Parliament on Bright Prospect of JCPOA Talks with Europe
In Closed Session, Lawmakers Hold Talks with Zarif, Shamkhani, Economy Minister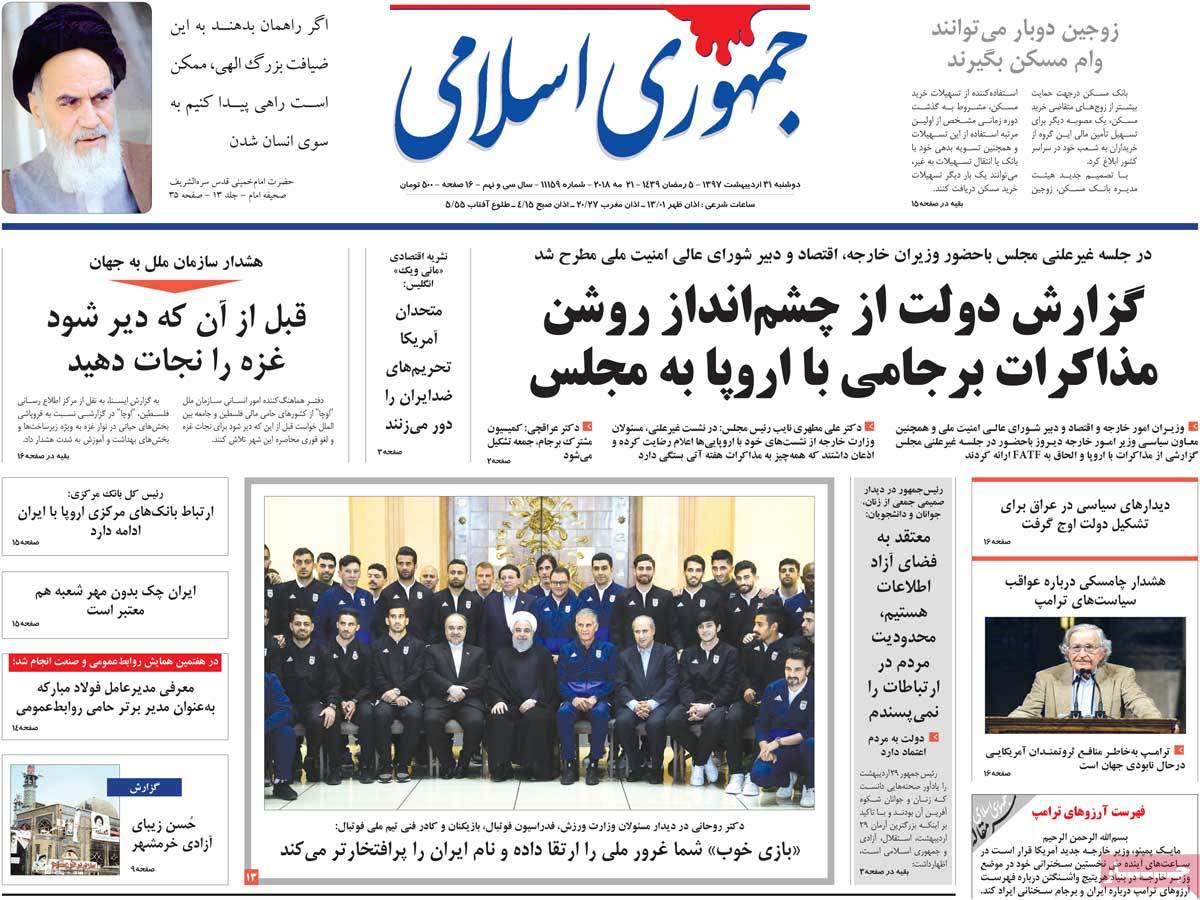 ---
Ka'enat:
1- Economy Analyst: It Was Wrong to Say JCPOA Could Save Iran's Economy
---
Kayhan:
1- Secrets behind Government's Insistence on Approval of FATF's Last Request
2- Result of Wedding Ceremony that Costs $46 Million
Britons Call for End of Royal System
3- Palestine's Islamic Jihad Envoy: Tyrannical Rulers of Arab Regimes Dirtier, More Zionist than Bibi
---
Resalat:
1- Chomsky: Trump, Worse than Hitler, Is Destroying the World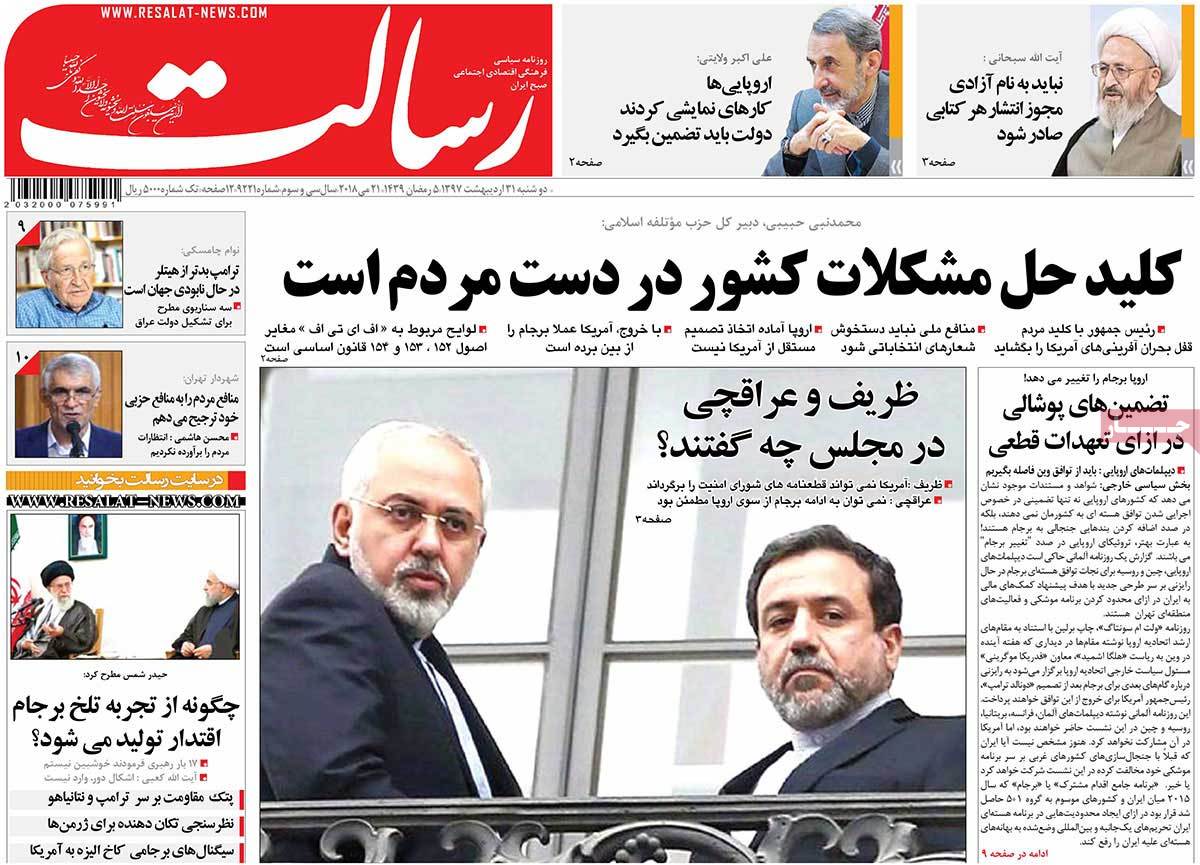 ---
Sazandegi:
1- I'm Jafar Panahi from Iran
Cannes Film Festival This Year Surprised Everyone by Awarding Godard, Farhadi, Panahi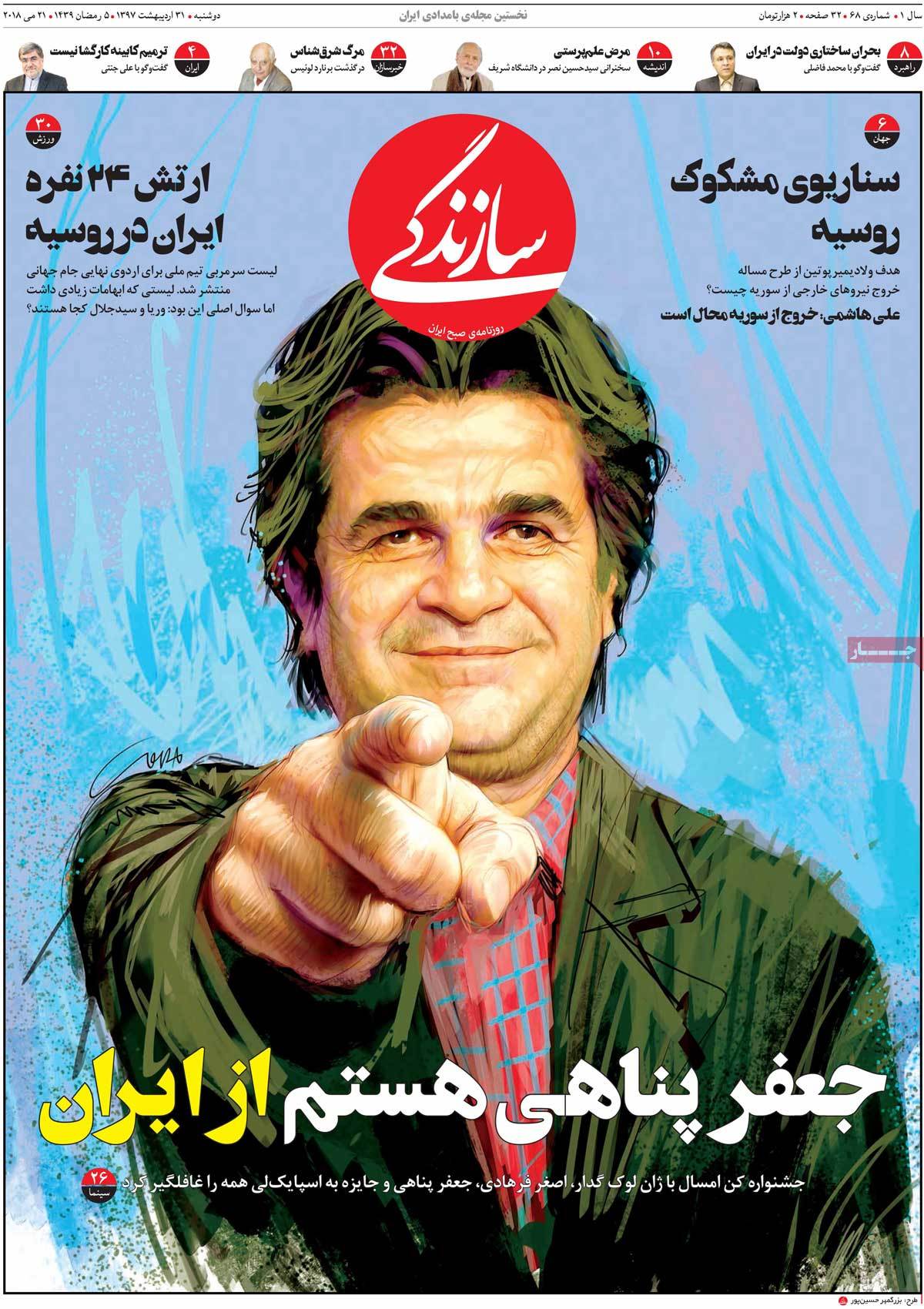 ---
Setareh Sobh:
1- Deputy Parliament Speaker: Efforts to Remove Problems of FATF Bills
---
Shargh:
1- Serious Disagreement in Closed Sessions
Motahari's Account of Zarif, Shamkhani's Presence in Parliament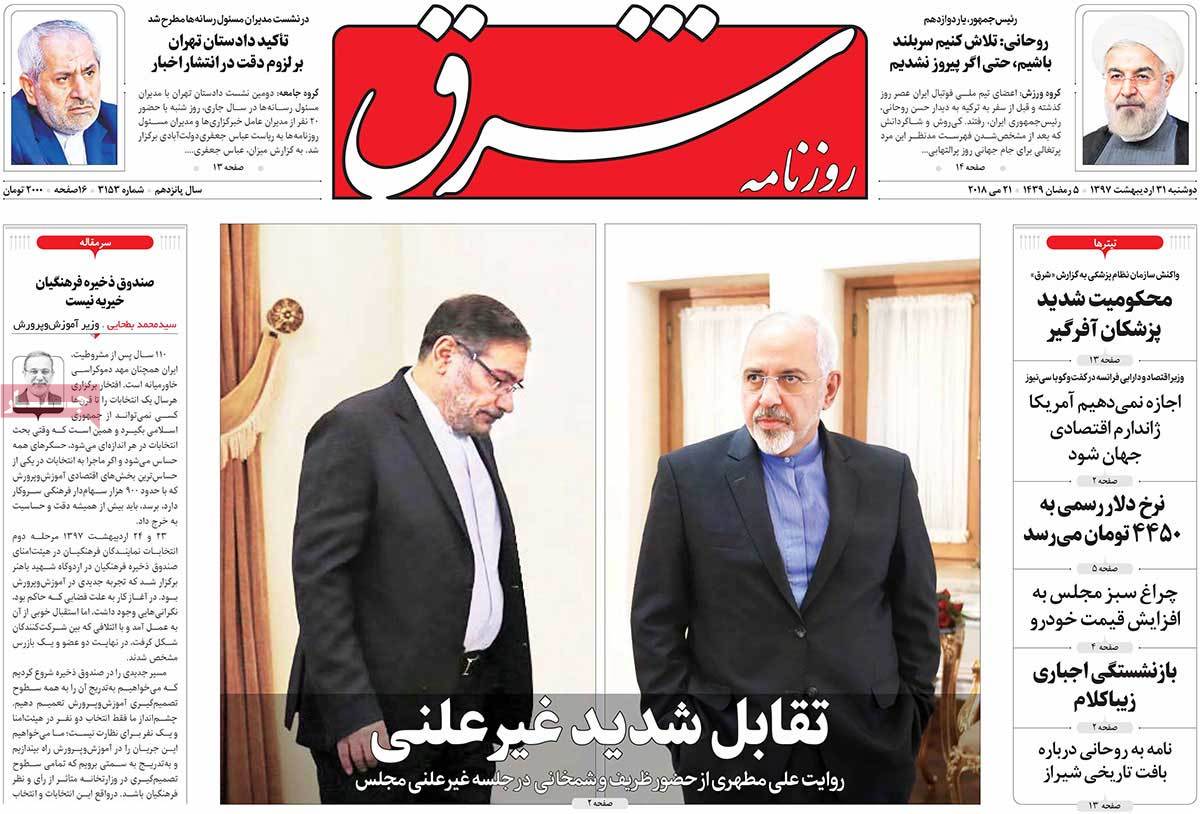 ---
Sobh-e Now:
1- End of World's Most Politicized Film Festival
Cannes 2018 Wraps Up with Success, Failure for Iranian Directors Who "Make Films for Festivals"