IFP has taken a look at the front pages of Iranian newspapers on Monday and picked headlines from 19 of them. IFP has simply translated the headlines and does not vouch for their accuracy.
A recent meeting between the Leader of the Islamic Revolution, Ayatollah Seyed Ali Khamenei and Ramadan Abdullah, the head of the Palestinian Islamic Jihad movement, and the Leader's remarks on Iran's continued support for Palestine and Hezbollah were widely covered by Iranian newspapers.
Iranian President Hassan Rouhani's comments in an address to workers on Labour Day also received great attention.
An ongoing visit to Tehran by South Korean President Park Geun-hye is also a hot topic among all Iranian media. Park's visit is the first ever by a South Korean President since Tehran and Seoul commenced their ties in 1962.
Abrar:
South Korean President's Visit to Tehran is Unique: Iranian Ambassador
"Plainclothes Morality Police" Plan Has Become a Joke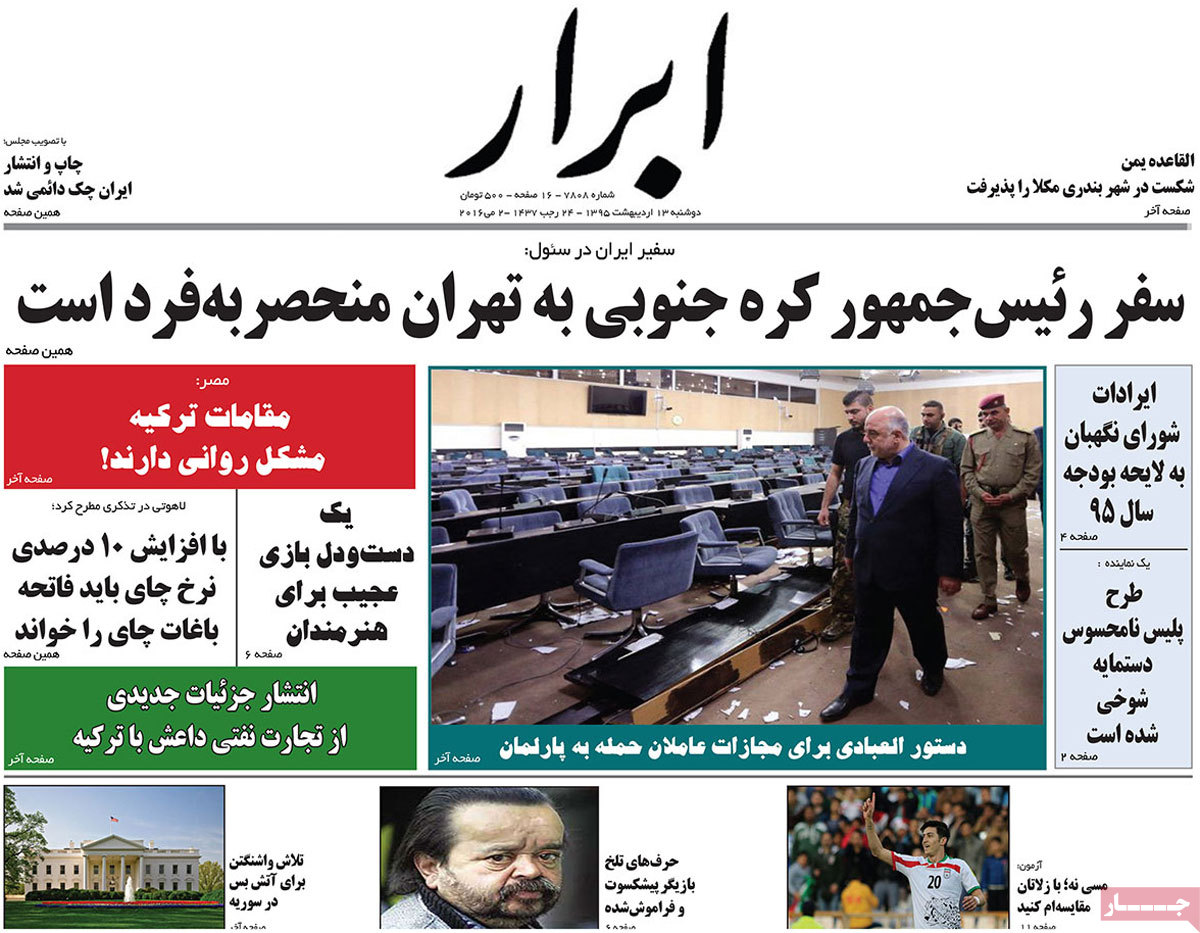 ---
Afkar:
Iran's Skilled Workers to Be Dispatched to Int'l Markets
US Supreme Court Move Threatens Int'l Laws: Vice-Speaker
Return of Giants to Iran's Oil Industry
Iran Joins World's Eight Producers of Antimony Ingots
Iranian and Canadian Officials Meet to Repair Ties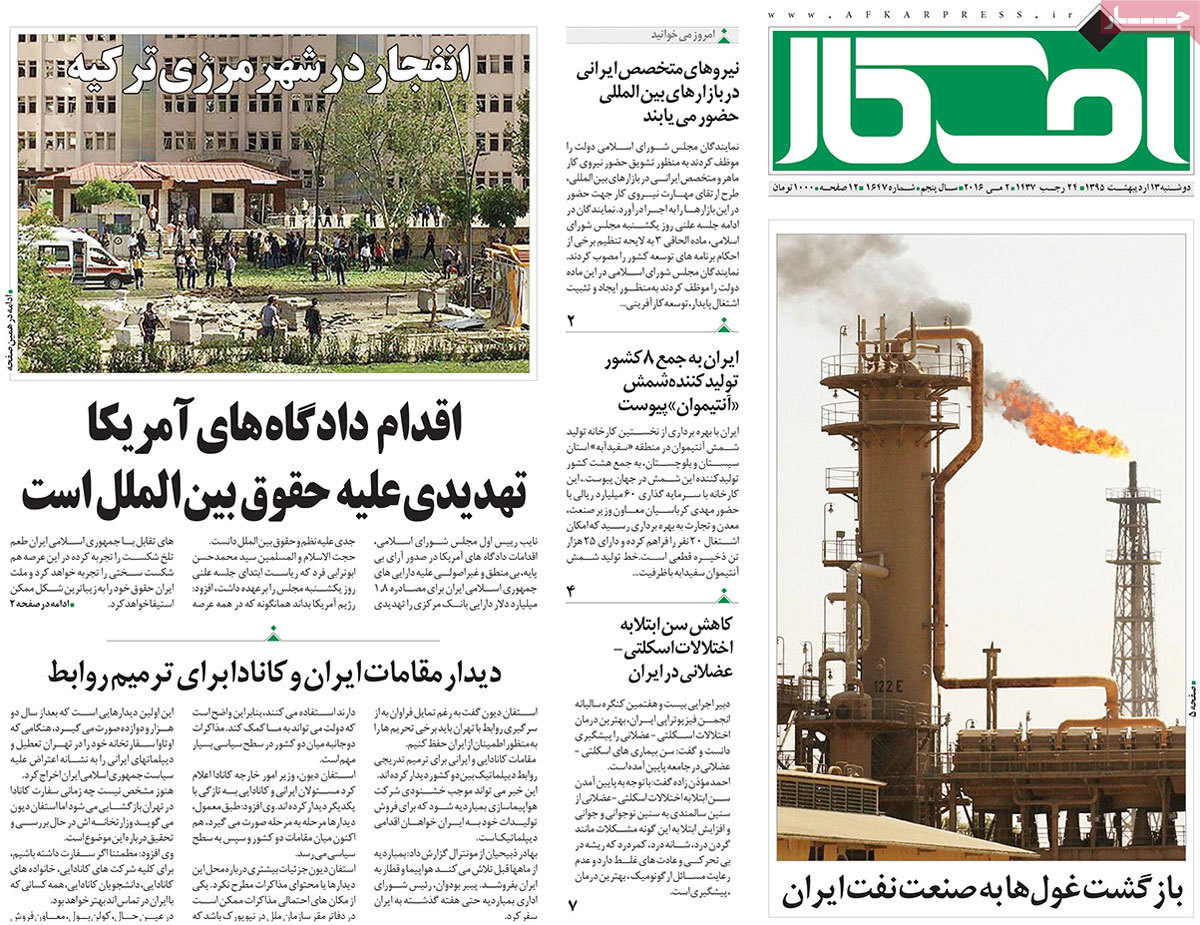 ---
Arman-e Emrooz:
Defending Palestine Symbol of Defending Islam: Leader
President to Opponents of JCPOA: They Say We Had a Good Life under Sanctions!
Number of Premature Infants Increases
Fall of Conservative Faction Begins (Editorial by Zibakalam)
Rouhani Congratulates National Team on Archery World Cup Championship
---
Asia:
Iran's New Economic Opportunities to Be Discussed in Europe: Iranians and Europeans to Convene in Zurich Tomorrow
Necessity for Monetary Market Reform
Tehran-Seoul Ties Not Detrimental to Anyone
---
Ebtekar:
Women's New "Makeup"  in Iran's Parliament
Secretary-General of Palestinian Islamic Jihad Meets with Ayatollah Khamenei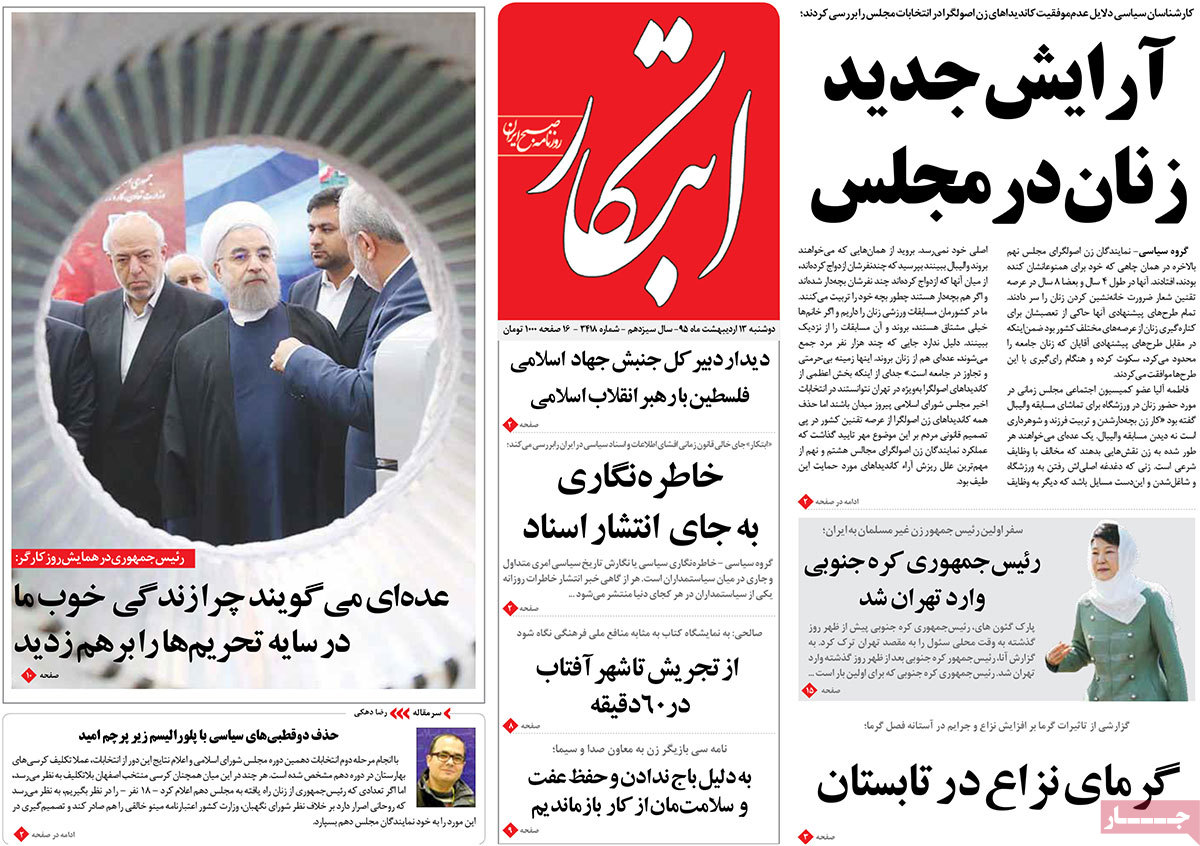 ---
Emtiaz:
Lives of 35m Iranians Affected by Air Pollution: VP
Iran Tries to Be Accepted by Global Banking System
---
Etemad:
South Korean President Visits Iran after 54 Years: Child of Power, Lady of Development in Tehran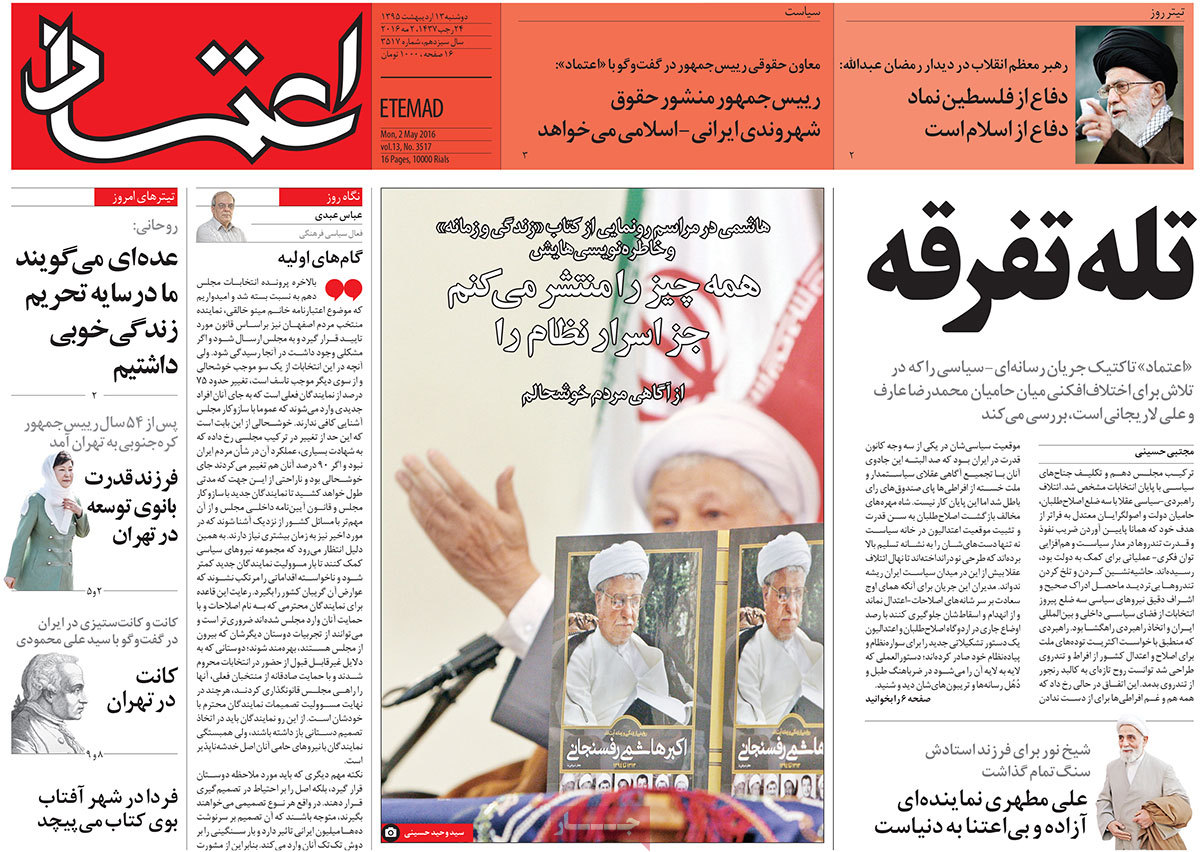 ---
Ettela'at:
Lebanese Hezbollah Too Strong to Be Harmed by Enemy Pressure: Leader
Palestinian Islamic Jihad Chief: Iran Key to Regional Stability
Conditions for Economic Activity Better than Previous Year: President
South Korea to Open $13bn Credit Line for Iran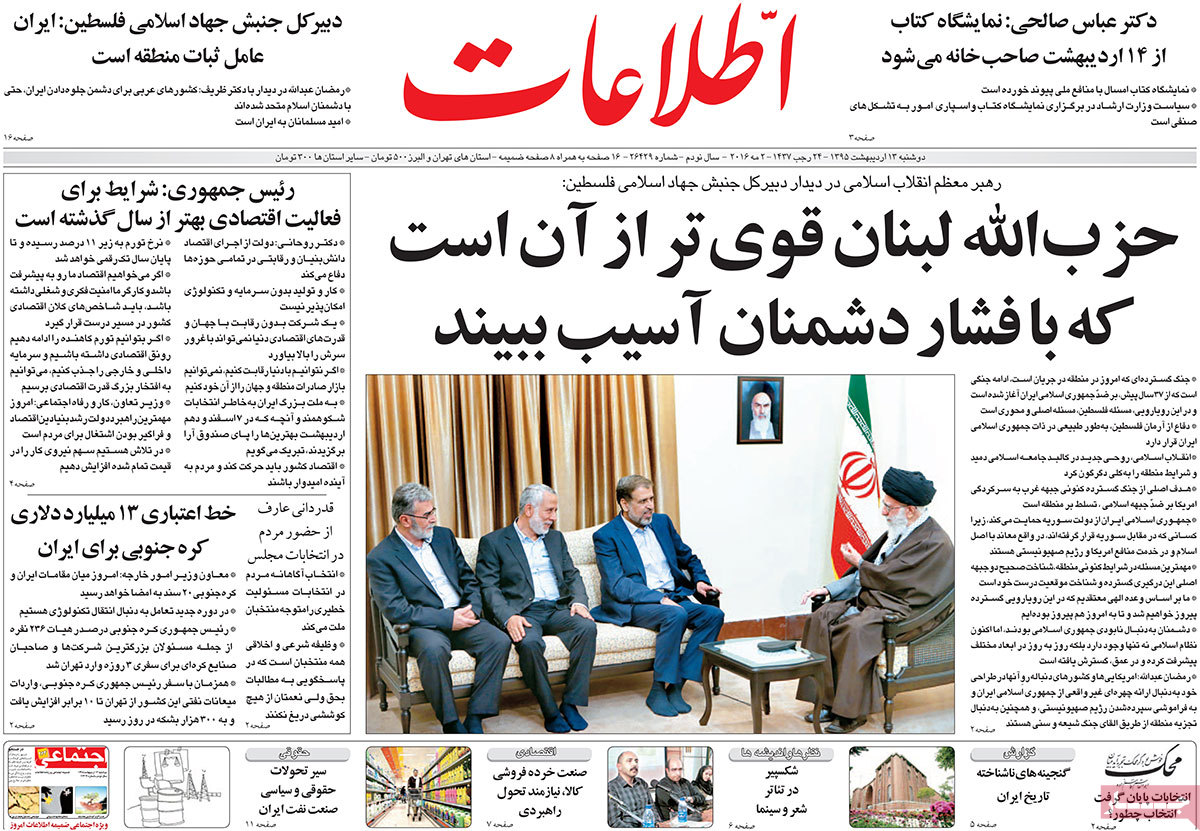 ---
Hamshahri:
Iran Hajj Official: Saudis Have Become Rude!
Difficult Path to Legally Pursue Return of $2bn from US: Expert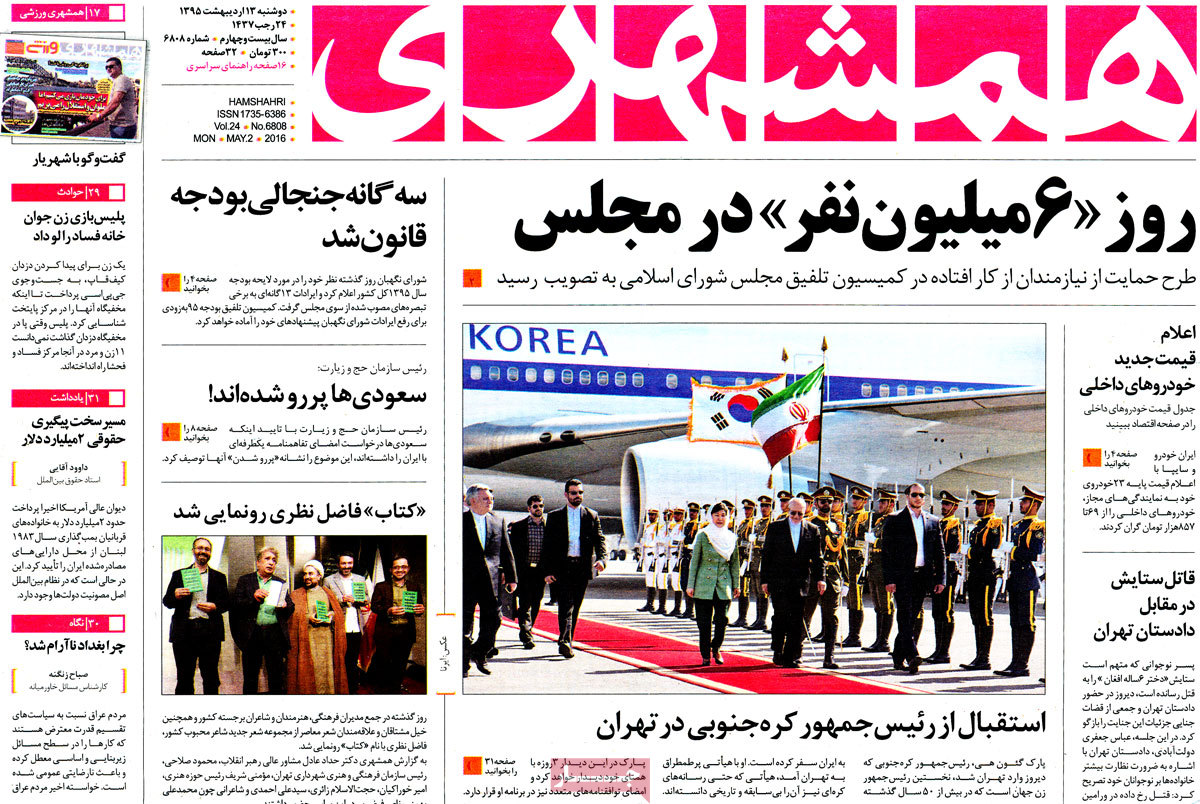 ---
Hemayat:
Parliament Approves 9 Articles to Boost Defence Power
US Human Rights Claims Most Laughable So Far This Century: Iranian Official
No Discrimination between Iranian and Afghan Nationals in Judiciary: Prosecutor-General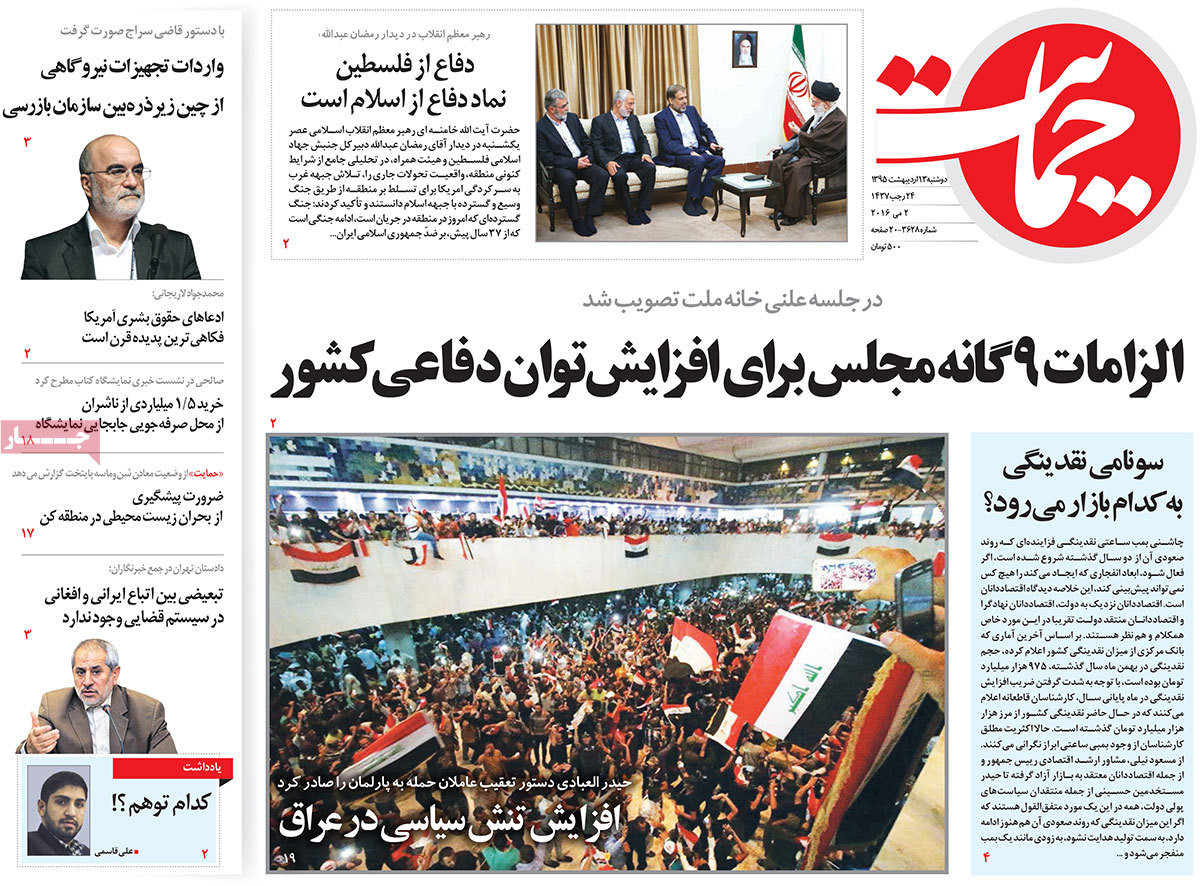 ---
Iran:
Gov't Throws Its Entire Weight behind Labourers: President
Tehran and Seoul Sign $20bn of Economic Contracts
People's Vote Removes Major Government Opponents from Parliament
---
Jam-e Jam:
Iranian Youth Hooked on Cyber Casinos
Chinese, not European, Car Manufacturers Dominate Iran's Post-JCPOA Markets
Spy Equipment Hidden in Meth Addict's Stomach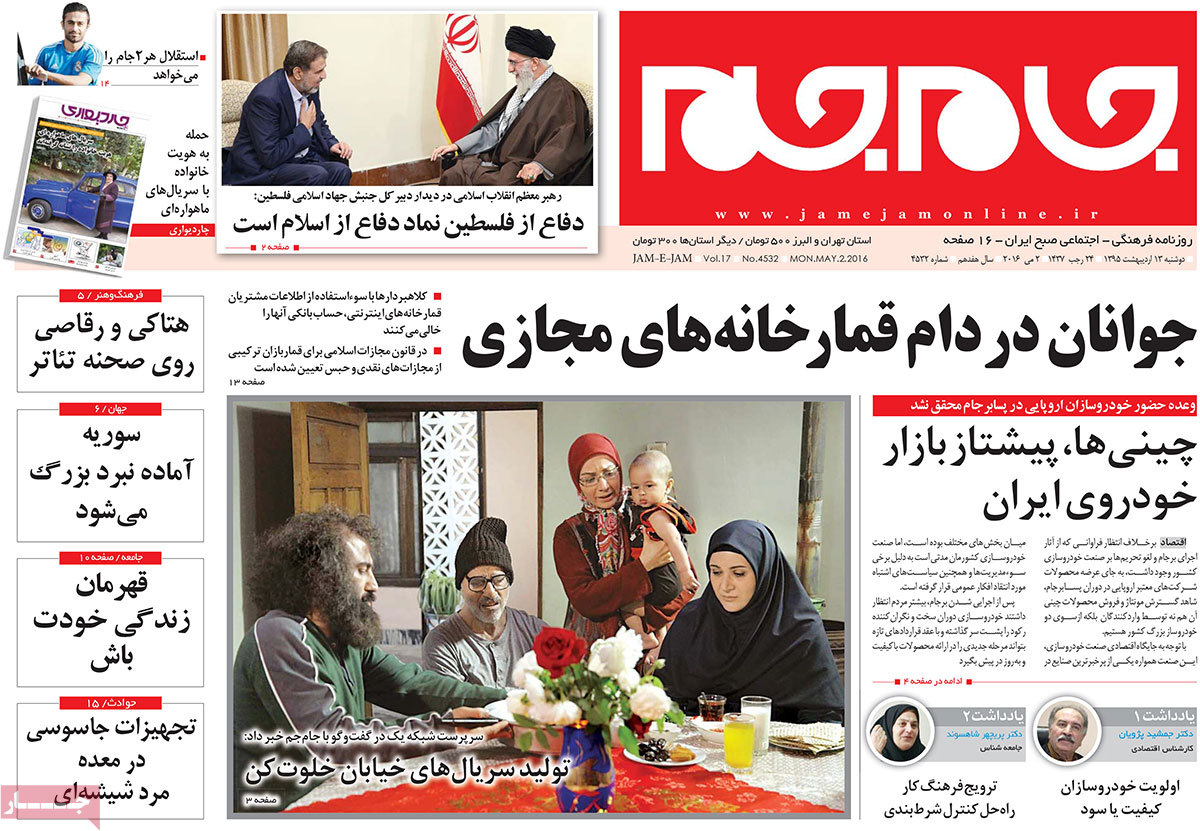 ---
Javan:
Normalization of Iran-US Relations without Breaking Taboo of Opening Embassies (Comment)
President Rouhani Attacks Critics of US Violations of Its Commitments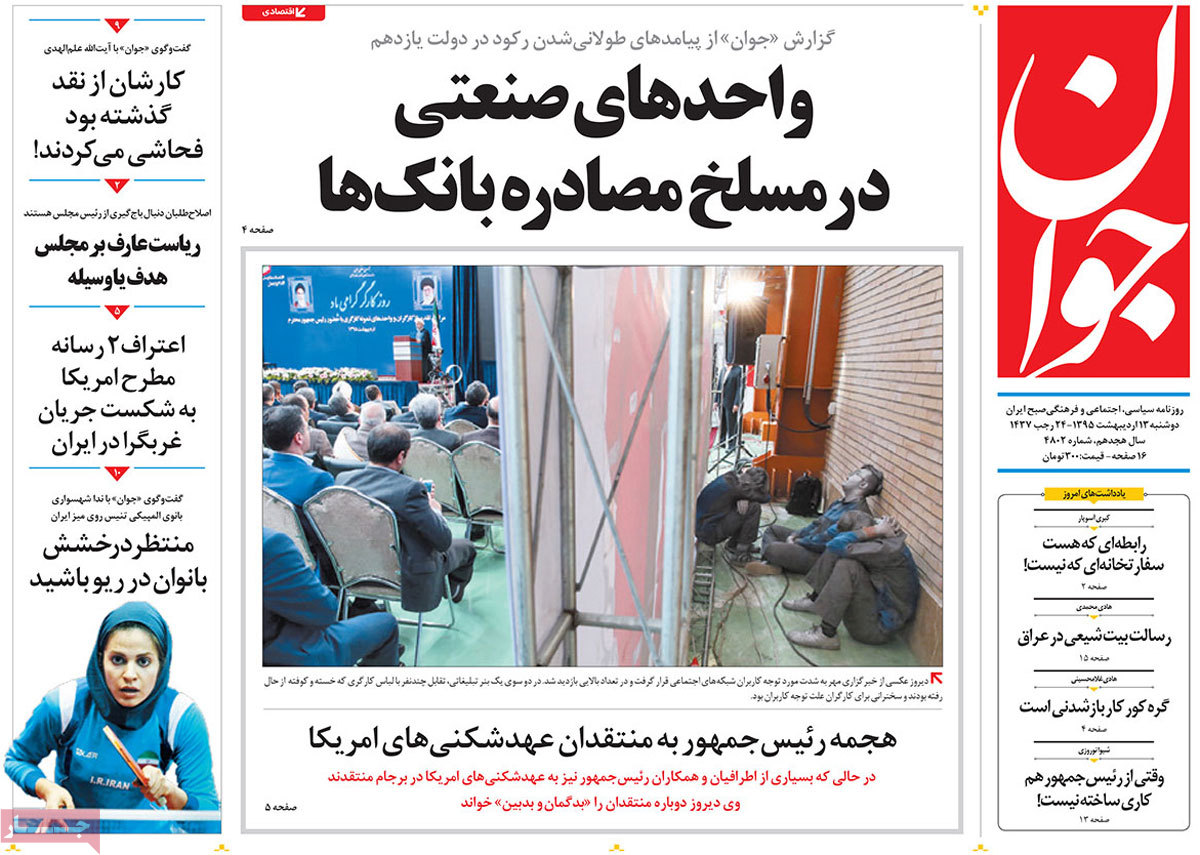 ---
Jomhouri Eslami:
Iran Signs MoU to Export Gas to South Korea
Switzerland Keen to Invest in Iran's Capital Market
India Ready to Clear Its $6.5bn Debt to Iran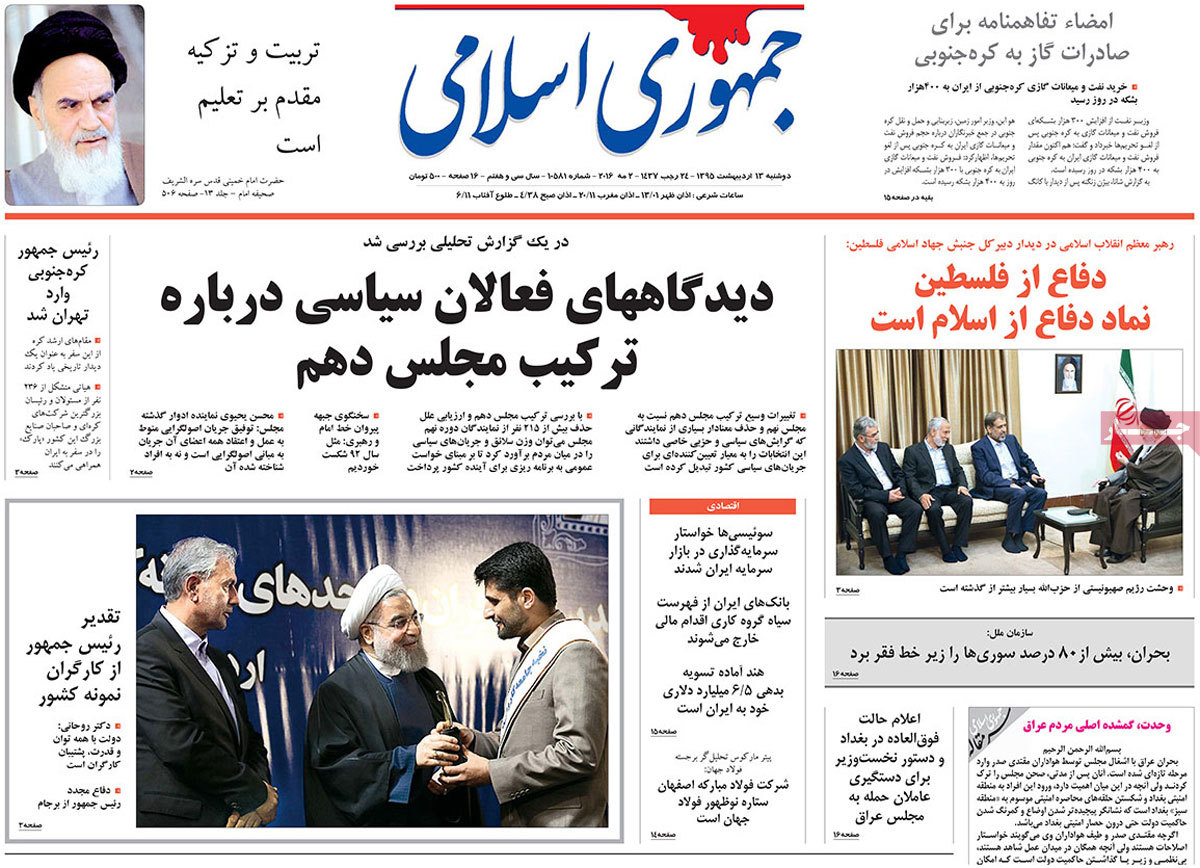 ---
Kayhan:
US Congress to Impose New Sanctions against Iran over Military Presence in Persian Gulf
Reformists Bluffing on Parliamentary Election Results
Riot in Mecca: Angry Workers Set Fire to Buses
---
Payam-e Zaman:
Iranian Airliners' Flights to Baghdad Cancelled
FM Zarif Urges Muslim World to Focus Attention on Countering Israel Threat
---
Sepid:
Iranian Down's Syndrome Footballers Invited to Germany
President Rouhani: People Elected the Best Candidates in Recent Elections
Iran's Current $1bn Health Tourism Income Should Increase to $2.5bn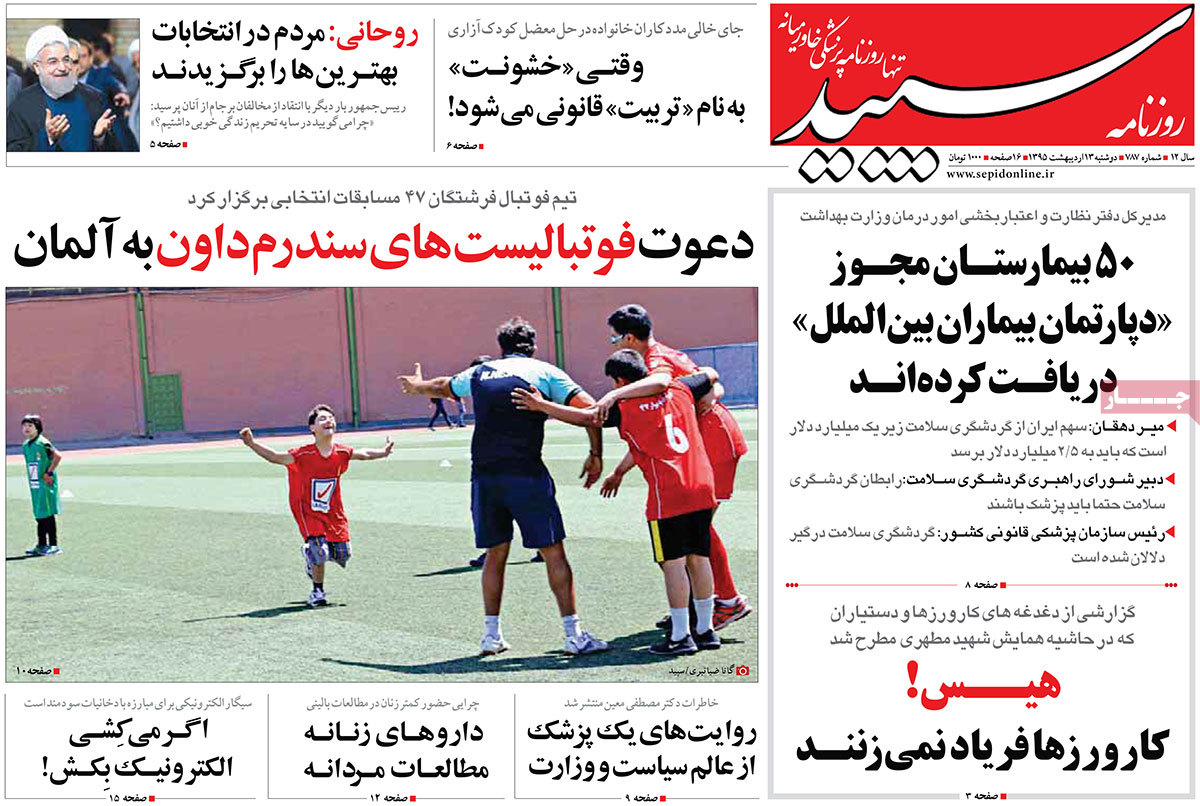 ---
Sharq:
Iranian Customers in "American Market" of Iraqi Holy City of Karbala  [Report on Iranian pilgrims going to Iraqi holy cities, and how they have changed the way Iraqi boys and girls dress]
South Korea's Largest Political-Economic Delegation in Iran
Ted Cruz Has the Most Dangerous View on Iran
Zionist Regime [Israel] Scared of Hezbollah More than Ever: Leader
---
Shorou':
Increase in Number of Suicides Committed in Tehran's Streets
Iran's 7 Winning Cards to Become an Entrepreneurial Power