The top story in all papers today was the remarks made by Ayatollah Seyyed Ali Khamenei, the Leader of Iran's Islamic Revolution, about the liberation of Palestine and the Muslim communities' role in this regard.
Several papers also covered the European Union's move to shield EU companies doing business with Iran. The EU has begun the "blocking statute" process, which aims to neutralise the extraterritorial effects of US sanctions in the EU.
North Korea's threat to leave the ongoing talks with the US and its southern neighbour also received great coverage today.
The above issues, as well as many more, are highlighted in the following headlines and top stories:
19 Dey:
1- Nateq Nouri: JCPOA Was Result of Establishment's Decision
Iran's Challenge Way Beyond JCPOA
---
Abrar:
1- Iran Leader: Liberation of Palestine Divine Tradition, US Can't Do Damn Thing
2- Macron: We Won't Wage Trade War with US over Iran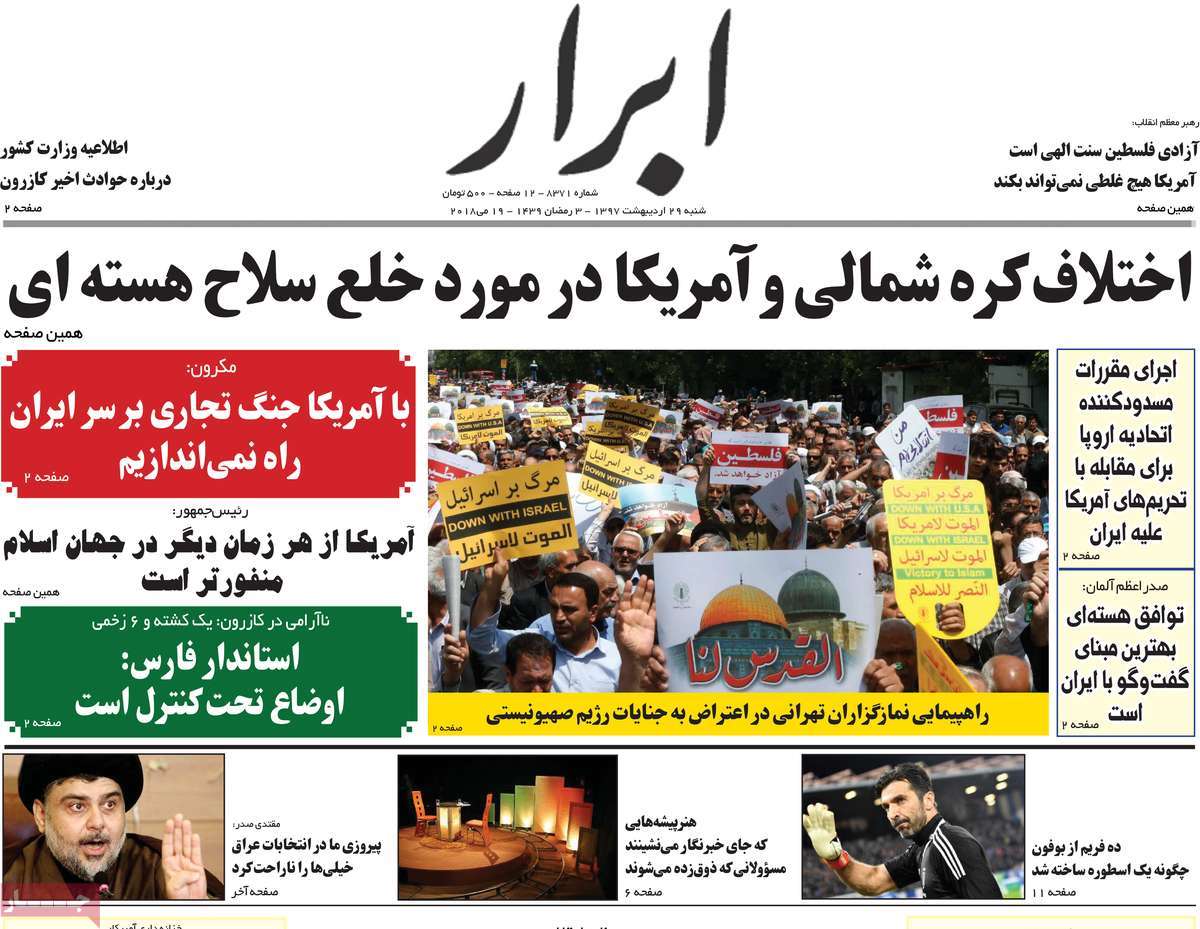 ---
Abrar-e Eqtesadi:
1- 120 German Firms to Continue Operation in Iran
2- Iran, Russia Parliaments to Form Joint Economic Commission
---
Afkar:
1- Iranian Cleric: Arab Leaders Have Kept Deadly Silent in Defending Palestine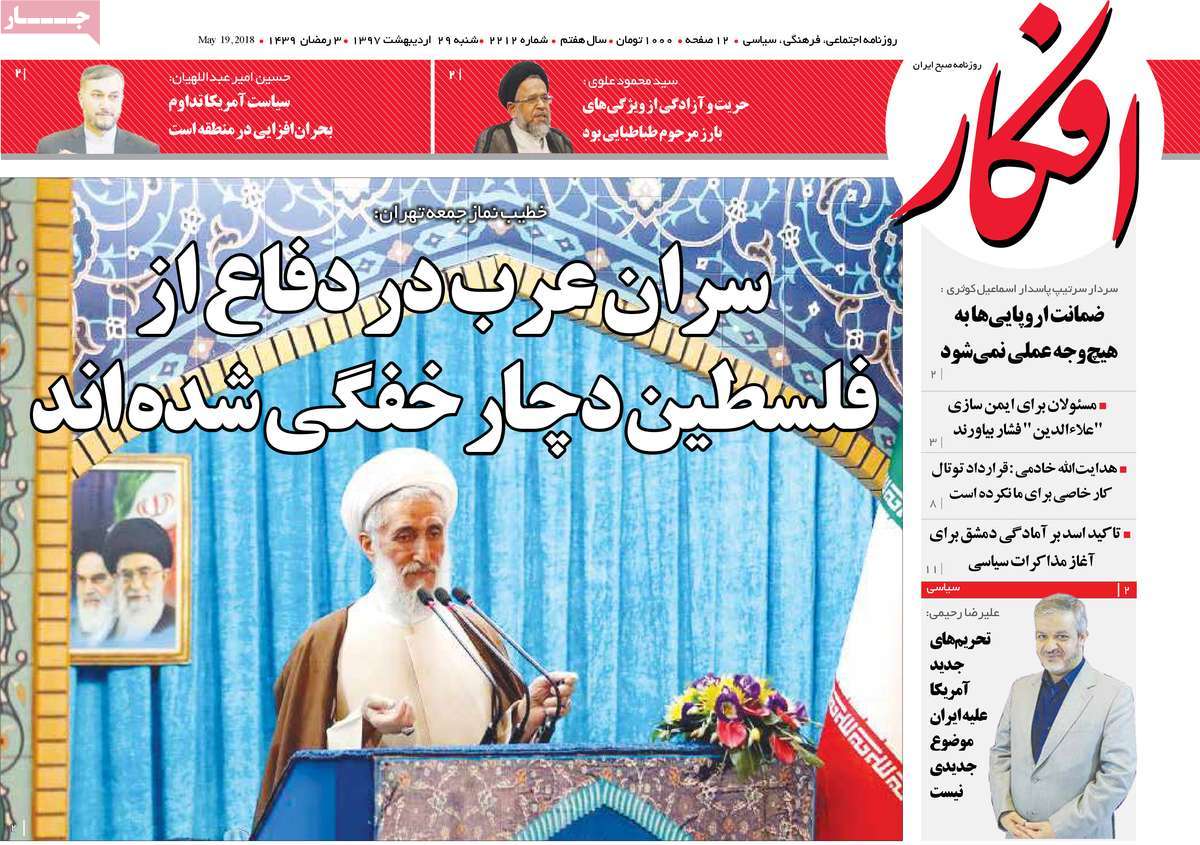 ---
Aftab-e Yazd:
1- Europe-US Conflict
Europe Says It Has Legally Started Protecting Its Firms against US
2- Conservative Lawmaker: I'll Once Again Set Fire on US Flag If Necessary
3- Iran to Stand by Syria in Time of Reconstruction: Minister
---
Arman-e Emrooz:
1- 3,000 Child Abuse Cases Happened in Past Year: Official
---
Ebtekar:
1- Where Is Mohammed bin Salman?
2- Story of a Nuclear Rapprochement, Conflict
What Happened that N. Korea Changed Its Opinion on Talks with US?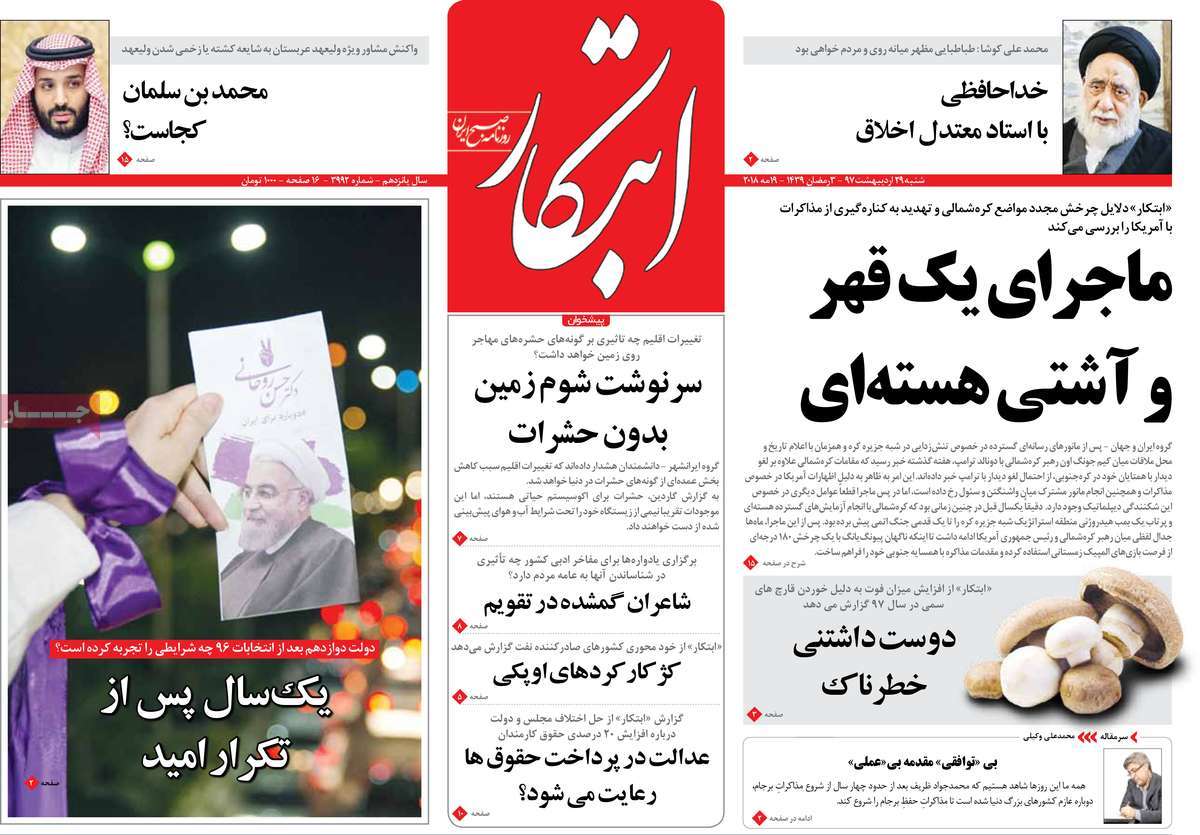 ---
Etemad:
1- Washington Targets Nasrallah's Close Ties with Iran
US Tries to Take Revenge against Hezbollah by Imposing Bans on Iran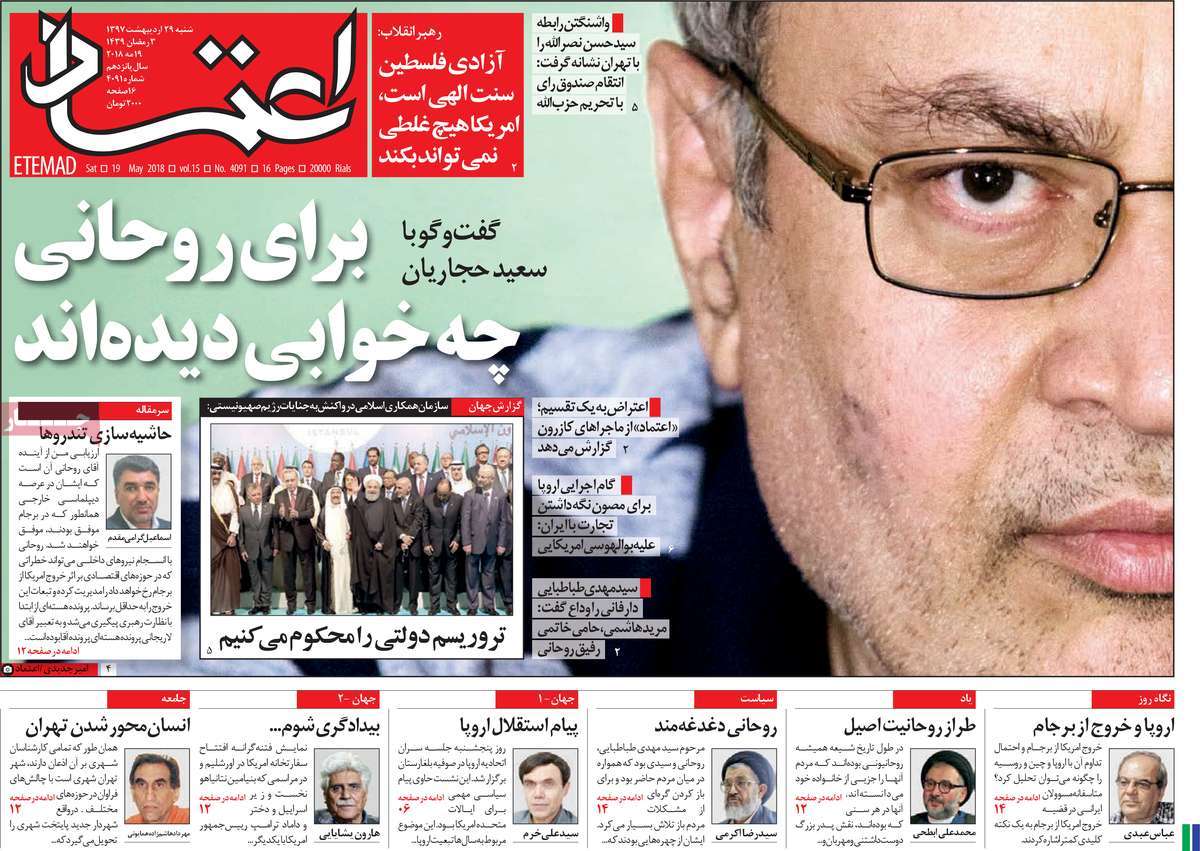 ---
Ettela'at:
1- Iran Leader: Al-Quds Eternal Capital of Palestine, Will Survive Enemy Plots
2- Rouhani: Liberation of Quds, Palestine Our Most Important Cause
3- Assad to Putin: We're Ready to See Political Reconciliation in Syria
4- EU Leaders Agree on Saving Iran Nuclear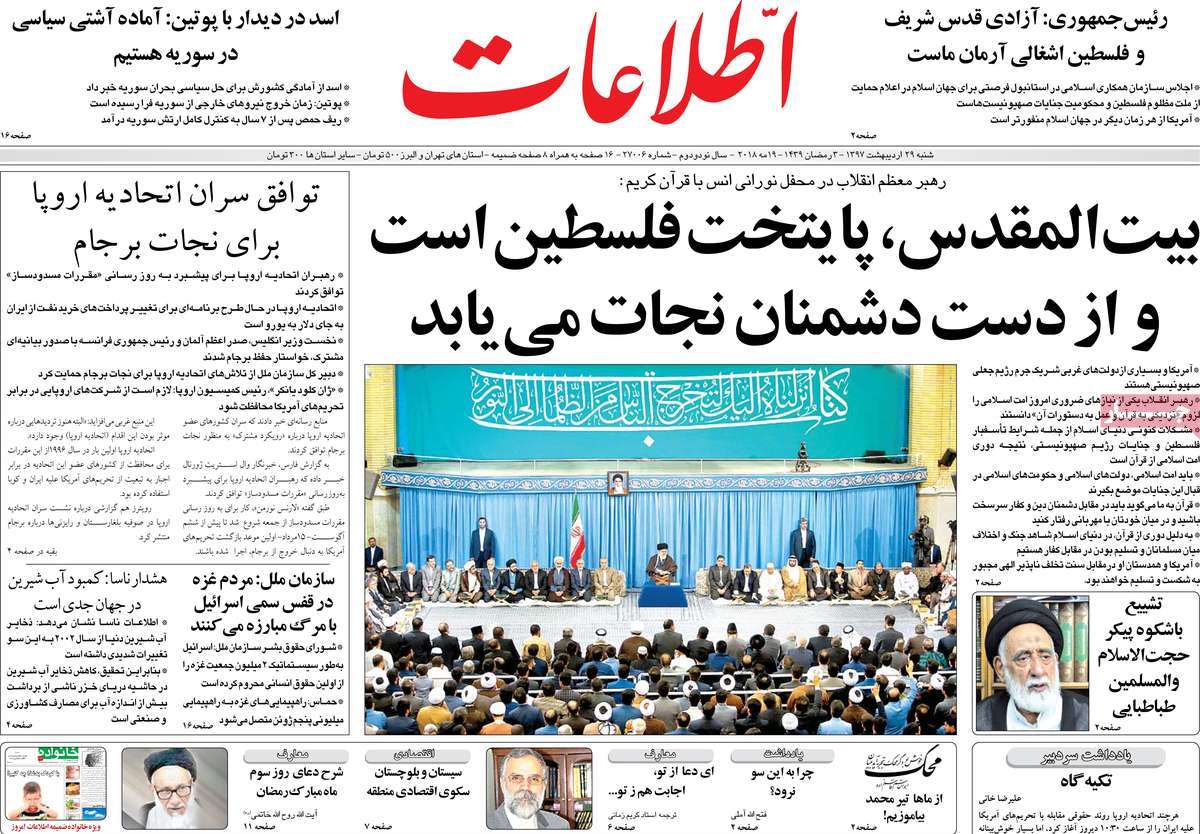 ---
Farhikhtegan:
1- Kevin Barrett: US Violation of Its Commitments Not Limited to Trump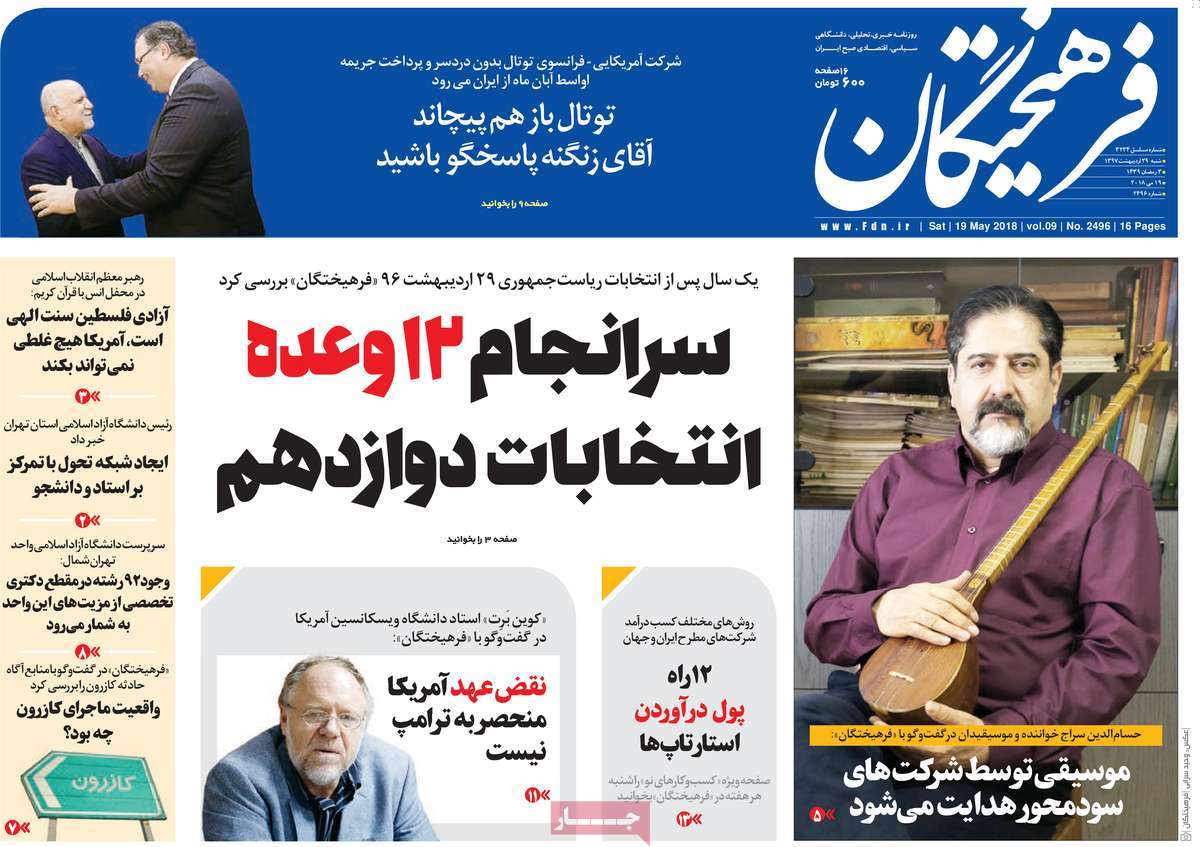 ---
Iran:
1- Europe's Great Wall against Sanctions
2- Addressing OIC Meeting in Istanbul, Rouhani Raises 6 Initiatives to Save Palestine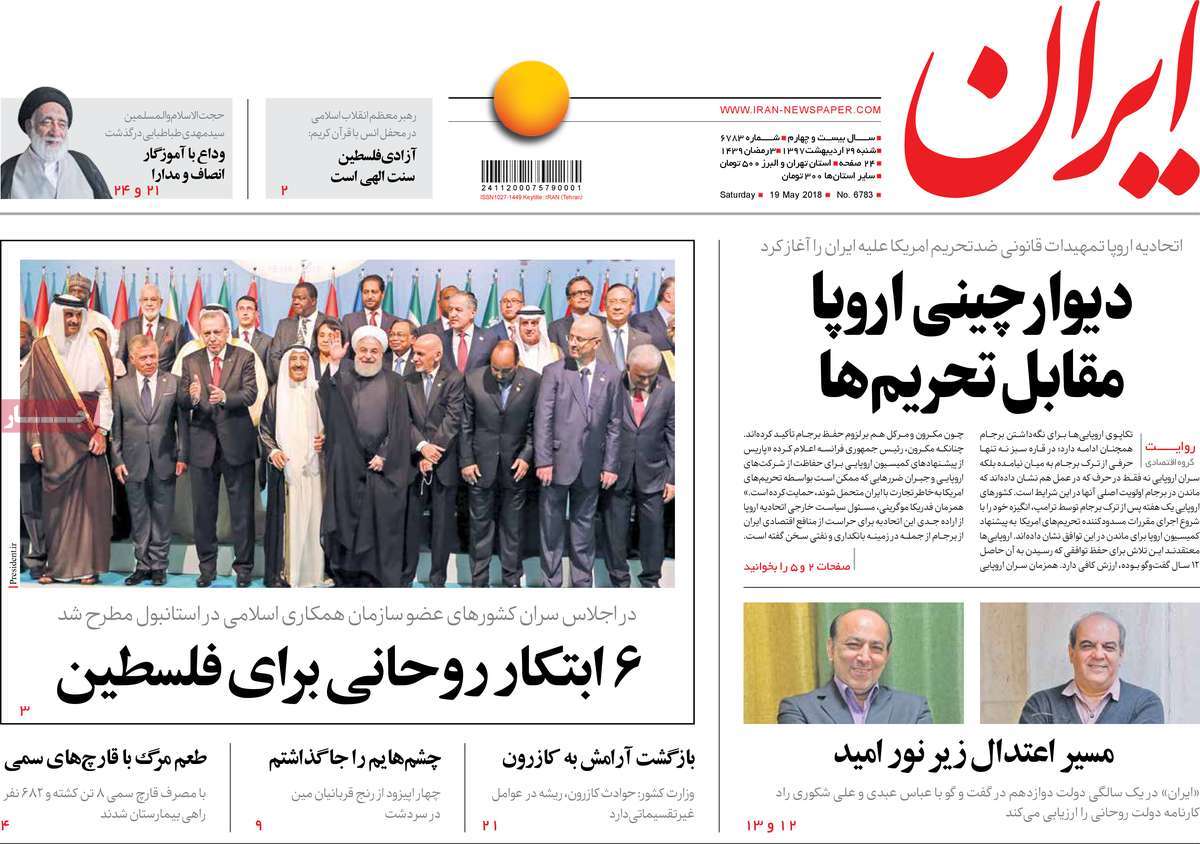 ---
Javan:
1- Gov't Distributes Some $8 Billion with Unified Rate
Foreign Currency Exchange Offices to Resume Operation with Specific Regulations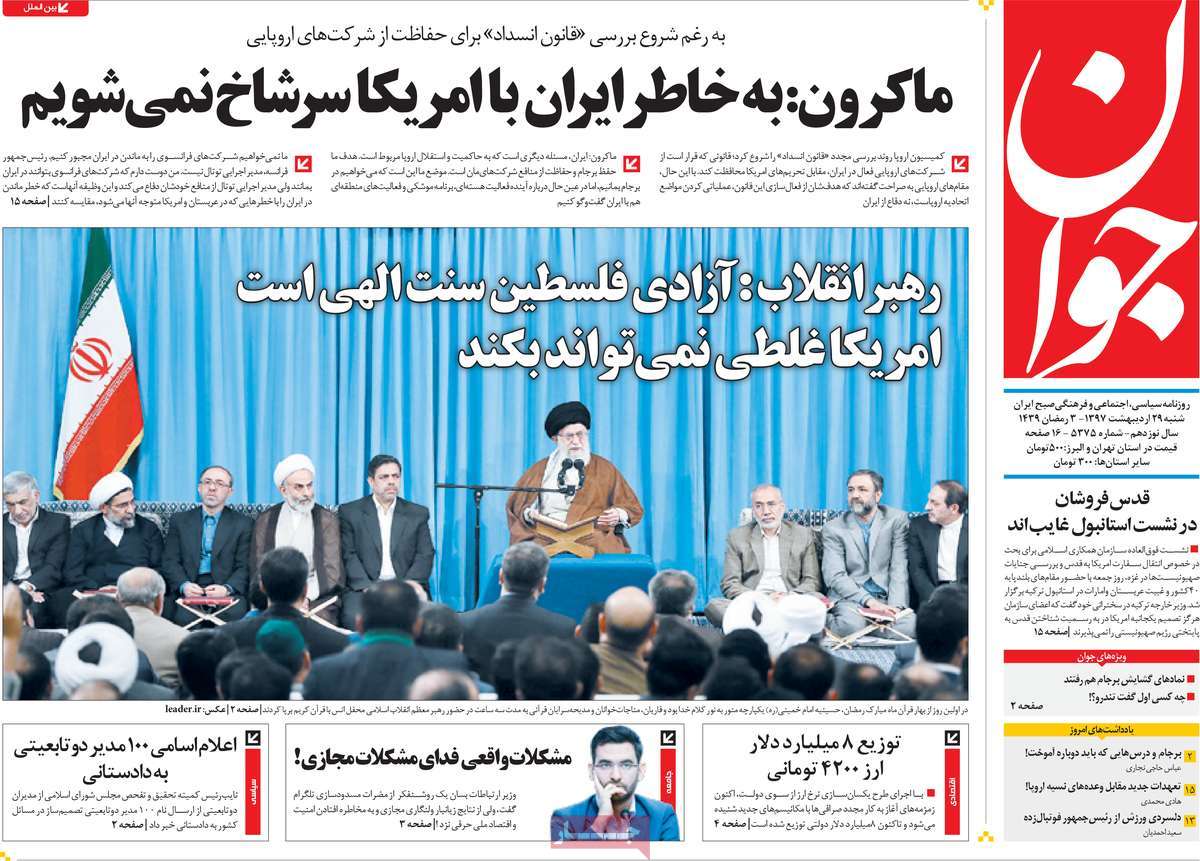 ---
Kayhan:
Iran Leader: Muslims Can Defeat Enemy If They Get Closer to Quran
Outraged by Being Compared with Libya, Pyongyang Threatens to Leave US Talks
Kayhan's Report on Secret behind Bin Salman's Disappearance Widely Covered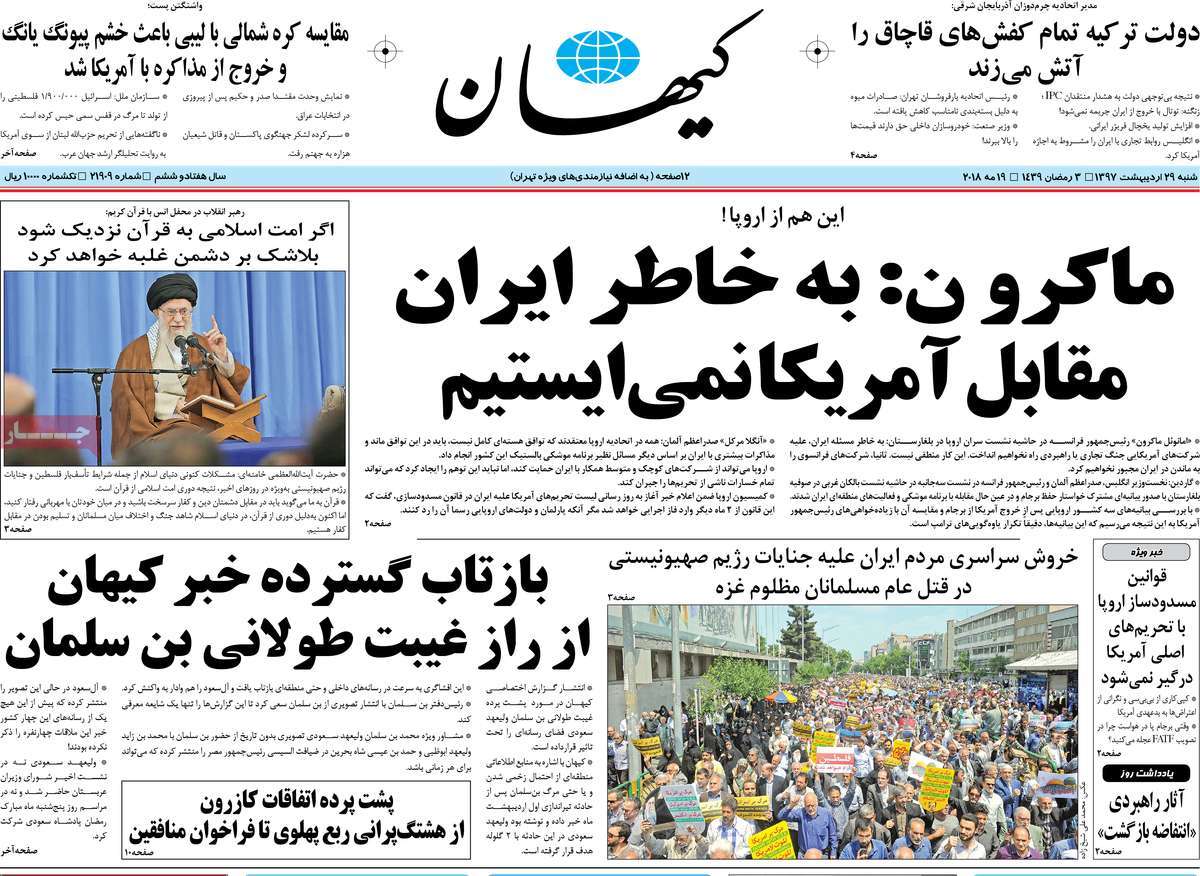 ---
Resalat:
1- Rouhani: Muslim World Today Hates US More than Ever
---
Sazandegi:
1- JCPOA to Remain in Place
Europeans Pass Law to Counter US Sanctions on Iran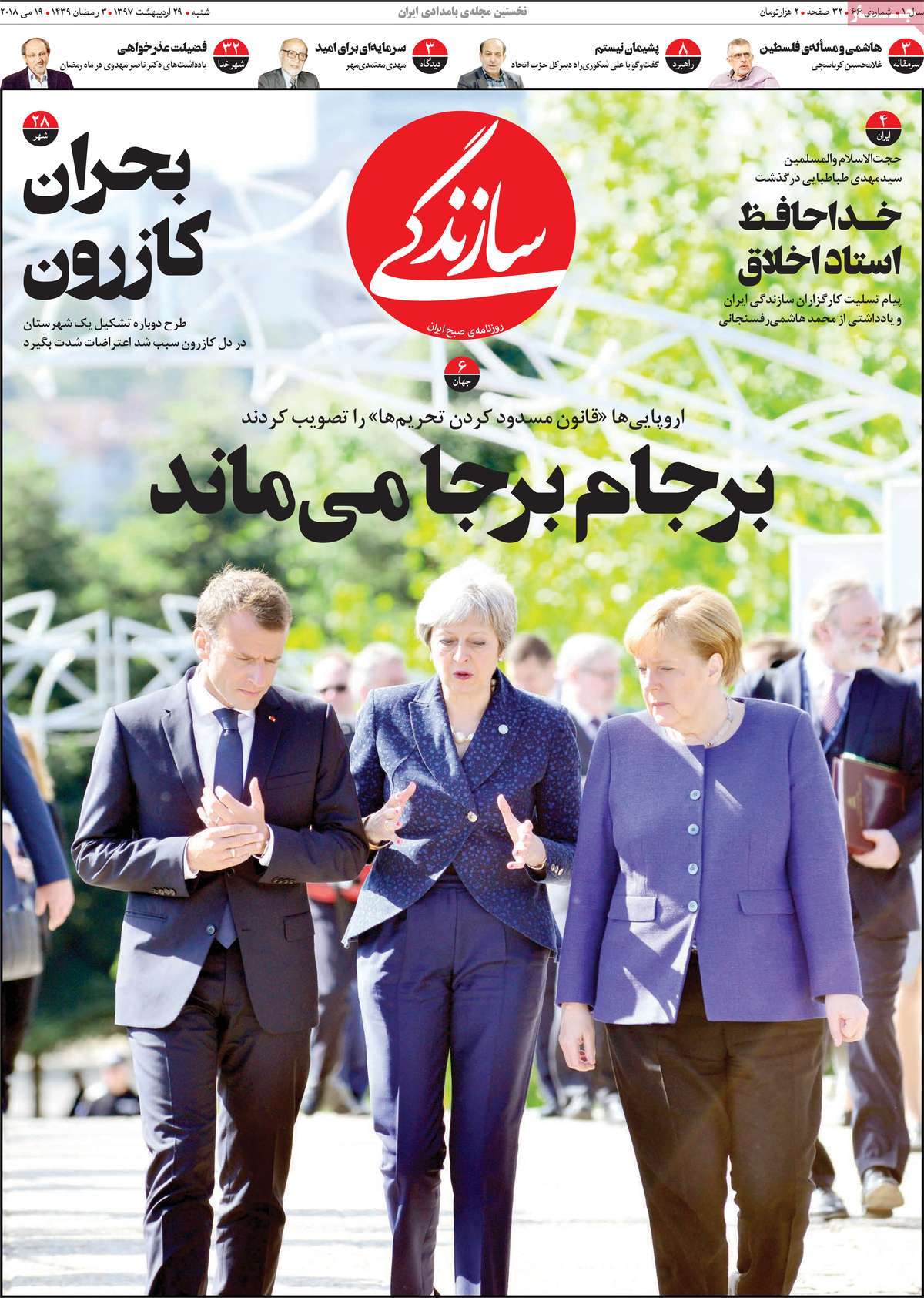 ---
Setareh Sobh:
1- Minister: US Seeks to Cause Oil Prices to Hike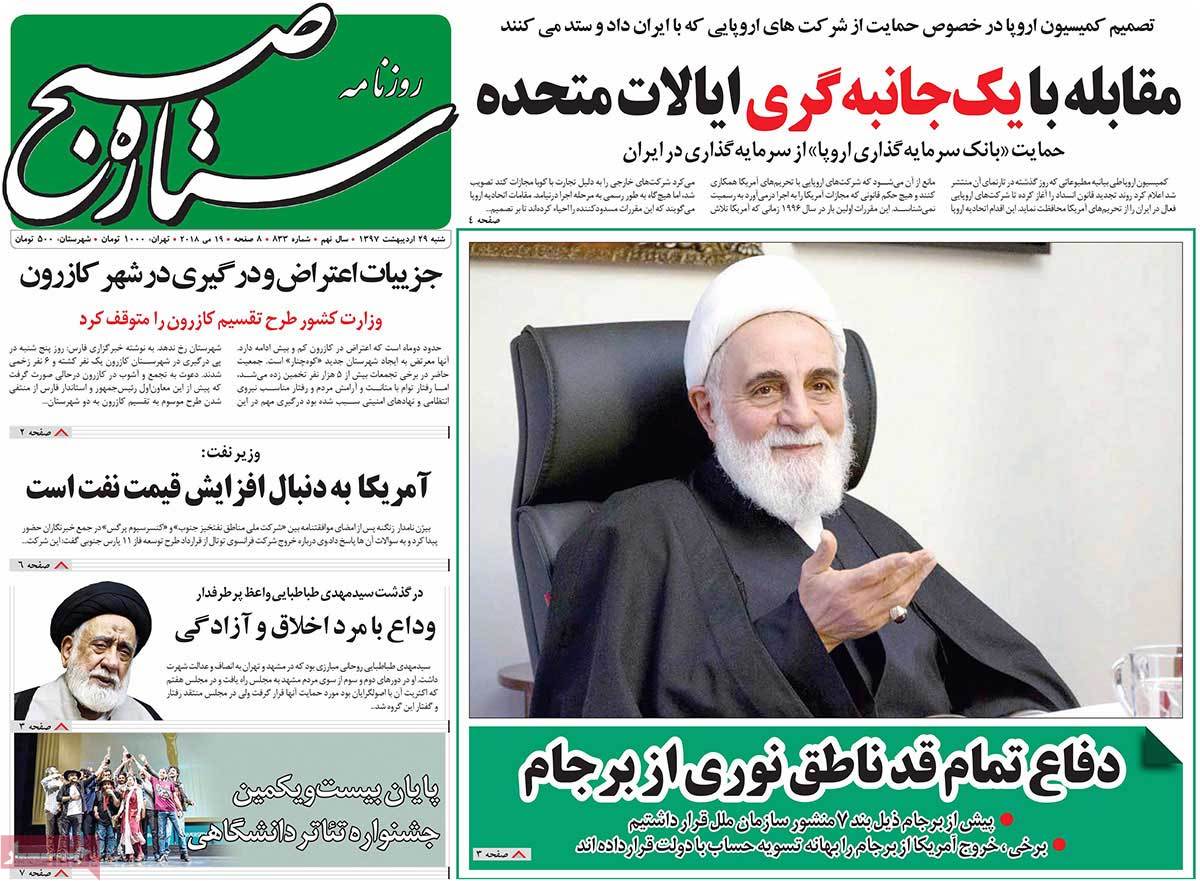 ---
Shargh:
1- Europe's Last Effort to Save Iran Nuclear Deal
2- Russia to Leave Syria
---
SMT:
1- End of Dollar-Based Economy
Experts Talk about Advantages of Replacing USD with Euro
---
Ta'adol:
1- Medium Enterprises Arriving in Iran's Oil Industry
Iran Signs New Oil Deal with UK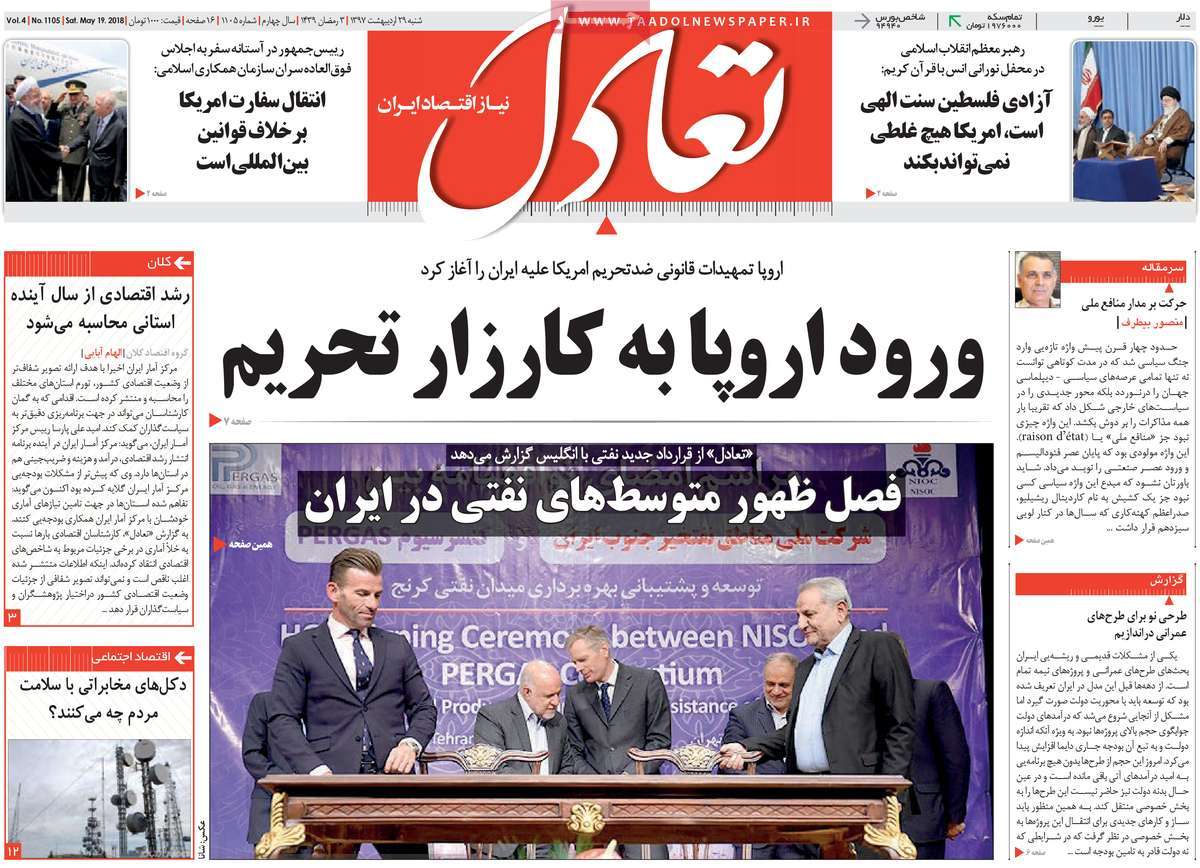 ---
Tafahom:
1- Iran Earns $450 Million by Exporting Medicinal Herbs
Growing Medicinal Plants More Cost-Efficient than Growing Wheat, Barley