Comments by Ali Akbar Velayati, an advisor to the Supreme Leader, and Foreign Minister Mohammad Javad Zarif about nuclear talks with P5+1, the US in particular, dominated the front pages of Iranian dailies on Monday.
Abrar: A motion to summon the minister of sports and youth to parliament has been presented to the Presiding Board of the Islamic Consultative Assembly.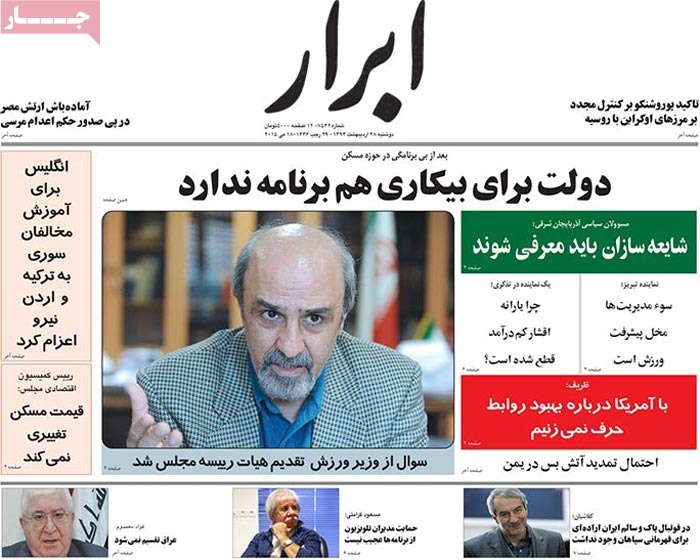 ---
Afkar: "We are not talking to the US to improve bilateral ties," said Foreign Minister Mohammad Javad Zarif.
Afkar: "We'll take no prisoner when it comes to trying the corrupt," said the deputy judiciary chief.
Afkar: "The Sabalan Mountain is to be registered as a world site within four years," said the director of the Cultural Heritage, Tourism and Handicrafts Organization.
---
Aftab-e Yazd: "The uptick in crime rate is alarming," said Chairman of the Expediency Council Ayatollah Akbar Hashemi Rafsanjani.
Aftab-e Yazd: President Rouhani has ordered those who acted against the rules in what happened in Tabriz to be seriously dealt with.
An announcement by yet-to-be-identified officials that made the fans of the city's powerhouse football club falsely believe that their team is the champion of the Premier League sparked chaos in the northwestern city.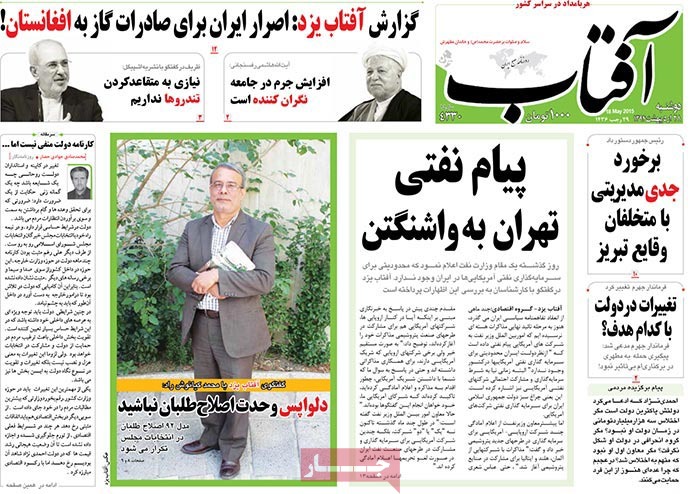 ---
Arman-e Emrooz: The governor who supported [Ali] Motahari [after he was attacked by hardliners in Shiraz] has been sacked.
A controversial move by the Interior Ministry and Fars Provincial Governor's office!
Arman-e Emrooz: Is Tehran Mayor Mohammad Bagher Ghalibaf only one step away from impeachment?
The capital's Espinas Hotel has turned into a headache for the mayor.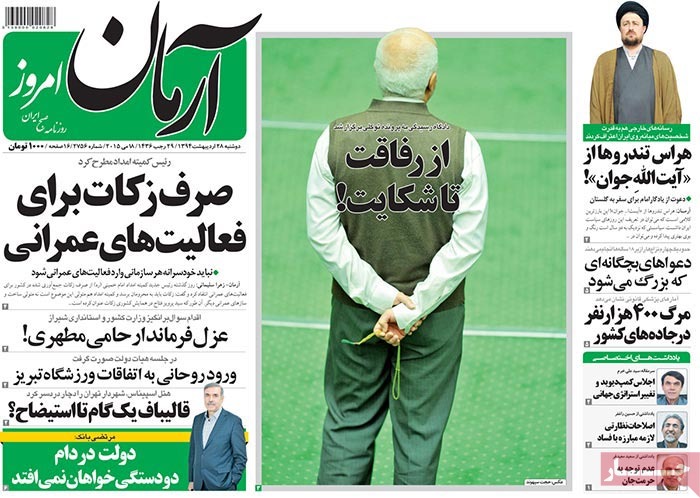 ---
Asrar: "Some seek to distort the environmental measures of the government," said the director of the Environment Protection Organization.
Asrar: "The number of thefts registered an 11 percent decline in the 30 days to April 20," said the director of the Criminal Investigation Department of Tehran Police.
---
Emtiaz: There are no pediatric surgeons in 13 Iranian provinces.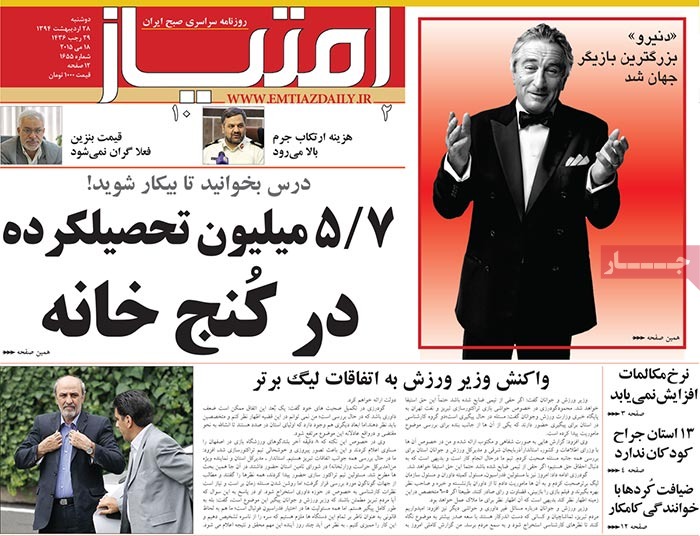 ---
Ettela'at: "Iran's economic growth is projected to be around 3 percent this year," said the governor of the Central Bank of Iran.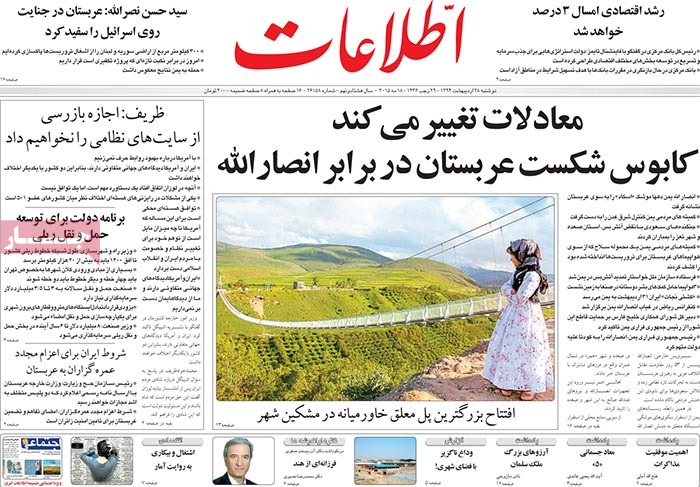 ---
Haft-e Sobh: The Persian service of Voice of America is to fall silent.
What lies behind the decision: Budget crunch, a decline in the number of listeners or the nuclear talks?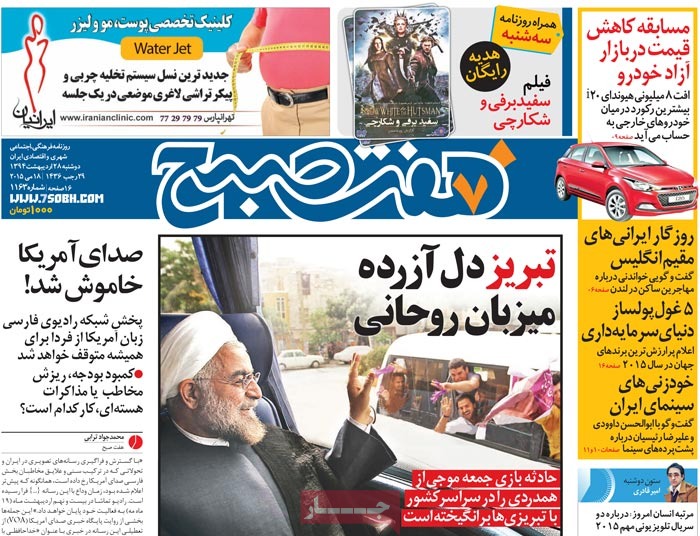 ---
Jomhouri Islami: The foreign ministers of Iran, China and Russia have held talks over shipment of aid to Yemen.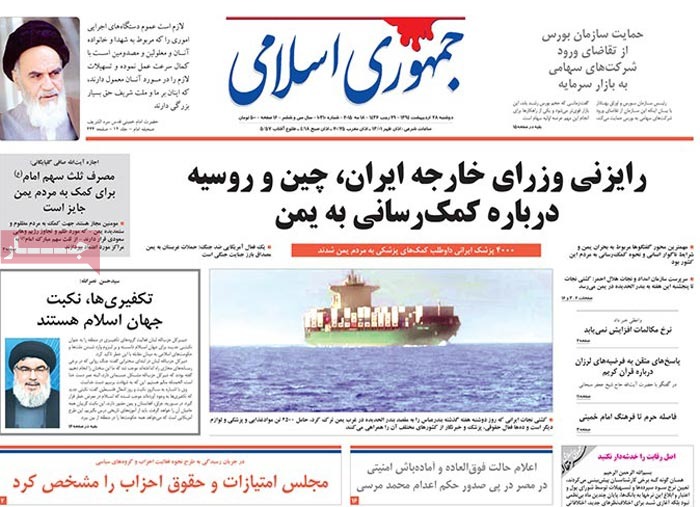 ---
Kayhan: "Our nuclear red lines remain the same," said Ali Akbar Velayati, an advisor to the Supreme Leader.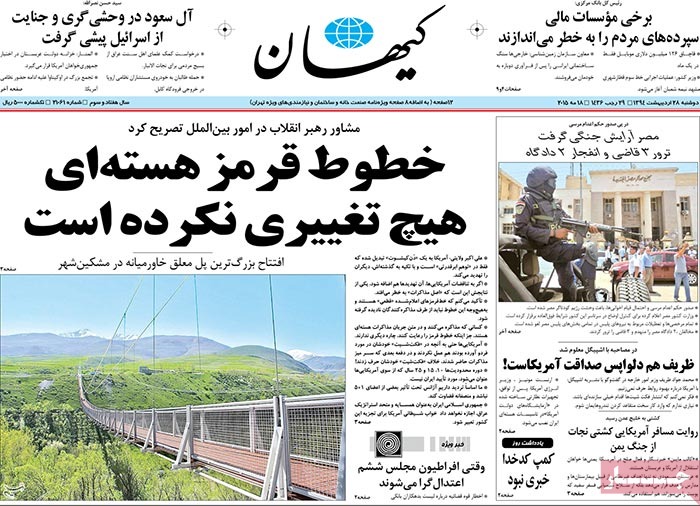 ---
Resalat: "Military threats [by the US] put nuclear talks at stake," said the Supreme Leader's advisor Ali Akbar Velayati.
He further said that the US secretary of state says something in public and another in private.