On Monday, a recent motion was passed by the Iranian Parliament which urged the administration to pursue compensation from the US for various damages. This was a hot story in almost all newspapers.
The remarks by Deputy Foreign Minister Seyyed Abbas Araqchi on the country's banking ties after the nuclear deal were also widely reported.
Iranian newspapers also focused on Ayatollah Akbar Hashemi Rafsanjani's criticism of his daughter Faezeh over her visit to a Baha'i figure.
Abrar:
1- Russia Seeking to Build New Nuclear Train
2- Araqchi: They Want Iran to Be Unable to Benefit from JCPOA
3- 200 Finnish Economists to Visit Iran
4- Parliament Approves Motion Urging US to Pay Compensation to Iran
---
Abrar-e Eqtesadi:
1- Oman to Provide Excusive Port for Iranian Businessmen
2- Iran Welcomes Oil Partnership with China
3- 82% of Economy Controlled by Gov't
4- Petrol to Be Produced for Export in New Refineries
---
Afkar:
1- Children in Tehran Suffer from Vitamin D Deficiency
2- Drug Addiction Kills More People in US than Car Accidents
3- Amoli Larijani: Arab and Colonialist Gov'ts Have Turned Struggle with Iran to the Region's First Priority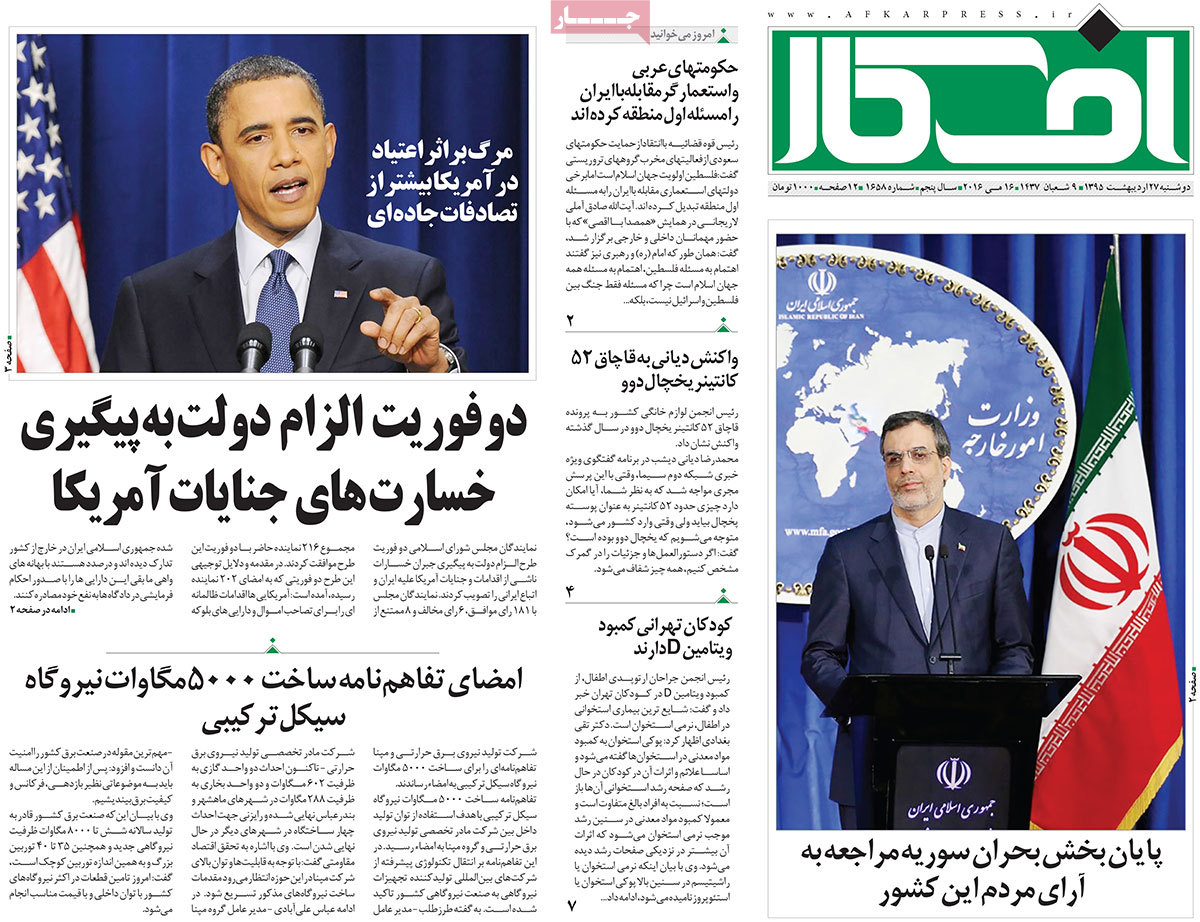 ---
Aftab-e Yazd:
1- Many Independent MPs Express Readiness to Join [the Reformist] "Faction of Hope"
2- Interactive Foreign Policy to Create Wealth
3- Instead of Focusing on Hijab Issues, Tackle Increasing Suicides: Governor-General
4- Suspicious Death of 2-Year-Old Boy after Circumcision
5- Two-Faced Behaviour of Certain MPs-Elect: Appearing in Photos with Aref, Voting for Larijani [for next Parliament speaker]
6- Betrayal Is Second Most Common Grounds for Divorce in Iran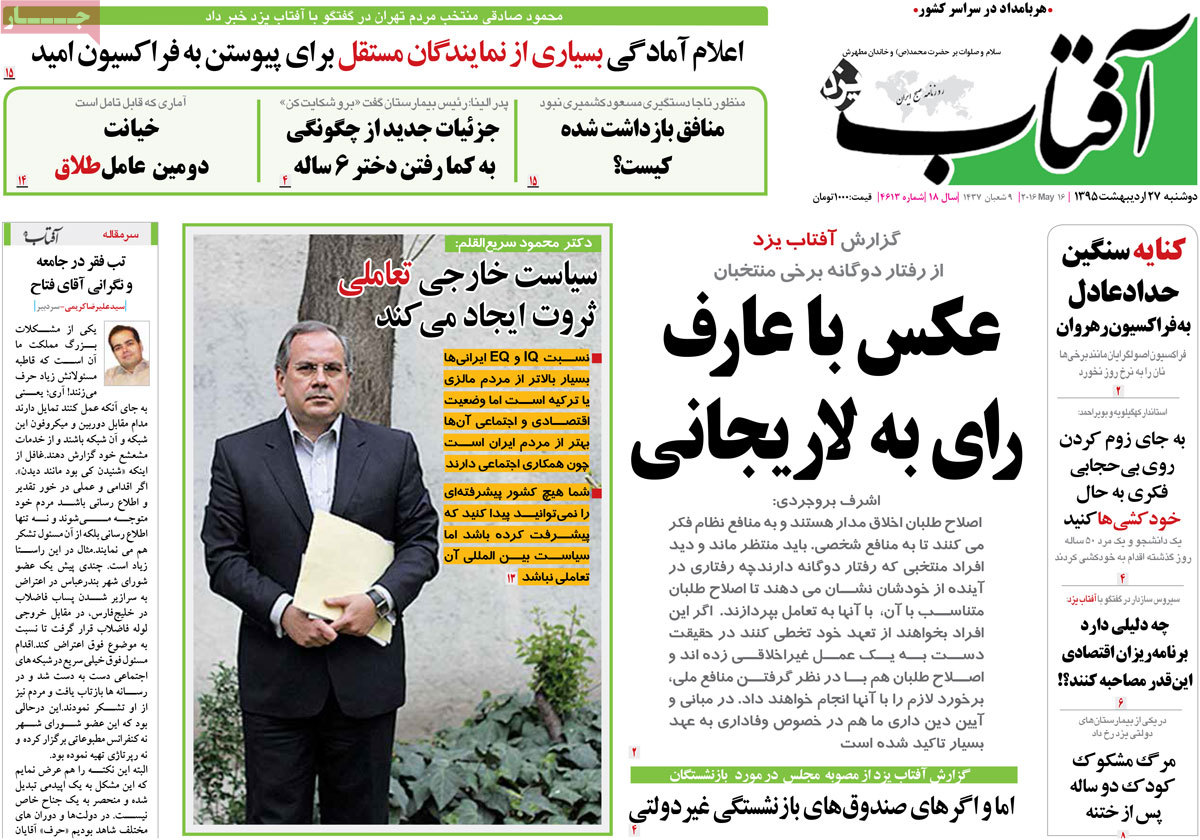 ---
Akhbar-e San'at:
1- Luxury Cars Piled Up in State Warehouses
2- Aeroplane-Makers from 5 Countries Competing to Enter Iranian Market
3- Railway Corridor to Be Launched Connecting Iran's Bandar Abbas to Russia's Moscow and Finland's Helsinki
4- Contract between Saipa and Citroen to Be Signed Soon
5- Iran Needs 50,000MW New Power Capacity: Minister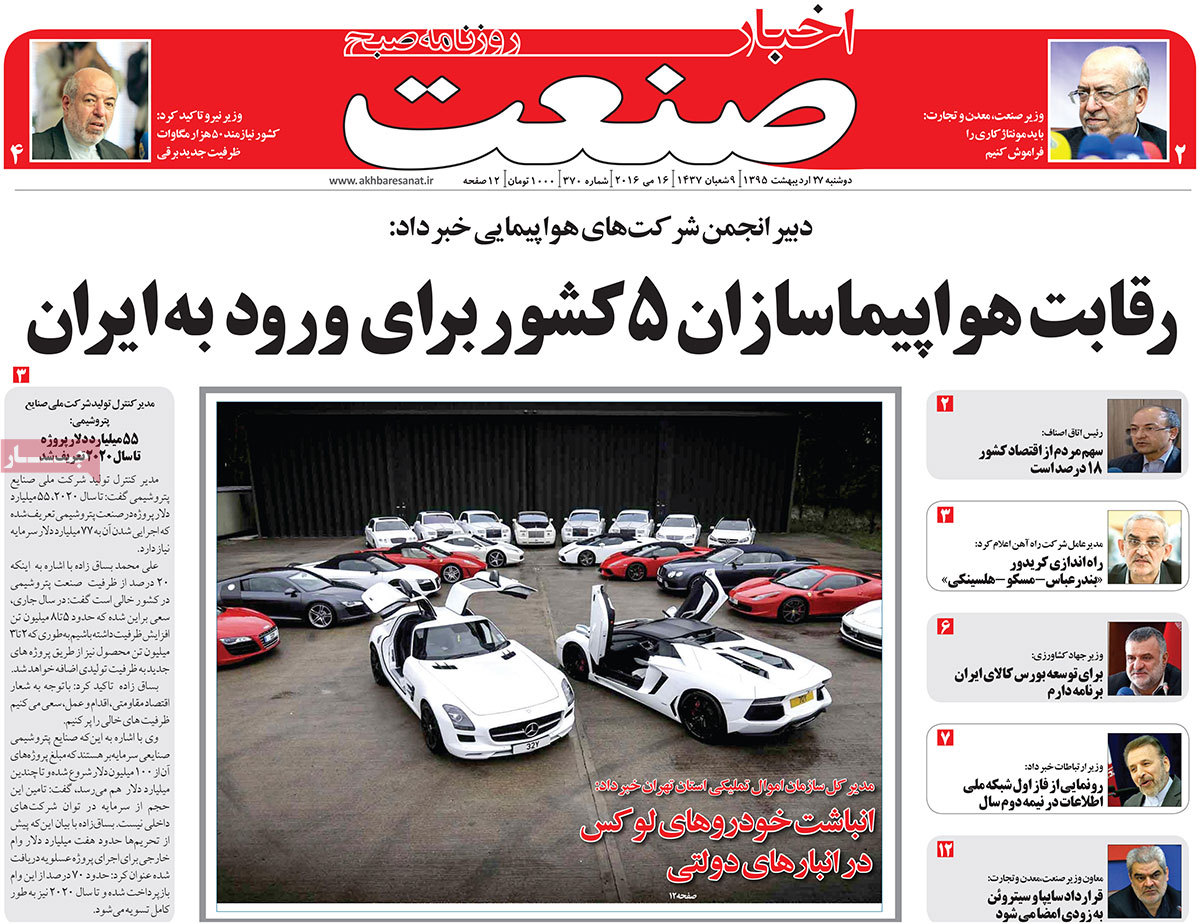 ---
Arman-e Emrooz:
1- Faezeh Should Make Amends for Her Actions: Rafsanjani [He criticized his daughter's meeting with a Baha'i figure in Tehran, calling on her to correct her "bad mistake"]
2- Arrested Criminal Linked to Haft-e Tir Bombing Is a Woman
3- 19 Divorces Every Hour in Iran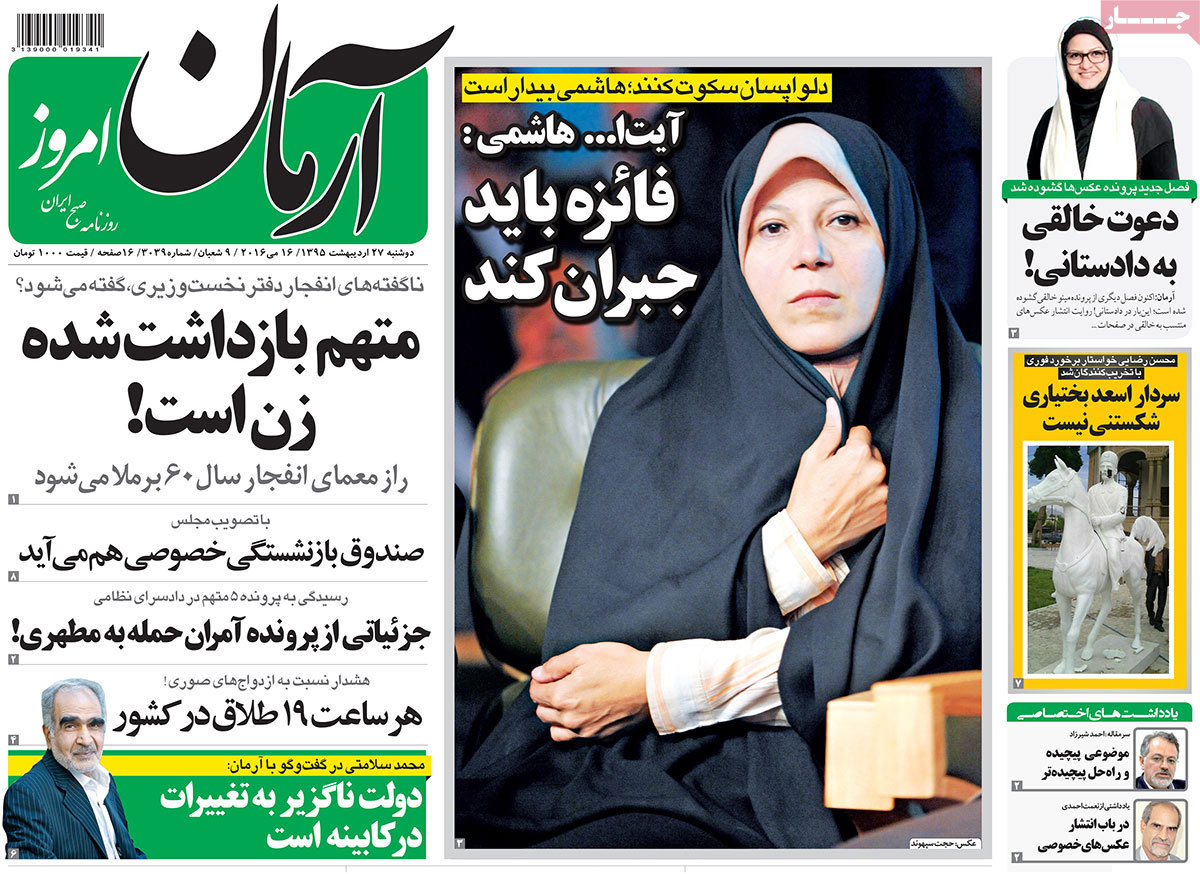 ---
Asia:
1- 36 Countries, Including US, Increase Activities in Tehran Stock Exchange after JCPOA
2- 18 Countries Seeking to Open Offshore Banks in Iran's Free Zones
3- Amazon Starts Delivering Goods to Iranian Users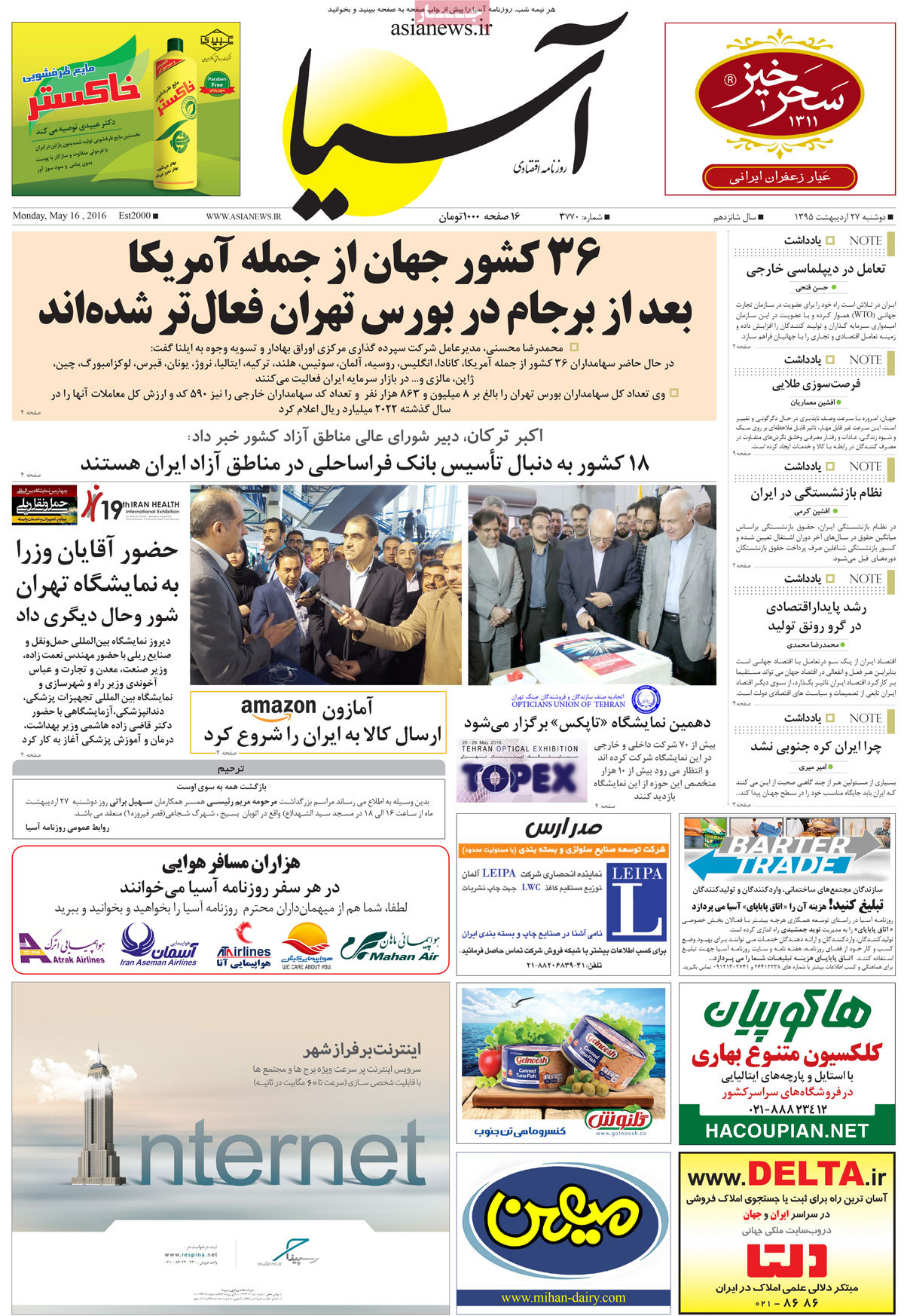 ---
Bani Film:
1- Salesman Will Attract Cinemagoers: Asghar Farhadi
---
Emtiaz:
1- 3 Divorces Registered Every Minute in Iran, Official Warns
2- Full Intelligence and Judicial Control over Instagram and Facebook: Prosecutor-General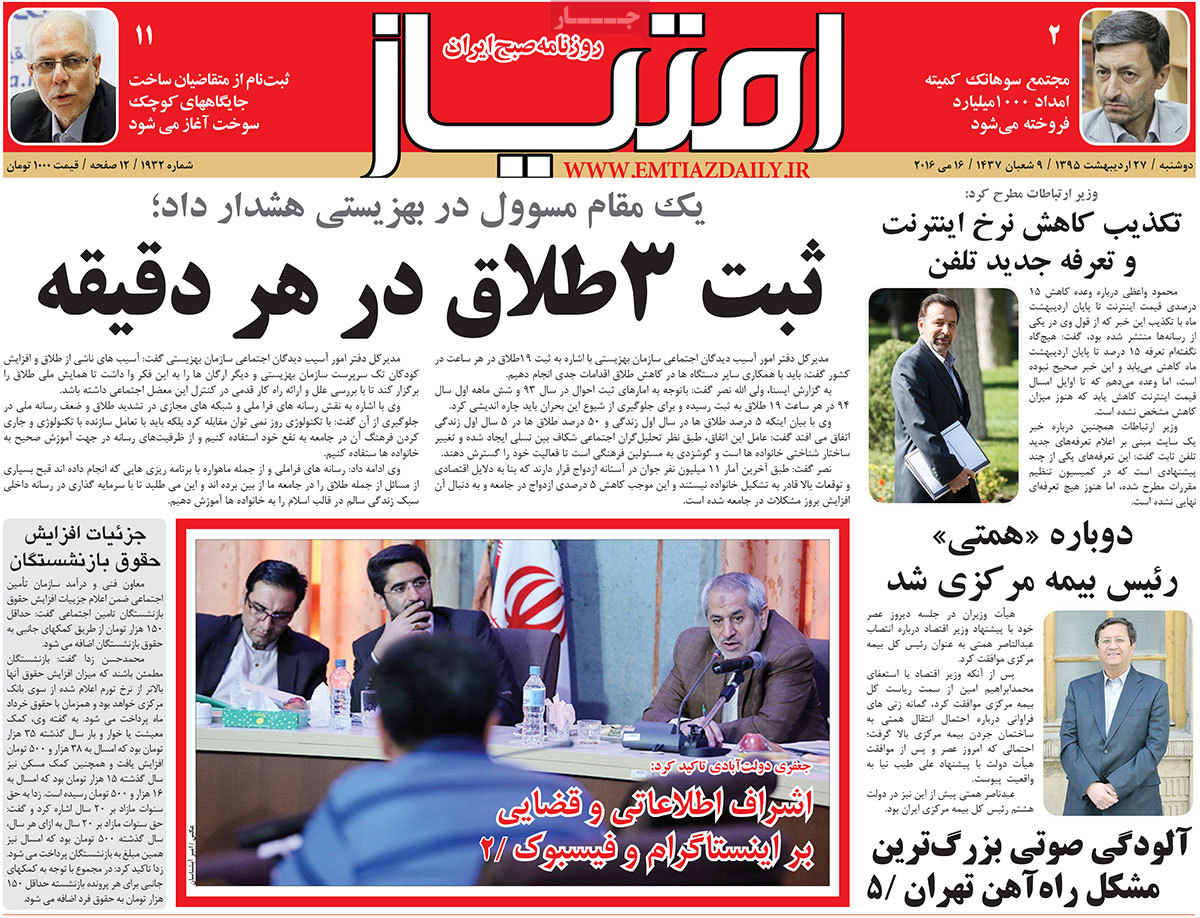 ---
Etemad:
1- Modelling Project in Iran: Prosecutor-General Says 170 Managers of Fashion Design Channels Identified
2- Palestine Is Criterion for Measuring Human Rights Claims: Iran Judiciary Chief
3- Bin Nayef vs. Bin Salman: Duel of Saudi Princes Gets More Serious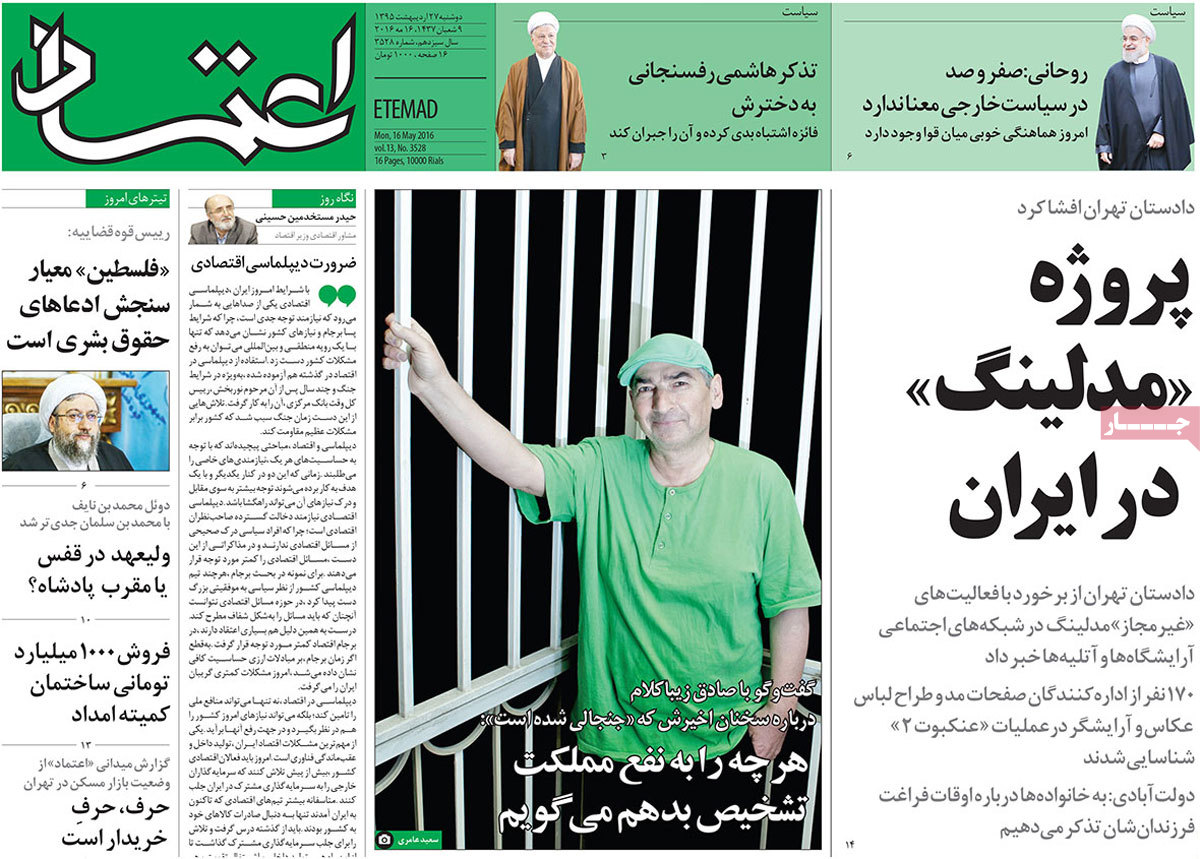 ---
Ettela'at:
1- Bright Future for Iranian Nation in World Interaction: Rouhani
2- US and Turkey Agree to Support Syrian Opposition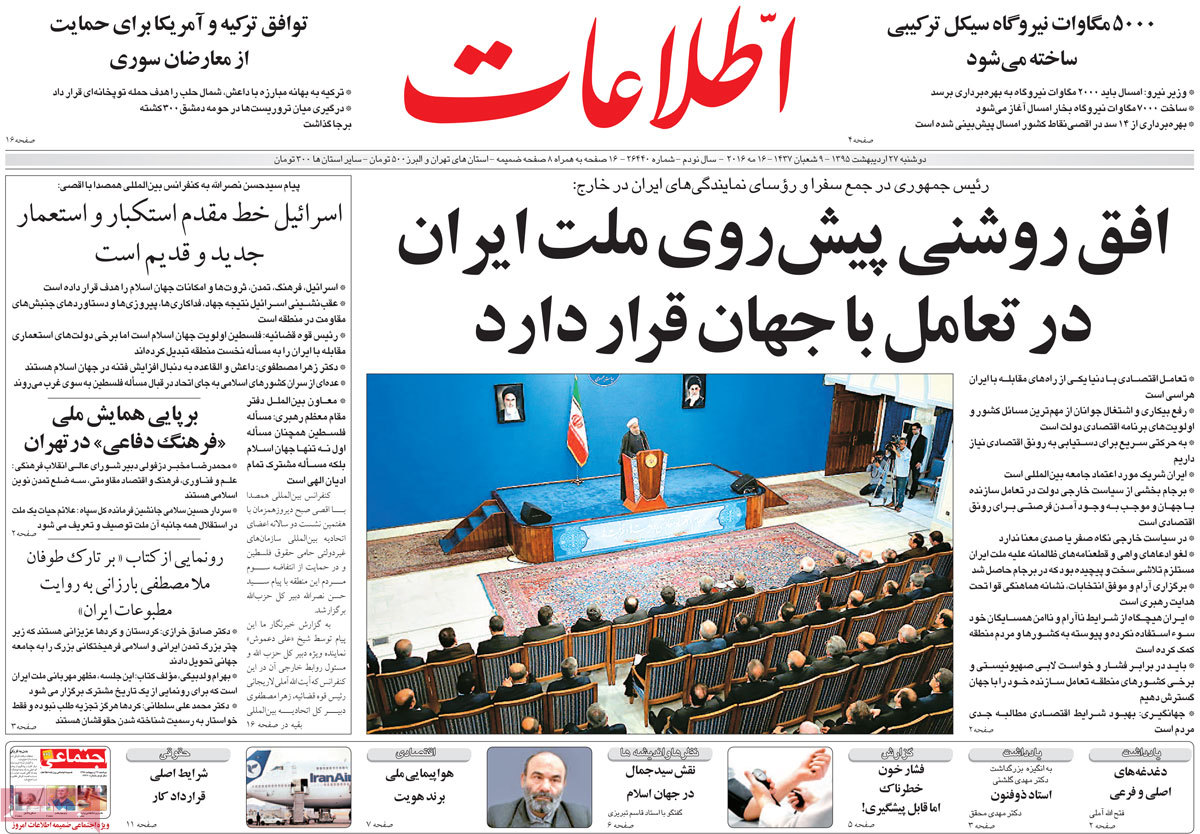 ---
Ghanoon:
1- 2 Street Musicians Talk about Playing Bach in Valiasr Street
2- Sexual Harassment during School Break Times: Jurists Discuss Increasing Student Molestation
3- Venezuelan President Likely to Confiscate Factories
---
Haft-e Sobh:
1- After 18 Years, Iranian Man Returns Home from Denmark to Confess to Murdering His Wife
2- Who Was the Terrorist Arrested in Albania?
---
Hemayat:
1- Holocaust Cartoon Exhibition in Tehran Enrages Israeli PM
2- Tehran Prosecutor-General Gives Details on Arrest of Models in Cyberspace
---
Javan:
1- European Banks Yet to Begin Ties with Iran: Deputy FM Araqchi
2- Iran to Claim Compensation for 70 Years of US Crimes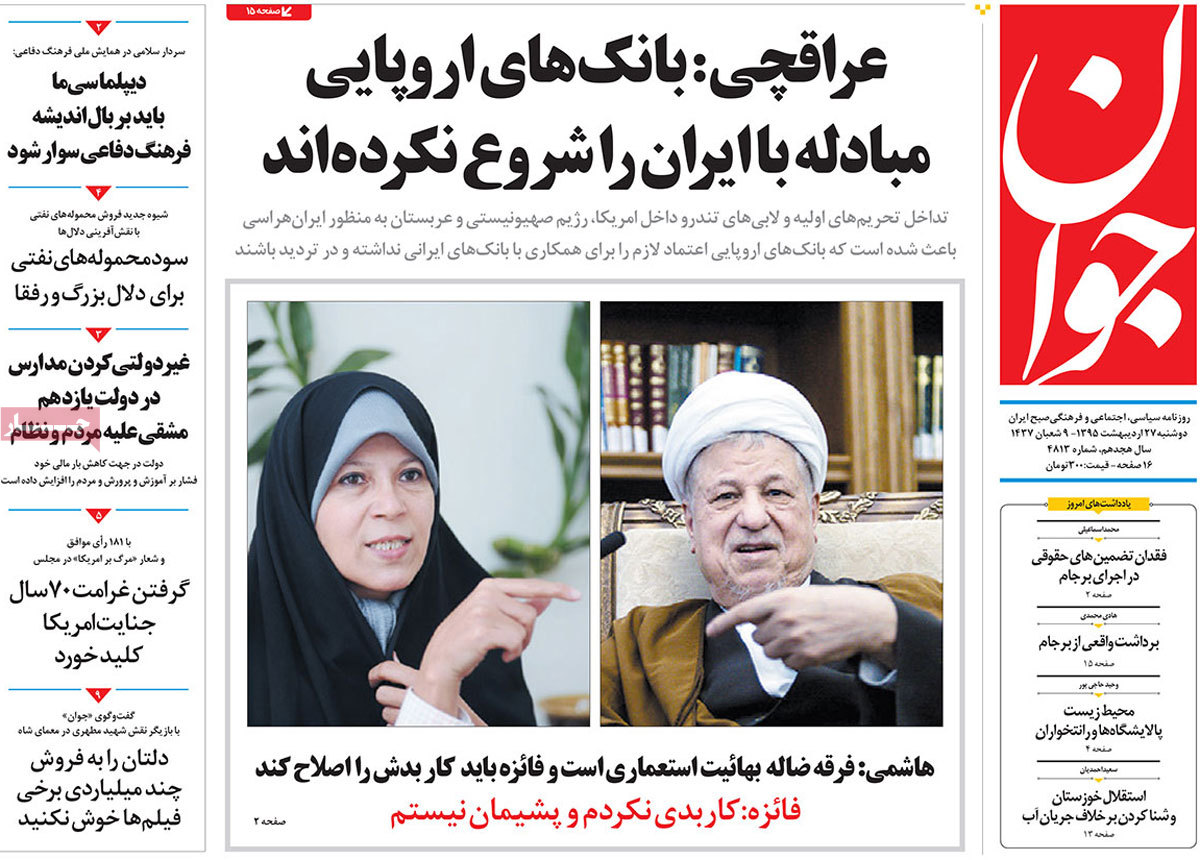 ---
Jomhouri Eslami:
1- European Banks Have Not Asked Iran for Any Guarantee or Set Any Condition: Deputy FM
2- Baha'i Faith Is a Deviant Cult Devised by Colonialism: Rafsanjani
3- Iran Is a Reliable Partner for Int'l Community: Rouhani
4- Former French Female Ministers Condemn Sexual Harassment
5- Int'l Conference of Sympathy with Al-Aqsa [Mosque] Held in Tehran
6- Iran Looking for Expansion of Economic Influence in Indian Ocean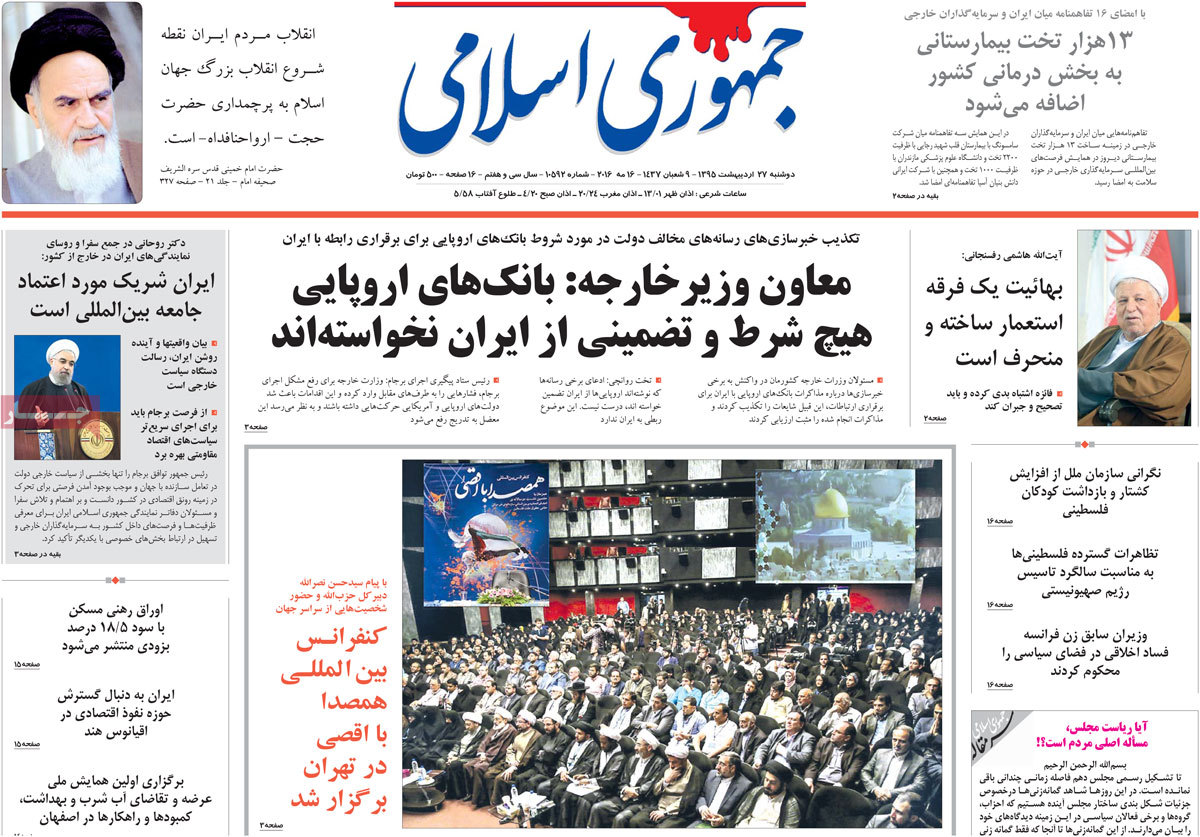 ---
Kayhan:
1- Unemployment and Economic Downturn Were Results of Aristocratic Management
2- Occupied Palestinian Territories Turned into Barracks on Nakba Day
3- Baha'i Faith Originated from Britain, the Haven of Faezeh and Mehdi Hashemi Rafsanjani
4- Erdogan Has Regional Nations' Blood on His Hand: Kilicdaroglu
---
Resalat:
1- Iran Still under Sanctions: US Secretary of Treasury
2- Issue of Palestine, the War between Islam and Non-Believers: Judiciary Chief
---
Shargh:
1- UN Envoy Discusses Iran's Role in Choosing New UN Secretary-General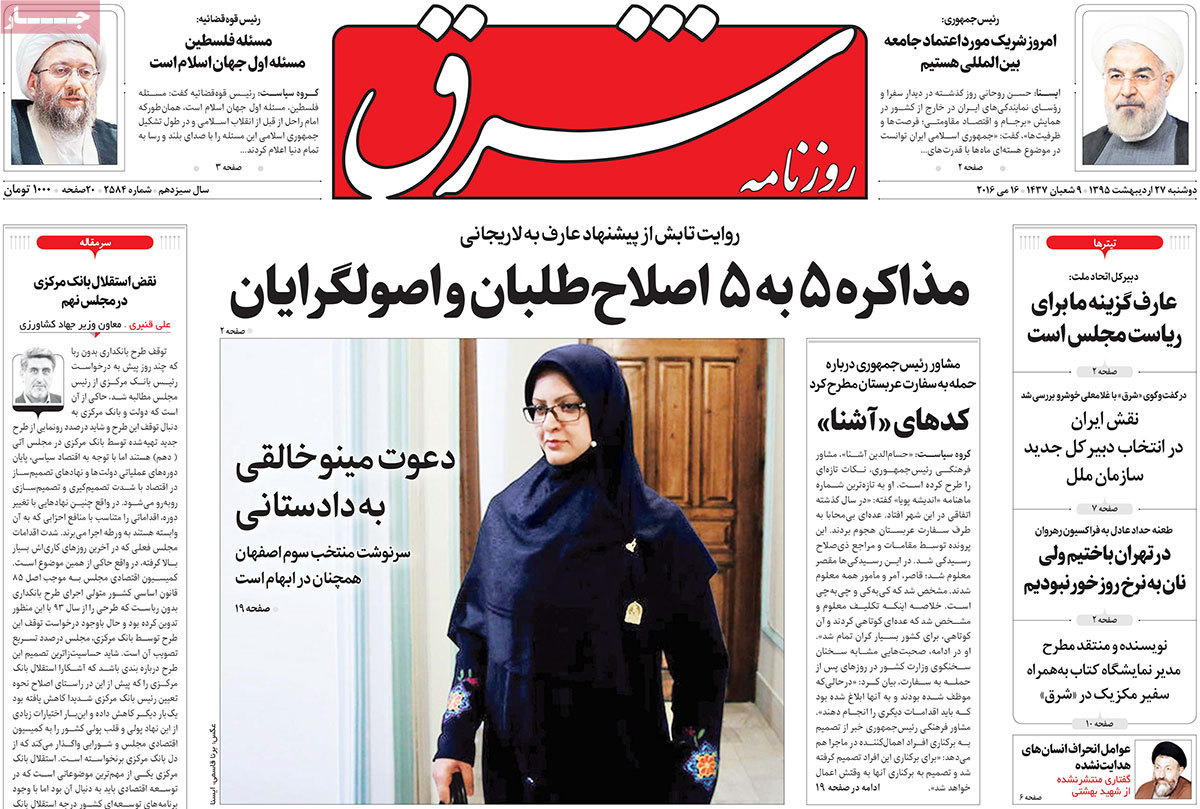 ---
Vaghaye Ettefaghieh:
1- Indian Ocean Free Zones Summit in Chabahar Is Golden Opportunity: President's Advisor
2- Saudi Arabia, Axis of Tension with Iran
3- West Trying to Divide Tehran and Moscow in Syria
4- It's Important to Ensure Security of Critics: Rafsanjani
5- "Faction of Hope" Takes a Step to Interact with Conservatives [formation of a five-member working group to talk with conservatives]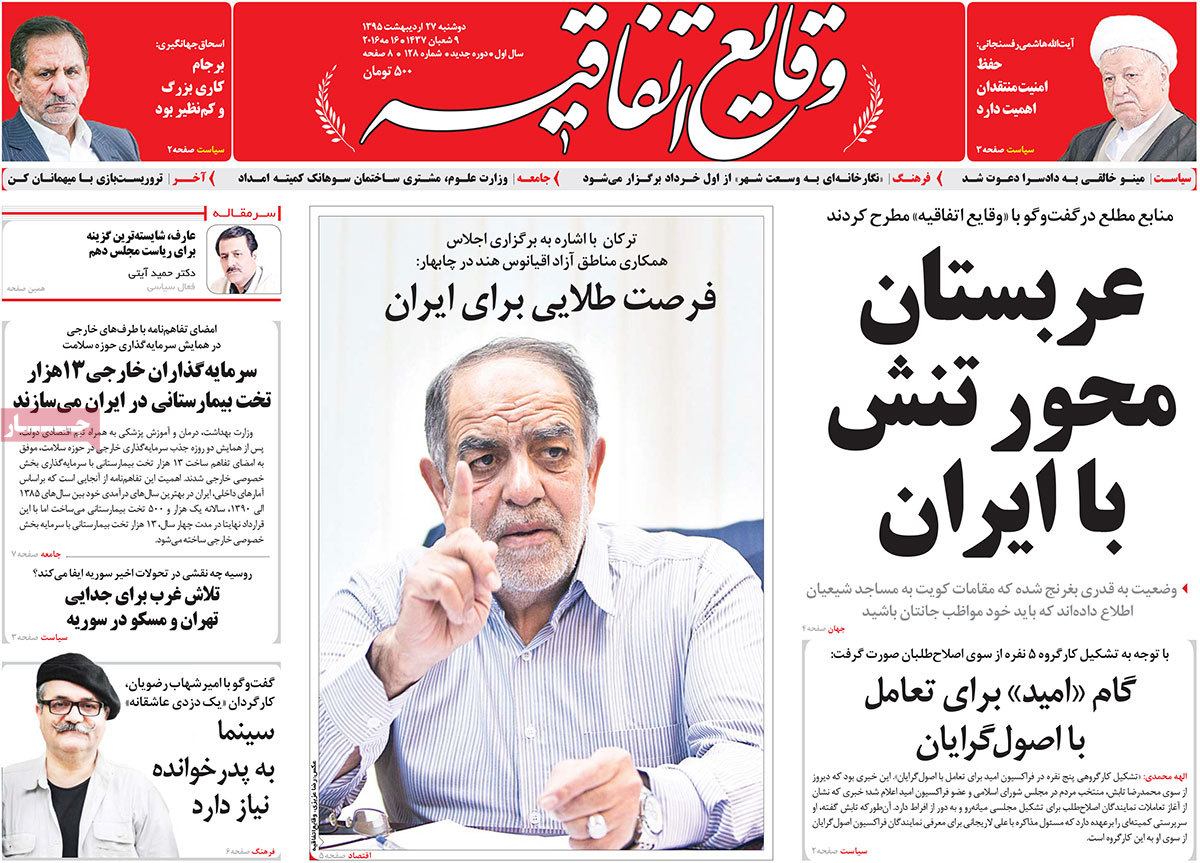 ---
Vatan-e Emrooz:
1- US Will Prevent Foreign Investment in Iran in Post-JCPOA Era: Rouhani's Advisor
2- Rafsanjani Says His Daughter Made a "Bad Mistake", Faezeh Says She Didn't Do Anything Wrong [on her meeting with Baha'i leader]