The top story in all papers today was the bloody day in the Gaza Strip, where at least 60 Palestinians were killed and hundreds of others wounded by Israeli forces.
The massacre came as the US was celebrating the relocation of its embassy in Israel from Tel Aviv to Jerusalem al-Quds, a move which has sparked outrage among the entire Muslim world.
Also a top story was the ongoing efforts by the Iranian government, particularly Foreign Minister Mohammad Javad Zarif, to get assurances from other parties to the Iran nuclear deal in an attempt to preserve the 2015 agreement after the US withdrawal.
The above issues, as well as many more, are highlighted in the following headlines and top stories:
Abrar:
1- Zarif to Lavrov: Russia's Official Position on JCPOA Very Promising for Iran
2- Lavrov: We Must Help Prevent Escalation of JCPOA Crisis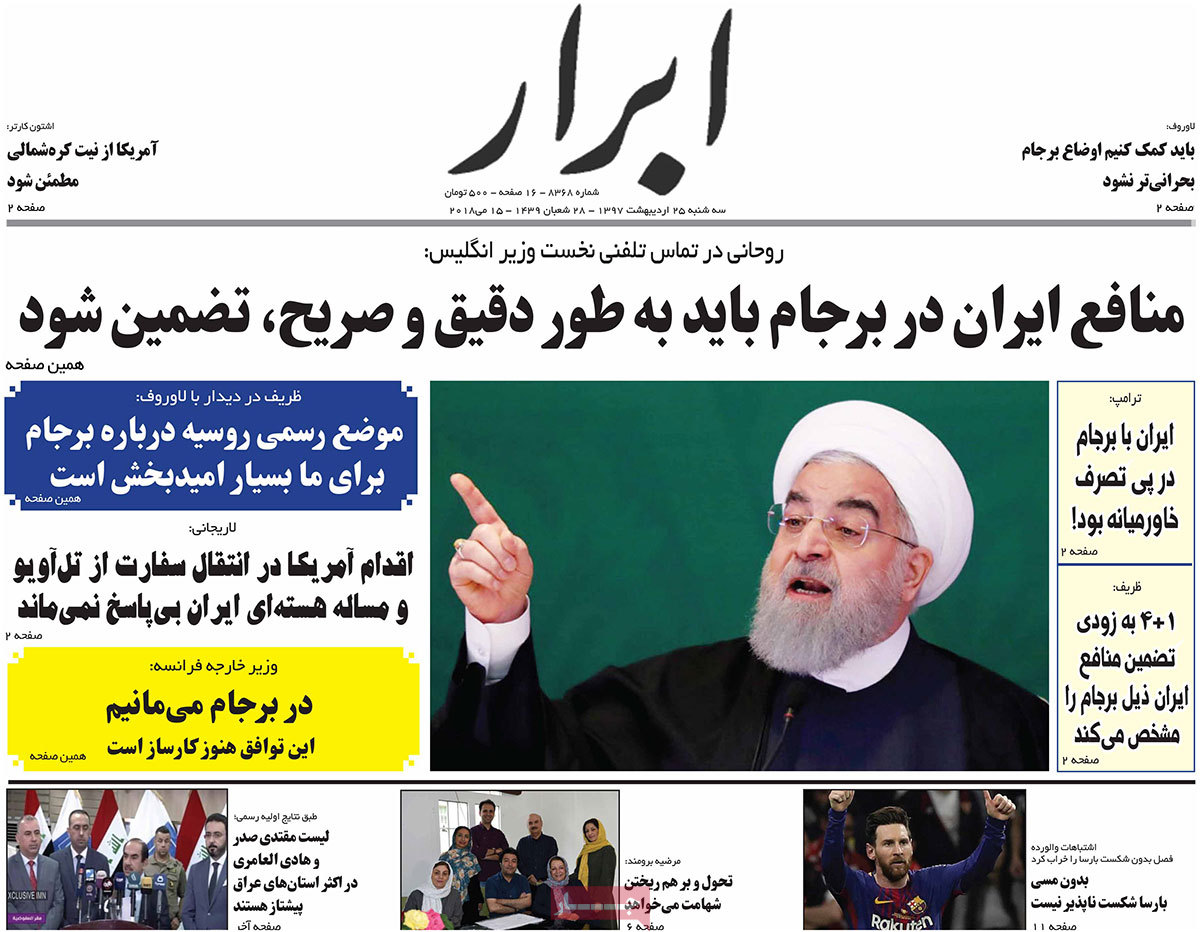 ---
Abrar-e Eqtesadi:
1- Iran Has No Floating Oil Storage without Customer
800 Million Barrels of Oil Exported from March 2017 to March 2018
---
Aftab-e Yazd:
1- Spreading Frustration amid Zarif's Efforts
Europe to Unveil Its Proposal Today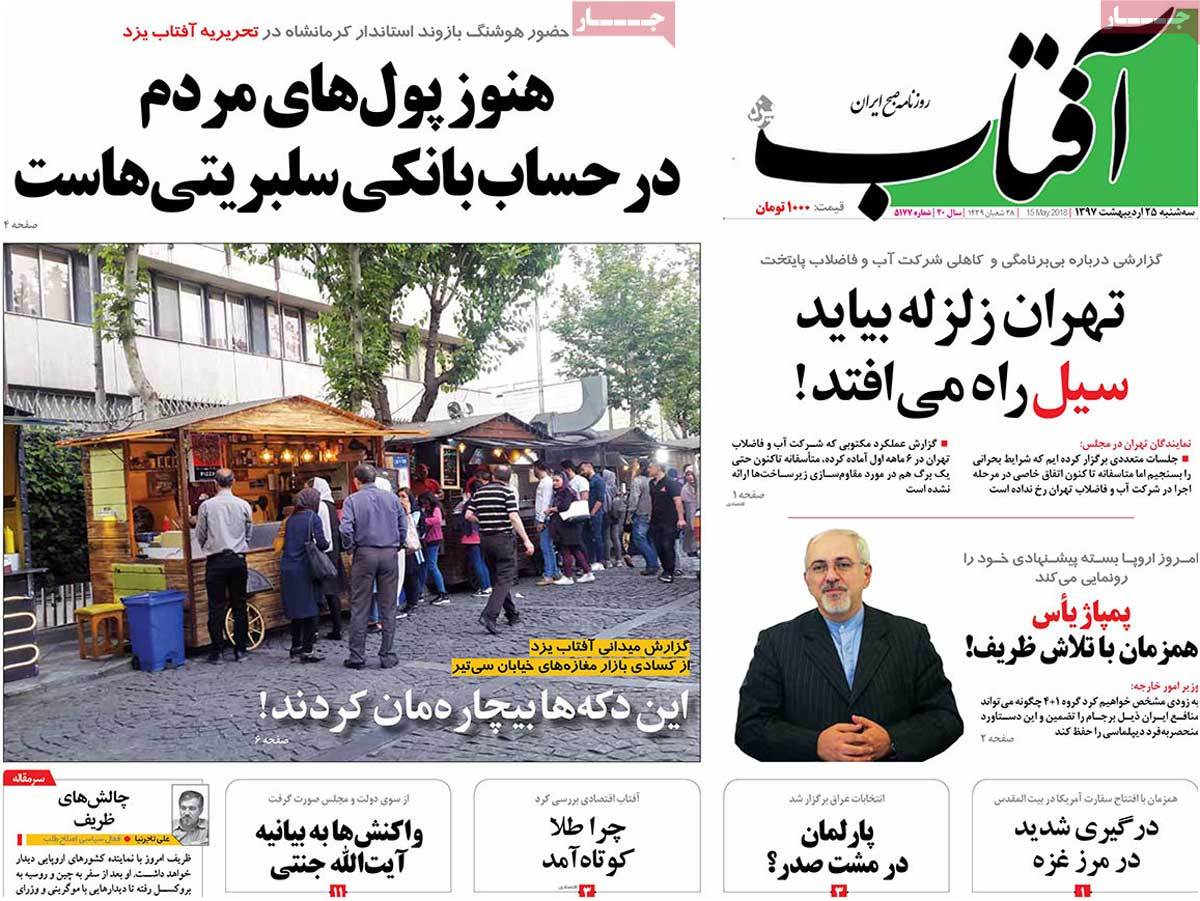 ---
Arman-e Emrooz:
1- Iran to Use Turkey's Water to Revive Lake Urmia!
Water May Be Transferred from Turkey's Lake Van
2- Zarif Once Again Starts Nuclear Talks Similar to What Led to JCPOA
We're Satisfied with Result of Talks with China, Russia: Zarif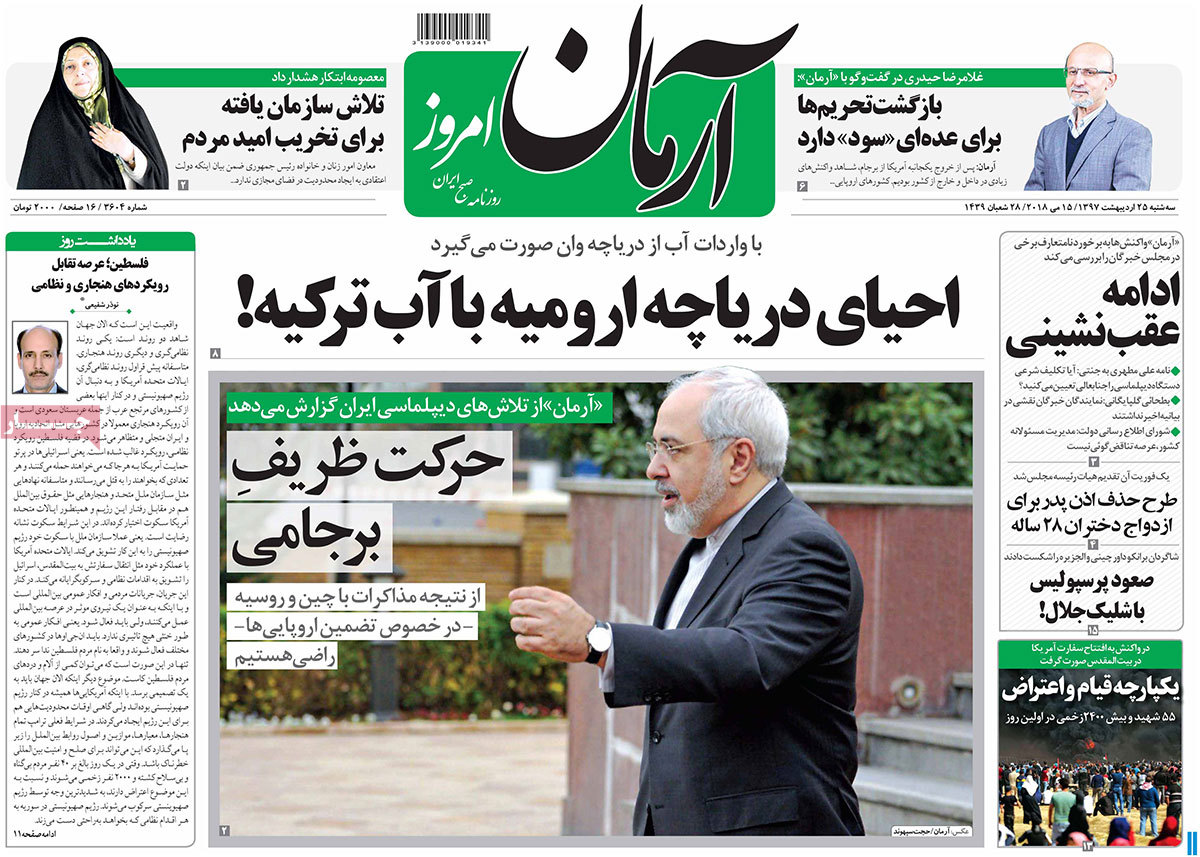 ---
Asrar:
1- Parliament Speaker: US Move to Move Its Israel Embassy Not to Go Unpunished
---
Ebtekar:
1- Zarif to UN Chief: US Responsible for Violating JCPOA, Must Compensate for Iran Losses
2- Bitter Day in Jerusalem al-Quds
---
Etemad:
1- Embassy of Blood
Zarif Condemns Slaughter of People in Gaza amid US Embassy Opening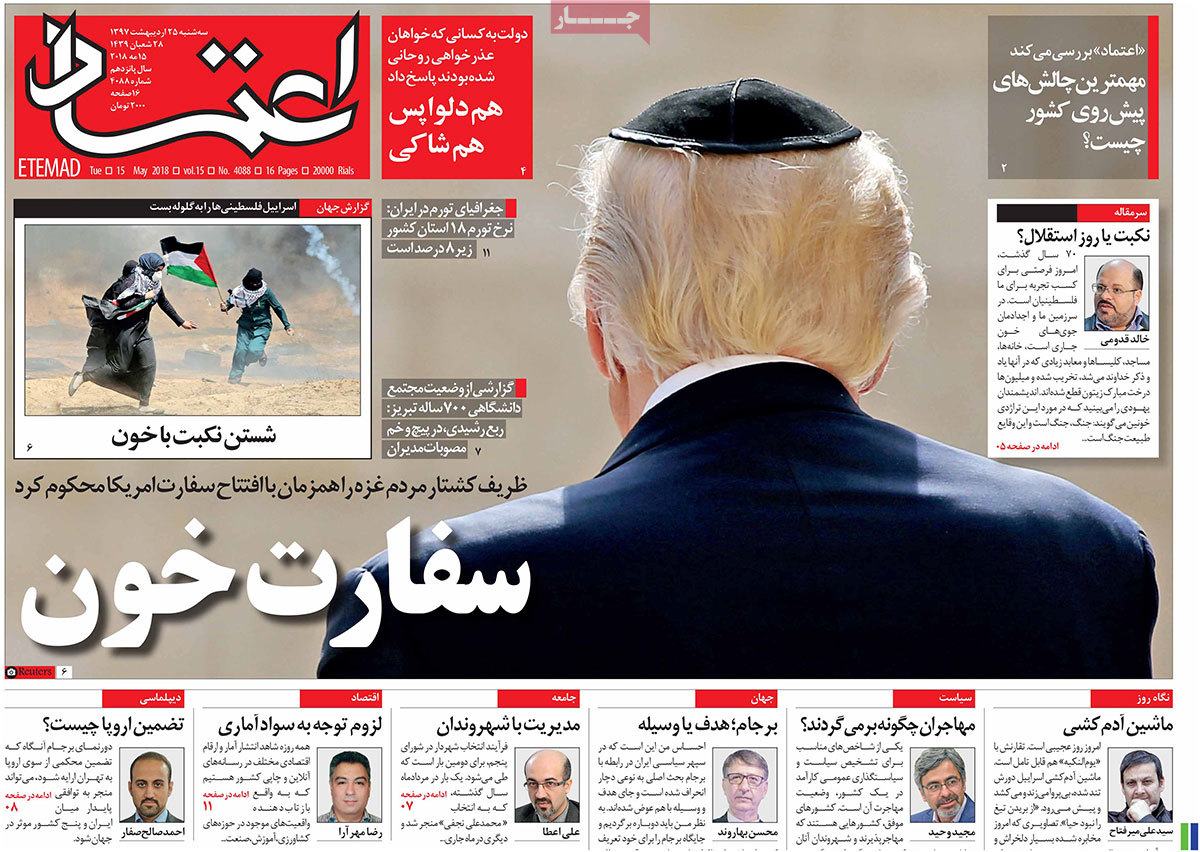 ---
Ettela'at:
1- Celebration of Crime on Nakba Day
Zionists Kill 50 Palestinians, Wound 200 Others on Nakba Day
---
Iran:
1- Iran Gov't Issues Statement in Response to Critics of Nuclear Diplomacy
2- Bloodbath in Gaza, Celebration in Jerusalem al-Quds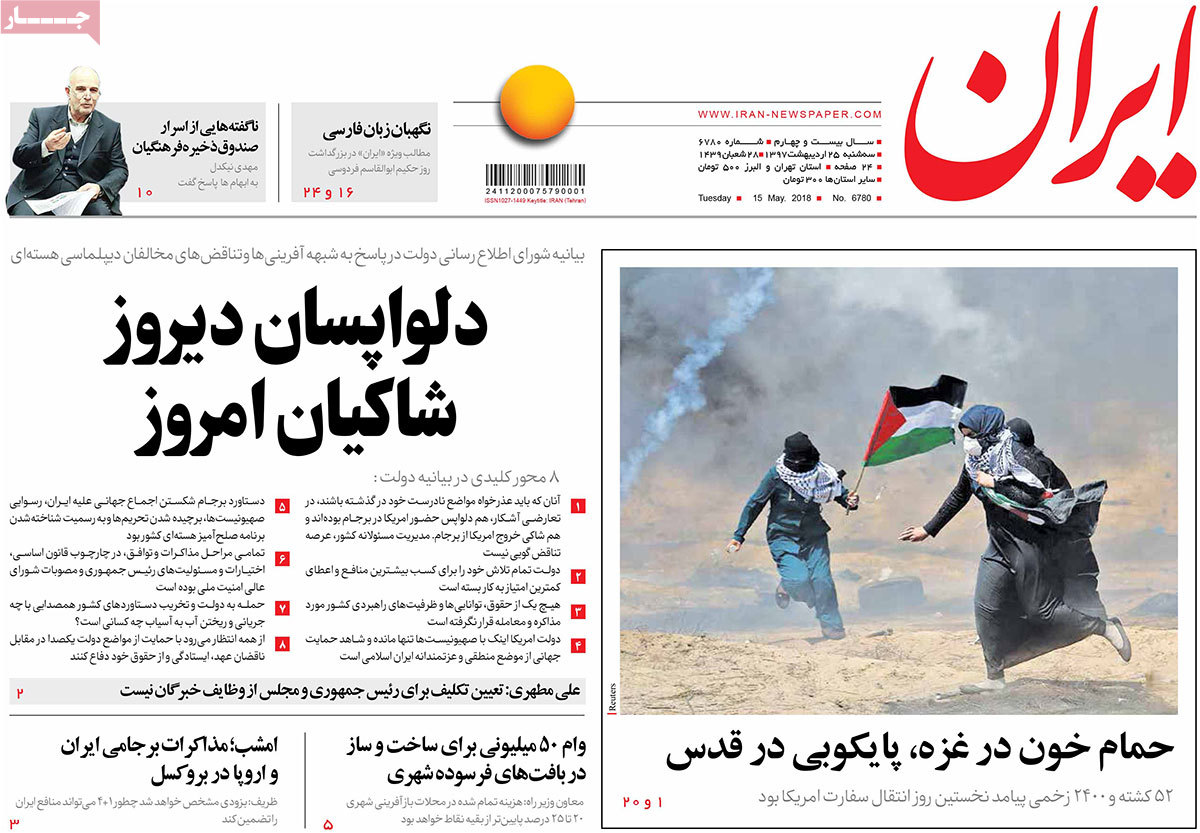 ---
Javan:
1- Zionist Insanity, Global Silence: 2050 Killed, Wounded When Stoning the Devil
---
Jomhouri Eslami:
1- Deal with European Carmakers Still in Place: Iranian Official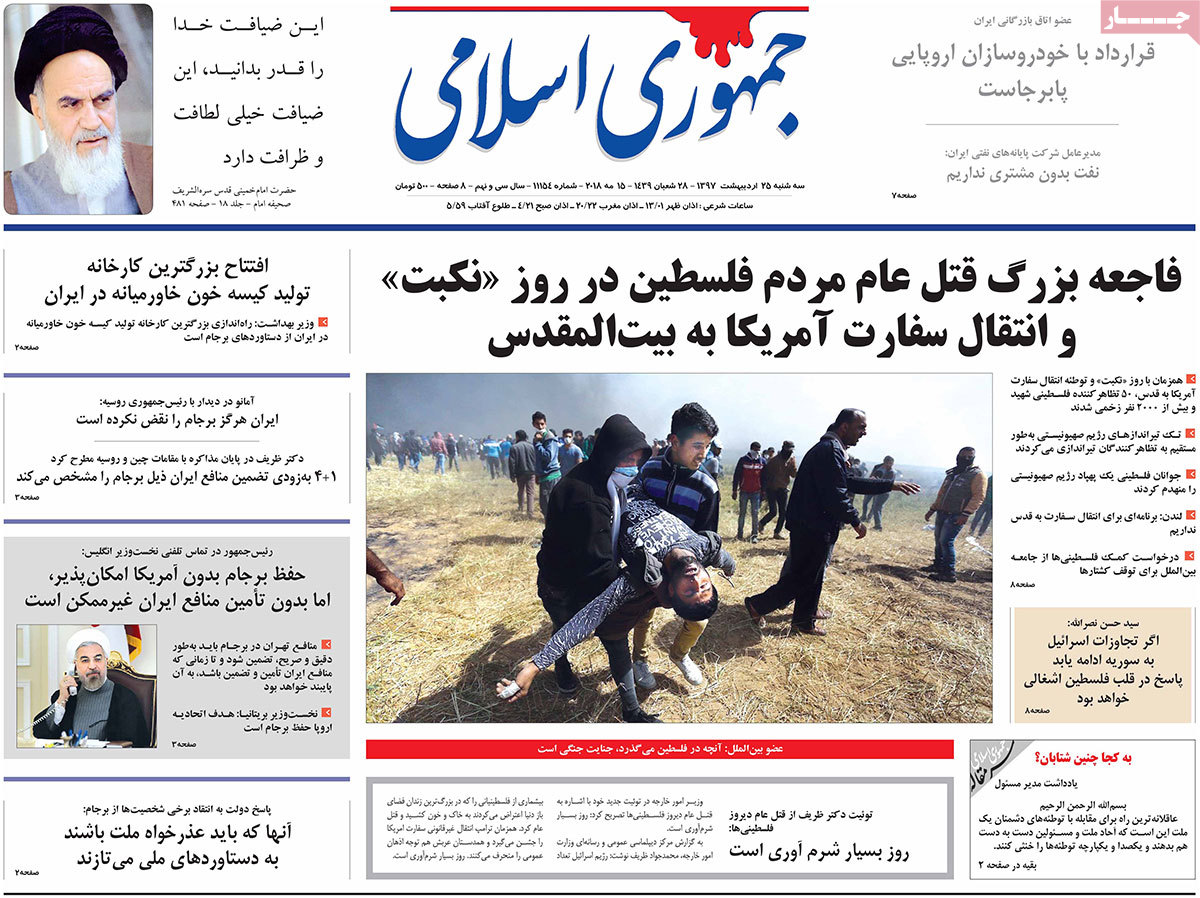 ---
Kayhan:
1- Trump Builds US Embassy on Blood!
2- MP: FATF Implementation Turns Us into Enemy's Watchdog in Our Own Territory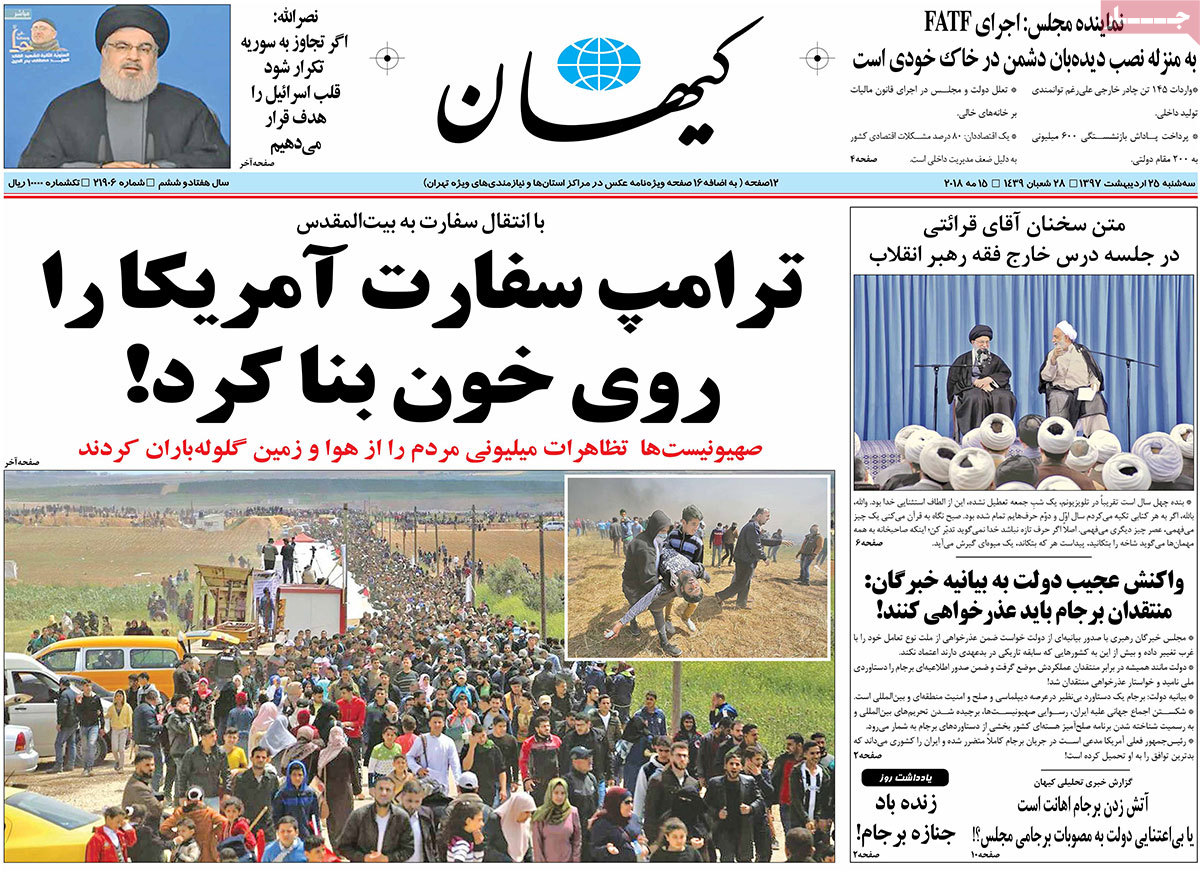 ---
Khorasan:
1- Bloodiest "Nakba" Day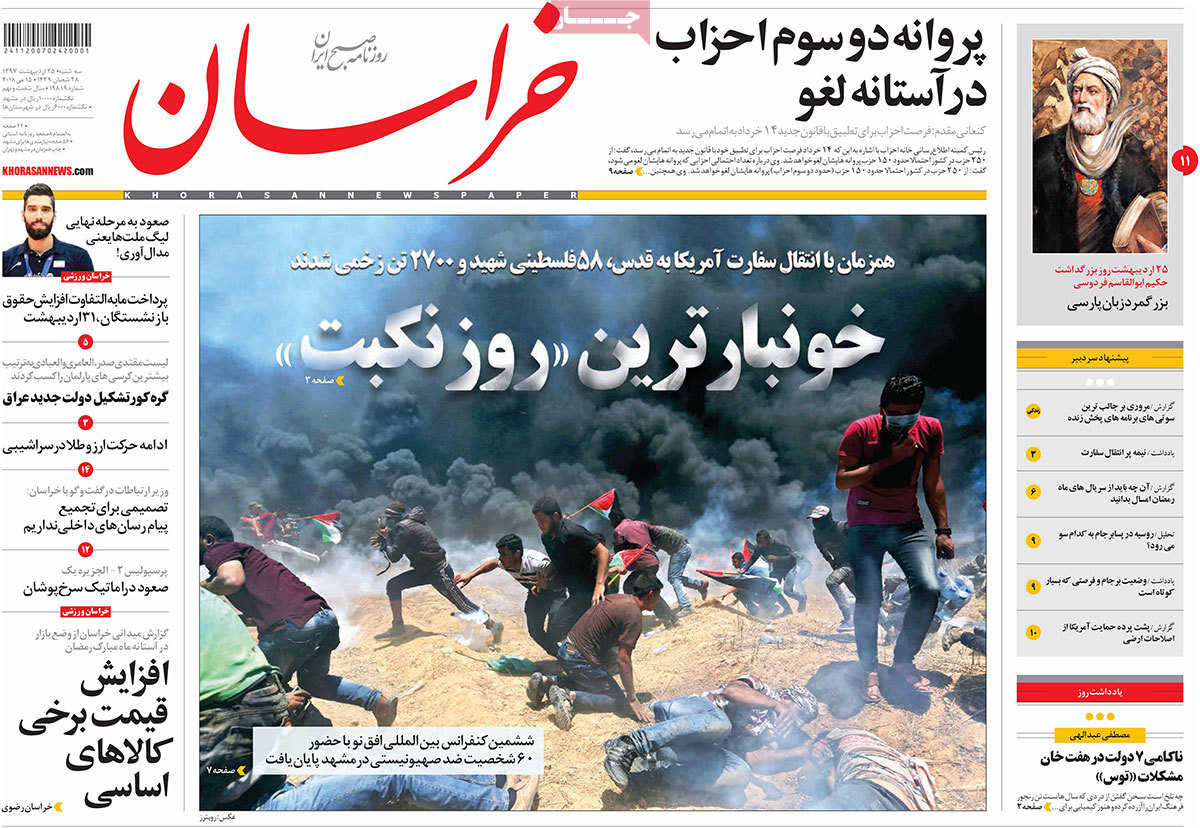 ---
Quds:
1- Building Capital on Ground Filled with Blood
---
Resalat:
1- Shamkhani: US Root Cause of Terrorism in Mideast
---
Sazandegi:
1- A Political Faction May Be behind Recent Forex Crisis in Iran
---
Sepid:
1- Post-JCPOA Achievement of Iran, France
Middle East's Biggest Blood Bag Production Factory Opened in Iran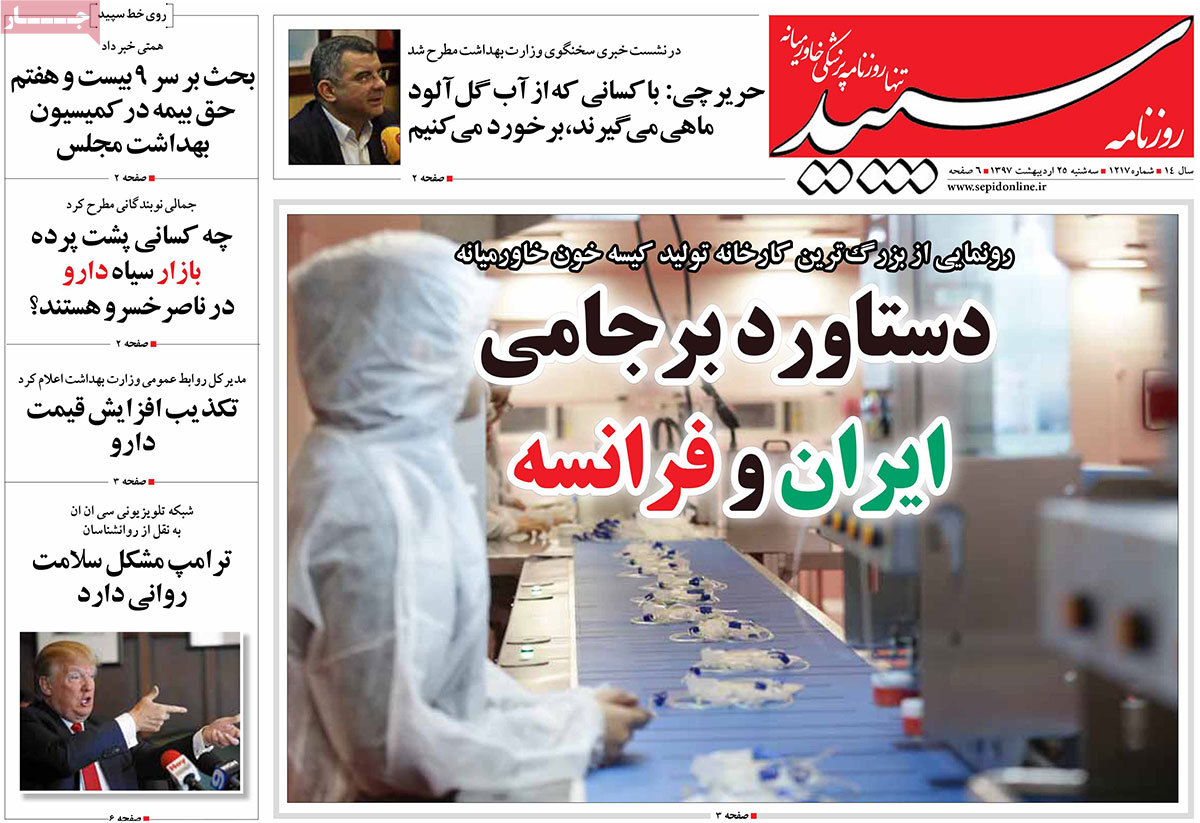 ---
Shargh:
1- Judiciary Chief: US Trying to Overthrow Iran's Islamic Establishment