Several papers today covered the remarks made by the Leader of Iran's Islamic Revolution Ayatollah Seyyed Ali Khamenei about the need for Asian states to promote their mutual cooperation. The Leader made the comments in a meeting with Sri Lankan president in Tehran.
The top story, however, was the controversial relocation of the US embassy from Tel Aviv to Jerusalem al-Quds, and the global condemnation of the move.
Iranian Foreign Minister Mohammad Javad Zarif's intensive talks with other parties to the Iran nuclear deal in order to save the 2015 agreement after the US withdrawal also received great coverage today.
The above issues, as well as many more, are highlighted in the following headlines and top stories:
19 Dey:
1- Zarif: Continued Implementation of JCPOA Hinges on Securing Iran's Interests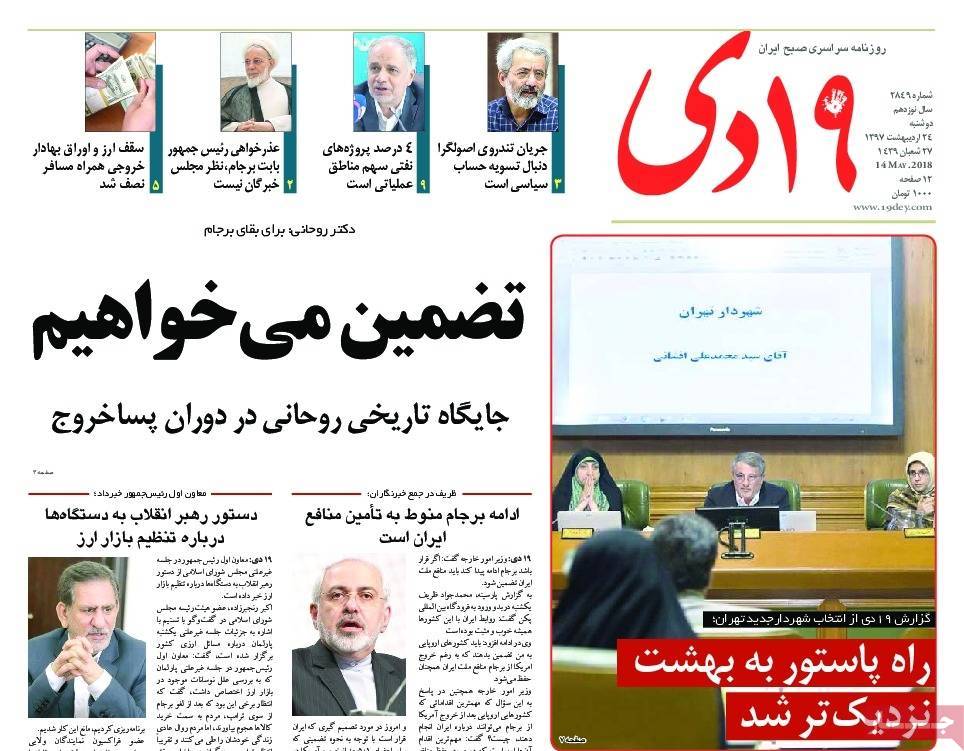 ---
Abrar:
1- Eight ISIS Terrorists Involved in 2017 Tehran Attacks Sentenced to Death
2- IRGC Chief-Commander: JCPOA Institutionalised Sanctions instead of Stopping Them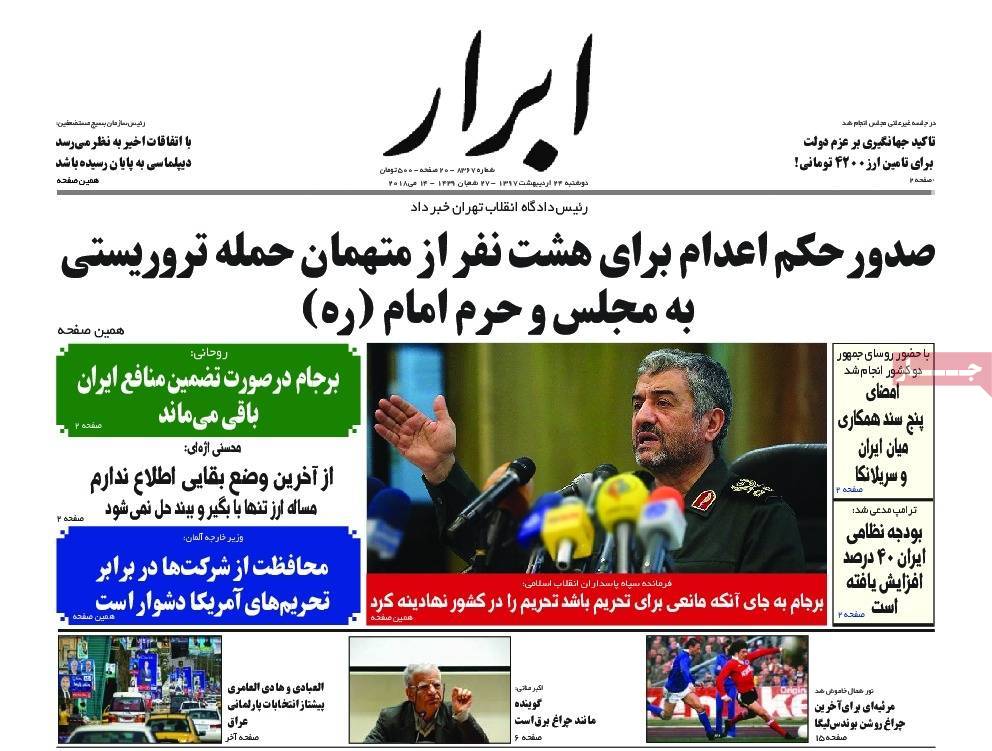 ---
Abrar-e Eqtesadi:
1- Russia, China to Replace European Firms in Railway Projects
---
Aftab-e Yazd:
1- Iran Leader: Asian Countries Must Promote Their Cooperation More than Ever
2- Queiroz: I Love Tehran as Much as Nampula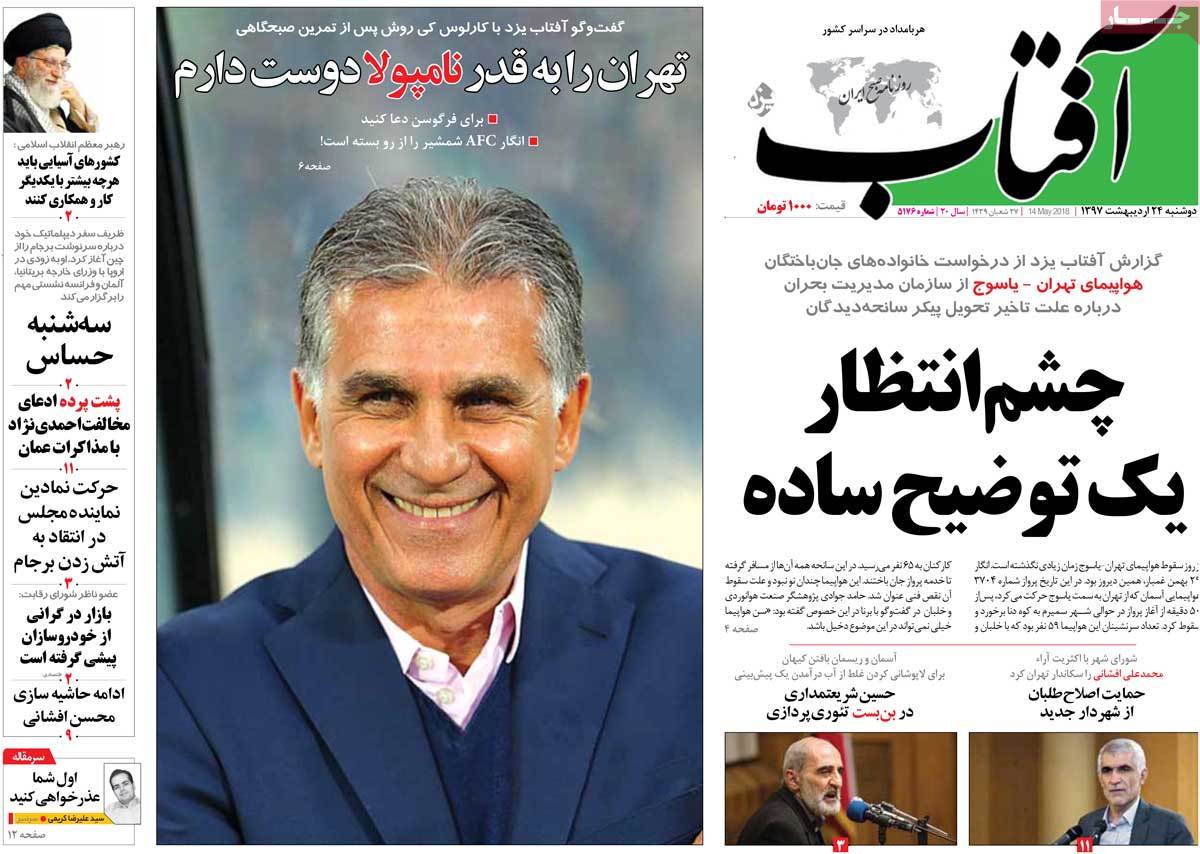 ---
Arman-e Emrooz:
1- Afshani Elected as New Mayor of Tehran after Securing 19 Votes
2- Member of Assembly of Experts Slams 'Unusual' Statement
In a Statement, Assembly of Experts Had Urged Rouhani to Apologize to Nation over JCPOA!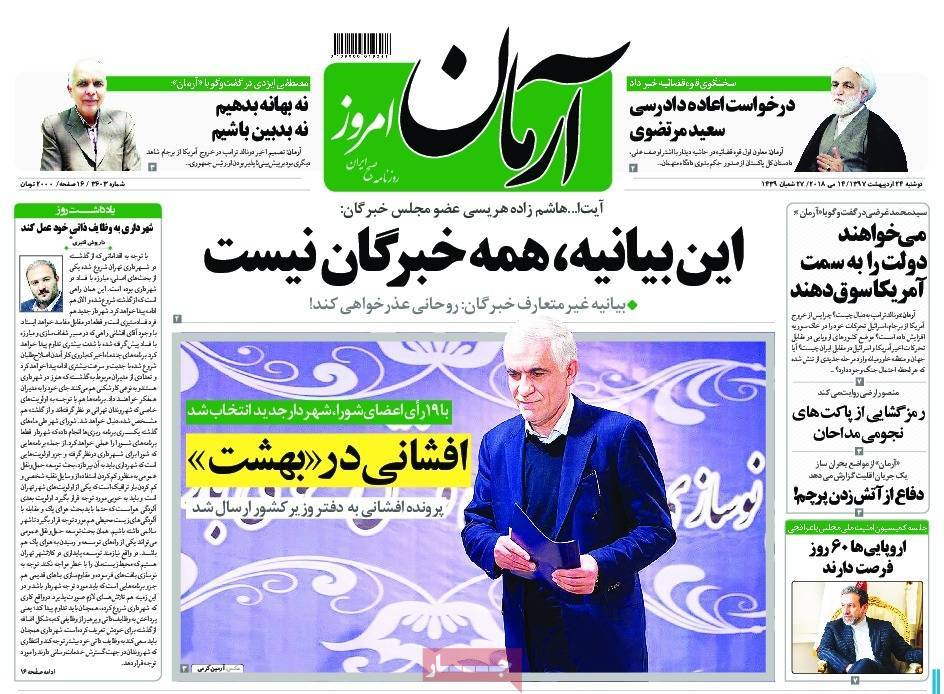 ---
Asrar:
1- Rouhani: JCPOA to Remain in Place If Other 5 Parties Give Guarantees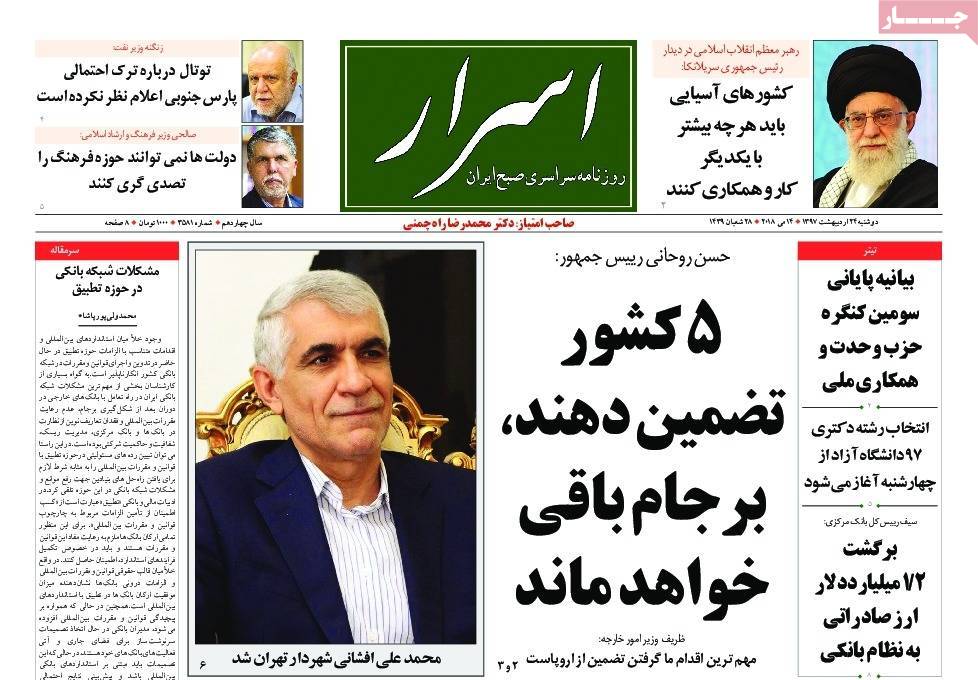 ---
Donya-ye Eqtesad:
1- Russia's Protective Shield against Sanctions
A Report on Kremlin's Experience in Countering Foreign Bans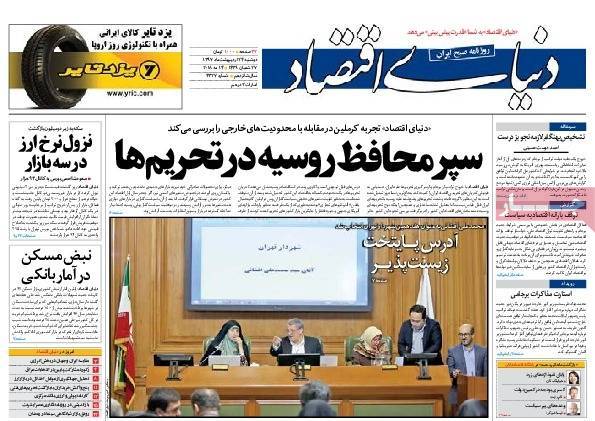 ---
Etemad:
1- Haider al-Abadi's Victory; Future Full of Challenges
2- Zarif Starts New Round of Nuclear Talks in China: From East Asia to Central Europe
---
Ettela'at:
1- Iran Leader: Asian Countries' Cooperation to Strengthen Them
2- ECFR: Europe to Destroy Its Independence by Blind Obedience to US
3- ISIS Attacks in France, Indonesia Leave 11 Dead, 48 Wounded
---
Iran:
1- Head Coach, Three Players of Iran's Women Futsal Team Talk of Asian Title
Kind Messages Ended Our Fatigue
---
Javan:
1- Embassy of Big Satan in Place Where Devil Is Stoned
Trump to Open US Embassy in Jerusalem al-Quds
2- Berlin's Trump-Like Tone to Turn Its Back on JCPOA
German FM: It's Difficult to Protect Firms against US Sanctions
---
Jomhouri Eslami:
1- Rouhani's Chief of Staff: It's an Asset that the World Accompanies Iran on JCPOA
2- Oil Price: Europe to Continue Purchasing Iran's Crude Oil
3- Iran, Sri Lanka Hold High-Level Meeting in Tehran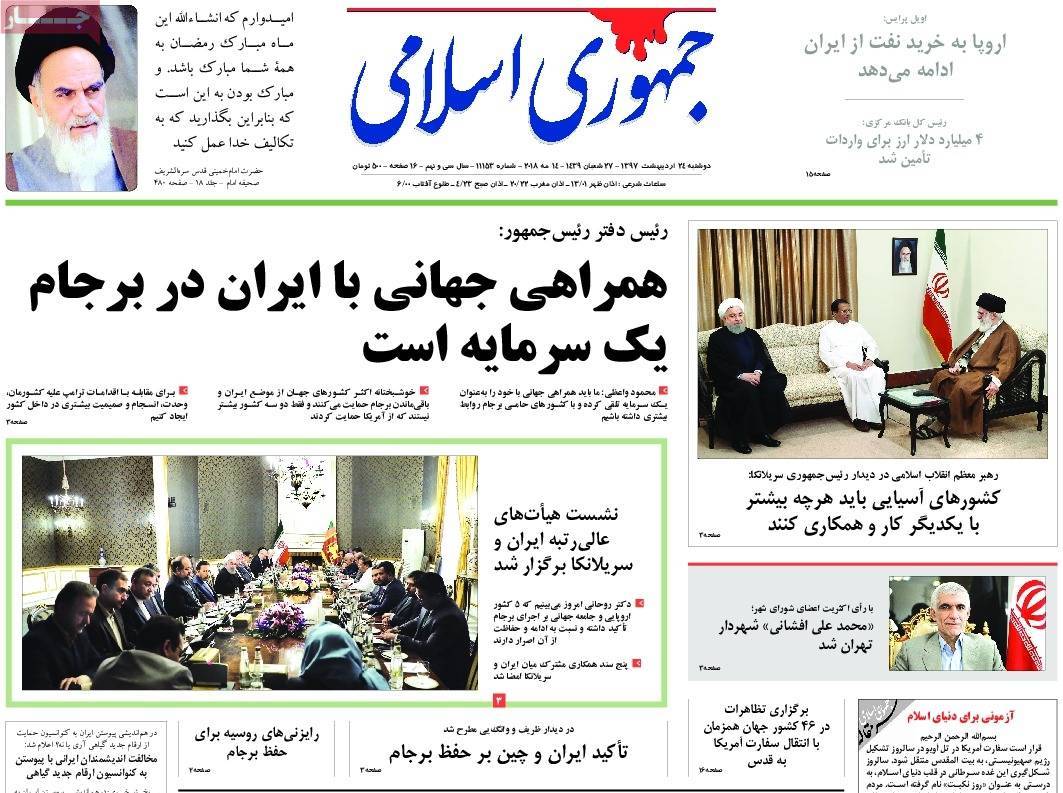 ---
Kayhan:
1- A Report on Danger of Launching "Centre of Financial Data"
Don't Open Domestic Base for US' Chamber of War
2- Saudi Arabia, UAE's Double-Standard Policies on Transfer of US Embassy to Jerusalem al-Quds
3- People in 46 Countries to Hold Protest Rallies against US Embassy Relocation Today
Arab Reactionaries Still Keeping Silent!
---
Khorasan:
1- Economic Expert: US Withdrawal from JCPOA Better than Previous Ambiguous Situation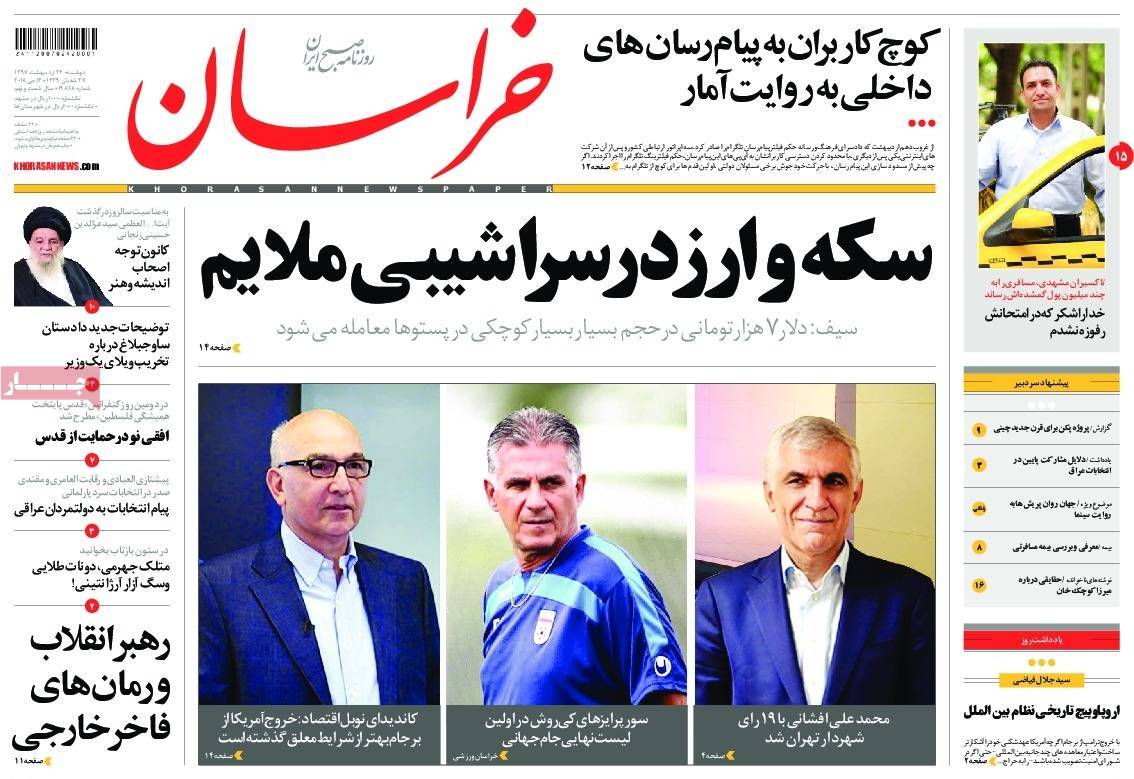 ---
Resalat:
1- Conservative Analyst: No Unity among European Union Member States
2- Velayati: Iran Not Afraid of Zionist Regime's Threats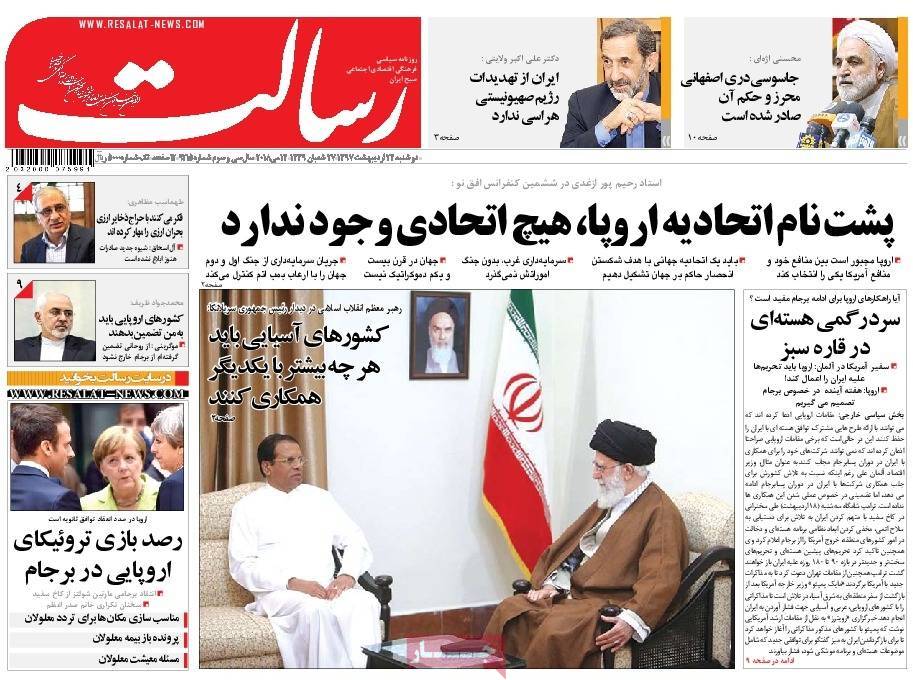 ---
Sazandegi:
1- Five Billion People to Suffer from Water Crisis
Latest UN-Affiliated Centre's Report Says It Will Happen by 2050
---
Setareh Sobh:
1- New Round of JCPOA Diplomacy: US Gives Green Light to Iran, Europe
2- Law Expert: Iran Isolated before JCPOA, US Isolated after It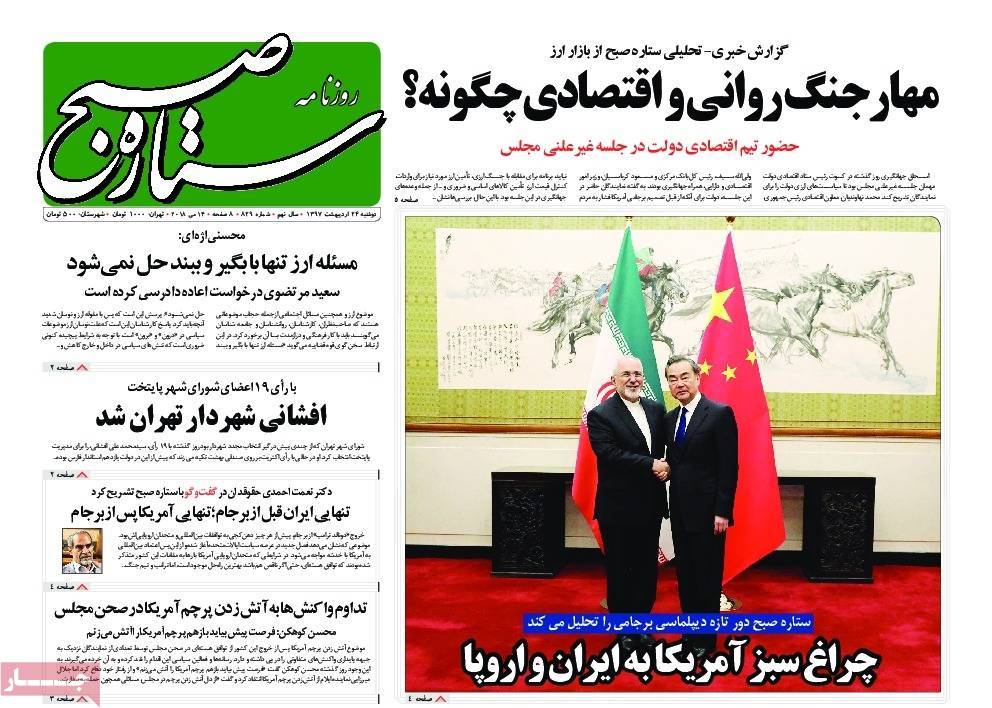 ---
Shahrvand:
1- Cultural Heritage Chief: Mummy Found in Southern Tehran Buried without Informing Us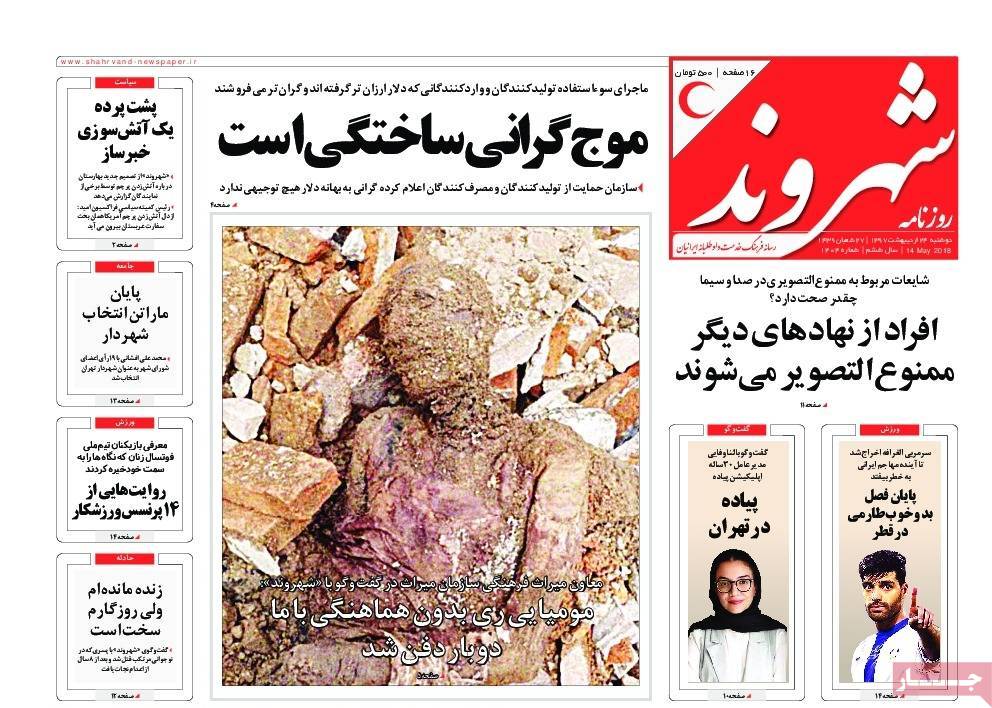 ---
Shargh:
1- Protests against Setting JCPOA on Fire
2- Former Prosecutor Mortazavi Appeals for Retrial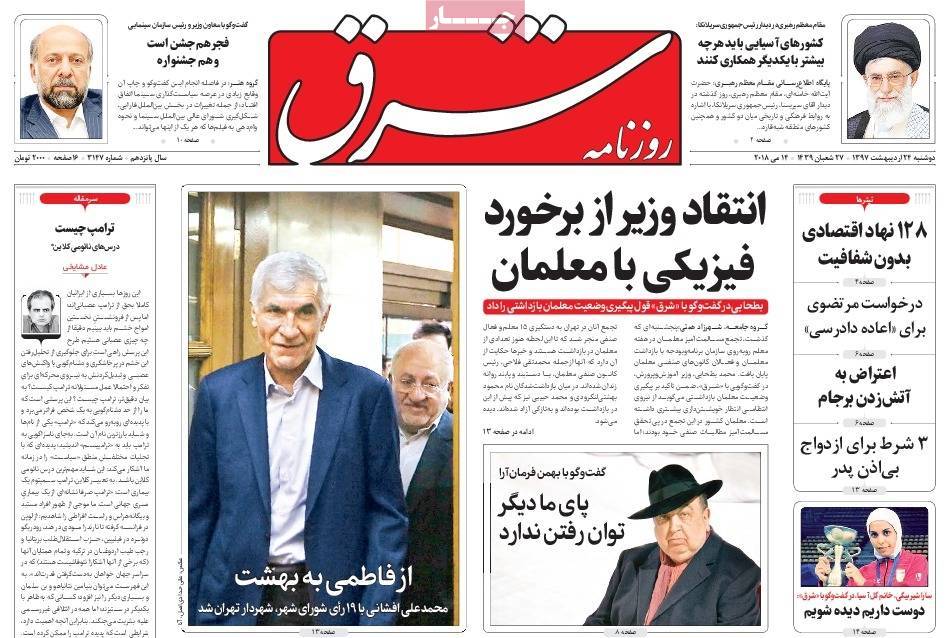 ---
Sobh-e Now:
1- US Dollar Rate Remains Unchanged amid Trump's Fuss
Five-Day Stability in Iran's Foreign Currency Market after US Withdrawal