Iranian press on Saturday covered the league (IPL) championship win by the unpretentious Esteghlal of Khuzestan, which left the popular giants of Tehran, Persepolis and Esteghlal of Tehran, ranking second and third.
Remarks by Ayatollah Akbar Hashehmi Rafsanjani in support of the nuclear deal [JCPOA] were also extensively discussed.
US attempts to encourage Europeans to increase trade with Tehran, as well as a growing rate of suicide in Iran have also remained hot topics.
Abrar:
1- Brazil's Rousseff Stripped of Presidential Duties for 6 Months
2- Esteghlal of Khuzestan Wins Iran's Pro Football League
3- Obama Defends Nuclear Deal [with Iran]
4- US Navy Fires Commander of Sailors Captured in Iran
---
Abrar-e Eqtesadi:
1- Iran and Japan Sign MoU on Refinery Industries
2- Iran's Inflation Rate Higher than 213 Countries
3- South Korean President Urges Enhancement of Trade with Iran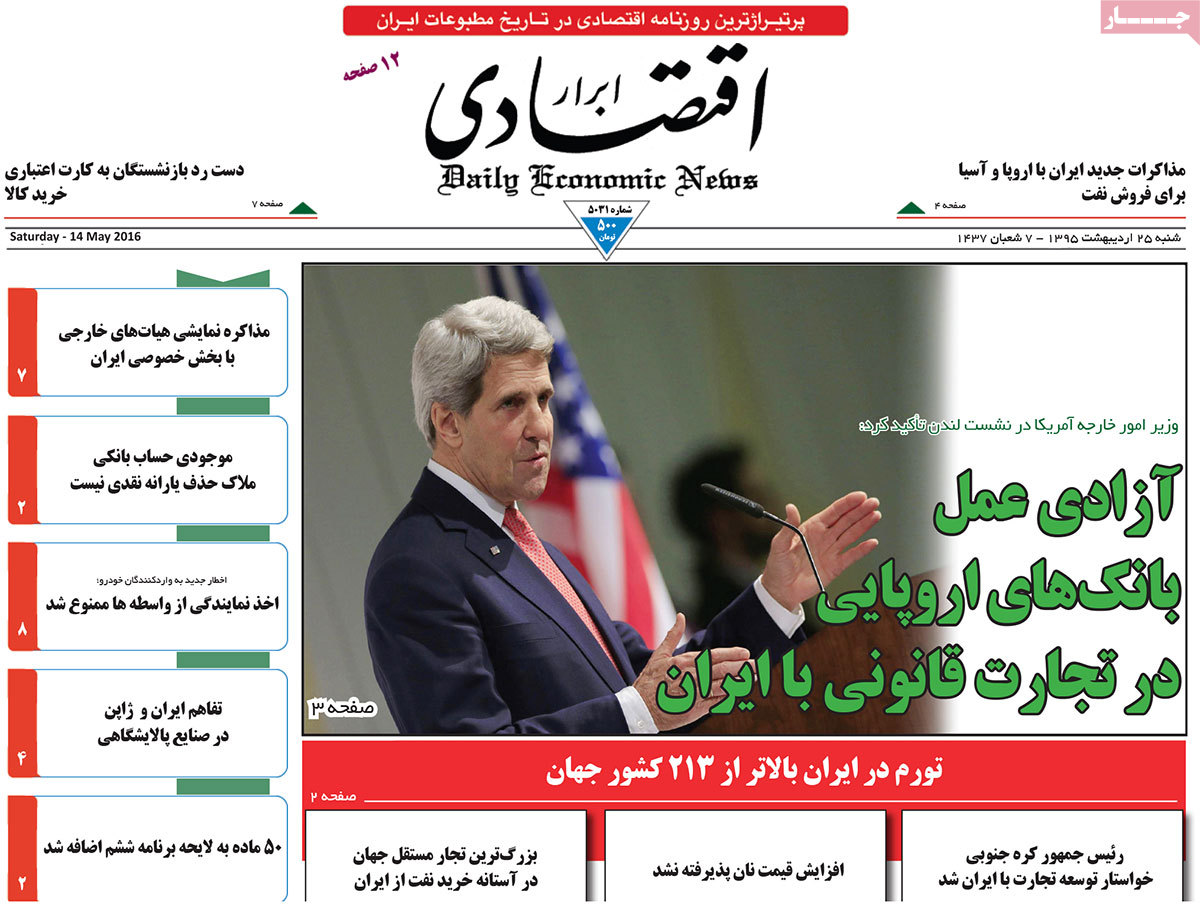 ---
Arman-e Emrooz:
1- Rouhani Making Same Mistake as Ahmadinejad
2- It's an Illusion to Consider Ourselves the Centre of the World: Imam Khomeini's Grandson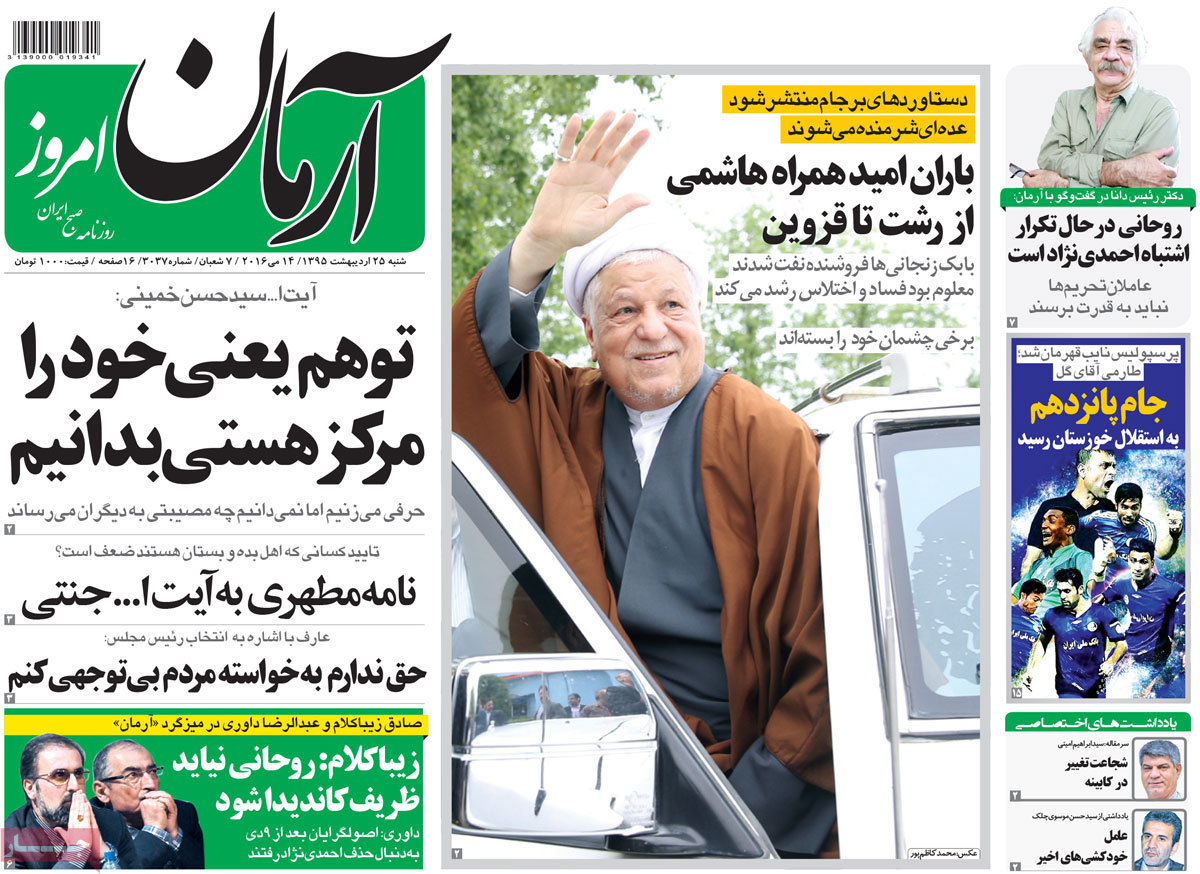 ---
Asia:
1- Reason for Kerry and Hammond's Meeting with Major Banks: Normalizing Iran's Global Ties
2- Iran Can Shine Internationally with JCPOA Opportunities
3- Agricultural Exports to Russia [after Moscow's severance of ties with Ankara]
---
Emtiaz:
1- Turkey to Build 10 Hotels in Iran
2- Iranian Oil Tankers Free to Dock at All Ports Worldwide
---
Etemad:
1- Iran's Leicester Crowned IPL Champion [Esteghlal of Khuzestan's championship in Iran's professional football league]
2- [Iran's Southeastern city of] Zabol Declared by WHO as World's Most Polluted City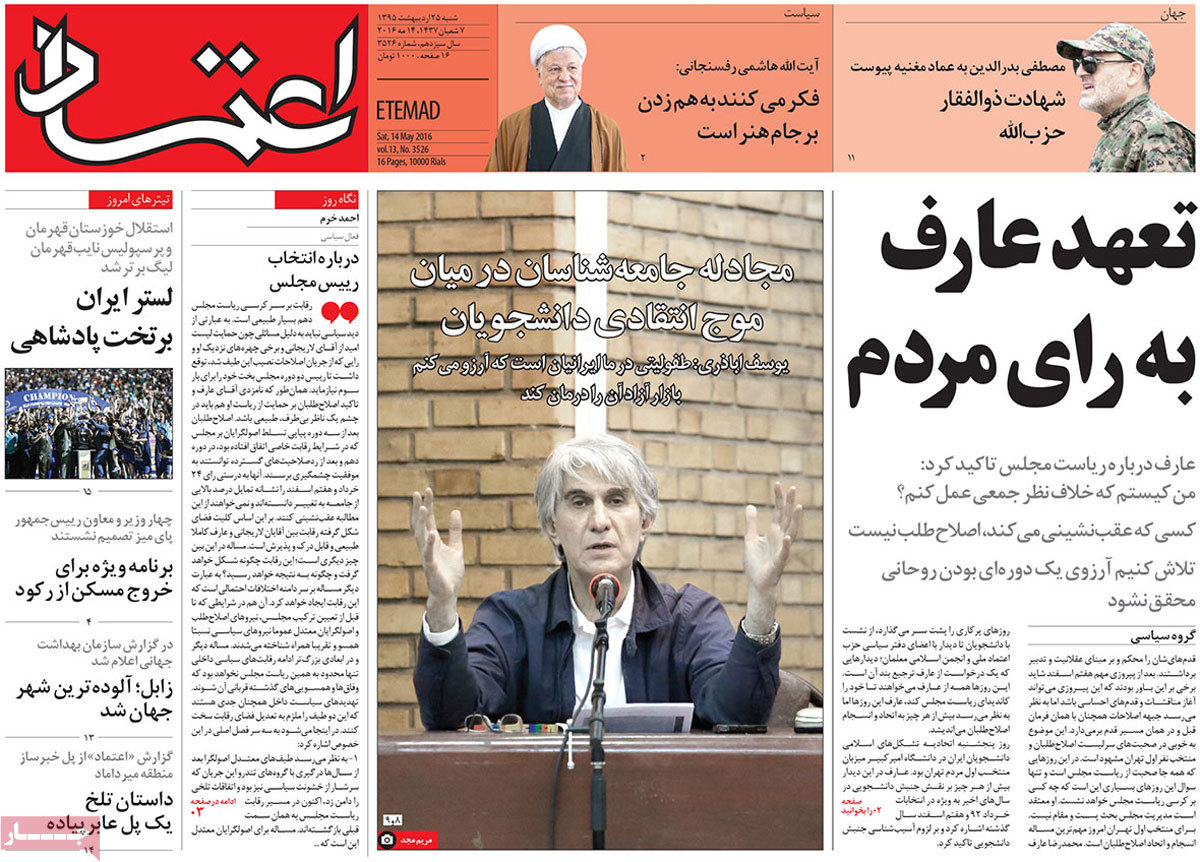 ---
Ettela'at:
1- Zionists Benefitting from Chaos in Muslim World: Larijani
2- Economic Conditions Progressing: Rafsanjani
3- Last Year's Birth Rate Growth Highest in 24 Years
4- Iran's Oil Output Soars to Pre-Sanctions Level
5- Top Hezbollah Commander Killed in Israeli Airstrike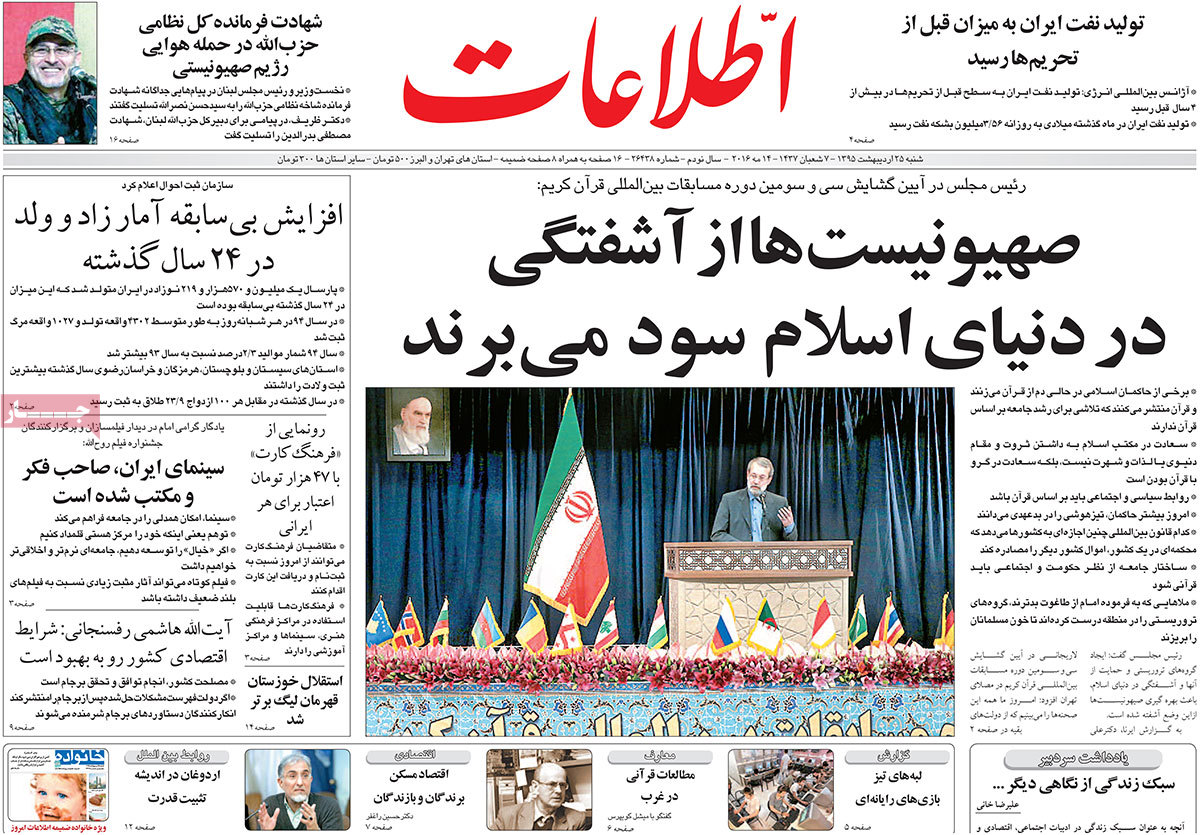 ---
Haft-e Sobh:
1- Iranians Praise Dutch Father and Daughter Who Helped Accident Victims in Tabriz
2- Sorrow! Persepolis Celebration Spoiled after Losing Championship to Esteghlal of Khuzestan
---
Iran:
1- Rafsanjani: JCPOA Achievements Resolve Iran's Problems
2- Impeachment and Fall of Populist Gov't, This Time in Brazil
3- Elina's Father Sues Doctors and Hospital Officials [over their medical error that caused 6-year-old girl to go on a coma]
4- Clerics Urge Culture Ministry to Secure Iranian Pilgrims' Dignity and Security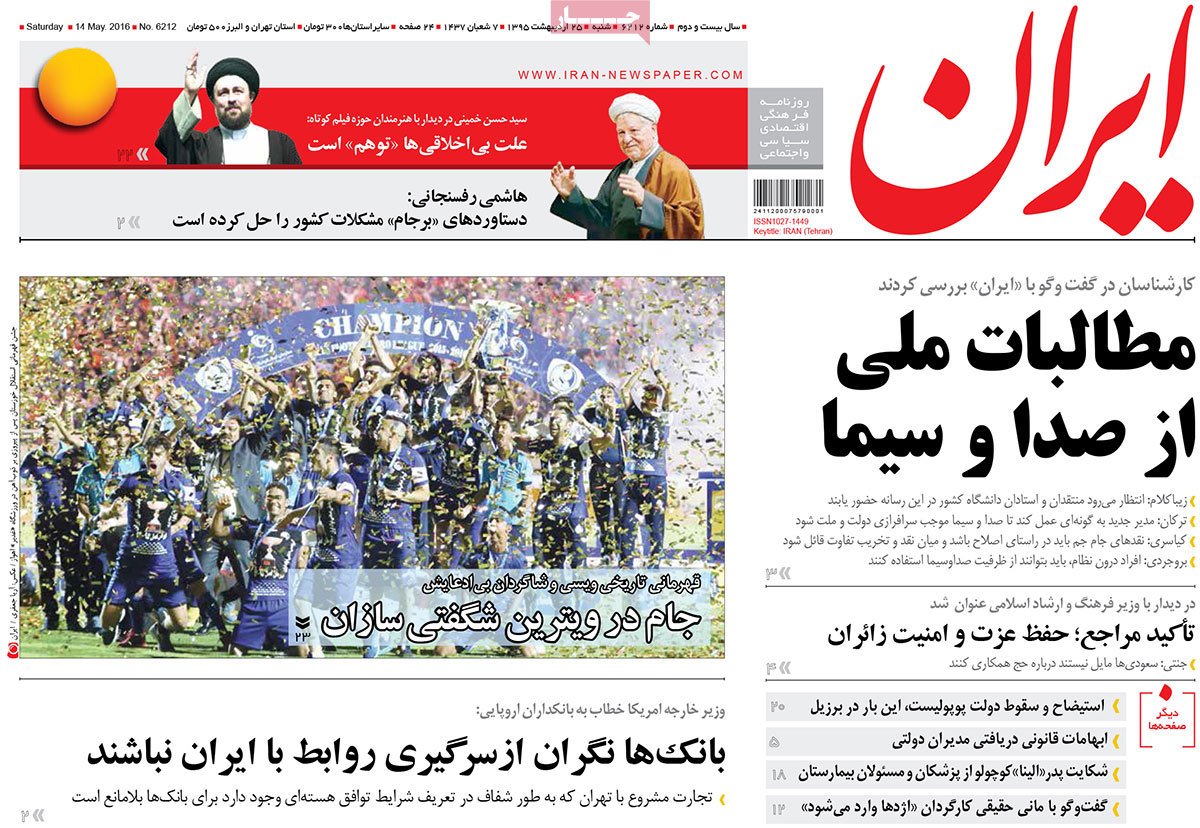 ---
Jahan-e San'at:
1- Hear the Voice of Neda [a 9-year-old girl harassed by her teacher]
2- Legitimacy Crisis in Arab Countries
---
Javan:
1- Al Saud [Royal Family] Blocks Way [of Iranian Pilgrims] to God's House [Hajj Pilgrimage]
2- Kerry's Futile Verbal Assurance: European Bankers Didn't Trust US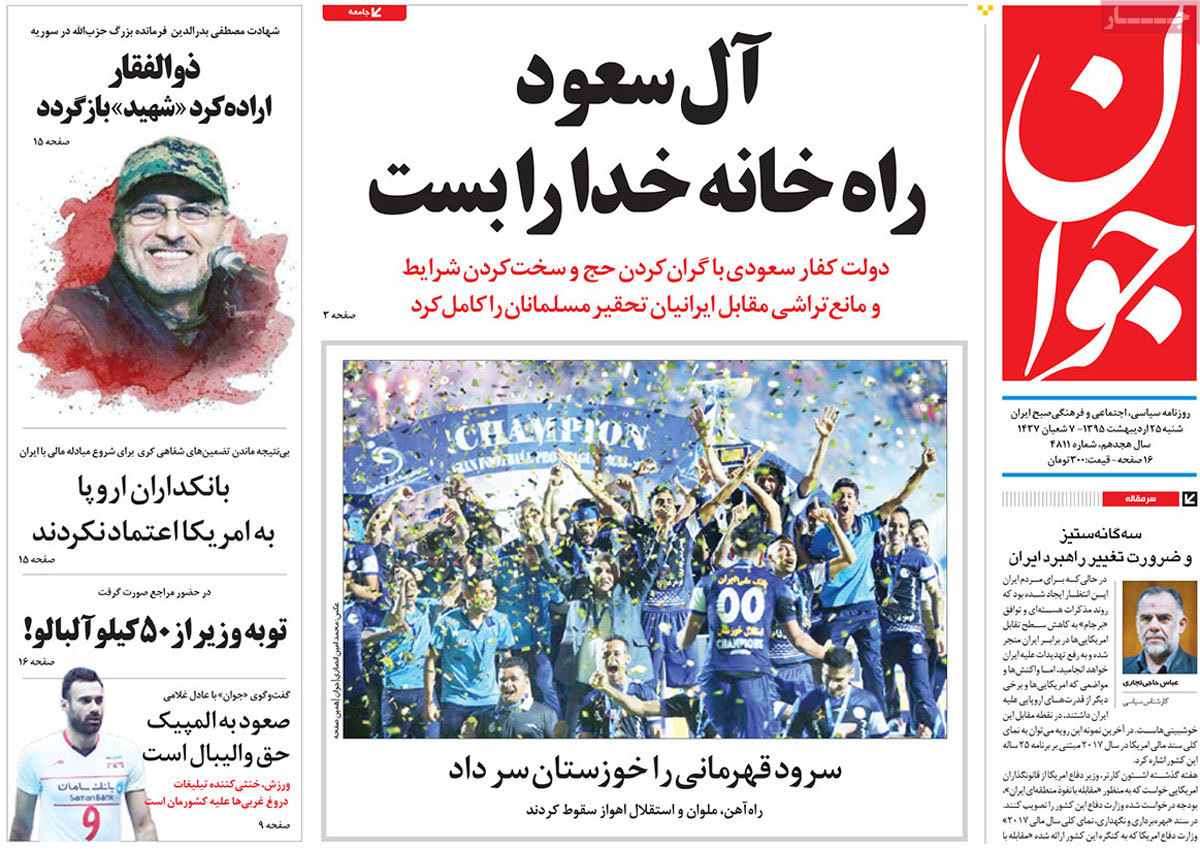 ---
Kayhan:
1- Don't Present What JCPOA Took from Iran as Nuclear Deal Achievements
2- Preparations Not Ready for Major Pilgrimage: Minister
3- Iran's Economic Prosperity Hinges on Staying Away from West: US Analyst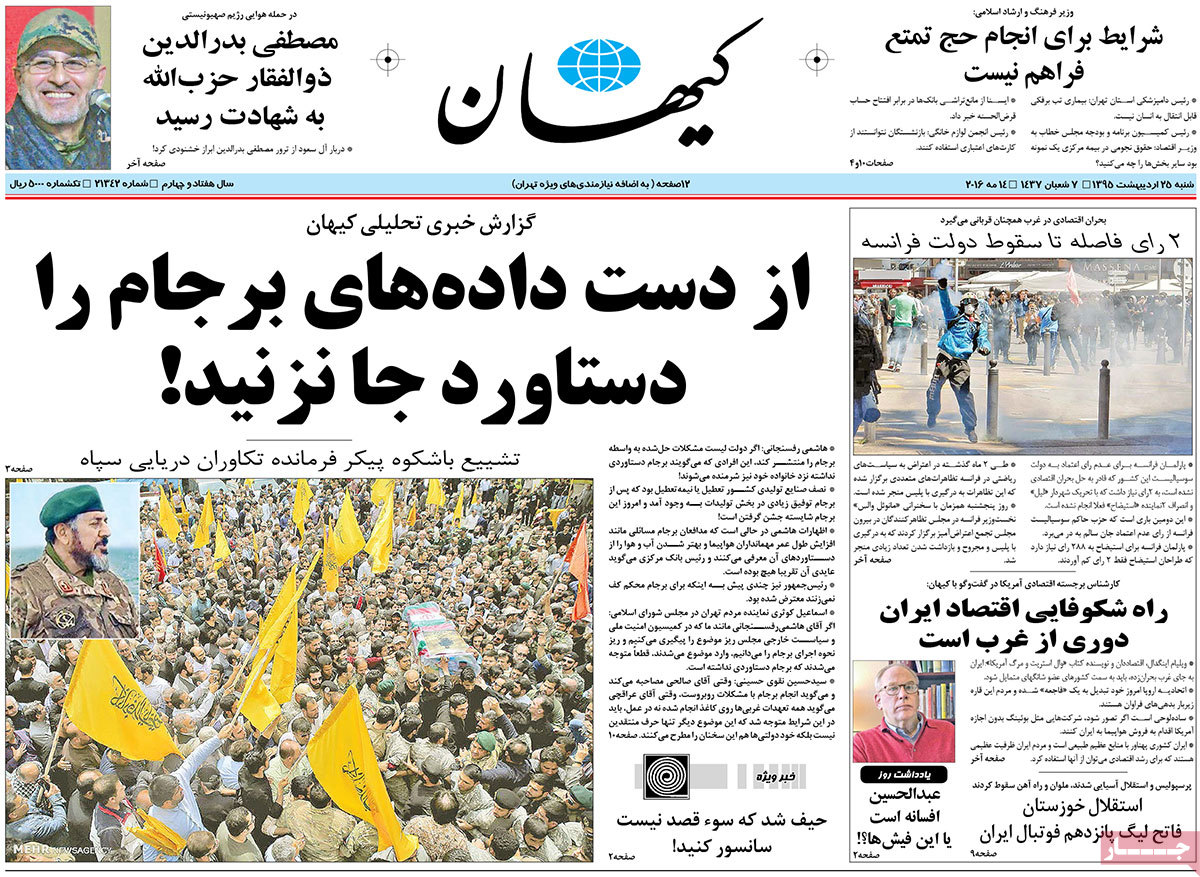 ---
Payam-e Zaman:
1- Water Level behind 50 Iranian Dams Exceeds 95% of Their Capacity
2- 600,000 Barrels of Oil Sold to Europe
3- Croatian President's Visit to Tehran
4- Cleric: US Not Committed to International Laws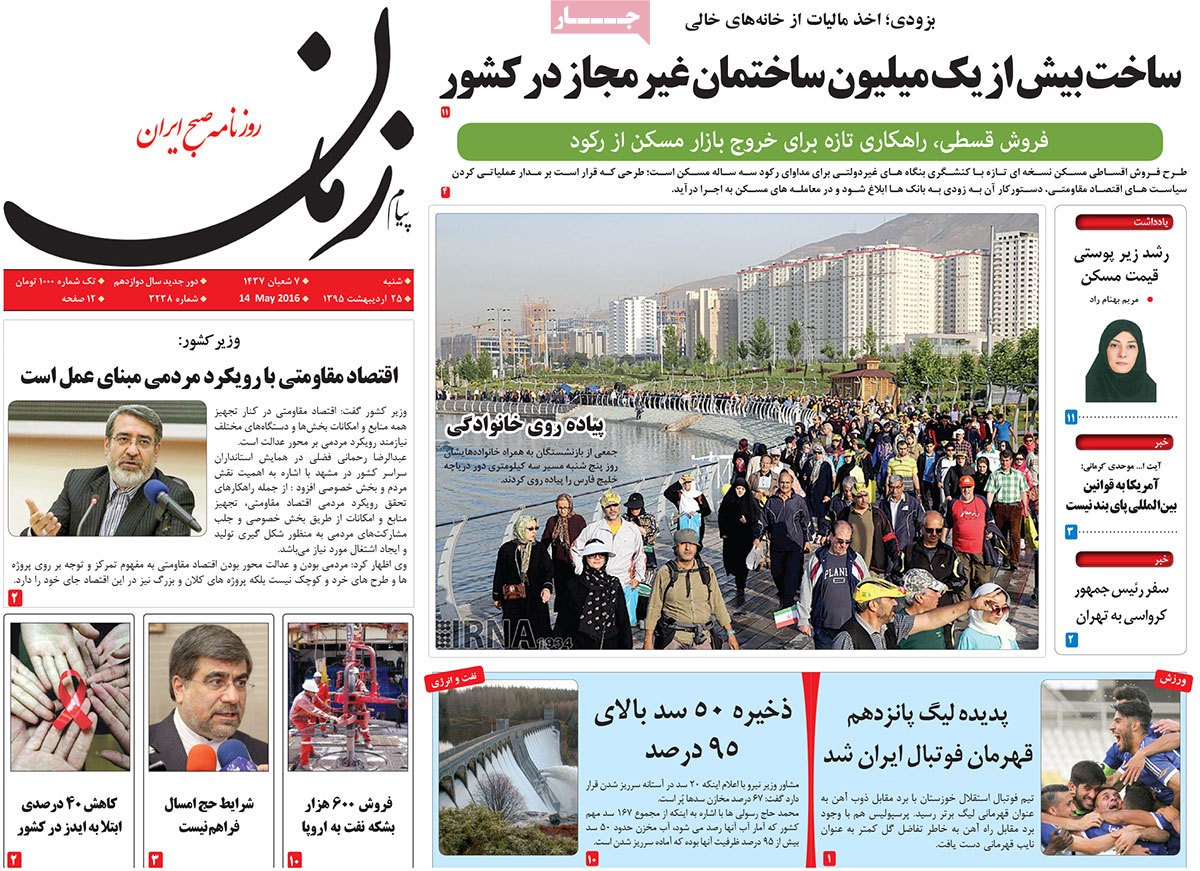 ---
Resalat:
1- People's Lives Threatened by Cyberspace: Grand Ayatollah Makarem Shirazi
2- Labourers Receive Their Salaries in Rials, Managers in Dollars
3- Saudis Have No Desire to Accept Iranian Pilgrims: Minister
4- Grand Ayatollah Javadi Amoli: This Year, No Iranian Muslims Obliged to Go on Hajj
5- Afghan President: West's Addiction to Drugs Has Corrupted Afghanistan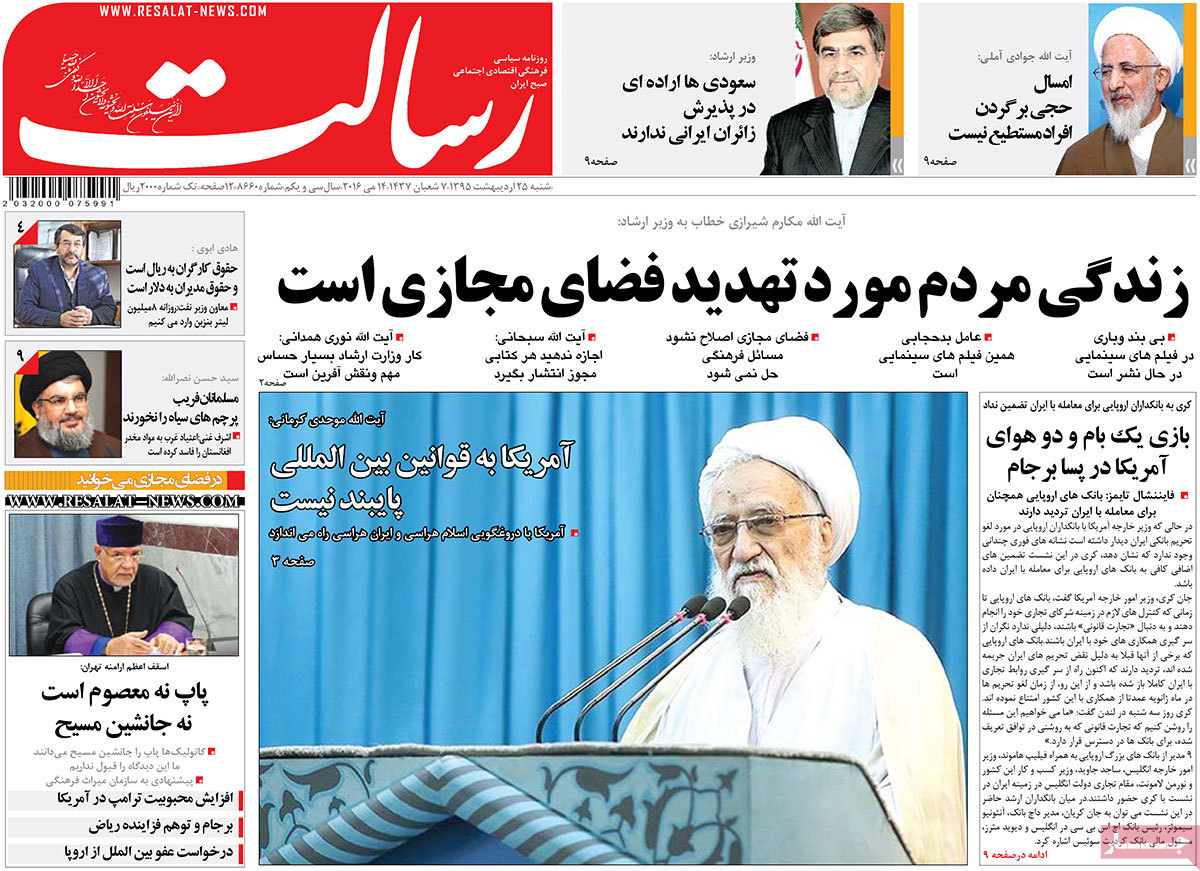 ---
Shahrvand:
1- Bridges of Death: A Report on Recent Suicides Committed in Tehran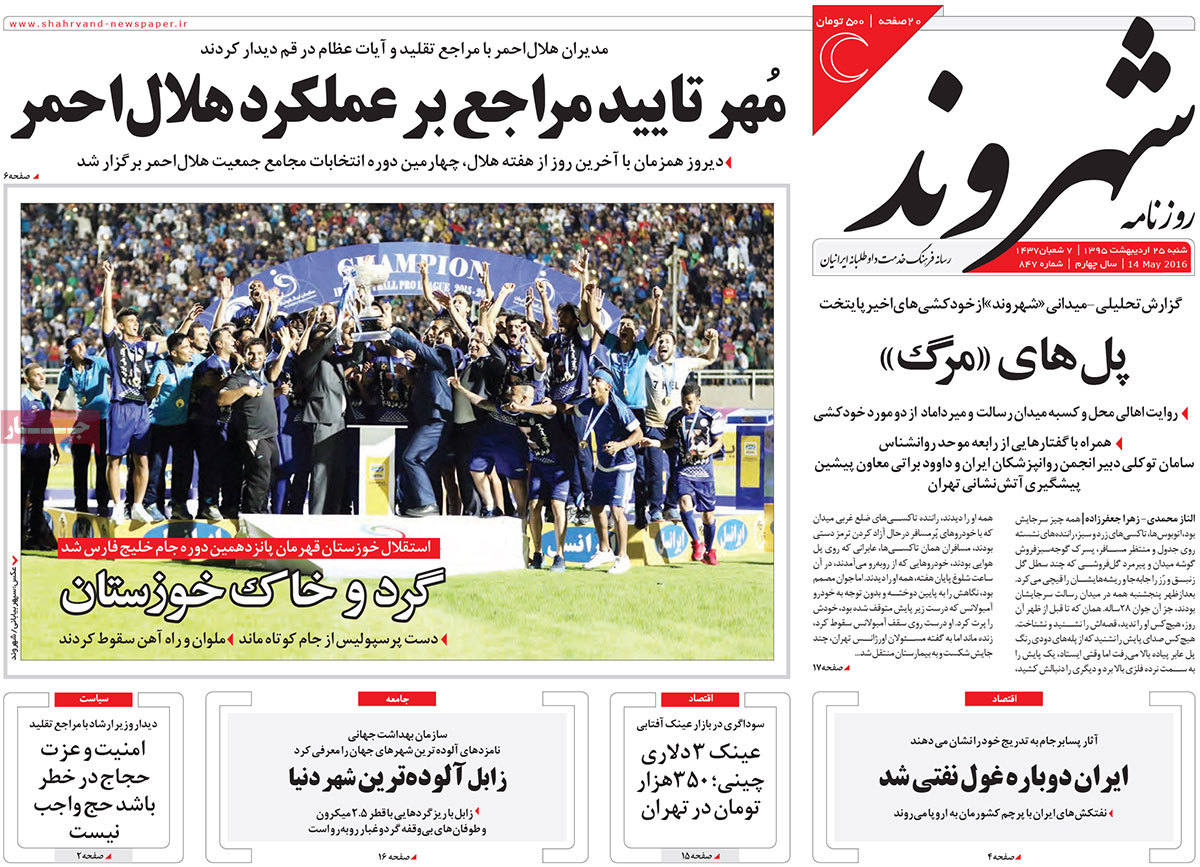 ---
Shargh:
1- Multi-Billionaires in Parliament [Iranian MP Reveals Wage Rates of Authorities]
2- Rousseff's Suspension to End Iran-Brazil Honeymoon?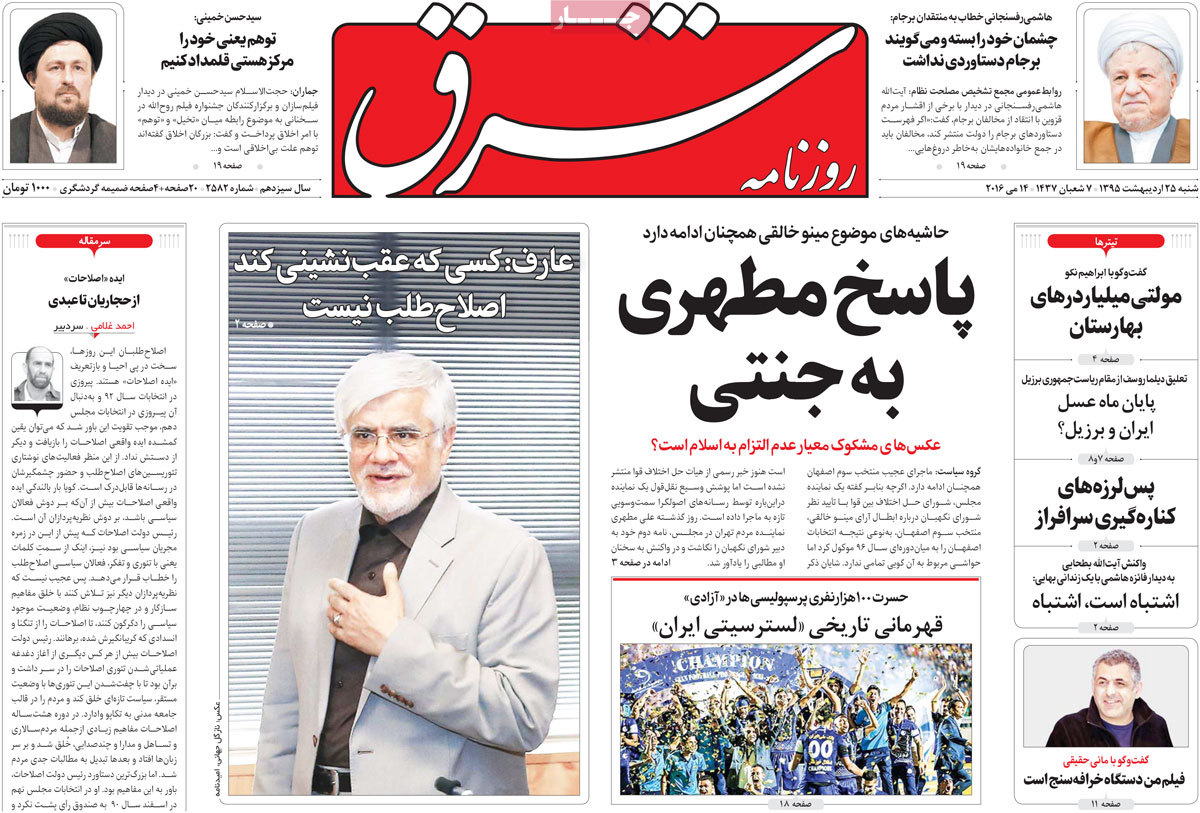 ---
Vaghaye Ettefaghieh:
1- Iran's Approach to Russia Is Emotional: Ex-Ambassador to USSR
2- Families of Afghan Holy Shrine Defenders Killed in Syria Meet Leader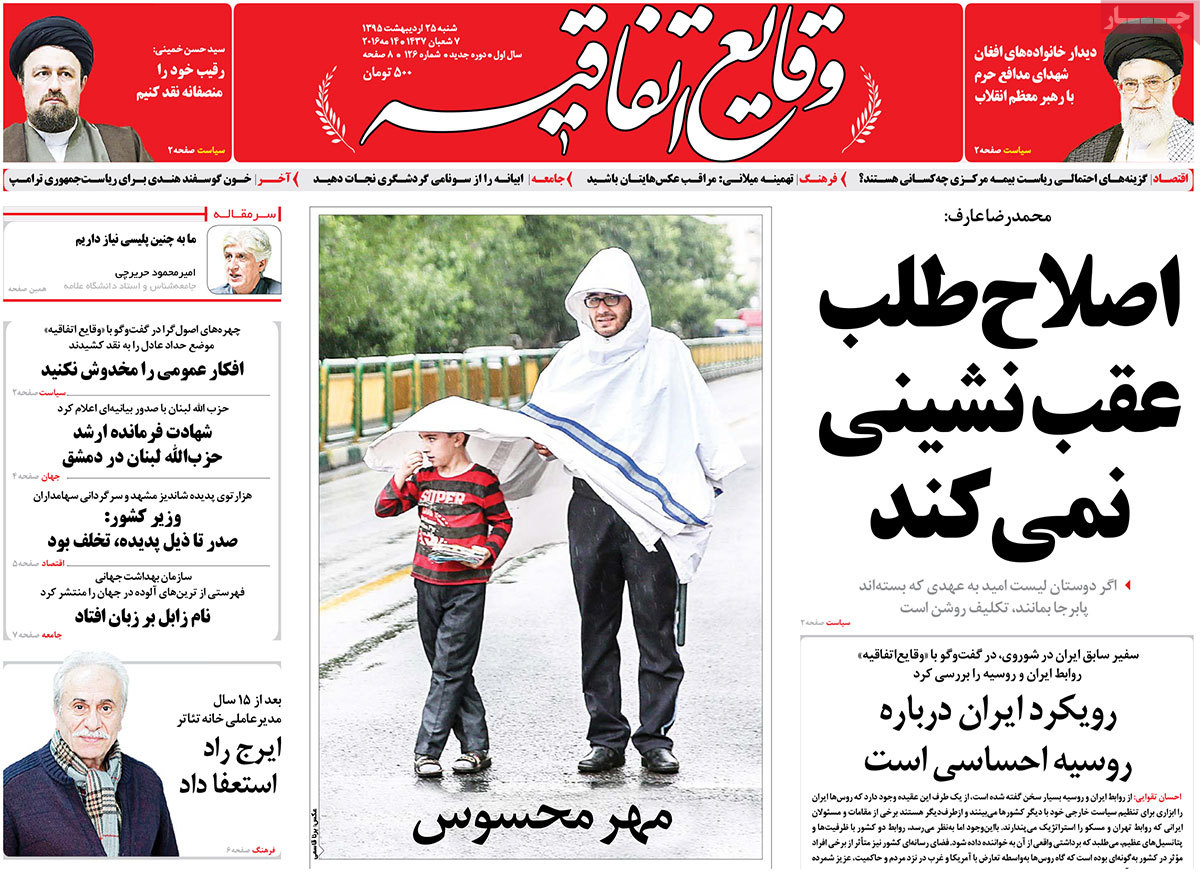 ---
Vatan-e Emrooz:
1- Terror of Hezbollah's Zolfaqar [Badreddine]
2- Saudi Arabia Finger-Print Iranian Hajj Negotiators!
3- Scandal for Hashemi Family: Rafsanjani's Daughter Meets a Baha'i Leader
4- Post-JCPOA Scandal [Editorial]