The controversy surrounding a bill proposed by MPs on nuclear talks with P5+1 dominated the front pages of Iranian newspapers on Wednesday. Some MPs said they were duped into signing the bill and some withdrew their signatures.
Abrar: "Iran maintains a powerful presence in the Gulf of Aden and Bab el-Mandab Strait," said the commander of the Navy.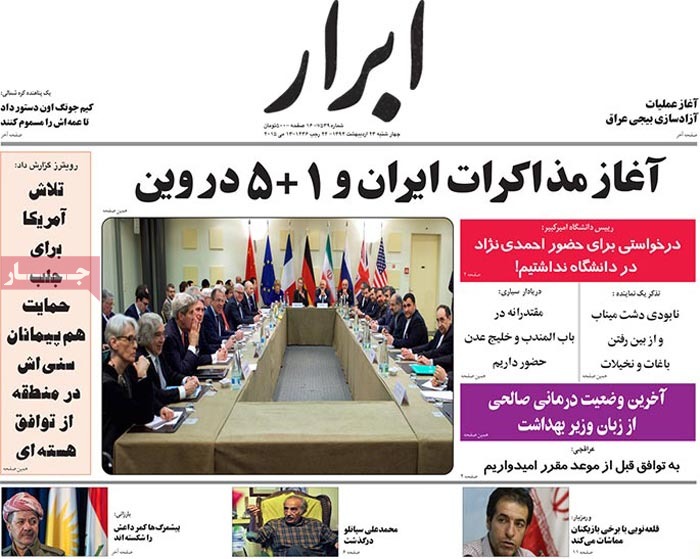 ---
Amin: "I took on cancer and beat it," said renowned Iranian actor Jamshid Mashayekhi.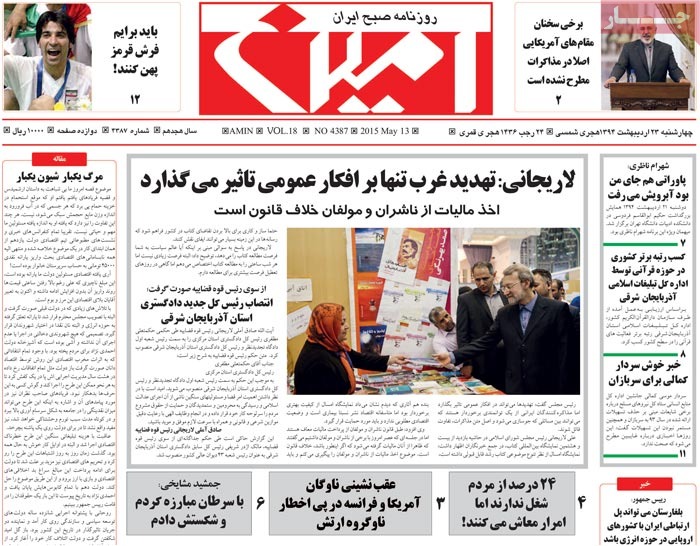 ---
Asrar: "It is wrong to suggest that criticism has red lines," said Tehran MP Ali Motahari.
Asrar: "We won't keep silent if [Saudi Shiite Cleric] Nimr al-Nimr is executed," said senior Iranian cleric Ayatollah Hossein Nouri Hamedani.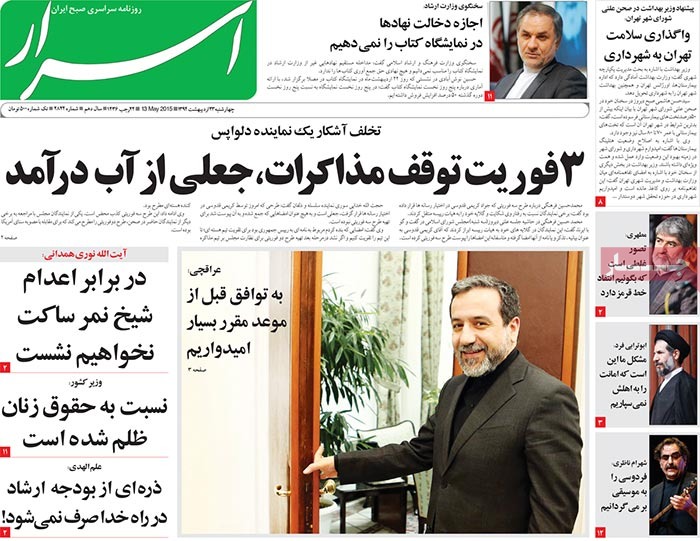 ---
Ebtekar: Iran's first oil platform has been installed at South Pars Gas Field.
The installation comes after a 10-year delay.
Ebtekar: "I'm doing fine," said the director of the Atomic Energy Organization of Iran after undergoing surgery at a Tehran hospital.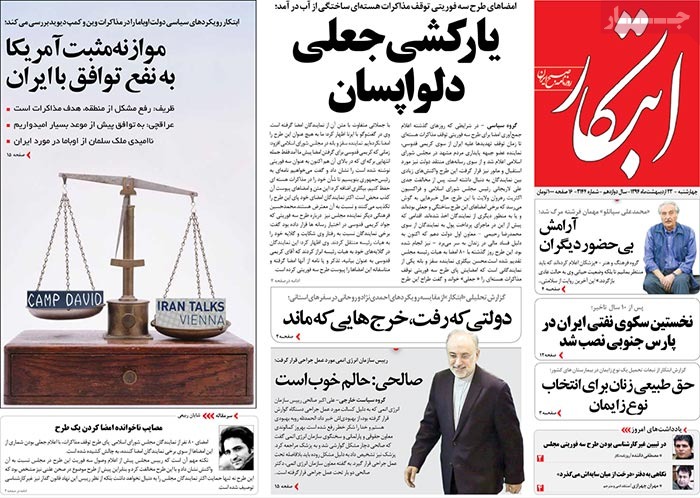 ---
Emtiaz: The Health Ministry has warned about the increase of Malta fever cases in the country.
Emtiaz: The ministry of industries aims to have three million cars produced locally.
---
Etemad: The fake signatures of a motion filed by the Worriers in parliament.
The MPs who signed the motion that would require a halt to nuclear talks withdrew their signatures.
Some MPs say that they were told they were signing a statement not a motion by the sponsors of the bill.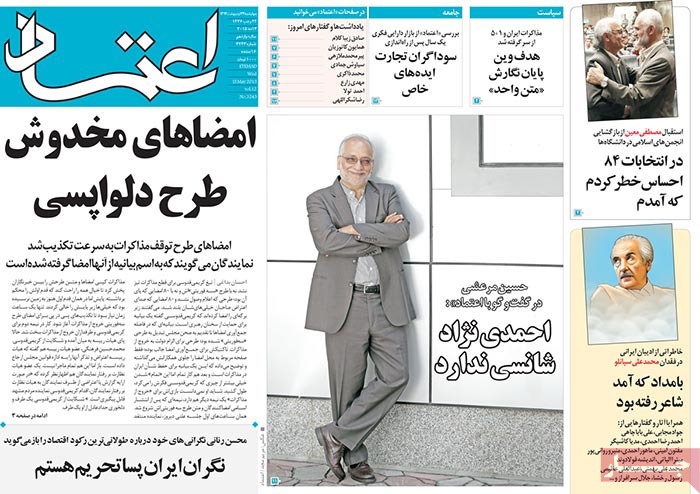 ---
Ettela'at: "Iran's strategy is to help Syria ride out the current crisis," said Iranian Deputy Foreign Minister Hossein Amir Abdollahian.
Ettela'at: "Publishers and authors should be exempted from tax," said Parliament Speaker Ali Larijani as he visited Tehran International Book Fair.
Ettela'at: "In the crackdown on rent-seeking, there are legal loopholes," said First Vice-President Eshagh Jahangiri.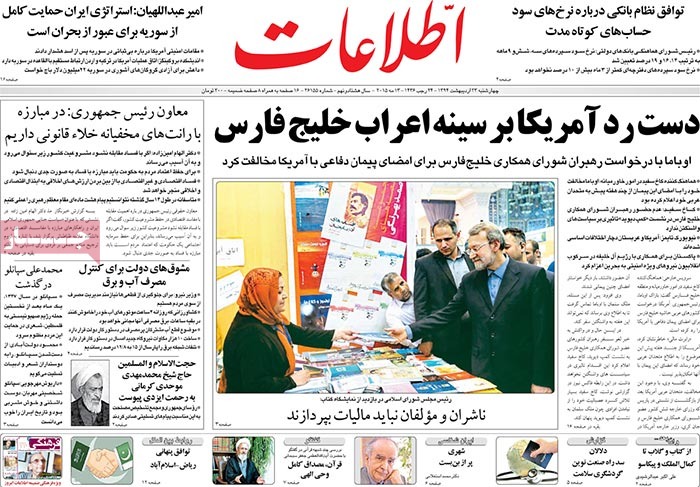 ---
Jomhouri Islami: Iraqi President Fuad Masum has arrived in Tehran on a state visit.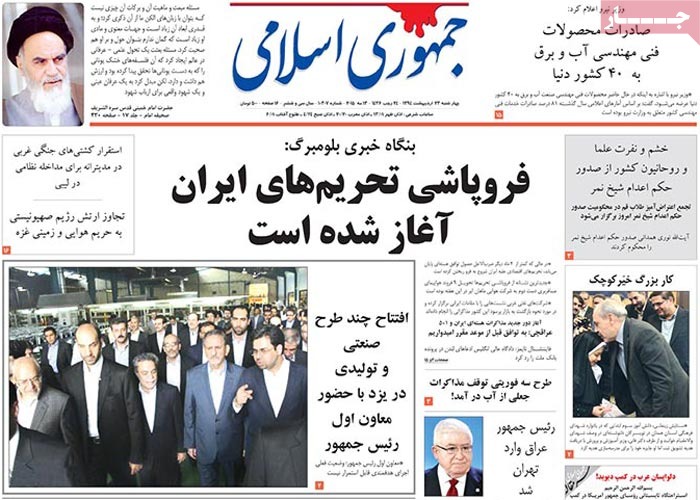 ---
Kayhan: The IAEA chief has administered the coup de grace to optimists by saying that Iran will have to accept inspection of its military sites.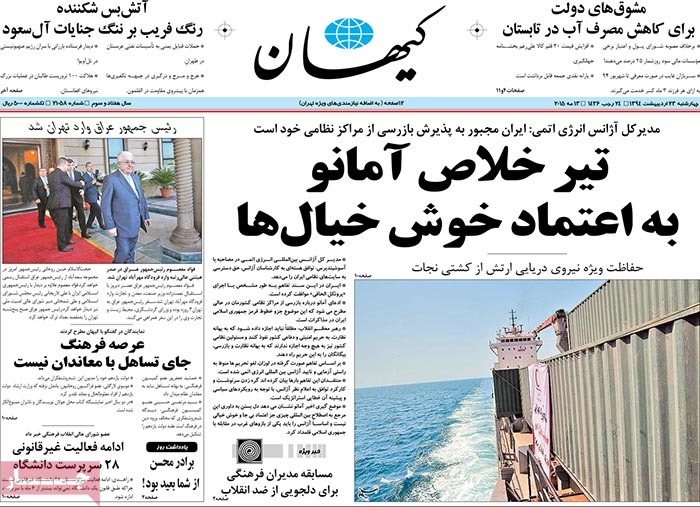 ---
Shahrvand: As an Iranian ship laden with humanitarian aid has set sail for Yemen, the Saudis have upped the blustery rhetoric.