The vehement opposition of the parliament speaker to a motion filed by fellow principlist MPs calling for a halt to negotiations with P5+1 dominated the front pages of Iranian newspapers Monday. Comments of the minister of culture and Islamic guidance about the freedom of press were also in the news.
Afarinesh: Parliament speaker has voiced opposition to [a motion that called for] a halt to nuclear negotiations [with P5+1].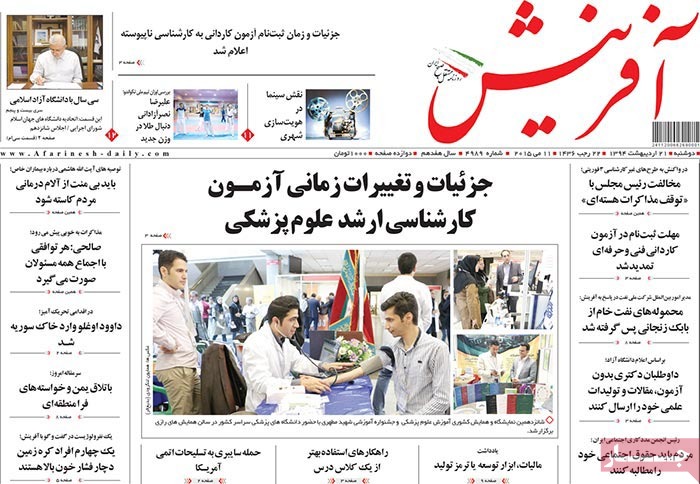 ---
Afkar: "Iran stands ready to help with Afghan reconstruction," said former foreign minister Ali Akbar Velayati, who now serves as an advisor to the Supreme Leader.
---
Aftab-e Yazd: "Removal of satellite dishes from rooftops has failed to produce the intended result," said the minister of culture and Islamic guidance.
Aftab-e Yazd: At a meeting with her Iranian counterpart in Tehran, the South African foreign minister said sanctions against Iran have been illogical.
Aftab-e Yazd: Residents will have to pay for calling 118 [the nationwide telephone directory service].
---
Ebtekar: As many as 700 university professors have signed a letter to the heads of the three branches of government calling for authorities to counter extremism.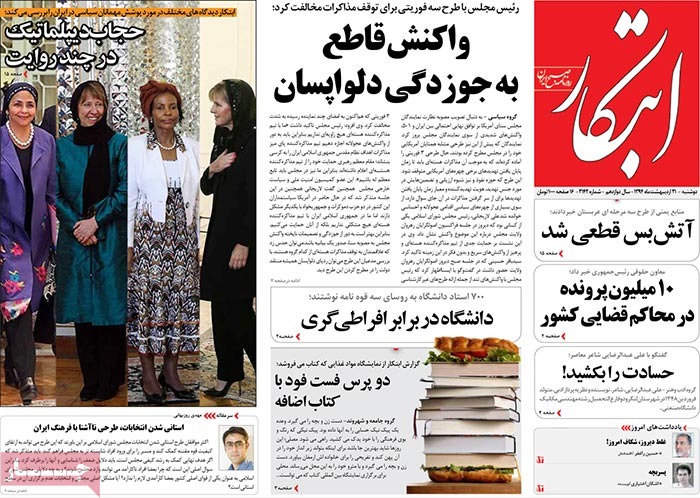 ---
Emtiaz: In a rare phenomenon, a coat of snow has blanketed Tochal Heights [to the north of Tehran] with the capital experiencing 30º C temperatures.
Emtiaz: More than 1.3 tons of pornography and smuggled DVDs have been destroyed in the capital.
---
Ettela'at: "Family attorney" and "Legal representation insurance" initiative will be implemented in the country.
Ettela'at: "Alignment not confrontation is the best way to control public opinion," said Minister of Culture and Islamic Guidance Ali Jannati.
---
Hambastegi: "Even those who are more powerful than the Saudis cannot harm Iran's interests," said Ali Akbar Velayati, the chairman of the Center for Strategic Studies.
---
Iran: Iran's Greco-Roman wrestling team has been crowned Asian champion.
Iran: The minister of culture and Islamic guidance has explicitly supported freedom of press.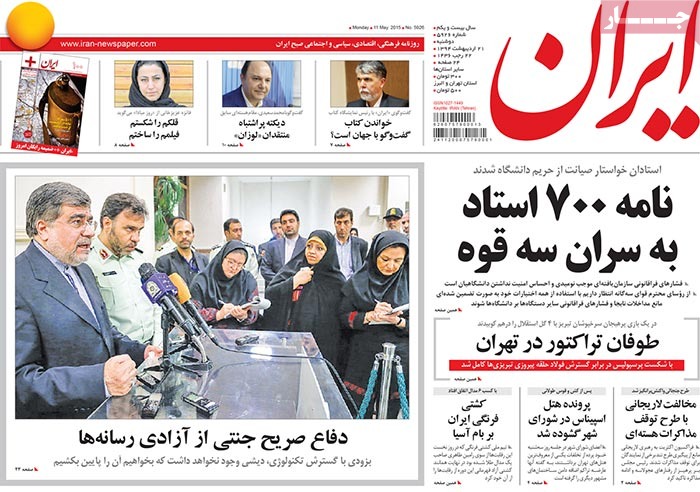 ---
Kayhan: An Iranian ship carrying humanitarian aid for the stricken people of Yemen has set sail.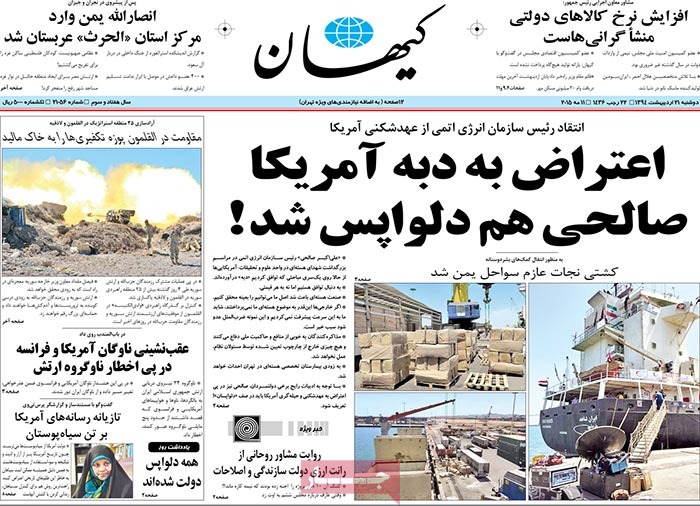 ---
Resalat: The Iraqi president has said that Iran's assistance in the fight against IS does not amount to interference [in Iraq's internal affairs].
---
Roozan: "Iranian sport officials do not have respect for me," complained Slobodan Kovac, the Serbian head coach of Iran's national volleyball team.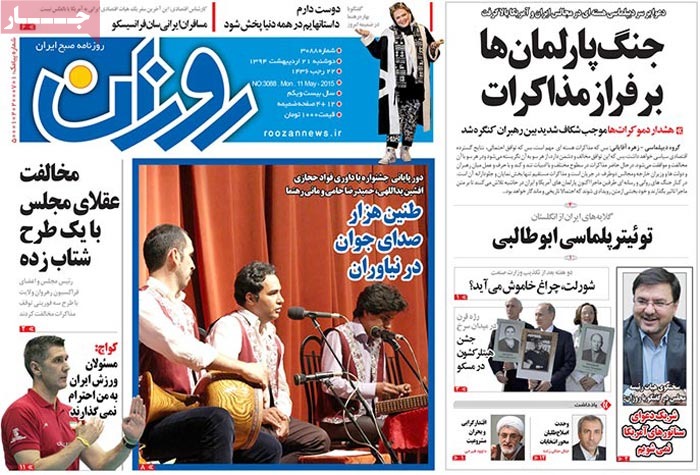 ---
Sharq: Iran's tourism balance is $6.5 billion in the red.