The top story in all papers today was the remarks made by the Leader of Iran's Islamic Revolution Ayatollah Seyyed Ali Khamenei on the US withdrawal from the Iran nuclear deal.
Other reactions by Iranian officials, including that of President Hassan Rouhani, Parliament Speaker Ali Larijani and IRGC Chief-Commander Major General Mohammad-Ali Jafari, also received great coverage.
Also a top story was the US Treasury's move to revoke the licences it had earlier issued for plane manufacturers Boeing and Airbus to sell passenger aircraft to Iran.
The above issues, as well as many more, are highlighted in the following headlines and top stories:
Abrar:
1- Iran Leader's Important Remarks after US Withdrawal from JCPOA
Mr Trump! You're Not in A Damn Position to Say Such Things
2- Licence for Boeing, Airbus to Sell Plane to Iran Revoked after US Pull-out
3- Larijani: We'll Make US Regret Its Decision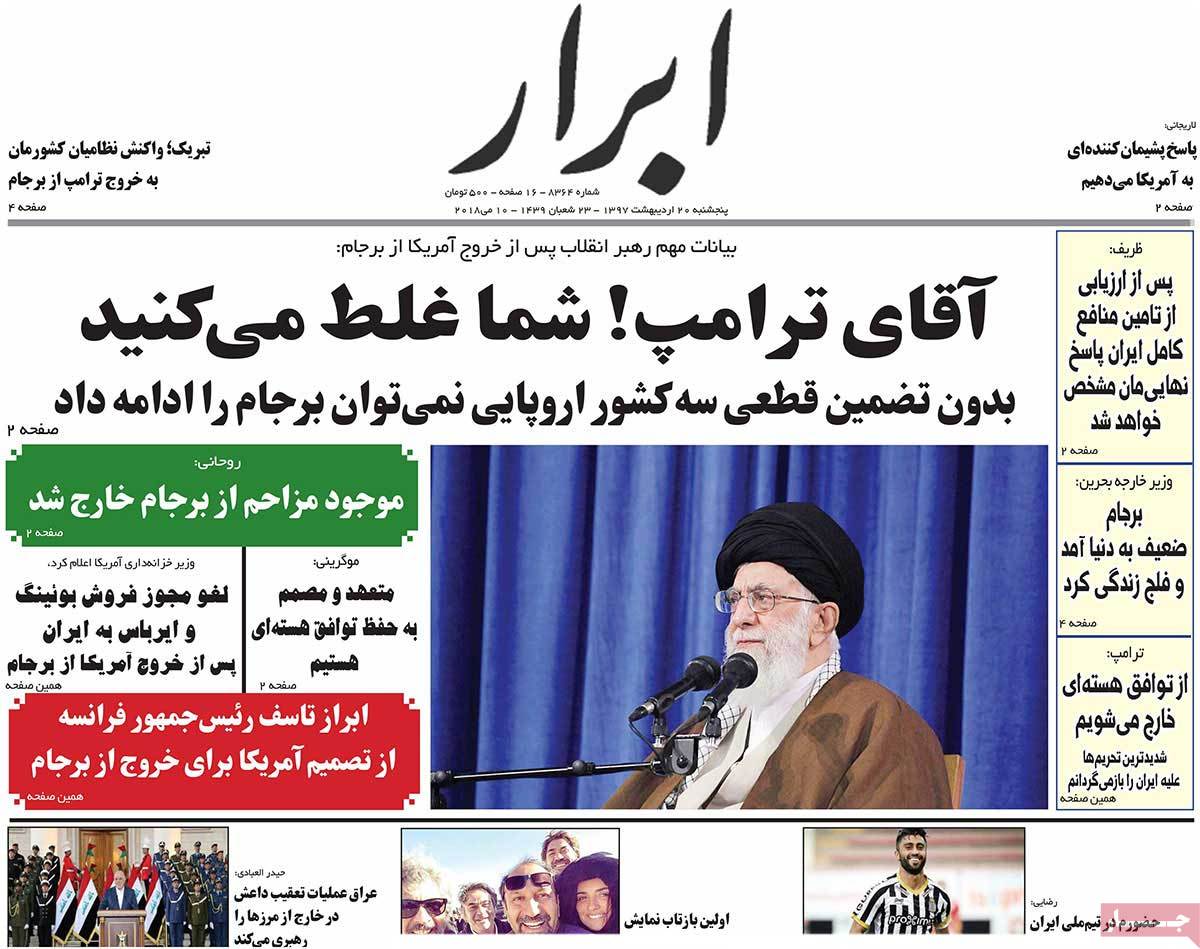 ---
Afarinesh:
1- We Must Design Post-JCPOA Era without US, West, Based on Domestic Power: Analyst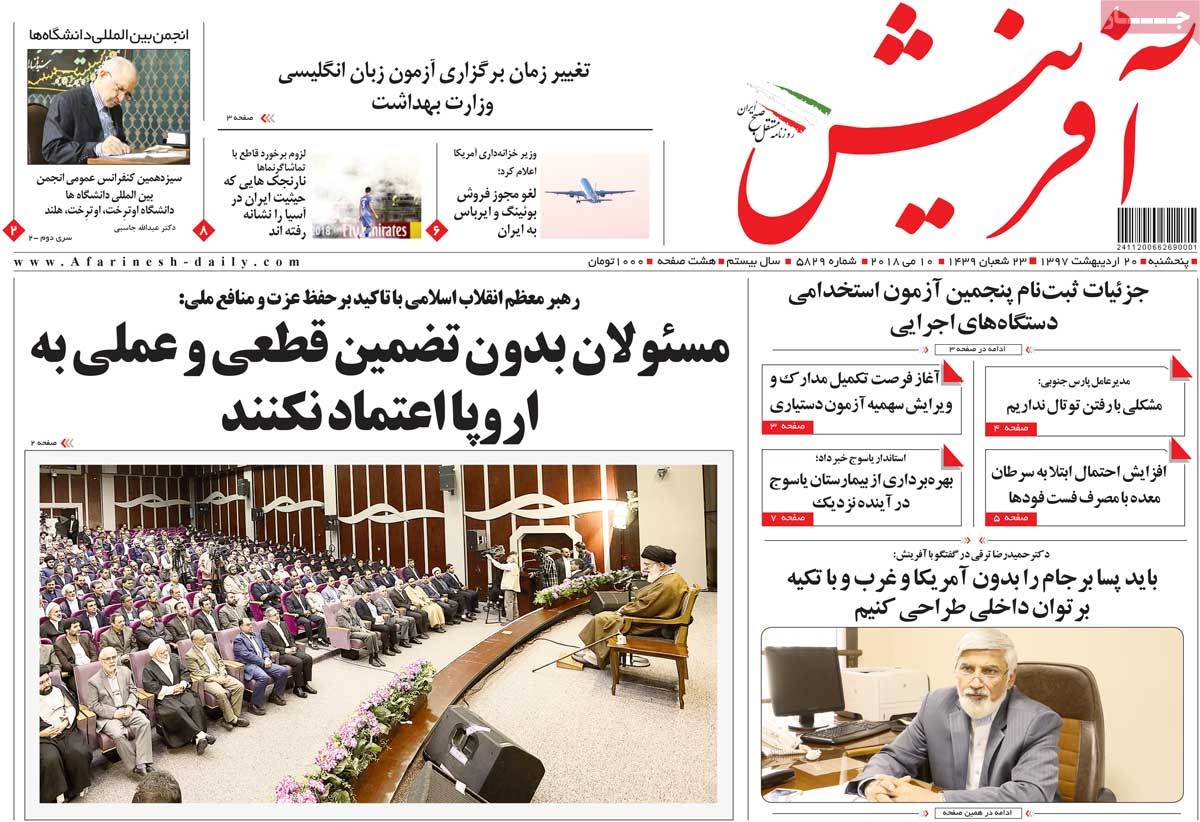 ---
Afkar:
1- Iran Leader Urges Europe to Give Guarantee
JCPOA Cannot Be Continued without E3's Guarantee
2- IRGC Chief-Commander: Europeans Cannot Be Independent of US in Decision-Making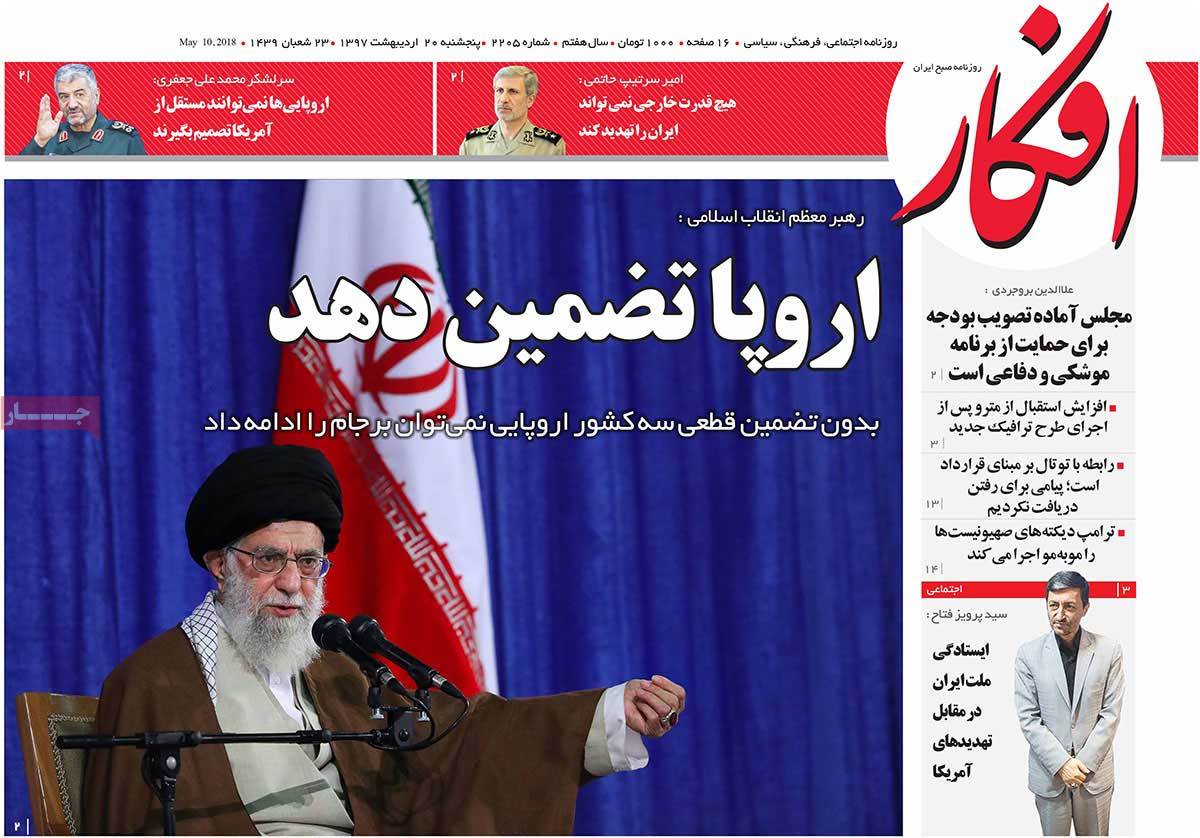 ---
Aftab-e Yazd:
1- Reformist Figure: Unity, Solidarity within Establishment Best Way to Counter Trump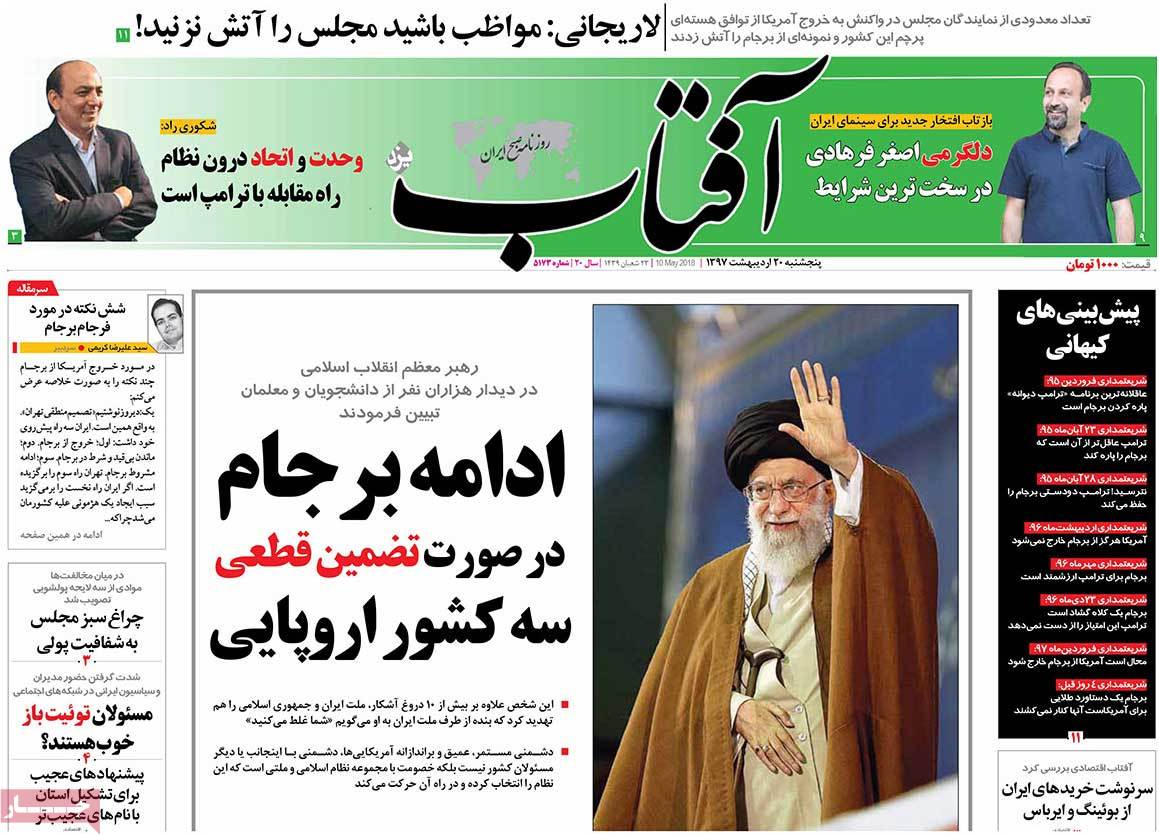 ---
Arman-e Melli:
1- Leader: Iranian Nation's Dignity, Honour Must Be Literally Secured
Big Test for Officials: Can They Maintain Iranian People's Dignity?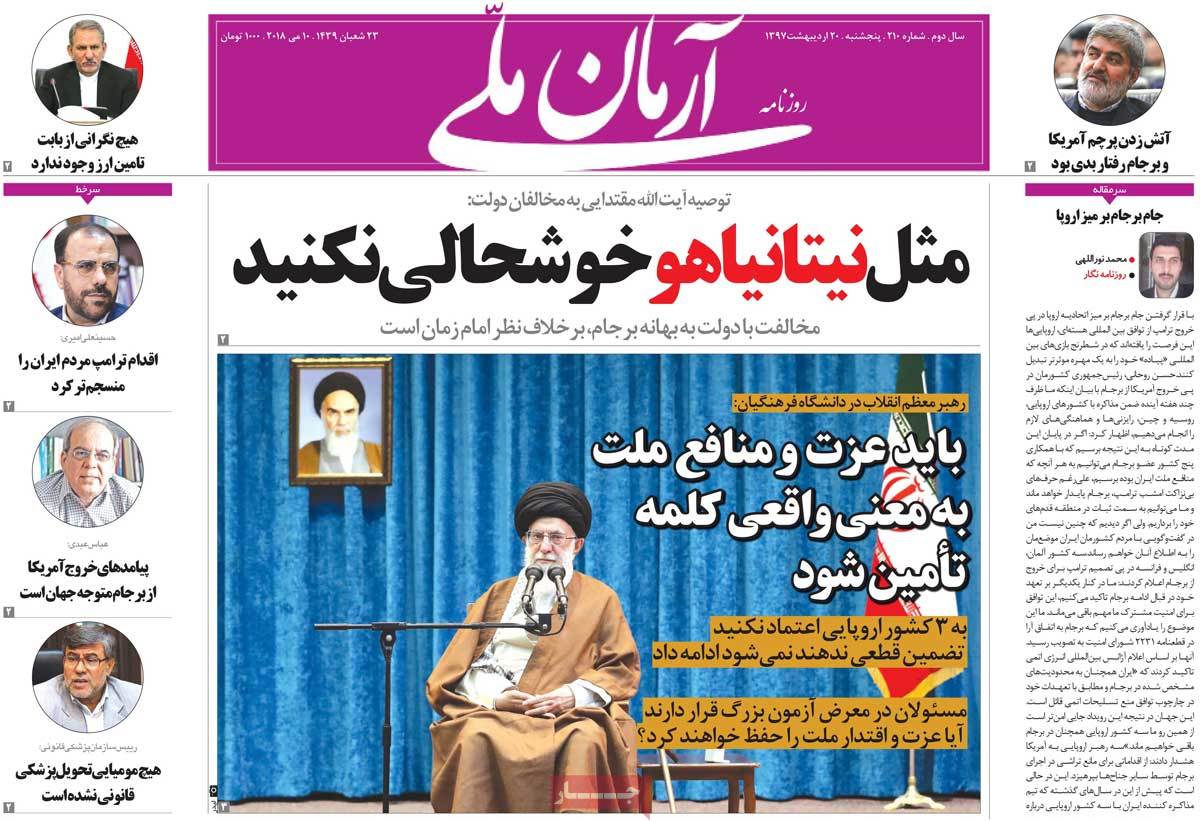 ---
Ebtekar:
1- Iran Leader: JCPOA Implementation Cannot Be Continued without E3's Guarantee
---
Etemad:
1- Iranian Stock Exchange, Forex, Gold Markets in Relative Calm
Markets Smile at JCPOA with 4+1
2- We Cannot Wait for Europeans for Unlimited Time: MPs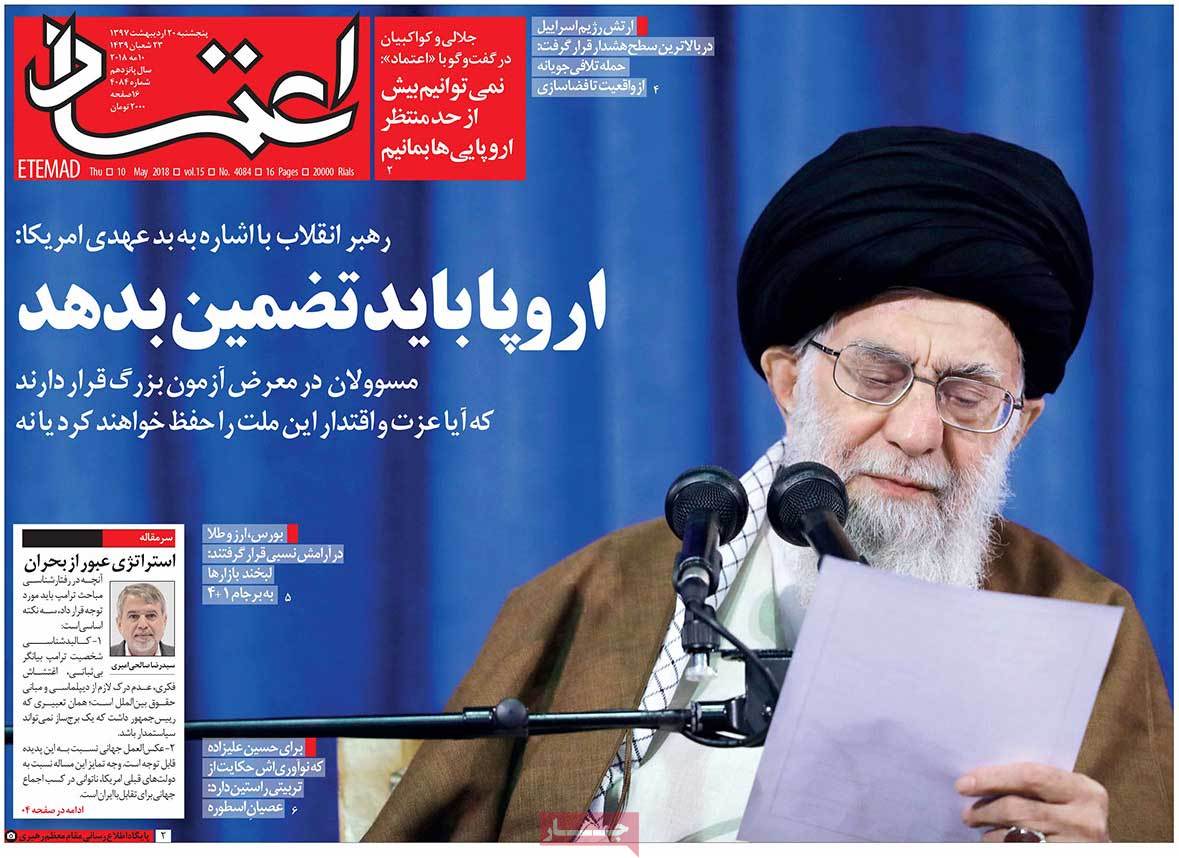 ---
Ettela'at:
1- EU: We're Fully Committed to Iran Nuclear Deal
2- Rouhani: Iran's Interests in JCPOA Must Be Clearly Guaranteed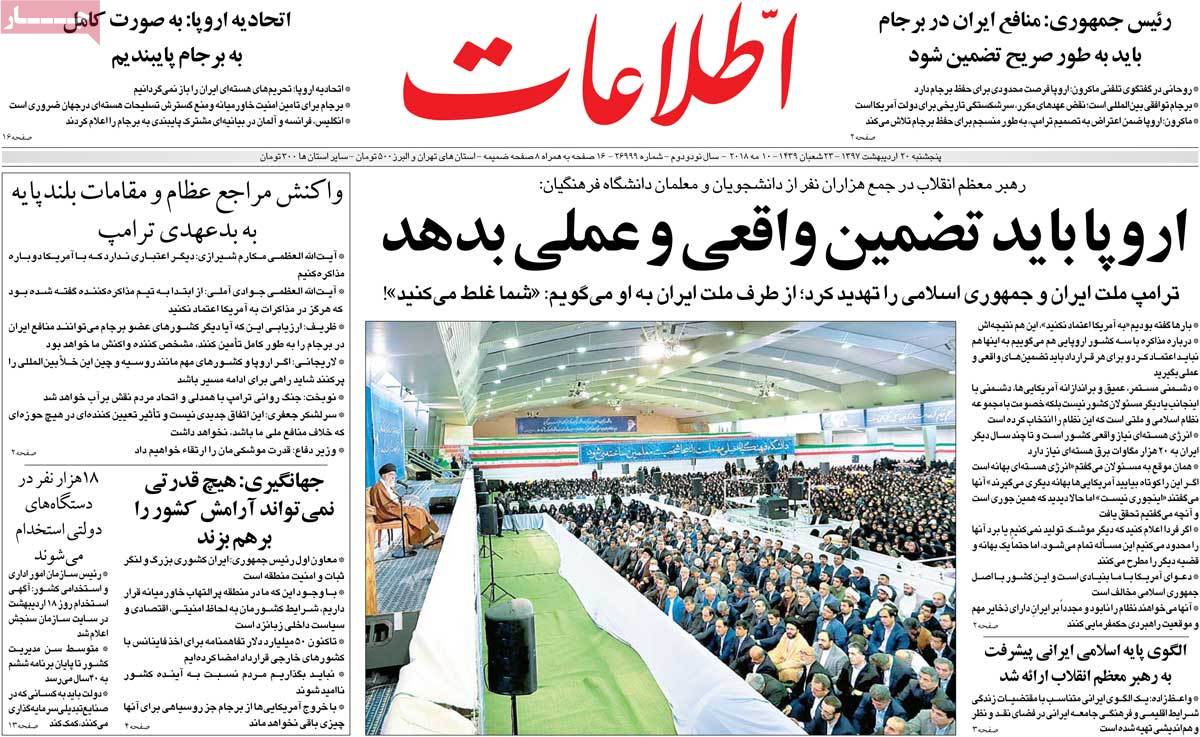 ---
Iran:
1- Parliament Speaker: Europe Must Show It Has Enough Weight to Resolve Issues
2- Iran's Top General: Global Arrogance Didn't Remain Loyal Even to Its Own Signature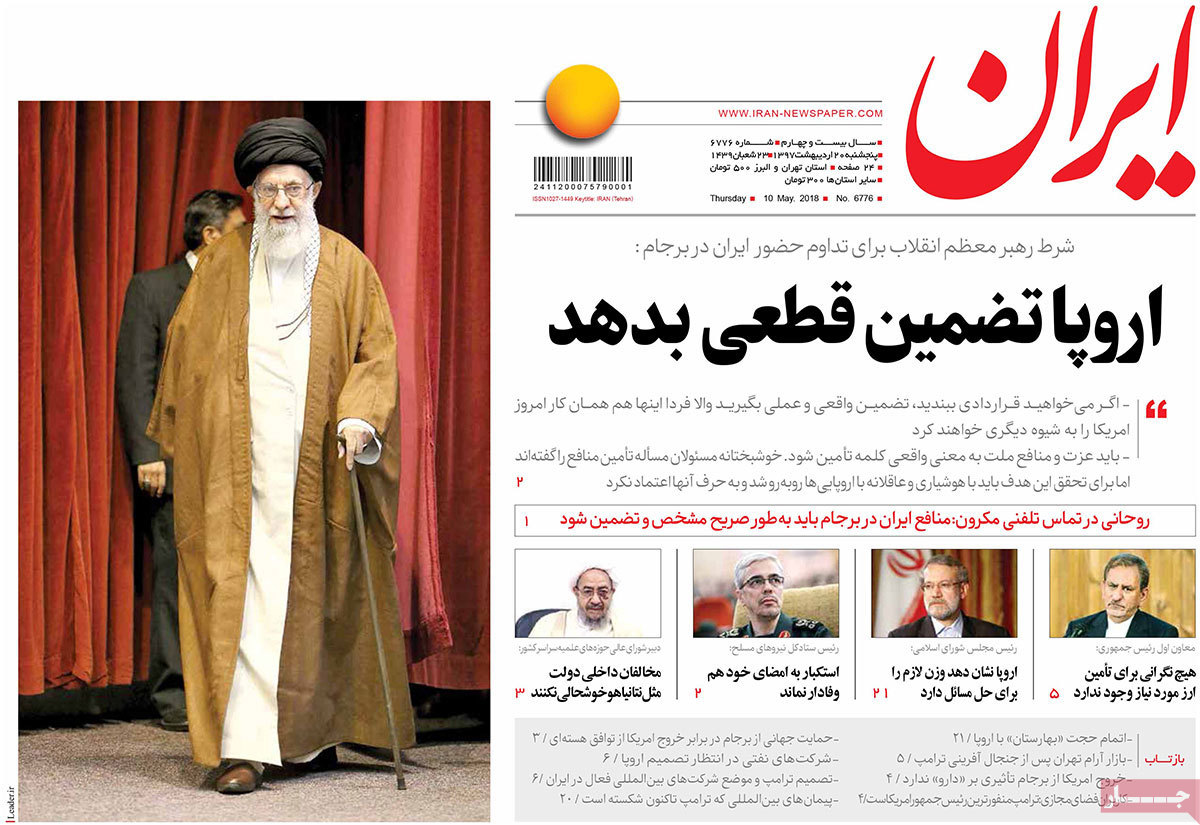 ---
Jomhouri Eslami:
1- Officials, Activists: Iranian Economy Ready to Go on without US Presence in JCPOA
2- Ayatollah Sistani Worried about Extremism, Desecration of Muslim Sanctities
---
Kayhan:
1- Western Firms: We'll Follow US Directives on Cooperation with Iran
2- North Korea: US Must Prove Its Honesty before Negotiations
---
Kelid:
1- Iran Leader: I Told You Several Times Don't Trust US! Now You See the Result!
---
Khorasan:
1- Rouhani to Macron: Europe Has Very Limited Time to Save JCPOA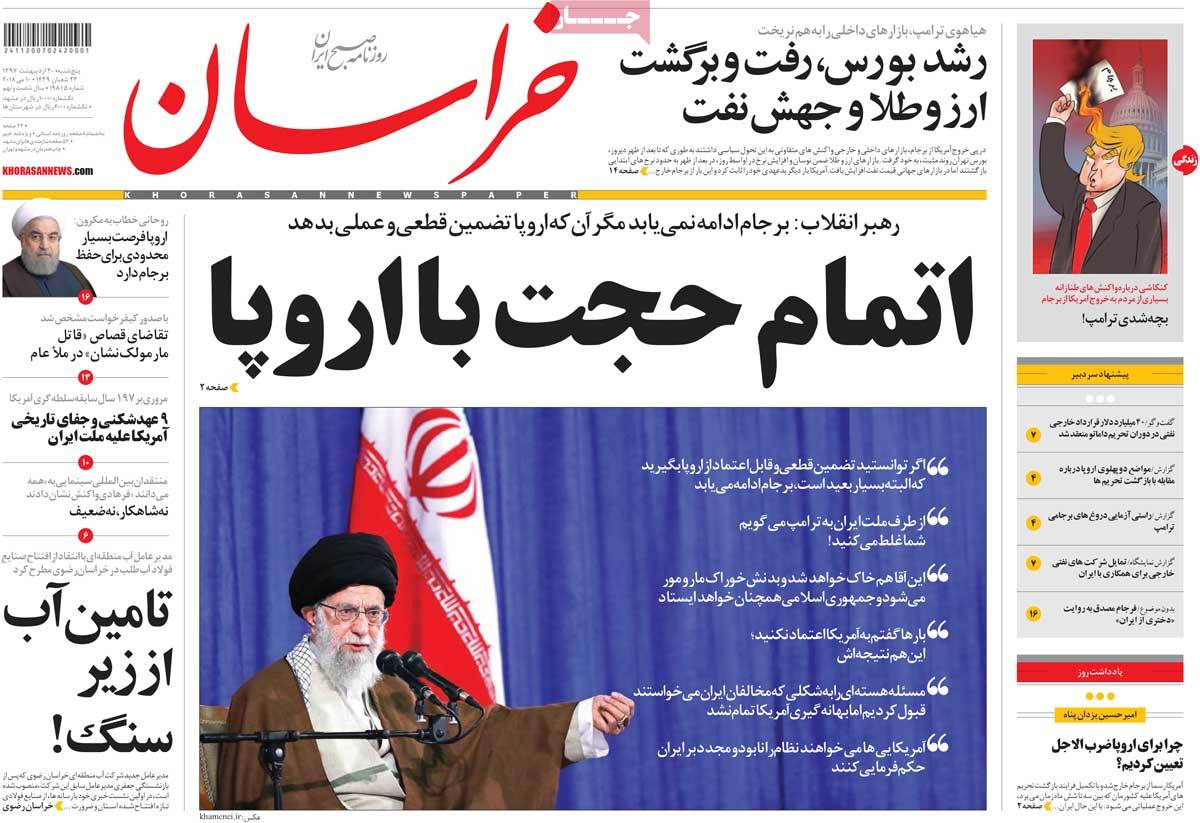 ---
Resalat:
1- Ayatollah Nouri Hamadani: We Shouldn't Be Optimistic about EU's Staying in JCPOA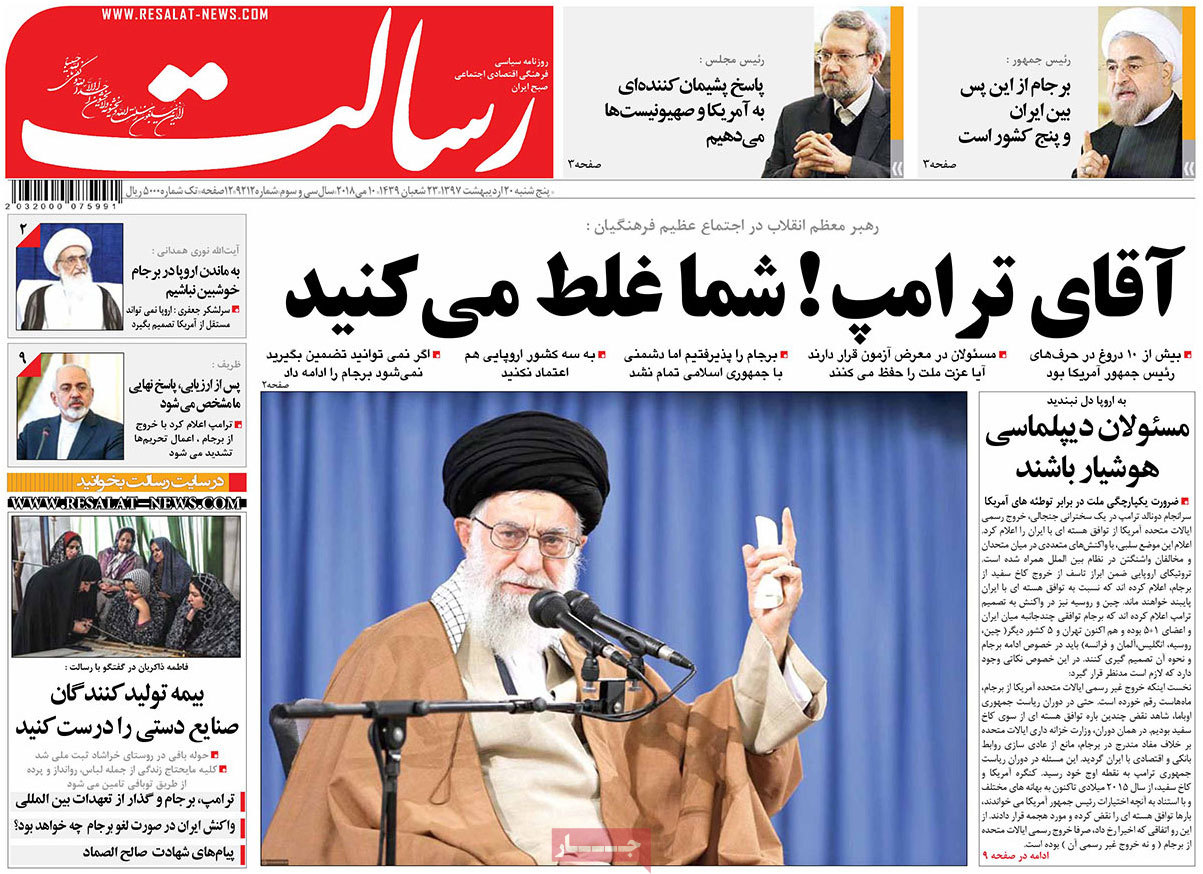 ---
Rooyesh-e Mellat:
1- Parliament Speaker: Language of Coercion More Effective on Trump
---
Sayeh:
1- Merkel: We'll Do Anything to Preserve Iran Nuclear Deal
---
Shargh:
1- Iran Leader: They Cannot Tolerate an Elevated Iran
2- Iran First VP: No Need to Worry about Forex Supplies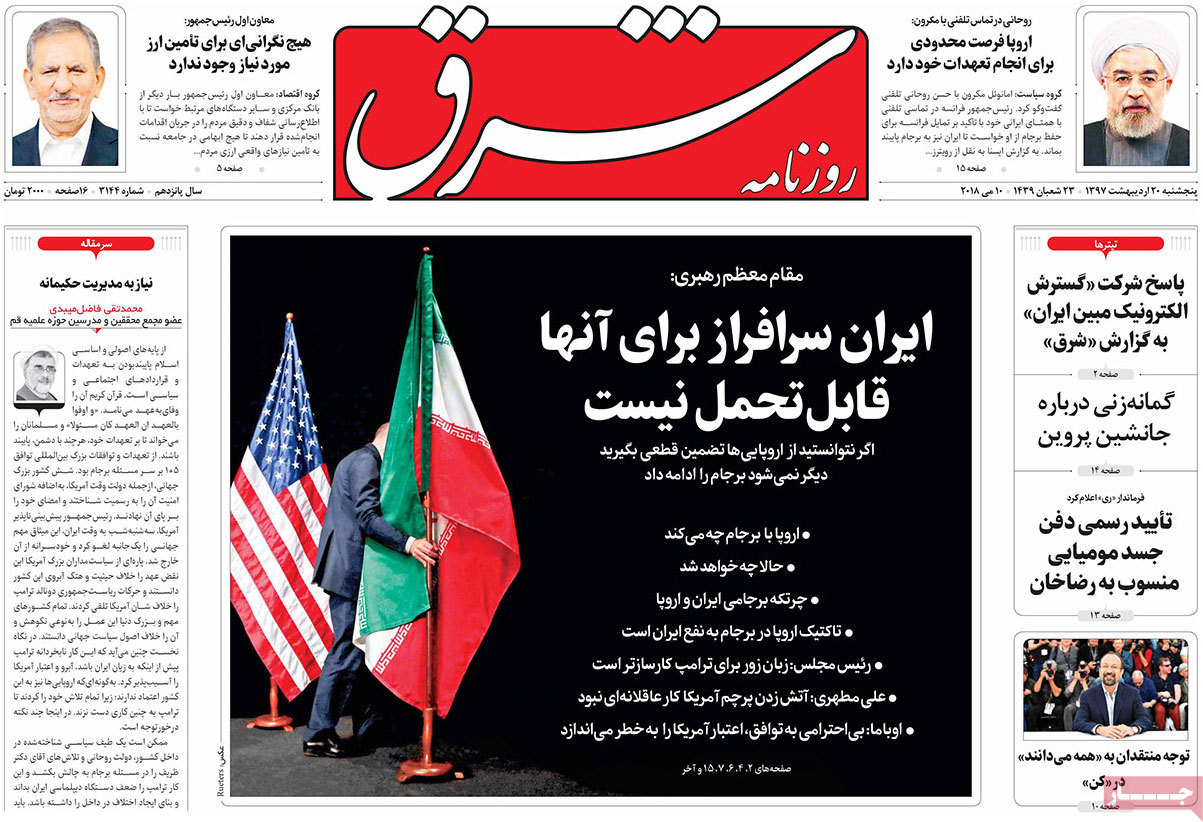 ---
Vatan-e Emrooz:
1- Fate of JCPOA Planes
US Treasury Dept.: Licences for Boeing, Airbus Sales to Iran Revoked