The reactions of the heads of the three branches of government to the theatrical speech of Netanyahu before a joint session of the US Congress dominated the front pages of Iranian newspapers on Thursday.
Abrar: Talks between Foreign Minister Zarif and Secretary Kerry have ended in Montreux, Switzerland.
A next round of negotiations is expected to open on March 15 and last through March 20.
---
Abrar-e Eghtesadi: "The country is still in economic recession."
The chairman of parliament's Economic Committee has rejected assertions by the Central Bank governor that Iran is out of recession.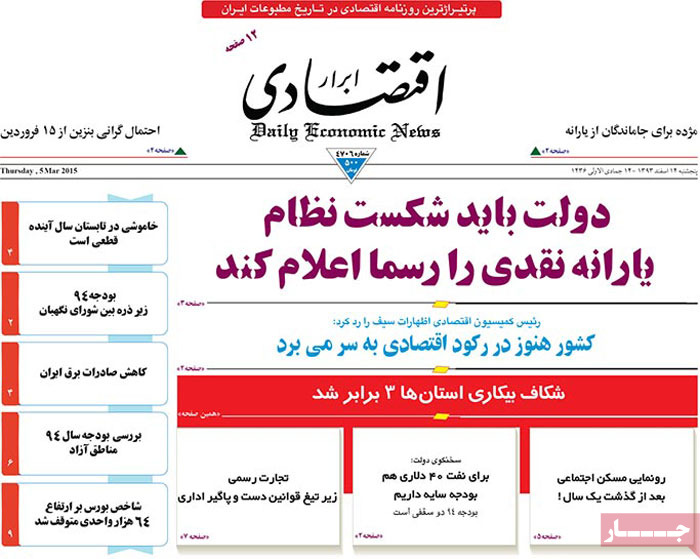 ---
Afkar: "It is not realistic or achievable to stop Iran from nuclear enrichment."
US National Security Advisor Susan Rice said in a speech at the American Israeli Public Affairs Committee (AIPAC).
---
Ebtekar: The white smoke signal
Bilateral talks have come to an end with chief negotiators Zarif and Kerry hopeful of a deal.
---
Etemad: Tehran's unanimous response
The heads of the three branches of government and political figures have all treated Netanyahu's rhetoric with scorn.
---
Ettela'at: "We have not tied the country's future to the result of nuclear talks."
Government Spokesman Mohammad Bagher Nobakht further said that the government has worked out contingency budgets for scenarios in which oil prices remain at 40 or 50 dollars a barrel.
Ettela'at: Funeral processions have been held in Tehran and a dozen other cities for a number of war martyrs whose remains recently returned home.
---
Hamshahri: "Housing prices won't increase next year," said the minister of roads and urban development.
---
Hemayat: "The Canadian Judiciary has been given information about the corruption case involving Mahmoud Reza Khavari."
The chief of the Interpol Division of the Iranian police force said about the former banker wanted for embezzlement.
---
Jahan-e Eghtesad: "We won't back down in the fight against corruption," said First Vice-President Eshagh Jahangiri.
---
Jomhouri Islami: Iranian diplomacy worked; the US and Europe paid no attention to the anti-Iranian rhetoric of Netanyahu.
Jomhouri Islami: An Iranian hybrid car has been unveiled with President Rouhani in attendance.
Jomhouri Islami: The Supreme Leader has donated some $17,000 dollars to a benevolence festival.
---
Kaenat: Iran's ambassador to the International Atomic Energy Agency has said that the UN nuclear watchdog and Iran will hold talks in Tehran on March 9.
---
Kayhan: "It is too soon to pass judgment on the nuclear talks," said Iranian negotiator Seyyed Abbas Araghchi.
---
Qods: The interior minister has called on Pakistan to hand over Abdulsattar Rigi, [the ringleader of the Jaish al-Adl terrorist group].
---
Sharq: Iran has a strong presence in an Iraqi army operation to wrest control of Tikrit [from IS terrorists].
---
Siasat-e Rooz: A court in Saudi Arabia has upheld the death sentence handed down to senior Shiite cleric Nimr al-Nimr.
---
Tejarat: A person accused of massive corruption has been arrested by the Islamic Revolution Guard Corps.