All newspapers today covered the remarks made by the Leader of Iran's Islamic Revolution Ayatollah Seyyed Ali Khamenei in a meeting with members of the Assembly of Experts, a body responsible for choosing or dismissing the country's Leader.
A meeting of the JCPOA Joint Commission in the Austrian capital of Vienna also made headlines on Saturday. Several papers referred to the US pressure on Europe, and the EU's efforts to appease Trump in order to keep him in the nuclear deal.
The latest round of trilateral talks between Iran, Turkey, and Russia on the Syrian crisis was also a top story today, as the final statement released by the three countries' foreign ministers received great coverage today.
The above issues, as well as many more, are highlighted in the following headlines and top stories:
19 Dey:
Iran Leader: I Believe A Better Future Will Come
Syria Crisis Has No Military Solution: Astana Statement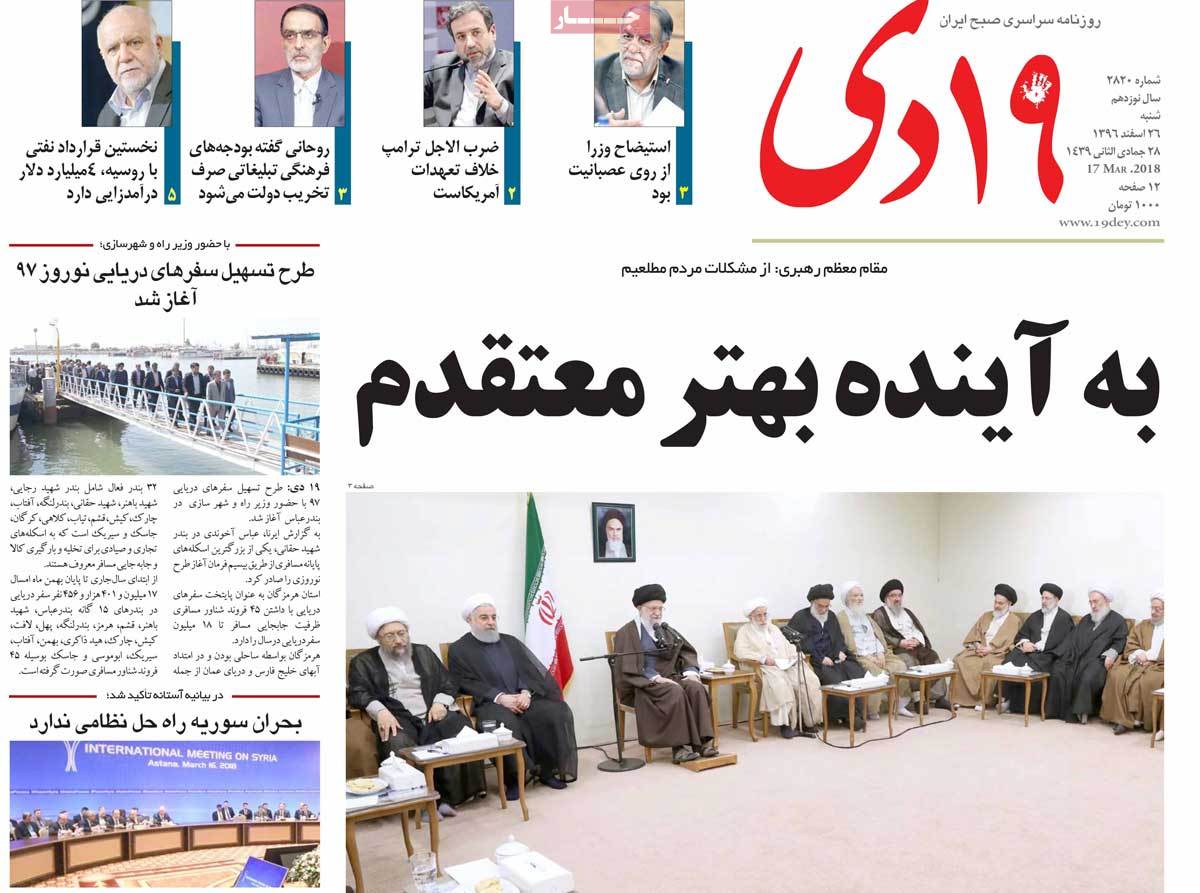 ---
Abrar:
Iranian, Turkish Military Officials Underline Enhancement of Defence Ties
US Navy Spokesman: Iran's Behaviour in Persian Gulf Has Become Softer!
Mattis Accuses Iran of Trying to Interfere in Iraq Elections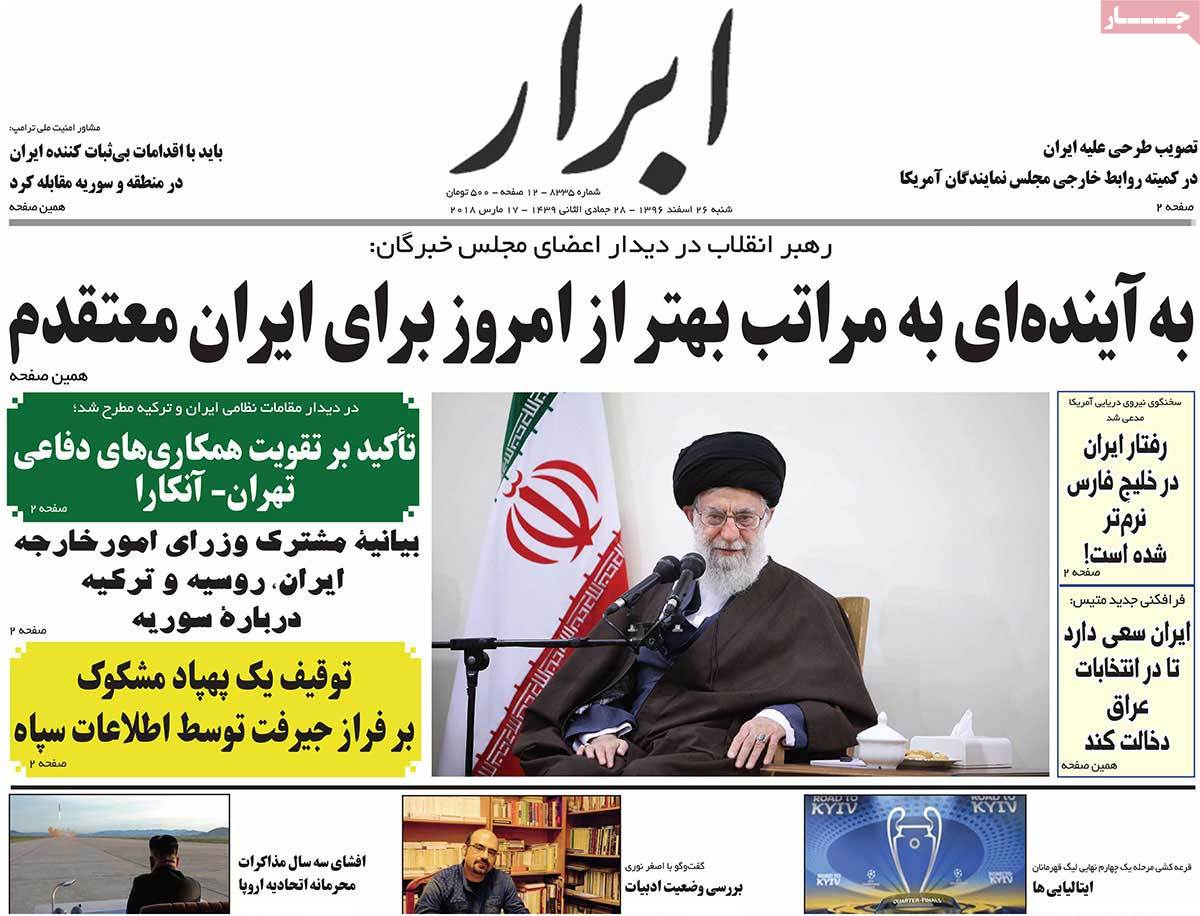 ---
Aftab-e Yazd:
Iran Leader: We're Aware of People's Problems, but No Problem Unsolvable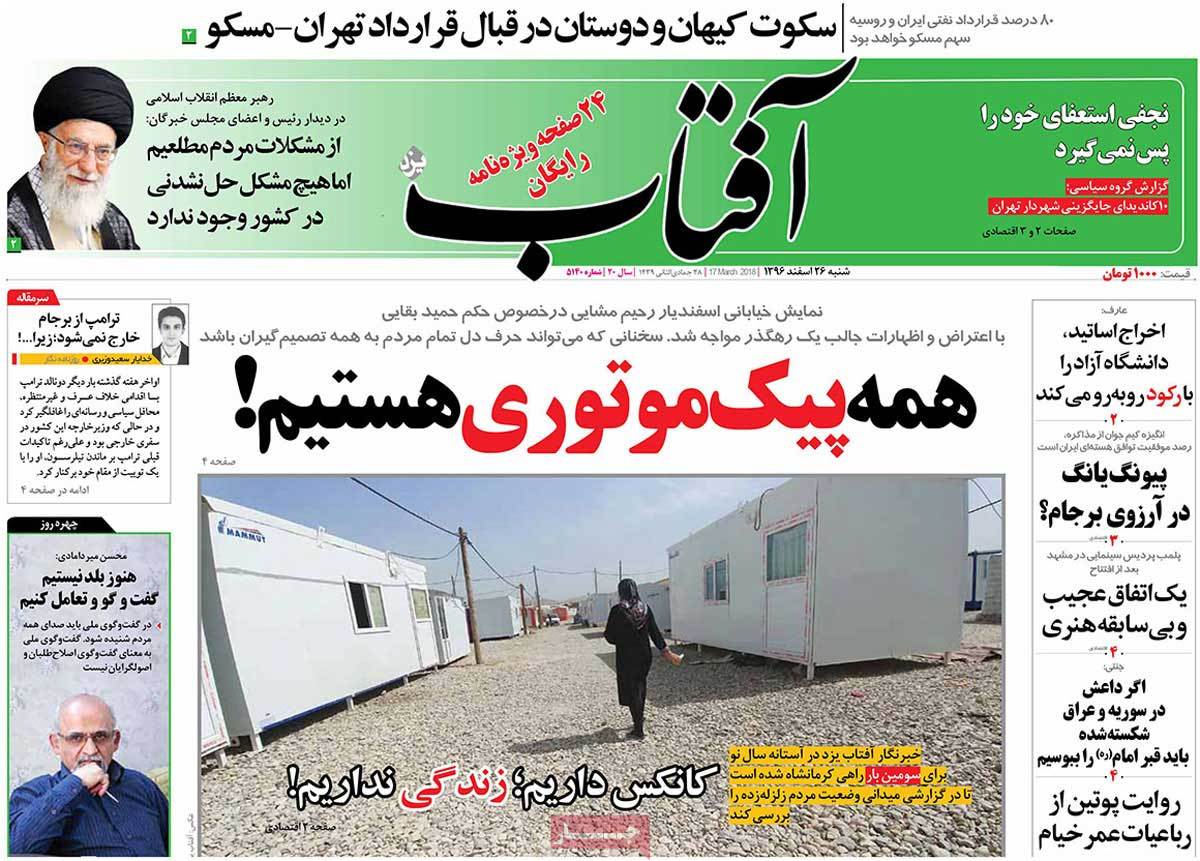 ---
Arman-e Emrooz:
Europe under Trump's Pressure
EU Proposes New Sanctions against Iran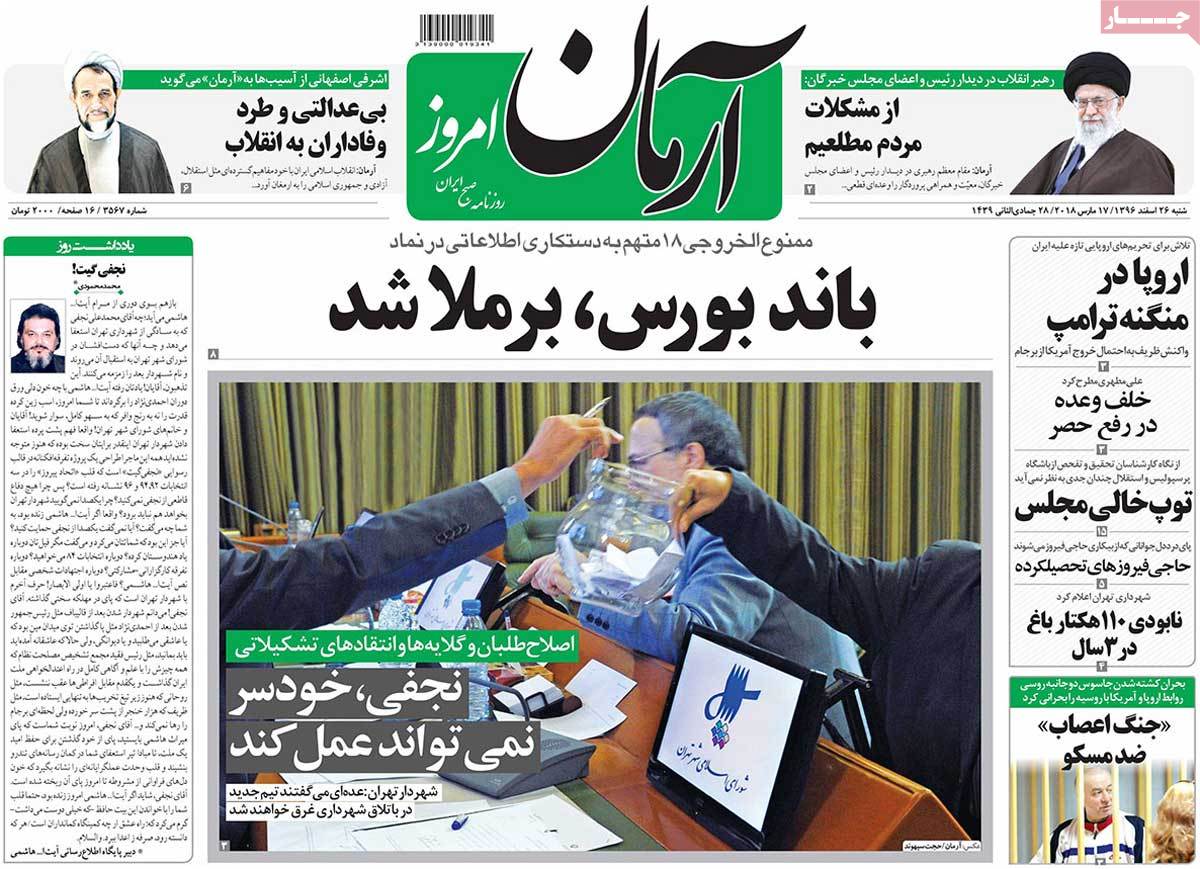 ---
Ebtekar
Iran Tests Europe on JCPOA
11th Meeting of JCPOA Joint Commission Held in Vienna
Kazakhstan, Watershed in Syria Crisis
---
Etemad:
Ambiguous Future of Iran Nuclear Deal
Representatives of Iran, P5+1 Meet in Vienna
---
Ettela'at:
In Unprecedented Move, Zionists Confess to Being Defeated by Hezbollah in 33-Day War
FMs of Iran, Russia, Turkey Underline Joint Fight against Terror Until Syria Liberation
---
Iran:
Araqchi: Trump's Ultimatum against US Commitments under JCPOA
Rouhani's Chief of Staff: Everyone Waiting for Others to Hear People's Voice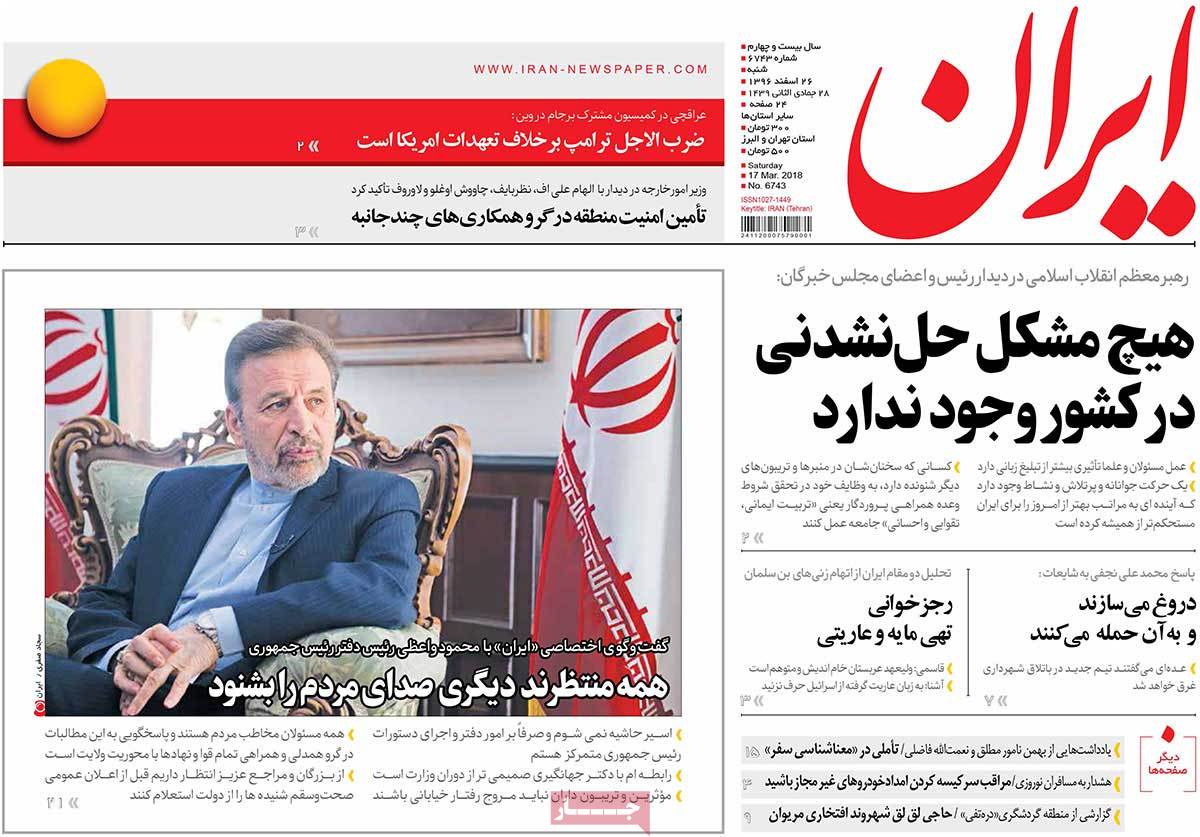 ---
Javan:
Iran Leader: Islamic Republic's Monotheistic Nature Makes Enemies Attack Us
Araqchi Implicitly Admits: EU Confirms US Violation of JCPOA, but Refrains from Saying It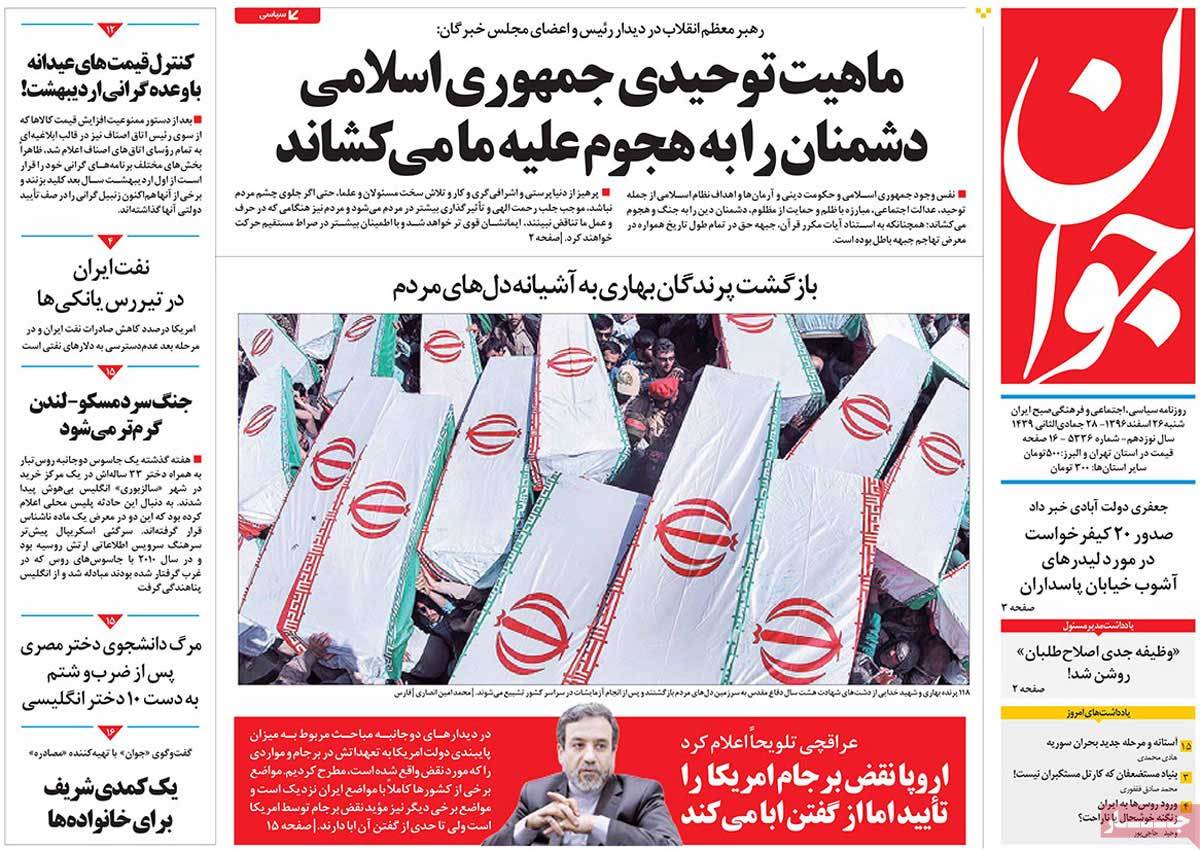 ---
Jomhouri Eslami:
Iran Leader: People's Faith to Become Stronger If We Do What We Preach
Western Allies of US Line Up against US
---
Kayhan:
Bin Salman Imprisons His Mother Due to Her Opposition to His Kingdom
New Sanctions Approved in Washington
We Still Looking for Realization of JCPOA Promises in Vienna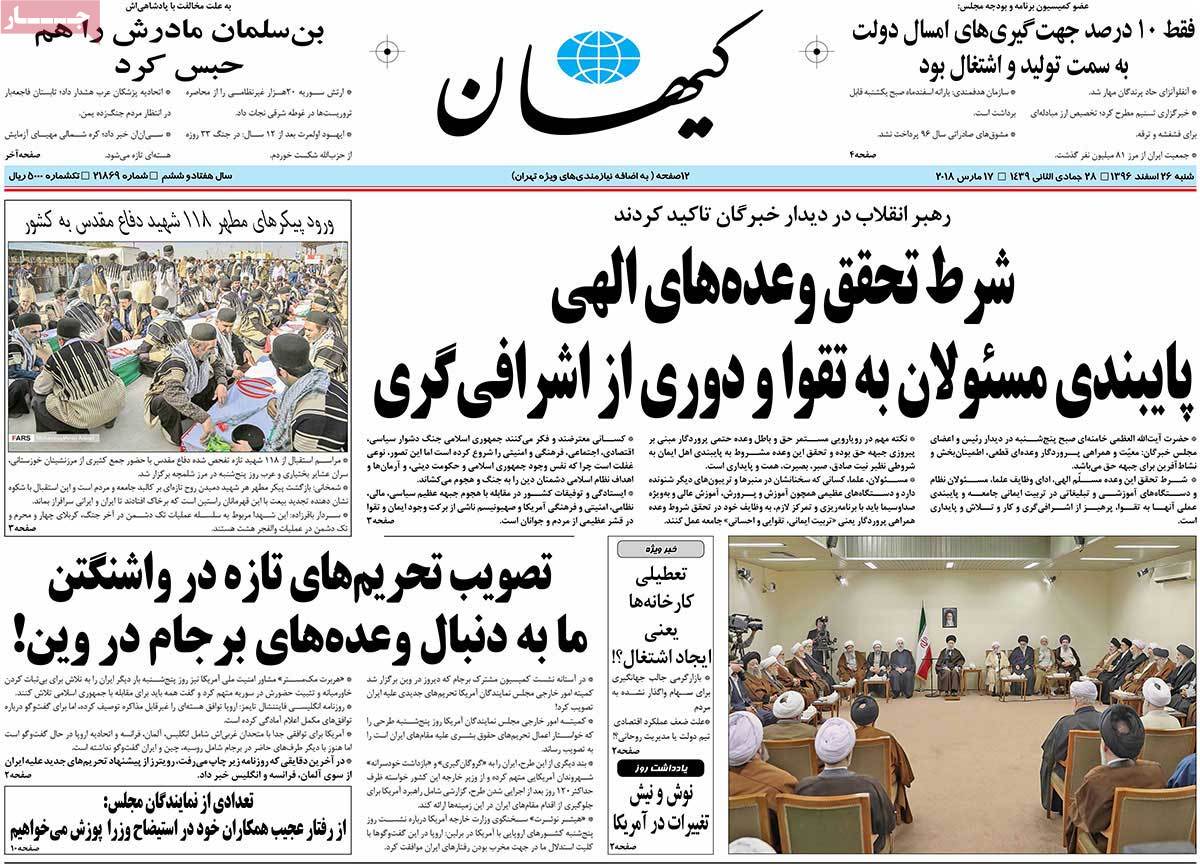 ---
Khorasan:
Iran Leader: Top Clerics, Officials Must Avoid Aristocracy, Worldliness
---
Payam-e Zaman:
Zarif Warns US Withdrawal from JCPOA to Be Painful Mistake
Iran's Population Exceeds 81 Million
---
Resalat:
Fire in UK-Russia Ties: UN Security Council to Discuss British Spy's Case
---
Setareh Sobh:
A Report on Russia Elections: Results Determined in Advance
---
Shahrvand:
Gift of Freedom for Mothers in Prison
Charity Concert's Revenues to Release Female Prisoners
VP for Women Affairs: It's Very Hard for Mothers to Be in Prison
Mr Ambassador's Adventures in Iran
German Ambassador Talks of Iranians' Love for Poetry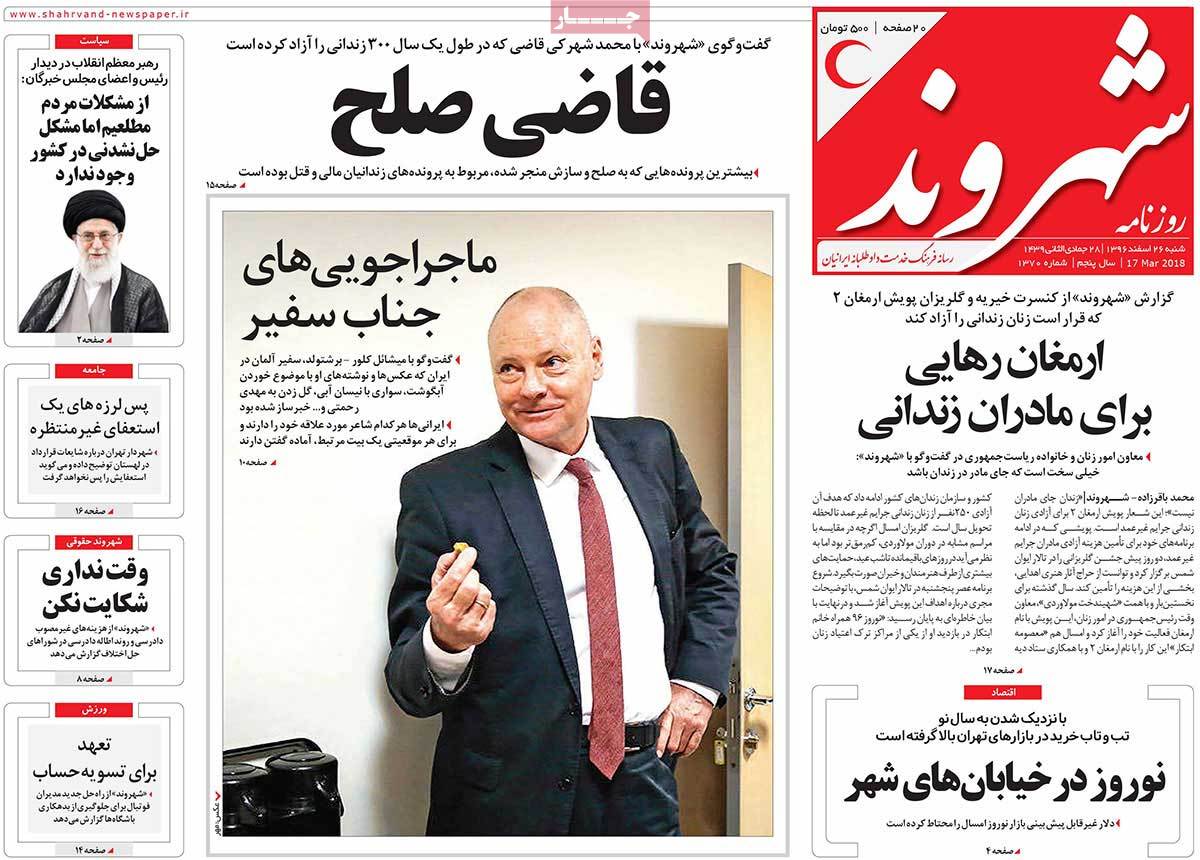 ---
Shargh:
Bin Salman: Iran No Rival to Saudi Arabia
Representatives of Iran, US Hold Bilateral Talks in Vienna
JCPOA Joint Commission Discusses US Violation of Nuclear Deal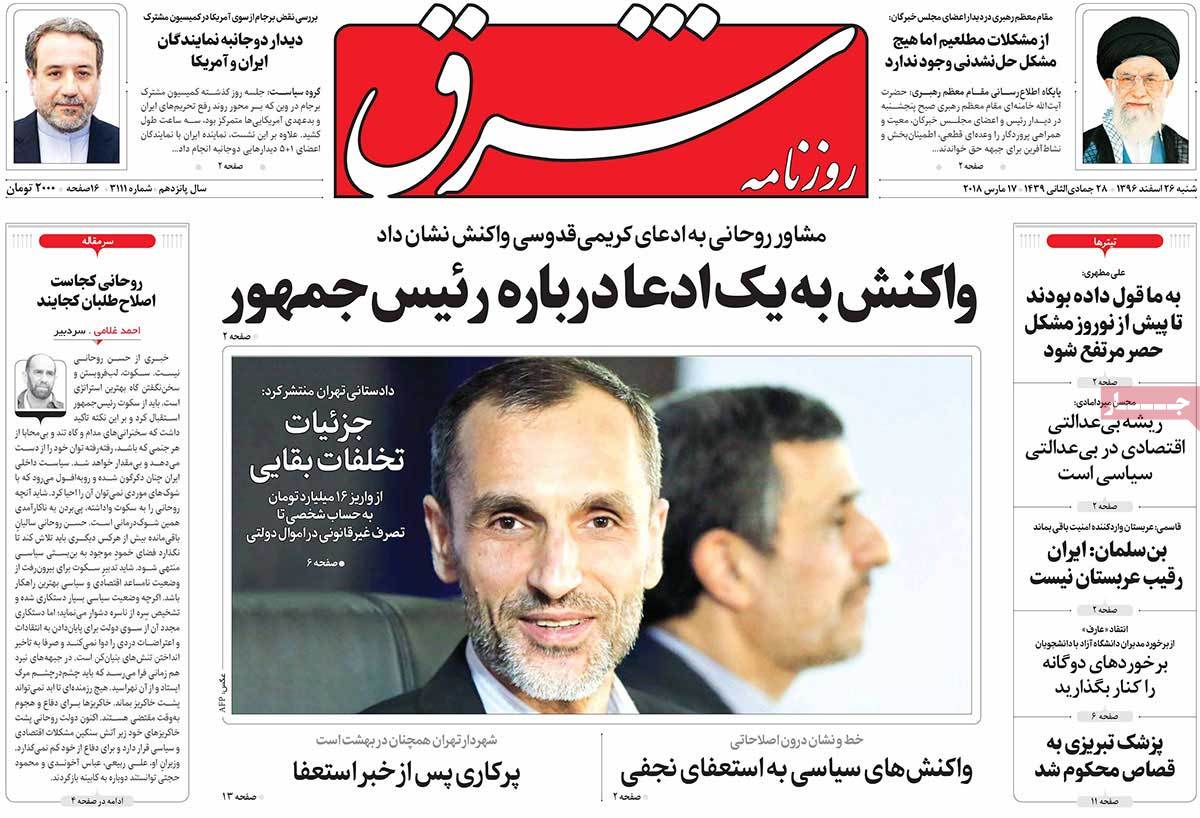 ---
Sobh-e Now:
Bin Salman's New Brag
IRGC: Riyadh Doesn't Even Dare to Test-Fire Missiles It Has Rented
---
Ta'adol:
Step by Step to Oval Office
Special Counsel to Probe into Trump Firm's Role in Russiagate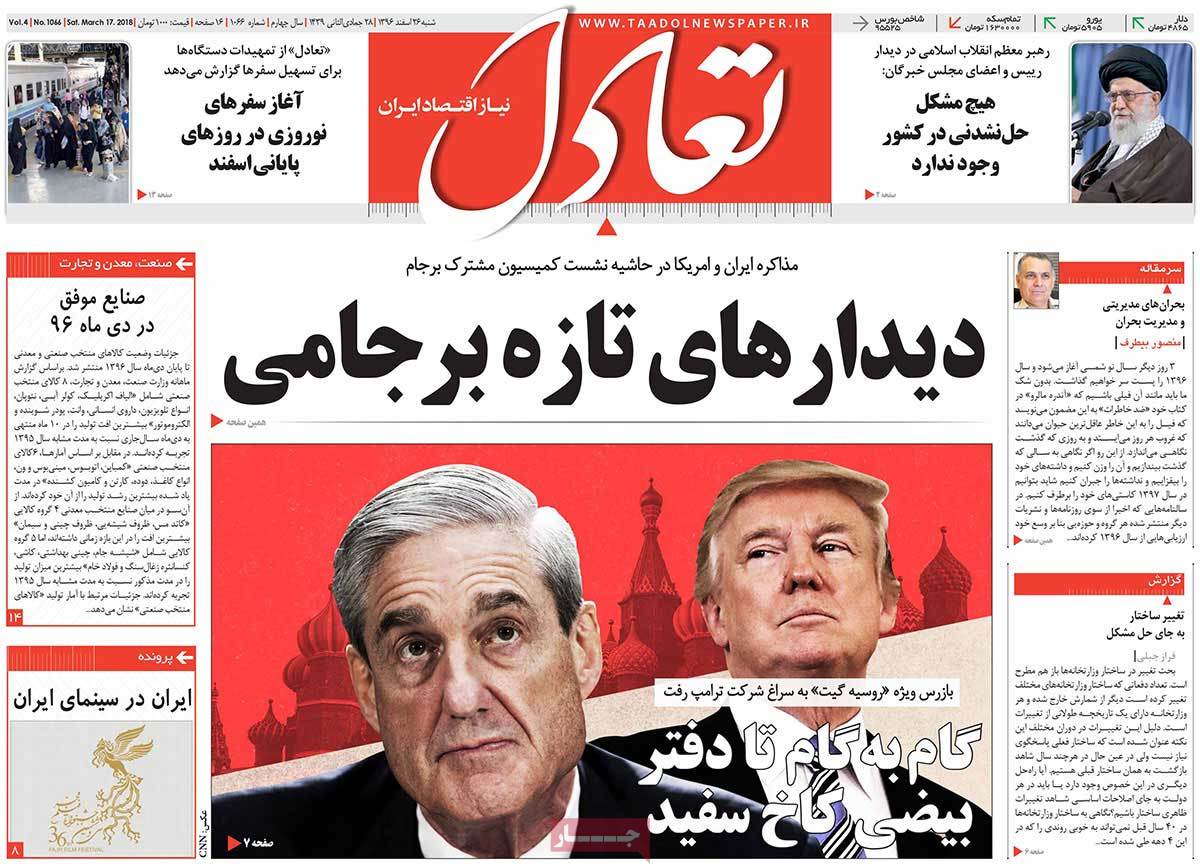 ---
Vatan-e Emrooz:
Saudi Crown Prince, A Feeble-Minded Person Who Talks Nonsense
What Is Bin Alawi Doing in Tehran? Speculations about Omani FM's Visit to Iran
Thousands of Civilians Evacuated from Eastern Ghouta