Comments by Speaker of the Islamic Consultative Assembly Ali Larijani that Iran has no intention of reestablishing a regional empire dominated the front pages of Iranian newspapers on Sunday. Planned resumption of nuclear talks in Switzerland between Iran and P5+1 also appeared on the covers of many dailies.
Abrar: President Rouhani has said that if each family cut down on its water consumption by just 10 percent, the problem of water shortage would be solved.
Abrar: Iranian Parliament Speaker Ali Larijani has told a Kuwaiti TV station that he is not pessimistic about nuclear talks with world powers.
---
Afarinesh: "Iran does not seek to rebuild a regional empire," said Parliament Speaker Ali Larijani.
Afarinesh: US Secretary of State John Kerry has said that President Obama has full authority to sign a deal with Iran.
His comments came after 47 US Senators said in a letter that Congressional approval of any deal with Iran is necessary, otherwise any agreement would remain in effect as long as Obama is the occupant of the White House.
---
Afkar: The director of the Iranian Environment Protection Organization has said that power plants won't be allowed to use Mazut anymore.
---
Aftab-e Yazd: The US has welcomed Iranian FM Zarif's initiative to take a possible nuclear deal between Iran and P5+1 to the UN Security Council for approval [to make it internationally binding].
Aftab-e Yazd: Iran will build power plants in Yemen.
---
Arman-e Emrooz: President Rouhani has ordered an investigation into an attack on [Tehran MP Ali] Motahari in Shiraz.
It came as a grandson of the late Imam Khomeini said that the executive branch should not leave the incident [which led to the cancellation of a planned speech by the principlist deputy in Shiraz] un-probed.
Arman-e Emrooz: Prisons are in a cashless limbo.
The budget of the Prisons Organization is only enough to take care of 50% of inmates serving time in detention centers.
---
Asr-e Iranian: "Respect for the sovereignty of nations is part of Iran's foreign policy," said Foreign Ministry Spokeswoman Marzieh Afkham.
---
Asr-e Rasaneh: Iran is now one of the five countries in the world in possession of the technology to develop gas turbines.
---
Emtiaz: Clamping down on corruption and making efforts to reduce traffic offenses are the priorities of the new police chief.
Emtiaz: Preliminary studies suggest that there are huge freshwater reserves in the Persian Gulf region.
---
Ettela'at: A new round of talks between Iran and the West gets underway in Lausanne, Switzerland later on Sunday.
Ettela'at: "Those opposed to the Health Transformation Plan are worried about their own personal interests," said the health minister in an exclusive interview with Ettela'at.
Ettela'at: Some $32 billion has been allocated to infrastructure projects from the National Development Fund.
Ettela'at: Mass production of Qadir Cruise Missile got underway with the defense minister in attendance.
---
Hemayat: "The coalition to fight IS is hollow," said the Iranian top MP.
---
Jomhouri Islami: A final round of nuclear talks between Iran and the United States will get underway [in Switzerland] on Sunday.
---
Kaenat: The stock exchange has woken up from hibernation.
---
Kayhan: An induction ceremony has been held for the new police chief who has said that cracking down on corruption is his top priority.
Kayhan: The president has given a car as a gift to an 8-year-old girl who knows the entire Koran by heart.
---
Kayhan International: CIA cites threat of Takfiris: US doesn't want fall of Syrian gov't
---
Mardomsalari: Foreign Minister Zarif has presented a report on the nuclear issue to the Expediency Council.
Mardomsalari: Some 300,000 old cars were taken off the roads in the past 12 months.
---
Shahrvand: The new police chief has vowed to rely on social capital and popular contribution in leading the law enforcement force.
---
Sobh-e Eghtesad: Iran's share of the global halal market turnover is no more than one percent.
Sobh-e Eghtesad: Parliament has amended the budget bill clauses the Guardian Council had found fault with.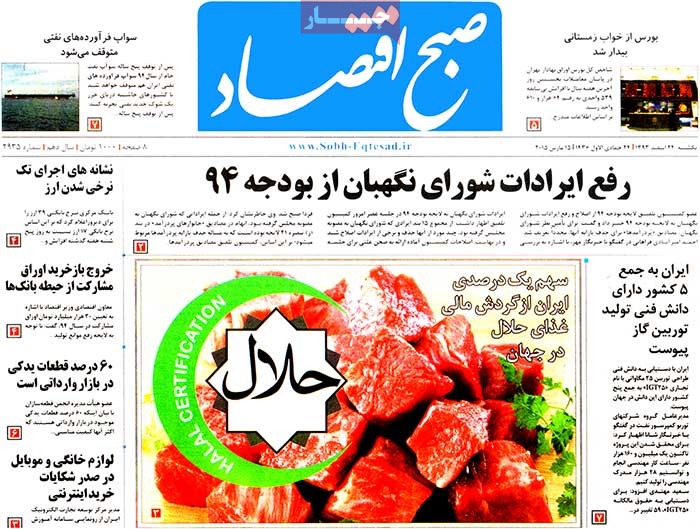 ---
Tehran Times: Key environmental projects inaugurated in Tehran
Tehran Times: European officials criticize Republican letter to Iran