The top story in most newspapers today was the resignation of Tehran's reformist mayor, Mohammad-Ali Najafi, for what he called a new medical problem. However, City Councillors say the pressures on Najafi, particularly after trying to reveal the past corruption cases and attending a controversial ceremony where young girls were dancing, were perhaps the main reason for his resignation.
US President Donald Trump's dismissal of Secretary of State Rex Tillerson also remained a top story, with several newspapers discussing the possible outcomes of the replacement.
Remarks by Iranian Deputy Foreign Minister Seyyed Abbas Araqchi about Iran's withdrawal from the nuclear deal in case of US' pull-out also received great coverage today.
Iran's new oil deal with Russia and German Chancellor Angela Merkel's re-election were among other top stories highlighted in today's front pages.
The above issues, as well as many more, are highlighted in the following headlines and top stories:
19 Dey:
ICT Minister: Government Cannot Develop State-Funded Messaging App
Zarif: Trump Not in Position to Make Decision on Iran Nuclear Deal
---
Abrar:
Trump: Iran behind very Problem in Middle East
French FM: Afrin Situation Critical
IRGC Spokesman: Enemies Resorting to Fabricated Cults with No Identity
Araqchi: UK Gov't Officially Apologizes over Attack on Iran Embassy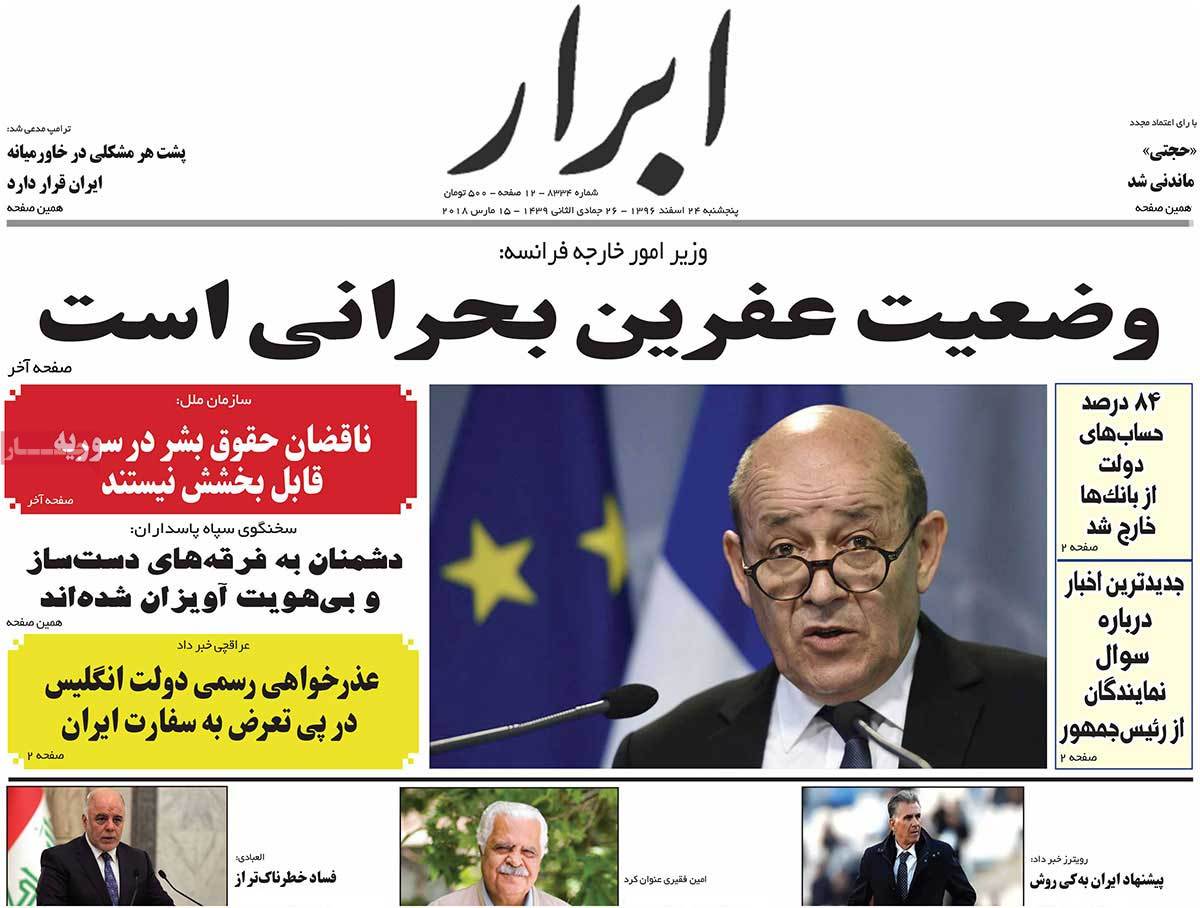 ---
Afkar:
Chairman of Assembly of Experts Urges More Work on Employment, Production
Tillerson's Dismissal Heralds US Withdrawal from Iran Nuclear Deal: MP
Iran Interior Minister Slams International Bodies' Insufficient Help on Illicit Drugs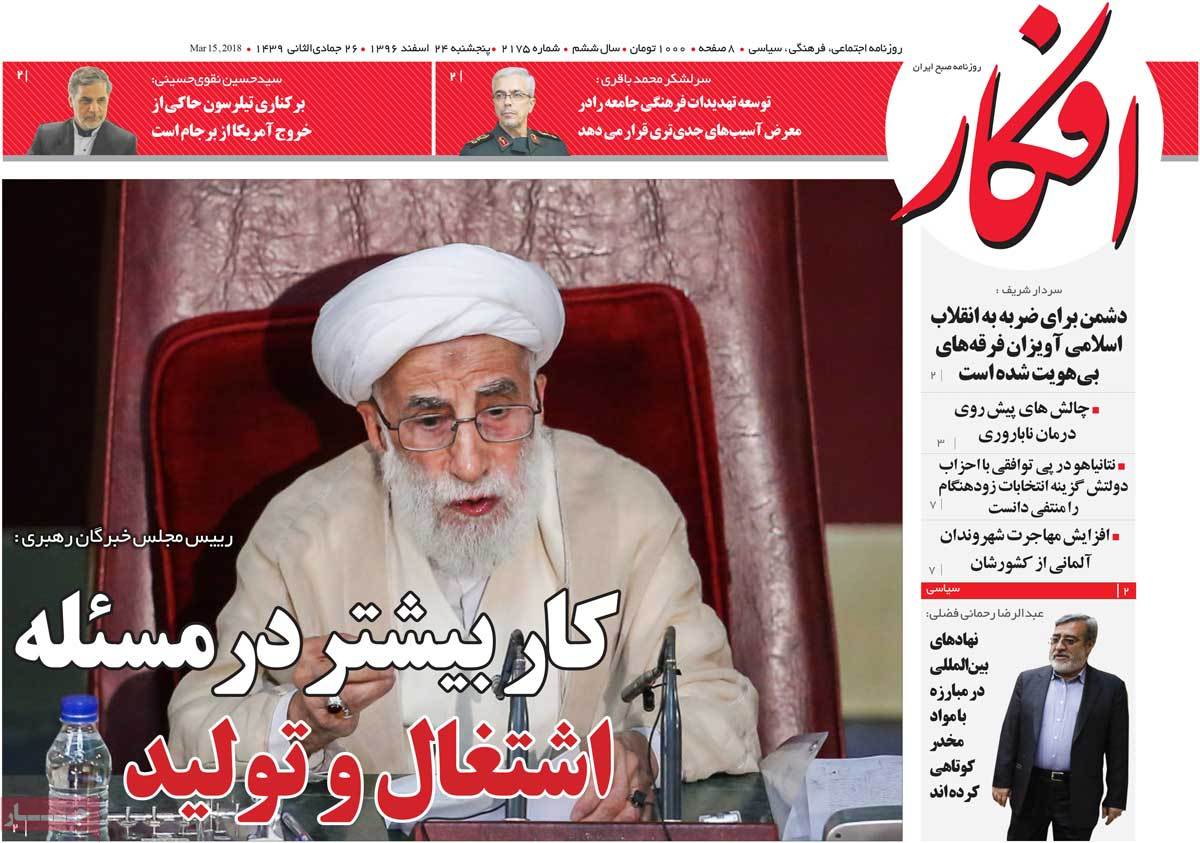 ---
Aftab-e Yazd:
Araqchi: Europe's Efforts to Keep US in Iran Nuclear Deal Futile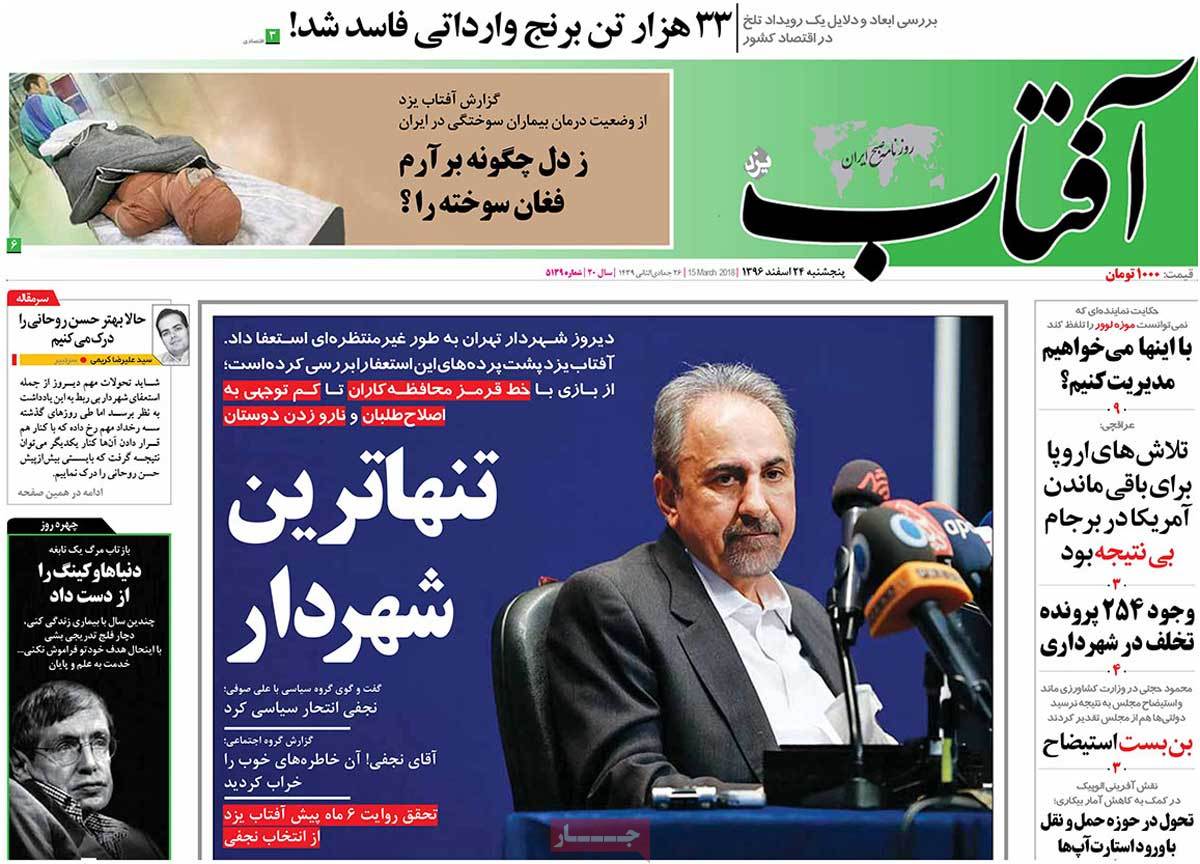 ---
Arman-e Emrooz:
City Council, Tehran Citizens' Fair Request from Mayor: Don't Back Off!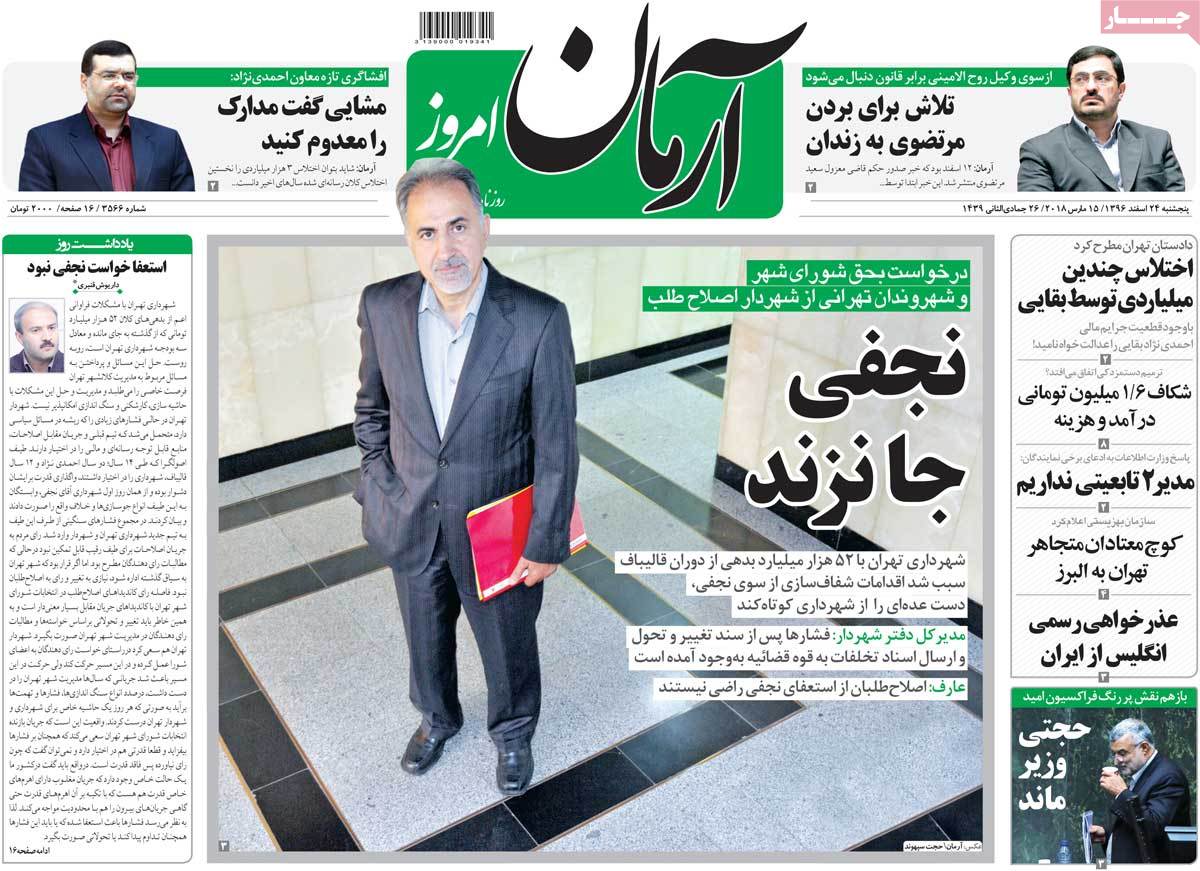 ---
Ebtekar
All Differences between Trump, Tillerson
A Review of Analyses Written on Tillerson's Dismissal
World's Most Powerful Woman Remain in Power
Merkel Re-Elected as German Chancellor for Fourth Time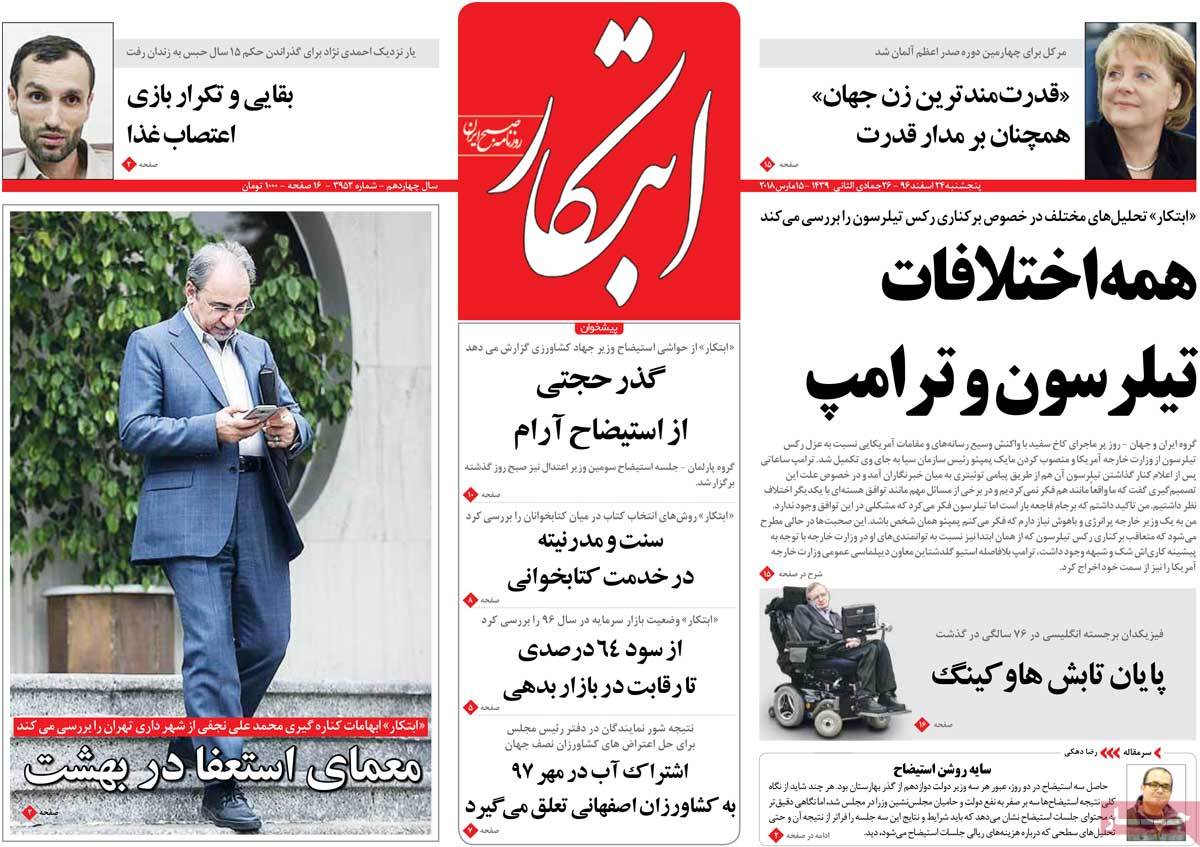 ---
Etemad:
Revengeful Theresa!
Escalation of Tension in London-Moscow Ties
All High-Level Diplomatic Ties Severed
Iran's Population Exceeds 81 Million
Iran's Oil Deals with Russians for Development of Joint Fields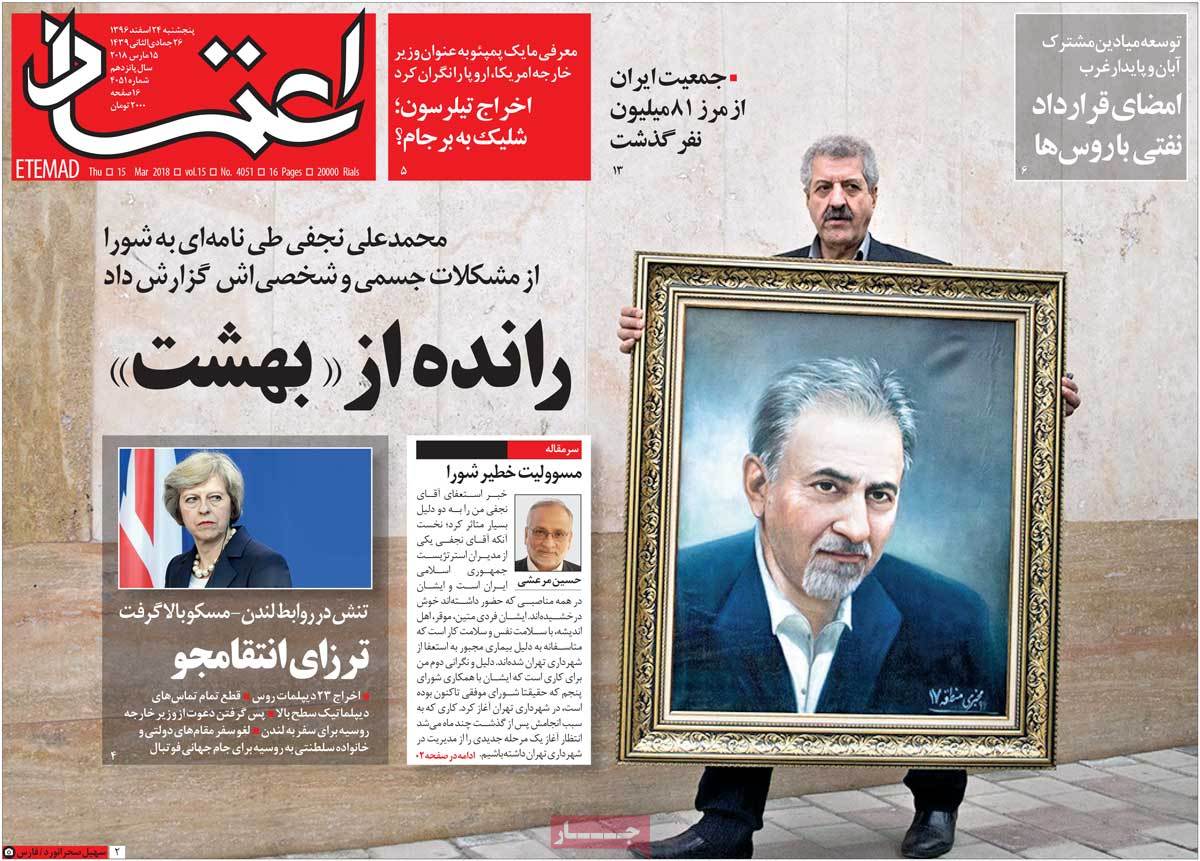 ---
Ettela'at:
Human Rights Centre Calls for Prosecution of New CIA Chief at The Hague
Najafi to Remain Mayor of Tehran until City Council Discusses His Resignation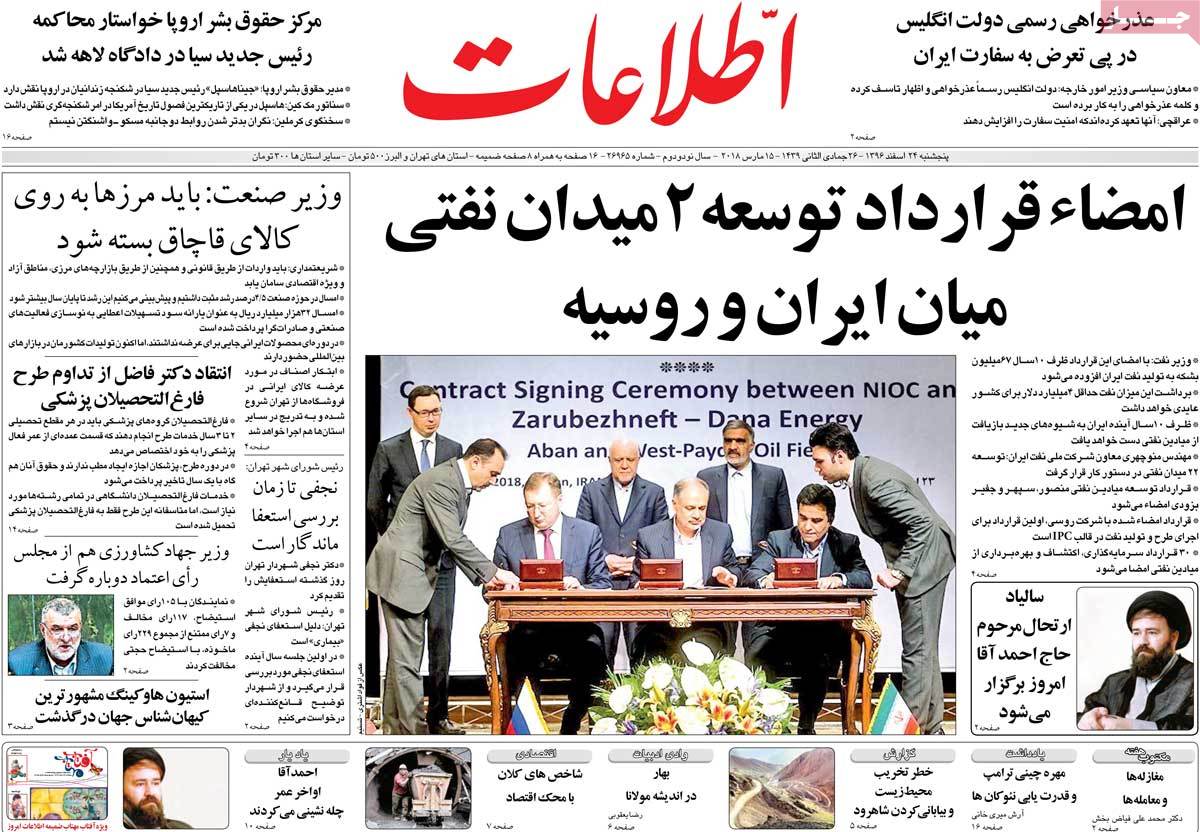 ---
Iran:
UK Calls for UN Security Council's Probe into Poisoning of Russian Spy
May Accuses Russia of Attempting to Murder Sergei Skripal
Second Biggest Oil Deal in Post-JCPOA Era
Russians Enter Iran's Oil Industry with $674-Million Investment
---
Javan:
Tehran Mayor Was Wrong Choice from First Place!
Najafi, Who Never Remains in Power More than Few Months, Resigns
Iran Not to Remain in Nuclear Deal If US Withdraws
---
Jomhouri Eslami:
Crisis in London-Moscow Political Ties
Statistics Centre: Iran's Economy Has Had 4.4% Growth in 9 Months
Corruption in Iraq More Dangerous than Terrorism: Abadi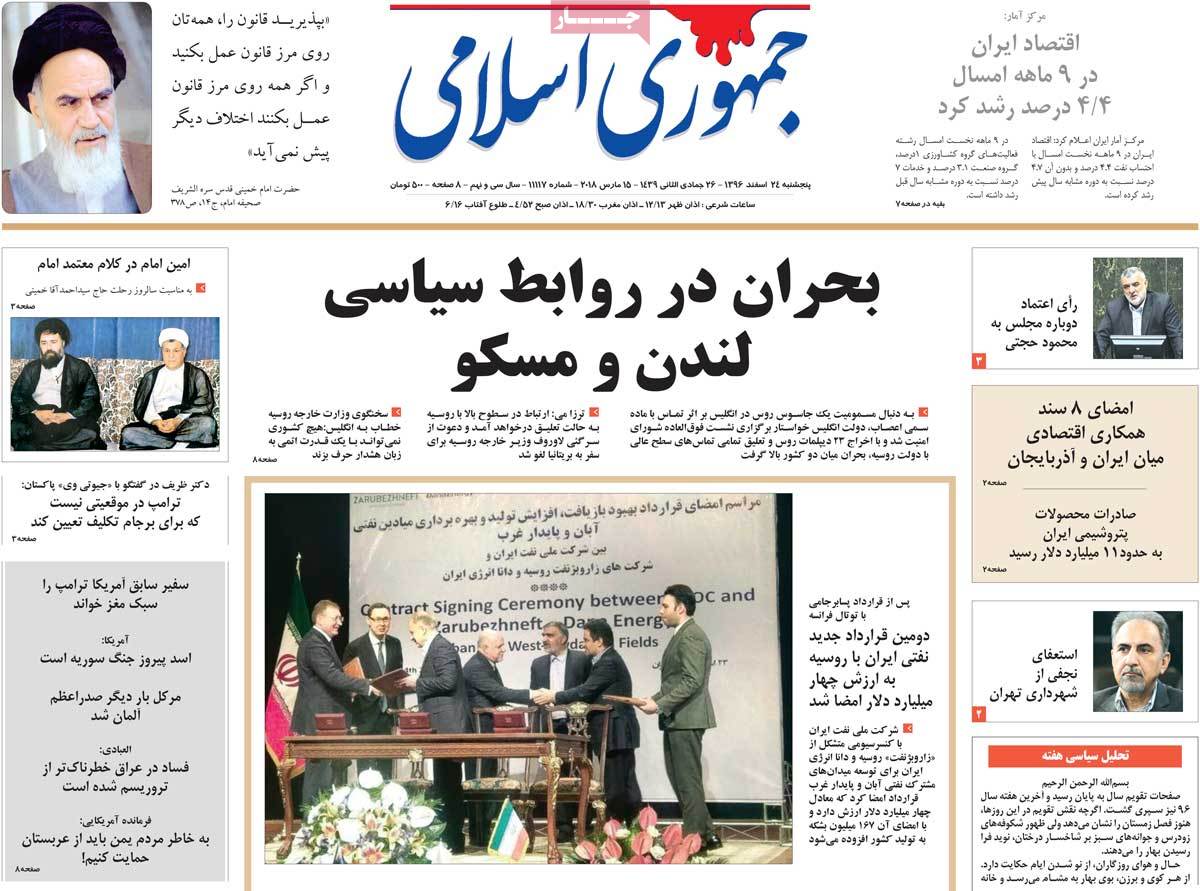 ---
Kayhan:
Parliament Gives Rouhani's Gov't Blank Cheque
We Have No Problem in Housing, Employment, Keep Your Positions!
25% Increase Compared with Last Year: $520 Million Worth of Shoes Imported!
American General's Ridiculous Comments: Massacre of Innocent Yemenis Out of Pity!
---
Khorasan:
Secrets Revealed about Ahmadinejad's Presidency: From Sit-in to Corruption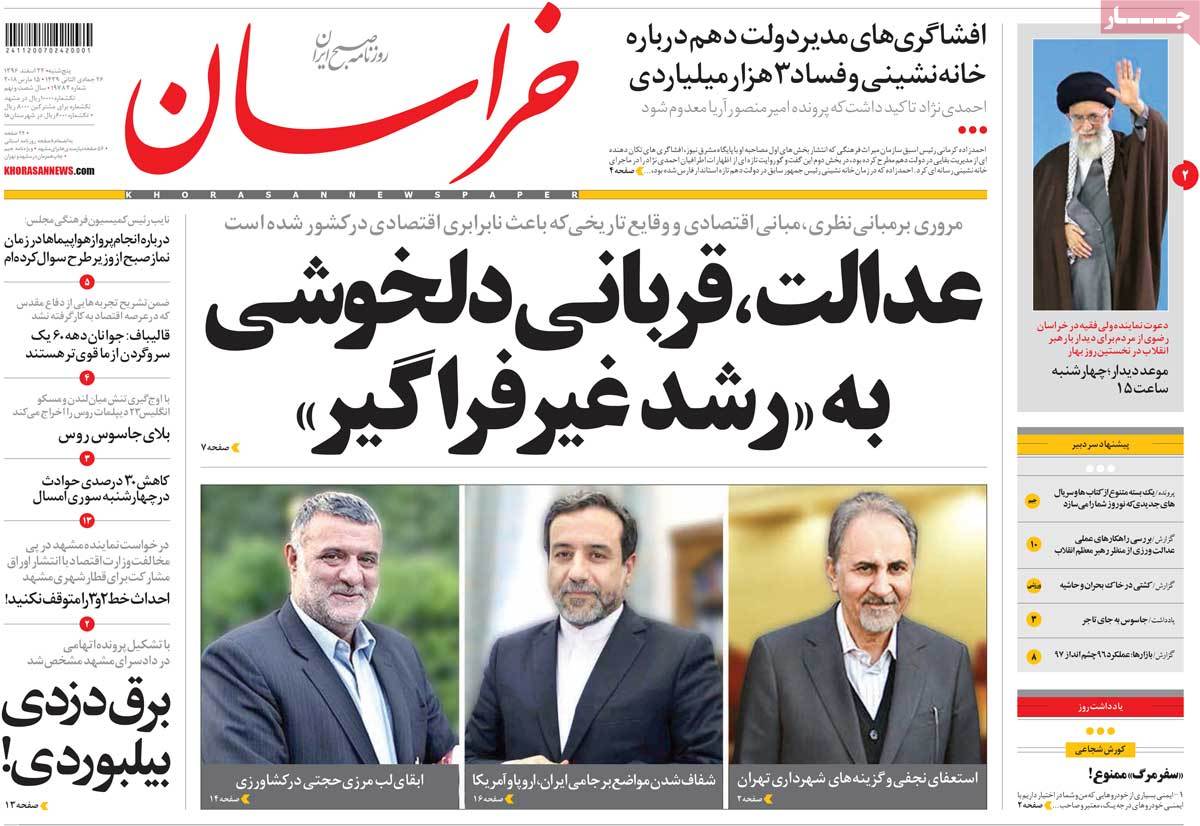 ---
Resalat:
Ayatollah Nouri Hamedani: UK Seeks Bastardization in Religious Authority
Ayatollah Makarem: Enemies Trying to Get Society into Slavery through Cyberspace
Iran Human Rights Chief: Putting Pressure on Iranian Students Violation of Human Rights
---
Rooyesh-e Mellat
Iran Foreign Ministry Spokesman: Dismissals in Trump Gov't Nothing New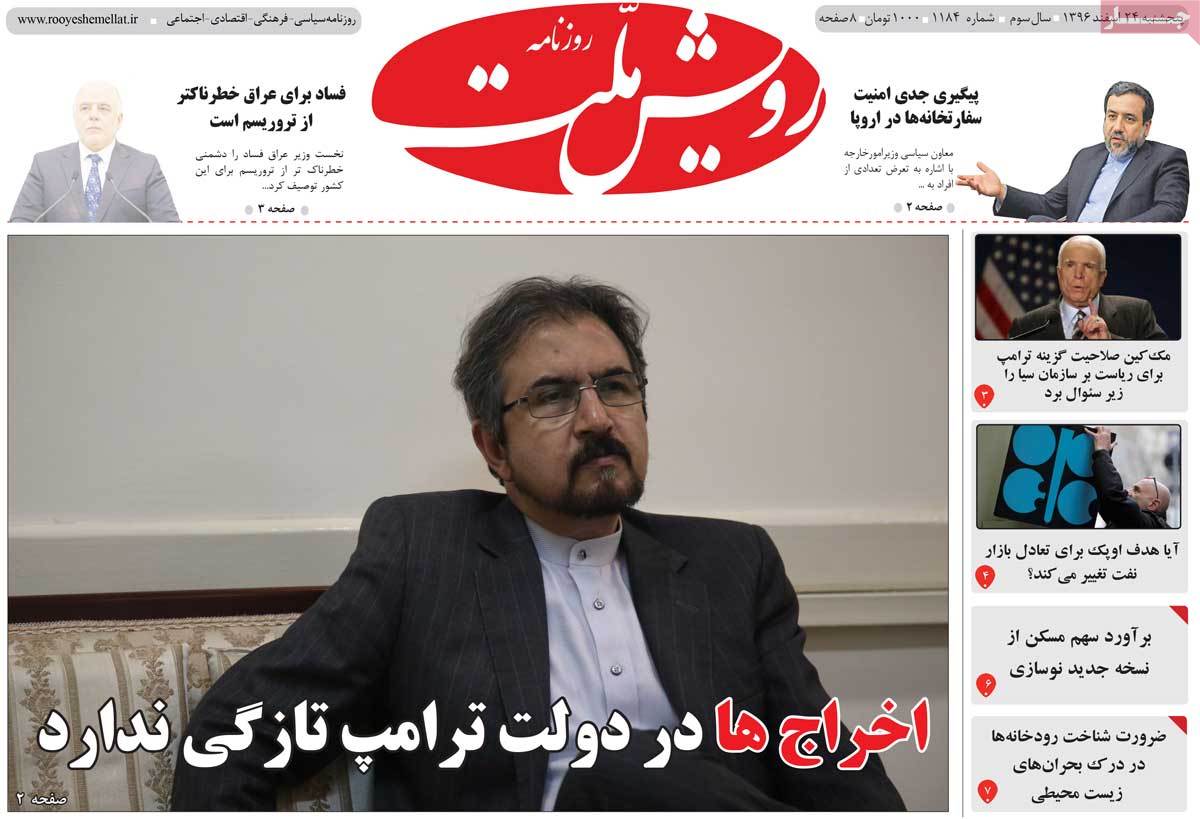 ---
Sayeh:
Ahmadinejad's Deputy Baqaei Imprisoned to Serve 15-Year Term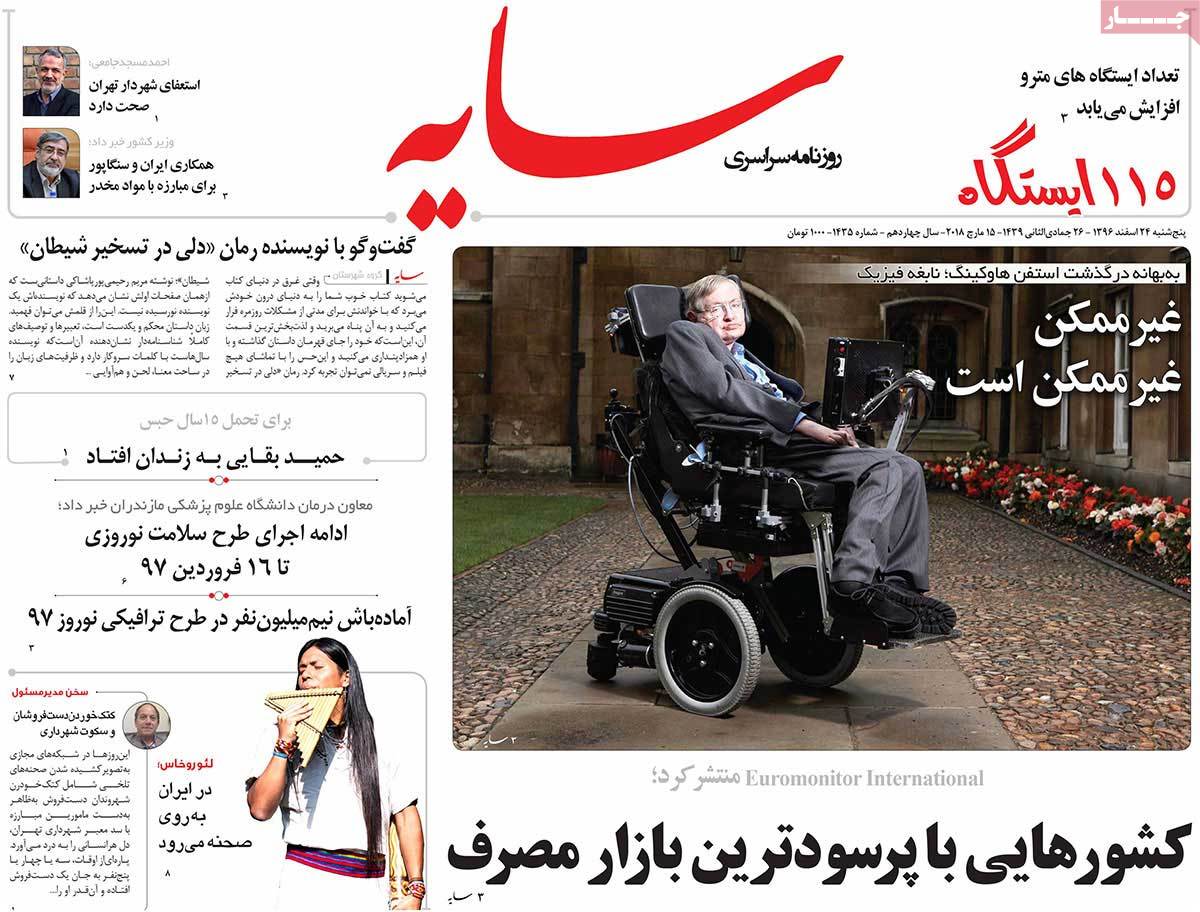 ---
Siasat-e Rooz:
Judiciary Spokesman: We've Had No Tangible Achievement in Fight against Contraband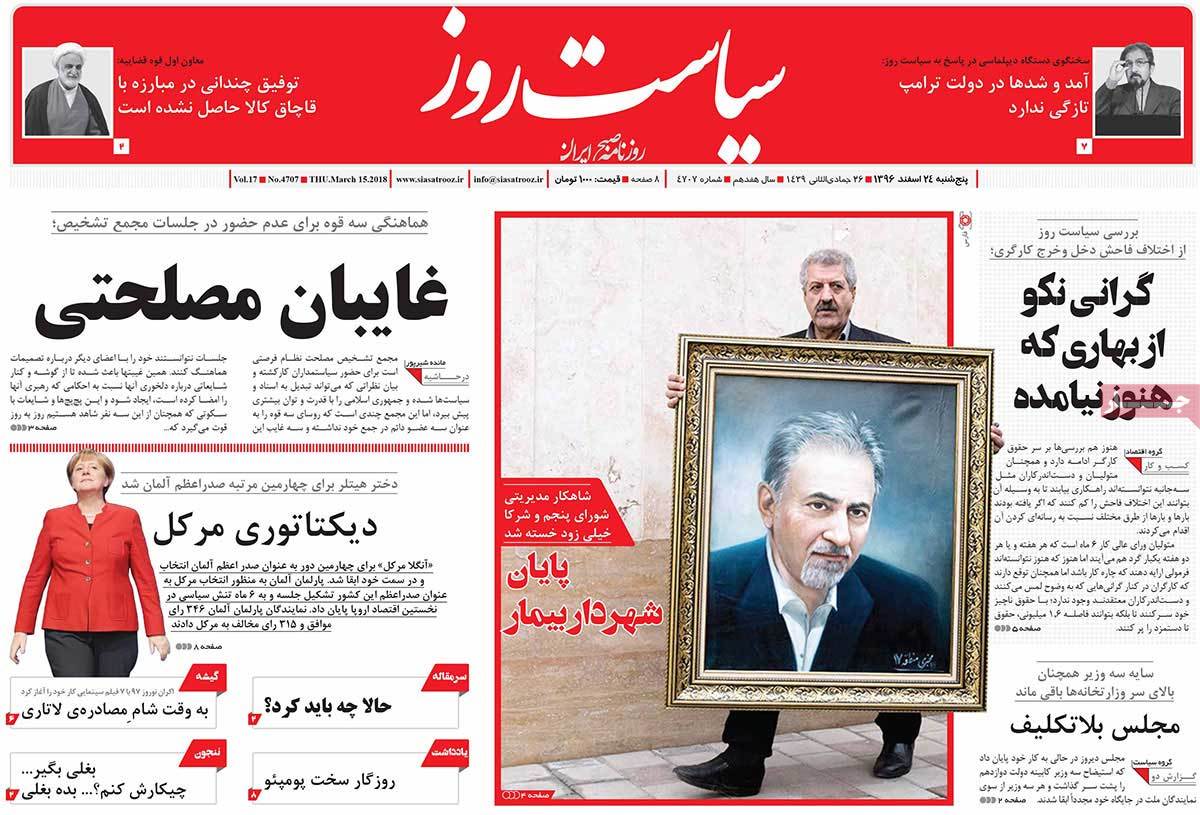 ---
Vatan-e Emrooz:
Europe's Queen of Austerity Breaks Records
Merkel Elected as German Chancellor for Fourth Time
Tehran Mayor Resigns for Health Issue
City Council Chairman: His Resignation Due to New Medical Problem I Can't Talk about